Kids Room Design Ideas
Cool Ideas For Parents To Design A Shared Kid's Bedroom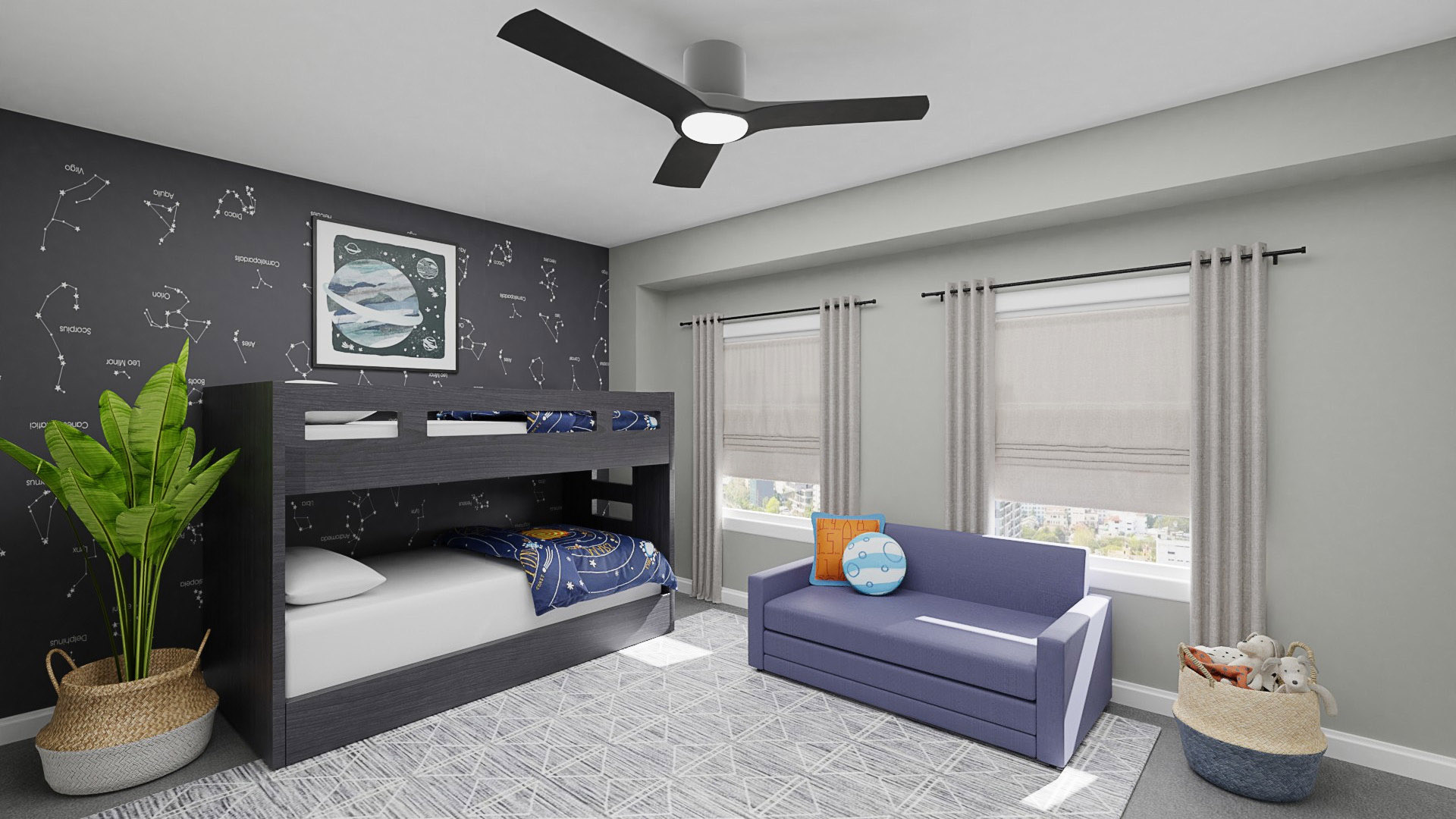 When you have two kids sharing a bedroom, it's easy to find yourself struggling with a decor dilemma. Yes, you can simply find a bunk bed and call it a day. But, you also know that within a few years, that bunk bed will go to waste because your little ones will want to have their privacy and independence.
Having a functional and transitional kid's room for two is not only a financial investment, but it will also help you have more fun when it comes to finding shared bedroom ideas. Keep reading for inspiration, layout advice, and more ideas to master a kid's room design for two kids. 
A Modern Style Bunk Bed Ready for Change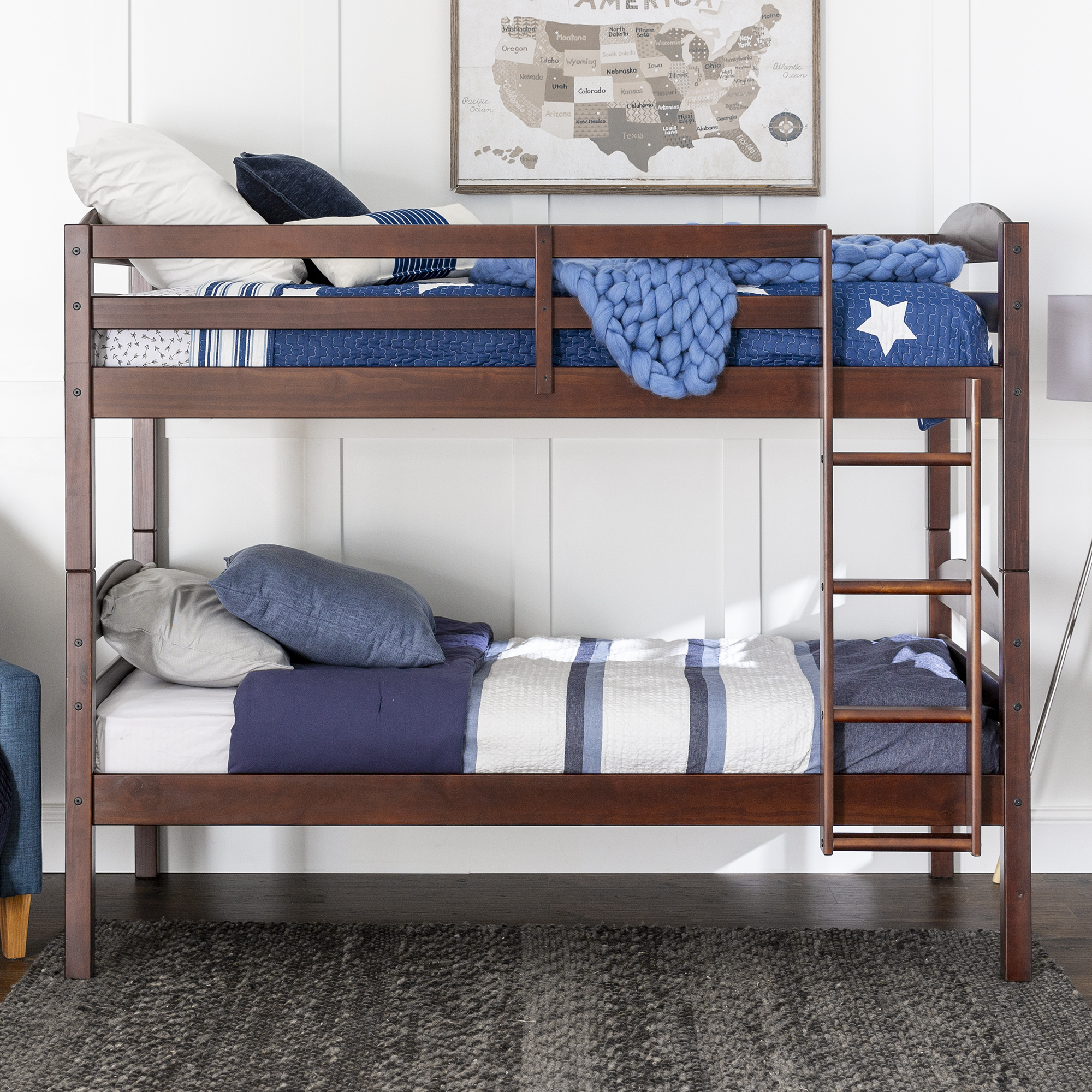 When you want to maximize the play area your kids have, using the vertical leverage of a bunk bed is the perfect solution. Not only will your children love having the extra space, but imagine all the fun they'll have every night. 
Forget about those bulky and boring bunk bed designs from the past. Today, you can find modern bunk beds everywhere like this Walker Edison Bunk Bed from Walmart. The side ladder makes it easy and safe for your child to go to the top bed, and it saves room, making it the perfect bunk bed option for small kid's room ideas. But, the reason we love this twin-over-twin bunk bed is that it features an adaptable design that transforms into two separate twin beds that can stay in the same room or move to another bedroom once your child grows. 
Try a Traditional Style Bed for Children of Different Ages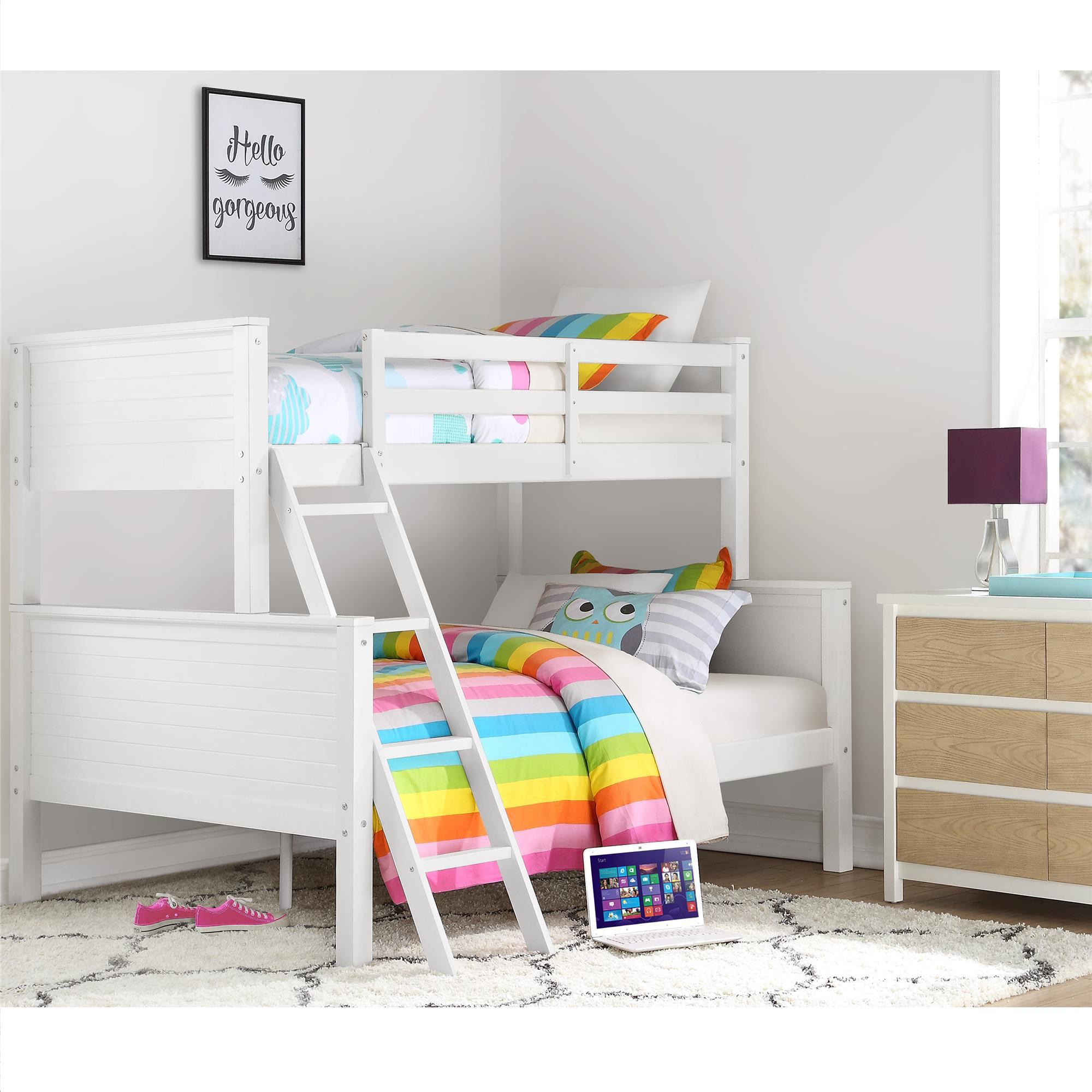 When your children are the same age, designing a shared room is more manageable. However, when your kids have different ages, figuring out the bedroom arrangements can seem tricky. Ideally, you want to find a bed set that meets both of their needs. Luckily, that's easily achievable.
For this situation, we love the Your Zone Convertible Twin Over Full Bunk Bed from Walmart. The top features a twin-size bed that your little one will love, with a secure and safe ladder to climb. Your older one will have no problem feeling like a grown-up with the full-size bed at the bottom. Once your children are over the bunk bed set, this style is also convertible so they can still share the bedroom but enjoy more independence.
Keep Growing with this Rustic Style Transitional Bunk Bed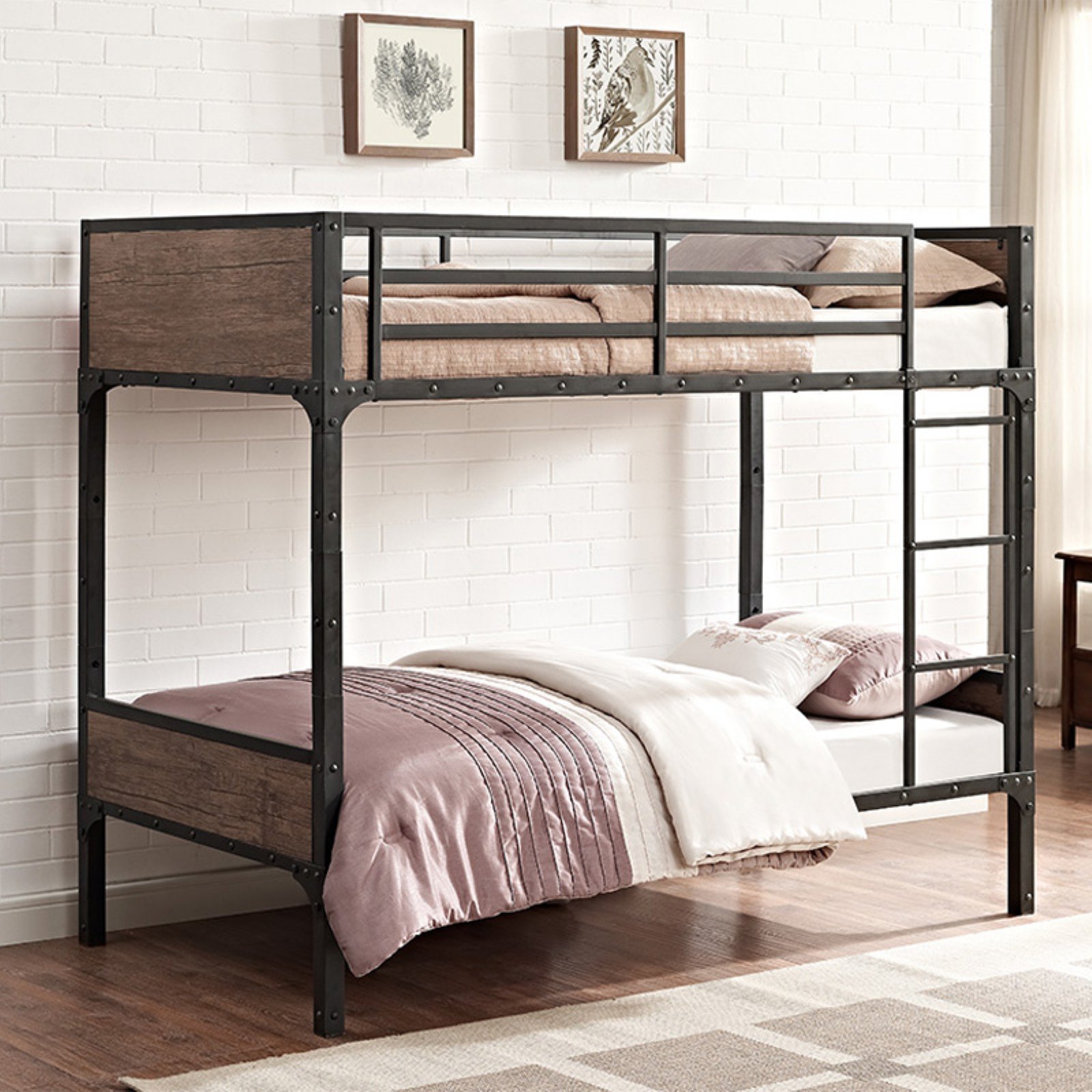 If your house is all about trendy rustic, farmhouse style, worry not, this bunk bed set will match your kid's room decor dreams. Perfect for small shared bedrooms. Maximize the space and keep the bed area to a minimum with this twin-size bunk bed. 
For a rustic style, we are choosing the Walker Edison Rustic Wood Bunk Bed from Walmart. The hand-painted antique metal finish gives it a unique rustic and industrial style that will blend with the rest of your home. Plus, this set is also convertible, so once your children are ready, you can separate the bunk bed into two twin-size beds that will still fit perfectly in any small kid's room.
A Small Kid's Bedroom Idea That Doubles As Homework Space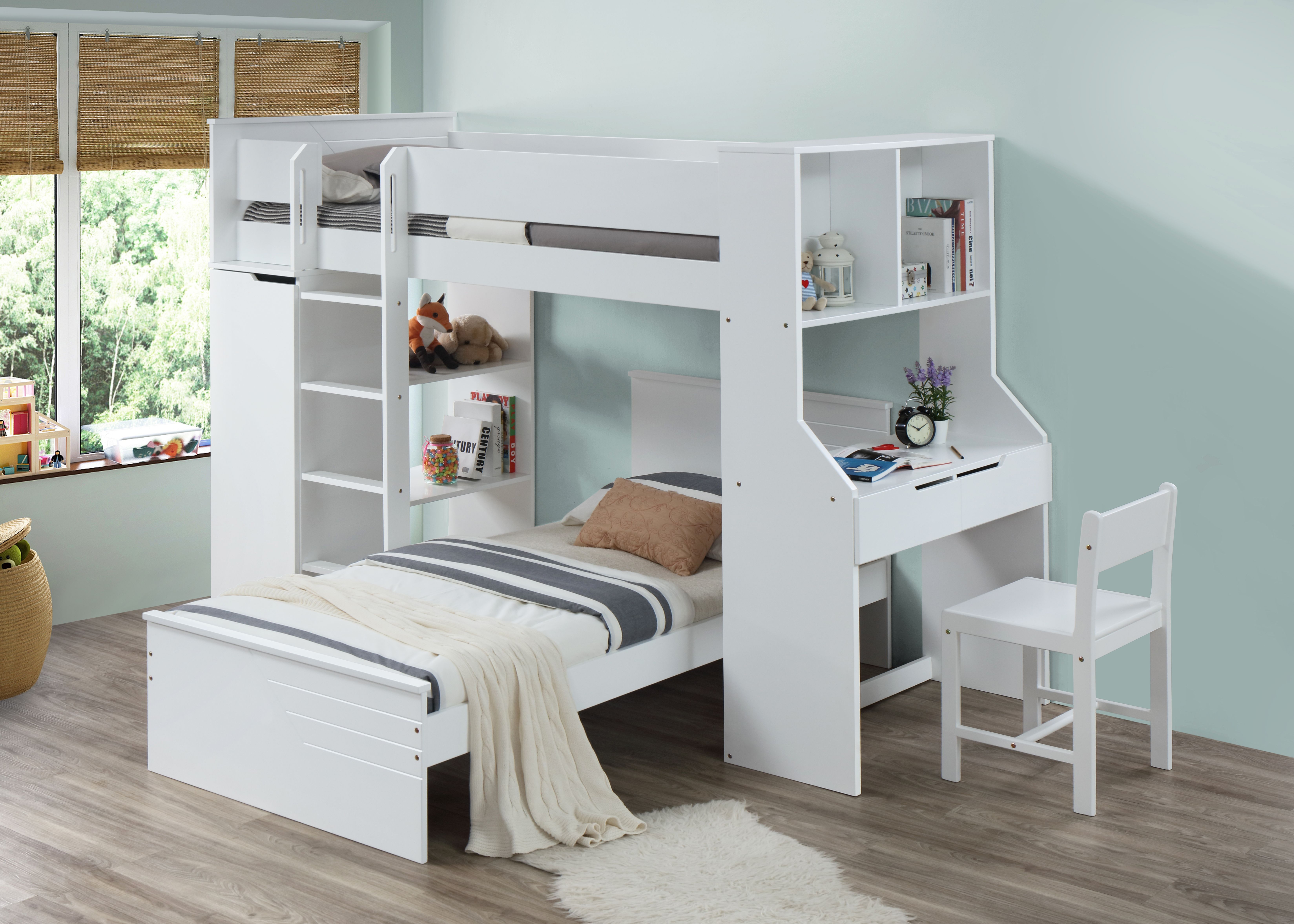 Your children will most likely spend most of their days in their bedroom. Make the most out of a bedroom for two by adding multi-functional pieces that can save you space. Many modern bunk beds come with integrated bookshelves and desk areas so that you can have everything in one place.
A great option is this ACME Ragna with Desk and Wardrobe by Walmart. Ideal for tiny rooms because you won't need to add much furniture after this. Even though this bunk bed isn't transitional, the dresser and desk make it a functional furniture piece that will stay with your kids for years to come. Later, you can turn the bookshelves into a second desk, so both kids will have a space for homework and studying. 
Thinking about kid's rooms ideas for two is all about finding the right furniture pieces that grow with them. It all starts with choosing the right bedding, and then the other elements will fall in place. Start a project today and get in touch with one of our interior designers to look at your room's layout and see what's the best option for your kid's room design.