Kids Room Design Ideas
Dreamy Boho Decor Ideas for Boys Nurseries
When it comes to brainstorming boy nursery ideas, it can be hard not to fall into the clichés. Baby blue walls, cartoon animal decals, and monster trucks probably feel a little played out, and these decorations are difficult to maintain as your son gets older. If you're looking for baby boy nursery themes that are more open to interpretation, are more flexible for your little one as he grows up, and blends effortlessly with the rest of your house's decor, you should try putting together a boho nursery theme instead. Rattan and wooden elements, earthy tones, and plants are just a few elements that really drive this theme home. Read on for some of our favorite boho baby boy room ideas.
Decorate your Room Online on Spacejoy
Rattan Pieces
Shown in photo: Kian Rattan Planter, Melody Rattan Storage, Suru Pendant, Opalhouse Woven Vase, Concentric Woven Vase, Bori Floor Stand, Rattan Rocking Horse
If you're in need of boho boy nursery ideas, rattan pieces are a staple of boho decor, and they're beautiful elements to add into your son's nursery. Rocking horses, planters, toy baskets, and bookshelves can all be made in the woven wicker material for an earthy flare. Incorporate the element sparingly throughout the room to add anchor down the theme, and sprinkle in some of the other ideas from this list to make the room feel cohesive. 
Wooden Details
A way to keep the spirit of rattan without actually using it is to add in some wooden elements to your baby boy's room decor. Whether it's something as big as the crib or as small as a picture frame, birch-colored pieces can help maintain the boho vibes throughout the room. Rather than stark white or pitch-black wood, lighter brown finishes will help bring the boho look to different parts of the room. This Pottery Barn Kids Nash Crib and Ikea Hovsta Frames provide a nice natural wood finish to the room. Our designers love the Nash Convertible Crib from Serena and Lilly to add a touch of natural wood to a nursery, as well as, Universal's Spencer Dresser. Check out the optimal use of wooden elements in this Boho Scandinavian Nursery created by Spacejoy designers.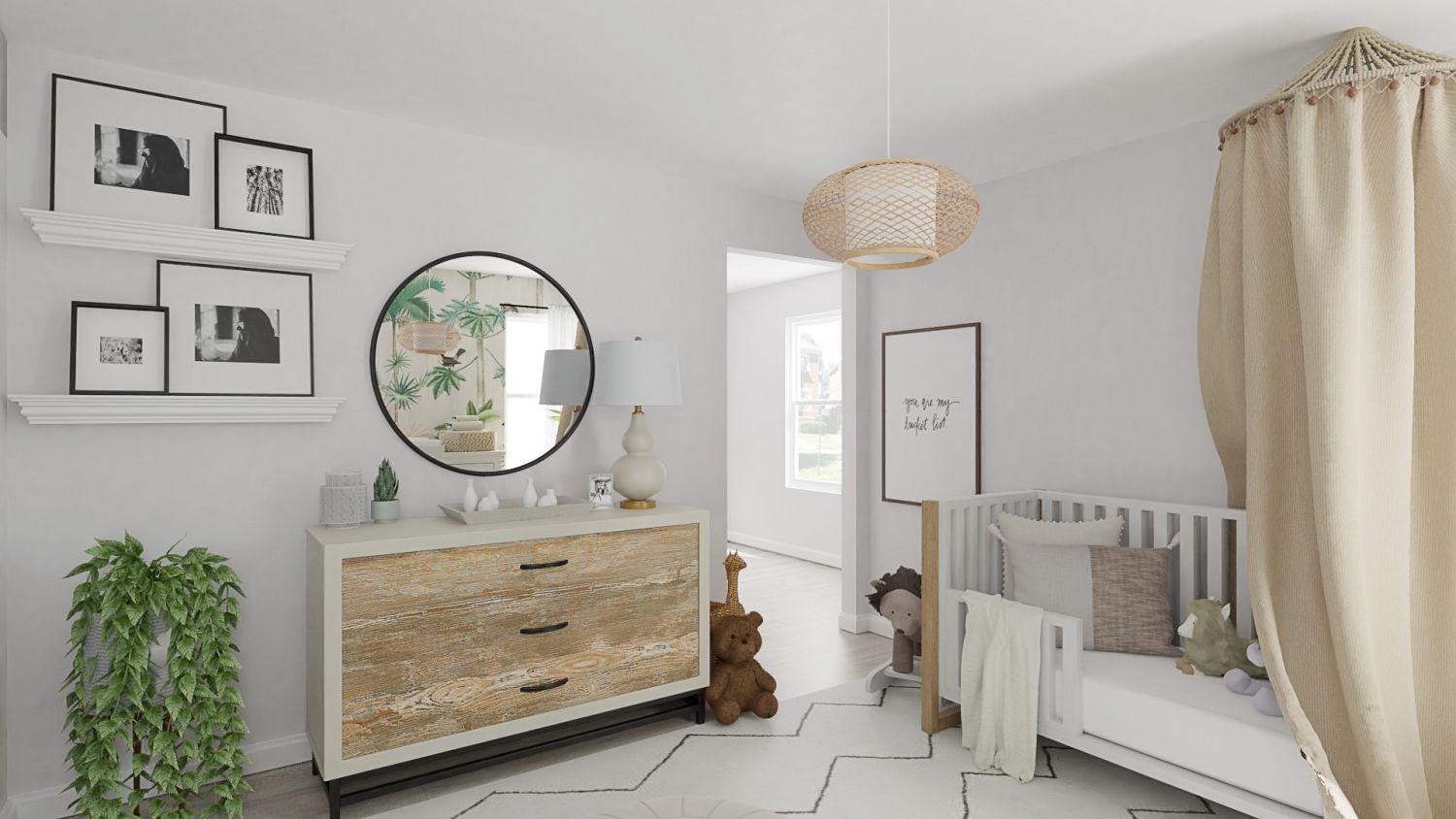 Plants & Other Natural Elements
Plants probably aren't the first decor items that come to mind when you're brainstorming boy nursery ideas, but if you're going for a boho look, plants will really help drive that theme home. Plants and other natural elements like decorative dried grasses are perfect accents to bring a little bit of the outside into the room. Another great way to bring in leafy greens is through wallpaper, which will also add a beautiful focal point to the room. Our designers love this Bird of Paradise plant and this Bird's Nest Fern from The Sill. 
Neutral & Earthy Colors
Instead of the traditional baby blue color on the walls, opt for neutral and earthy tones like beige, tan, brown, and olive green. These colors will elevate the baby boy room decor to look more sophisticated than your average nursery. Plus, this palette is more likely to blend in more seamlessly with the rest of your house's decor as well.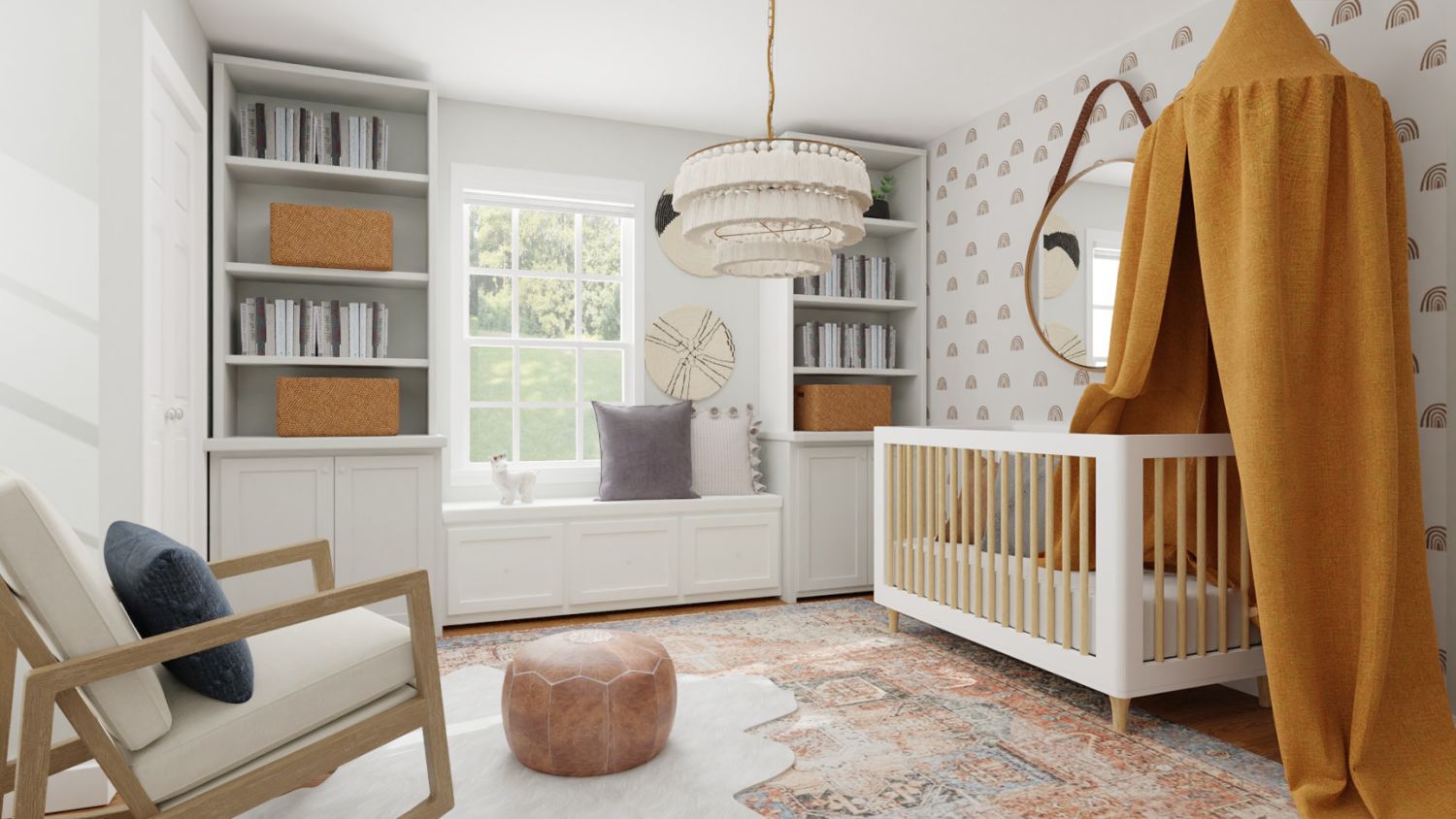 Spacejoy's Design Team Pick: Cow Artwork
You can't forget to put art on the walls, and though the boho theme doesn't lend itself to your usual nursery decorations, you can try out something that mixes playfulness with sophistication. Our designers are always on the lookout for new and fun wall art trends. Cow art (specifically photography) has been trending recently, and that artsy element can really tie all of your baby boy room decor together. Spacejoy designer Laura loves this Peeking Highland Cow Print, which is available in a variety of sizes.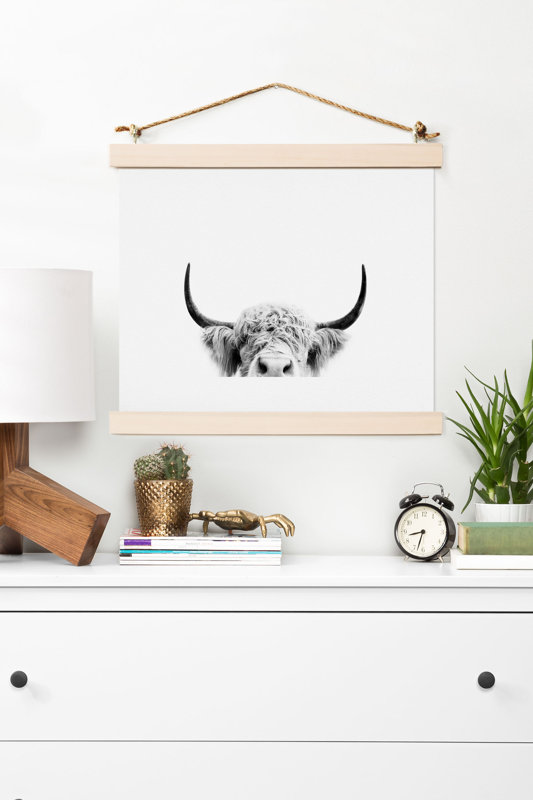 If you like these boho boy nursery ideas and want to bring them to life in your home, or design your own perfect living space, start a project on Spacejoy. You will receive unlimited access to an expert online interior design team who can translate your vision and guide you to your perfect room design. Our unique technology allows you to view your room in 3D and interact with your design. Move and swap the products with a touch of a finger to see the unlimited possibilities. Our team will also curate a shopping list for you with handpicked products to suit your budget and your style that you can shop right away on our platform. Your dream nursery is now one click away. Click here for pricing plans.
Design Your Room & Visualize The 3D Renderings With Spacejoy Interior Decorator App