Living Room Design Ideas
10 Rules of Farmhouse Style Decor You Must Follow
Blame it on Joanna Gaines for bringing back farmhouse-style decor. But how can you achieve the same effortless style? Farmhouse decor is warm, cozy, relaxing, and full of character. It highlights a simpler time. That said, there are some decor rules to make it happen. To keep your farmhouse living room from looking too old-school, you need to become a master of balancing the old and new. 
What's Farmhouse Style?
Its coziness and warmth define farmhouse style. Like other decor styles, farmhouse design can be country, modern, coastal, eclectic, and much more. The essence of farmhouse style is about creating a warm, relaxing, and cozy space full of character. But, the farmhouse style focuses on practicality. After all, the style was initially used in actual farmhouses.
We asked our designers for the five rules of designing a farmhouse-style living room, and they delivered the best ideas to help you get started. 
1. Nature Rules
Think about the origins of farmhouse style, this down-to-earth approach to decorating. A farmhouse home has vintage finishing touches and decorative elements that bring nature indoors. Our designer, Sarah Nelson, recommends people stay away from bringing in tropical plants when it comes to greenery. Instead, opt for eucalyptus branches and olive trees to instantly add farmhouse air to the room. 
For example, the Olive Tree + Large White Fluted Planter Bundle from West Elm, pictured above, is an excellent choice for a living room or entryway accent. 
2. What's Old Becomes New
Repurposed furniture pieces and decorative accents are the ultimate farmhouse decorations. However, not everyone has a vintage family heirloom lying around. You can still achieve the same vintage style by choosing vintage-inspired features. For example, Nelson also recommends looking for oil-rubbed bronze light fixtures to give that distressed look, particularly in farmhouse style. 
Don't get us wrong; farmhouse style can still be modern. Take this Zaire Linear Chandelier from Pottery Barn, for example. The iron and mild steel frame are stylish and contemporary, but the bronzed nickel finish, paired with the vintage light bulbs, gives that sought-after look you want in your farmhouse dining room. 
3. It's All About Being Open and Inviting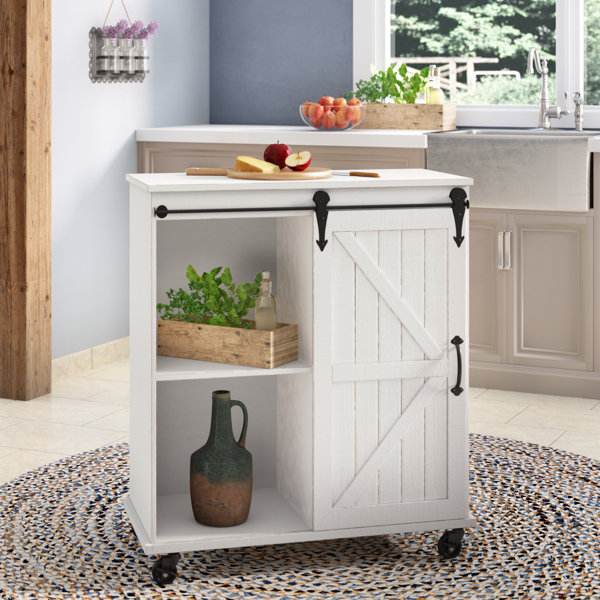 The heart of any farmhouse decor beats in the kitchens and dining rooms. When designing a farmhouse kitchen, area function rises above all else. Think deep kitchen sinks, large block islands, and bar top seating for making the kitchen the center of entertainment. Our designer, Laura Wright, also recommends using subway tile backsplashes to line the walls and open shelving or glass-front cabinets to showcase accents and antique dishware. 
You can still bring some farmhouse-style elements with a kitchen bar cart for those with small gathering areas. We love the Banbury Multi-Purpose Wooden Rolling Kitchen Cart from Wayfair with traditional barn-style sliding doors for an instant farmhouse-style accent. 
4. Paint More than Your Walls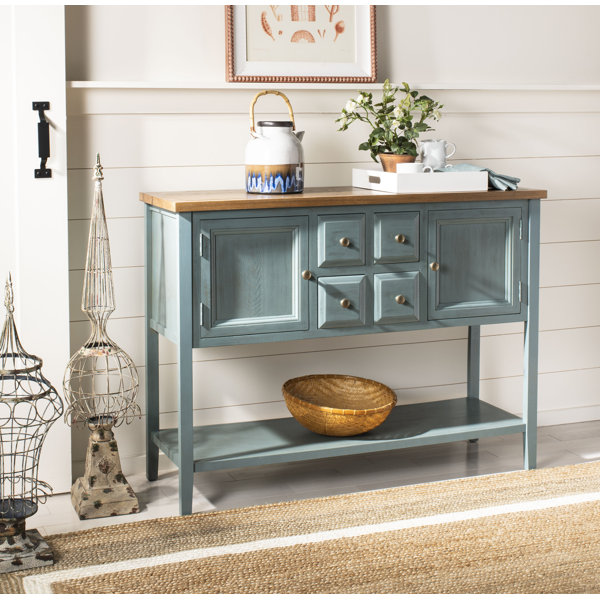 A blend of neutrals is what amplifies light and makes a room look bigger for farmhouse-style homes. But beyond your walls, farmhouse decor also highlights painted furniture. It's not strange to spot a cornflower blue cabinet, a distressed white coffee table, and even a lavender armoire that showcases the family heirlooms. 
We love the look of this Sadie 45.7" Solid Wood Console Table from Joss & Main, pictured above, and gives to the entryway. It combines the perfect elements from nature and with added distressed accents for the ultimate farmhouse furniture piece. 
5. The Art of Craftsmanship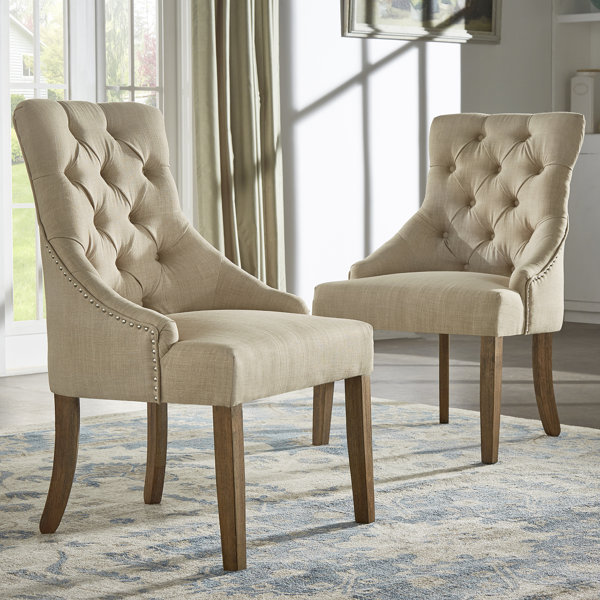 Farmhouse style is all about high-quality craftsmanship. Think about breathtaking hardwood floors, ample windows, built-in cabinets, and rugged beams. Our designer Laura Wright also highlights the impact shiplap can make on an open layout. The art of craftsmanship expands all over the house and unifies each space creating a seamless transition from room to room. 
Take these Nottingham 24.25" Side Chairs from Joss & Main, for example. They hit all the notes about farmhouse style decor with button tufted back and nailhead trim, standard features to look for. 
6. Keep Neutral Colors on the Walls
The one thing that will help you achieve a classic farmhouse style of decor is to use neutral paint colors. Avoid any dark or bright colors on the way. Another tip is to make sure the entire house is painted in similar colors. This will give the sense of more space. It doesn't have to be white – soft beiges, creams, and even gray tones work too. A light color on the wall really sets the tone for a farmhouse look.  
7. Add Dimension to Your Walls
If you want to channel farmhouse decor to the core of it, then you need to add beadboard, shiplap, or wainscoting into your home decor. Walls have a lot of dimension and texture. Many even showcase real, rustic shiplap. If you're not sure, try small and choose an area of your home that incorporates shiplap. 
The best spots to start are your living room, bathroom, or kitchen. Other areas that can work are the entryway and dining room area. Plus, shiplap is amazing at helping you hang decor more easily, so it's a win-win design element. 
8. Use Wire to Decor
To add decorating elements with farmhouse style influences, you have to look at different items. Wire baskets are key in farmhouse style. They're easy to use and have that rustic, industrial vibe that will complete your farmhouse decor. Add a few to a wall in the kitchen to keep spices, use one in your living room to hang some greenery, or keep ones by the bedroom to store a few pillows.
9. Find Farmhouse Light Fixtures
One of the fastest and easiest ways to change the feel of any space is with a light fixture. Most farmhouse-style light fixtures will be candle chandeliers, as they mimic what was available back in the day. Pendant lighting will also give you a similar look and feel. Don't be afraid of using a large-sized chandelier as it can become your statement piece and draw attention to spaces like your living room or dining room. 
10. Add Distressed Furniture
One of the most classic elements of farmhouse style is distressed furniture. You'll often see old doors and windows being displayed as decorative elements. Sometimes, you'll see freshly painted furniture pieces be purposely distressed to achieve this look. Don't be afraid to bring home vintage pieces that don't look their best. They'll work here. 
Farmhouse Decorating Ideas
Here are some farmhouse decorating ideas to help you achieve a marvelous farmhouse style decor in your home:
Barn boards,

you can use thrift barn boards to add country character to your home. Use it for floors, walls, shelving, or doors. 
Exposed wood beans

add an element of nature to the home, as well as an architectural detail. If your home has them, make sure to highlight them. If you don't, consider installing some in the living room. 
Butcher block counters

can be perfect in a farmhouse-style kitchen to keep the space looking comfy and cozy. They add a bit of rustic decor to space and can withstand heavy use.
Vintage furniture

can help you add some history to your home. Remember to mix and match modern furniture with vintage finds for a unique look to avoid the house looking outdated. 
Slipcovers

are the easiest way to channel the farmhouse aesthetic without doing too much. They add a relaxed and soft feeling to a room, plus they're easy to take off, wash, and change with the seasons to keep your home updated. 
Wicker and rattan

are by far the go-to materials for decorating with farmhouse style in mind. Use these materials in chairs or baskets to connect the outdoors to the indoor and adding that country look and feel you're striving for. 
FAQs
While farmhouse style has been around for decades, it just started to become trendy again. This leaves many of you with questions about how to master the art of farmhouse design perfectly, so here are the most frequently asked questions about this style:
What defines farmhouse style?
Farmhouse design is defined by its warmth and simplicity, using natural textures and materials like wood or steel. It's defined by using well-used, vintage, or antique items blended with modern accessories. 
What are the best farmhouse colors?
When choosing paint colors for your farmhouse-style home, neutral and earth tones will be the most popular options. These colors make the room appear larger and more inviting. Other farmhouse-style paint colors include beige, brown, tan, white, light blues, yellows, and greens if you want to add a vibrant color. 
How to decorate your home farmhouse style?
To decorate your home farmhouse-style, you have to consider that the characteristics of this aesthetic are warm, relaxing, and cozy. But, practicality and organization are the most important aspects of this interior decor style, so think about furniture pieces with hidden storage, weaved baskets, and other organizing items to decorate the house. 
What's the difference between rustic and farmhouse decor?
Farmhouse style goes for a more traditional and fresher look than rustic design. While there's still an emphasis on using natural elements, these are often painted or colored in farmhouse style. In contrast, rustic decor leaves the wood and other materials in their natural state. 
Let's Design Your Farmhouse Style Dream Home
Creating a farmhouse-style home can be quite a challenge. Start a project today and work with our interior designers to create the farmhouse home of your dreams.