Living Room Design Ideas
13 Pottery Barn Dupes You'll Love & Will Save You A Fortune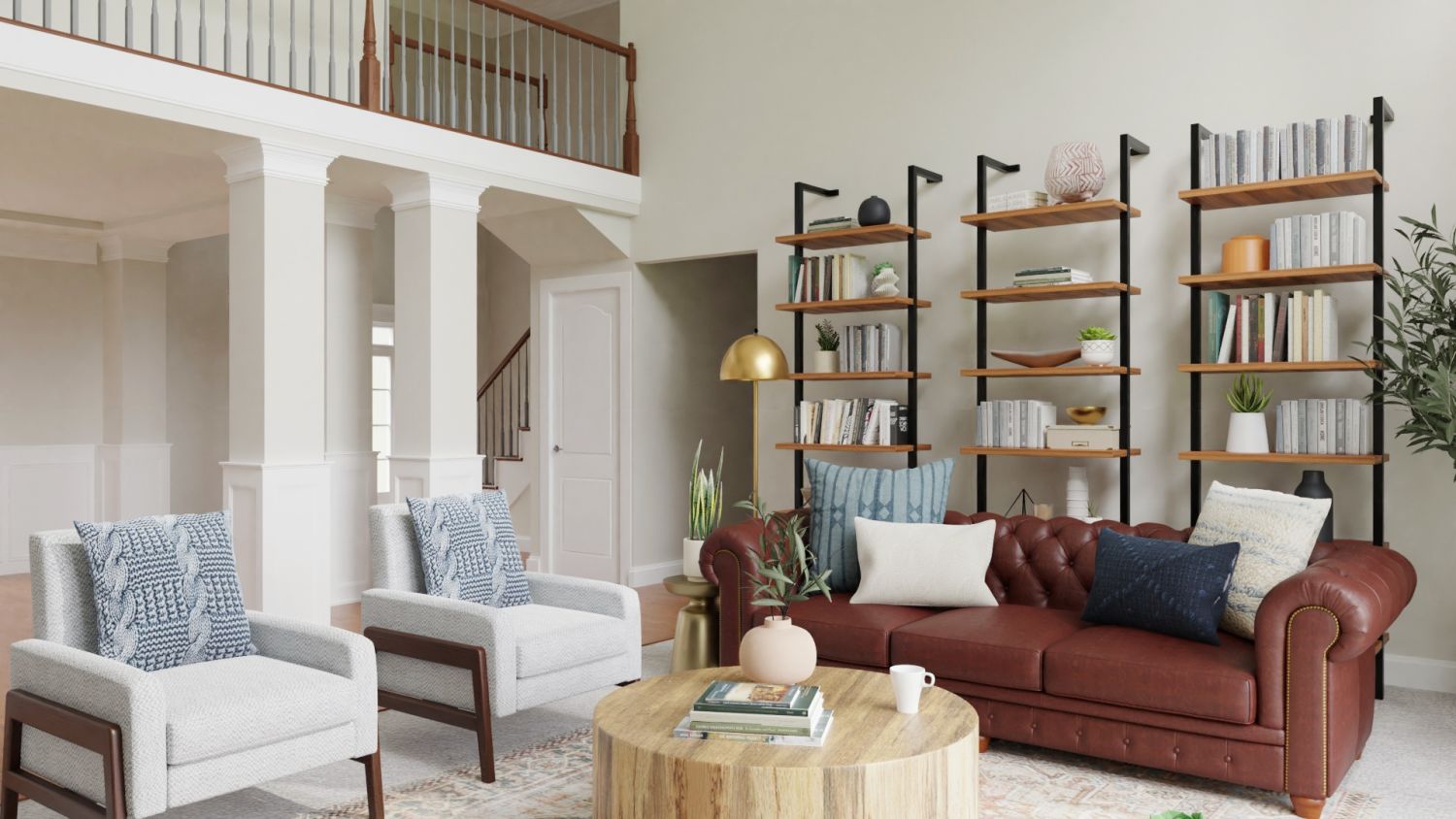 When thinking of aspirational home decor, we are hard-wired to turn to high-end retailer Pottery Barn for all of our interior design inspiration— but the price tags are not alluring. Pottery Barn is known for its rustic appeal- fine leathers, reclaimed woods, comfortable chairs, and layer accessories. 
Luckily, there are plenty of excellent resources for home decor that can help you achieve the same level of elevated design for a fraction of the price. When looking for Pottery Barn alternatives, focus on the shape of the piece and the textile of the item. Read on to see some of our favorite Pottery Barn dupes.
1. Dining Table
Dining tables are a significant investment, especially considering how much time is spent around them. Spruce up a solid wood table with dramatic details like carved baluster posts. The Banks Dining Table from Pottery Barn can cost upwards of $2600, but the comparable Gertrude Solid Wood Dining Table available on Wayfair is almost half the price. 
2. Dining Chairs
Complete your dining table with equally impressive chairs that offer plenty of comforts so you can sit around long after meals talking about love, life, and everything in between. Giving the classic wingback chair a stylish upgrade, the Thayer Tufted Wingback Dining Chair is a design choice you can't possibly go wrong with.
A great alternative, however, is the Tays Rustic Linen Dining Chairs from Overstock. They come with almost the same design, but you can bag these at a much lower cost.
3. Bar Carts
A Pottery Barn home is incomplete without a stylish accent piece. We recommend bar carts as they add an extra layer of sophistication to the area. Use them to showcase your favorite liquors and mixers and even some decorative barware. This Pottery Barn Skylar Bar Cart offers clean and sophisticated lines. The brass detailing is sure to add an elegant touch to any room.
The Greyleigh Bar Cart from Wayfair provides the same clean lines, mirrored base, and brass finish for less than half of the Pottery Barn piece. We love a good score!
4. Wood Bed
Choosing a bed is one of the most important decisions you will make. It's the one comfort you can rely on no matter what. Your bed should be an extension of your style and preferences. The chevron-designed reclaimed wood bed oozes refined sophistication. While more often than not, sophistication comes with a price tag, this is not one of those times!
The price of Article's Nera Walnut King Bed is almost $500 less than Pottery Barn's Hensley Reclaimed Wood Bed and provides the same mid-century modern elegance. Give your bedroom a distinguished character with this piece for less. 
5. Floor Lamp
You could pick out the best decor for your space, but with the wrong lighting, all your efforts are for naught. An understated floor lamp adds a chic visual element that will draw the eye up without adding bulk to the room. The easiest way to decorate like a Pottery Barn while on a budget is to pick up pieces like this beautiful Oak Tripod Floor Lamp by Living Spaces. This lamp offers you the same aesthetic while leaving your pockets unburnt at a few hundred dollars less than the Genoa Wooden Floor Lamp by Pottery Barn. 
6. Wall Mirror
Hanging mirrors on the walls can give any room the illusion of added space and light. They don't have to be intricate or complex to provide that added benefit, although a little extra oomph never hurt anyone! With its sophisticated gold-rimmed design, this Pottery Barn wall brings that benefit along with a subtle metallic accent. We found a similar style at Target. 
7. Floor Mirror
Add a few accent pieces around this area and maybe a houseplant or two for a sweet #OOTD picture spot. You can't go wrong with a well-placed mirror in any space, be it your dressing room or your bedroom. We highly recommend minimally designed mirrors like this one for their design versatility and understated style. The Martinsen Full Length Mirror from Wayfair mimics the stunning Berke oversized mirror from Pottery Barn at nearly one-sixth the price. 
8. Entryway Console
The trick to achieving that signature Pottery Barn entryway is in choosing the right console table. Your entryway decor sets the tone for the rest of your home, and a sleek and straightforward console table like this one will allow you to add design accents like frames, baskets, or houseplants with ease.
Pottery Barn is known for offering beautiful farmhouse pieces with a unique edge. We love the simple and clean lines of this rustic Malcolm Console Table. The Birchlane Cadence Console Table also offers a similar clean rustic top with the bonus of a bottom shelf. 
9. Chandeliers
One of the simplest ways to add luxury and elegance to a room without breaking the bank is by installing a showstopping chandelier. It can offer your space a sophisticated upgrade while being flatteringly functional. You can go all out with your chandelier or choose a more understated style like the Lucca Iron Chandelier from Pottery Barn. The Hamza 6-Light Candle Style Chandelier from Wayfair gives you an almost identical design while saving you nearly $300. Talk about thrifty! 
10. Tufted Ottoman
No living space is complete without an ottoman to rest your feet. Incredibly versatile, they can be used as added seating for guests or as a traditional coffee table to display books and photos.
A tufted ottoman brings a regal feel to this otherwise essential accent piece. The Pier 1 Farmhouse ottoman brings a pop of color to the room while still maintaining the rustic charm of the Pottery Barn Berline Square Ottoman.
11. Sofa
We recommend taking your time when it comes to picking out a sofa for your living room. The living room is the first place anyone sees when they visit your home, so this is your one chance to make a striking first impression.
Since the sofa is the focal point of any living space, choosing one that matches your aesthetic while combining comfort and style is no easy task.
A streamlined design with subtle tufting details checks all the boxes effortlessly but does not have to break the bank. This Pottery Barn sofa will cost you upwards of $1,399, whereas this sofa from Article will save you at least $400! 
12. Office Desk
Who hasn't dreamt of a Pottery Barn home office? A sophisticated space for you to be your most productive self is the dream! However, it's not a home office without an executive statement desk that means business. The Livingston desk from Pottery Barn has a timeless appeal, but it comes with a hefty price tag. The Orviston Executive Desk from Wayfair offers a similar effect while saving you almost $1,400... cha-ching! 
13. Leather Armchair
Elevate your study with a statement leather armchair. A dignified accent piece, the armchair is the picture of effortless elegance and luxury. Complete your Pottery Barn-style home office with an elegant leather armchair, or get the Pottery Barn to look for less with the Barnette Wingback Chair from Wayfair at one-fourth the price! Who says you have to compromise on your budget or quality?  
Looking for More Pottery Barn Looks for Less? 
Designing a dream space can be a challenge, especially when working within the constraints of a budget. Get interior design help from Spacejoy's online interior designers are experts at creating your dream space within your budget. You can see your home and design, all in 3D. They'll also curate a shopping list of handpicked products to suit your budget and style. Your dream home is now one click away. Click here for pricing plans.