Style & Design
Hearth And Hand Summer Collection - List Of Our Favorite Farmhouse Style Decor Pieces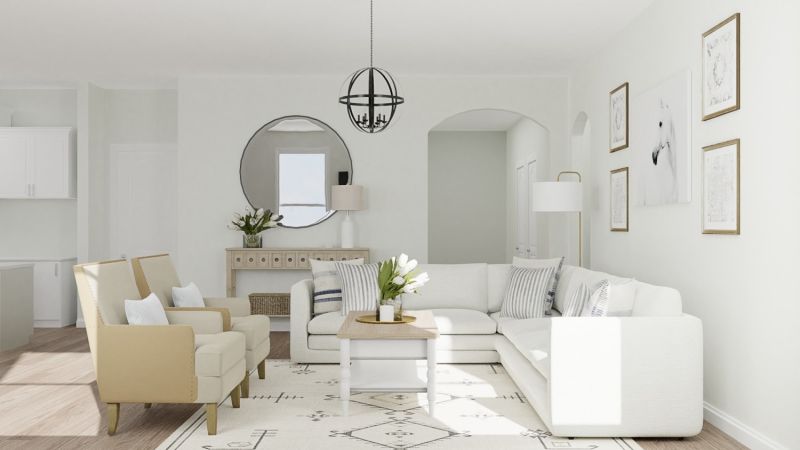 A new collection of Hearth & Hand™ with Magnolia just hit your local Target store, and we can't wait to get our hands on some of these pieces. With an emphasis on neutrals and soft blushing colors, the collection is perfect for getting your home decorations ready for summer. Perfect for bringing an air of freshness and clarity to your farmhouse style interior design. Keep scrolling to see some of the most adorable pieces our team can't stop gushing about. 
The Basics of Farmhouse Style Decor
Funny thing, many of us love the farmhouse style look but don't really know what it means or the basics of how to achieve it. Farmhouse style is all about being casual, welcoming, and liveable. The decor items added are intended to be functional. There's a lot of storage, plump pillows, natural textiles, and vintage-inspired accessories. These are the ten rules of farmhouse style:
Light walls and wood floors

Vintage-inspired accessories

Painted furniture

Open shelves

Natural textiles look cotton and linen

Family heirlooms or items handed-down 

Beadboards

Signage decor

Plants, florals, wreaths, and greenery

Neutral color palettes
Of course, these rules aren't set in stone. Lots of people combine farmhouse style decor with other styles like modern, glam, bohemian, and even rustic. The idea is to keep some of these essential elements like the painted furniture and signage decor and adapt it to the overall look and feel you're trying to recreate. So, to help you infuse your home with some classic farmhouse style decor, we've rounded up our favorite picks from the Hearth & Hand™ latest collection available at Target. Have fun shopping for these!
Our Favorite Farmhouse Decorative Accents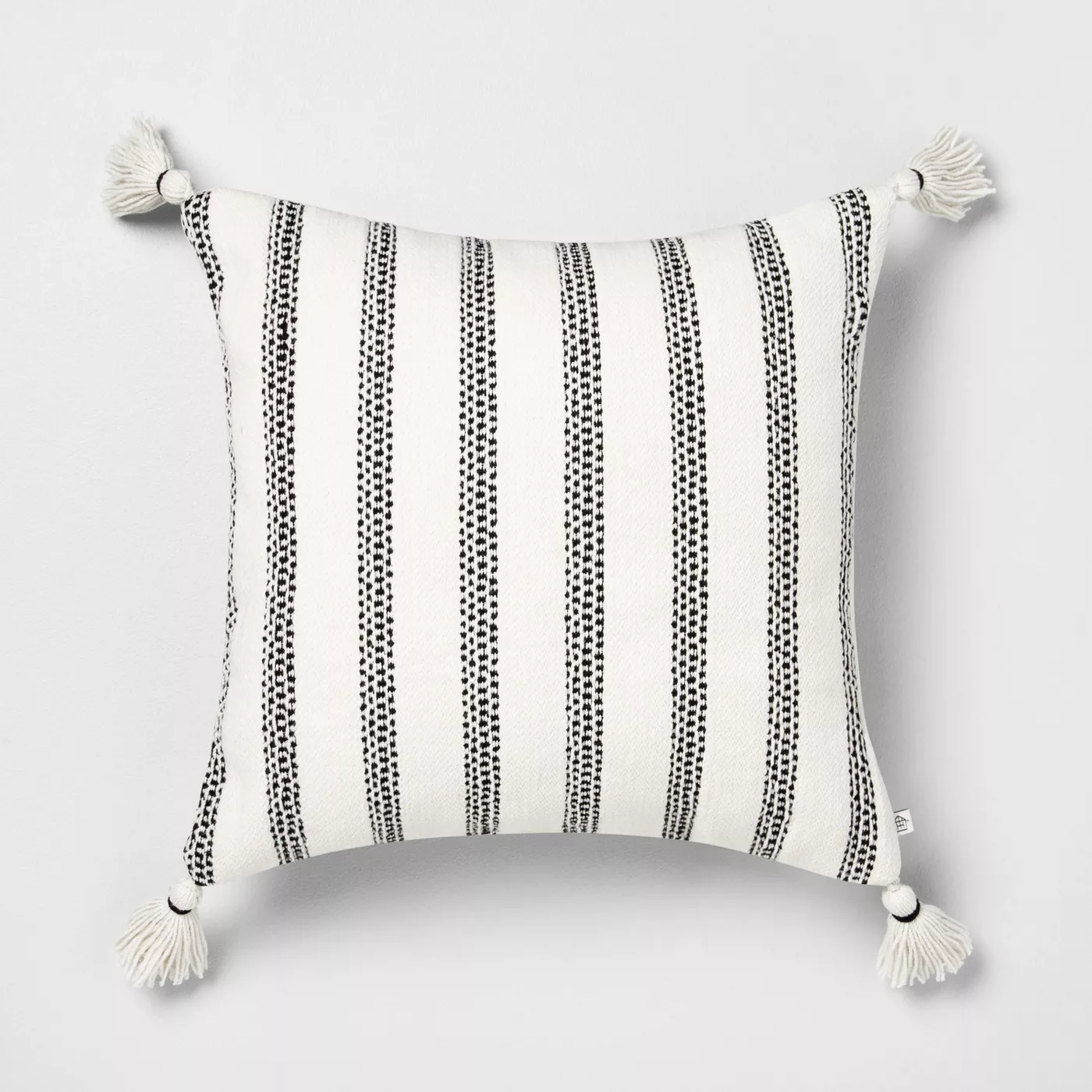 One of the quickest ways to update your farmhouse living room decor is by switching your sofa pillows. We love this striped pillow that can work both indoors or outdoors. Its classic woven design with tassels perfectly complements your modern farmhouse decor.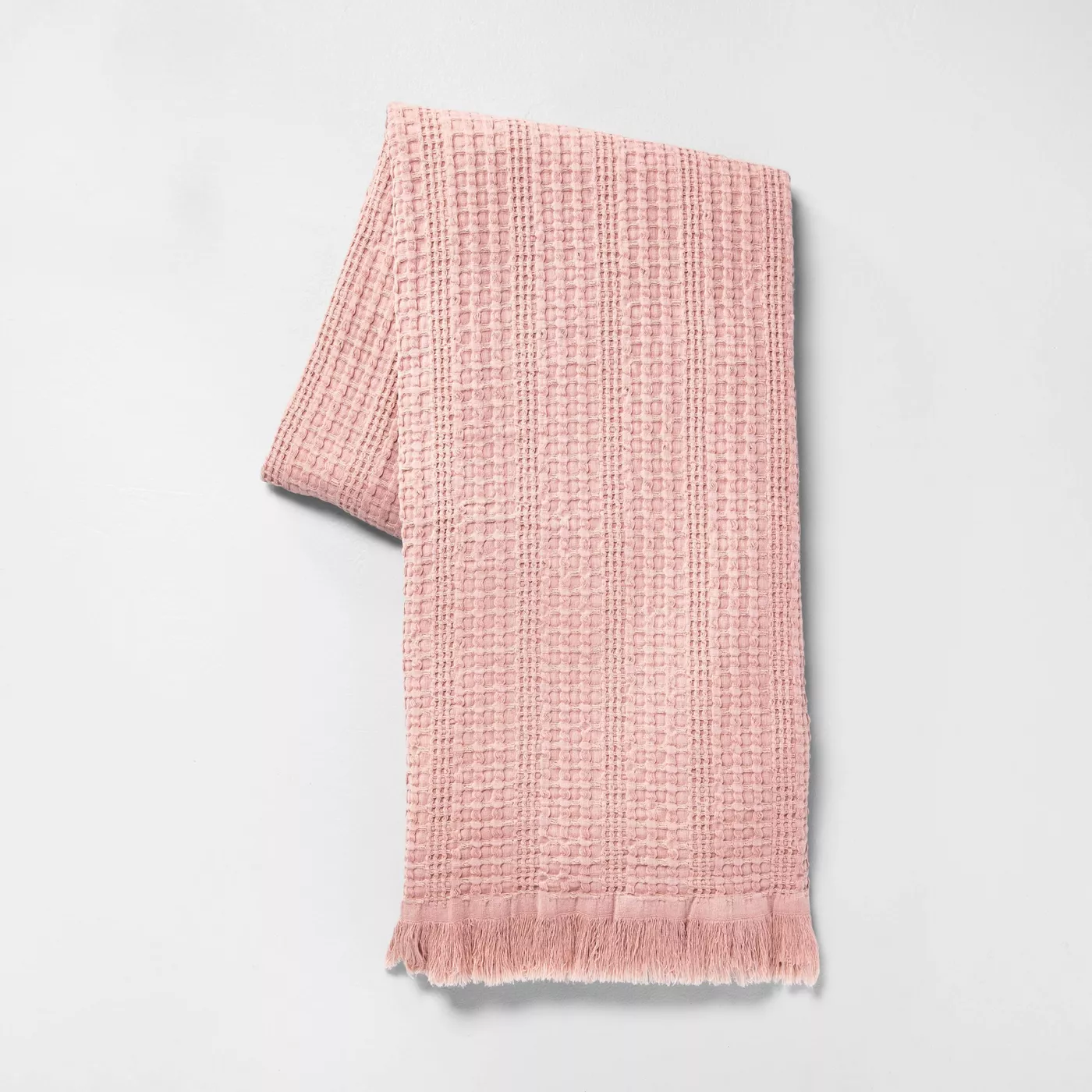 The perfect throw for enjoying summer evenings on the porch or adding a touch of color to your farmhouse style couch. We love the soft, dusty pink shade of this summer throw blanket, perfect for draping it over an armchair or for keeping on the patio. 
Rugs can add so much personality and style to a room, and they're always a fantastic addition to your home. This indoor/outdoor area striped rug adds the perfect textural touch to any room. Keep it by the patio for creating an inviting space, or layer it in your living room for a cozy feel.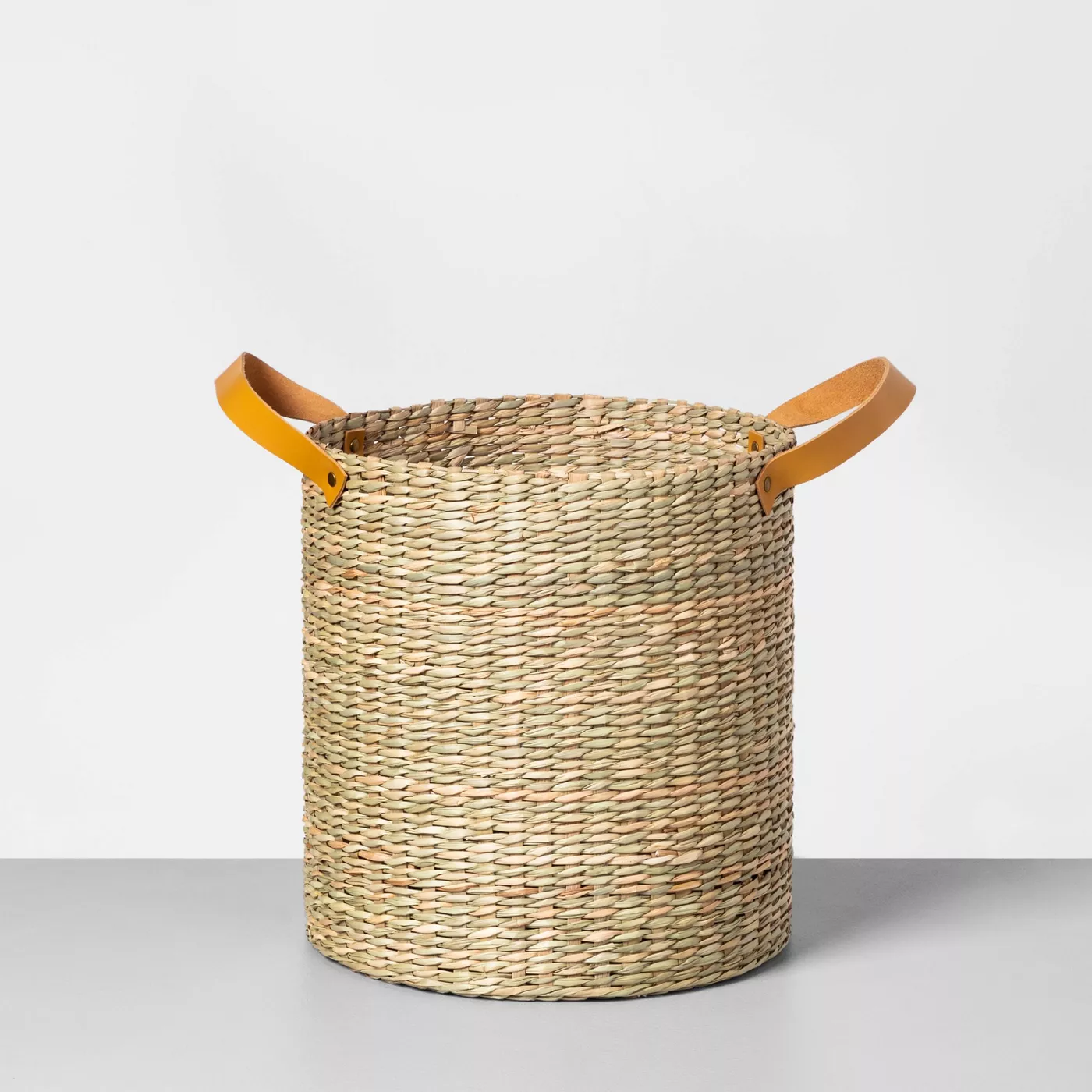 Whether you use it to organize the room or to add a touch of practicality to your space, you'll love this woven storage basket as much as we do. Design to offer a natural look, it's perfect for stowing away toys, throws, blankets, and more to keep your area clutter-free without sacrificing style.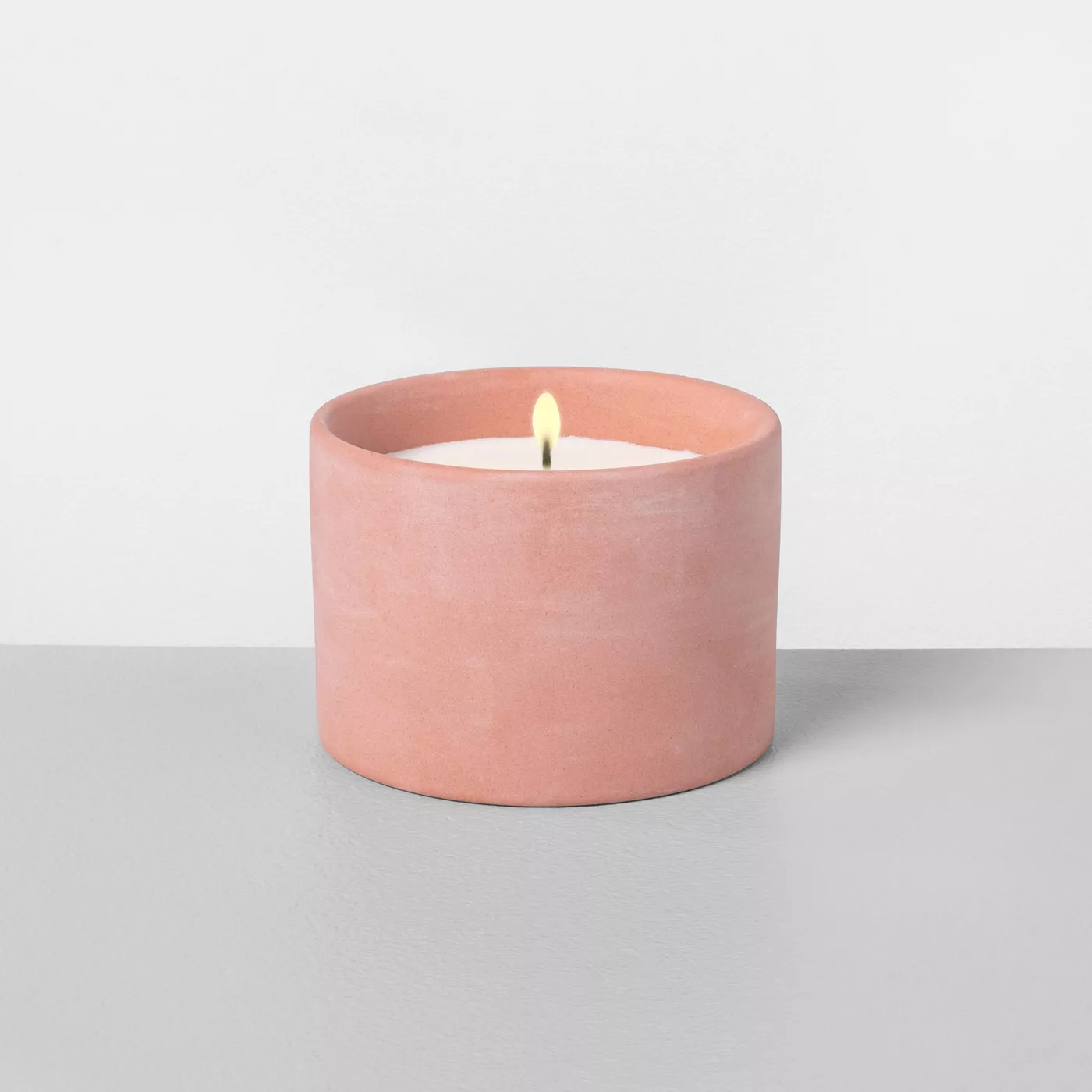 Never underestimate the decorative power of a candle. Perfect for summer nights by the patio, this adorable citronella scented candle is a natural mosquito and bug repellant that casts a soft light while looking stunning around your seating space. 
Entertain in Farmhouse Style with These Picks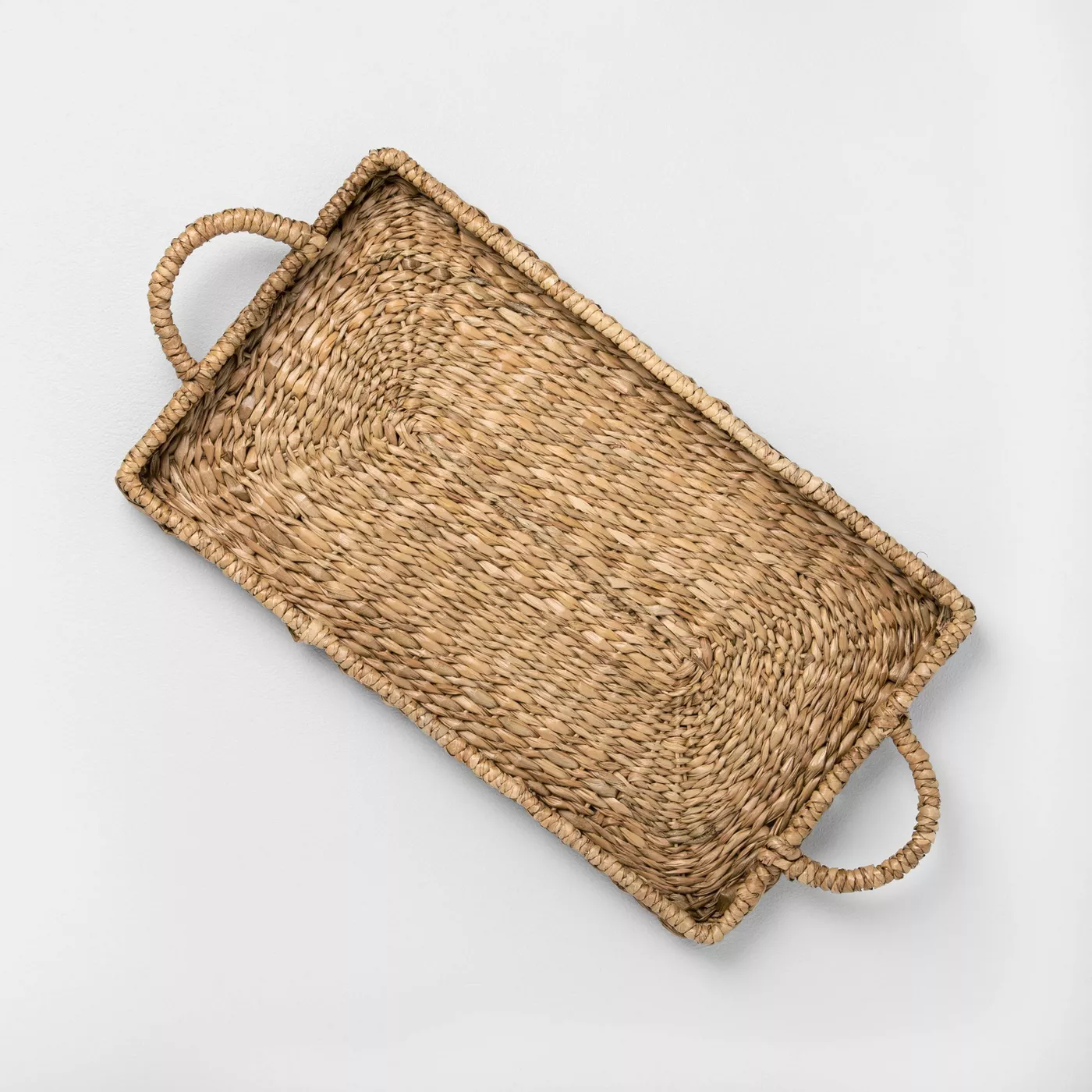 This woven serve tray is the perfect addition to your kitchenware collection for serving drinks and appetizers or displaying seasonal fruits. The classic woven construction and natural finish blend seamlessly with your modern farmhouse style. Plus, no matter what color palette you're working with, this adorable tray will fit right in.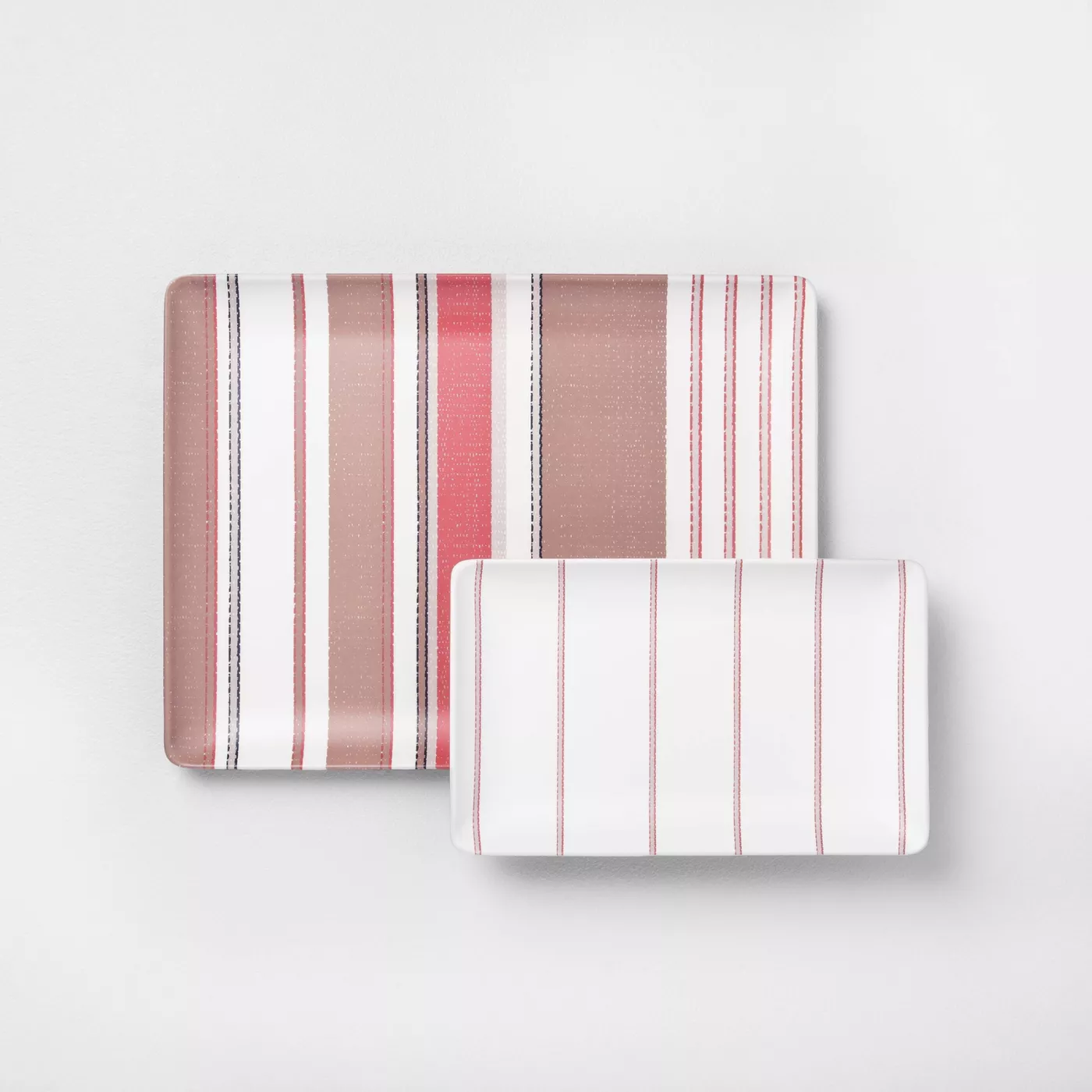 Planning on entertaining this summer? Serve your delicious homemade treats with these fabulous multi-stripe serve trays. We love the casual and contemporary flair. These trays bring to your home decor. Plus, they're great for everyday use, and their melamine construction makes cleaning a breeze.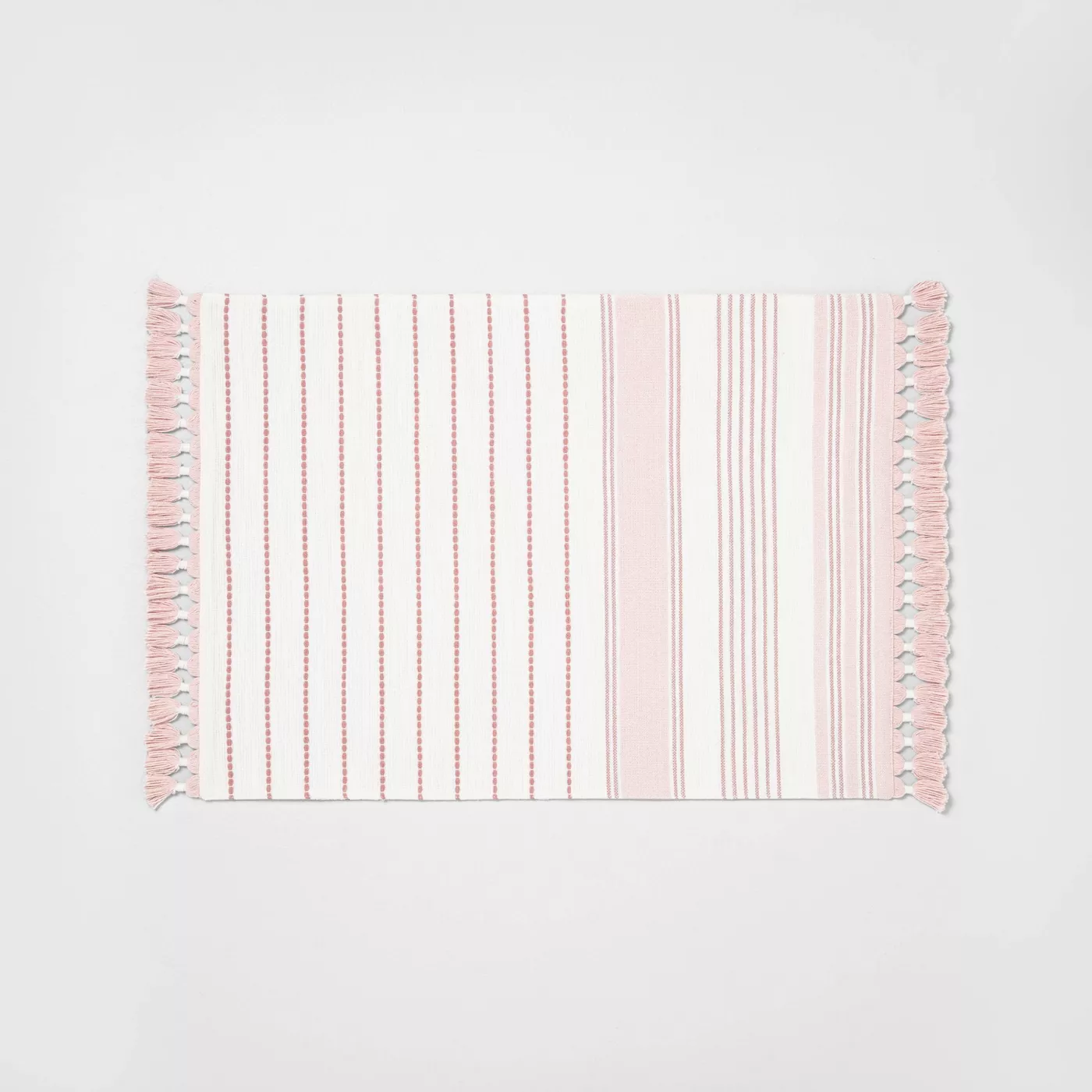 Give your tablespace a warm update with these cute striped placemats. The chic stripes with tassel detailing on the side can add a whimsical touch to your everyday meals and make an astonishing statement whenever you have guests—the best way to effortlessly create a put-together look for breakfast, lunch, or dinners.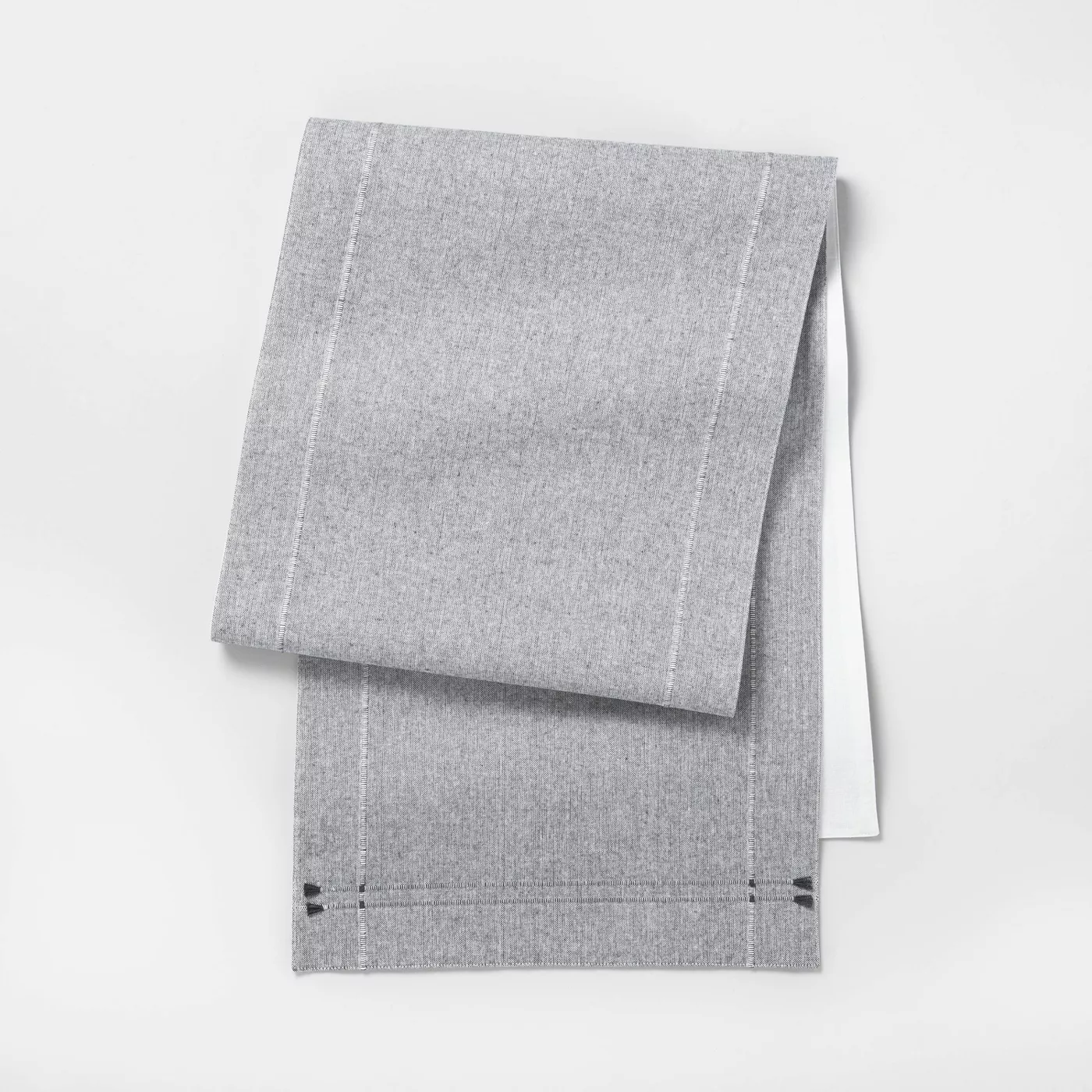 Who says table runners are only for special occasions? Dress up your everyday dining table with this stylish textured table runner. The neutral color and cotton texture makes it great for any event. Pair with coordinating table linens, or be bold and choose contrasting placemats to complete the look.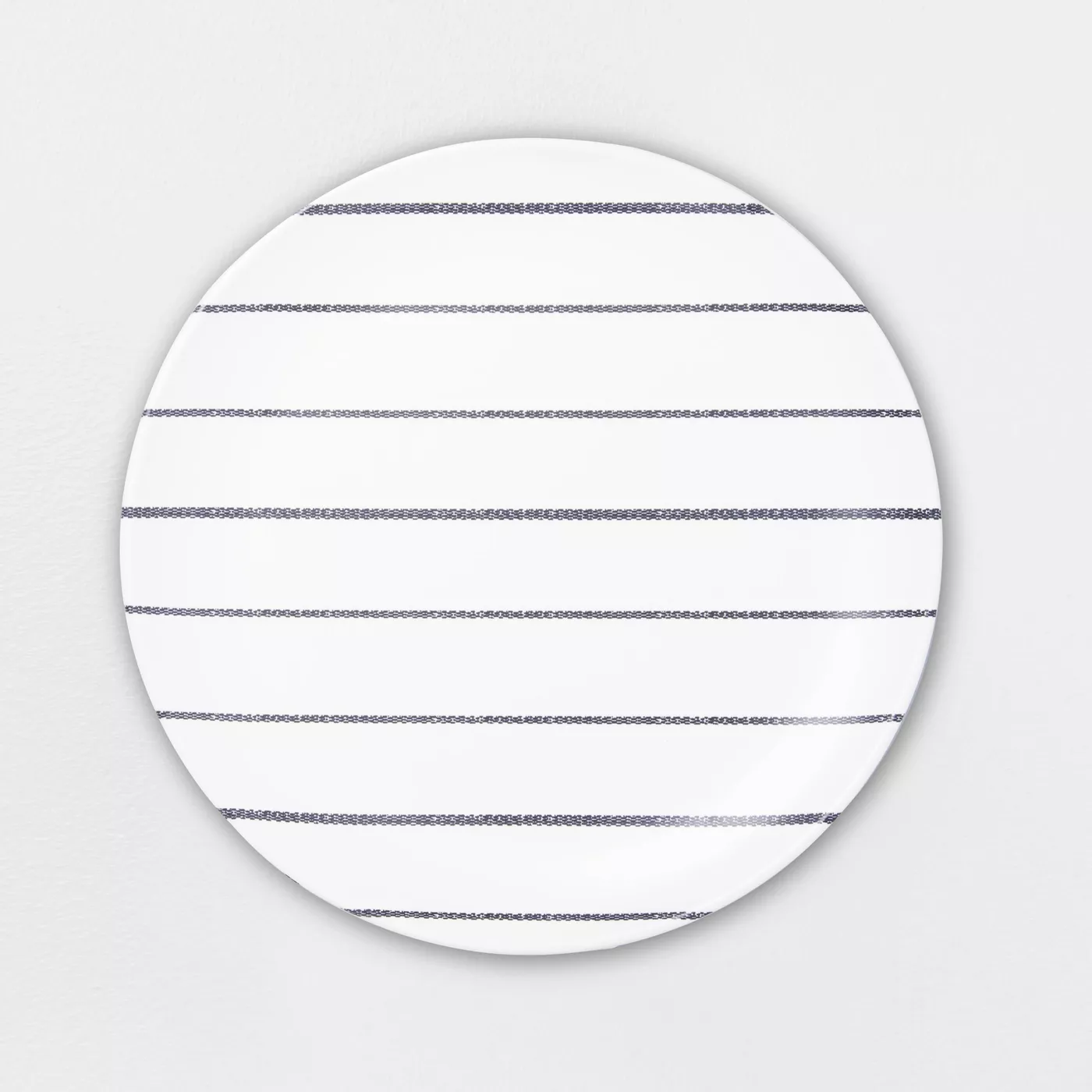 Complete your dining table with these chic contemporary multi-striped dinner plates. The matte finish makes them perfect for adding a touch of casual flair to the table without being overpowering—a subtle way to update your living room farmhouse decor.
Farmhouse Style Outdoor Decor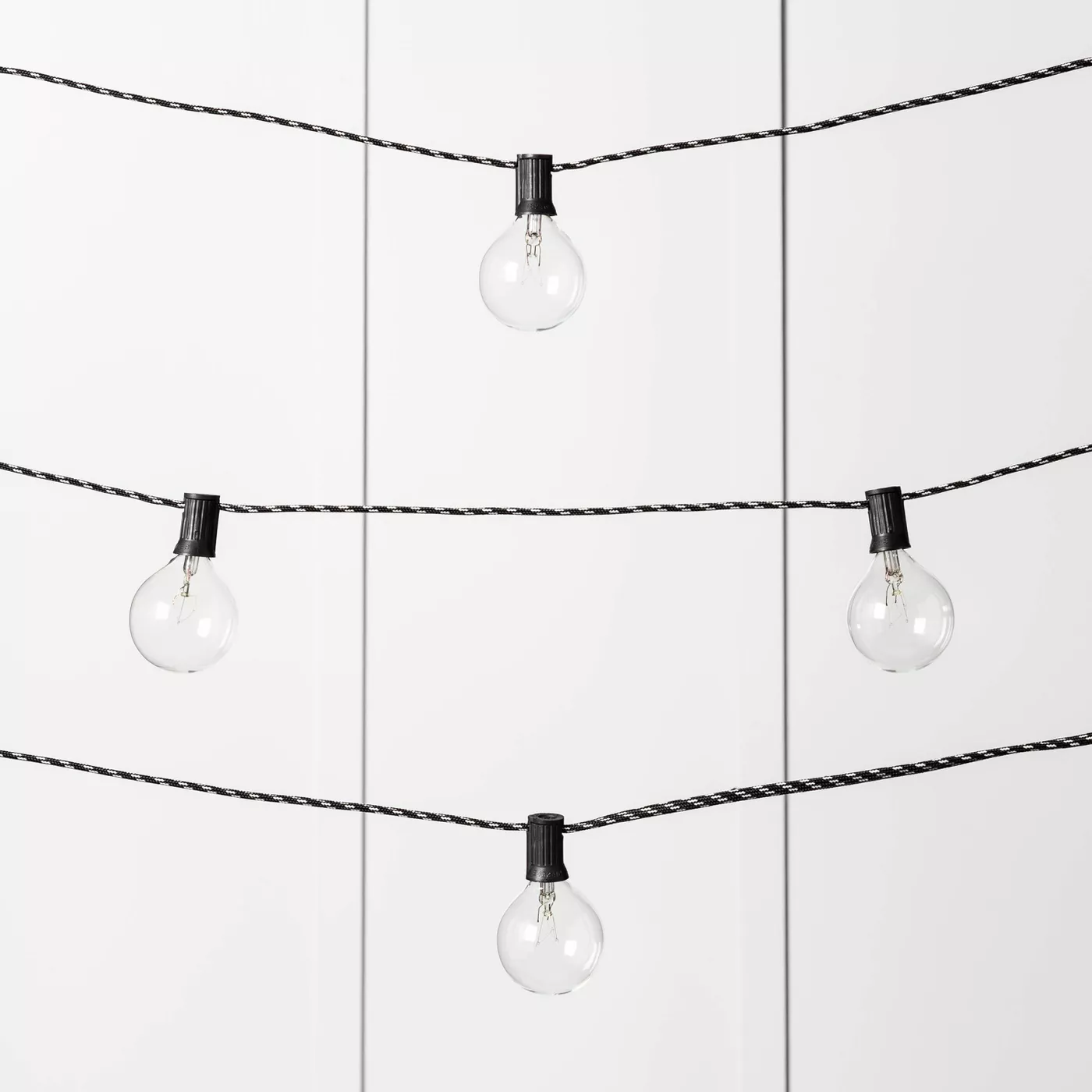 Set a dreamy outdoor space with these string lights. Add a subtle white accent to effortlessly stylish your outdoor space and still reclaim that modern farmhouse style you adore. Perfect for adding a warm and welcoming feel to your outdoor space.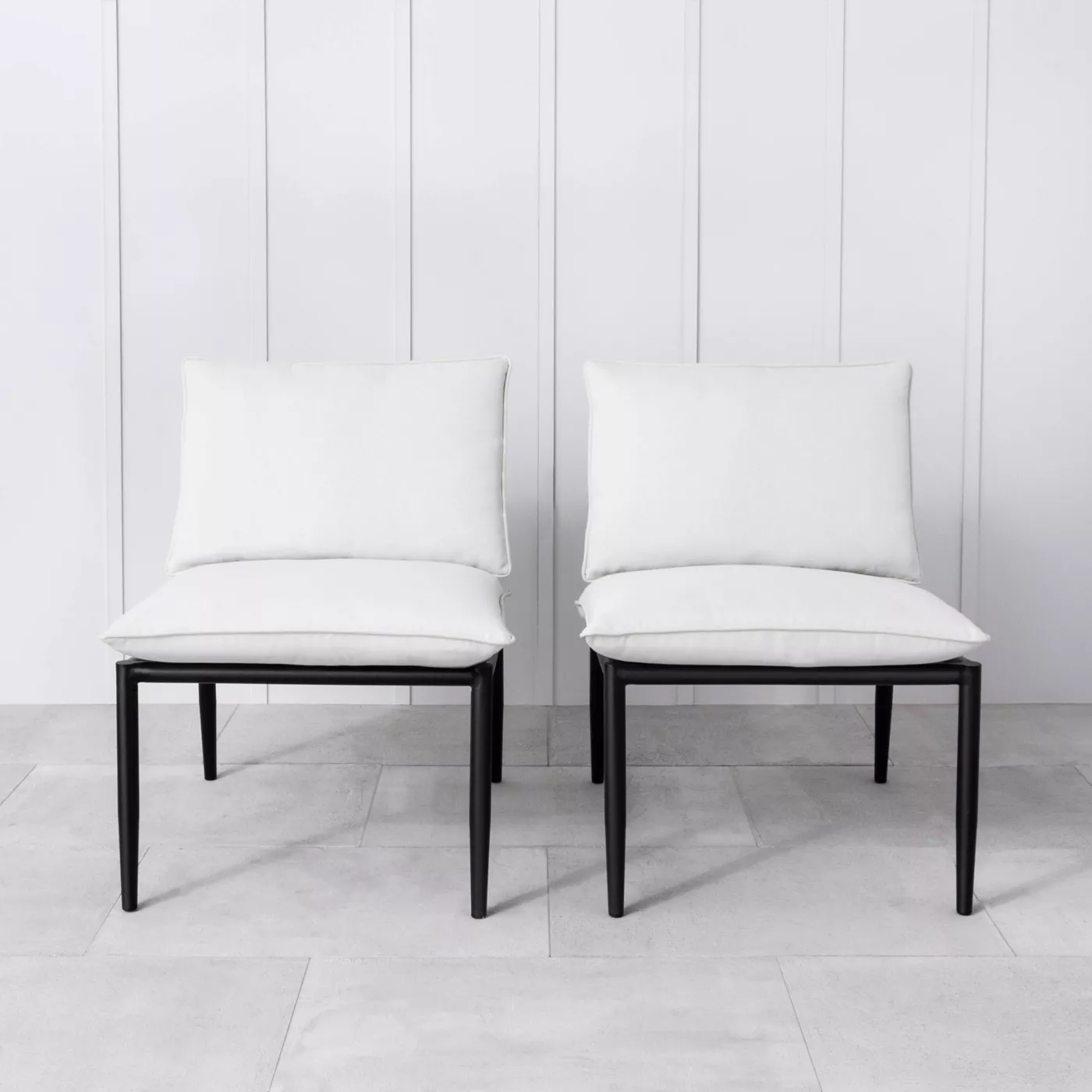 Set the stage for your outdoor seating area with these patio club chairs with cream cushions. Sophisticated, modern, and stylish, they're the perfect addition to a summer outdoor space. We love them for their versatility and simplicity.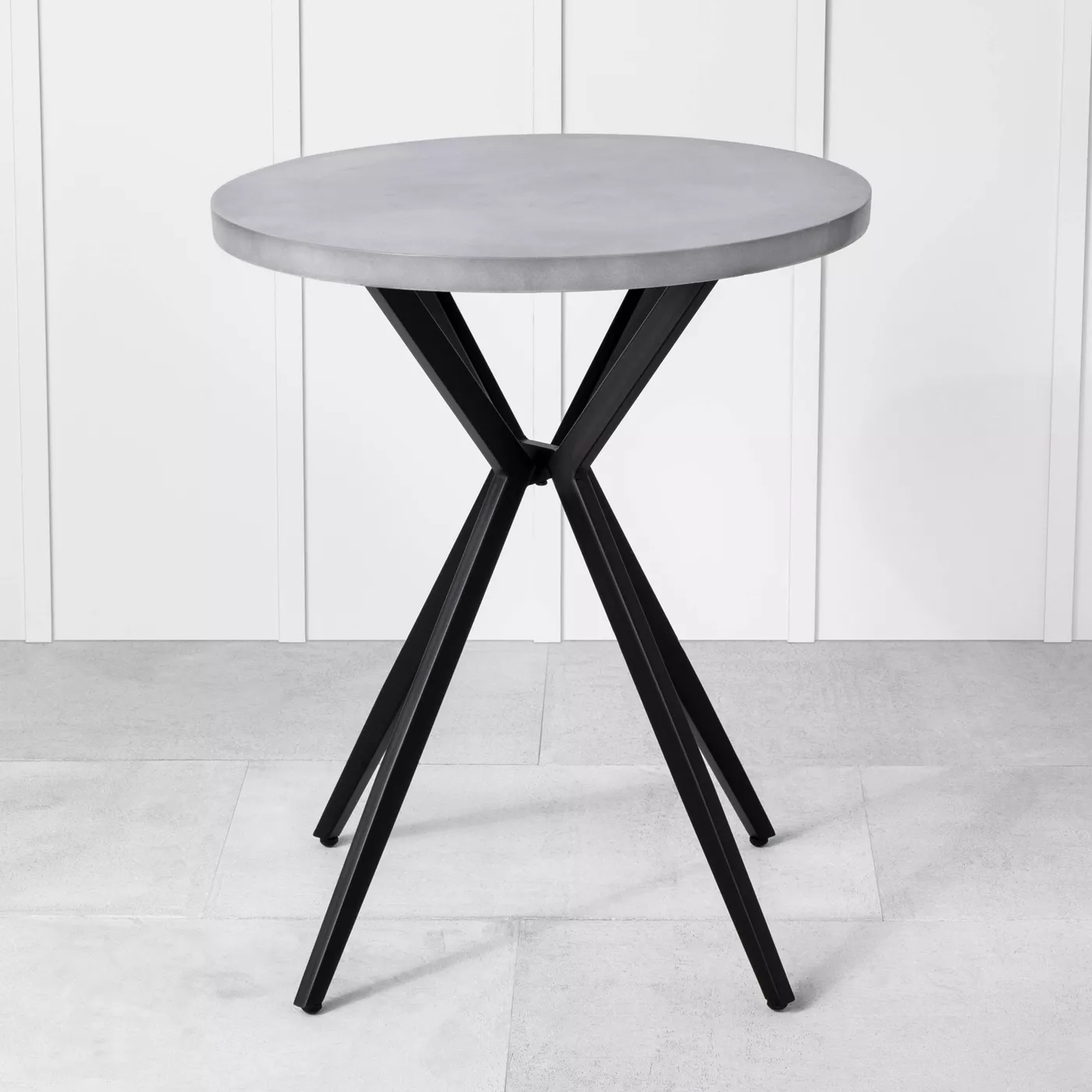 Enjoy breakfast or dinner on your outdoor patio, thanks to this chic gray bistro table. We love the industrial feel of this bistro table. You could even bring it indoors to add a statement piece in an industrial farmhouse living room.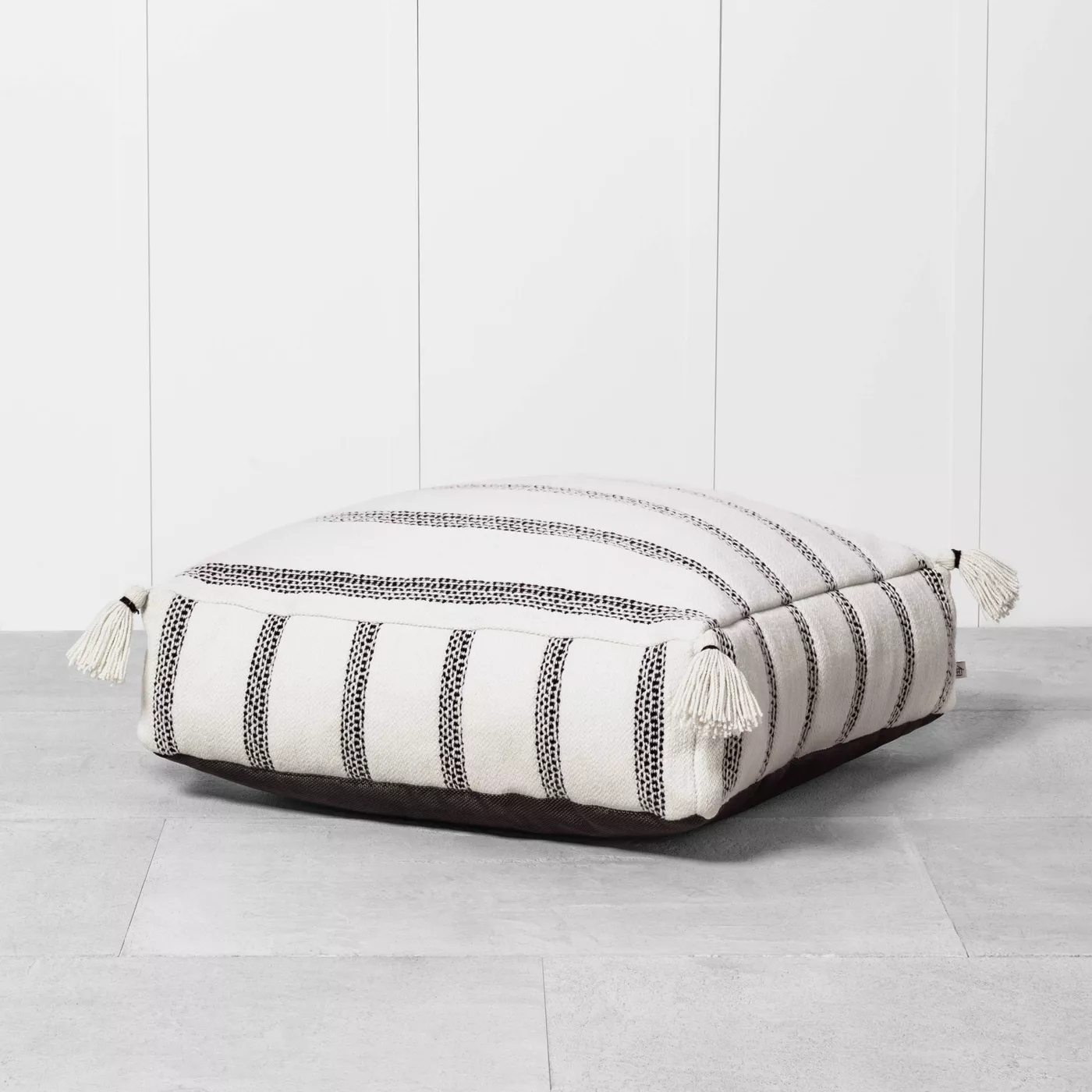 Create a comfy seating area without sacrificing space with this outdoor floor cushion. We love the tassel accents and the contrasting textile pattern. Perfect for extra seating, as a decorative floor cushion, or even as an improvised coffee table, we love the versatility of this piece.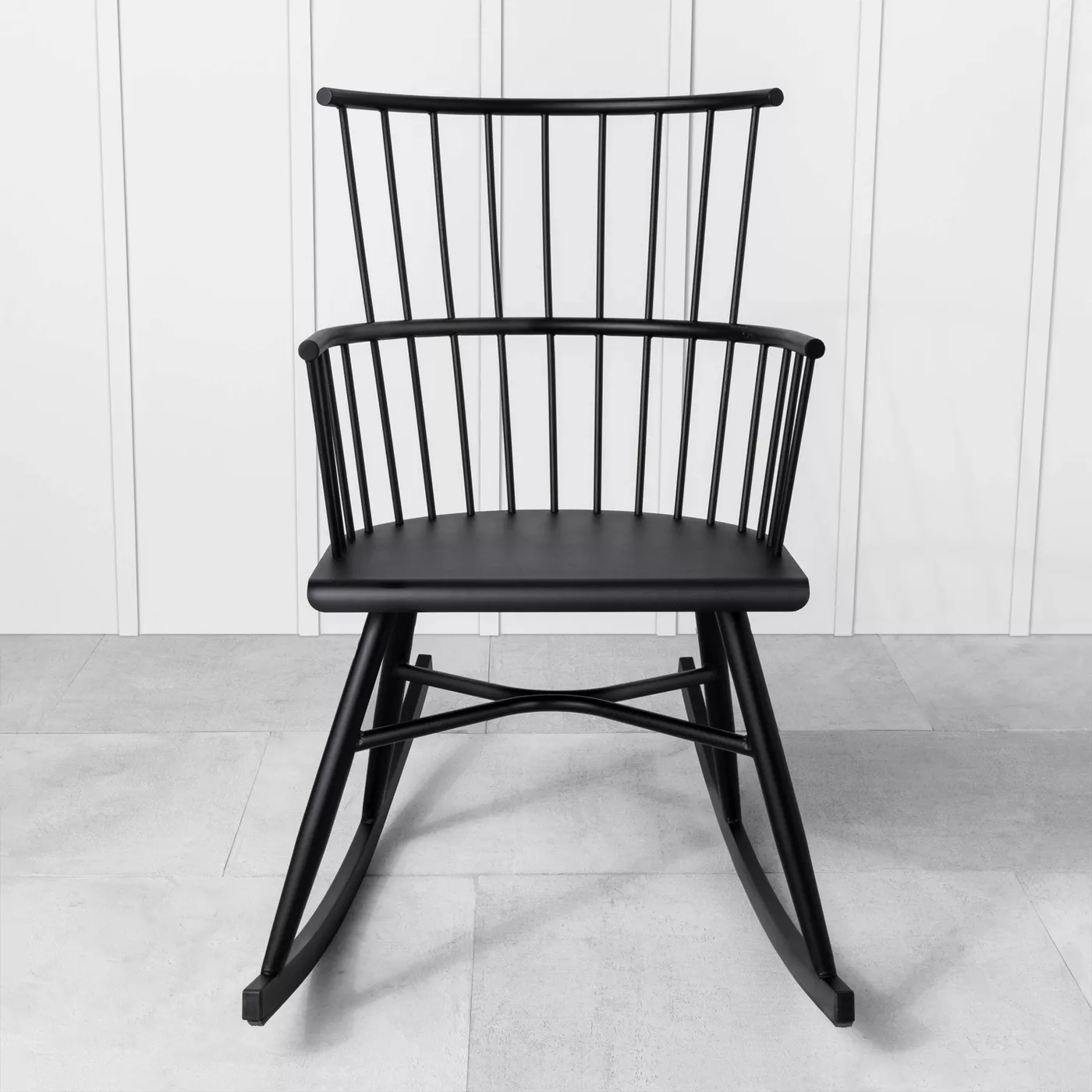 Finally, our collection of favorites can't be complete without this indoor/outdoor captain arm rocker. A great piece to showcase by your entryway or to close the seating area in your patio. We love how versatile this arm rocker can be, and it would look fabulous with the throw and pillows we highlighted earlier. Don't you think?
If you're still looking for farmhouse living room ideas and can't wait to get some of these pieces, start a project today. Work with our online interior designers to create the home of your dreams.