Meet our growing team of interior designers
Spacejoy's interior designers are handpicked from across the country. While our team is a diverse mix of professionals with varied interests, there is a common thread - They are all passionate about interior and design and love transforming spaces. Our designers continue to design homes across the country to bring our clients' vision to life through mindful and personalized designs. Start a project and allow them to work their magic in your actual space.
Jeannine Guerra
Jeannine is an LA based designer with a love for mid-century boho interiors. Her style focuses on designing timeless and comfortable spaces alongside a versatile aesthetic that is clean, earthy, and relaxed.
Ellysia Applewhite
Based in California, Ellysia strives to design unique interiors that have a positive impact on her clients lives. Ellysia loves all design styles but finds herself drawn to rustic boho spaces the most.
Maggie Finch
A recent UNC Interior Architecture Graduate, Maggie specializes in space planning and designs with harmony. Maggie loves to work with eclectic and colorful designs
Nathan Scheuer
Nathan comes to Spacejoy from a theatrical lighting & scenic design background. Having worked on over 150 live productions, his background in storytelling, allows him to weave form and function into a narrative perfect for any client. Nathan loves mid-century modern, minimalist and boho designs
Chelsie Somerfield
Chelsie has deep appreciation for all design styles and rooms. Her true passion with design shines through on mid-century modern projects, where she can showcase her love for form and function.
Annika Tillman
Both an interior designer and a realtor, Annika's experience brings a unique perspective to each project she works on. Annika's designs use clean straight lines, bold colors and tactile materials.
Casey Davis
Casey's main goal with clients is always the same, to help create a beautiful and functional home. She is an expert at understanding her clients wants and needs. She loves working on boho, modern and traditional design projects.
Sarah Nelson
Sarah Nelson is an interior stylist specializing in imaginative and playful designs. Inspired by hotels and restaurants, she mixes modern, glam, and vintage design to create unique and livable spaces.
Laura Wright
Laura hails from Dallas and has a design background ranging from working on large corporate spaces to flipping and staging residential homes. Laura loves mid-century modern, boho and eclectic spaces.
Kate Harvey
From Southwest Virginia, Kate has worked within several different facets of the design industry- from retail and office design to residential interiors. She has a passion for eclectic modern designs and often brings in influences from her travels and favorite designers.
Olivia Coughlin
Based in Wisconsin, Olivia loves spending her time outdoors and traveling. Her design style is a combo of global and bohemian. She loves to influse her designs with colors, textures, patterns and antique treasures.
Lis Populo
Lis is passionate about crafting beautiful spaces - she believes that each environment should inspire you to live your best life. She loves loves to balance minimalism with bold and dramatic details.
Frances Akarepis
Frances has over a decade of design experience- working in a variety of design settings. She finds passion in any design that allows her to work with color and she loves to add a balanced mix of modern and eclectic touches.
Elizabeth Henderson
Elizabeth has a passion for creating comfortable and refined spaces with any budget and design style. Living in Southern California, she is inspired by the incredible design styles surrounding her like Mid Century Modernism, Spanish Revival, and Arts and Crafts.
Chloe Lehman
Based in Pittsburgh, Chloe's experience in interior design, merchandising and product development helps her bring a keen eye to her designs. Chloe enjoys designing spaces that are warm, inviting and functional and loves adding rustic touches into her designs.
Maria Castillero
Originally from Mexico, Maria goal is to transform spaces into beautiful rooms where people feel joy. Her design aesthetic is clean lines, neutral tones, pops of color and lots of plants. She has a deep appreciation for modern eclectic and mid-century minimalist deisgns.
Micaela Farley
Micaela has a passion for bringing the creative visions of her clients to life in the most beautiful way possible. She's a lover of the traditional and rustic styles, as well as, transitional formal spaces.
Angela Amore
Angela Amore is an interior designer specializing in modern and eclectic designs. She derives her inspiration from nature, unique accent pieces, and the streamline edges of modern furniture. Angela strives to bring in a fiercely fresh quality to each room she designs to create a personalized and functional design.
Mala Bardhan
Experienced in both residential and healthcare design, Mala loves simple, classic and timeless ways of enhancing a space. Mala loves to create beautiful spaces that are contemporary and modern.
Lauren Kokenes
Lauren honed her eye for quality furnishings to produce truly unique, polished and highly functional spaces. With a client first approach, she creates stunning designs across all budgets, timelines, styles, and project requirements.
Megan Huffman
Megan specializes in eclectic projects and residential designs. Megan loves working on the finer details of a room, finding that these details often bring a room to life. She specializes in anything boho, rustic or mid-century modern.
Eda Bejko
Eda's passion for interior design stems from that feeling you get from being in a well designed space. She truly believes that good design in any space has the potential to create a sense of peace, contentment and joy. Transitional is Eda's go to style.
Frequently Asked Questions
Best custom made packages with your interior design needs and budget in mind
Q. Can Spacejoy design around products I already own?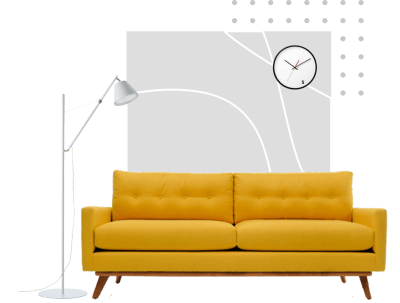 Yes! We can easily incorporate your existing furniture while designing. Our designers will ensure that your new design, which will feature a combination of your existing furniture and newly hand-picked products, will be cohesive and reflect your style and personality. You can see your new design in your actual room in 3D, which means you can be absolutely sure of how everything comes together.
Once you purchase a design package, you'll be redirected to fill out a questionnaire where you can upload pictures of any existing furniture that you'd like to keep in your new designs. We'll either find similar products from our catalog to use in the design or create a 3D model if the closest match is not available.
Q. When will I get my design?
The delivery time of your designs ranges from 1-to-2 weeks depending on the package type selected. Spacejoy offers 3 different design packages: Delight, Bliss, and Euphoria. Choose a package based on your needs. We always do our best to deliver your designs at the earliest. If you need the designs ahead of your stipulated time, you can always write to us at
hello@spacejoy.com
, and your design assistants will do their best
Q. Can I design multiple rooms at a time?
You can design as many rooms as you'd like at the same time. However, if you're planning on designing a full house or more than one room, write to us at
hello@spacejoy.com
and request a special discount, and we'll offer whatever promotions are running at the moment.
Q. Can Spacejoy's designers help me find my style?
Once you choose a package that best suits your needs, you will fill out a questionnaire and take our optional style quiz for your designer to gauge your style and space requirements before the designing takes place. Through these resources, we gain a deeper understanding of your likes, preferences, and purpose of the space. You can also share any inspirational design ideas, images, and moodboards that you may have saved on Pinterest, Instagram, or Houzz. Using these, our designers make a fairly-educated assessment of your style and head to the drawing board to bring your creative visions to life!
Q. Do I have to buy the furniture right away?
All of our designs come with a curated shopping list of the products featured in your design. Through this list, you decide what and when to shop! Whether your purchasing occurs in one go or over a few months as your space comes together, the shopping happens at your convenience. There's only one catch - while we do our best to select items with high inventory to avoid out-of-stock situations, there is a possibility that some of the products hand-picked by our designers suited for your style, budget, and layout may run out of stock through the retailer. If you absolutely love something you can't live without from your designs, we recommend purchasing it sooner than later!
Q. I don't have a floorplan - can you work with just photos and videos of my home?
If you don't have a formal floorplan, you can always eyeball the layout of your space and hand-draw it to the best of your abilities, photograph it, and upload the image under the floorplan section in your questionnaire. In the unlikely event that you are unable to send across either a formal floorplan or a hand-drawn layout, provide as many photos and videos of your space as possible for our team to do their best at creating your 3D model. Getting the layout correct is crucial as your model and overall designs are centered around it!
Q. I don't have a huge budget, but I need help. Can Spacejoy work with my budget?
Spacejoy's designers work under a budget specified by you. They'll do their best to find furniture and decor options that work for the budget you have in mind without compromising style or functionality.
Handpicked Products From