Living Room Design Ideas
These Small Living Room Decor Ideas Will Give You All The Inspiration You Need
If you live in a small, city apartment, you've probably had your fair share of decorating woes. No room seems big enough for the furniture you want, and finding the space to execute all the ideas you have for your living room is nearly impossible. 
Don't let your small living room put a damper on your dreams of decorating your home. We're not going to let all those Pinterest boards go to waste. Just because your space is small doesn't mean you can't make it look modern and chic. There are many ways to transform your living room. Let's dive right in! 
1. Choose White Walls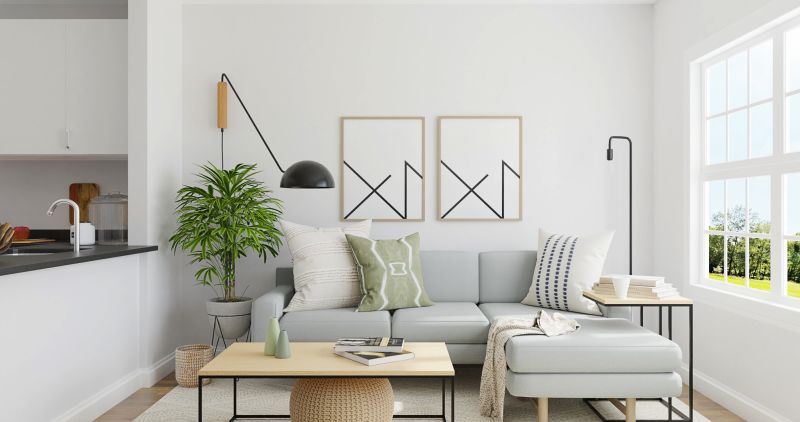 When it comes to small living room decorating ideas, this one takes the cake! It's an all-too-easy hack to make your room seem airy, spacious, and soothing. What's more, white walls are like a blank canvas. 
Whatever decor theme you choose will work seamlessly with these walls. But our expert designers recommend going with a white-on-white decor theme to maximize that spacious look and feel. Pair your walls with equally pale furniture, and you'll have a brighter, lighter living room that's hard not to fall in love with.
If you think an all-white living room isn't to your taste, you can always incorporate bright pops of color in the form of lively plants, accent pillows, or even wicker furniture. 
Read more: 6 Game-Changing All White Living Room Ideas
2. Fit In a Nook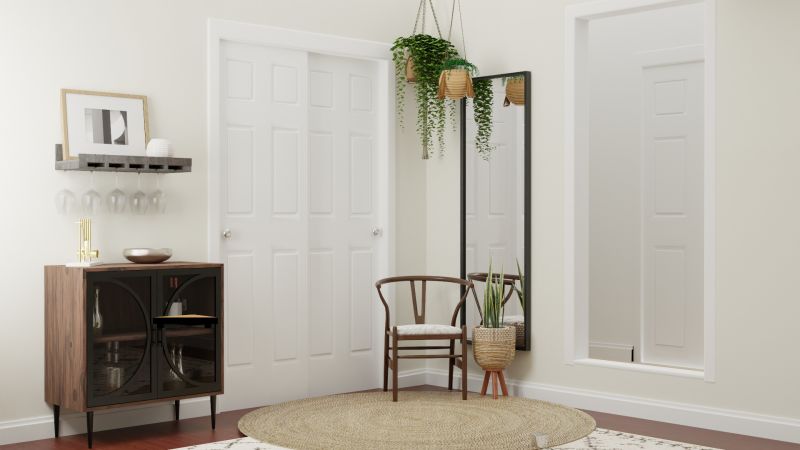 Small living rooms often come with slanted ceilings or oddly angled walls, making it even harder to style. While you may feel like you've hit a wall (literally), we're here to show you how to utilize that oddly-shaped corner and create a little nook for yourself. A nook adds a homely charm to small living room decor. You can use lower furniture to give the illusion of a higher ceiling. 
Get yourself a comfy chair with a chic side table, and voila, you've got a cute little reading nook. We also love the idea of using a shorter ottoman as additional seating — it gives the tight space a cozier feel. You could even use this space to hang up your favorite artworks or pictures. Sectioning your living room makes it seem more spacious as you've made it look like it's big enough to accommodate multiple areas. 
Read more: 6 Steps to Make a Farmhouse Style cozy Nook Corner in Any Room
3. Play With Scale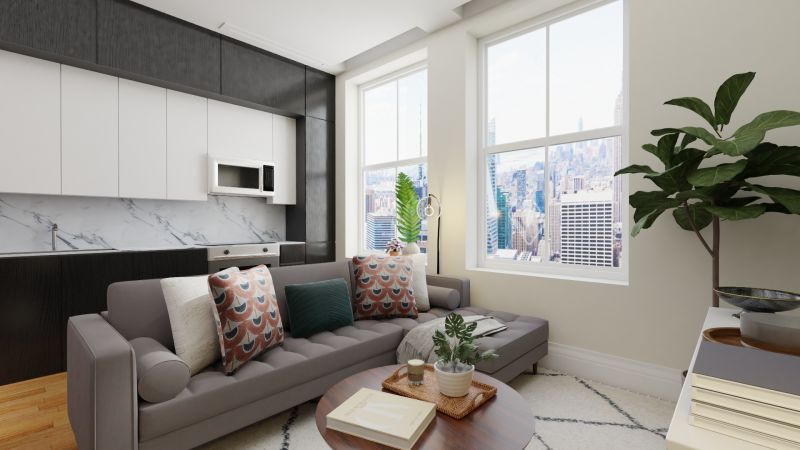 One way to make even the tiniest living room seem a bit bigger is to find furniture that can fill up space. A wall-to-wall sofa can make your small living room seem more expansive than it is. Proportionally, place a significantly smaller coffee in front of it, making the couch appear even larger. It's also worth noting that playing with scales in small living rooms is very important. 
If everything — sofa, pillows, coffee table — is small, it makes the room feel even tinier. 
However, if there are one or two slightly larger statement pieces, it makes the room feel and appear larger. You can also play with scale by choosing bulkier window treatments and larger pillows to contrast the small rug and coffee table.
4. Free Your Floor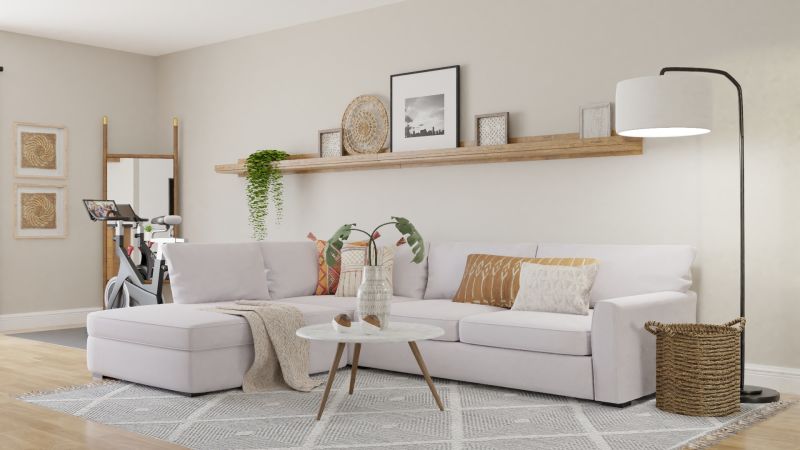 Clearing out your floors is one of the best small living room decorating ideas you can execute. It's not as hard as it sounds, especially with the variety of furniture available out there. If you're a plant mom, switch to hanging planters. Not only will they pretty up your living room, but they also don't take up any floor space.
Another great living room decor idea for small spaces is to mount your furniture. You can attach tables, shelves, bookcases, etc., to the wall giving you a clean and clutter-free floor. Floating shelves are naturally minimal in design and fit in well with the vibe you're going for. You can't mount things like your sofas, chairs, coffee tables, and such. 
Choose ones with exposed legs for the furniture. Chairs and tables with exposed legs automatically open up the living room and make it feel more spacious. 
5. Keep Things Simple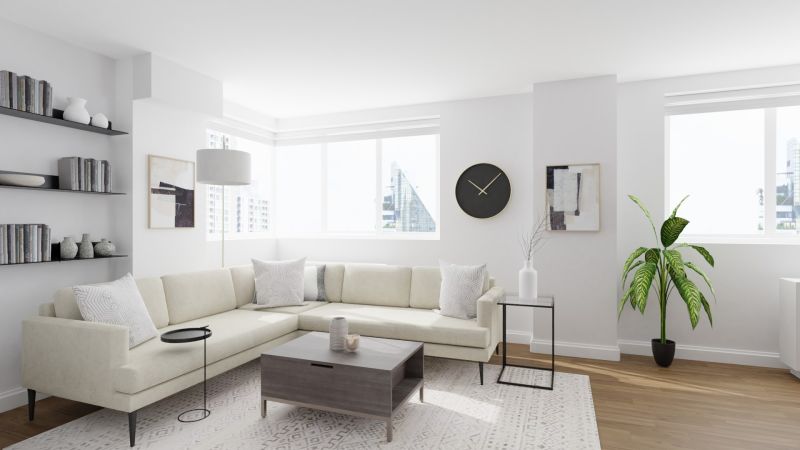 We love the minimalism in this living room. The use of a monochromatic palette in this area is purposeful and masterful. There are slight variations in texture, giving the room a seamless flow. Our expert designers have strategically placed only a few carefully chosen pieces around the room. 
The furniture and decor heavily rely on the room's architecture so that all of the little details are enhanced, and the monochromaticity helps the small space appear larger. With a limited color palette, styling your living room is much, much easier! 
Read more: 10 Tips On How To Decorate A Small Apartment Living Room
6. Use Patterns and Texture Instead of Color
We love a whimsical moment. That's why we encourage you to play with different patterns and textures to give your small living room decor multiple focal points, which in turn makes the room seem bigger. Don't be afraid to use patterned throw pillows and pair them with other accessories like patterned planters, or a patterned rug, for instance. 
Another great small living room decorating idea is to use a singular color palette and use textures and prints to bring in character while keeping the room's flow seamless. Ensure to balance the room by leaving negative space on the walls and within the design to give the illusion of a vast, open space. 
7. Try Vertical Decor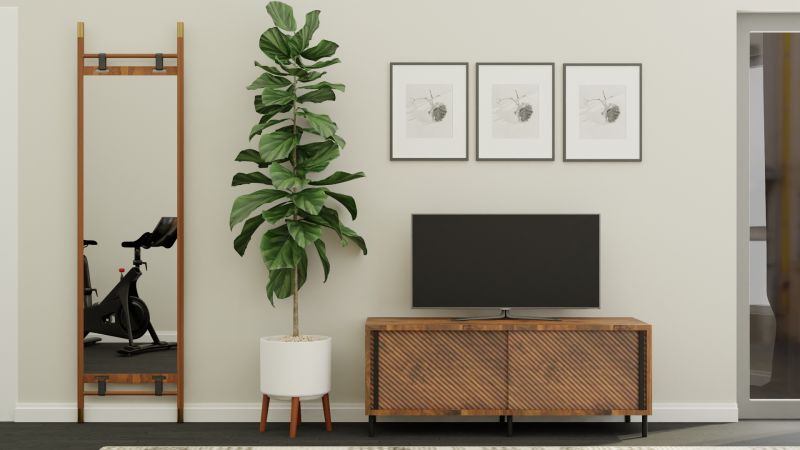 One thing to keep in mind while thinking of home decor ideas for small living rooms is that no matter what you go with, always keep things vertical, especially while decorating your walls. Whether you decide to put up frames, pictures, paintings, etc., vertically arrange them to elongate the room. 
Experts recommend using sconces, a few tall plants, and a narrow floor-to-ceiling bookcase to give your space some height. You can even keep this in mind while choosing new wallpaper. Use vertical stripes to give your living room a unique personality while also making your low ceiling look higher than it is. 
8. Add the Illusion of Space With Glass or Mirrored Elements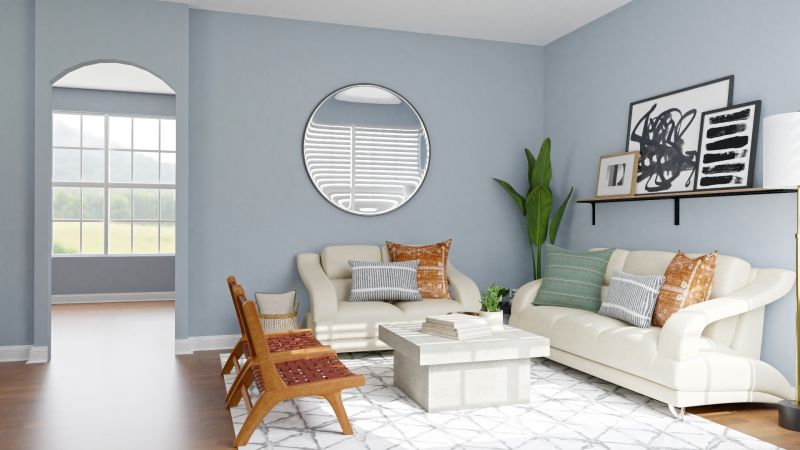 Glass is, by definition, see-through, which makes it minimal by design. Even large glass furniture doesn't seem like it takes up too much space as it doesn't break the flow of your design. Pro tip: gold accents pair beautifully with glass. Your living room will have a minimal elegance to it that you will love. 
Another great hack is to incorporate mirrors or reflective surfaces in your small living room design. Mirrors have a natural ability to brighten up the room while also making it seem larger. We recommend placing it opposite a window to maximize its effect. 
9. Add a Gallery Wall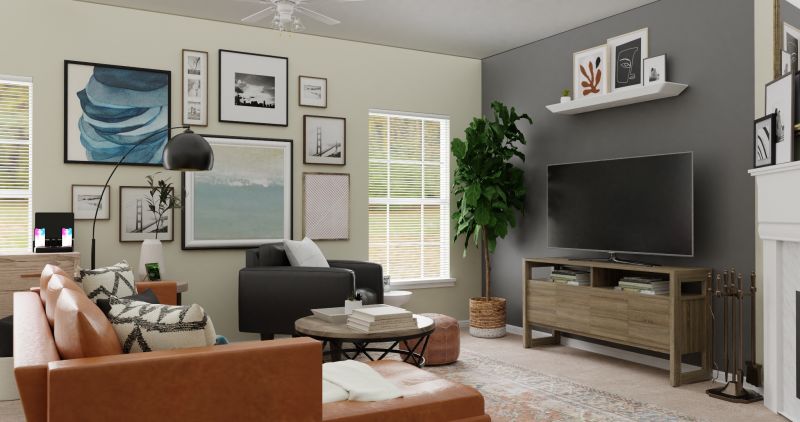 Set up a beautiful gallery wall to give your guests something to ooh and ahh about! Bring in lots of vibrant colors, prints, and patterns while arranging your frames. Every living room, small or large, needs a focal point, and we LOVE a good gallery wall. It's personal, pretty, and speaks to the owner's tastes and passions. Let your guests get to know you a little better with this gorgeous piece of art. 
One of the main reasons a gallery wall is an excellent small living room decorating the idea is that it takes attention away from the size of the place. Your guests won't wonder how small your living room is when all their attention will be on your beautiful gallery wall. 
Read more: 12 Gallery Walls Ideas to Dress Up Your Walls
10. Play With Using Light-Weight Curtains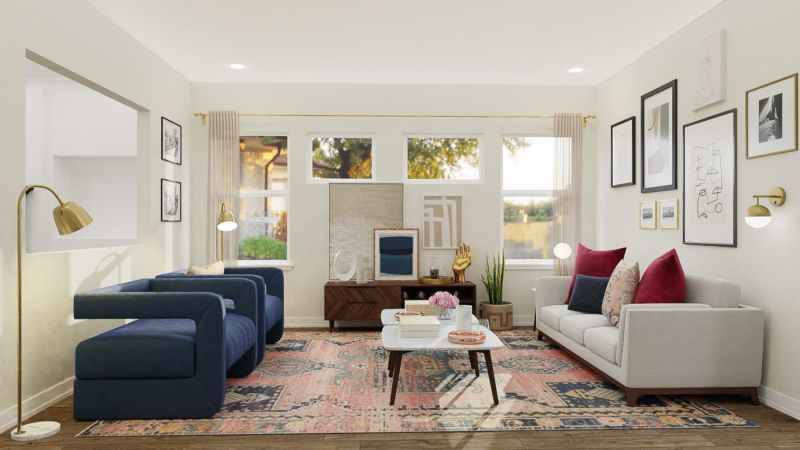 Curtains can completely transform your living room. They can bring color, pattern, and texture, plus a feeling of comfort and calmness. For a small living room, think more about function than style. 
Avoid bulky and darker shades and swap them for lightweight fabric curtains instead. This will let more light come into the space. Opt for white or pale colors to allow natural light to come in and reflect on the curtains, increasing the brightness of the living room and giving the appearance of it more spacious. 
11. Use the Space Under Your Windows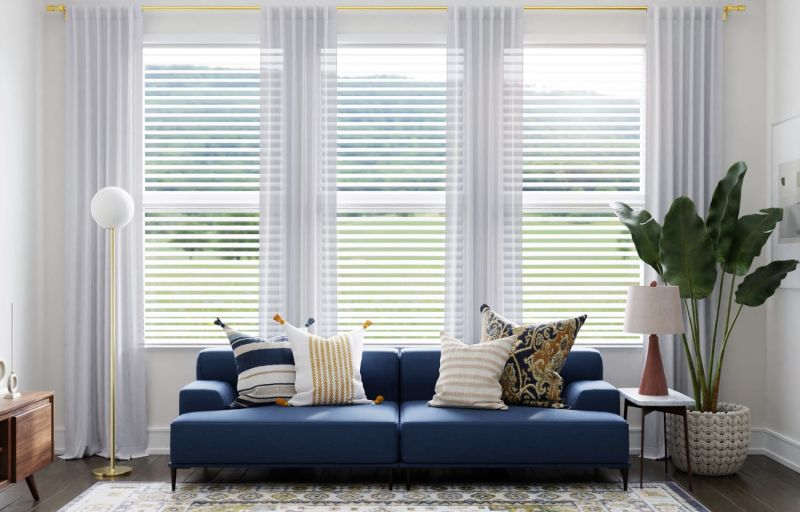 One excellent way to maximize the potential of your small living room is to turn every inch available into a functional space. For example, the area under your windows can become a cute little niche if you add a window seat. 
Look for slender and sleek furniture that takes less visual space but maximizes the area. This furniture trick the eye into thinking space is less cluttered, but you're adding more details to the room in reality. Keep this space clean and simple with a couple of pillows on the site. Remember, you still want the eyes to go towards the windows. 
12. Pick a Statement Piece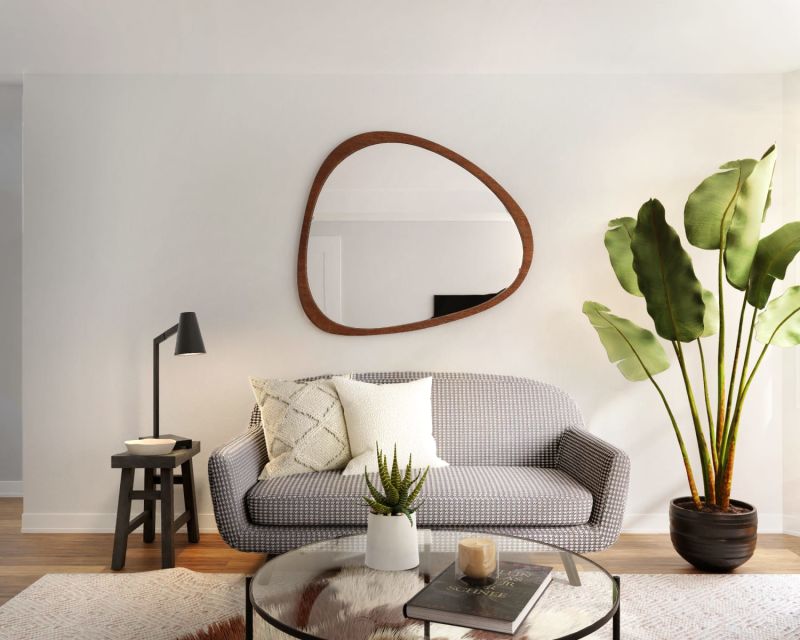 Distract the eyes by choosing one or two statement pieces. It can be eye-catching artwork, a bold light fixture, or a dramatic statement chair. When you add an attention-grabbing accent piece to your small living room, you create a fresh perspective that adds contrast and intrigue without making the space look cluttered. 
Keep the rest of the room clutter-free to balance scale and draw attention away from the room's actual size. 
13. Choose a Large Area Rug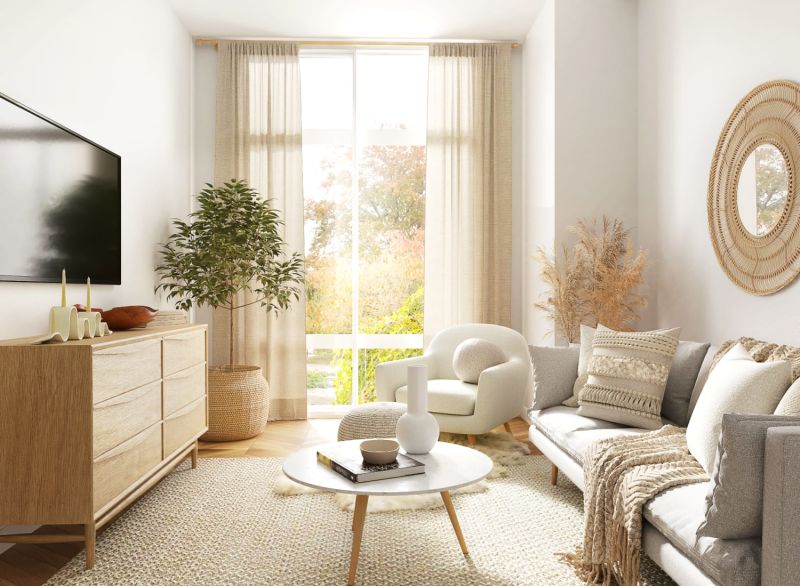 It might seem counterintuitive, but a larger-sized area rug can make a small living room appear bigger. When you choose a rug that's large enough to set apart the seating area from the room's other functions, you give the illusion of having a more spacious living room area. 
Unlike small rugs, a larger one gives a small space a sense of structure and provides a visual illusion that creates extra length and width. To make sure you get the right size, make sure it's big enough to accommodate all legs of furniture. Otherwise, it might give the opposite illusion, shrinking the space. 
Read more: Design Mistakes With Rugs
14. Opt for Leggy Furniture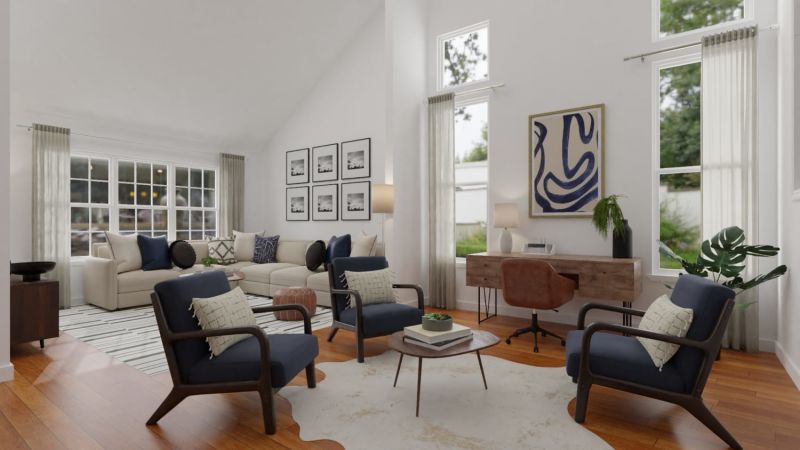 When you're working with a small space, the furniture you choose can make or break the space. Light-color furniture pieces with a lightweight appearance will always make the space look visually spacious. 
When shopping for furniture, pick out pale color tones with leggy pieces that let the eyes scan the floor. The same goes for glass tops and see-through furnishings. These make the room seem less constrict and tricks the eye into thinking there's more space. 
At the same time, you can scale down on the furniture. Think about pieces that consume less visual space. As we said before, playing with scales using a lower couch with thin arms helps create a feeling of volume in the room. Low-profile furniture won't appear to dominate or take too much space. 
Opt for smart furniture pieces that work with small spaces. For example, choose a loveseat and ottomans over a traditional sofa and coffee table. Using this lightweight design layout will work for tiny apartments and small living spaces. 
15. Choose Multi-functional Furniture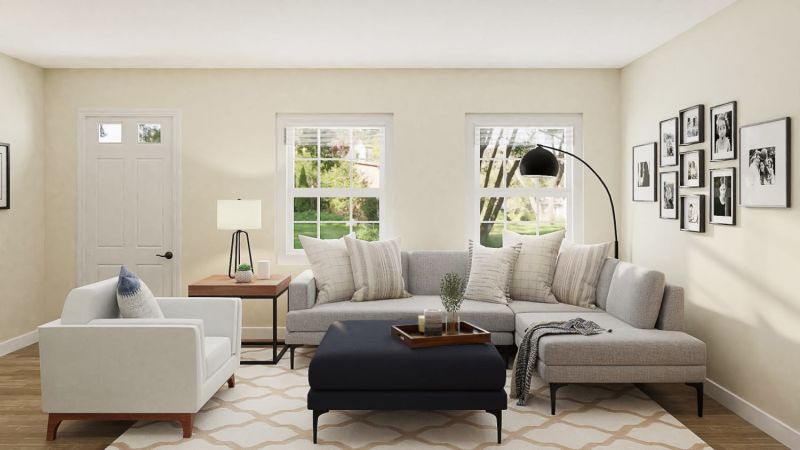 When you lack the luxury of space, the more your furniture pieces can do for you, the better. Thankfully, you can find astonishing furniture pieces to fit your style. 
A large and sturdy pouf can turn into a coffee table. It will be extra seating space if guests come over, and you'll always have a spot to leave the remote and decor. You can also invest in furniture with storage solutions, like a sofa with storage under the seat or a storage ottoman. 
16. Bring the Outdoors Indoors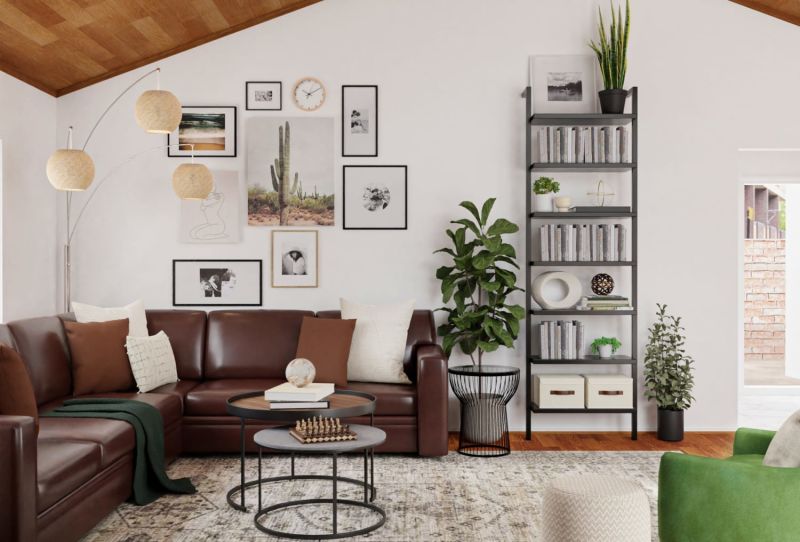 Nothing makes a small space prettier and feel more alive than decorating with greenery. Whether you're a garden expert and take care of your precious plants, or you're a beginner, so you choose faux plants to start, they can make your tiny room look enormous. 
Blooming florals and leafy plants are perfect for blurring the lines between out and indoors. Plants can add color, texture, and depth to your small room. Get creative and hang lush greenery, so you don't have to take precious space on your floor. It will also trick the eye into thinking there's more room than there really is. 
Read more: Indoor Plant Ideas for Home
17. Layer Your Lighting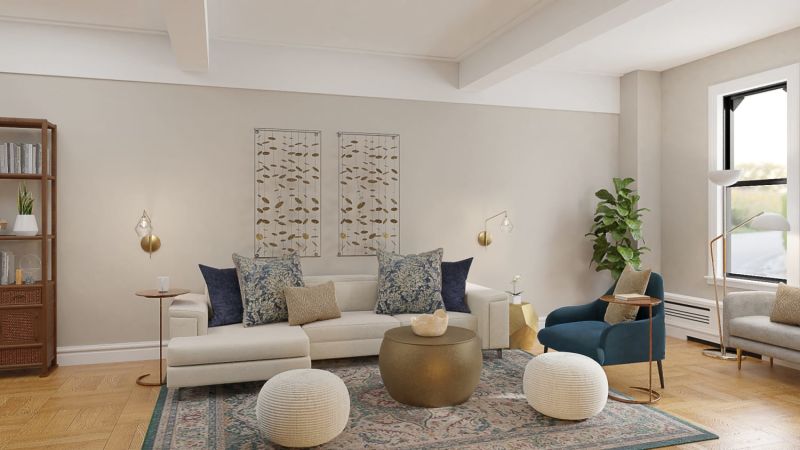 Here's a tip you probably never heard before. Lighting can help set the atmosphere in a room. But, when you start layering lighting for a small living room, you can precisely set the mood and interest, thus choosing how you want the eye to read the room. 
Combine different types of lighting and set them at different levels – floor, chandeliers, and task lights are very different – when you start playing with their location, you can make a tiny living room appear bigger. 
Read more: Lighting Ideas for Your Home
Frequently Asked Questions
How do you decorate a small living room?
When you're decorating a small living room, you want to make sure every single item in the room has a purpose. Use mirrors and wallpaper to trick the eye into thinking the space is bigger. Add hidden storage to get the most out of your room. Choose lightweight and small-scale furniture to create a clutterless look. Add plants to liven up the space and add brightness. 
How do you make a small living room cozy?
It can be challenging to make a small living room look cozy. But when you start noticing the architectural details and highlighting these, it can make a huge difference. Use a conversational layout to keep everyone close together and give the illusion of a cozier space. Choose meaningful and personal decor like family photos or heirlooms to make it more private. 
How do you make a small living room look bigger?
To make a small living room look bigger, you really want to scale down your furniture by choosing low-profile furniture pieces with leggy bottoms. This will free up a lot of visual space and make the room feel less cluttered. Use mirrors and glass elements to reflect light and make the area look more spacious. Emphasize vertical decor and keep your walls white or in pastel colors to give the illusion of a bigger space. 
Need More Ideas?
If you like these ideas and want to bring them to life in your home, or design your own perfect living space, start a project on Spacejoy. You will receive unlimited access to an expert online interior design team who can translate your vision and guide you to your perfect room design. 
Our unique technology allows you to view your room in 3D and interact with your design. Move and swap the products with a touch of a finger to see the unlimited possibilities. Our team will also curate a shopping list for you with handpicked products to suit your budget and your style that you can shop right away on our platform. 
Your dream living room is now one click away. Click here for pricing plans.