Living Room Design Ideas
10 Tips On How To Decorate A Small Apartment Living Room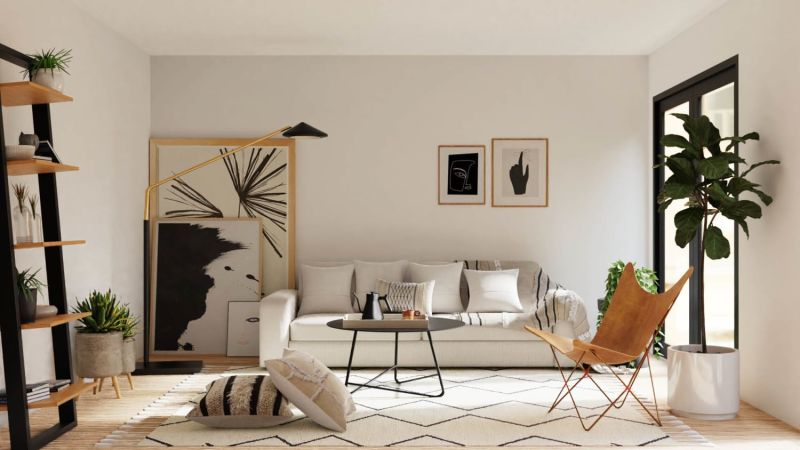 Figuring out how to arrange a small family apartment with children can be quite a challenge. The truth is, living with children in a small space demands ruthless organization and functional solutions. You have to consider furniture choices, layout, and functional pieces that will grow with your family to make it work. Learn how to make your small apartment's living room and other comfortable, stylish, and fun areas for the entire family.
1. Fall In Love With Vertical Space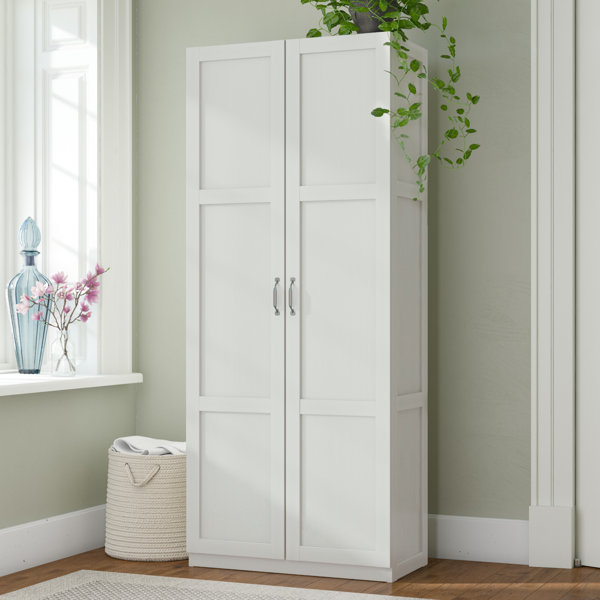 When you're low on space, you must think vertically. Your walls have a lot of real estates you might be neglecting. Using shelves, cabinets, and armoires, you can save plenty of space. Use bookshelves to organize books, showcase decorative accents, and help you organize things better. Tapping into your vertical space is a tip you should use across the home, from your small living room to your tiny kitchen and small bedrooms. It works everywhere. 
For some vertical storage inspiration, we love this Red Barrel Studio Howard Armoire from Wayfair. Perfect for stowing away folded blankets, linens, binders, baskets, toys, and more. Besides, its classic style will continue to evolve with your family, which means you won't have to replace it anytime soon.
2. Invest In Functional Furniture
Make sure to invest in genuinely functional furniture pieces. At first, functional furniture might seem out of your budget, but in the long run, it'll be the best investment. Think of articles that can serve multiple purposes. For example, look for coffee tables with hidden storage space, sofas can turn to bed, or sectionals you can rearrange. The idea is to find pieces you can later move or arrange to meet your new needs. 
We love this Drum Storage Coffee Table from West Elm. It features a pop-up top to reveal hidden storage space that's perfect for keeping your small living room space clutter-free. Use it to keep throws and blankets, magazines, children's books, and other items you might want to keep handy.
3. Use Hidden Storage Solutions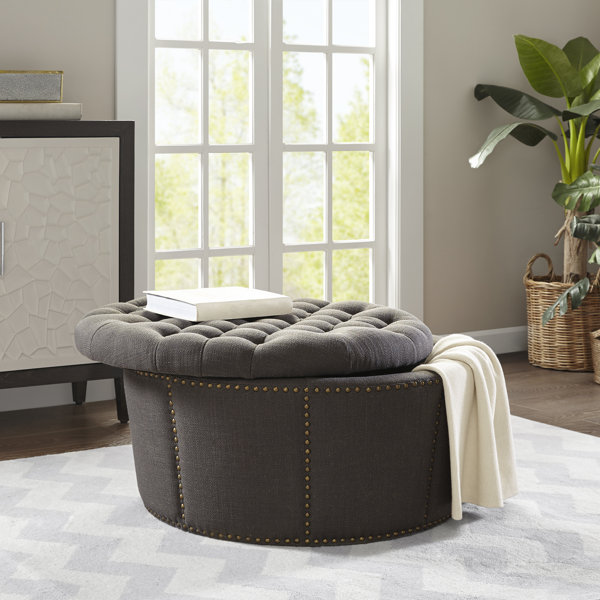 You're probably noticing a pattern here -- storage is critical. Unfortunately, when you live in a small apartment, storage space becomes almost a luxury. Be smart about the pieces you choose to keep in the house. Bring furniture that helps you add more storage space without disrupting your home's style. Storage ottomans, sectionals with storage chaises, and baskets are excellent ways to make this happen. 
For example, this Kalinowski Tufted Storage Ottoman from Joss & Main is excellent. You can use it to keep more oversized items such as pillows or winter clothing. But, it also serves for seating or even as a coffee table. Keep clutter away, add a framing element to your living room, and infuse the room with a dash of style, all with one piece of furniture. 
4. Use Round Corners
Families with small children understand the struggle with sharp corners a bit too well. It might seem silly, but round corners will keep your child safe and make your small living room appear more spacious. When you avoid sharp edges on your furniture pieces, it creates a unique effect on your vision, making it challenging to frame a specific area. The place will immediately appear roomier and more open than if you choose rectangle and square furniture pieces instead. 
It doesn't have to be too obvious. For example, this Harper Reversible Chaise Sofa from Apt2b has rounded cushions that make it look softer to the eye. Besides, sectional sofas are perfect for helping you have more playroom, and they won't interfere with high-traffic areas of your living room.
5. Add More Mirrors
Mirrors are an easy hack to many any small apartment look instantly bigger. Using multiple mirrors throughout your living room, you can reflect the light available in the room to give the illusion of a more spacious room. 
Since you already have limited space, consider finding a mirror that has a double purpose. For example, the Roar & Rabbit Infinity Mirror from West Elm is an excellent choice for small living rooms. The mirror itself will capture light to make the space appear more prominent, while the whimsical golden details in the panel make it look like an art piece. Perfect for hanging over a credenza or behind the living room's couch to add a personalized touch to the room. 
6. Let Us See the Walls
You're probably looking for different ways to add storage to your living room without it taking up too much space. You should try to go leg-free and attach units directly to the wall. Floating large pieces can trick the eye into thinking less space has been taken up because you can still see the floor area. 
We love how the BESTA floating unit from IKEA can instantly change the look and feel of a small living room. Place these units as high or low as you want. If you go higher, you'll have even more additional storage space since you can probably fit some weaved baskets under the unit to tuck away items like blankets, toys, or extra pillows.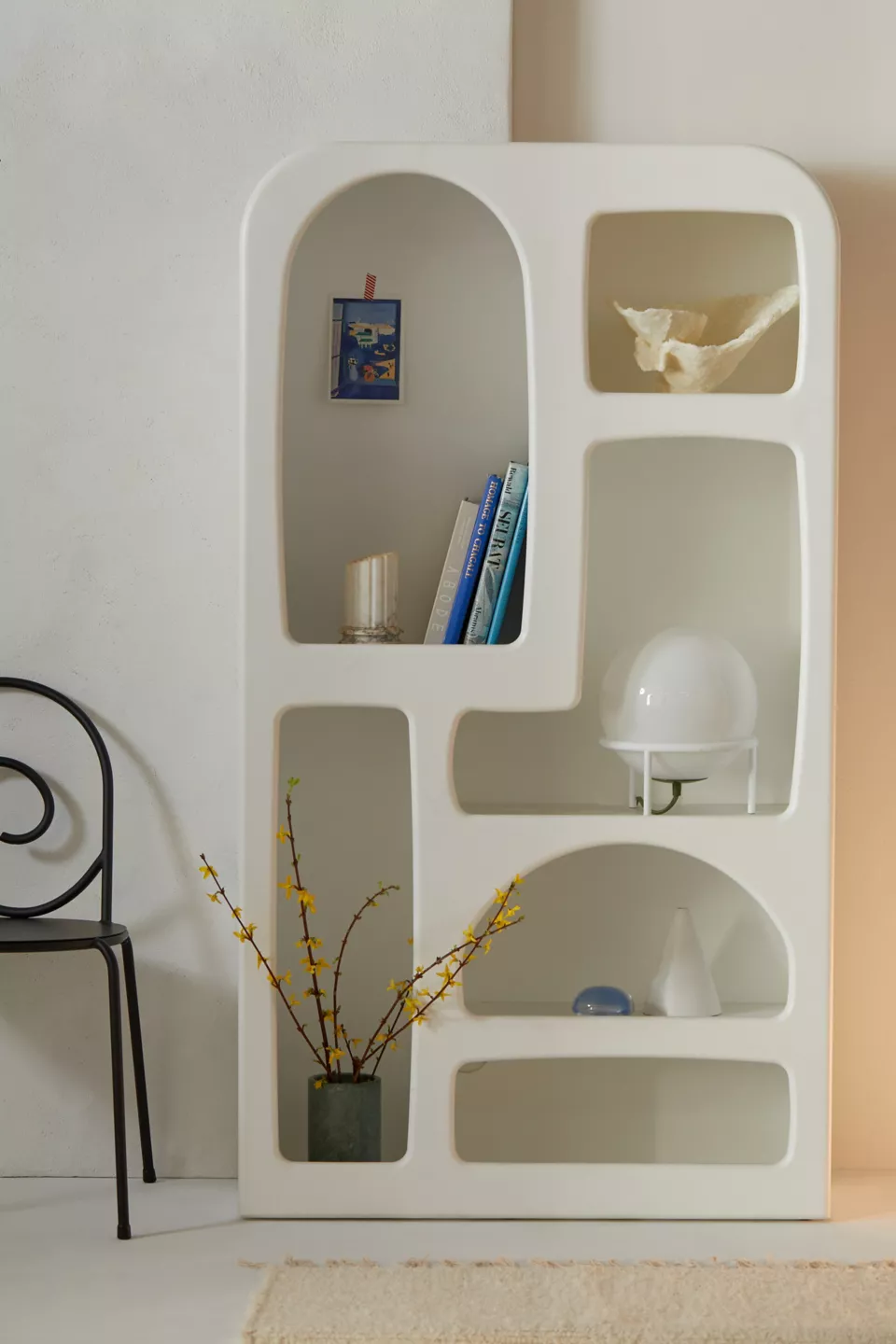 7. Believe in Built-Ins
To turn a small living space into your favorite room without taking up much space, you need built-ins. They provide plenty of storage opportunities but also make a statement by giving that floor-to-ceiling look. The best part? You can always fake built-ins if you don't have them. 
We adore the Isobel bookshelf from Urban Outfitters for an unexpected design. The organic shapes of the bookshelf itself make it a decorative element on its own. Add plants, books, decor accessories, books, or smaller baskets to fill in the spaces and turn this into a statement wall on its own.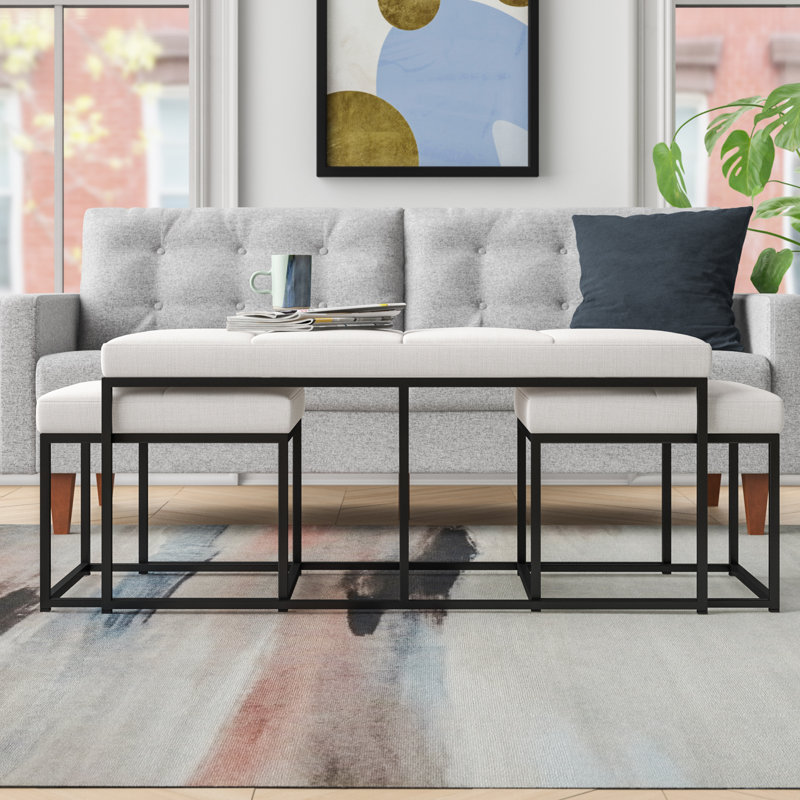 8. Trust In The Power of The Tuck
When designing a small apartment living room, we always focus on using the space as effectively as possible. When there's limited space available, you start to notice hidden spots everywhere. For example, space under the coffee table can be perfect for tucking a pouf under for more walking space on the sides. 
Take the Callidora Tufted 3-Piece Ottoman Set from Wayfair, for example. If you have a tiny living room space, this coffee table has enough space to tuck two ottomans or side chairs that you can pull out if you have guests coming over. It's the perfect way to consolidate the number of pieces you need in your living room for it to be truly functional.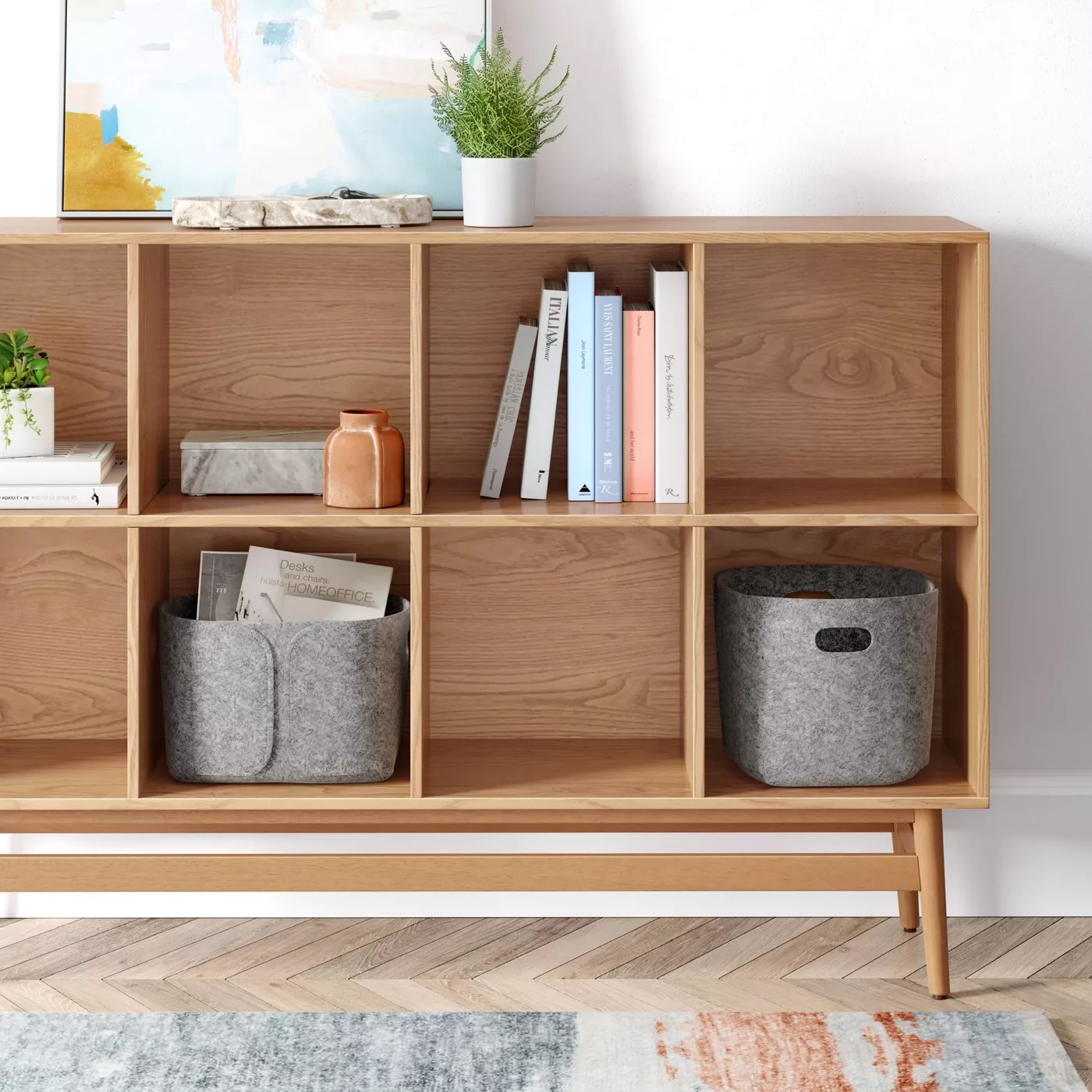 9. Get Creative With Storage
Okay, not everyone has the budget to order custom storage solutions. However, that doesn't mean you can't use your creativity to turn something dull into something extraordinary. Think of different ways you can use furniture pieces. 
For example, imagine using a classic cube storage center and turn it into a media center by placing the TV on top. Adding a lamp, some decor, and decorative baskets can help keep everything organized and pretty. But, this space is also functional and valuable without taking up additional space. Try to find something with legs, like this Ellwood Cube Storage bookshelf from Target, so you can still get that media console look and feel.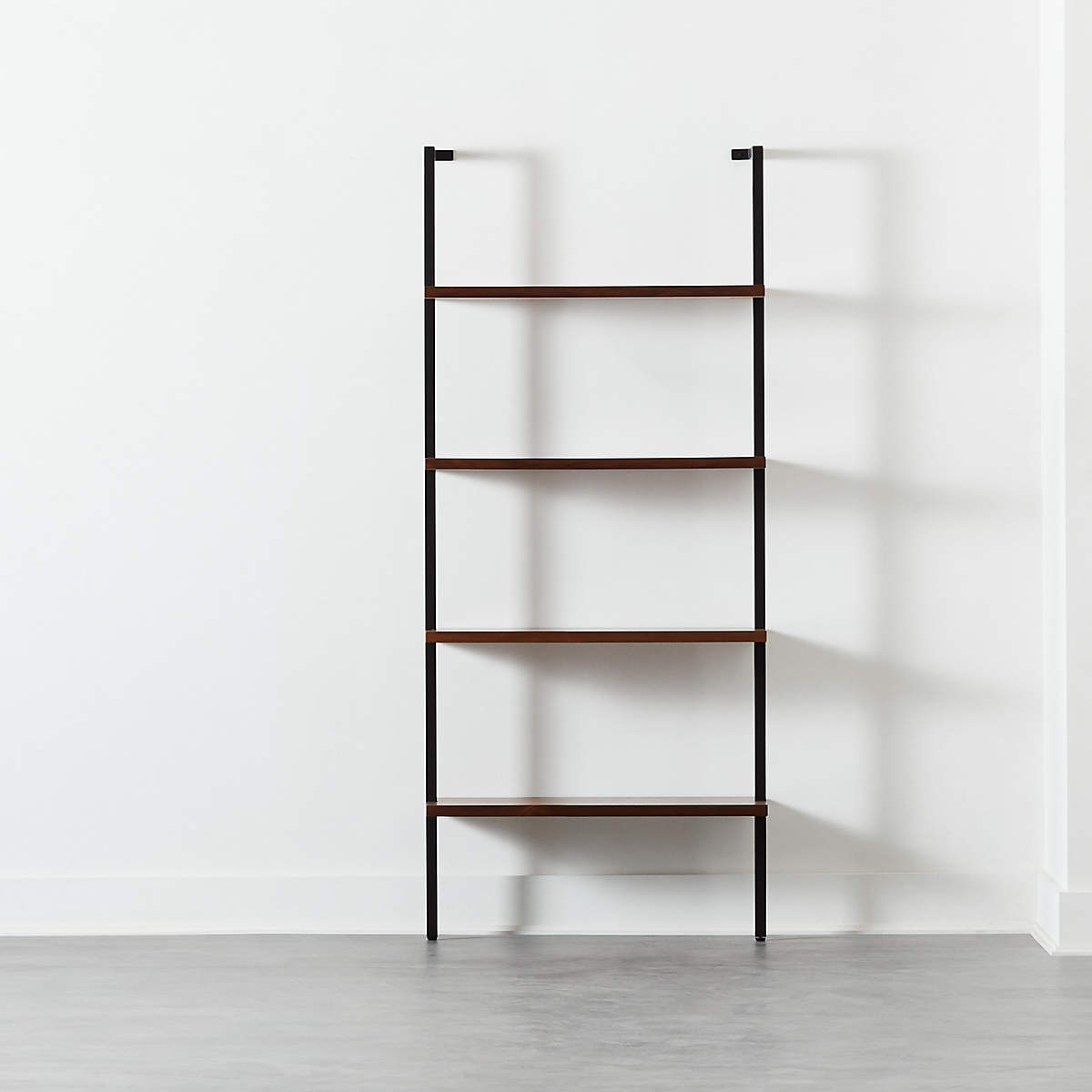 10. Mind the Gap Behind the Sofa
We usually place artwork, photos, floating shelves, and mirrors behind the sofa. But that's leaving so much wall space up to grabs. Instead, consider adding something more meaningful like a bookcase or floor-to-ceiling shelves behind the couch for a sneaky and beautiful way to add storage to your small living space. 
To take the least amount of space possible, try something like this Helix Bookcase from CB2. The metal frame paired with the solid wood shelves give you just enough space to place different items, but it takes away all the bulk of traditional bookcases. Plus, since this gets installed directly on the wall, you don't have to worry about shifting the bookcase with the sofa.
Frequently Asked Questions
How can I decorate my living room in a small apartment?
There are many ways to decorate your living room in a small apartment. Start by choosing a monochromatic color scheme to fake a more spacious living room. Keep flooring simple, and try to avoid using rugs that divide the spaces if possible. Invest in space-saving furniture that can double as different items or that have hidden storage space. Consider armless furniture to keep things more open and easy to navigate. And, of course, follow the tips we mentioned above. 
How should furniture be placed in a small living room?
Start by choosing a focal point and considering the visual weight of the furniture. Then, select the heaviest furniture (usually the couch) to be the center of attention and scale down furniture around it. Keep in mind that your traffic pattern will determine how you place furniture in your small living room, so try different layouts before committing. Also, try different angles and positions as sometimes a tilted angle can make the space look more spacious. 
How can I decorate my apartment living room on a budget?
You don't need to spend furniture on decorating your living room. Some budget-friendly ideas include using removable wallpapers to create a focal point, using mirrors to make your house appear bigger, and updating elements like lampshades and door handles for a bit of glam. 
More Small Apartment Living Room Ideas
Designing a small apartment living room, with or without children, can be challenging. Talk to one of our interior designers today to find living room ideas that work for you and your family. Or, start a project today to get working with one of our designers. You can see your home and design, all in 3D. They'll also curate a shopping list of handpicked products to suit your budget and style. Your dream home is now one click away.