Style and Design
5 Examples of How to Redecorate Your Home With Metallic Accents
Are you ready to give your home a quick update? We are loving furniture and decor with metallic accents. They are very on-trend and add an instant touch of glamor to any room. If you are new to the metallic scene, this guide will come in handy for selecting beautiful statement pieces. Our designers have handpicked an array of items, from small-scale furniture to accessories, so that you can jump in and try this fun and glamorous trend. They are this season's chic-est trend. 
Look 1: Persian Chic Living Room Design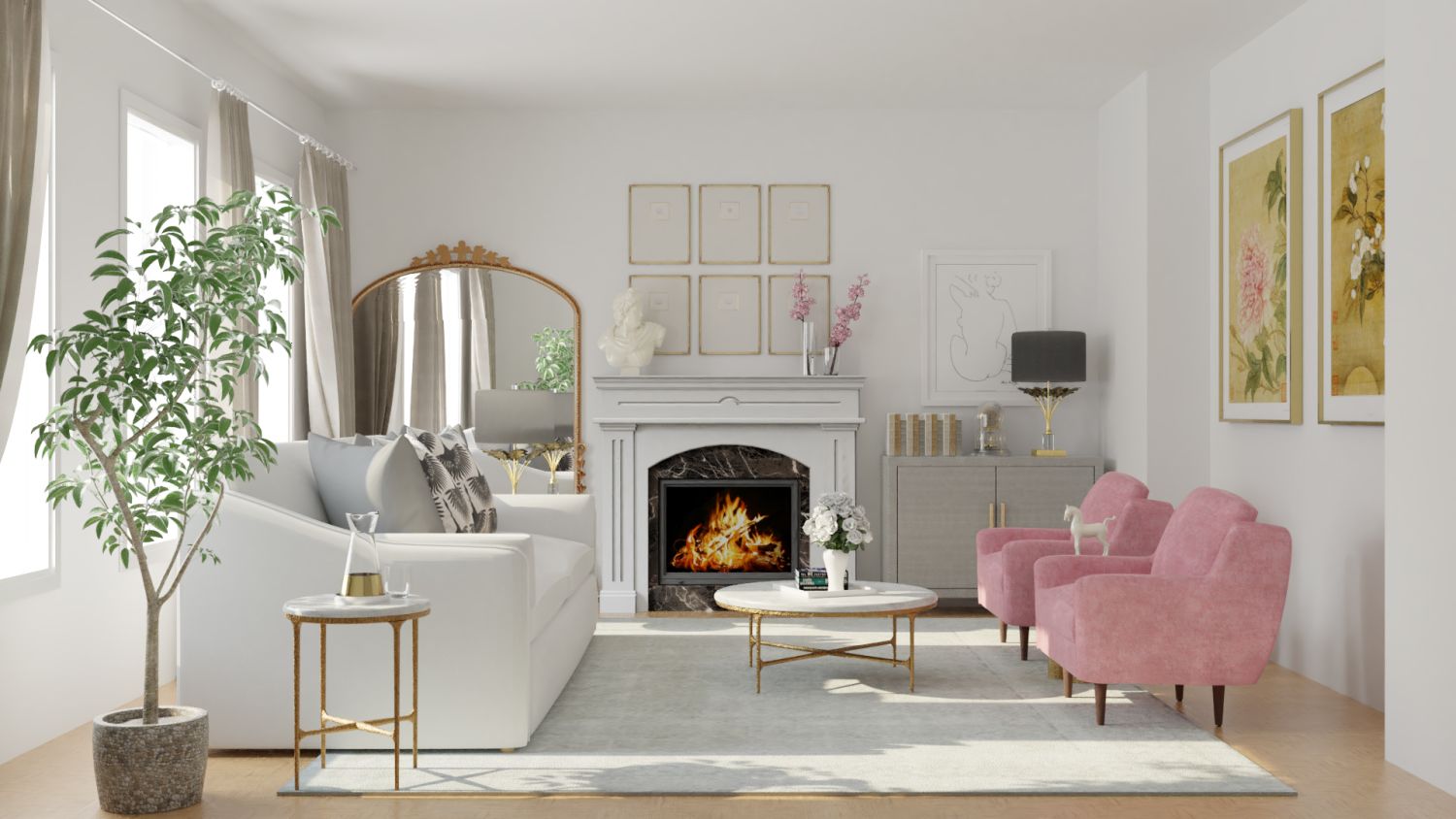 This traditional living room has a simple layout, including delicate furniture with sleek lines and regal, gilt touches. The round metal accent table and coffee table add an elegant. touch to the room and the marble material is durable to hold up to life's daily use. The metallic accents in this traditional living room design help add a lux touch to the room. Check out the metallic accents below that make this design.
Avondale Martini Table from Serena and Lily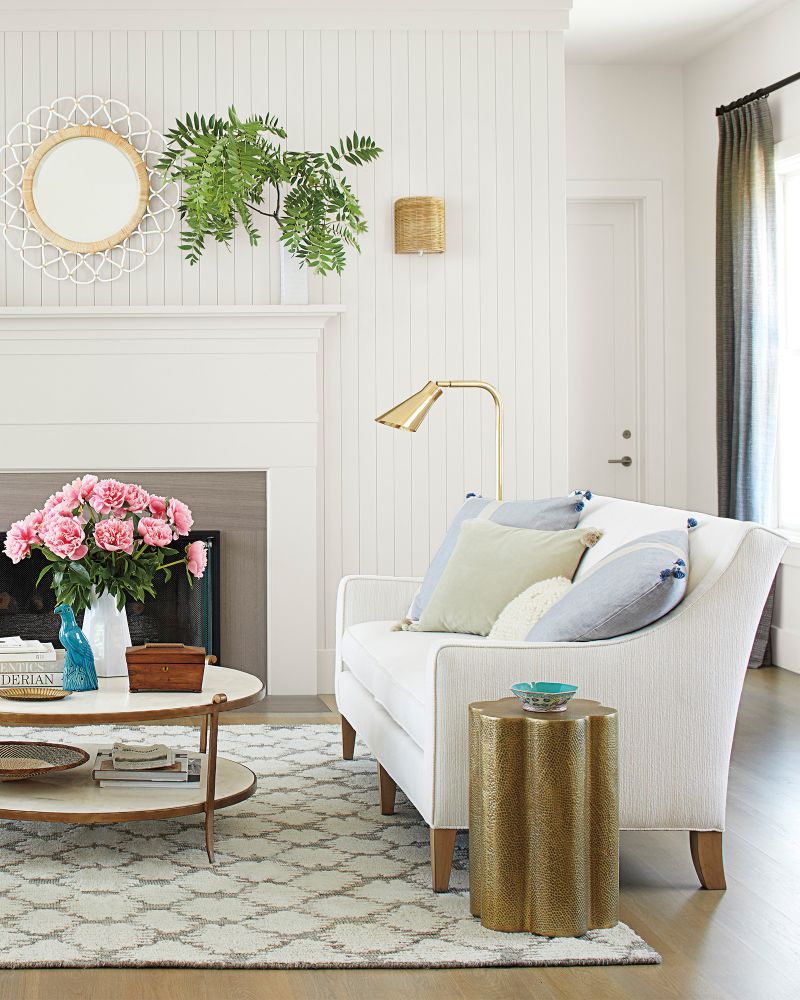 This hand-hammered, antique brass, accent table is in a festive spring petal shape. A smooth brass plinth adds a unique touch. Bonus point? It's small size allows you to place it easily in any room around the house.
Thaddeus Round Coffee Table From Restoration Hardware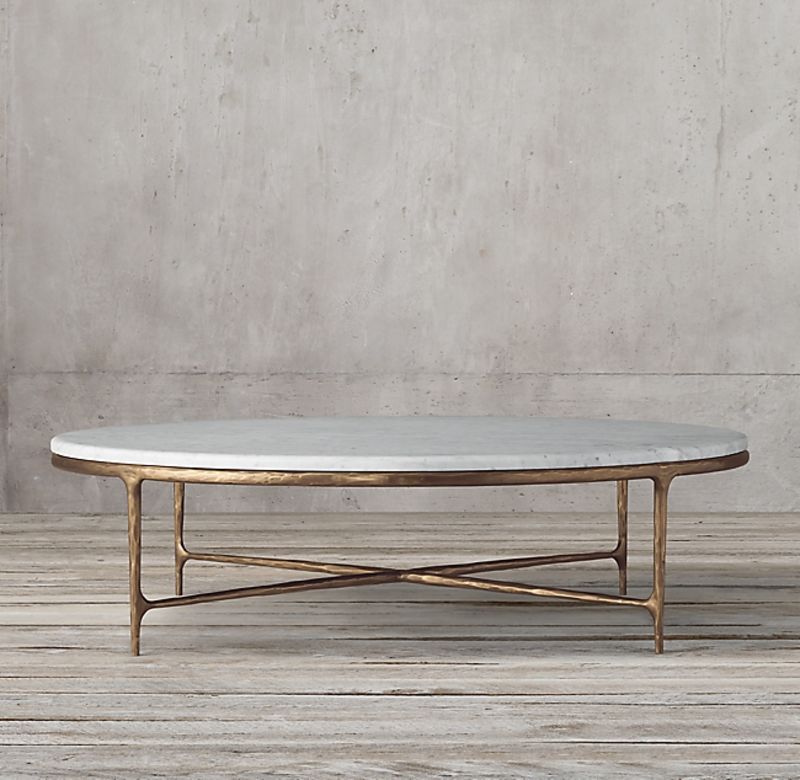 Is your style more in the art decor or eclectic styling range? This sculptural and hand-forged marble coffee table is apt. The tapered brass silhouettes are a rich contrast to the cool marble.
Gleaming Primrose Mirror From Anthropologie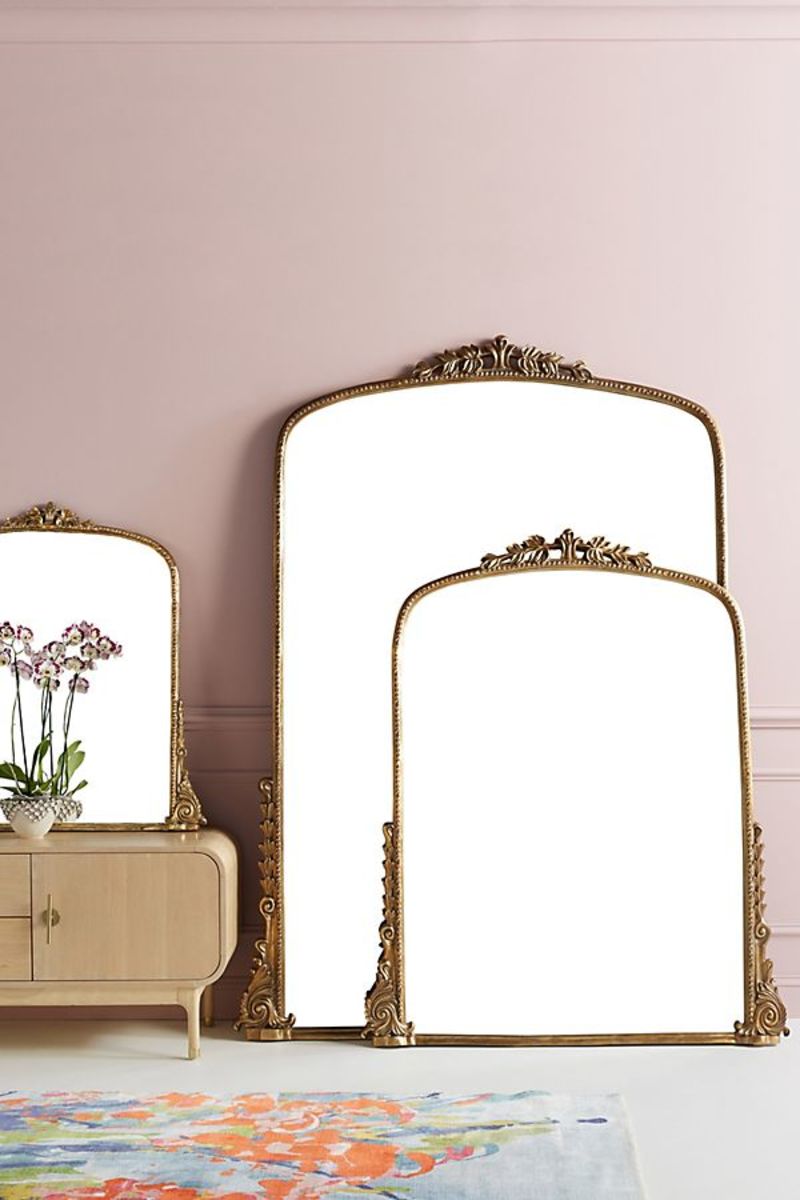 This stunning mirror defines love at first sight. Place it over an entryway console or in the living room leaned against a wall. We also love it positioned over a fireplace mantel. This mirror will magnify any room with its' grandiose, yet delicate appeal.
A Parisian chic living room design featuring the above products. Shop the look.
Look 2: Modern Glam Living Room Design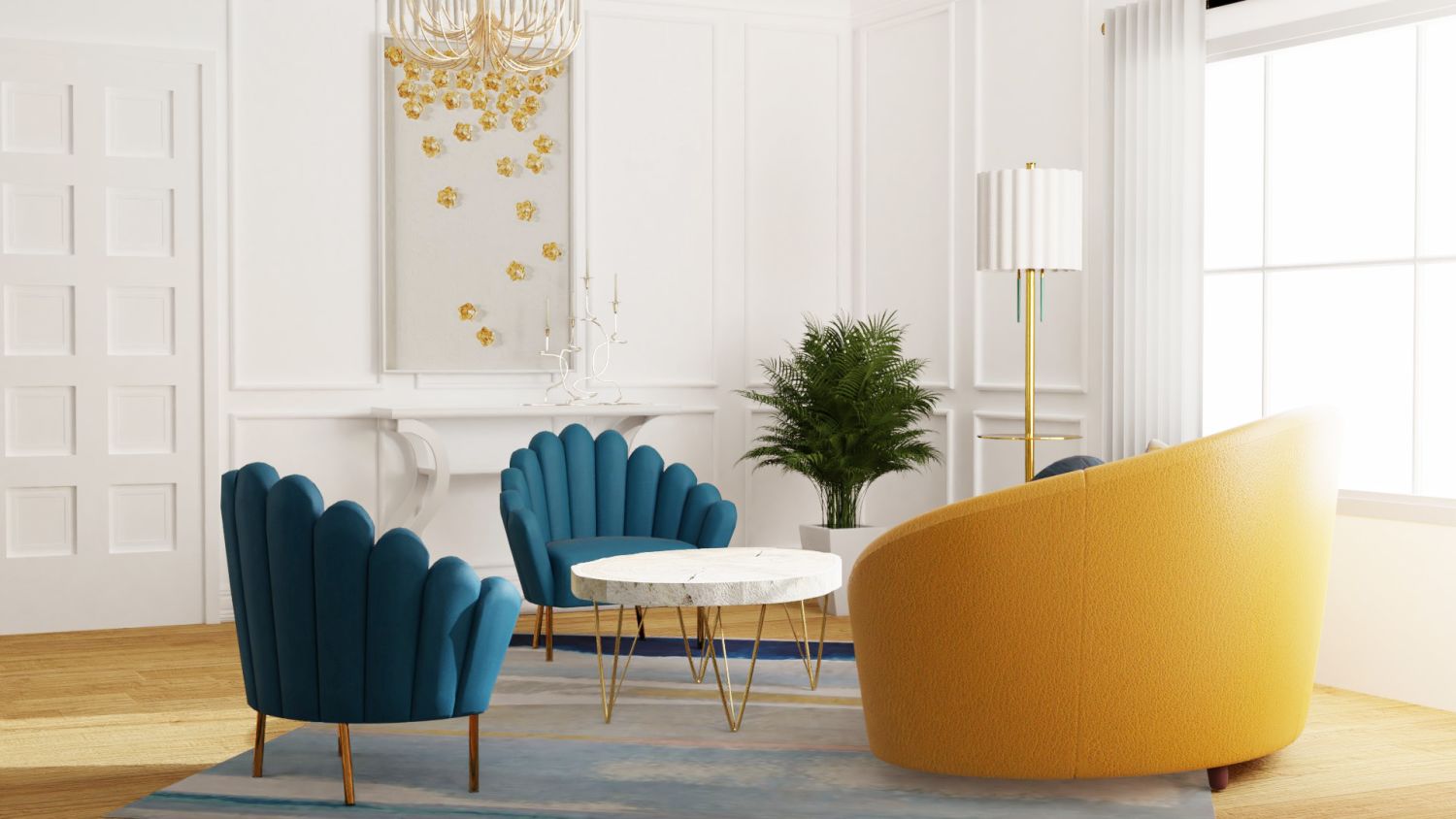 This modern living room design uses metallic accents and bold jewel tones for a design that is a show-stopper. The modern metallic retro chairs and bold yellow sofa draw a lot of attention, while the metallic art and lamp helps soften the look. Get the look below. 
Metal Candelabra Set From Wayfair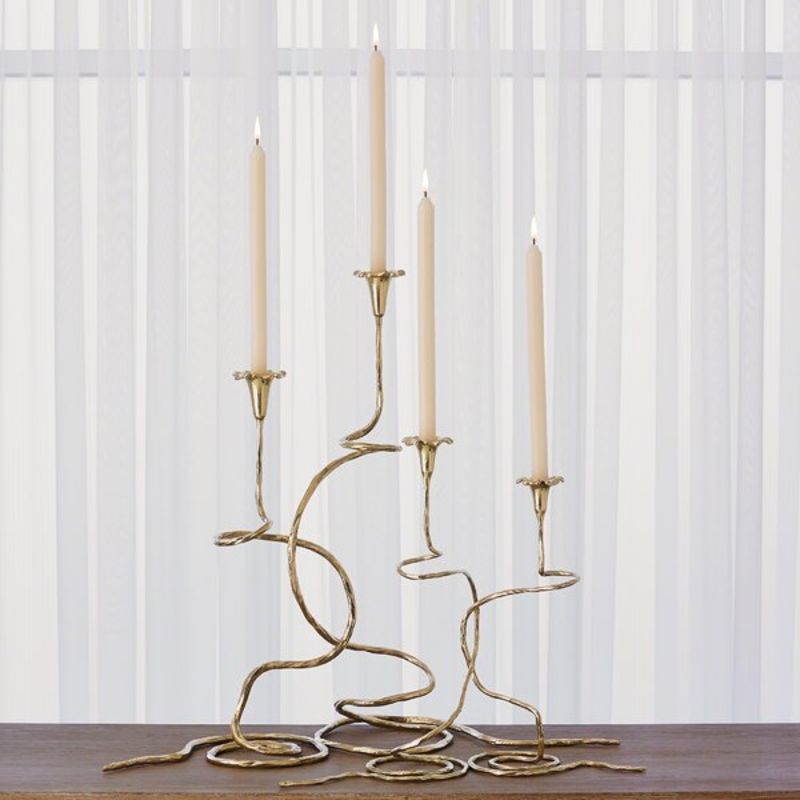 This graceful candle stand looks like two sensuous pairs of intertwined vines with a sculpted blossom to hold your candles. Place it on the mantle, on your living room console. It would also make the perfect centerpiece on your dining table.
Dorette Floor Lamp from Anthropologie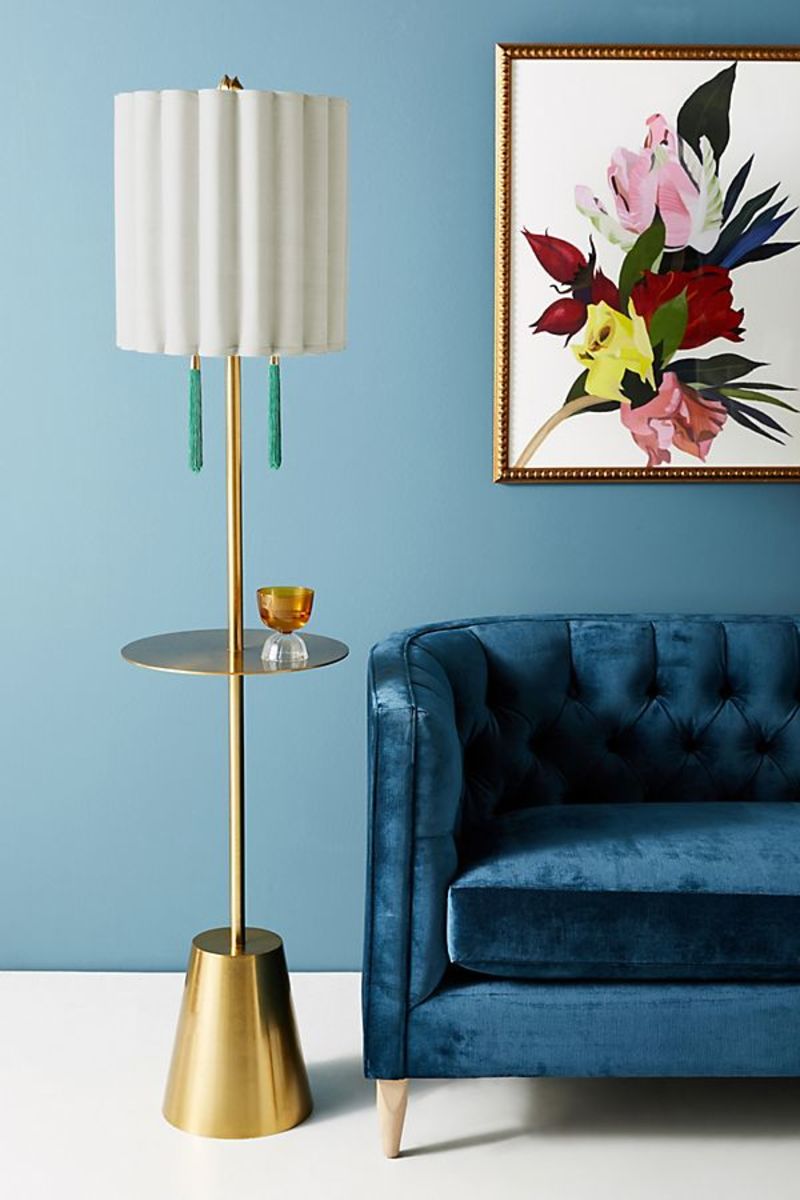 We love pieces that have dual purposes so it's not shocking that we are enamored with this end table lamp. The cotton shade offers a break from the sleek brass metallic base. The ruffled lampshade and bright beaded tassel add a touch of contemporary elegance. It's perfect for a living room and we love it for a home office setup.
A glamorous living room featuring the above products. Shop the look.
Look 3: A Minimalist Modern Dining Room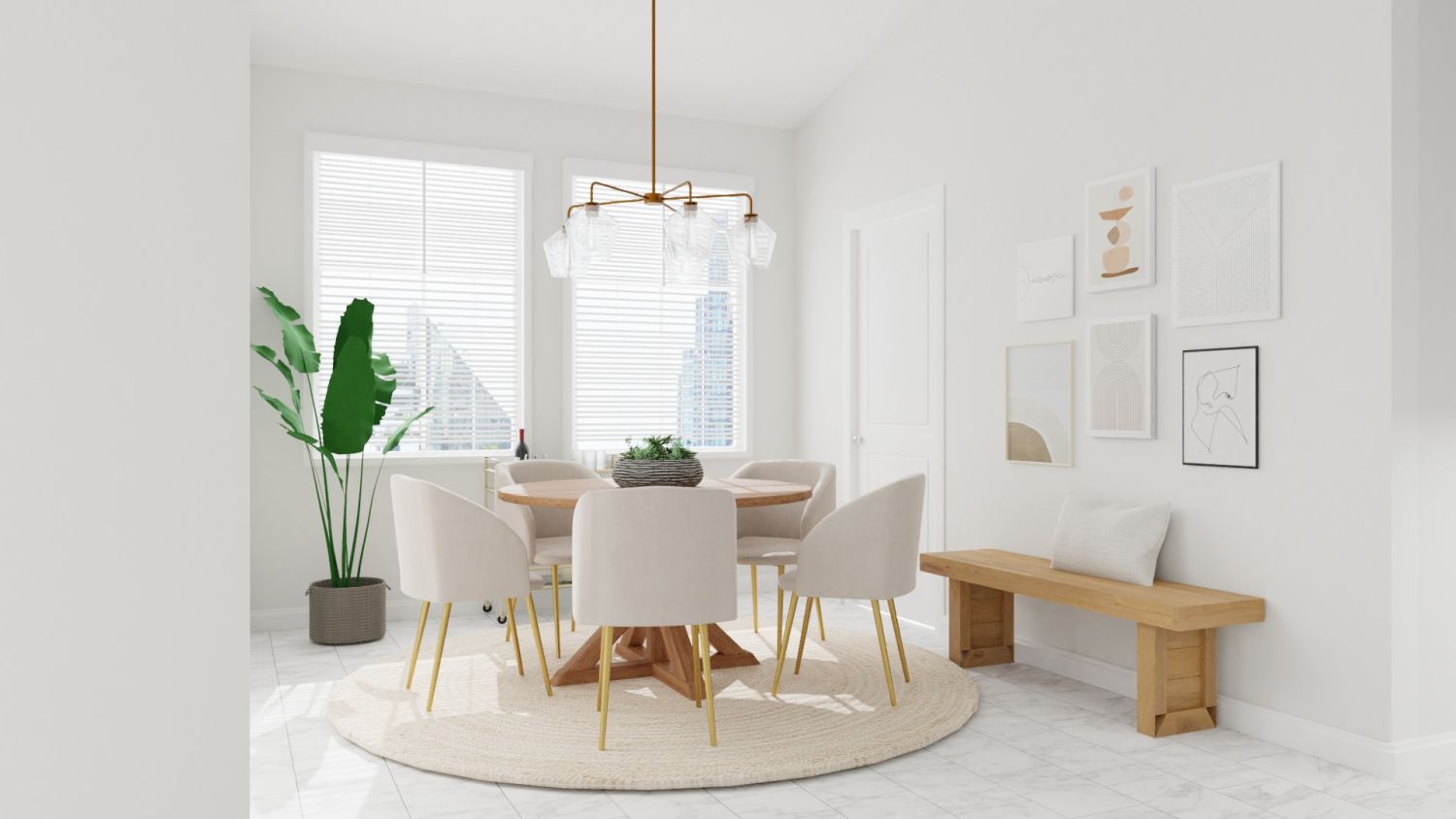 Calling all minimalist lovers. This dining room brings together soft textures like a velvet chair and natural fiber rug with modern metallic finishes. The metal accent chairs add help build a light and airy feeling in this dining room design. The metallic light fixture adds an subtle centering element to the design. The Bar Cart in the back helps bounce the metallic tones throughout the room and provides the perfect spot to perfect your favorite martini. 
West Elm's Terrace Bar Cart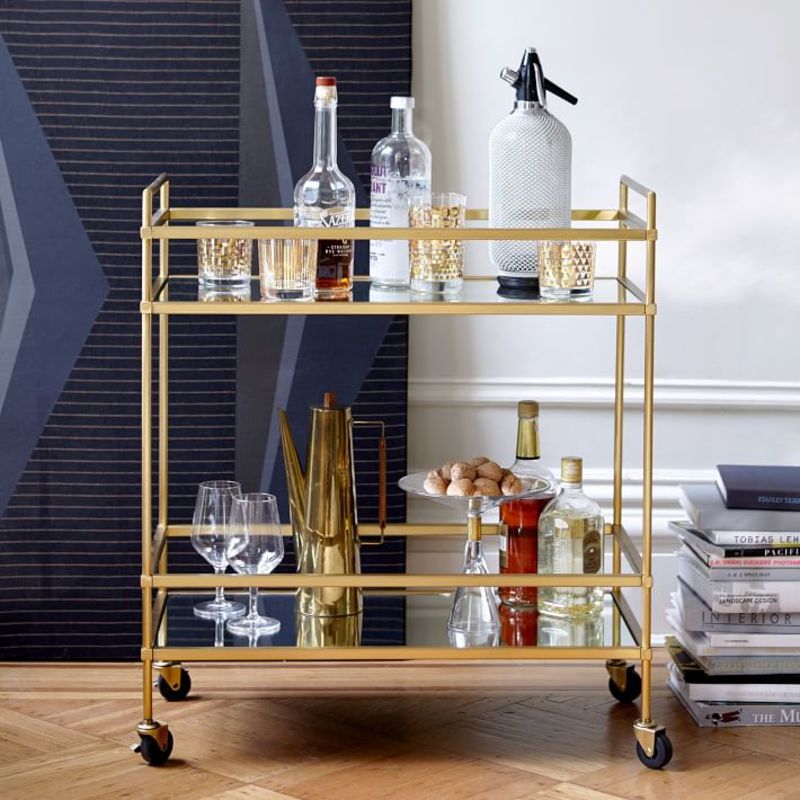 Bar carts are a great accent piece for many rooms including dining rooms, living rooms, and open living spaces. This cocktail station is inspired by the art deco period. We frequently source this amazing cart, both for it's an amazing design and for its functionality. It is a glamorous party on wheels and the perfect surface for your favorite spirits.
Grisham Upholstered Dining Chair from Joss and Main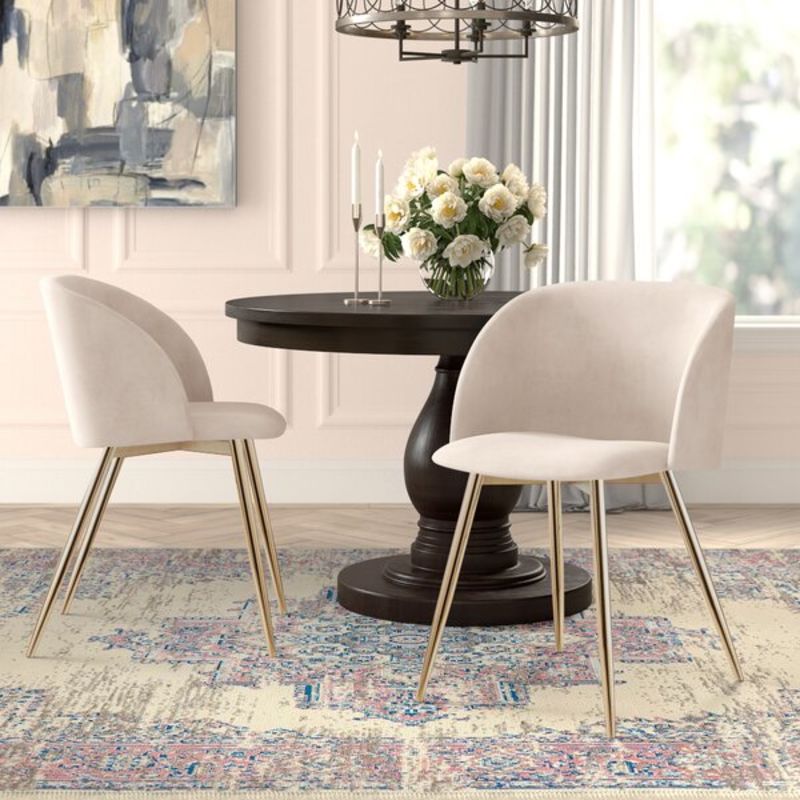 Another art deco inspired piece, this rounded seat has a comfortable cushion and splayed legs. The chair is high on style and blends influence from the art deco period with mid-century styling.
Sculptural Glass Light Chandelier from West Elm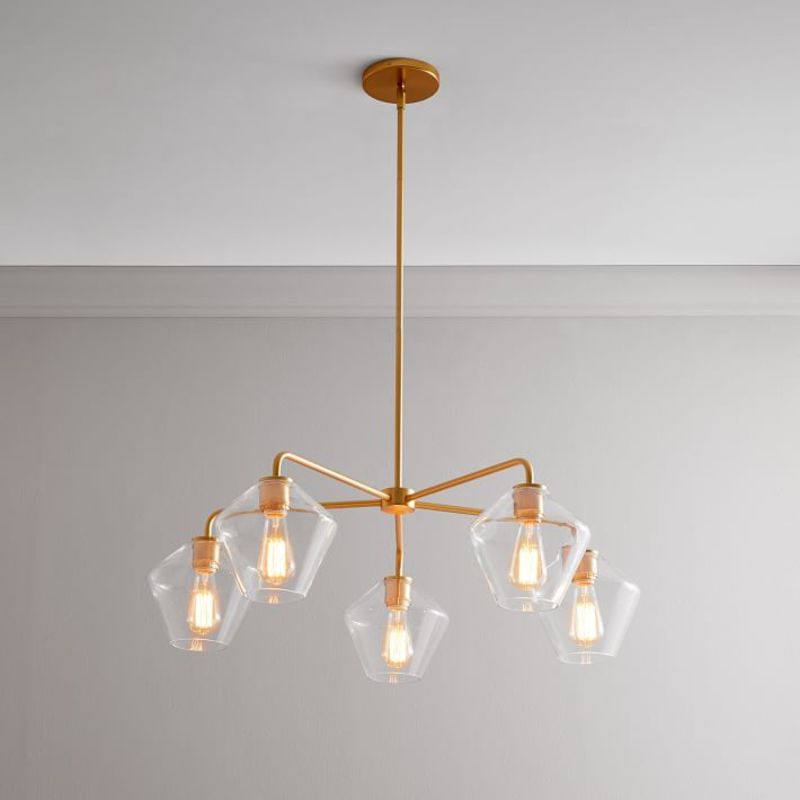 Statement lighting is an excellent place to hop onto this metallic trend. We love this chandelier as an entry into the metallic decor. It's curved lines offer a contemporary feeling, while the clear glass offers a mid-century feeling. It's adjustable length makes it a great choice for dining rooms or front entries.
A mid-century modern minimalist dining room featuring the above products. Shop the look.
Look 4: Glamorous Home Office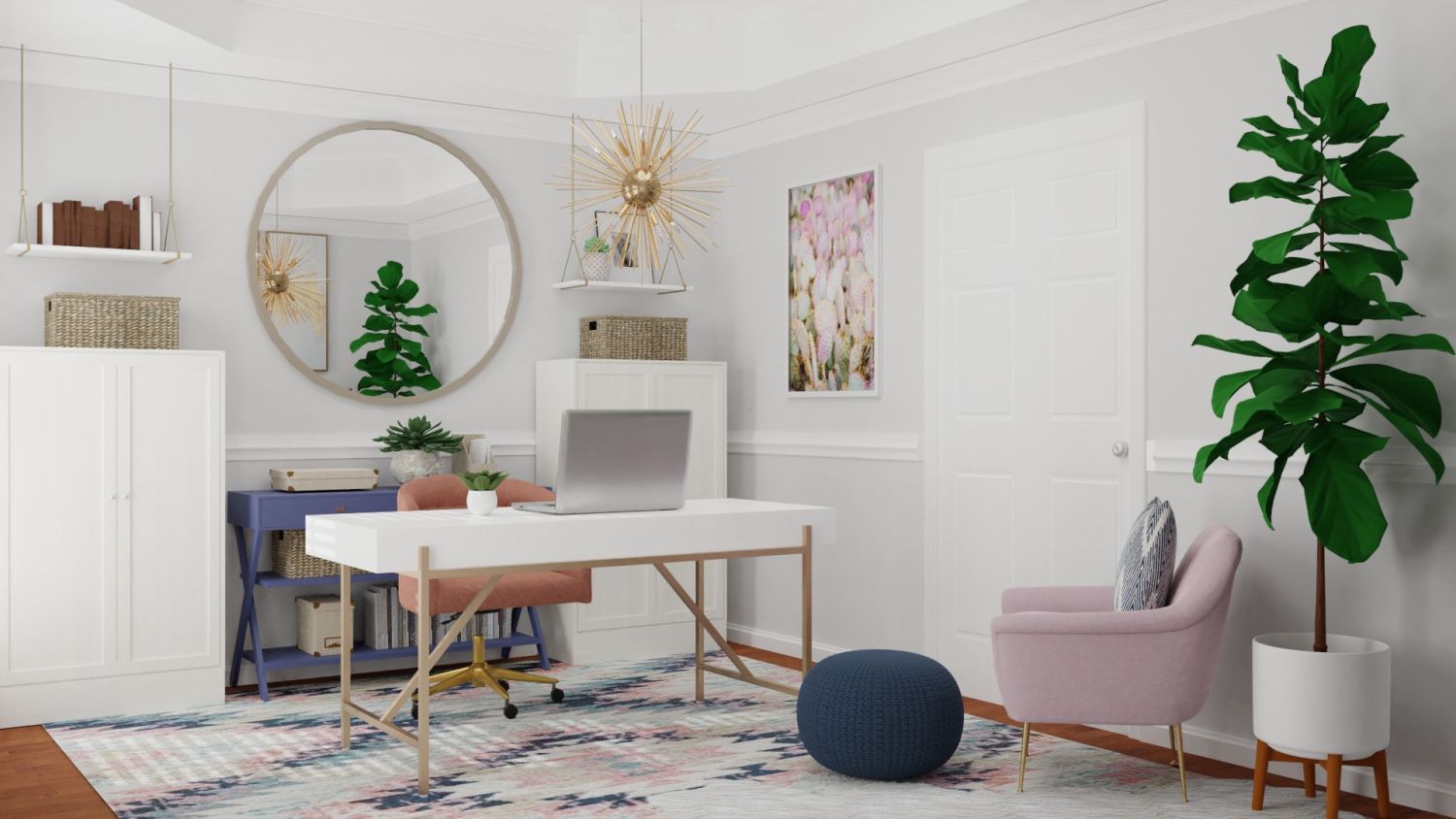 This home office screams femininity. The soft blush tones are balanced by deep blue accents and metallic finishes. The modern metal accent chair from West Elm adds a beautiful blush tone to the room that compliments the metallic legs. These colors are used for the desk chair and the ultra-modern and feminine desk. 
Vista Wood and Metal Shelf from Target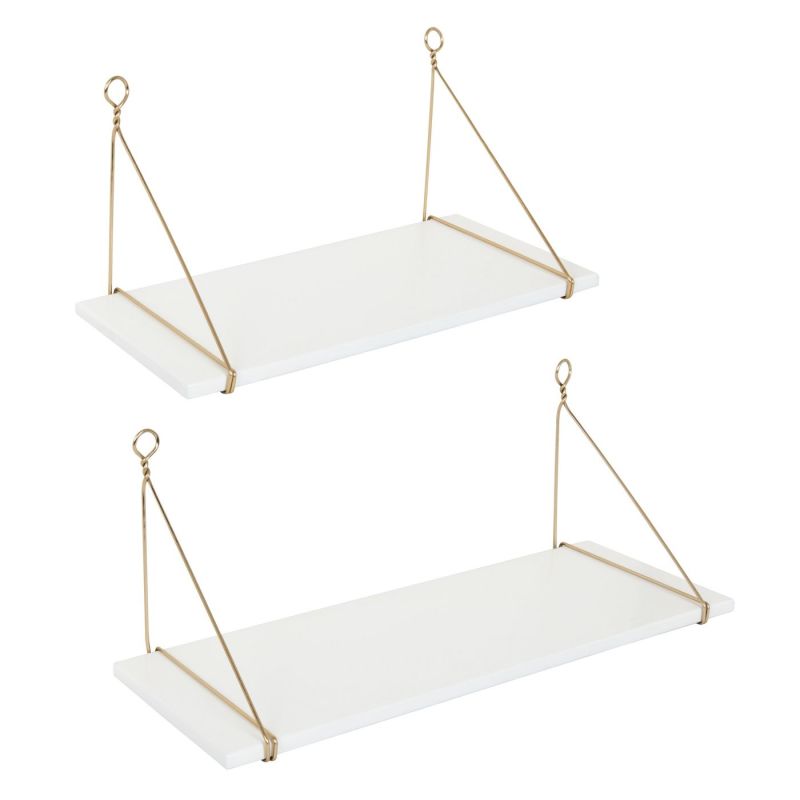 Bring order to a cluttered area, like your office by organizing your treasured knick-knacks and office supplies onto shelves. You can also combine your accent pieces in groupings for a focal point in any room of the house.
Sputnik Sphere Chandelier from Wayfair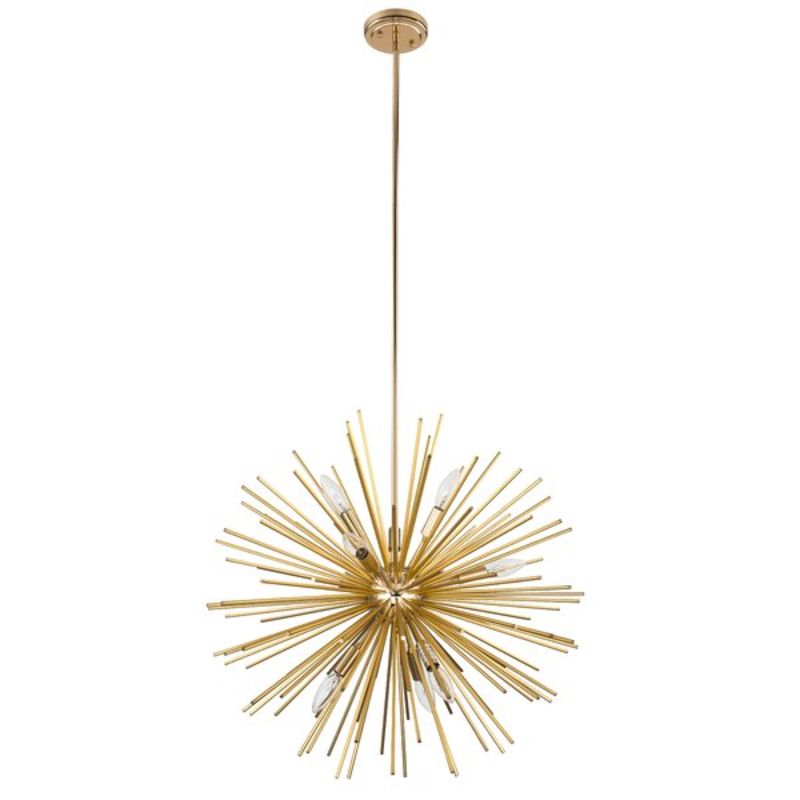 This chandelier boasts a striking silhouette inspired by the space race and adds a modern touch to any room in the house. Reminiscent of sunshine rays, this fixture features a spherical center with slender rods casting ambient light. It's perfect if you're looking to add a hint of glamour.
Edison Table Lamp from Nova Juns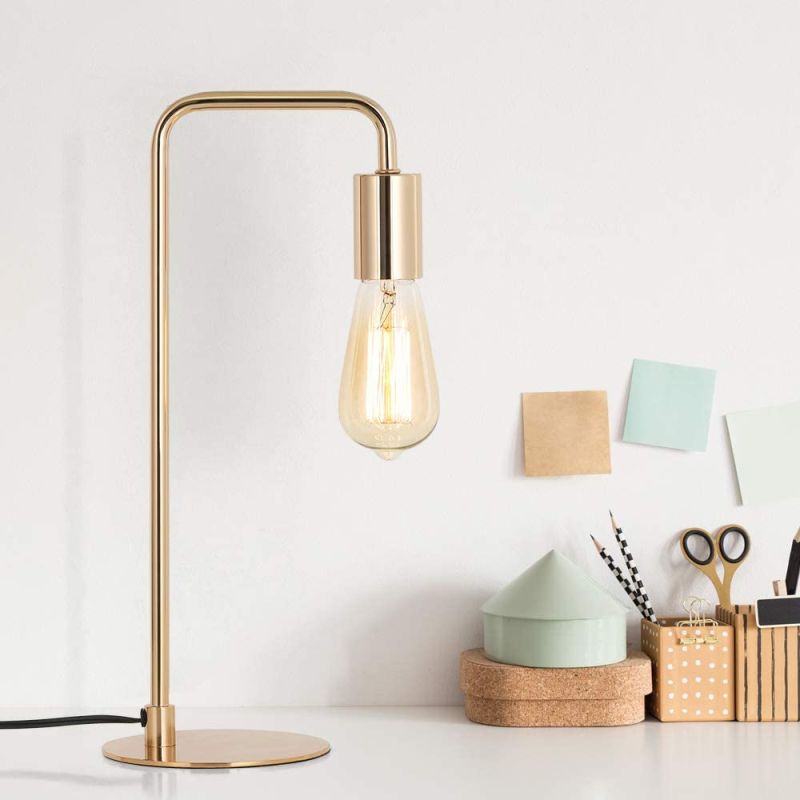 This industrial lamp in metallic gold is not just functional but also extremely elegant. We love this lamp for any room, whether the master bedroom, living room, or home office. It's simple design allows it to be used in any part of your home. The metallic accent adds an instant touch of glitz and glam. 
An Oversized Round Mirror From West Elm
This versatile mirror is oversized for maximum impact. This thin metal framed mirror adds a focal point to your bedroom, entryway, or home office. It's beveled edges are great for brightening a room and helping small spaces appear larger. Place it anywhere in your home that could benefit from more light or a contemporary focal point.
Valle Desk from Wayfair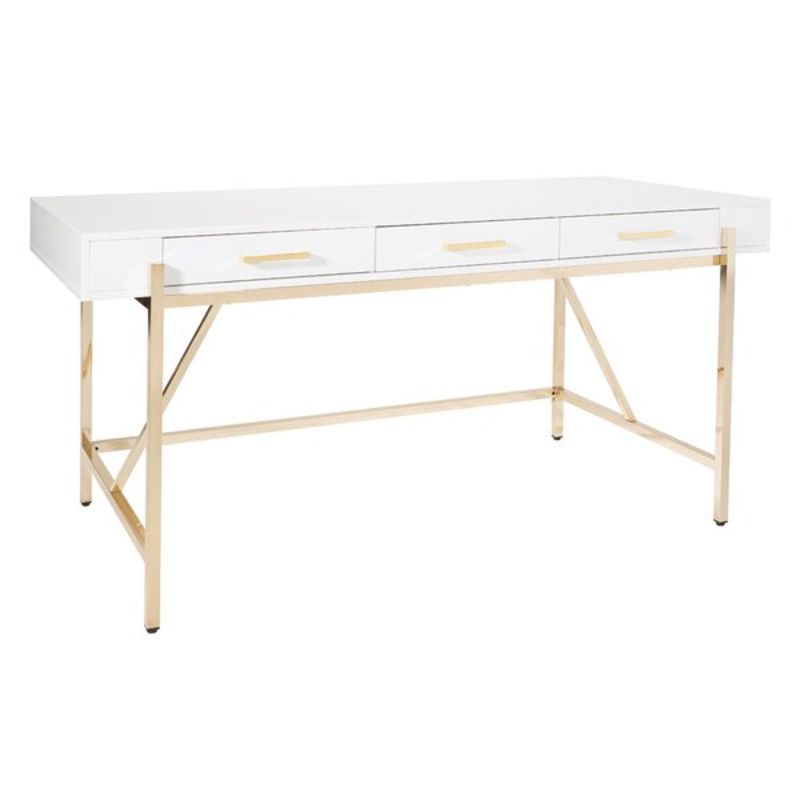 This writing desk is inspired by modern elegance and can add a touch of contemporary glamour to your home office. The desk also comes with a convenient charging feature aimed at hiding all the chords from table lamps, laptops, or phone chargers, giving your space a clean and organized look.
Shop the products as seen in this glamorous home office.
Look 5: Mid-Century. Modern Studio
If subtle metallic accents is more inline with your style, look no further than our last metallic decor design. This space has offers lots of mixed materials, including a mix of black and brass metallic accents. The gallery frames, vases and subtle touches like the bottom of the lamp, add just enought metallic to make this room feel balanced. 
Gold Decorative Spheres from Hayneedle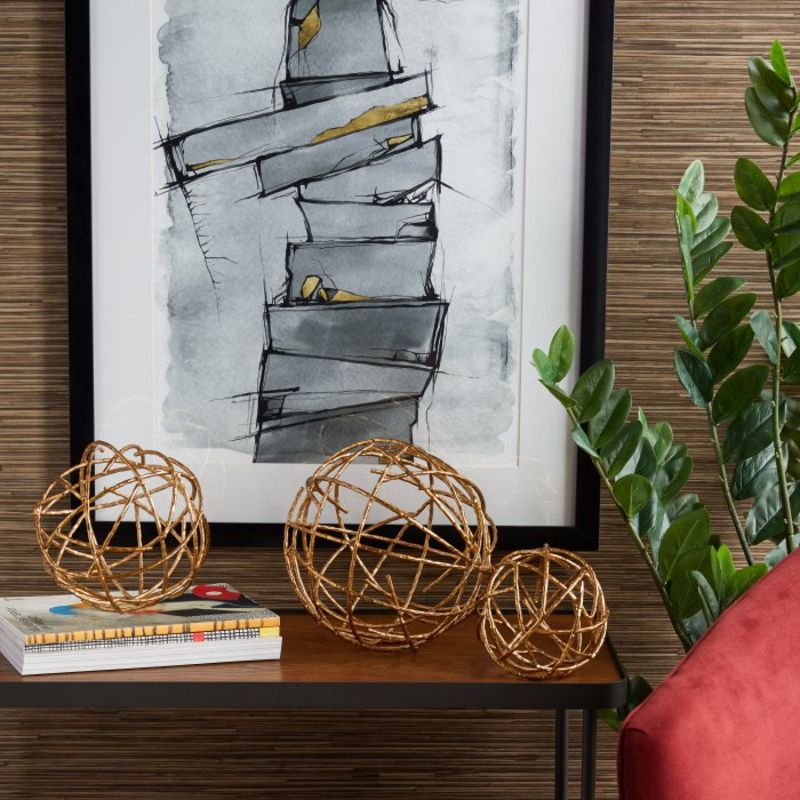 These weaved strands of metal create an abstract sphere that shimmers and shines and that brightens your mood immediately. Put these decorative orbs on your console, in your entryway, or display it as a centerpiece on your dining table.
Decorative Brass Vase from Target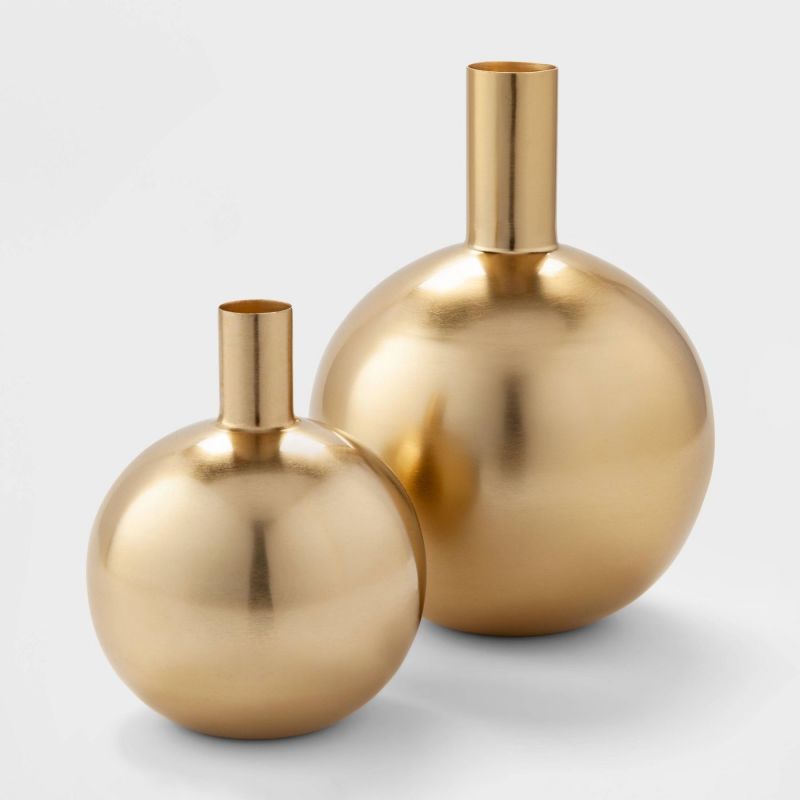 This bottleneck vase offers a catchy edge to accent a modern or contemporary living space. The golden vase looks beautiful alone or clustered among other pieces on top of your sideboard, console, or entryway.
Let's Add Metallic Accents into Your Modern Living Room
If you like these ideas and want to bring them to life in your home, or design your own perfect living space, start a project with Spacejoy. You will receive access to an expert online interior design team who can translate your vision and guide you to your perfect room design. Our unique 3D technology allows you to view your room design in 3D, interact with your design - Move and Swap the products with a touch of a finger to see the unlimited possibilities. Our team will also curate a shopping list for you with products handpicked to suit your budget and your style that you can shop right away on our platform. Your dream living room design is now one click away. See pricing plans.