Designs feature products from
It's really simple to get started
Designing your room online can't get easier than this
All we need is photos of your rooms and it's floor plan for our interior designers to get started on your design
Tell us how you want your room designed, the products you love, the style you want it in and the budget you have in mind
Take our interior design style quiz and discover your design tastes so we can get down to designing a home you'll love
We'll assign one of our expert interior designers to design your room
We'll assign one of our expert interior designers to design your room
We'll assign one of our expert interior designers to design your room
We'll assign one of our expert interior designers to design your room
We'll assign one of our expert interior designers to design your room
We'll assign one of our expert interior designers to design your room
ROOMS DESIGNED AND DELIVERED IN 3D, ALL ONLINE
Take a tour of some of our recent room designs
Modern Living Room
Living Room
Minimalist Home Office
Home Office
Why should you choose Spacejoy?
Hear it from our customers
Good reviews are pouring in
Spacejoy delivers a 3D experience which complements your style, budget and functional needs
Frequently Asked Questions
Best custom made packages with your interior design needs and budget in mind
Q. Can Spacejoy design around products I already own?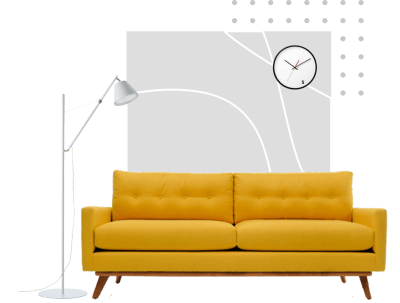 Yes! We can easily incorporate your existing furniture and decor pieces while designing. Our designers will ensure your new design, which will feature a combination of your existing furniture and some new handpicked ones will be cohesive and reflect your style and personality. You can see your new design in your actual room in 3D, which means you can be absolutely sure of how everything comes together.
Once you purchase a design package, you'll have to take a style quiz where you can upload pictures of the existing furniture and decor you'd like to keep in your new design. We'll either find similar products from our catalog to use in the design or create a 3D model if the closest match is not available.
Q. When will I get my design?
The delivery time ranges from 2 to 3 weeks because this is a factor of the design package you choose. Spacejoy offers 3 different design packages. Delight, Bliss, and Euphoria. Choose a package based on your needs. We always do our best to deliver your designs at the earliest. If you need the designs ahead of your stipulated time, you can always write to us at
hello@spacejoy.com
, and your design assistants will do their best
Q. Can I design multiple rooms at a time?
You can design as many rooms as you'd like at the same time. However, if you're planning on designing a full house or more than one room, write to us at
hello@spacejoy.com
and request a special discount, and we'll offer whatever promotions are running at the moment.
Q. Can Spacejoy's designers help me find my style?
Once you choose a package that best suits your needs, you will take the style quiz for us to gather as much information about your project before your designer begins designing. Through the quiz, we get a deep understanding of your likes, preferences, and purpose of the space. You can also share any inspiration design ideas and moodboards you may have saved on the likes of Pinterest, Instagram, or Houzz. Using this, our designers make a fairly educated assessment of your style and have a discussion with you regarding their evaluation before they head to the drawing board.
Q. Do I have to buy the furniture right away?
All the designs come with a curated shopping list of the products featured in your design. But you decide what to shop and when to shop from your shopping list. You can put your room together, one shipment at a time, at your convenience. The only catch here is, there is a possibility that the products handpicked by your designer suited for your style, budget, and layout may run out of stock at the retailer.
Q. I don't have a floor plan can you work with just pictures and videos of my home?
If you don't have a formal floor plan, you can always eyeball the layout and hand draw it to the best of your abilities and send it to your designer. In the unlikely event that you can't send across a hand-drawn layout, send us in as many pictures and videos. Your designer will find a way to help you figure out the floor plan of your room. Getting the layout right is crucial, as your room's 3D model is based on the floor plan.
Q. I don't have a huge budget, but I need help. Can Spacejoy work with my budget?
Spacejoy's designers work under a budget specified by you. They'll do their best to find furniture and decor options that work for the budget you have in mind without compromising style or functionality.
Handpicked Products From