Living Room Design Ideas
13 Sectional Sofas to Binge-Watch Your Favorite Shows
We all have our favorite shows to binge-watch. From Schitt's Creek to Never Have I Ever and those rewatching their favorite Friends episode, these shows have one thing in common: they're best seen from a comfortable and soft sectional sofa. Yes, you read that right. Having the ultimate sectional is the best way to elevate your binge-watching game and still give your living room that upscale, interior design magazine style you want. Keep scrolling for the best sections to binge-watch your favorite shows in absolute style. 
1.
Reversible Sectional, Wayfair (Under $1,000)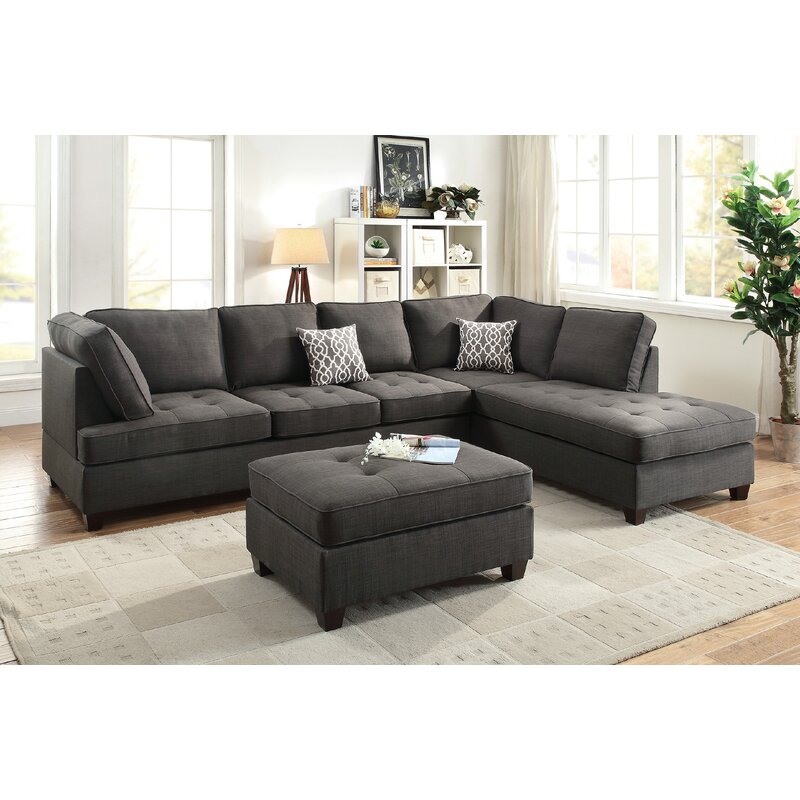 Best Reversible: Perfect for indecisive homeowners who want versatility and comfort at the same time. With plenty of space to enjoy a Friday night movie with the entire family, this mid-century modern sectional sofa is perfect for a medium-sized living room.
Available In: Charcoal gray-black and dark blue.
The feature we love: The reversible chaise offers ample seating space and versatility, so you can fit the sectional in the best position depending on your living room's layout.
Pros:
Reversible orientation

Includes toss pillows

Cushions are removable 
Cons:
No storage space

Cushions are not reversible

Fabric is not machine washable
What customers say: "Easy to put together and nice fabric. It looks better in person than the pictures." 
2.
DHP Noah Sectional Sofa Bed, Walmart (Under $859)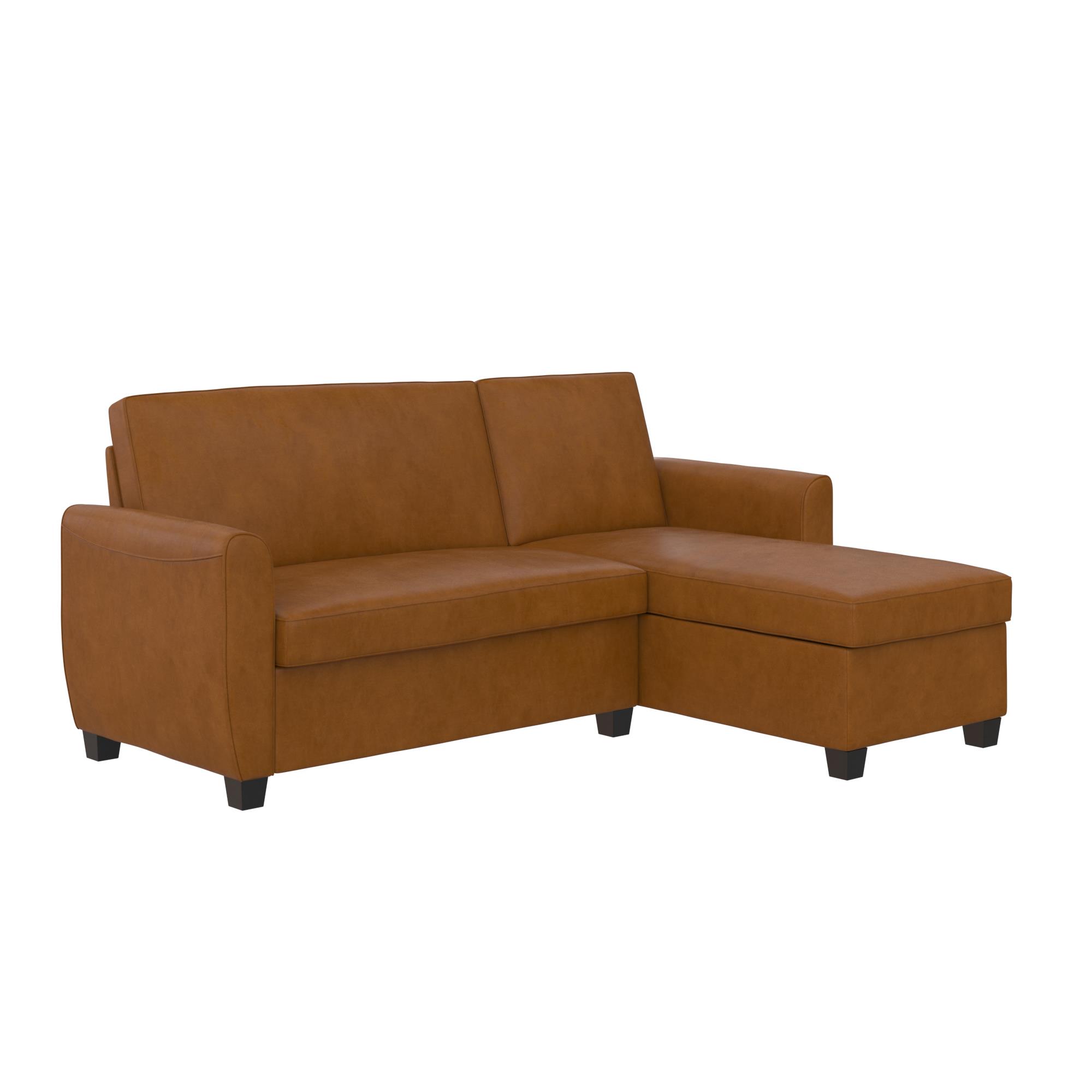 Best for Apartments: Talk about a versatile and multi-purpose sectional sofa. The DHP Noah Sectional Sofa has storage space and opens to fit a bed. Now, that's binge-watching goals right there. Perfect for small living rooms that need to adapt to movie-loving guests without sacrificing comfort and space. Keep everything you need for the ideal movie marathon in the built-in storage space and enjoy the movie. 
Available In: Camel, black, blue velvet, green velvet, and grey velvet.
The feature we love: The reversible chaise with built-in storage is the perfect compartment for adding a pull-out bed, storing away pillows and throws, and keeping everything organized even in the smallest spaces. 
Pros:
Built-in storage in the chaise

Includes a twin-size pull out bed

Reversible chaise for customization
Cons:
Velvet fabric is very delicate

Not machine washable

Can't remove the covers 
What customers say: "Looks nice. Not the greatest quality for the price. Very stiff, thin cushions.
3.
Big Sur Sofa with Double Chaise Sectional, Pottery Barn (Under $3,500)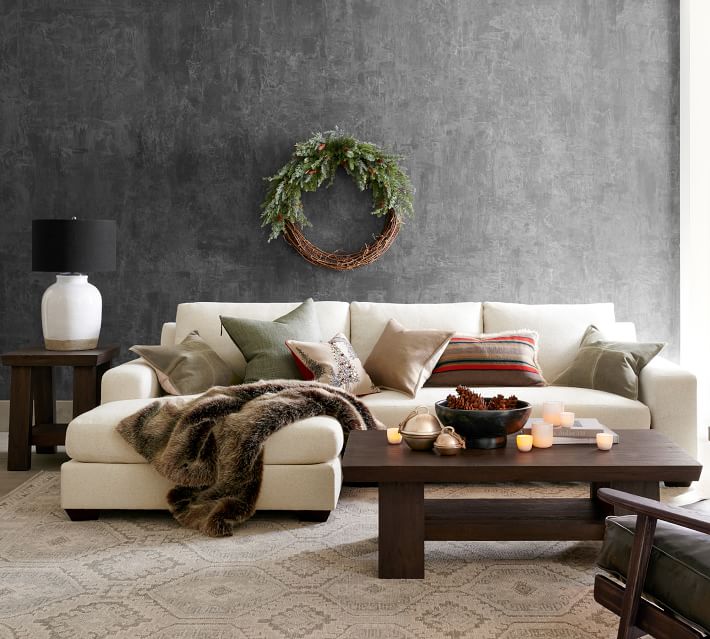 Best Splurge: This is one of those sectional sofas that will seamlessly blend with your modern farmhouse style and fit your entire family all at once. Melt into its comfortable cushions as you plan a family movie night with the kiddos. The double chaise section adds extra room for cuddles and fun times. Perfect for families who want their living room to be the background of family reunions and memories. 
Available In: white or performance fabrics made to order.
The feature we love: The double-wide chaise is perfect for enjoying a night of movies or your favorite TV show uninterrupted. 
Pros:
Includes steel connectors to hold the modular pieces together

Includes adjustable levelers to provide stability on uneven surfaces

Cushions are loose for easy cleaning
Cons:
Not machine washable

Chaise is not reversible

Made-to-order fabrics take 10+ weeks to receive

The website doesn't provide customer's reviews
4.
Ravi Reversible Modular Sectional, AllModern (Under $1,500)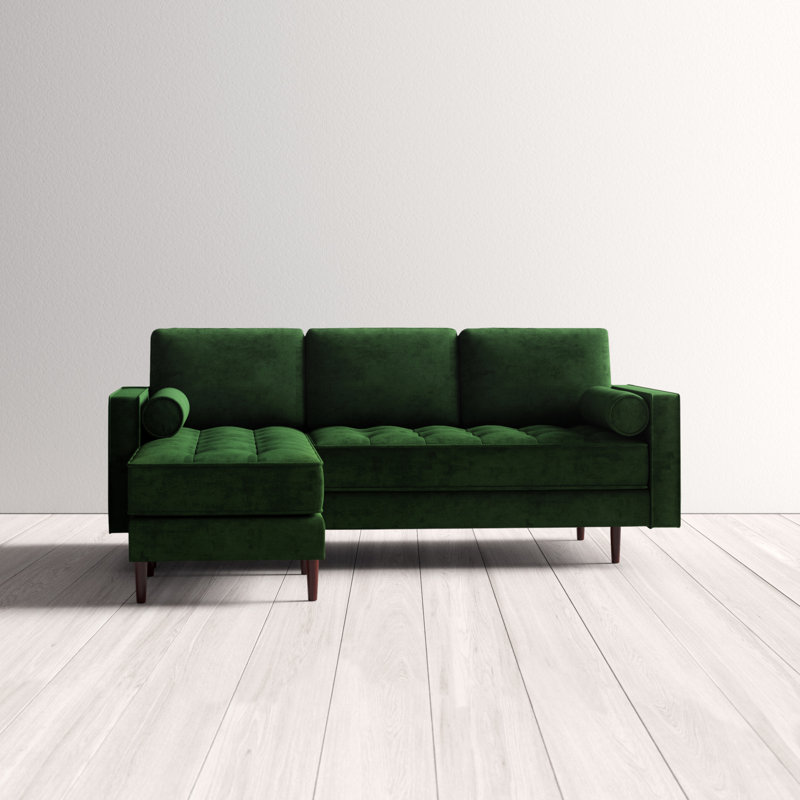 Best Modular: Set the most glamorous background to your binge-watching nights with this velvet sectional sofa by AllModern. The modular builts let you choose if you want the chaise to go on the left or right to give you maximum personalization and control over your space's design. We're obsessed with this emerald green upholstery, which matches perfectly with greenery accents all over. 
Available In: Beige, charcoal, copen blue, emerald, gold velvet, gray, olive, platinum, sapphire, and blush.
The feature we love: One of the very few sectionals that let you choose the color of the fabric and the color of the legs for a fully customizable look.
Pros:
Removable back and seat cushions

Reversible chaise

Environmentally-friendly materials
Cons:
No built-in storage space

Cushions are not reversible

Not machine washable
What customers say: "Love this couch! I was really nervous to order a couch online, but it's great. You don't sink in it, but it's still very comfy! The color is perfect as well as the size for an apartment."
5.
Longwood 82'' Modular Sectional with Ottoman, Wayfair (Under $1,500)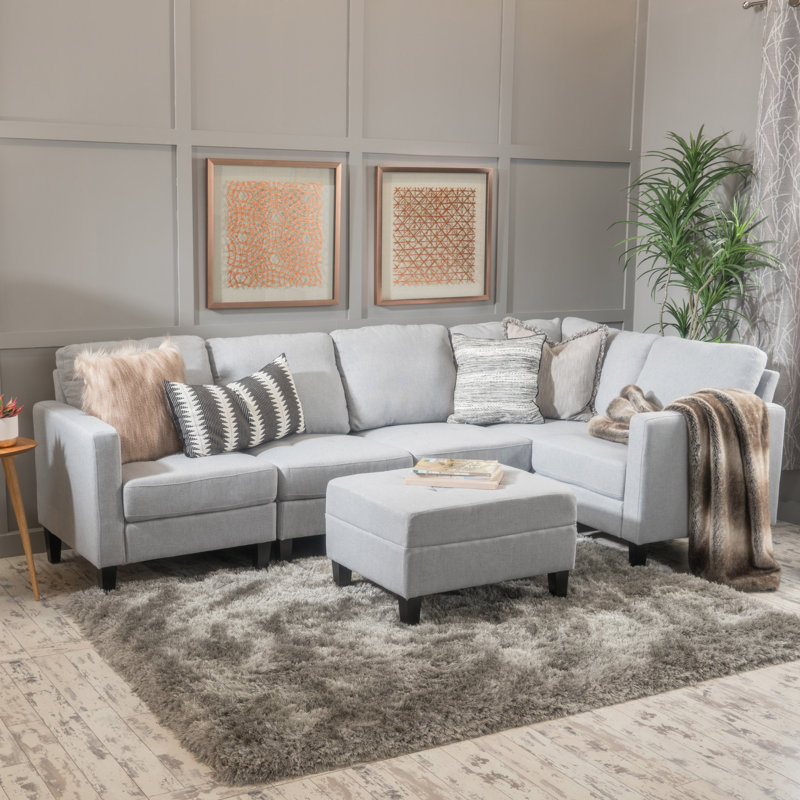 Best for Small Spaces: Mix and match this sectional sofa's pieces until you find the best arrangement to fit your style and needs. The Longwood Sectional is perfect for small spaces that need versatility and storage space. Use the ottoman to create your own chaise wherever you want, so you can lounge while binge-watching your trendiest shows.
Available In: Light gray, dark blue, and dark gray.
The feature we love: The modular design allows for ultimate customization and lets you keep building a more spacious sectional by getting additional modules. 
Pros:
It comes with an ottoman to create your own chaise

Lets you keep building with more modules

It comes with removable cushions for easy cleaning
Cons:
No storage space included

No removable cushions

Not machine washable
What customers say: "Very nice color, lightweight to move around, easy to handle & put together, beautiful look & feel."
6.
Live It Cozy Sectional Sofa Bed, Wayfair (Under $1,500)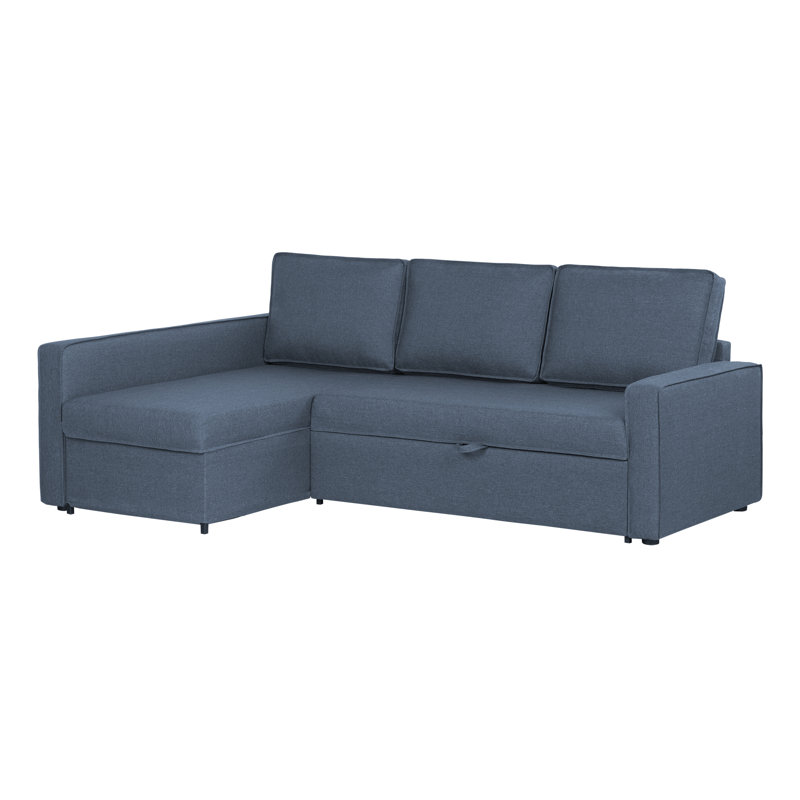 Best Sleeper: The sofa that keeps on giving. The Live It Cozy Sofa-Bed is a real transformer that will continue to adapt as you need. Choose where you want the chaise to go, extend the bed frame so everyone can have a chaise to relax. Keep your space clutter-free with the storage ottoman hidden on the chaise section. Need more? Open the sofa and get a comfortably-sized bed for those late-night movie marathons. 
Available In: Blue jeans, charcoal gray, and gray fog.
The feature we love: The removable cushions have a zippered border that lets you take off the covers for a quick wash on the laundry machine. 
Pros:
Reversible chaise

Cushions are machine washable

Built-in under-seat storage
Cons:
Cushions are not reversible

Only dry cleaning

It does not include connectors to keep the pieces together
What customers say: "Nice couch. It has all of the features we were looking for. I really like the storage. I took my time because there were moments where the parts were heavy, and I was able to put it together myself being very safe, using the proper lifting technique."
7.
Edlyn Chaise Sectional, Anthropologie (Over $5,000)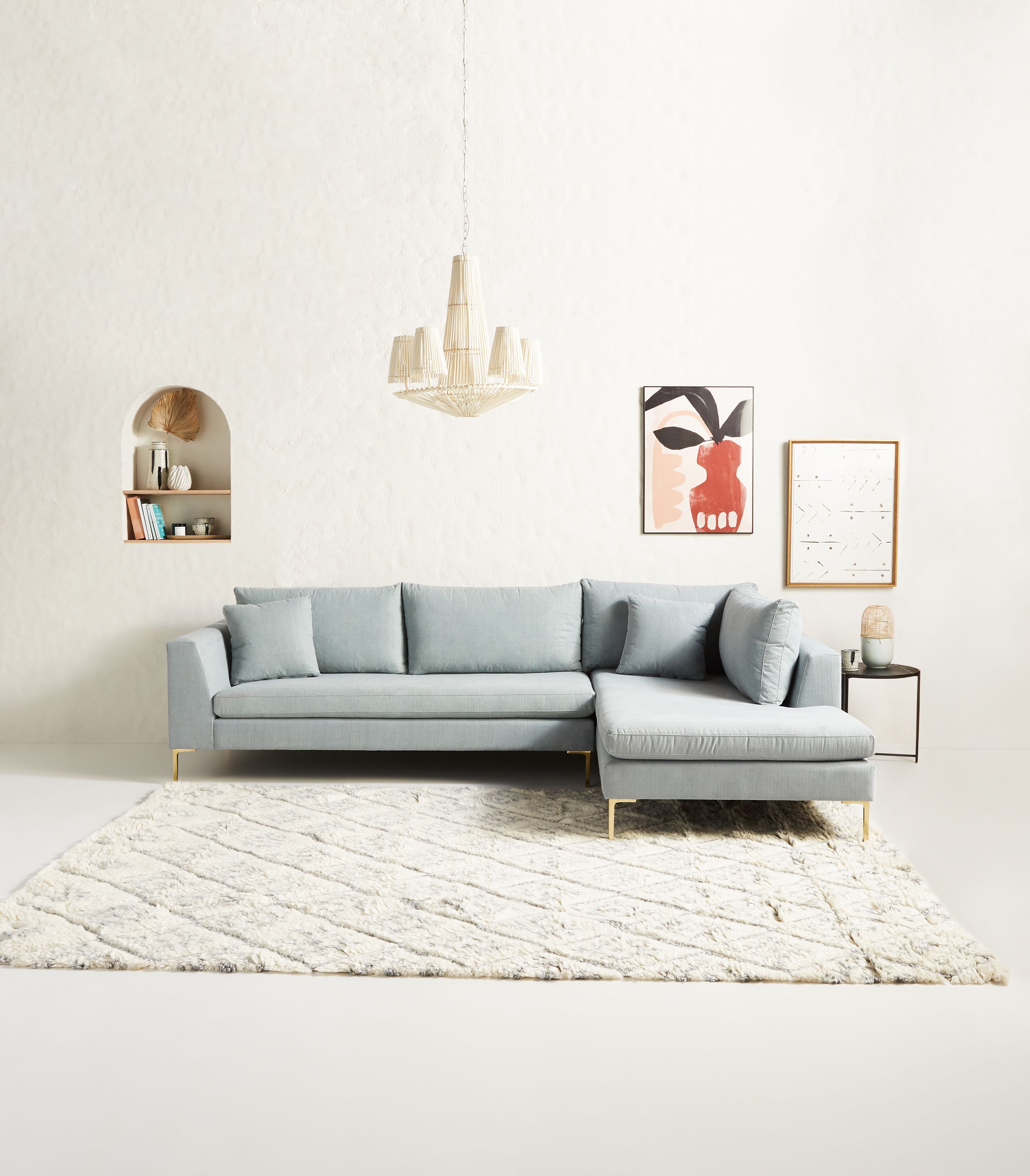 Best Large Sectional: Dreamy, modern, soft, and stylish, there's nothing the Edlyn Sectional can't do for you. The contemporary shape and smooth lines make it perfect for your contemporary home, and the soft blue tone is glamorous and timeliness at the same time. Feel wrapped in a blissful cloud with the soft cushions and pillow, perfect for watching your favorite shows all weekend long. 
Available In: Palladian blue, anchor, cloud, beige, Aegean, and chili. 
The feature we love: The base design of this section is gently reclining back, so you can lay more comfortably and watch TV for hours.
Pros:
Includes sectional connectors

Cushions are removable for easy cleaning

Legs are removable
Cons:
Cushion covers are not removable

Not machine washable

The chaise is not reversible
What customers say: "Obsessed with this couch! We purchased the premium leather, and yes, it does scratch pretty easily (unfortunate), but that's life! My husband and I don't cause the scratches; it's my puppy that has caused them. The scratches show character; if you don't want scratches, then don't sit/use the couch then!" 
8. Velvet Katina Sectional, Anthropologie (Under $2,500)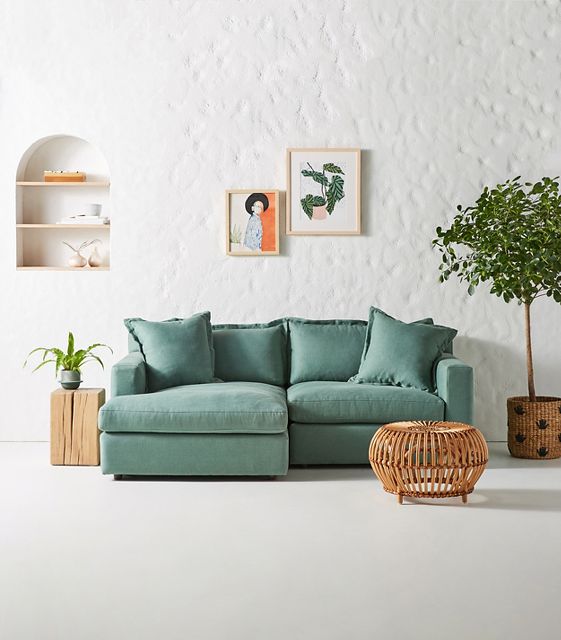 Best Comfortable Sofa: If all your favorite shows are about drama and glamour, then you need the Velvet Katina Sectional in your living room. The soft hues with the luxe soft pile velvet pillows will give you the perfect spot to binge-watch your favorite shows. Perfect for any luxury, modern, and glam living room decor. Plus, you'll make a lasting impact when you have guests over for entertaining.
Important Note: This item is currently sold out. So, the following features are on the Upcycled Wells Reversible Sectional that has a similar look and feel to this one. 
The feature we love: The reversible design makes it perfect to fit in virtually any space. Play with the chaise position to change the look and feel of the sectional and try different living room layouts. 
Pros:
Made with eco-friendly upcycled cotton upholstery

It comes with removable seats and cushions

Covers can be professionally cleaned
Cons:
No built-in storage added

Plush pillows can lose their shape after long-term use

Not many fabric options available
What customers say: "We purchased the white, and it's exactly what we were looking for. Pure white, great quality, and comfortable. It looks similar to RH's cloud sectional! Truly happy with this purchase!"
9.
Monterosso Sectional, Made (Under $1,500)
Best Sectional Sofa for Family: You have space, and you're the one everyone calls to binge-watch the show the entire world is watching. To you, keeping up with the latest Netflix shows is a duty. You love keeping up to date with the latest shows; scheduling show marathons with your friends is your idea of weekend plans. Thankfully, you have a spacious living room to fit the Monterosso sectional. Everyone you invite over can find their favorite spot and enjoy hours of TV-watching without having to worry about comfort. 
Available In: Dark anthracite velvet, oyster grey, pistachio green velvet, storm blue, sapphire blue velvet. 
The feature we love: The U-shaped layout is perfect for a more spacious living room, giving you not one but two chaises to relax after a long day. 
Pros:
It comes with two chaises

Legs can be customized

Comes pre-assembled
Cons:
Cushions are not removable

No built-in storage

Professional cleaning only
What customers say: "Absolutely love this suite. It fits perfectly, and the color is just so beautiful. It came in 3 large boxes but wasn't too heavy - only a bit bulky but well packaged. Totally in love with it."
10.
Soderhamn Sectional Sofa, IKEA (Under $750)
Best Sectional with Chaise: If you have a spacious living room to fit a large sofa, but you don't have a big budget, then this classic Soderhamn sectional is your best fit. It's perfect for those who like to play with the layout of their space because you can modify it to create a seating arrangement that fits your lifestyle. 
Available In: Dark grey, orange, turquoise, white, beige, and brown. 
The feature we love: The different sections can be used freestanding or put together, giving you complete control over organizing the layout and style of the sectional. 
Pros:
Includes loose back cushions

Covers are removable to be machine washed

Chaise is reversible
Cons:
It needs to be assembled

Arms are thin 

No storage space included
What customers say: "Did research and was trying to decide which couch to get either this or the kivik. I'm happy I purchased this one! Everyone loves it, says it is comfortable and looks great! Perfect for snuggling and watching tv and movies. Easy to clean if it gets dirty, and wasn't really too hard to put together."
11.
Node Sofa, Coddle (Under $1,500)
Best Custom: Sometimes, those with a small space think they don't have the space to fit a sectional in their living room. While this can be true in most cases, the Node sofa is about to change that. It has a unique design that helps you transform a classic 3-seater into the sectional of your dreams. Even when you don't want to arrange it as a sectional, the free-standing ottoman can also serve as additional seating space or a functional coffee table. 
Available In: Sand and indigo.
The feature we love: This modern sectional comes with integrated power and USB outlets, so you can keep your electric essentials while you're watching TV. 
Pros:
It comes with a movable ottoman to create your own chaise

The modular design lets you add more or fewer seats

Made with stain-resistant fabrics
Cons:
It doesn't include cushions

The fabric cover is not removable

It needs to be assembled
12.
Lounge II 2-Piece Sectional Sofa, Crate & Barrel (Under $3,000)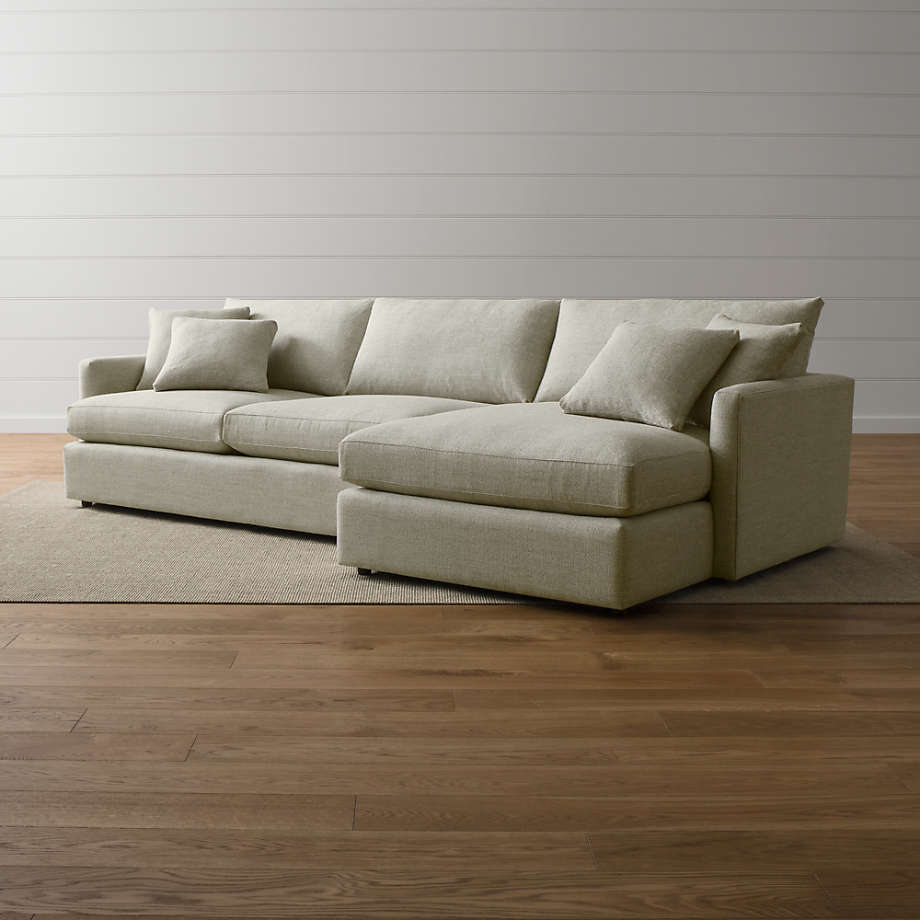 Best Modern: When you're looking for style and comfort, then the Lounge II sectional is your best choice. This spacious modern sectional is perfect for growing with your family as you go because it comes with plenty of modules to expand. Everything from this design is meant to encourage a comfortable space to be lounged on, which means you can watch your shows all night long without feeling as if your back is going to kill you. The ultimate sectional to spend time with your family. 
Available In: Cement, steel, and made-for-you fabrics. 
The feature we love: The super-deep and low seats are comfortable for the entire family, especially those with children. The sleek design makes it perfect to fit in smaller living room spaces. 
Pros:
Includes removable throw pillows

The short chaise is perfect for smaller spaces

Back cushions provide extra support
Cons:
Plush cushions can lose their shape over time

The chaise is not reversible

No built-in storage available
What customers say: "Looked and tons of sectionals and the Lounge checked so many things off our list. My family loves how deep the seats are, how durable the upholstery is, and how stylish the design/color is. We get compliments from guests all the time. Perfect for a family that needs practicality without sacrificing style."
13. Sven Leather Sectional Sofa, Article (Under $3,500)
Best Overall: Who says leather couches can't be binge-watch-worthy? A leather sectional couch can still serve as the perfect background for all your lounging activities. The Sven Leather sectional is the perfect example of how one leather couch can feel as soft as butter and melt with your body while also providing you with comfortable support. 
Get Interior Design Help From Spacejoy's Online Interior Designers
Available In: Chocolat, tan, Oxford black, and Oxford blue. Also available in fabric, leather, or velvet.
The feature we love: The overstuffed cushions make this leather section a real winner. Plus, the side bolsters enhance the seating experience, creating a leather couch even more comfortable.  
Pros:
Loose seats and back cushions for easy cleaning

Leather can be easily wiped down with a soft cloth

The high-density foam makes the seat ultra cushioning
Cons:
Not reversible

Not modular, so you can't add more seat spaces

No built-in storage included
What customers say: "Couch is without a doubt a show stopper. Clean, high quality, and extremely comfortable. Also, it is the perfect size for a smaller space. Beyond excited with how this turned out!"
Ready to Find Your Perfect Sectional Sofa?
Alright, maybe you don't want to match your home decor style to your favorite binge-watching show. That's fine. We'll walk you through the different types of sofas, which type of leather is best for a couch, how to find the best size sectional to buy, and more. We can even talk about what shape the coffee table works best with your sectional to help you create the perfect living room space layout. Whatever questions about sectionals you have, we'll be here to answer them and help you find the best alternative for your home. 
Start a project today and talk to one of our talented interior designers to help you find the perfect sectional sofa for your home. Hey, they might even recommend a few of their favorite binge-watching shows as well.