Living Room Design Ideas
13 Worthy & Best Sectional Sofas to Binge-Watch Your Favorite Shows
Best Sofas to Binge-Watch Your Favourite Shows
We all have our favorite shows to binge-watch. From Schitt's Creek to Never Have I Ever and those rewatching their favorite Friends episode, these shows have one thing in common: they're best seen from a comfortable and soft sectional sofa. Yes, you read that right. Having the ultimate sectional is the best way to elevate your binge-watching game and still give your living room that upscale, interior design magazine style you want. Keep scrolling for the best sections to binge-watch your favorite shows in absolute style. 
Reversible Sectional, Wayfair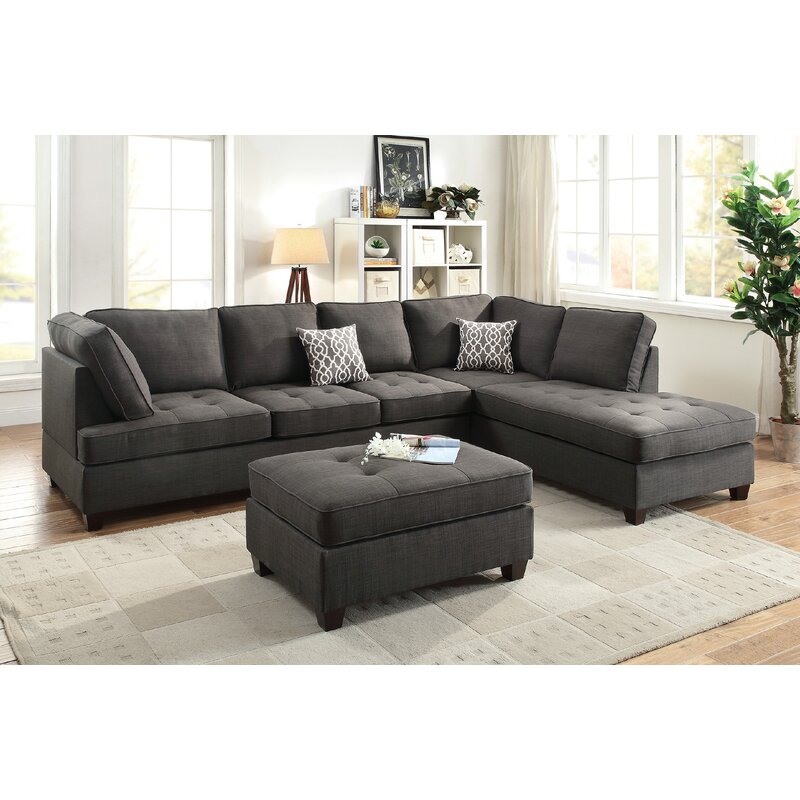 Perfect for indecisive homeowners who want versatility and comfort at the same time. With plenty of space to enjoy a Friday night movie with the entire family, this mid-century modern sectional sofa is perfect for a medium-sized living room.
Best for Binge-Watching: Outlander, That 70's Show, and The Marvelous Mrs. Maisel.
DHP Noah Sectional Sofa Bed, Walmart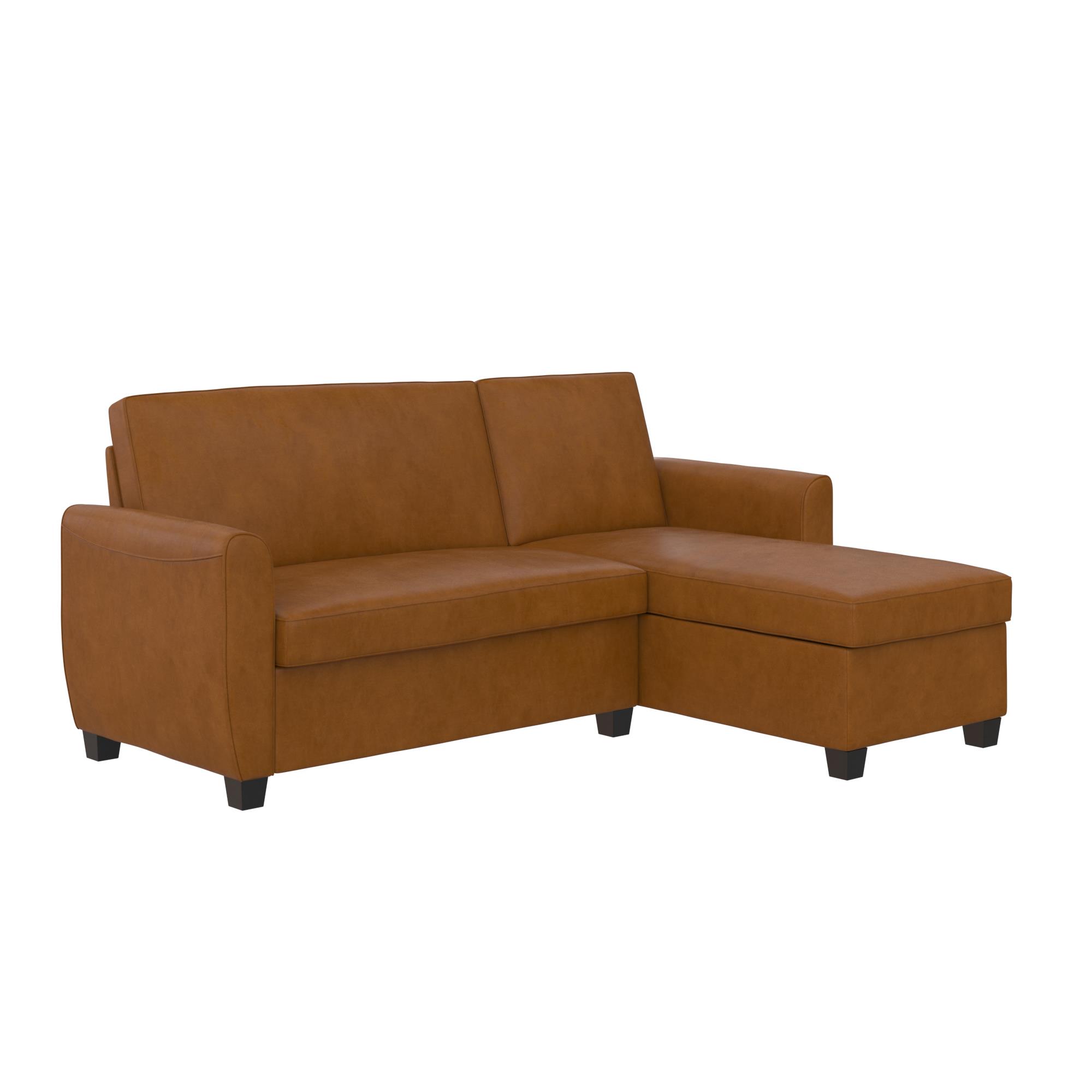 Talk about a versatile and multi-purpose sectional sofa. The DHP Noah Sectional Sofa has storage space and opens to fit a bed. Now, that's binge-watching goals right there. Perfect for small living rooms that need to adapt to movie-loving guests without sacrificing comfort and space. Keep everything you need for the ideal movie marathon in the built-in storage space and enjoy the movie. 
Best for Binge-Watching: Never Have I Ever, Tiger King: Murder, Mayhem
and Madness, and YOU.
Big Sur Sofa with Double Chaise Sectional, Pottery Barn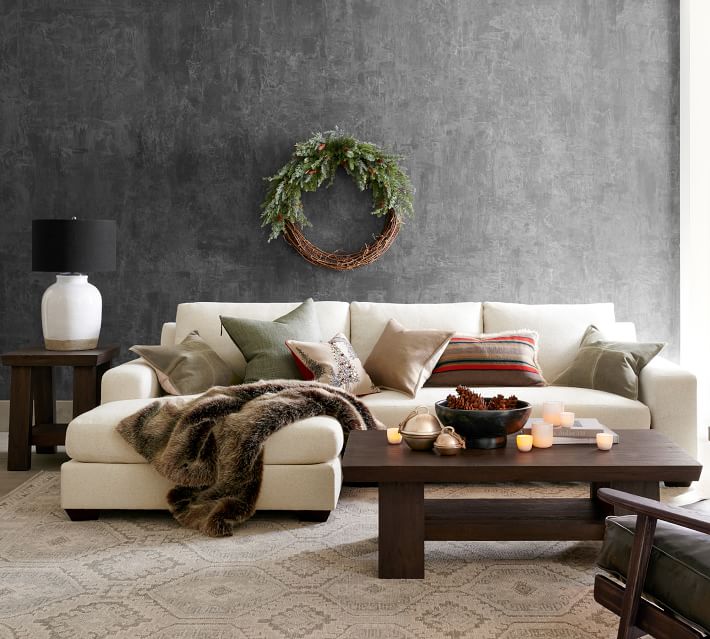 This is one of those sectional sofas that will seamlessly blend with your modern farmhouse style and fit your entire family all at once. Melt into its comfortable cushions as you plan a family movie night with the kiddos. The double chaise section adds extra room for cuddles and fun-time. Perfect for families who want their living room to be the background of family reunions and memories. 
Best for Binge-Watching: Disney Family Sundays,  The Perks of Being a Wallflower, and Secrets of the Zoo.
Ravi Reversible Modular Sectional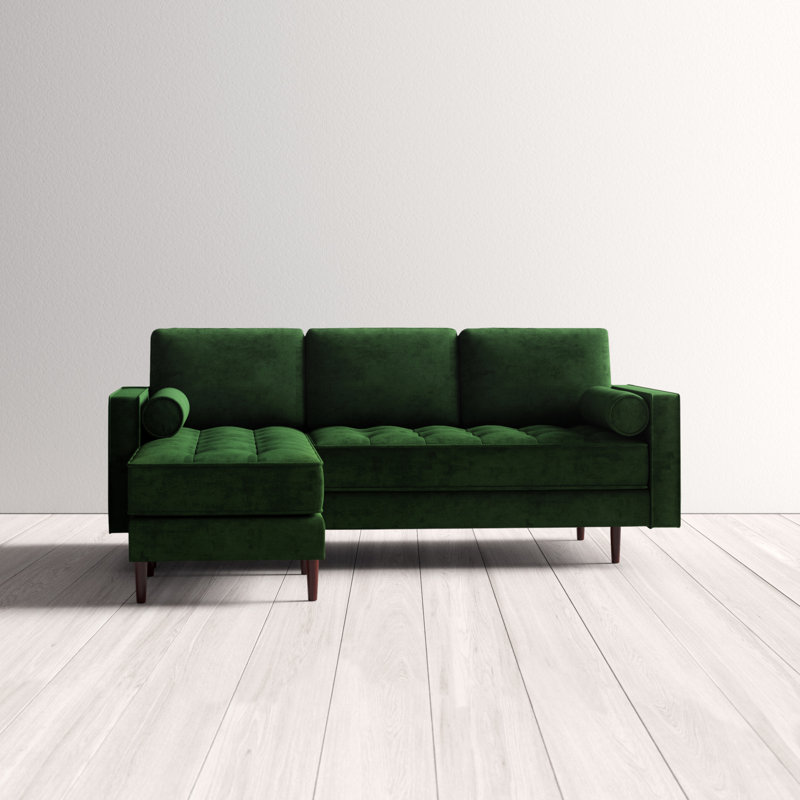 Set the most glamorous background to your binge-watching nights with this velvet sectional sofa by AllModern. The modular builts lets you choose if you want the chaise to go on the left or right to give you maximum personalization and control over your space's design. We're obsessed with this emerald green upholstery, which matches perfectly with greenery accents all over. 
Best for Binge-Watching: Hollywood, The Crown, and Gossip Girl.
Longwood 82'' Modular Sectional with Ottoman, Wayfair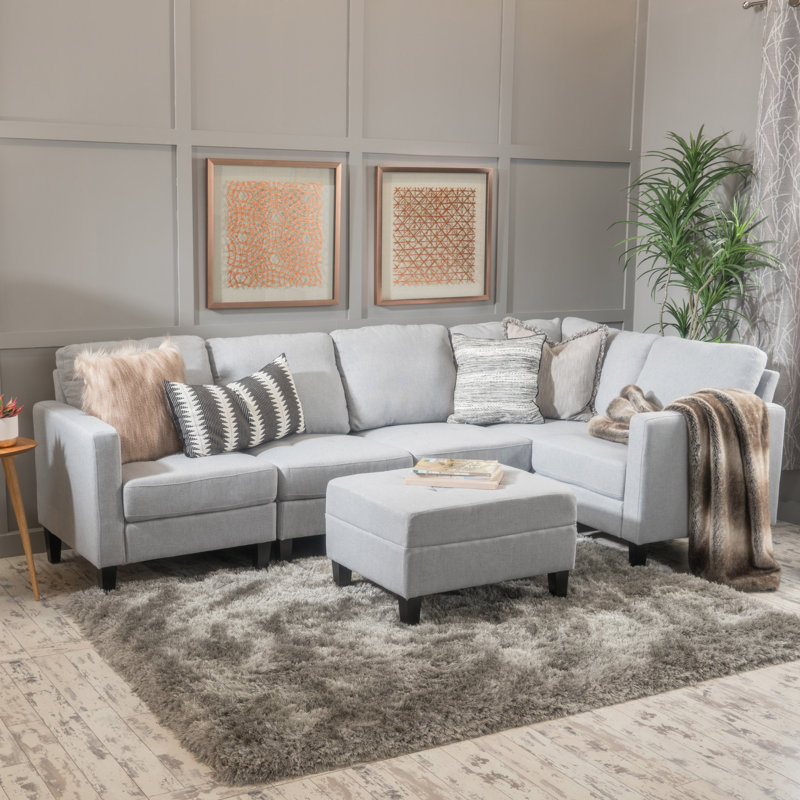 Mix and match this sectional sofa's pieces until you find the best arrangement to fit your style and needs. The Longwood Sectional is perfect for small spaces that need versatility and storage space. Use the ottoman to create your own chaise wherever you want, so you can lounge while binge-watching your trendiest shows. 
Best for Binge-Watching: The Office, Black Mirror, and Dead to Me. 
Live It Cozy Sectional Sofa Bed, Wayfair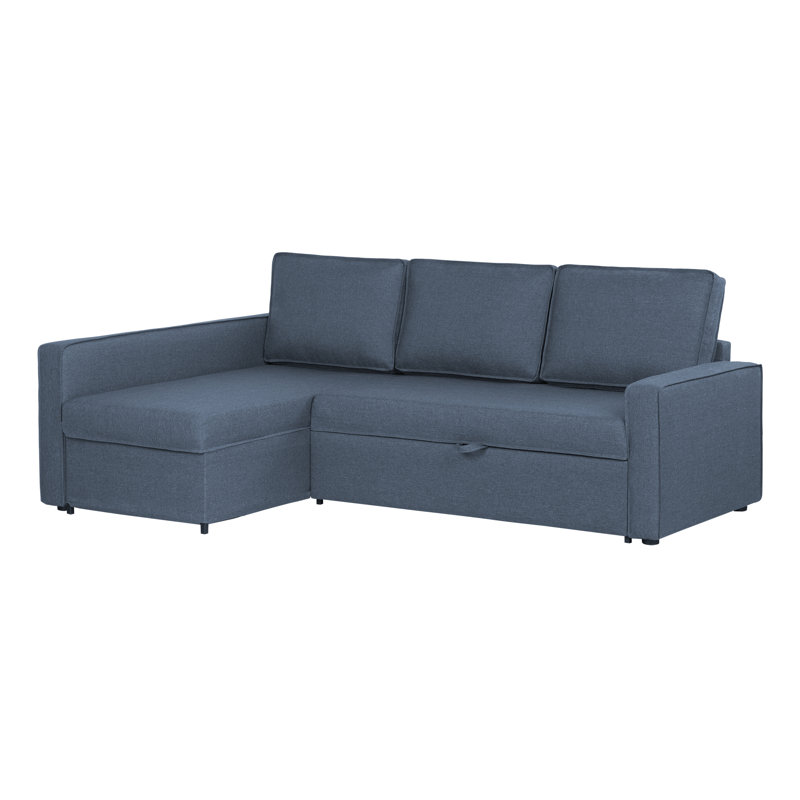 The sofa that keeps on giving. The Live It Cozy Sofa-Bed is a real transformer that will continue to adapt as you need. Choose where you want the chaise to go, extend the bed frame so everyone can have a chaise to relax. Keep your space clutter-free with the storage ottoman hidden on the chaise section. Need more? Open the sofa and get a comfortably-sized bed for those late-night movie marathons. 
Best for Binge-Watching: Game of Thrones, Orange Is the New Black, and Friends.
Edlyn Chaise Sectional, Anthropologie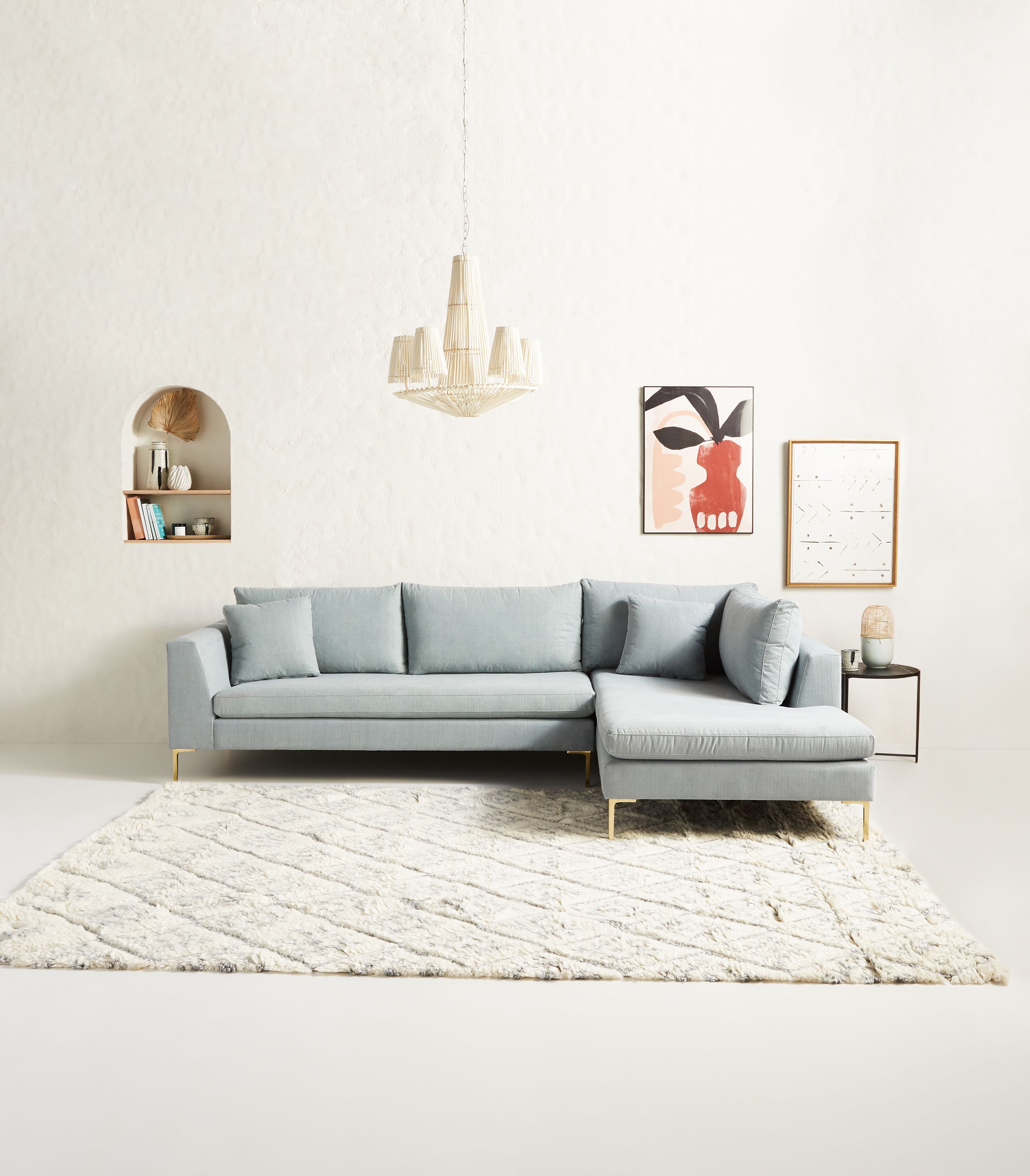 Dreamy, modern, soft, and stylish, there's nothing the Edlyn Sectional can't do for you. The modern shape and smooth lines make it perfect for your contemporary home, and the soft blue tone is glamorous and timeliness at the same time. Feel wrapped in a blissful cloud with the soft cushions and pillow, perfect for watching your favorite shows all weekend long. 
Best for Binge-Watching: Stranger Things, Mad Men, and Modern Family. 
Velvet Katina Sectional, Anthropologie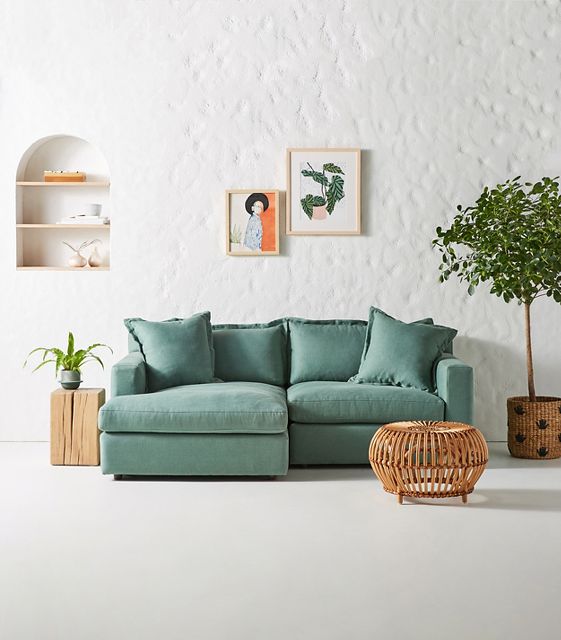 If all your favorite shows are about drama and glamour, then you need the Velvet Katina Sectional in your living room. The soft hues with the luxe soft pile velvet pillows will give you the perfect spot to binge-watch your favorite shows. Perfect for any luxury, modern, and glam living room decor. Plus, you'll make a lasting impact when you have guests over for entertaining. 
Best for Binge-Watching: Gossip Girl, Sex and the City, and Emily in Paris.
Monterosso Sectional, Made
You have the space, and you're the one everyone calls to binge-watch the show the entire world is watching. To you, keeping up with the latest Netflix shows is a duty. You love keeping up to the date with the latest shows; scheduling show marathons with your friends is your idea of weekend plans. Thankfully, you have a spacious living room to fit the Monterosso sectional. Everyone you invite over can find their favorite spot and enjoy hours of TV-watching without having to worry about comfort. 
Best for Binge-Watching: The Bachelor, Game of Thrones, The Great British Bake Off, and Schitt's Creek.
Soderhamn Sectional Sofa, IKEA
If you have a spacious living room to fit a large sofa, but you don't have a big budget, then this classic Soderhamn sectional is your best fit. It's perfect for those who like to play with the layout of their space because you can modify it to create the seating arrangement that fits your lifestyle. 
Best for Binge-Watching: White Lines, Self Made, Sweet Magnolias, and Spinning Out.
Node Sofa, Coddle
Sometimes, those with a small space think they don't have the space to fit a sectional in their living room. While this can be true in most cases, the Node sofa is about to change that. It has a unique design that helps you transform a classic 3-seater into the sectional of your dreams. Even when you don't want to arrange it as a sectional, the free-standing ottoman can also serve as additional seating space or a functional coffee table. 
Best to Binge-Watch: Peaky Blinders, Ozark, The Umbrella Academy, and YOU.
Lounge II 2-Piece Sectional Sofa, Crate & Barrel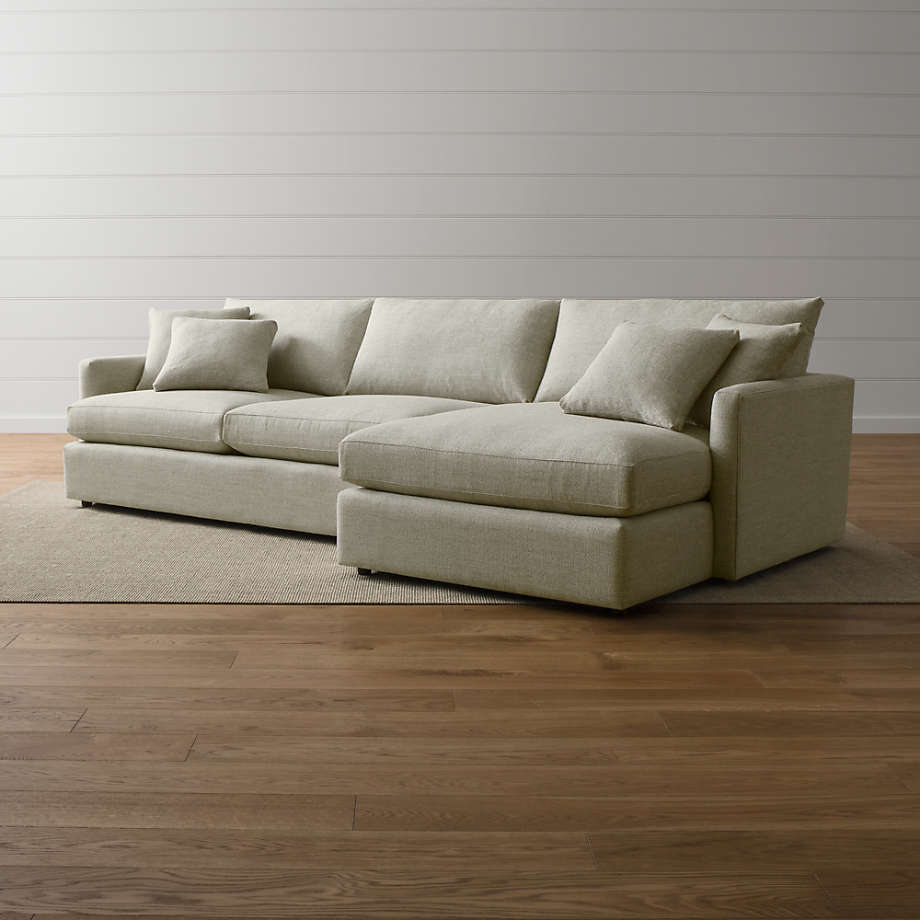 When what you're looking for is style and comfort, then the Lounge II sectional is your best choice. This spacious modern sectional is perfect for growing with your family as you go because it comes with plenty of modules to expand. Everything from this design is meant to encourage a comfortable space to be lounged on, which means you can watch your shows all night long without feeling as if your back is going to kill you. The ultimate sectional to spend time with your family. 
Best to Binge-Watch: Free REIN, Brainchild, and Spirit. 
Sven Leather Sectional Sofa, Article 
Who says leather couches can't be binge-watch worthy? A leather sectional couch can still serve as the perfect background for all your lounging activities. The Sven Leather sectional is the perfect example of how one leather couch can feel as soft as butter and melt with your body while also providing you with comfortable support. 
Best to Binge-Watch: The Great Heist, Valeria, Friends from College, and Versace.
Ready to Find Your Perfect Sectional Sofa?
Alright, maybe you don't want to match your home decor style to your favorite binge-watching show, that's fine. We'll walk you through the different types of sofas, which type of leather is best for a sofa, how to find the best size sectional to buy, and more. We can even talk about what shape coffee table works best with your sectional to help you create the perfect living room space layout. Whatever questions about sectionals you have, we'll be here to answer them and help you find the best alternative for your home. 
Start a project today and talk to one of our talented interior designers to help you find the perfect sectional sofa for your home. Hey, they might even recommend a few of their favorite binge-watching shows as well.
Similar Picks
Related designs for you
Categories
Explore other categories