Living Room Design Ideas
20 Modern Living Room Designs With Sectional Sofa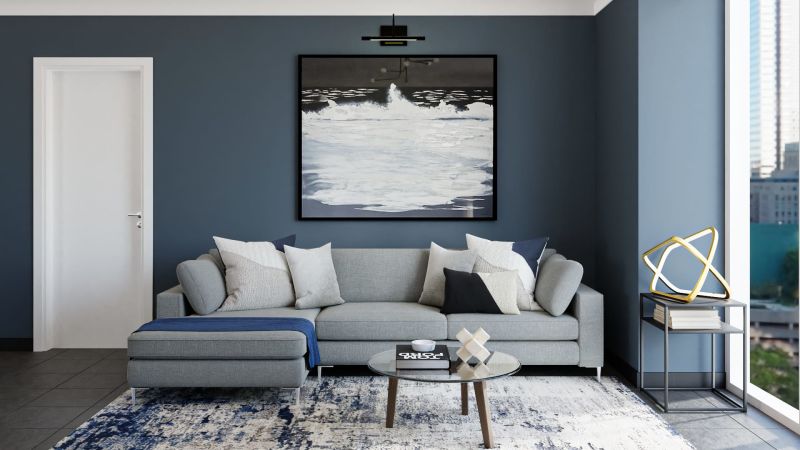 Living rooms are the most frequent gathering spots in any home and remain incomplete without a stylish sectional. In modern living rooms, sectional sofas also add a sense of warmth and softness. Check out these living room ideas with sectional sofas in various colors and styles, and take your pick!
1) Modern Living Dining Room With A 3-Piece Chaise Sectional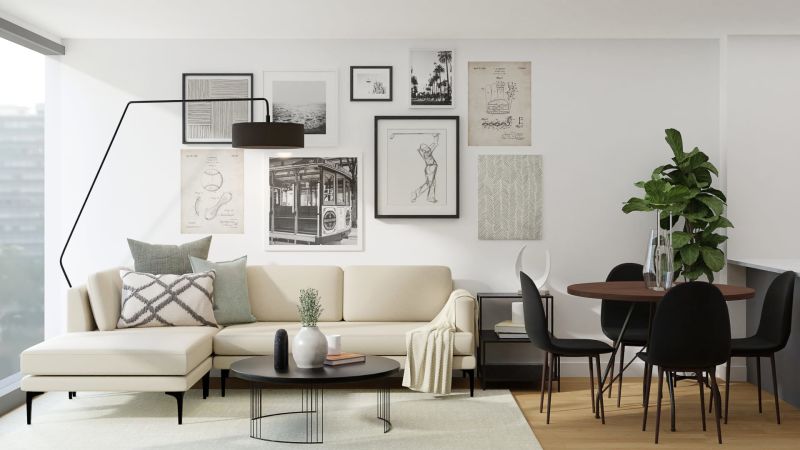 The West Elm cream-white sectional sofa makes this black-and-white themed room more warm and welcoming. It's perfect to lay on and relax while watching tv and provides extra seating for guests. With its modern form and extra-deep seat, the Andes Sectional Sofa has a serious presence, yet it remains subtle.
2) A Modern Living-Dining Room In Bright Colors With Tangerine Sofa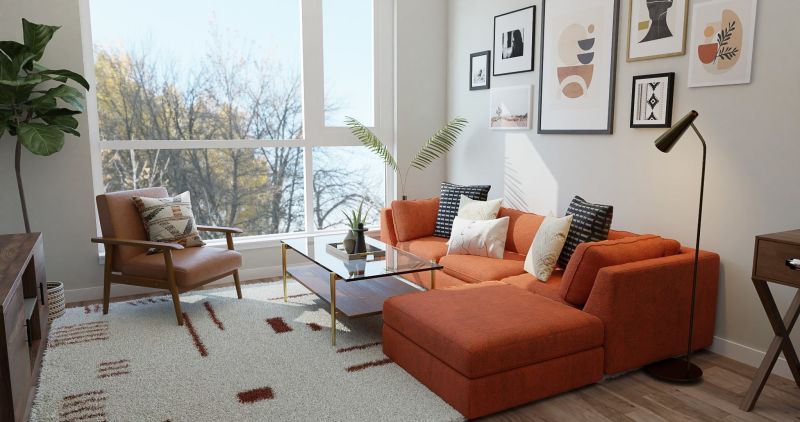 This modern living and dining room is filled with bright hues and natural textures. The heart of this living-dining room is the tangerine sectional that brings a beautiful character to the overall color palette. When decorated with vibrant cushions, pillows, and throws, this corner sectional sofa exhibits a lovely contrast.
3) Modern Living Room With Terminal Chaise Sectional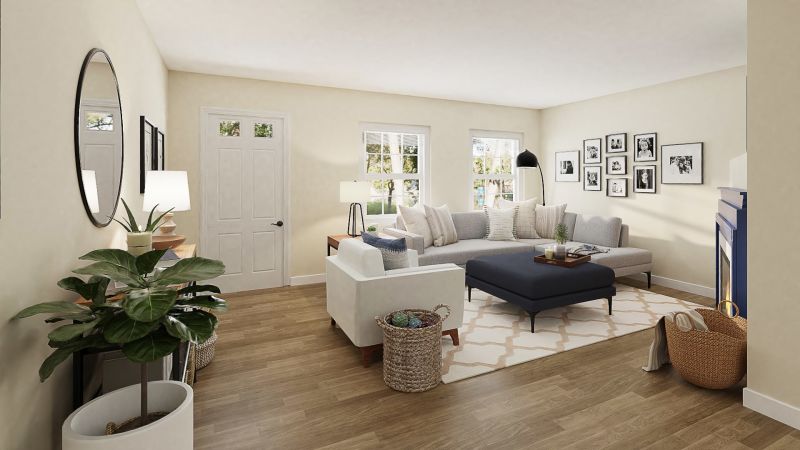 This living room design with sectional has plenty of seating space for friends and family gatherings, without making the living room cluttered. The L-shape gray Andes 2 Piece Terminal Chaise Sectional from West Elm brings elegance to the room with its modern form, crisp tailoring, and hand-finished upholstery.
4) Charming and Modern Living Room With Oyster Crosby Sectional Sofa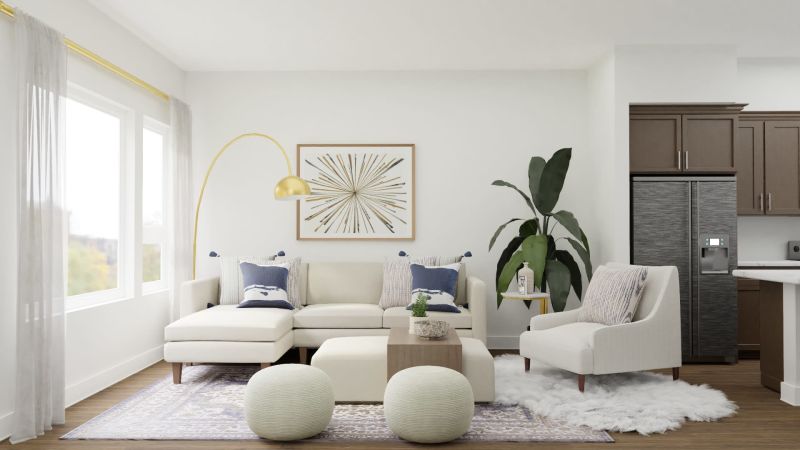 This living room design is proof that you can make a lasting impression even with a small sectional sofa. Here, the neutral-toned modern living room is adorned with neutral-toned furniture that forms a seating area with the Crosby Sectional sofa from Maiden home, an upholstered armchair and an ottoman.
5) Rustic-Elegant Modern Living-Dining Room WIth A Beige Sectional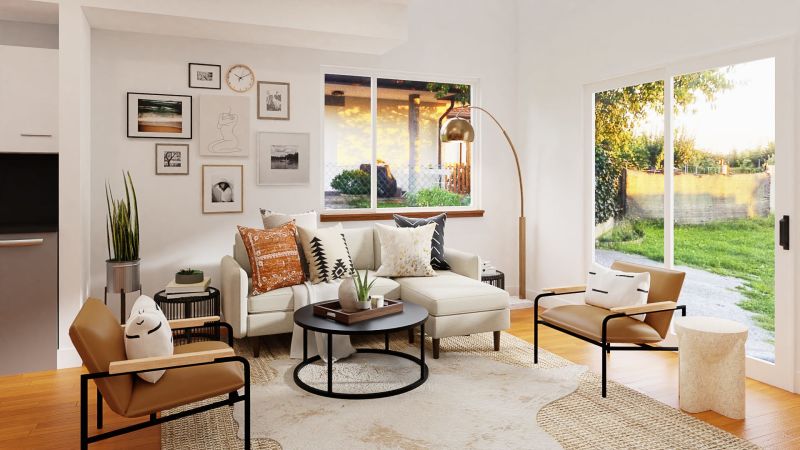 The white sectional placed beneath the window in this living-dining room is just perfect for this open concept living-dining room. The Revive Right Sectional Sofa from Lexmod, along with the leather armchairs form a perfect seating area that offers an outstanding view of the outdoors. Perfect for evening gatherings.
6) Black & White Modern Living & Dining Room With Oversized Sectional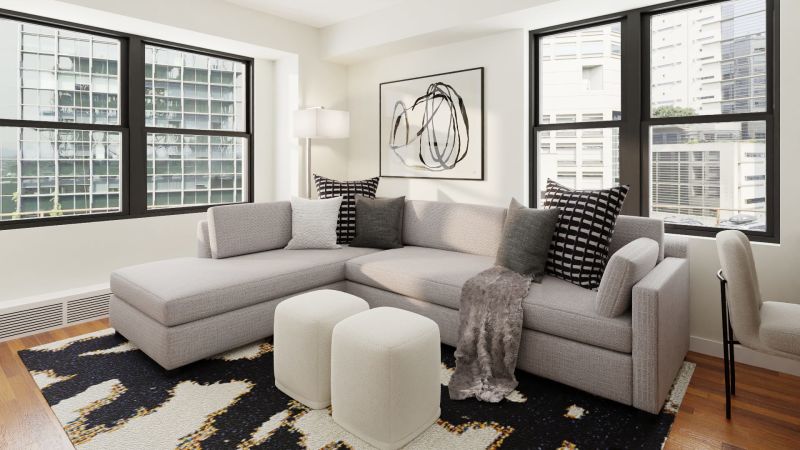 This black and white modern living-dining room design idea is perfect for you if you are a minimalist at heart. With a dual-toned color palette, the show stealer of the room is undoubtedly the Gray Marin Terminal Chaise Sectional from West Elm, paired with black, white, and gray accent cushions.
7) Comfy Yet Modern Living-Dining Room With White Sectional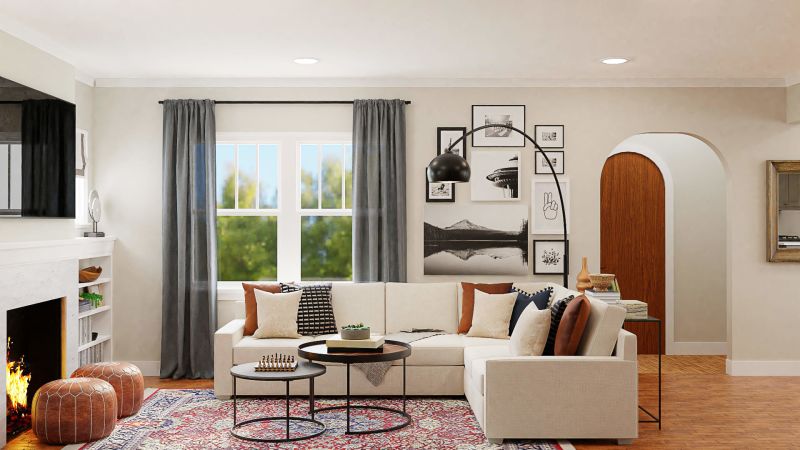 This rustic yet comfy modern living-dining room design has a beautiful neutral color palette with few earthy tones. The White Bosco 111 Sectional from Wayfair brings a sense of equilibrium to the room with its white color. The sofa is adorned with brown, blue, and black accent pillows to create contrast.
8) Sunny Modern Rustic Living Room With Pure White Sectional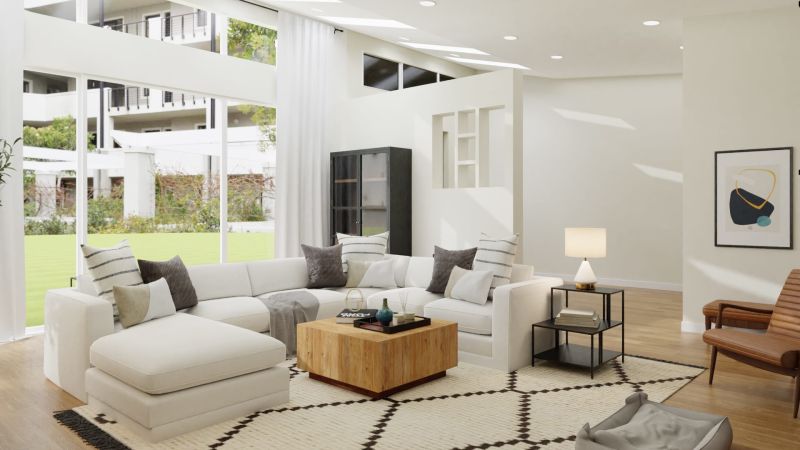 In this modern-rustic living room design, The Warren Sectional from Maiden Home occupies most of the area. Gray hues and pin-stripe cushions added to the sectional complement the rest of the room's neutral color palette, while the sofa's perfect upholstery allows guests to lounge comfortably during late night parties.
9) Monochromatic Modern Living Room With A Comfy Lounge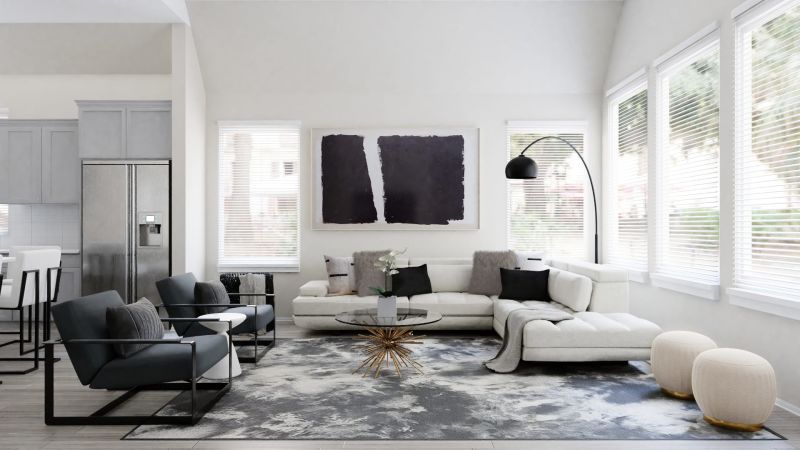 The living room's neutral color palette in black, gray, and accents of gold is complemented beautifully by the ultra-stylish and large white sectional. Accessorized with throw pillows and blankets, the utterly comfy sectional cuts through the sterile color palette to make the room feel cozy and warm.
10)  Modern Industrial Living Room With A Charcoal Gray Sectional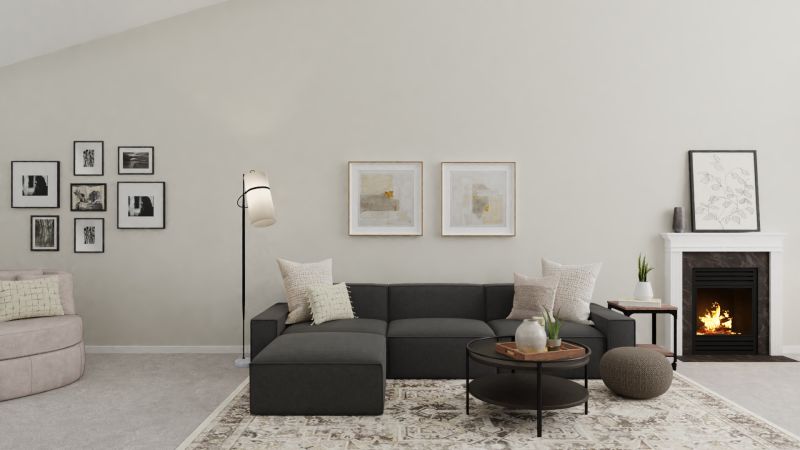 This modern industrial room is spacious, airy, and bright. Its monochromatic color palette is contrasted by the Charcoal Gray Restore 4 Piece Sectional Sofa from Lexmod. Its minimalist elegance with a crisp design is accompanied by some white accent pillows, to create yet another contrasting effect in the room.
11) Posh Modern Living Room With A Large Gray Sectional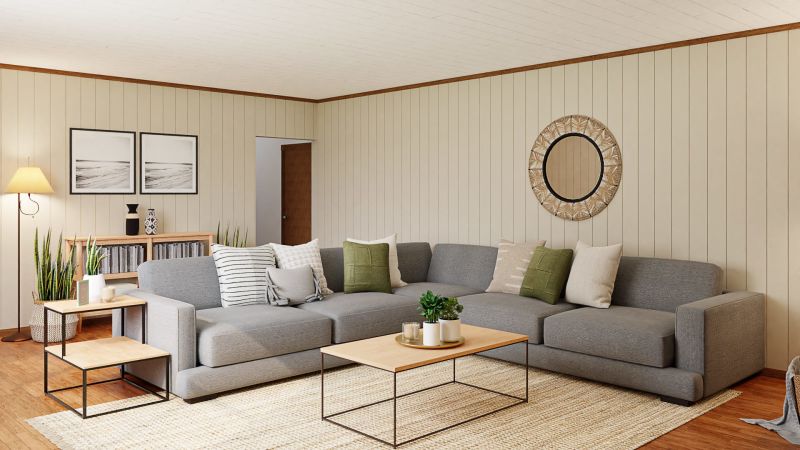 This modern living room gets its warmth from its wall color and an inviting Large Gray Sofa from Living Spaces. A couple of pillows in earthy hues like green and white on the sectional bring in a naturistic vibe, while it provides plenty of seating for guests to lounge comfortably and relax.
12) Earthy Toned Modern Living & Dining Room With Dark Gray Sectional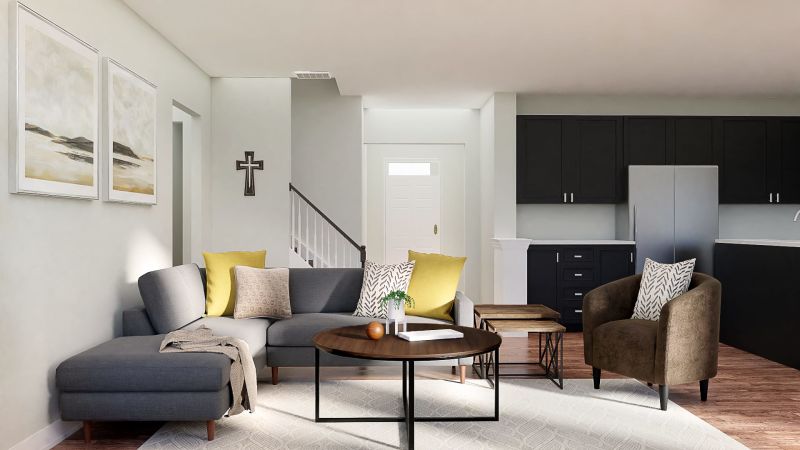 This cozy transitional living room design is warm and homey with several seating options, especially the Dark Gray Corner Sectional from Wayfair. The beige, white, and yellow pillows add pops of color to the couch, making it more attractive. The L-shape corner sectional also brings a retro vibe to the room.
13) Modern Rustic Living Room With Sleek Upholstered Sectional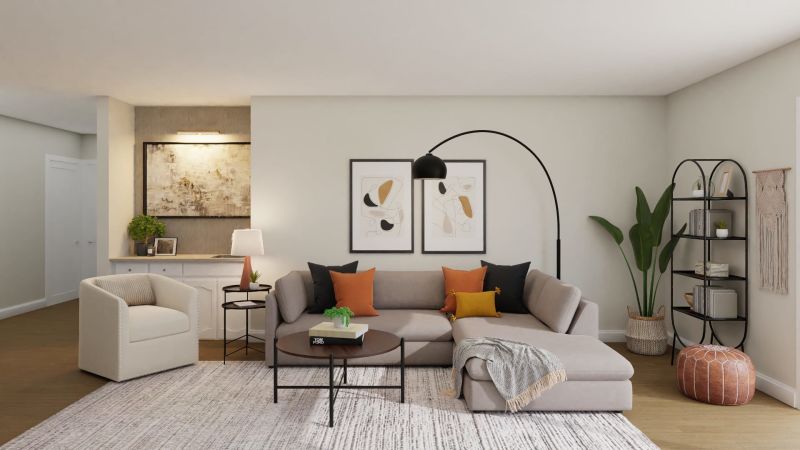 This modern rustic living room has a neutral color palette with a terminal sofa that brings refinement throughout the room with its deep seating and plush, inviting upholstery. To add pops of color the Terminal Chaise Sectional from West Elm is paired with yellow, black, and orange accent pillows.
14) Modern Rustic Farmhouse Living Room With Leather Sectional Sofa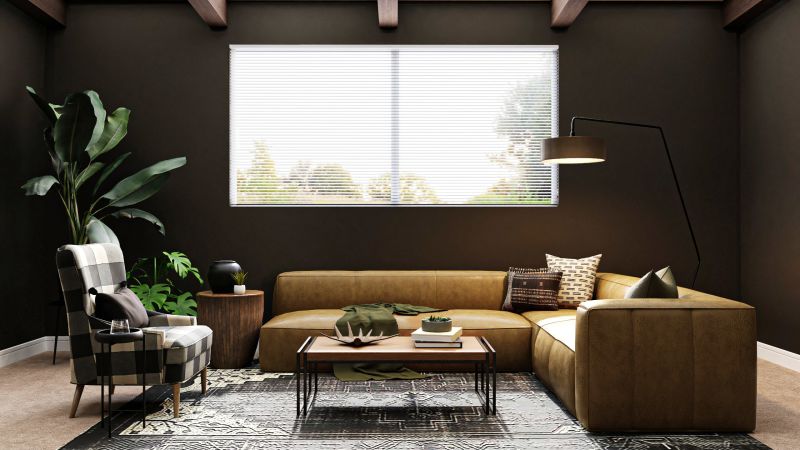 This modern rustic farmhouse living room design is a combination of contemporary elements and earthy tones. The highlight of this living room is the Lenyx 2-piece Leather Extra Large Sectional from CB2. The leather sectional brings in luxury and is spruced up with accent cushions and forest green hue throws.
15) Glamorous Modern Living Room With Left Chaise Sectional Sofa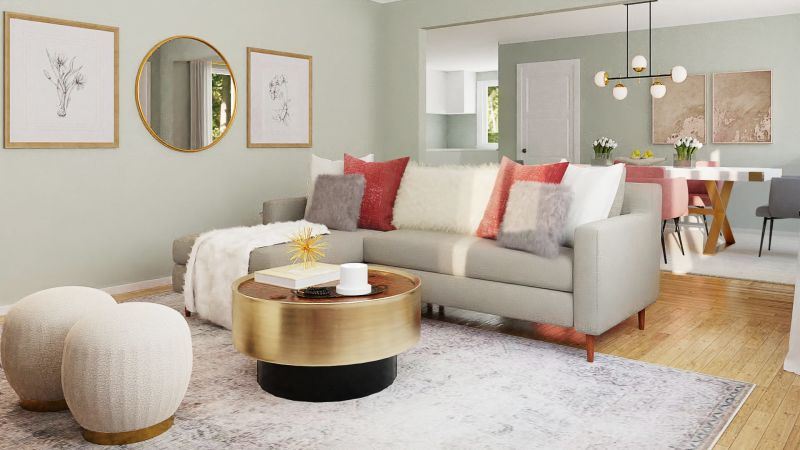 This glamorous living room design is built with a beautiful color palette of pink, white, and green tones. The Gray Left Chaise Sectional Sofa from Interior Define The white sofa creates a light and bright look with layers of pink, gray, and white accent pillows, along with the textured throw.
16) Emerald Toned Living Room With Modern Sectional Sofa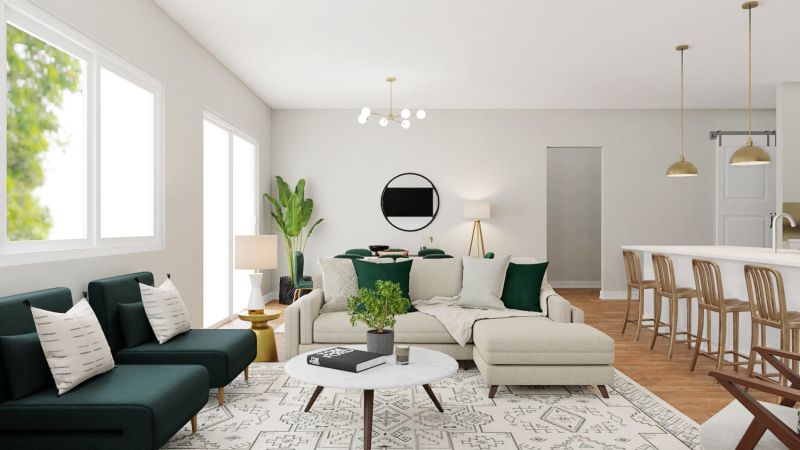 This stylish mid century modern design features a modern sectional that truly governs the space. The white sectional with chaise is adorned with green and white accent pillows, giving it beautiful pops of color. The sectional is deep-seated and has a clean finish, adding to the modern look of the room.
17) Modern Living Room With Gray Hues & Gray Sectional Sofa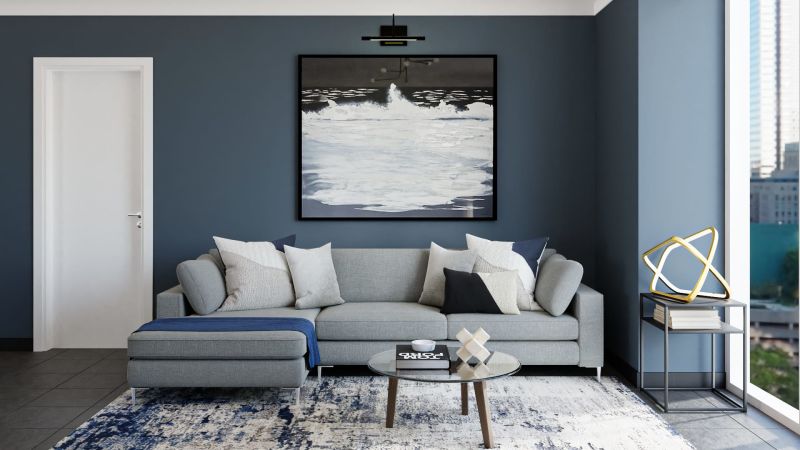 This modern living room is filled with gray hues and the neutral-toned sectional stands out beautifully. The Nova Winter Gray Left Sectional Sofa from Article, is placed right by the large window, offering an exceptional view. Accent pillows in white, blue and black, add beautiful pops of color to the sectional.
18) Stylish & Classic Modern Living Room With Modular Sectional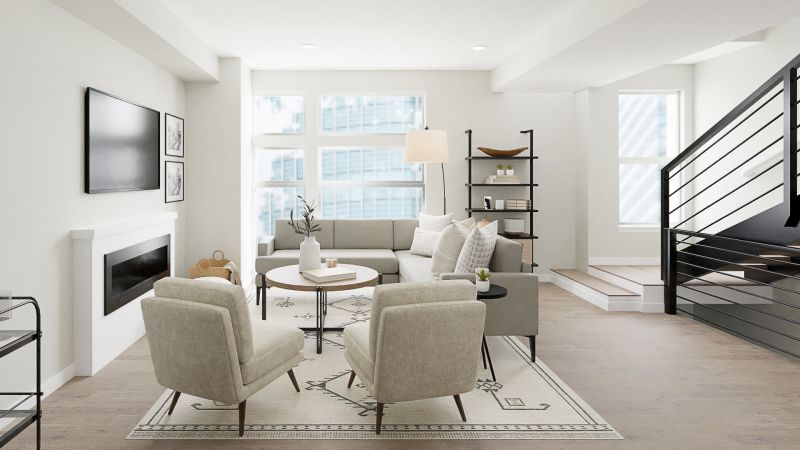 This neutral toned living room has a practical yet functional seating layout with the Modular Andes Sectional from Elm and the sofa chairs. Perfect for when you have lots of guests coming over. With a modern form, extra-deep seating, and crisp tailoring, the sectional complements the modern look of the room. 
19) Modern Rustic Living Room With A Large Sectional By The Window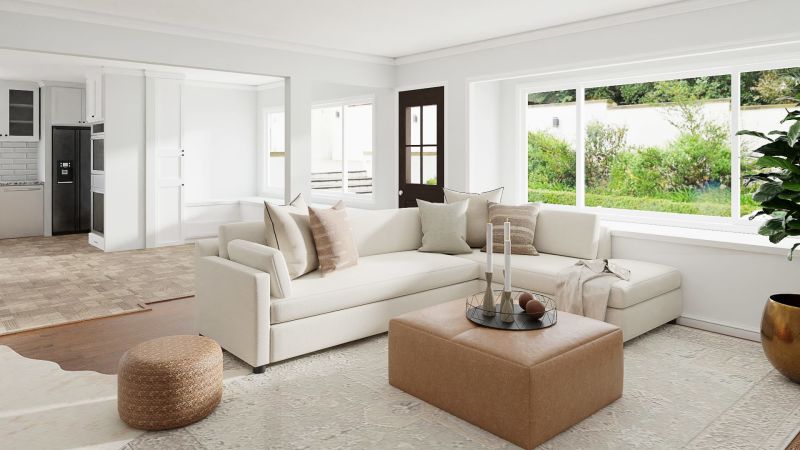 This huge modern rustic living room is accompanied by a big-enough yet cozy sectional that will easily accommodate a handful of guests during large gatherings. The Marin Terminal Chaise Sectional from West Elm has a lovely hand-finished upholstery along with overstuffed cushions that beautifully complement the rustic vibe of the room.
20) Bright Modern Coastal Living Room With Low Corner Sectional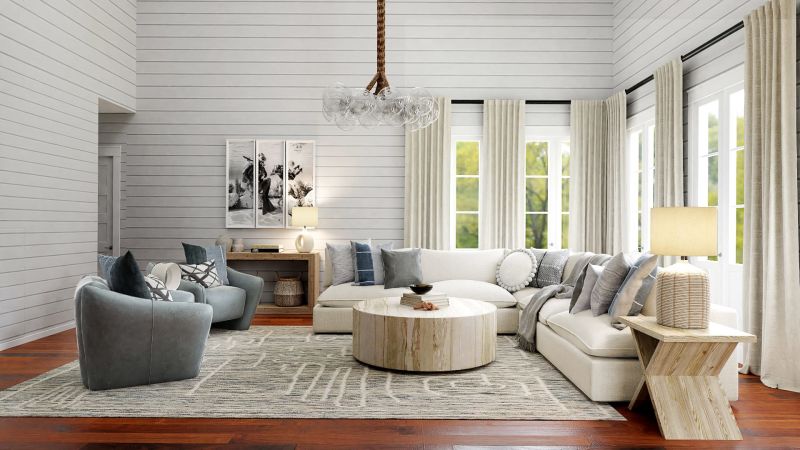 This modern coastal living room has an airy and light feel. The Lotus Modular 3 Piece Low Corner Sectional from Crate and Barrel, despite being oversized, beautifully blends into the design and strikes a perfect balance with the warm colors of the room. Perfect for large family and friends gatherings.
Did you find the sectional you were looking for? Spacejoy is the easiest way to design any room in your home, one that matches your style and is within your budget. Work with experts in choosing the right products that you can shop directly with additional discounts, exclusively from Spacejoy!