Living Room Design Ideas
10 Design & Decorating Ideas For Narrow Living Rooms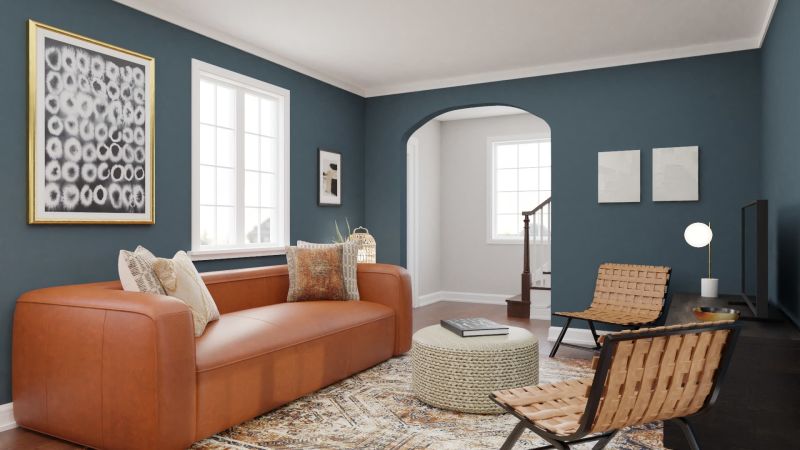 If your living room is small, the best way to open it up is to trick your eyes into thinking that the space is bigger. Through some smart styling and layout strategies, it is possible to stylishly transform your narrow living room. Check out these layout ideas for long and narrow living rooms.
1) A Small Mid-Century Modern & Industrial Living Room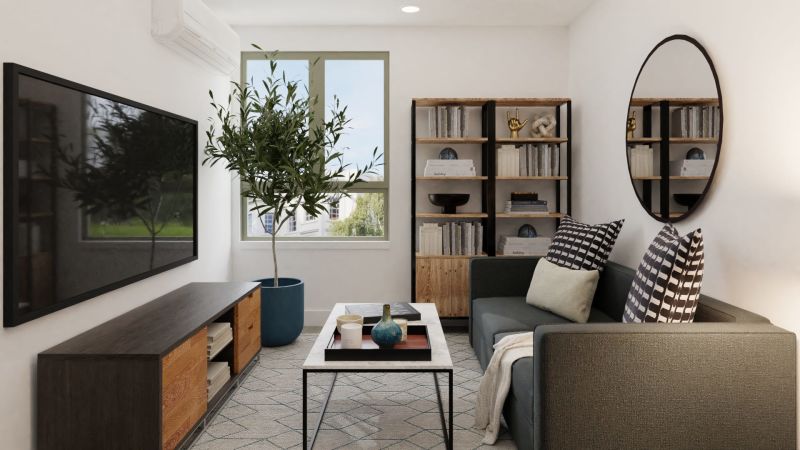 While this mid-century modern living room is small, it has all the necessities in place. Ample seating space, bookcase, media console, TV, coffee table, etc. The walls are filled with minimalist prints. A contemporary round mirror on the wall reflects the light from the window, making the room appear larger.
2) A Small-Yet-Glam Mid-Century Living Room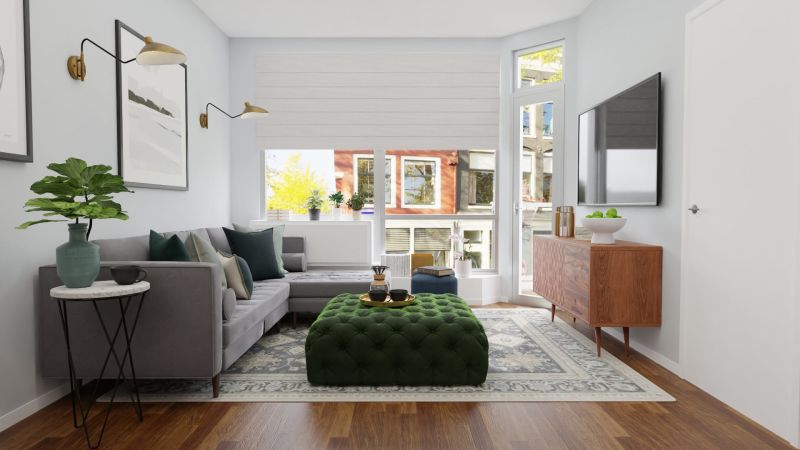 This mid-century modern living room is small yet has a glam look with a soft grey chaise lounge sofa that is paired with an oversize jewel green tufted ottoman. The hanging scones are a real space saver and cast bright lights across the room. Large windows with flexible Roman shades make the room appear larger. 
3) Functional & Practical Coastal Living Room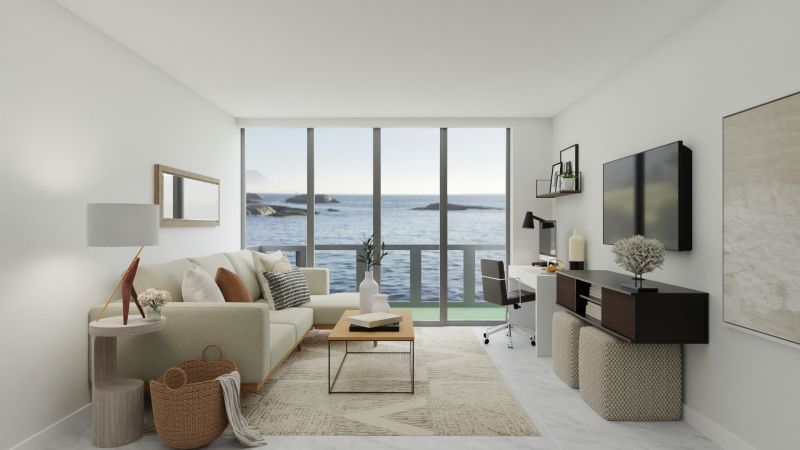 This mid century modern living room incorporates a functional and practical layout. Here, the seating arrangement is created keeping in mind an easy flow or circulation, and to use the complete space efficiently. Lastly, the large windows allow the flow of natural light and make the room appear larger.
4) Modern Rustic Living Room With Orange Sofa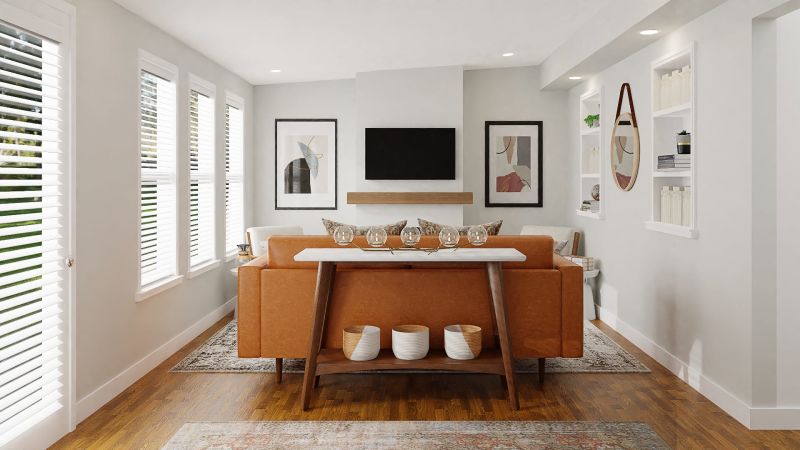 This modern rustic design comes with built-in storage shelves - perfect space savers for a small living room. The fireplace is placed perfectly below the TV and right near the sofa for easy access. Large window panes and a glass door along with the white walls come together to make the room appear larger.
5) Small Yet Picture-Perfect Modern Rustic Living Room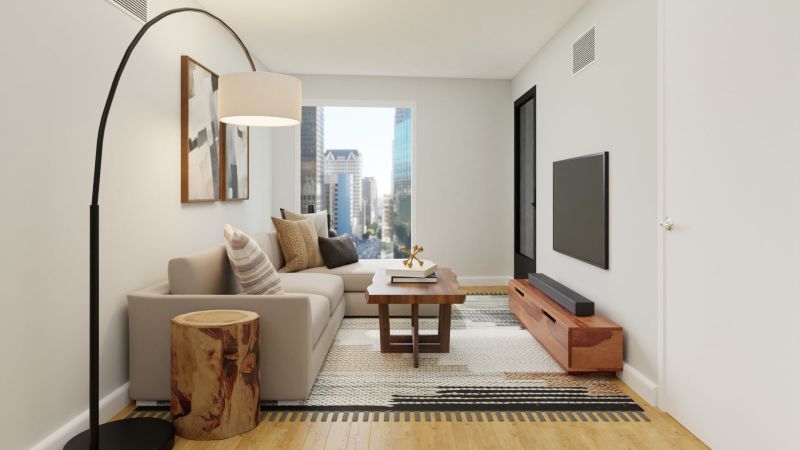 This modern-rustic living room appears spacious through its white walls and minimalistic furniture and decor pieces. Especially the low-line media console. It invites more room space, thus preventing the place from looking cluttered. The large windowpane gives ample natural lighting to the room, thus making the room appear larger.
6) Transitional Living Room With Play Area For Kids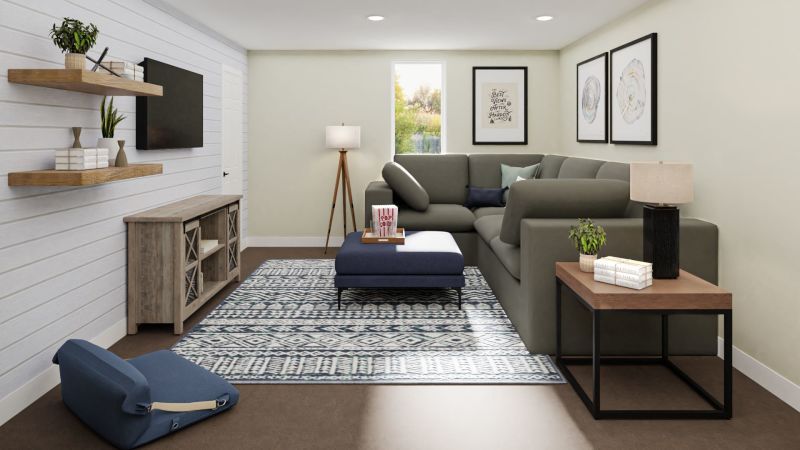 This compact transitional living room is filled with ample storage units, keeping the room clutter-free always. The sectional is aptly placed and takes optimal advantage of the space available. On the other end of the room is a space for pets and kids with adjustable bean chairs and storage cubbies.
7) Colorful & Efficient Industrial Compact Modern Living Room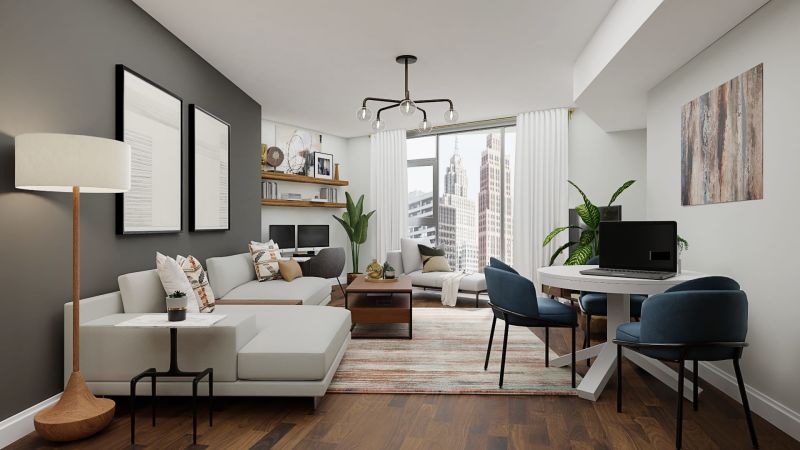 This highly functional living room has a workspace, dining space, and living space, all-in-one. The workspace has lots of storage, keeping the room clutter-free. The dining space can easily convert into an alternate workspace. The sectional has tonnes of seating space, and the chaise provides a serene space to relax.
8) A Compact-Yet-Glam Living Room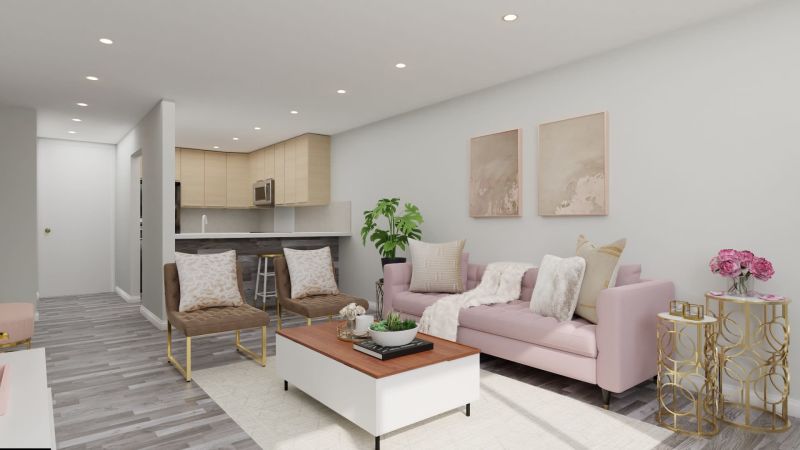 This compact living room looks spacious due to the carefully chosen wall colors, furniture layout, and decor items. The pink sofa from Living Spaces perfectly complements the white walls, and combined with minimal decor softens the room. The large window panes provide ample natural light, making the room appear larger.
9) A Small Modern-Urban Living Room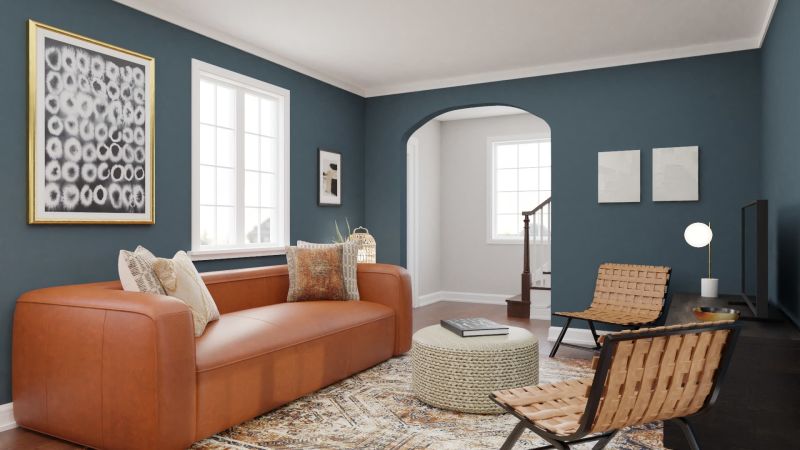 The focal point of this modern urban living room is the tan leather sofa. It beautifully contrasts with the blue walls and gives this small living room a clean look. The minimalist furniture and decor come together to give the living room a spacious look. Perfect for someone who desires minimal modern-urban aesthetics.
10) Multi-Functional Narrow Mid-Century Modern Living Room Space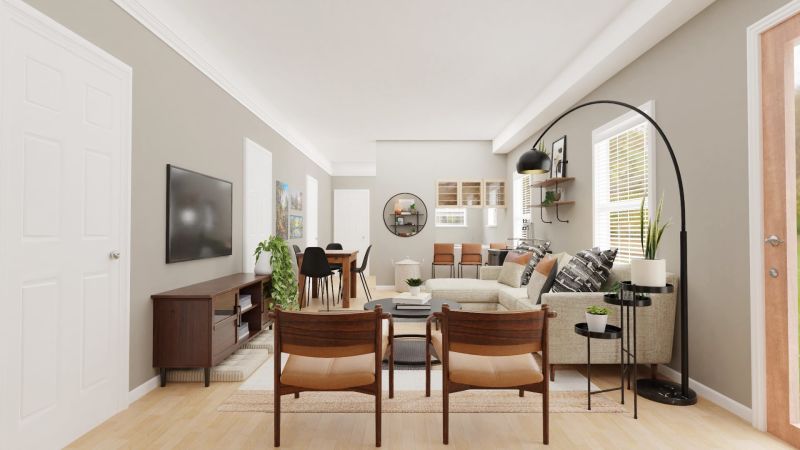 This multi-functional room design is perfect for homes that have narrow living rooms. The overall color palette has warm neutrals with black pops to create a classic mid-century contrast and a better flow across the open space layout. The large window panes and the glass door provide lots of natural lighting.
Did you fall in love with any of these long narrow living room design ideas? Spacejoy is the easiest way to design any room in your home, one that matches your style and is within your budget. Work with experts in choosing the right products that you can shop directly with additional discounts, exclusively from Spacejoy!