Living Room Design Ideas
10 Modern Decor Ideas for Your Living Room
Every single design blogger, architect, interior designer, and home guru on youtube is preaching "modern," "modern," "MODERN!". It's because Modern is a broad genre of design and makes room for variety, thereby not constraining you and your sensibilities. Indeed, there is an official definition of this interior design style floating somewhere, but we find it easy to understand what it is not, rather than what it is. 
Modern design does not follow a set template - it channels the art movement predominant in this period. Present-day modern decor involves many movements- Minimalism, Bohemian, Eclecticism, Rustic, and Millenial tropics. 
And a common thread that we see running in contemporary decor is that it has future pointing.  Here are some modern living room ideas for you.
1. Keep It Minimalistic
Modern minimal usually espouses clean lines and a uniform color scheme. A living room with a running color scheme across the walls, the furniture, the paintings, and the light, creates those clean lines. 
The central theme to a minimal living room that isn't bland is to have an accent piece. It could be a sofa, art, or even sculptural decor complemented by other minimal parts in the room. Minimal living rooms are not afraid of highlighting excess space, making the area look bolder and chicer. 
2. A Modern Bohemian Decor
What's fantastic about bohemian-themed decor is that you can use as many colors or as little color and bling as you like. Bohemian decor plays with different textures- mostly of ethnic weaves. For instance, the above design is made from a heavy-duty display of velvet and suede. 
To create an extra dimension, the designer has added a striped center table as well. Go bold with paintings and art since boho gives you the license to do just that. This modern living room is for you if you love putting colors, prints, and textures out there.
3. Mid-Century Modernism With Eclectic Vibes
This style evolved out of a need to revive furniture and art from the mid-'50s. The plushness of metal and wood was a movement that picked up pace back then and added that element of luxury to otherwise dull rooms. Look for sofas that have wide seats and broad headboards. Add poufs as they're making a huge comeback. 
Eclecticism also gives you a license to play with color, but be sure to use metal accents to create a mid-century modern living room.
4. Rustic Living Rooms For Your Environment-Friendly Soul
Rustic living rooms make eco-friendly living incredibly stylish by allowing you to upcycle old family favorites. While designing a modern rustic living room, key things to note are wood accents, a neutral color palette, soft furnishing, and cozy textiles. Now mix this with a couple of modern pieces, and you've got yourself a nice rustic room with a touch of modern. 
5. Tropical Theme For a Pop of Color
Millennial living has managed to sneak into the decor, and people across all generations are finding themselves turning into tropical-themed set-ups. There's not too much to do here. Pick solid-colored furniture and rugs (preferably in peaches, creams, and beiges). 
Go for plush rug textures that ooze luxury and frame leaf prints. If you want to go bold, you can have a highlight wall that espouses these prints. For added drama, pick up neon-colored elements like the light fixtures displayed on the wall.
6. Transitional Designs For The Conservative Ones
Designers and bloggers alike can be talking about modern design all they want, but if you don't feel entirely comfortable, there's no value in adding it to your home. A classic neutral color scheme, paired with some modern-looking furniture pieces, can give you that transitional look and still provide you with enough wow factor. 
Adding an accent pop of colors can bring a classic space to a more modern-looking living room without changing too much about the room.
7. Mixing Your Style With Modern Design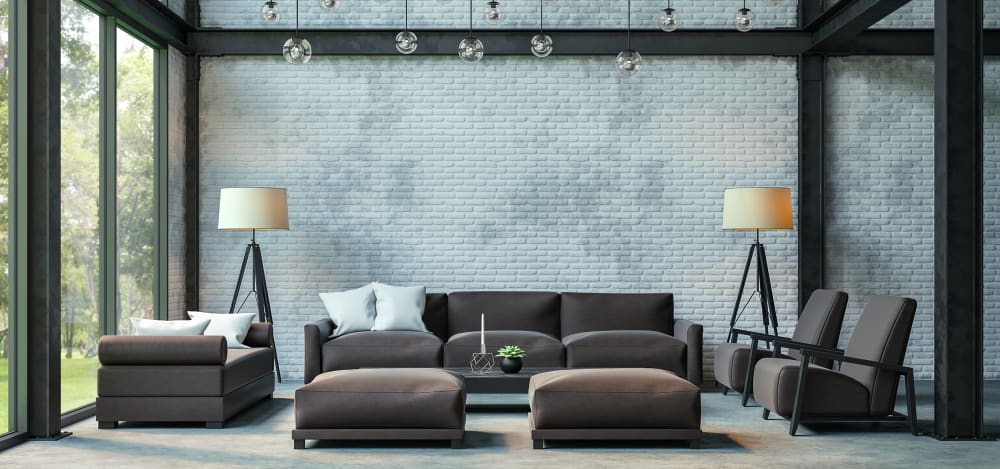 Sometimes your home's design is already set. For example, this space has striking industrial design vibes, but you can still notice the modern influences. By choosing low-profile, mid-century style furniture, you can set an inviting vibe that screams modern aesthetic.
Swapping the light fixture for a modern statement sculpture like this quintessential chandelier is another excellent example of how you can infuse the modern aesthetic with your current style. 
Of course, when you do this, you still want to make sure your two styles share some common ground, like the hues, patterns, and metal finishes you work with. Otherwise, it can look like a hot mess that's neither modern nor industrial in this case. 
8. Going All-in With A Dramatic Modern Living Room
If you're ready to take the plunge and go all-in with your modern decor, then this monochromatic living room must be your source of inspiration. The dramatic statement walls with geometric wallpaper are what sets this room apart. There's no need to add any wall art, although a rose quartz accessory breaks up the wall and creates an intended focal point. Metallic accents add the modern touch, and the velvety couch adds that contemporary vibe to complete the room. 
9. Peace & Serenity In a Modern Design
A modern living room doesn't have to be about bold statements and accent pieces. Take this space, for example. Its monochromatic white and gray color scheme makes it exude an air of peacefulness and serenity. The key is to add textured accents and natural elements like wood, greenery, and metals to add interest to the space. 
Of course, the modern element is brought with clean and sharp lines, velvet-upholstered sofas, and sleek decorative pieces. You will notice that maxi or oversized coffee tables can serve as a great way to make the room seem more spacious for these types of living rooms. 
10. Modern Coastal Inspiration
Coastal design is frequently traditional or classic, but it can also be modern and contemporary. For example, this living room features soft blue tones that bring out the ocean reference without being too literal. The rug mimics the ripple pattern a stone makes when dropped in water, and other elements like the crystal coffee table relate to coastal vibes. The low-profile furniture pieces, the accent hints of natural wood, and the clean lines in the furniture bring out the modern vibes. 
Decor and design have become so much more accessible than it was a few years ago. Vision boards are easy to find, and quirky home elements are easy to source. We hope you find some inspiration from these ideas.
Need More Modern Design Ideas? 
If you liked these ideas and want to bring them to life in your home, or design your own perfect living space, start a project on Spacejoy. You will receive unlimited access to an expert online interior design team who can translate your vision and guide you to your perfect room design. Our unique 3D technology allows you to view your room design in 3D, interact with your design - Move and Swap the products with a touch of a finger to see the unlimited possibilities. Our team will also curate a shopping list for you with products handpicked to suit your budget and your style that you can shop right away on our platform. Your dream living room design is now one click away. See pricing plans.