Bedroom Design Ideas
Style A Small Kids Bedroom With These 10 Easy Decor Ideas
We get it — finding kids' room ideas is challenging. Their tastes are continually changing as they get older, they can be weirdly picky about the strangest things, and finding kids bedroom ideas for small rooms is even harder. It can feel really limiting when you have to accommodate their wants while also making the space ultra-functional so that they can play, do homework, and relax all in the same area. Below, check out a few kids' room decor ideas that will help you utilize the most of your kid's space — even if it's tiny. 
1. Loft The Bed
Photo Credit: homedit.com
An oft-loved technique for making the best use of vertical space and lofted beds is still a tried-and-true way to maximize your child's space. You can theme the bed to look like a treehouse, the upper deck of a pirate ship, or even have a slide coming off it, so they have a fun way to get out of bed in the morning. Use the space underneath for toy storage, a desk, a TV, or anything else that can't fit into the rest of the room. 
2. Use Wall Decals Instead Of Paint Or Wallpaper
Photo Credit: everythingemilyblog.com
Kids' tastes are constantly changing, so instead of taking on a giant project like painting or putting up wallpaper, opt for decals. In the picture above, they DIY'd the crosses with washi tape, but you can also find completed decals on Etsy. It also makes for a fun project for you to take on with your kid. The best part is that these are easy to remove as your kids' taste changes!
3. Sub In A Fold-Down Desk
Photo Credit: stagecoachdesigns.com
Your kid will definitely need a spot to color or do homework (depending on how old they are), but desks can take up a lot of real estate that could otherwise be used for storage or play space. Incorporating a fold-down desk (especially one with storage like this) makes room on the floor for other things. To spice up the fold-down desk, even more, paint the bottom (the side that's out when it's folded up) with chalk paint so your kid can draw on it when it's folded up. Voila — instant artwork! 
4. Add A Canopy For The Bed
Photo Credit: petitandsmall.com
Though canopies can feel like they take up a ton of space, hanging something on the ceiling to drape over the bed can help the room feel taller. Find one that fits your kid's personality, and they can use it to create their nightly reading fort. Our designers love this natural linen canopy from Etsy. It's available in a wide array of colors for that perfect whimsical touch. 
5. Create a Fun Gallery Wall
Let your kids have fun with a DIY photo gallery wall they can keep updating over time. Besides, this gives parents an affordable, cute, and easy way to keep beautiful memories alive. All you need are these easy-to-use Mod Clips String Lights from Urban Outfitters to add some nighttime lights, texture, and an adorable decorative accent to your kid's room.
6. Reimagine the Nook
All parents decor their kid's bedrooms with their idea of what their kids like. But, eventually, you want to incorporate elements that will make your kids go wild for their bedrooms. Reimagine the reading nook with this Hanging Rope Swing Chair. Not only does it give the room a whimsical touch, but your kids will absolutely adore spending time in their rooms with this accent. 
7. Infuse the Room with Color Using a Rug
Instead of adding more decorative items and many things you [parents] will have to pick up after playtime, consider adding color with a rug. Using an oversized rug like this one from Overstock is a clever way to: create a protective floor for kids to play, frame the play area, add color to the room without bringing in more clutter. Chose a rug with geometrical designs to grow with the kids as they transition out of their baby room.
8. Choose Functional Decor Pieces
It can be tempting to fill a room with teddy bears, cars, and cute toys. But, parents have to stay away from those common mistakes at all costs. In the end, parents are left with bags and boxes of forgotten toys. Instead, think about functional decorative items you can find. Like this Panda Wall Lamp from Etsy, it's part decorative and highly functional as it doubles as your kid's nighttime lamp. 
9. Add a Tent
If you're looking for a statement piece that will instantly transform your kid's room without needing much, get a tent. We love the Grey Buffalo Check Teepee from Crate & Barrell for that Pinterest-like look that makes the room look hip and fun. Your kids can use this for napping, playtime, reading, and so much more. 
10. Choose Fun Baskets
Every parent knows that having storage baskets in their kid's bedroom is not an option but a must-have. However, your baskets are excellent pieces of decor to bring in your kid's spirit. For example, instead of traditional ones, choose these Unicorn Storage Baskets from Pottery Barn Kids to bring a little bit of magic to the room without overdoing it. Besides, these are convenient items to have in your kid's bedroom to keep away toys, blankets, books, and more. Why not make them cute?
Overwhelmed With Ideas? Let's Create Together!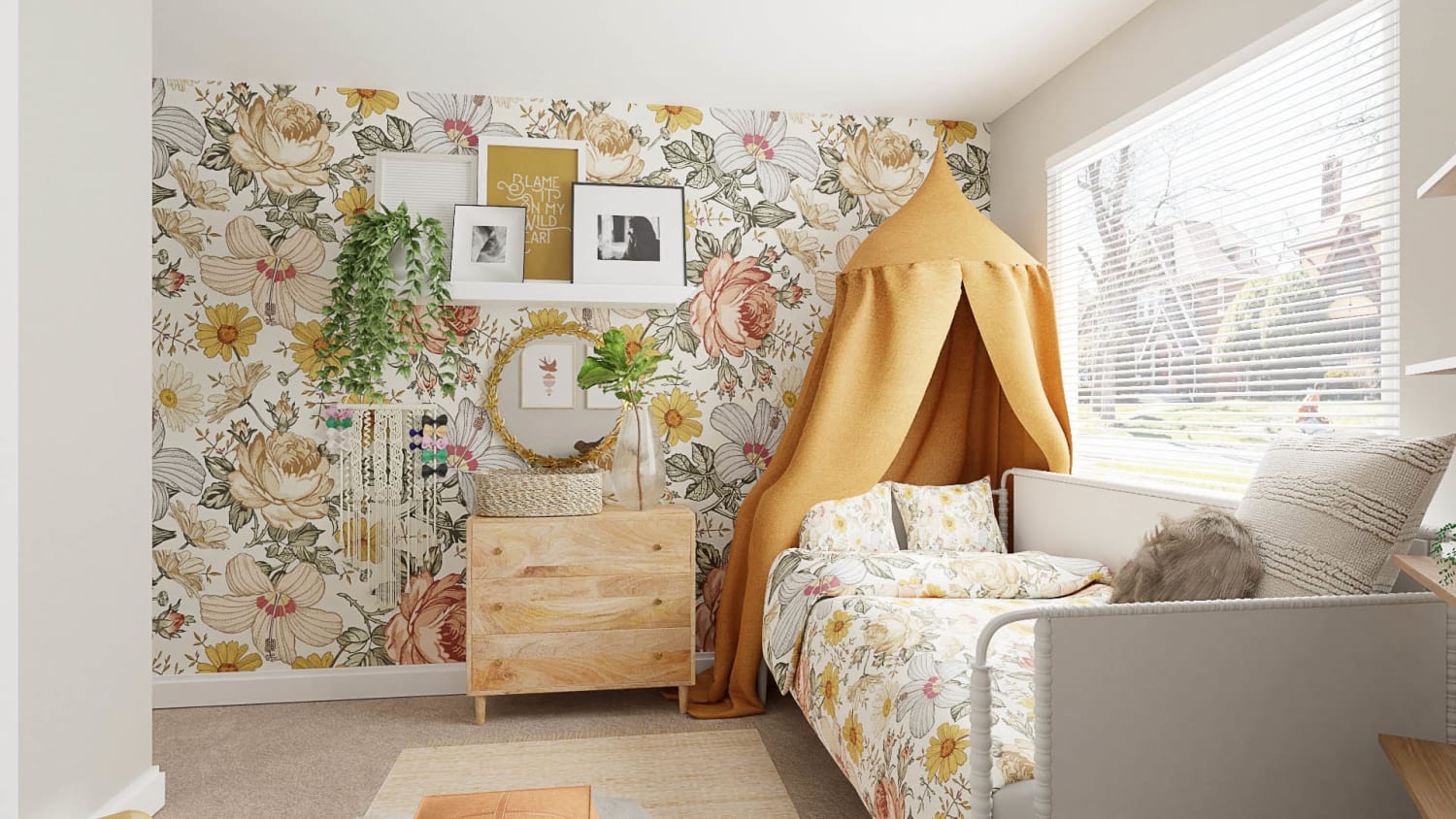 If you like these kids' room ideas and want to bring them to life in your home, or design your own perfect living space, start a project on Spacejoy. You will receive unlimited access to an expert design team who can translate your vision and guide you to your perfect room design. Our unique technology allows you to view your room in 3D and interact with your design. Move and swap the products with a touch of a finger to see the unlimited possibilities. Our online interior design team will also curate a shopping list for you with handpicked products to suit your budget and your style that you can shop right away on our platform. Your dream kids' room is now one click away. Click here for pricing plans.