Nursery Design Ideas
7 Ways to Future-Proof Your Children's Room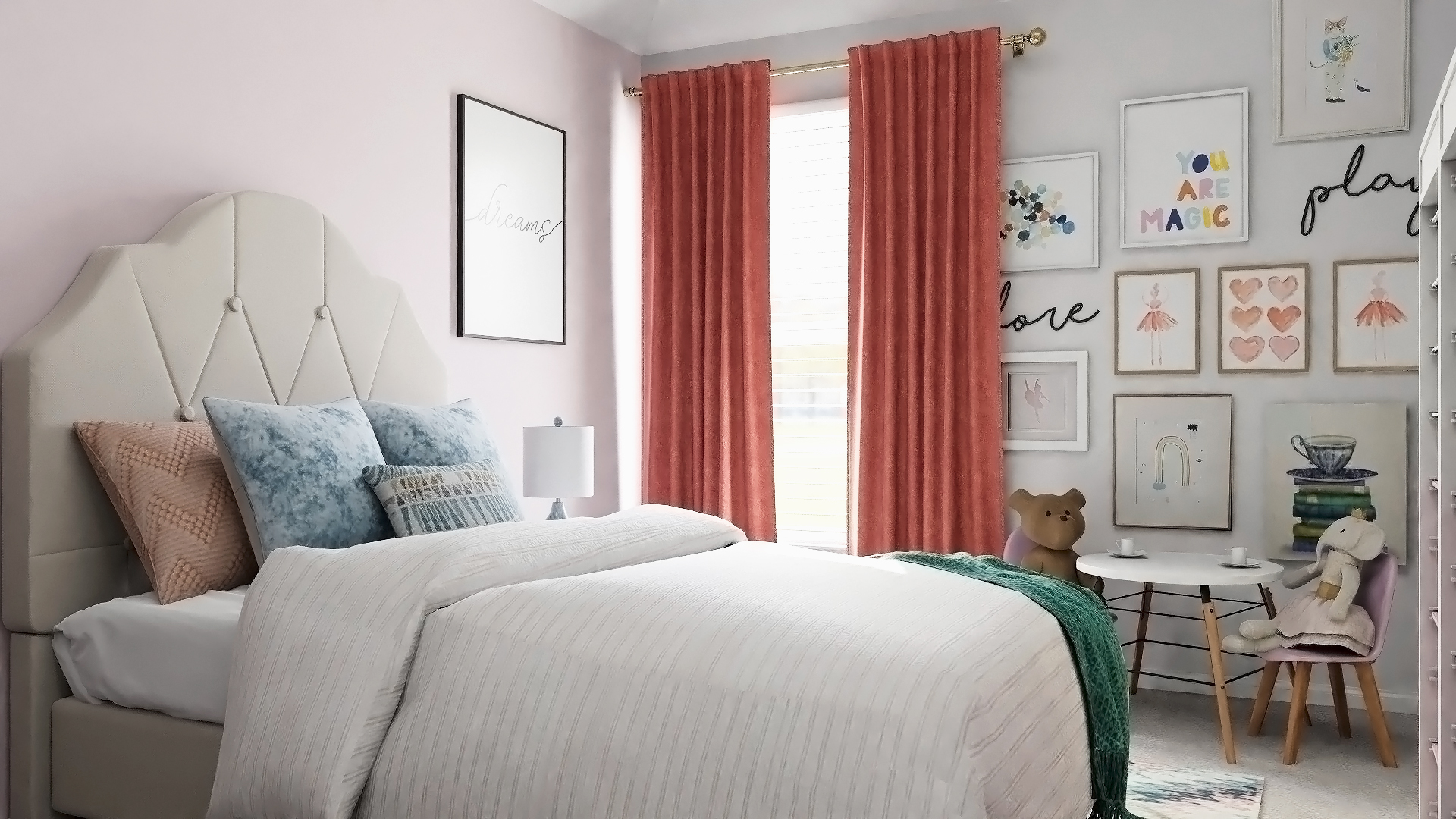 Decorating your children's room is exciting and overwhelming at the same time. With so many adorable options to choose from, it can be challenging to put everything together. But, parents should try to restrain themselves from buying every cute thing that crosses their path. Ideally, you'll want to decorate the room with intention, so the nursery you build grows with your baby as they become a toddler and later on as a teenager. 
Instead of investing money every other year in different furniture, rugs, and even paint, creating a transitional bedroom that grows with them is best. Keep these tips in mind to future-proof your child's bedroom using Walmart furniture.
How to Transition from Nursery to a Kid's Bedroom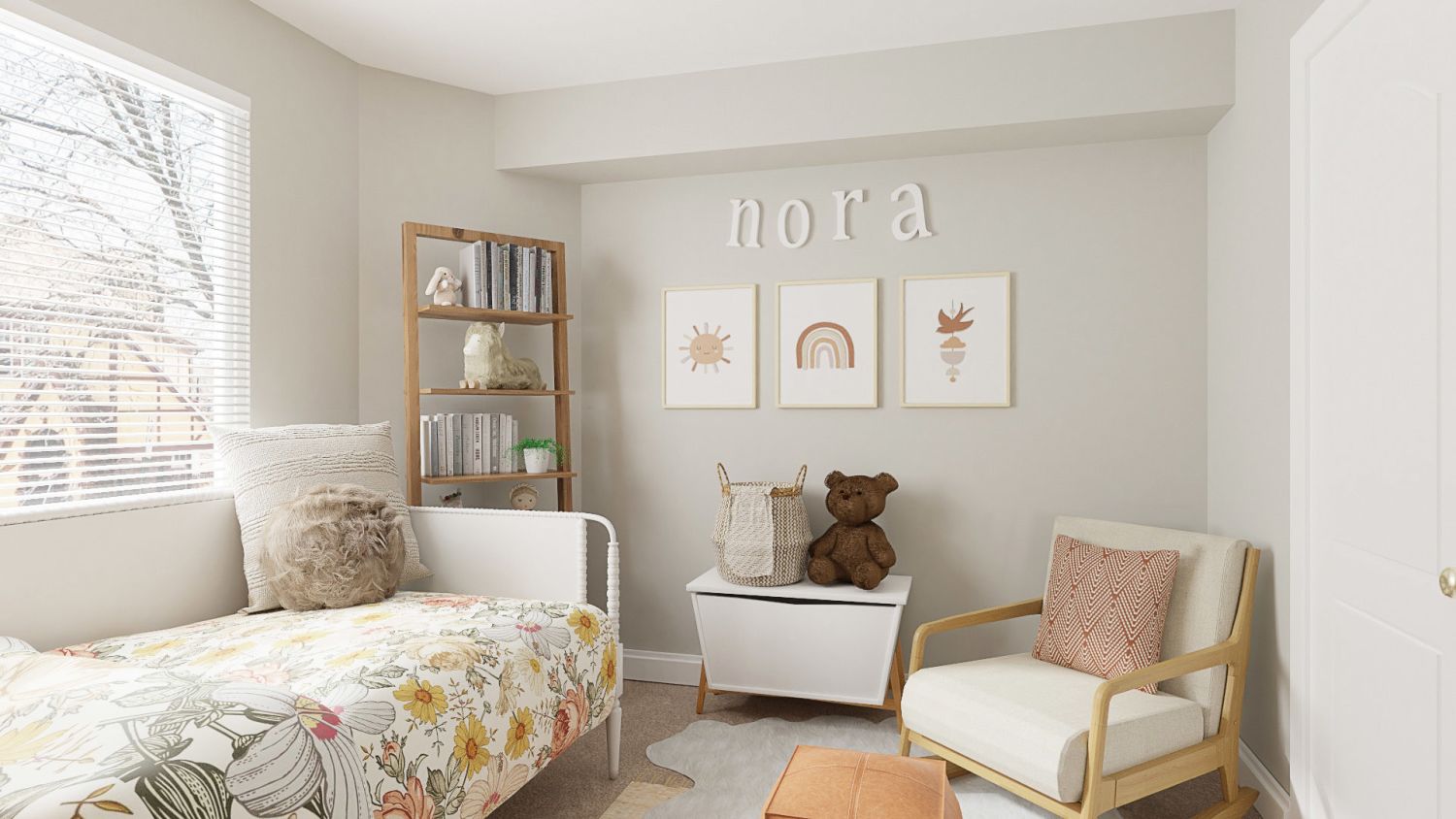 When designing your baby's nursery room, remember that in the blink of an eye, they'll outgrow that room. Keeping this in mind, when planning the design of the nursery room, will help you save plenty of money and time in the future. 
Option 1: Consider the Paint Color

It's easy to choose traditional nursery colors like blues or pinks when planning a nursery. However, paint can be expensive and time-consuming. Choosing a color that won't transition as your baby becomes a kid is one of the biggest mistakes you can make when future-proofing their bedroom. Instead, opt for neutral colors that will grow with your baby. 
You can still infuse toddler elements using wall decals and art wall. Those are easily removable or swappable once your toddler becomes a kid. For example, some popular neutrals that stand out from the Colormix® Color Forecast 2020 by Sherwin-Williams include:
Option 2: Invest in Flexible Furniture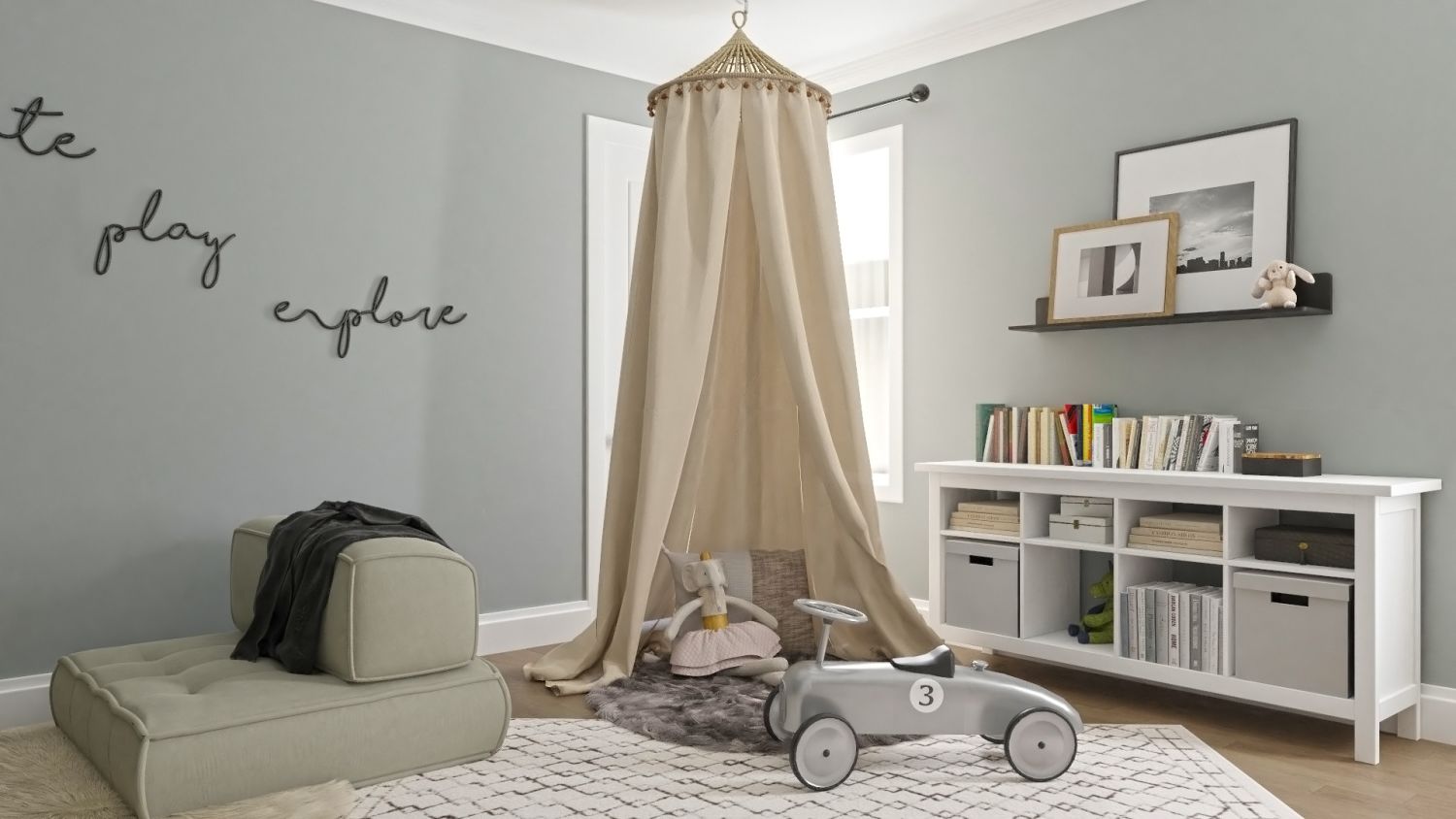 When designing your baby's room, the most valuable furniture piece will be the crib. Invest in a flexible crib that can transition as your child becomes a toddler, a kid, and even a pre-teen. As our designer, Heather Wise, recommends, "convertible cribs are great for transitioning from baby to a toddler bed to a headboard for a kid's room. This allows parents to extend the life of the piece of furniture, which is ideal since it can be a more expensive piece of furniture."
As your child grows older, transitional or flexible furniture will continue to be your greatest investment. For example, when searching for Walmart kid's beds, starting with a convertible crib that can then expand to a toddler daybed, and eventually, a full-size bed with frame is a smart investment. Resist the urge to buy the fun children's bed in car shapes or princess themes and choose a transitional style instead. For example, this Walmart kid's bed, Dream On Me Elora Toddler Bed can easily adjust to your baby as they grow into a small child. 
Skip the traditional changing table and opt for a dresser with room for a changing tap on top. This way, you won't have to change the changing table in a few years. Swapping the changing pad for a "big-kid" piece is a much easier trade. Before you notice, you'll see that looking at convertible furniture options is always the best idea. A Walmart white dresser like the Mainstays Classic 4 Drawer Dresser is the perfect choice to add a changing tap on top.
Option 3: Have Fun with Accessories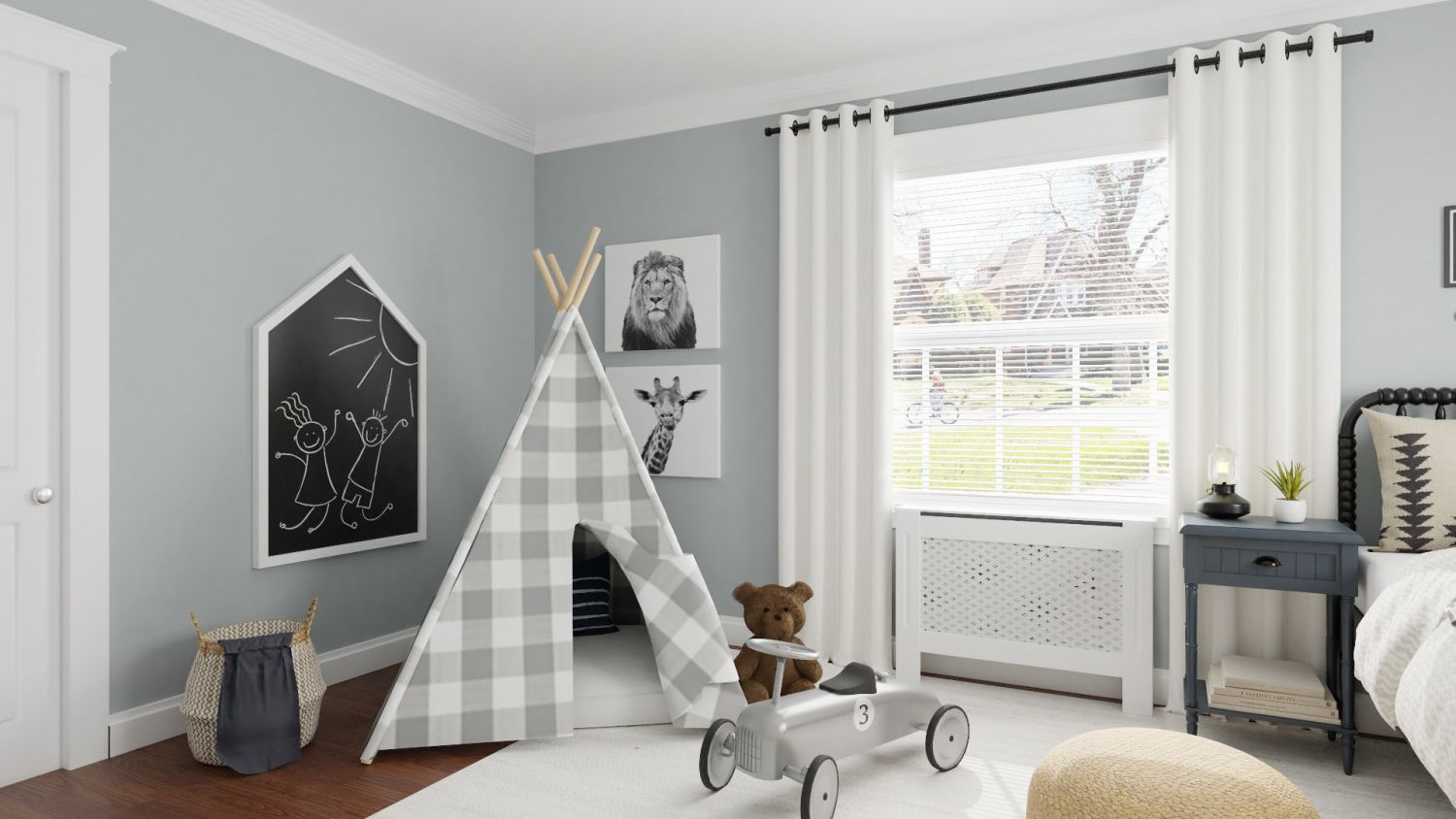 The best way to future-proof your children's bedroom is by injecting vibes into the room with accessories. You can start by adding mirrors, stuffed animals, pictures, and other accessories that have a baby vibe, then a toddler's style, and so on. Rugs for childrens' rooms are another great way to infuse personality into the space. Consider play rugs while they are young and more durable options like Ruggable as they grow older. Ruggable offers washable rugs that are soft- perfect for your aging little one. As your child grows, it will be less intimidating than changing furniture, paint, and choosing a whole new theme for the room. While you maintain the backbones of the bedroom that will be there for the long-haul. 
Transitioning from a Kid's Room to a Teen's Bedroom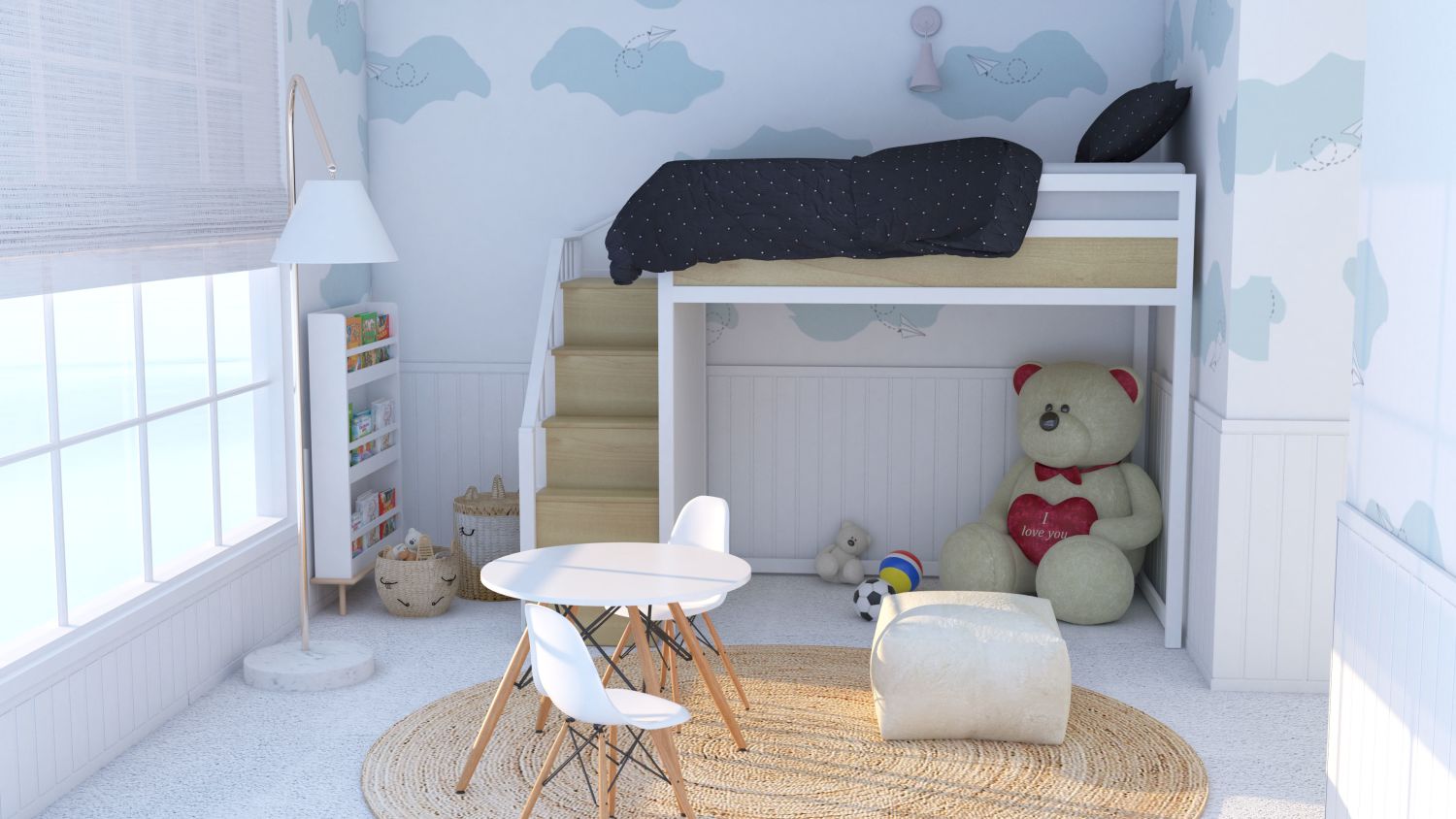 If you miss the planning phase while decorating your baby or toddler bedroom, don't despair. Transitioning from a kid's room to a teen's bedroom is easier. Even at this phase, you still want to make sure you're future-proofing your child's bedroom as they keep getting older.
Option 4: Consider Bunk Beds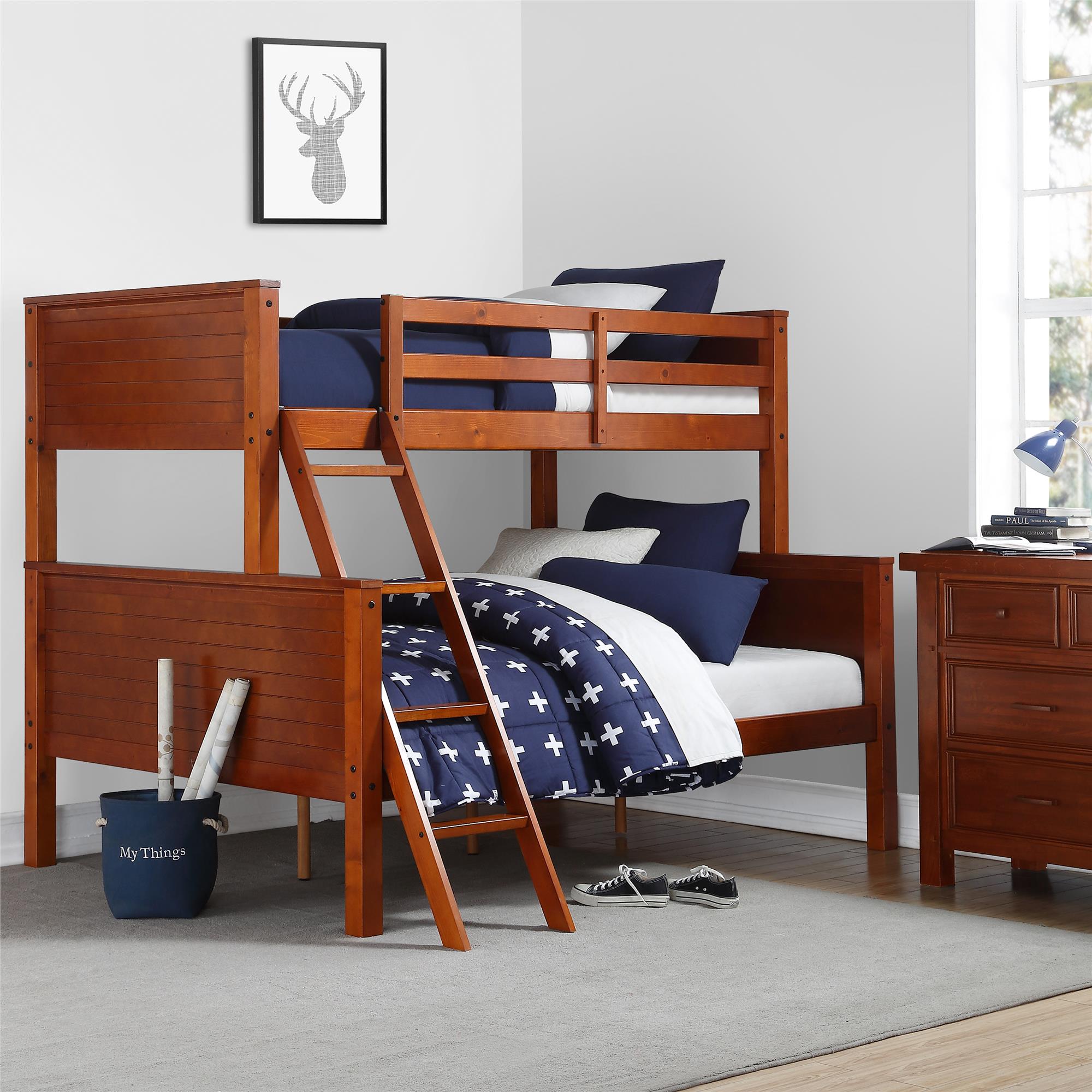 The theme of adaptable furniture is vital for transitioning bedrooms. For children, bunk beds are exciting and fun. They also offer a practical solution solution for bedroom furniture for small rooms. Many bunk bed options offer additional storage, room for sleepovers, and even space for kids to share the bedroom. For example, looking up Walmart bunk beds that are also adaptable can be quite the investment. Some options have twin bunk beds that can later be detached to have two separate beds if your kids outgrow the bunk bed set up. 
Our designer, Heather Wise, also vouches for loft style, convertible bunk beds. "These types of beds offer so many options. When kids are younger, sleepovers are very common. It's nice to have the versatility of having a second bed. As they get older, or their space needs change, the bottom bed can be removed, and that space can be used for a study area, seating, storage, or more," adds Wise. 
When it comes to bunk beds, the options are endless. Some popular Walmart bunk beds include the Your Zone Twin Over Full Bunk Bed is perfect for second parents as the beds can offer a joint space for your children while still giving them a sense of ownership and privacy. Plus, this bunk bed set can turn into standalone twin beds. 
Option 5: Take Advantage of Wall Decals
Wise makes another point when it comes to decorating your children's room to make them future-proof. "If we think outside of convertible furniture, it's easier and less expensive to change a duvet cover and accessories than it's to change out a hot pink headboard because your children's taste has changed."
One option to keep your child's bedroom updated and current with their trends is using temporary wall decals and stickers to change up the themes and styles. Nowadays, these decor elements are available in many styles, and they're easy to remove. Most importantly, they are an inexpensive ways to keep changing your child's rooms without significant redesign.
Option 6: Be Smart about New Furniture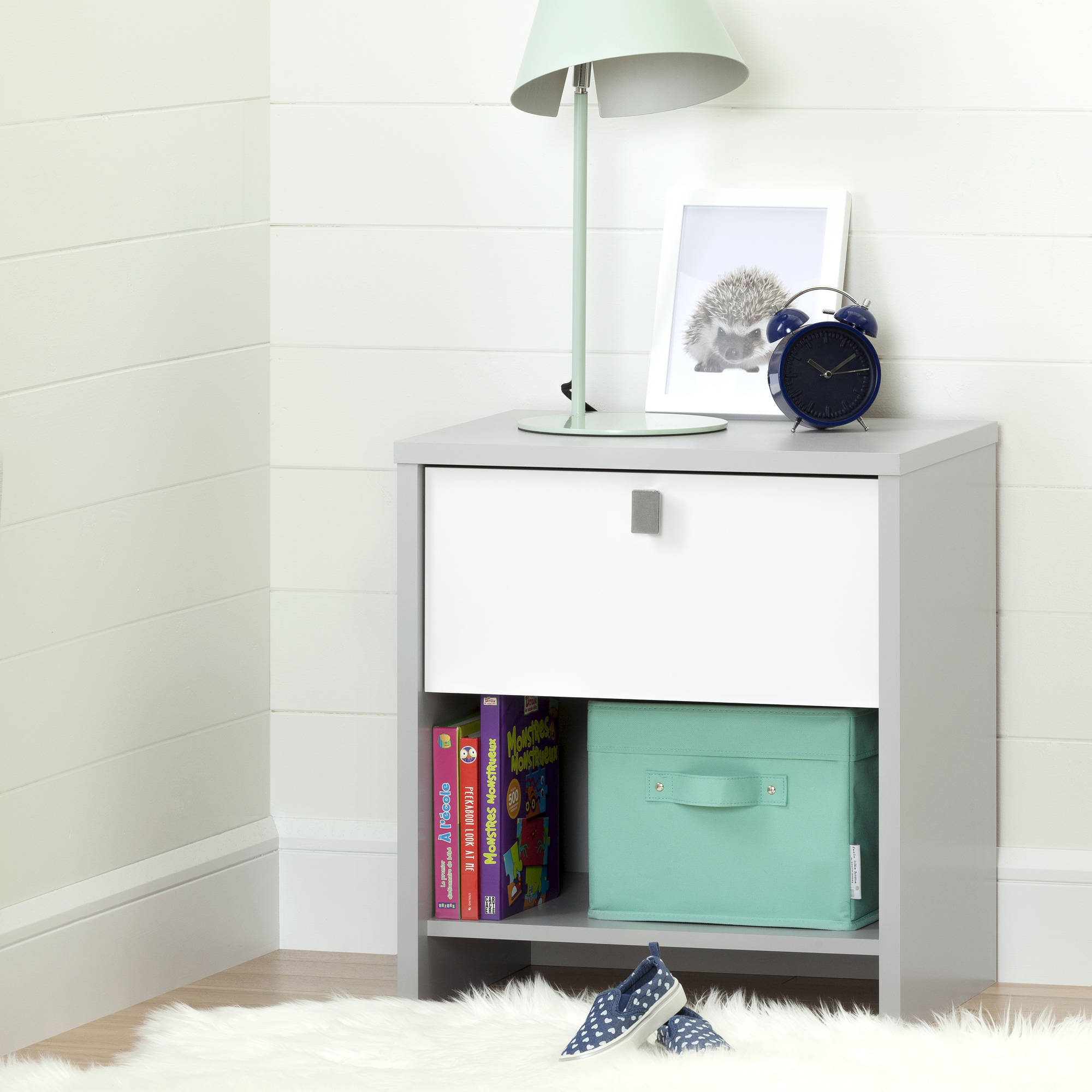 The last tip to future-proof your children's room is to think about the furniture. It's easy to look up Walmart's bedroom sets and get everything together, but these items are bundled together for a specific age group. Instead, look up furniture pieces that will adapt to your child's transition from childhood to teenager. 
When they're teens, children want a more sophisticated and independent look for their bedroom. Investing in the right nightstand, bedroom sets, and other pieces that can change as their needs change is the best plan. Think of furniture pieces that can become studying desks, storage units, or other pieces they might need. For example, this Walmart nightstand, South Shore Cookie 1-Drawer Nightstand in white and gray offers a neutral style that your child can customize with bins and storage solutions to infuse a bit of their personality to their bedroom. 
Option 7: Consider vertical storage
Many parents know that there is always a shortage of storage when it comes to their child's room. Storage can be added in a variety of areas- but the most effective and transitional is through vertical storage. Our designers love using bookcases and wall mounted shelves to solve this storage shortage. Considering buying a neutral and clean lined piece that offers safety mounting for your growing kid. The Stairway Bookcase is a designer favorite. It's a classic design that offers a ton of storage. Place baskets, bins, toys, books and other items to make this shelf come to life.
Need More Help?
Future-proofing your children's room using Walmart bedroom furniture can be quite an undertaking when you don't have the right plan. At Spacejoy, our designers can help you start your project to make the right plans and find the perfect pieces to decor your child's bedroom in a way that will grow with your children.