Kids Room Design Ideas
7 Life-Changing Kids' Playroom Organization Ideas
Children have the unique ability to bring endless joy to our lives. But with that joy comes lots and lots of toys to keep them entertained and enriched as they grow. And now that you're spending more time than ever with them (thanks, COVID-19), you're probably wondering how their teachers do it! Running out of ways to keep them entertained can be terrifying. 
Without a bit of organization and structure, your children's playrooms can become challenging to navigate, along with being a bit of an eyesore. There are plenty of organizational ideas and playroom decor that can prevent these spaces from becoming overrun with doll parts, toy cars, and a seemingly endless supply of legos (aka a painful accident waiting to happen). 
Read on for our favorite kid's playroom storage ideas to give you the best start at keeping things organized!
1. Put A Label On It!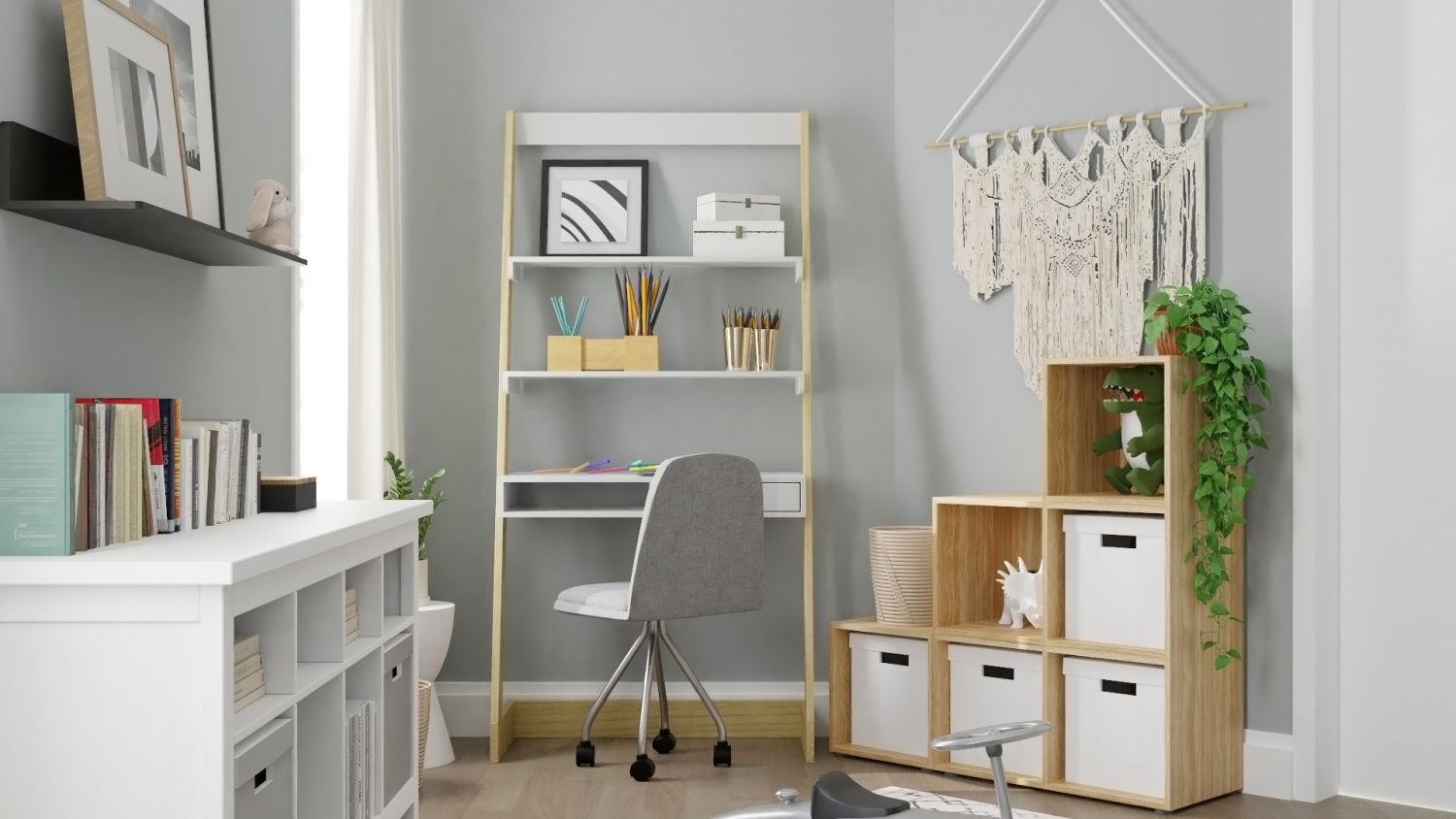 Taking the time to label your kids' playroom storage bins and baskets is a straightforward way to keep things organized for all moms and dads out there. 
Give everything a designated space. While the kids may not be able to read just yet, giving each item a designated place is a productive starting point for the rest to fall into place. 

Make it a fun weekend project! 

Labeling can happen with simple supplies like stickers and markers, or you can turn it into a fun DIY project with chalk paint. 

Keep the labeling generic. This allows for a higher chance of toys ending up in the right place. For example, try categories like 'puzzles' and 'dolls' instead of 'animal puzzles' or 'Barbie dolls.' 
Our designers love the Ikea Eket Cabinet for a stylish way to store boxes and bins. They recommend adding chalkboard bin clips for easy organizing. 
2. Separate By Type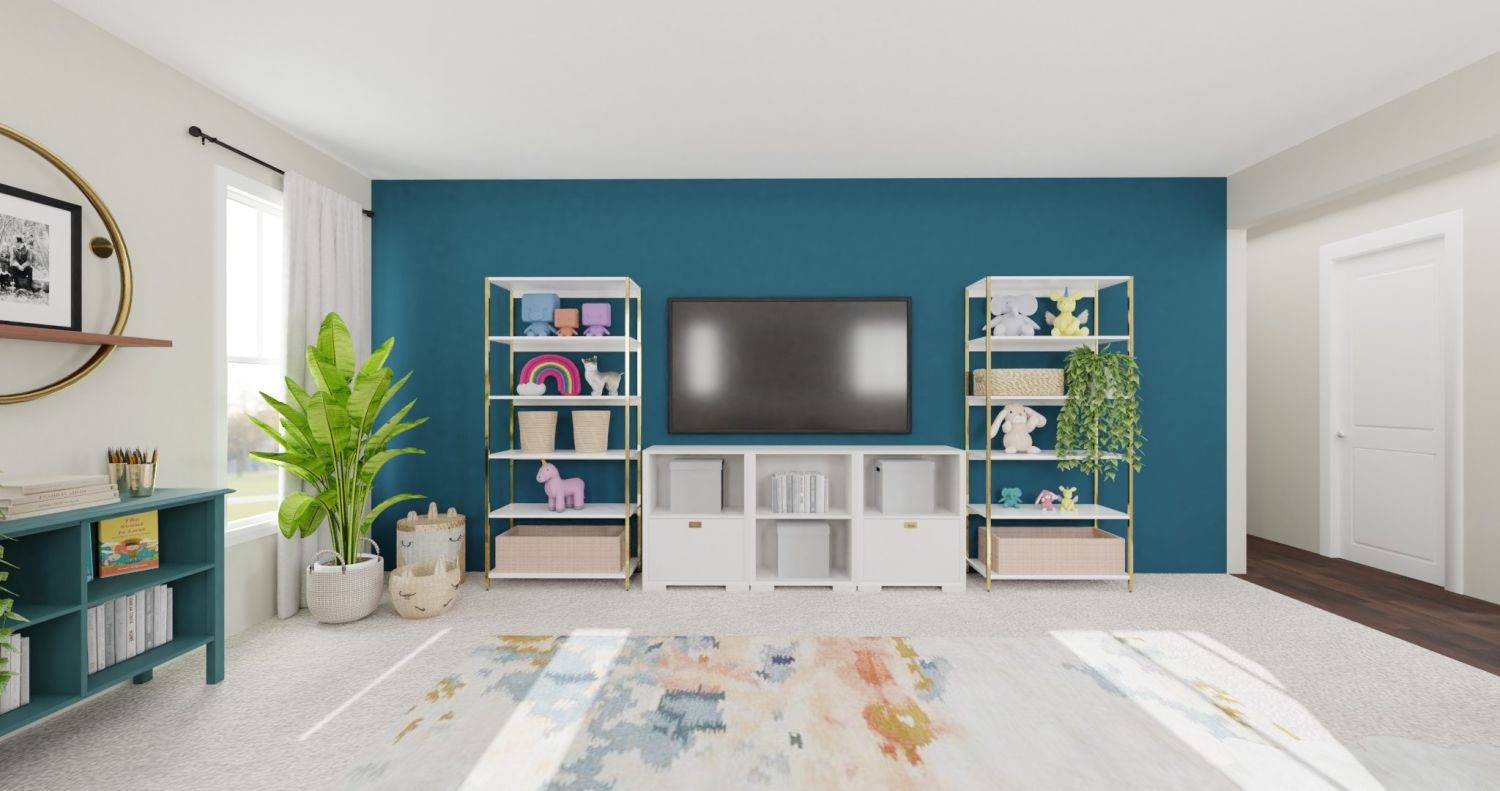 If two or more little ones are currently occupying your playroom, this is a kids' playroom organization hack for you! 
Separate toy sections. It's probably best to have different areas built into your playroom design. For instance, if you have two children, you can give them each a wall shelf and a bookshelf. This will provide them with a sense of ownership and ensure that they keep their things tidy, especially because it's on display! 

Store relevant toys next to each other. Once you've assigned the areas, try keeping similar items as close together as possible. For example, storing the doll clothing next to the basket of dolls will make sure that they're easy to find and just as easy to put away!
The Spacejoy online interior design team used the West Elm Zane Wide Bookcase and many baskets to organize this playroom.
3. Mom, There's Storage Under My Bed!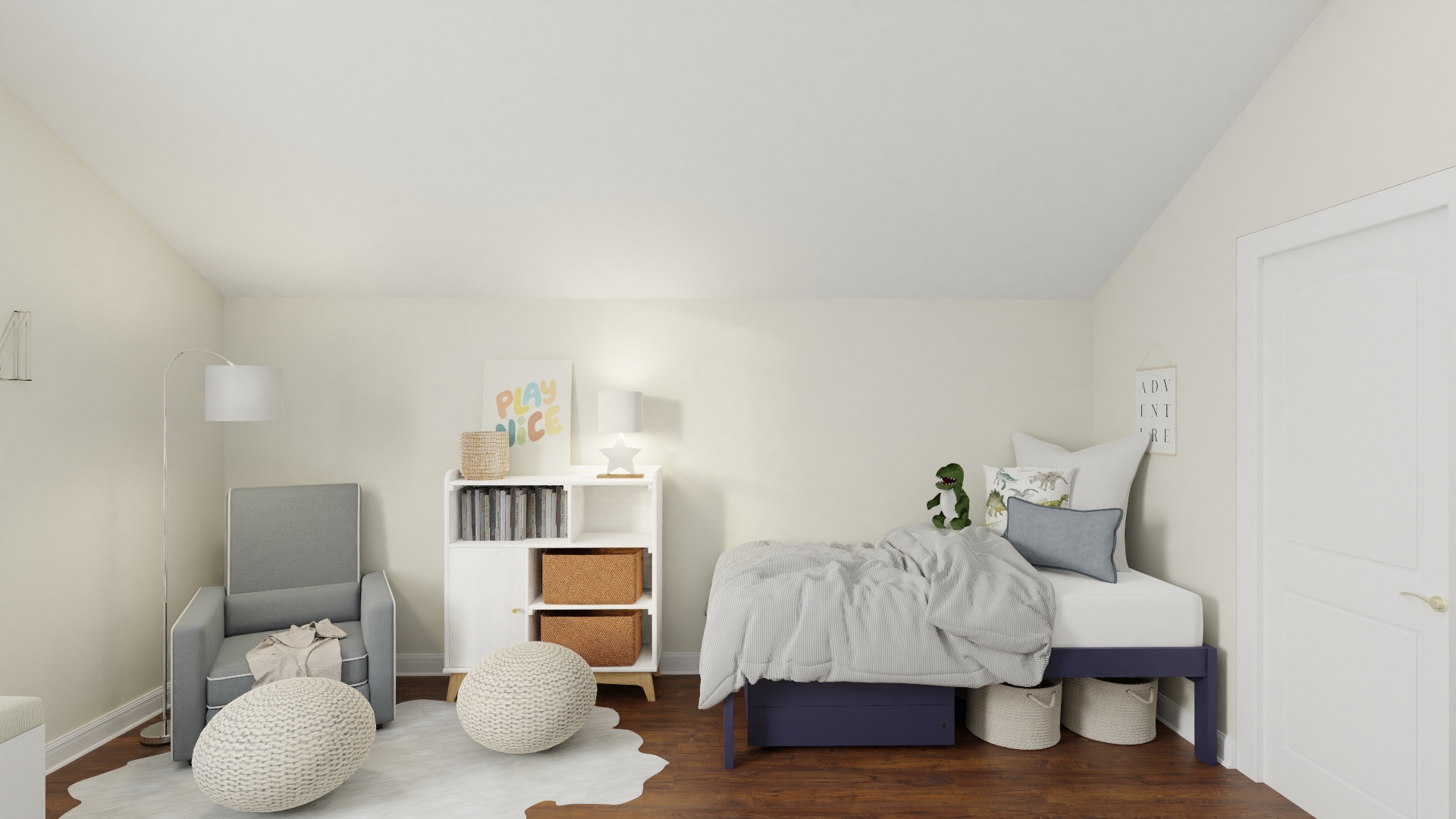 Under the bed is not just a place for monsters to hide, you know. It's a great place to store all those little toys, books, extra bedding...you name it! The space under the bed is one of the coolest kids' playroom storage solutions one has to work with. 
Basket everything! Neatly arrange these baskets under the bed so that it's super easy to access and also easy to hide away when not in use. 

Label your baskets. Your kids will not only know which ones to pull out when they're in the mood to play, but it'll also help when they're hurriedly cleaning up after themselves. 
We love the Aubrey Handwoven Basket Collection from Pottery Barn. They come in different shapes and sizes so you can choose the ones that fit perfectly under the bed. Pro tip: get different colored baskets for each of your kids so that it's even easier to differentiate for them and you!
4. Dressers & Shelves - Obvious Yet Genius!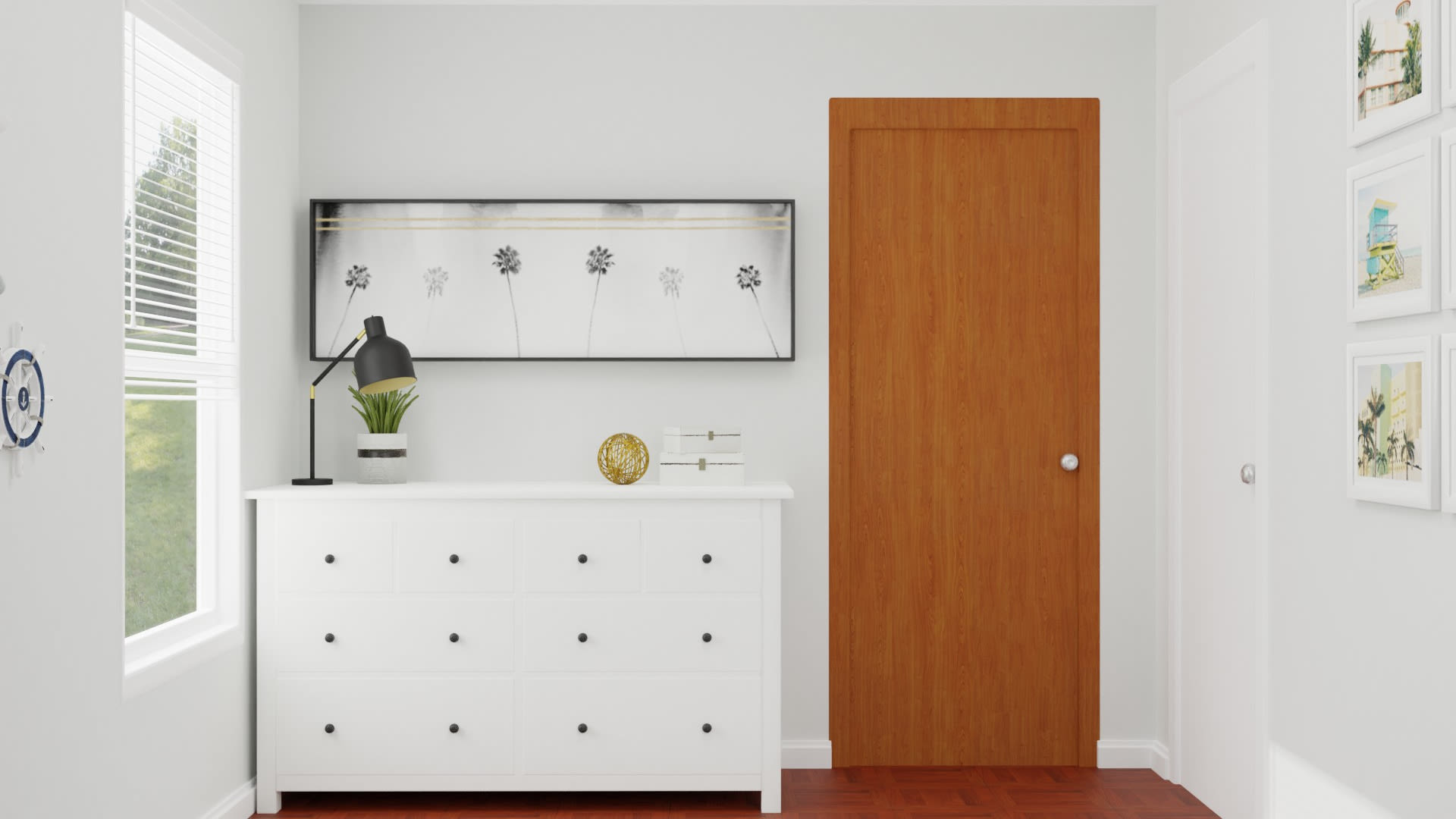 Children's rooms slash playrooms don't come with much space or built-in storage, unfortunately. But here's an excellent opportunity to re-think and redesign their playroom in a comprehensive way that makes playtime and clean-up equally fun! 
Give them their space. Like we've already mentioned before, create a designated area for each of your children. Complete with a bed, table, shelves, and dressers. They'll learn to own it and take care of it too! 

Use vertical space. When the dressers are full and the cupboards are overflowing, look to the walls! Use up all the space you can find and put in shelves, organizers, vertical storage spaces. The sky's the limit! 

Storage and play areas go hand in hand. For example, if you have an arts and crafts table where your little ones can let their creativity run wild, make sure to put in storage shelves that have baskets placed around that area. This will ensure that when your kids want to draw or paint, all the supplies are right there. It will also save a lot of time during the clean-up! 
Kids' playroom shelves like this set from Wayfair are all you need for that extra, super-accessible space to put their things away! 
5. Lesser-Used Toys Go In The Back!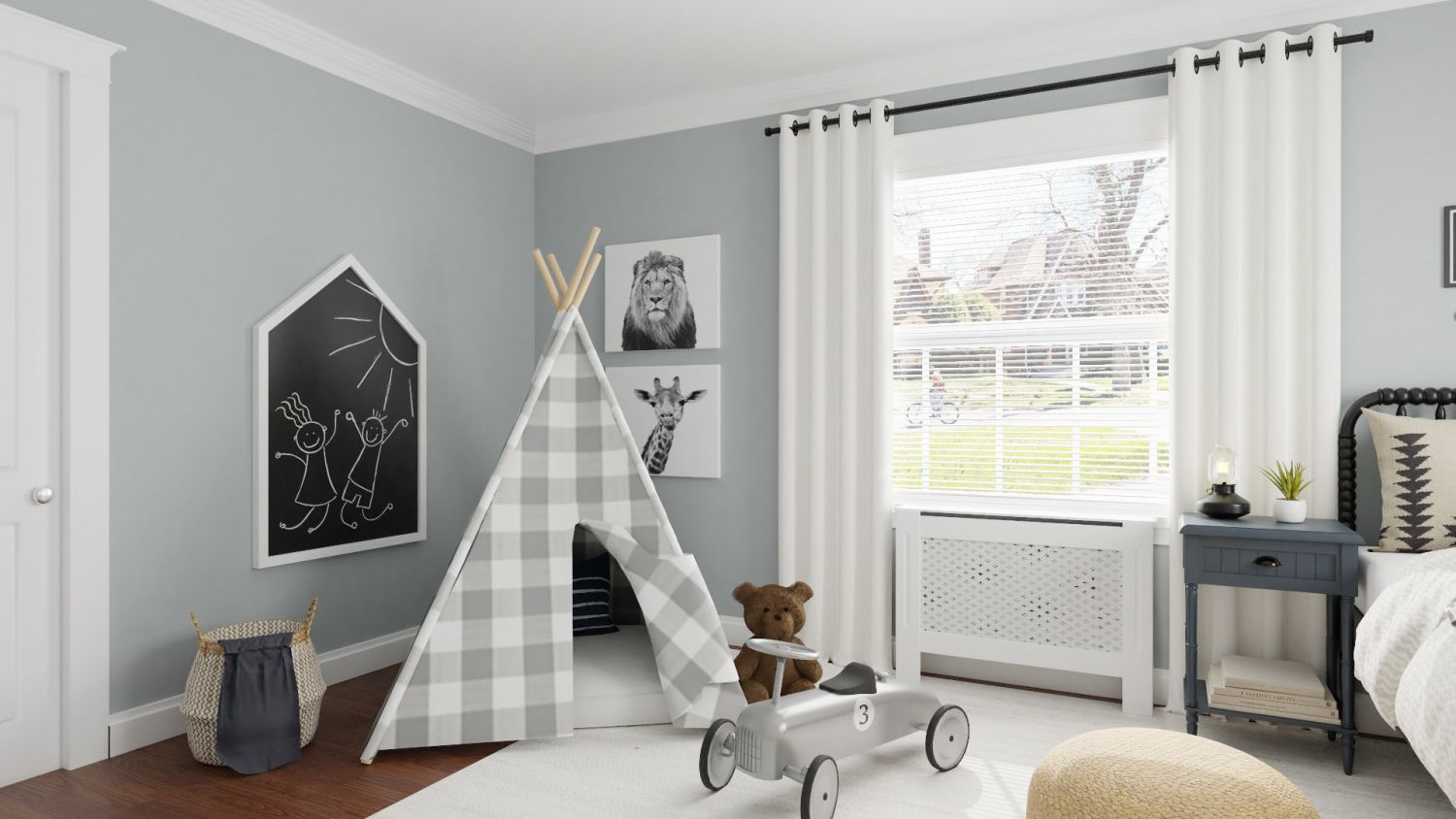 Out of sight is truly out of mind for the little ones. But on the bright side, you've got an excuse to free up space in your kids' playroom! 
Put lesser-used toys away. If your playroom, like most, is feeling cramped, consider storing the toys your kids don't play with anymore in places they don't usually visit. Areas like the garage, your bedroom, and coat closets are a great place to start. Kids go through toys like nobody's business. One minute it's their favorite, next minute, they've forgotten all about it and moved on! 

Place appropriate toys in their eye line. Informative charts or building blocks should be in their direct eye line and also easily accessible. You'll have a better chance of them reading the books you've bought or picked up toys that also help them learn if they happen to be in their line of sight. 
Check out more pictures of this Traditional Farmhouse Boy's Room created by Spacejoy design experts.
6. Multifunctional Furniture To The Rescue!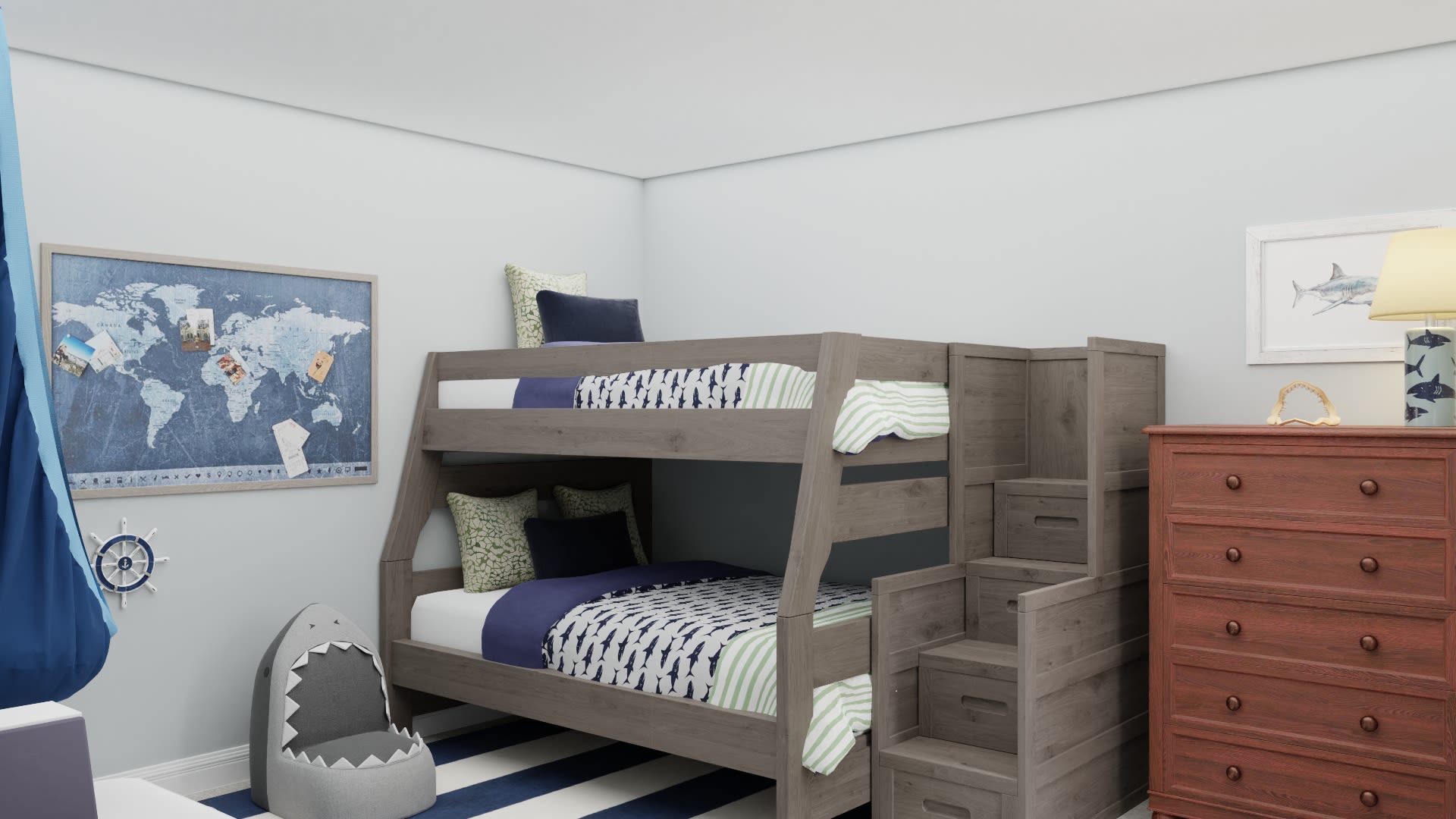 Why should your kids' playroom furniture be used for just one thing when it can be so much more? 
Storage beds. Now that's the invention of the century! You have been blessed with extra space for woolies, extra bedding, and all sorts of things taking up place everywhere else!

We love this kids' playroom storage furniture from Wayfair!

Two birds, one stone. While scrolling through an endless catalog of kids' playroom furniture for your little ones, you'll come across some super cool pieces like the

Maxwell loft bed from Wayfair

that has a study table attached.

Hidden storage. One of the best things you can do is find pieces that store items and toys discreetly. Nobody but you (and your family, of course) know it's there. So your playroom can look minimal and clutter-free while also having enough extra storage space like

these ottomans from Amazon

. 

Nightstands with shelves. Even their bedside nightstands can come with shelves that your kids can use to put away books, Kindles, iPads, and whatever else the kids are into these days! 
You even get some cool bedside organizers that hang by the side of the bed. A great place to drop their favorite bedtime storybook in once their reading time is over!
7. Repurpose Old Furniture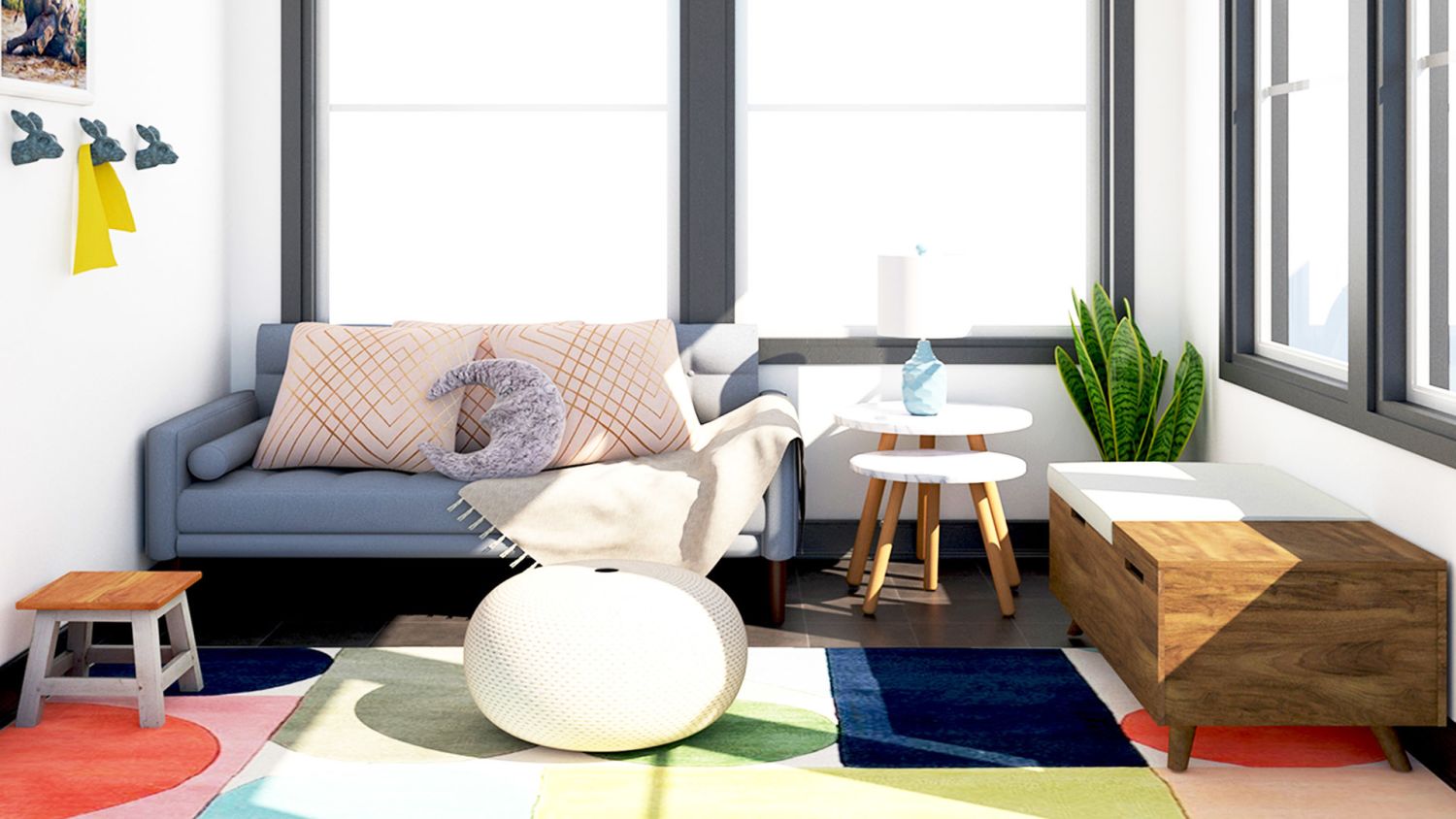 If you don't want to buy all-new furniture, tons of household items can double as playroom organization tools. 
Reuse existing furniture. With a little innovation, you can repurpose old furniture to stow your little ones' things away. Try storing small dolls in the individual pockets of a behind-the-door shoe organizer or using kitchen and bathroom rolling carts as a kids' playroom storage space to keep art supplies. 

Use wall hooks. They provide hanging storage and are a great way to display some design flair, like with these

rabbit wall hooks

. 

Storage benches. They are very versatile in playrooms, providing both a place to sit and a way to organize their toys neatly.
This will give you a chance to look at the furniture in your home, especially those you don't use anymore, in a whole different light! 
FAQs
When organizing your kid's playroom, you might come across a few questions as you navigate through the pile of toys and the stash of books by the corner. Here are some frequently asked questions to think about:
How to organize the kid's playroom?
When you start organizing the kid's playroom, the first thing you must do is declutter. Get rid of old, broken toys that are only adding clutter–see what you can donate. Then, use bins and baskets for toy organization, use removable labels to find toys quickly, and choose kid-friendly playroom storage that can double as decor. 
How do you organize toys in the kid's room?
To organize your kid's toys, you have to get creative. Think of furniture that doubles as storage like ottomans and bookshelves. Use woven baskets for small toys and plastic tubs with lids for more oversized items. Using a cube organizer with organizing bins can be very helpful for categorizing toys and keeping everything in one area. 
If you like these kids' playroom storage ideas and want to bring them to life in your home, or design your own perfect living space, start a project with Spacejoy. You will receive unlimited access to an expert design team who can translate your vision and guide you to your perfect room design. Our unique technology allows you to view your room in 3D and interact with your design. Move and swap the products with a touch of a finger to see the unlimited possibilities. Our team will also curate a shopping list for you with handpicked products to suit your budget and your style that you can shop right away on our platform. Your dream playroom is now one click away. Click here for pricing plans.