Kids Room Design Ideas
Smart Kids Playroom Organization Ideas You Should Start Following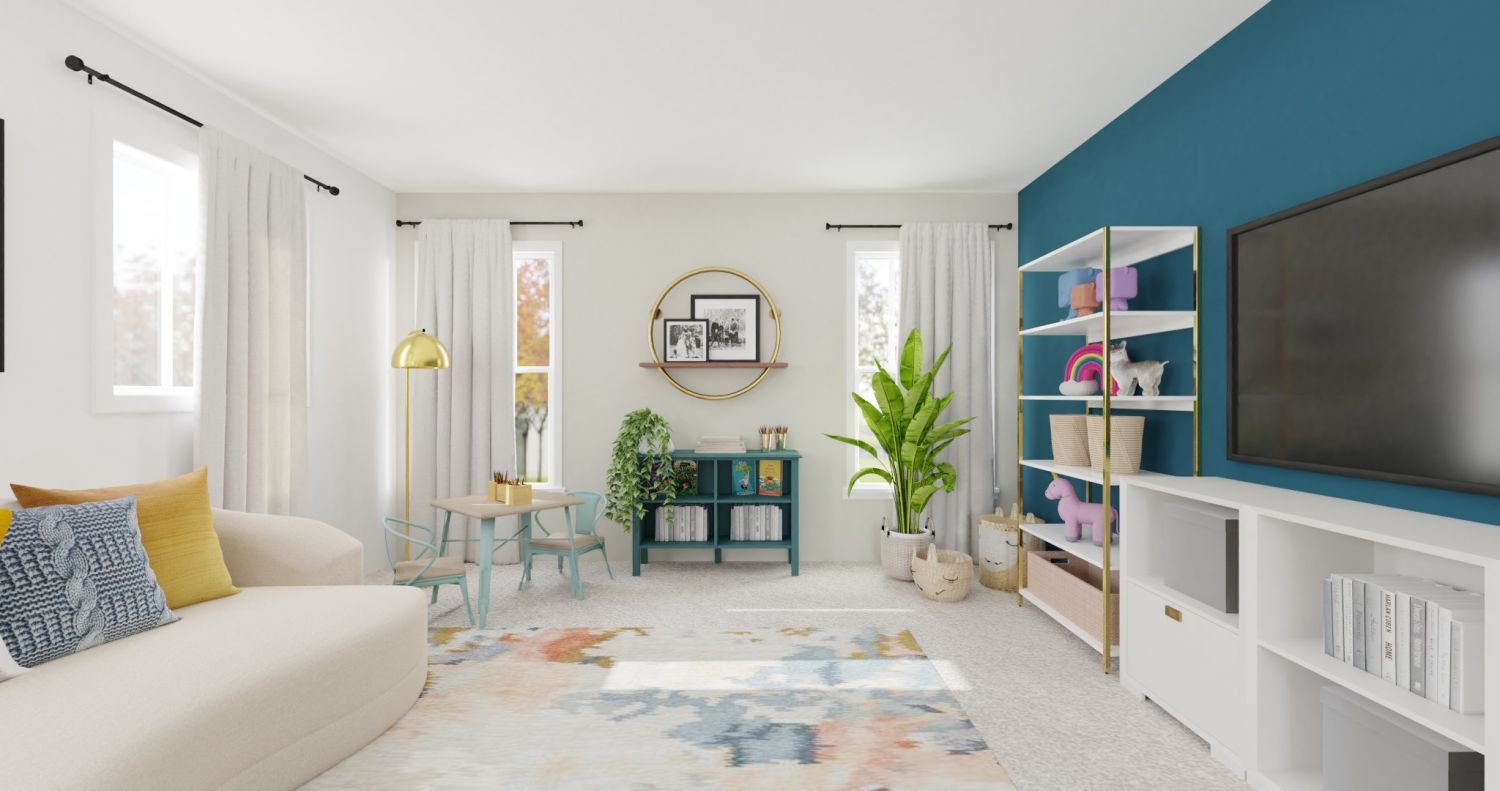 Children have the unique ability to bring endless joy to our lives. But with that joy comes lots and lots of toys to keep them entertained and enriched as they grow. Especially now, we are spending an unprecedented amount of time in our homes due to the Covid-19 pandemic, which leads to hours and hours of trying to keep children entertained. Without a bit of organization and structure, our children's playrooms can become difficult to navigate, along with being a bit of an eyesore. There are plenty of playroom decor and organization ideas that can prevent these spaces from becoming overrun with doll clothing, toy cars, and a seemingly endless supply of legos. Read on for our favorite kid's playroom ideas to give you the best start at keeping things organized!
Label Things Up!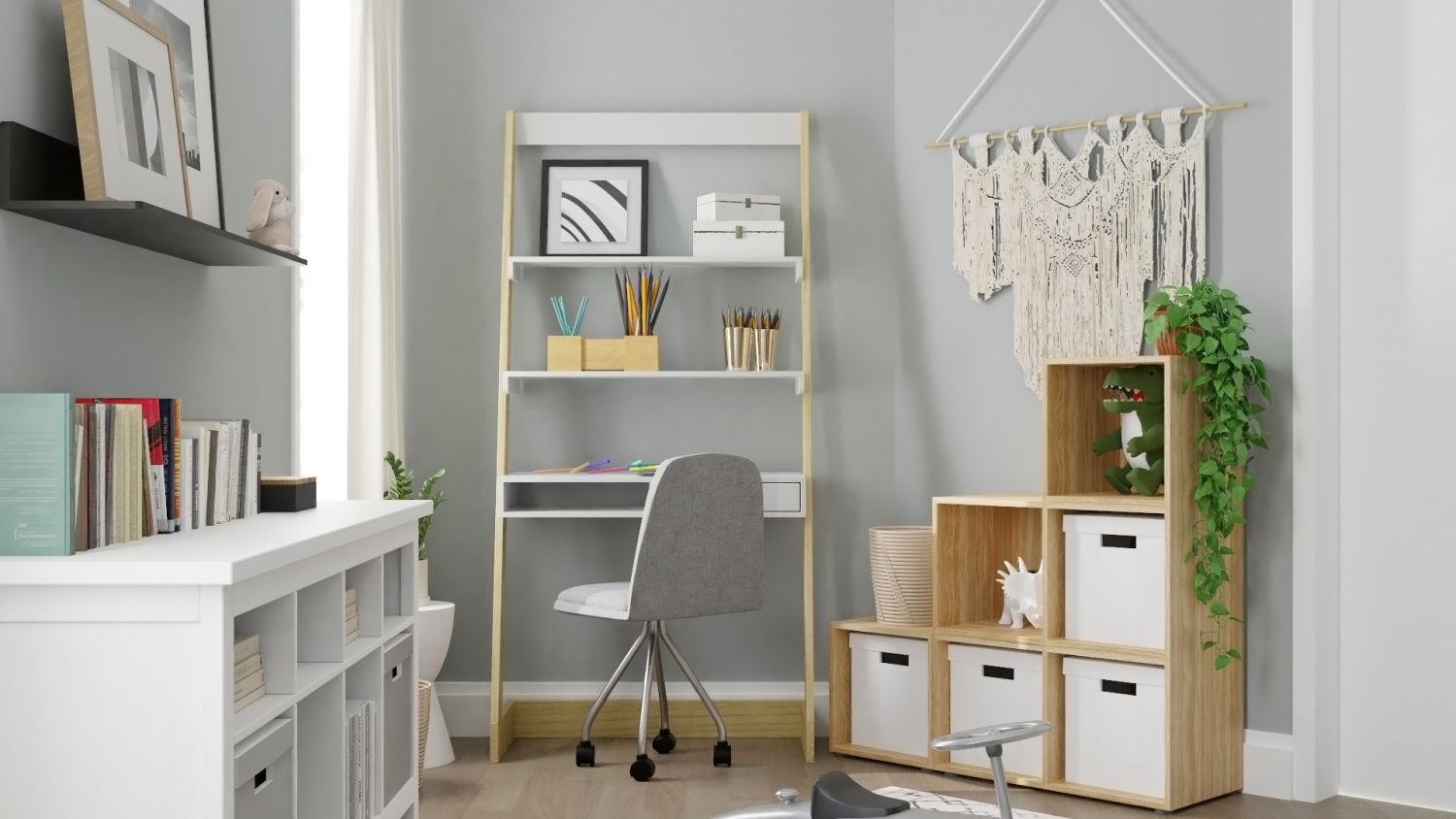 Taking the time to label bins and baskets is one simple way to keep things sane for mom and dad. While the kids may not be able to read just yet, giving each item a designated space is a productive starting point for the rest to fall into place. Labeling can happen with simple supplies like stickers and markers, or you can turn it into a fun DIY project with chalk paint. We recommend keeping the labeling generic, to allow for a higher chance of success of toys ending up in the right place. For example, try categories like 'puzzles' and 'dolls' as opposed to 'animal puzzles' or 'Barbie dolls'. Our designers love the Ikea Eket Cabinet for a stylish way to store boxes and bins. They recommend adding chalkboard bin clips for easy organizing. 
Separate By Type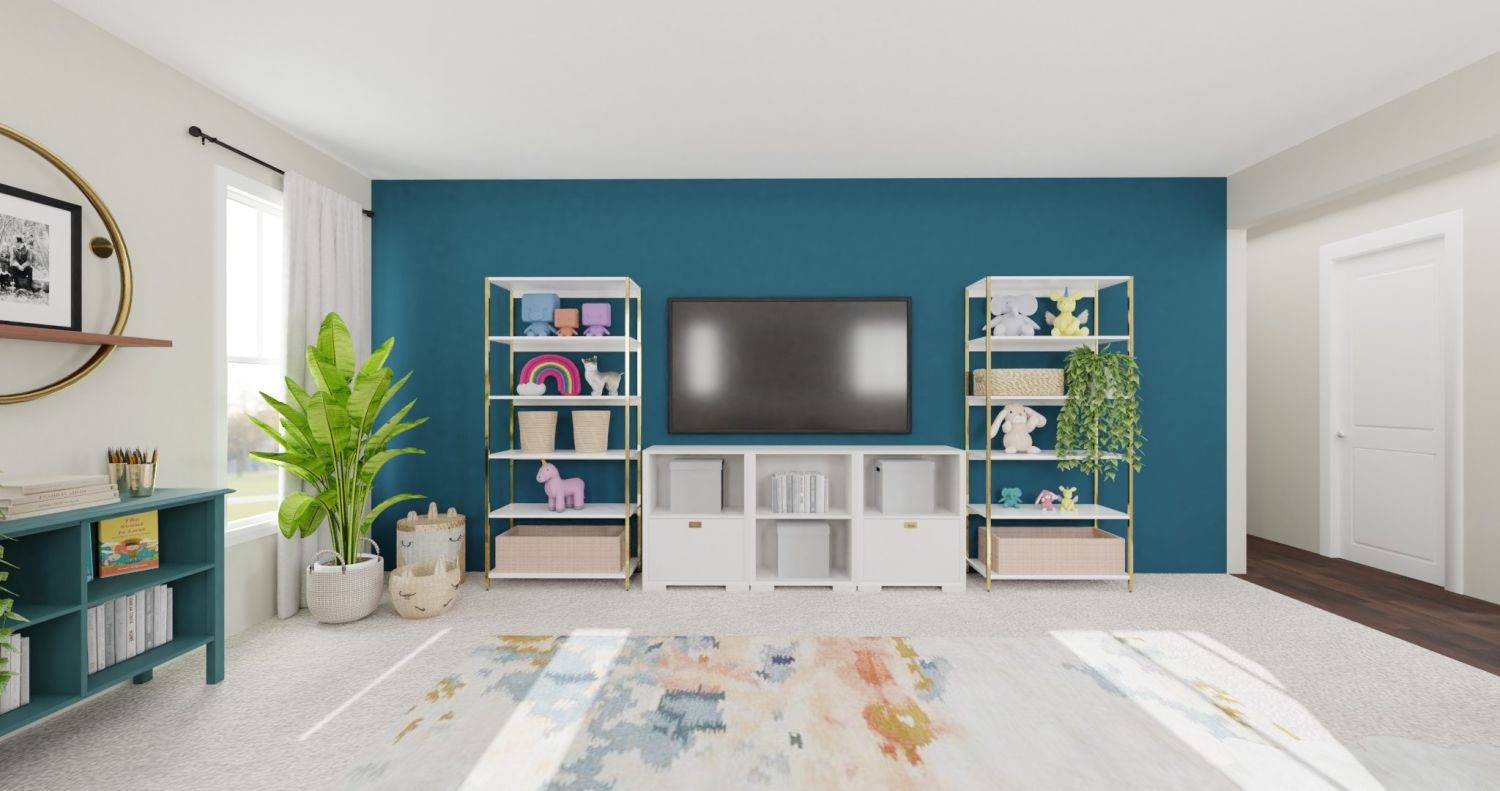 If there are multiple children utilizing your playroom, it may be helpful to start out by incorporating a separation of toys into your playroom design. One bookshelf or wall of bins for one child, another bookshelf or wall of bins for another child, and so on. Once areas are designated, try keeping like items as close together as possible. For example, storing the doll clothing next to the basket of dolls will keep them easiest to find. The Spacejoy online interior design team used the West Elm Zane Wide Bookcase and lots of baskets to organize this playroom. 
Consider Rotating Lesser-used Toys To Free Up Space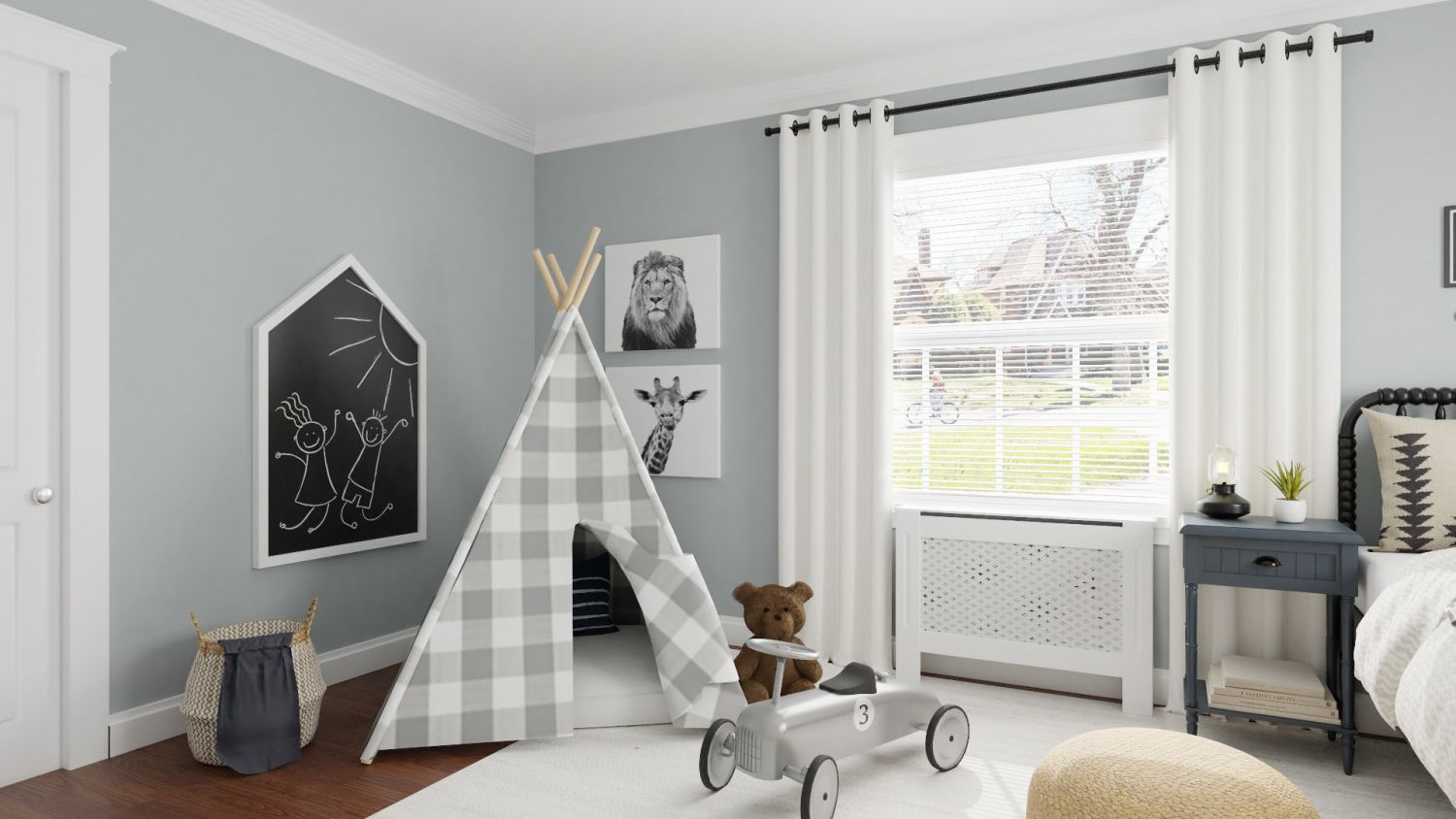 Out of sight is truly out of mind for little ones. If your playroom, like most, is feeling cramped, consider storing lesser-used toys in places where the kids won't be looking. Household locations like the garage, parent's bedroom, and coat closets are a great place to start. When the kids are feeling fatigued of the toys that are readily available to them, take out the stored toys. There's a good chance that they'll never remember those items while simultaneously being excited about something new! Check out more pictures of this Traditional Farmhouse Boy's Room created by Spacejoy design experts.

Household Items That Have Double Usage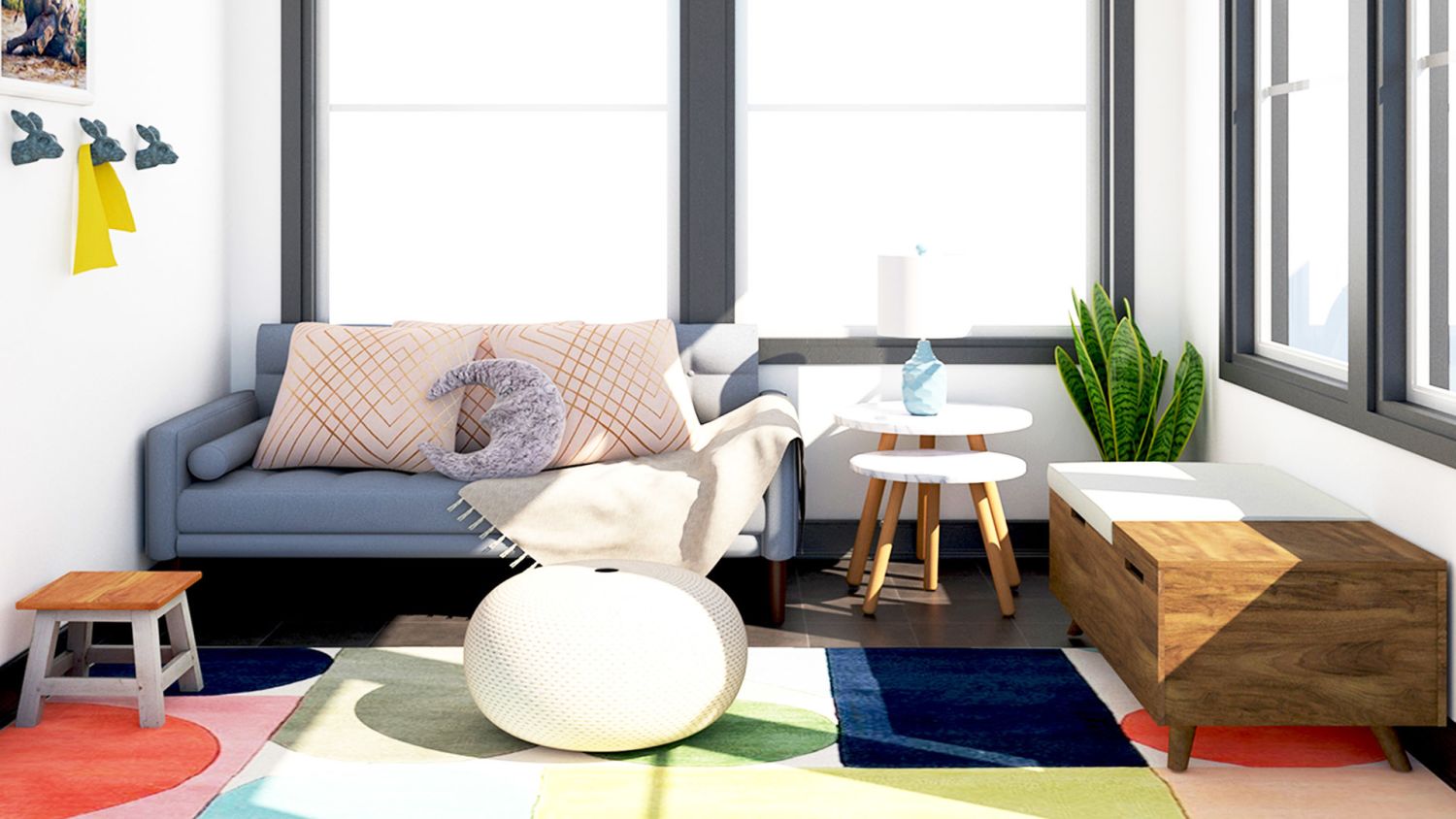 There are tons of household items that can double as playroom organization hacks. Thinking outside the box can lead to new and innovative ways to reimagine the items that are already in our homes. Try storing small dolls in the individual pockets of a behind-the-door shoe organizer, or using kitchen and bathroom rolling carts to store art supplies. Wall hooks provide hanging storage and a great way to display some design flair, like with these rabbit wall hooks. Storage benches are also very versatile in playrooms, both providing a place to sit and neatly organize toys.
If you like these kids room ideas and want to bring them to life in your home, or design your own perfect living space, start a project on Spacejoy. You will receive unlimited access to an expert design team who can translate your vision and guide you to your perfect room design. Our unique technology allows you to view your room in 3D and interact with your design. Move and swap the products with a touch of a finger to see the unlimited possibilities. Our team will also curate a shopping list for you with handpicked products to suit your budget and your style that you can shop right away on our platform. Your dream playroom is now one click away. Click here for pricing plans.
Similar Picks
Related designs for you
Categories
Explore other categories