Bedroom Designs
How To Nail Black & White Bedroom Decor
Like blue jeans, vanilla ice-cream, and the movie Titanic, black and white is timeless. It only makes sense that interior designers all over are falling in love with this color palette! When executed correctly, a black and white bedroom can look incredibly chic and modern. It may seem daunting at first, but black and white bedroom decor can quickly turn into your favorite room in the house with the right balance. It's about time you bring some of that bold flavor into your bedroom decor. We've put together some black and white bedroom decor ideas with expert advice from our team of designers at Spacejoy to help you get started. You're only a few steps away from incorporating this classic color combination in your favorite space! 
Create A Balance Of Both Colors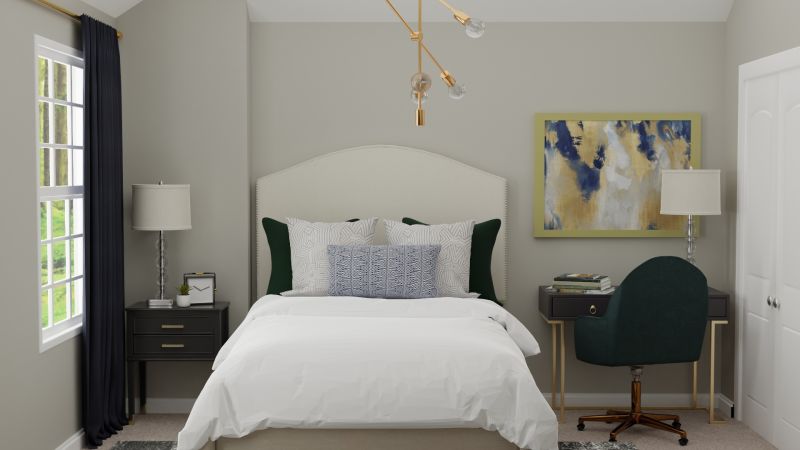 Too much of either black or white can be overwhelming and will start to make your bedroom feel stark and austere. An easy way to avoid this is to make sure your bedroom design is well balanced. Spacejoy designer Cassandra suggests starting with white walls. She adds, "This will create the perfect backdrop when you want to incorporate a gallery wall of black frames. You could also add another statement piece in black that will really pop and draw your eye to the details". Another advantage of going with white walls is that it helps keep this color scheme bright and open without allowing the black in the decor to overpower the light in the room.
Go Minimal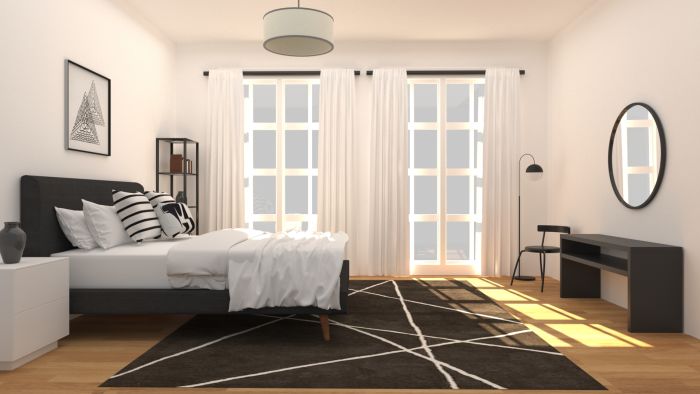 If you, like us, love the minimalist decor, we recommend a more Scandinavian take on this aesthetic. Not only will you have an ultra-contemporary bedroom that will receive high praise from everyone, but you also will forever be known as someone with sophisticated tastes...provided you style it just right. Love the all-white look? Use that as your backdrop and pick out elegant black decor pieces and minimal furniture in black for that modern minimalistic vibe. If this is too stark for you, bring in textures on your walls for a more luxe look and feel. You can have fun with your accent pieces. We particularly love black pendant lights and chandeliers for the black and white bedroom decor.  
Play With Prints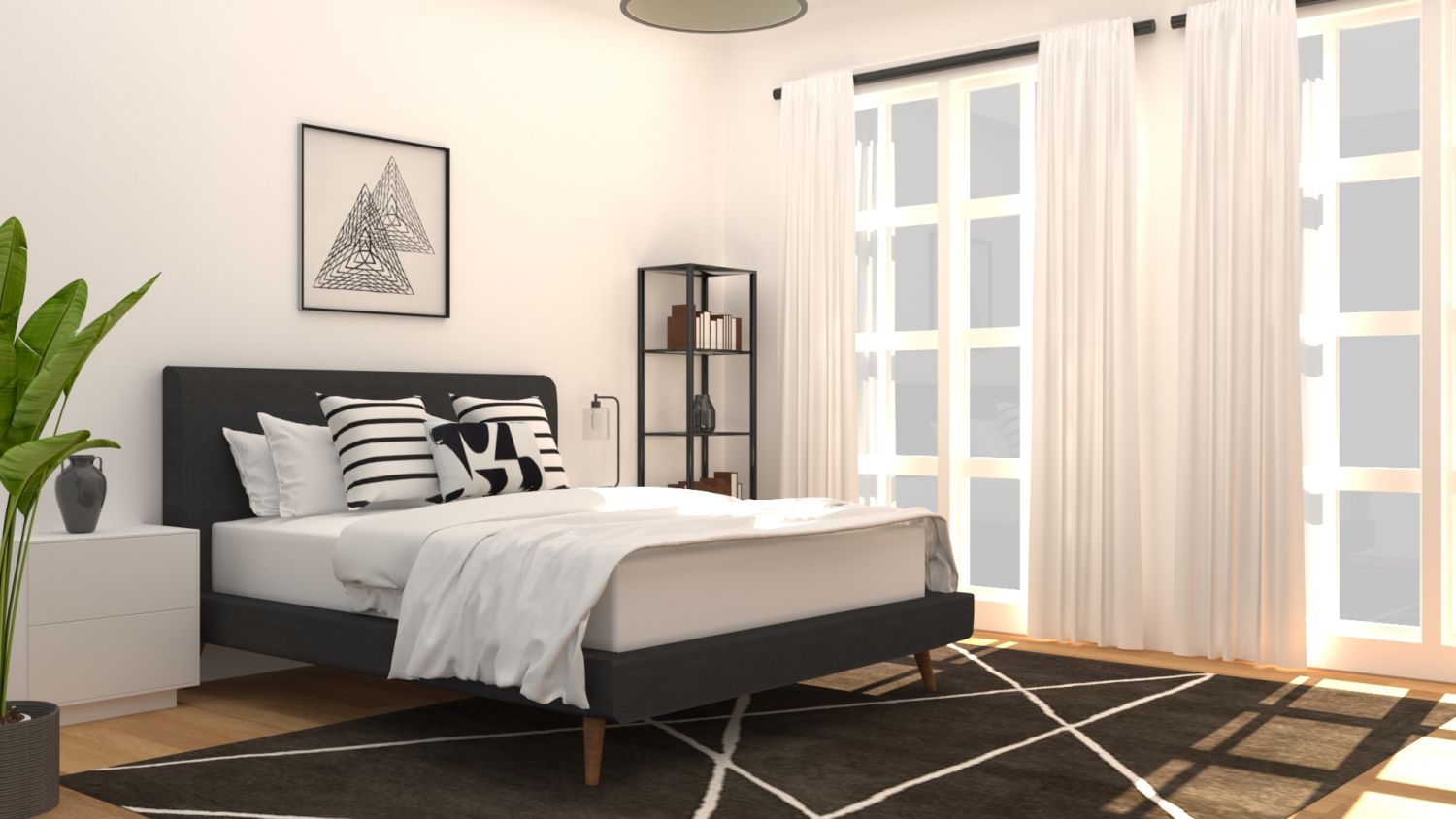 Don't be afraid to play with prints in the form of accent pillows, throw blankets, and wall art in your black and white bedroom. Just because you're going with black and white decor doesn't mean it has to look monotonous and dull. You can add a little bit of drama with playful prints in the form of linens, exciting wallpapers, or even a nice rug to warm up your space. Our designers love this simple geometric print from Jonathan Adler or this Yaha cotton striped throw pillow from AllModern. We recommend adding more visual elements to the room. When playing with multiple prints in your bedroom, make sure to mix large bold prints with smaller, more minimal prints. This will ensure your design doesn't look overly loud but well-thought-out and balanced. 
Incorporate Metallic Accents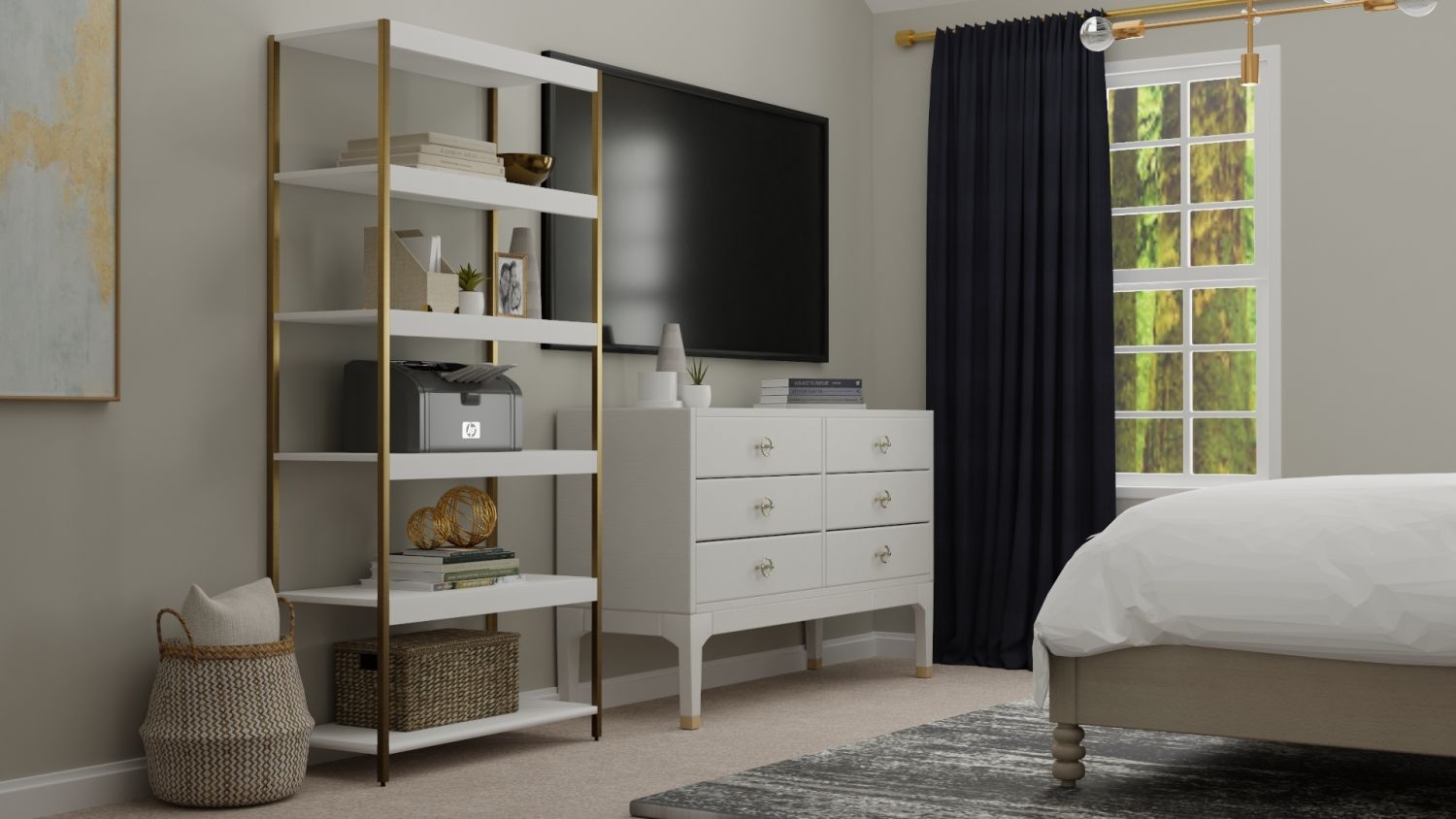 What if we told you that a black and white bedroom could look vibrant and glamorous? It's hard to believe, but you can elevate this neutral decor by incorporating splashes of metallic accents around the room. There's nothing more eye-catching than a metallic accent, especially against a neutral backdrop. Spruce up your black and white bedroom decor with beautiful metallic elements to make it pop! A few ways to add some glamour and shine to a predominantly monotonous room is to put in a statement gold dresser, maybe an elegant lampshade in silver, or a rose gold throw pillow. Check out this metallic accent Glam Transitional Bedroom designed by Spacejoy experts for more inspiration. 
Patterns And Textures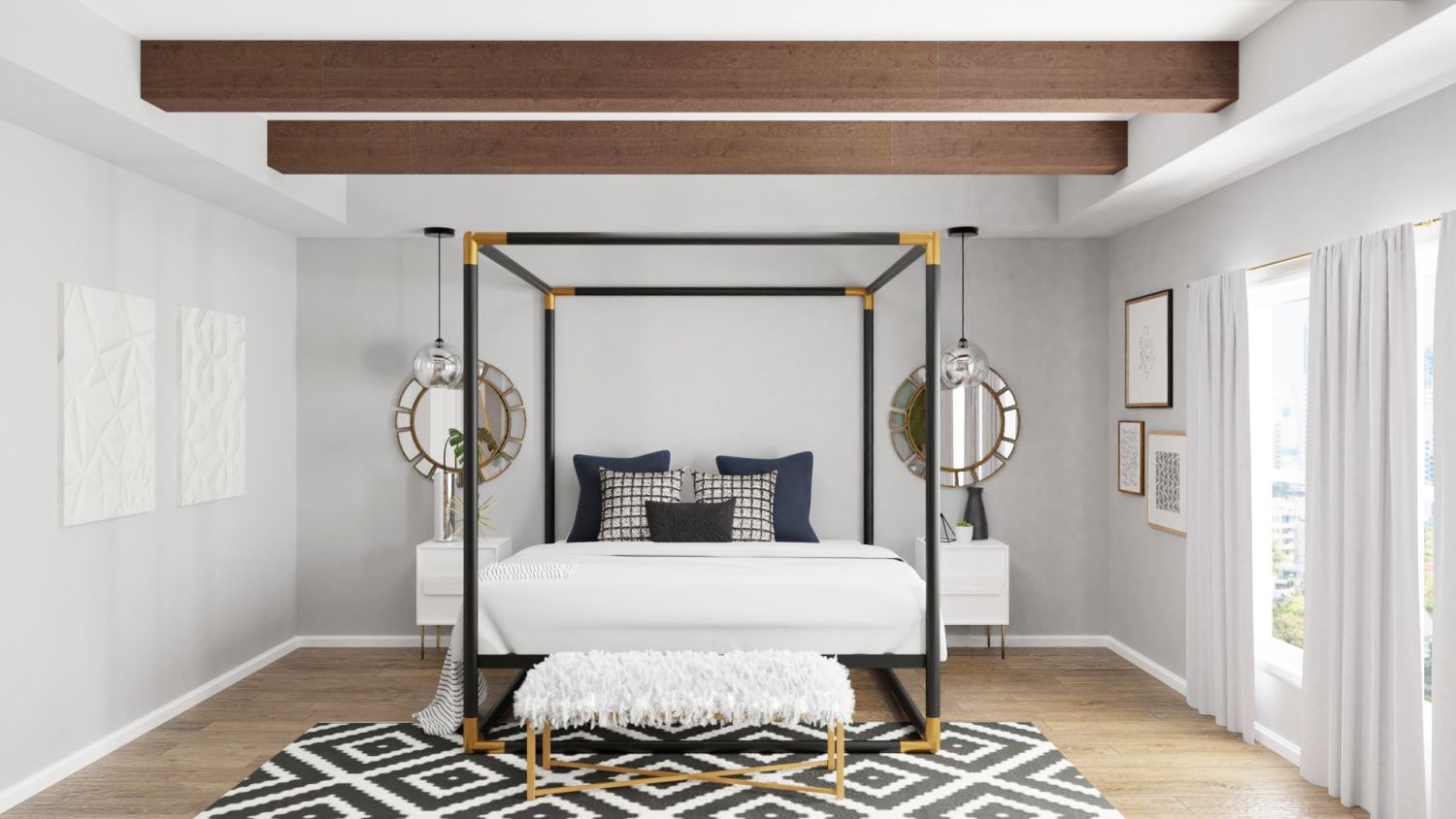 A simple color palette may seem one dimensional at first, but adding textures into the design will give your space depth and an interesting visual element. You can play with so many textures like flat velvets, rustic woods, soft linen, shaggy faux furs, etc. Bring these into your black and white bedroom decor to completely transform your space. You can even use textures and tones to offset the starkness in a black and white bedroom. Instead of going with all-black bedding, you could use various shades of grey and a few black accents to tie the decor together. A shag area rug, textured throw pillows, or even an indoor house plant will help bring life back into your black and white decor. Our designers especially love fun throw pillows like this Lana round sheepskin pillow from Article.
Accessorize Your Space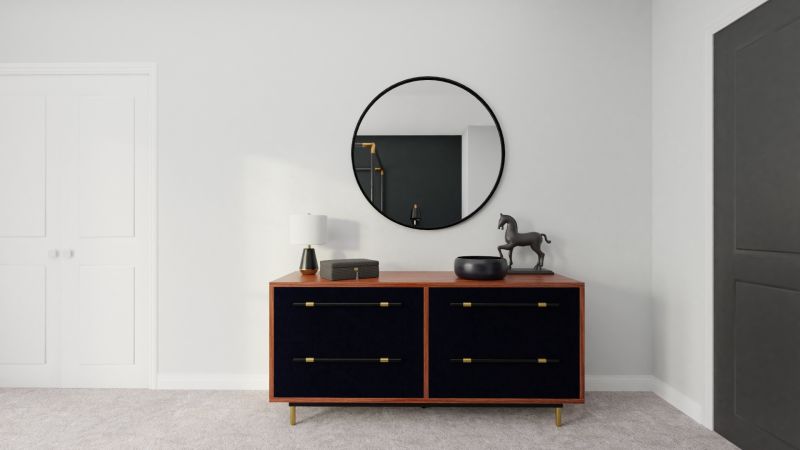 Accessories can truly make or break your black and white bedroom decor. It's easy to go overboard, making your decor look cluttered and busy, or you can make the mistake of sticking to the color palette too much, making your overall vibe dull and monotonous. Use a statement chair or pillow to bring a pop of vibrancy into your black and white decor. You could experiment with clear or acrylic pieces of decor for your decor. Transparent, glass-like finishes can add a touch of modernity to your space while also blending in with your decor! Two birds, one stone. You may love an all-black decor theme offset with white accents, but there is a chance that your space could swallow the light and dull the room. Make sure your curtains are sheer so that there is enough natural light coming in. Use fun accessories like mirrors and other reflective materials to enhance the light in the room, making it look more spacious and airy. 
Add Pops Of Color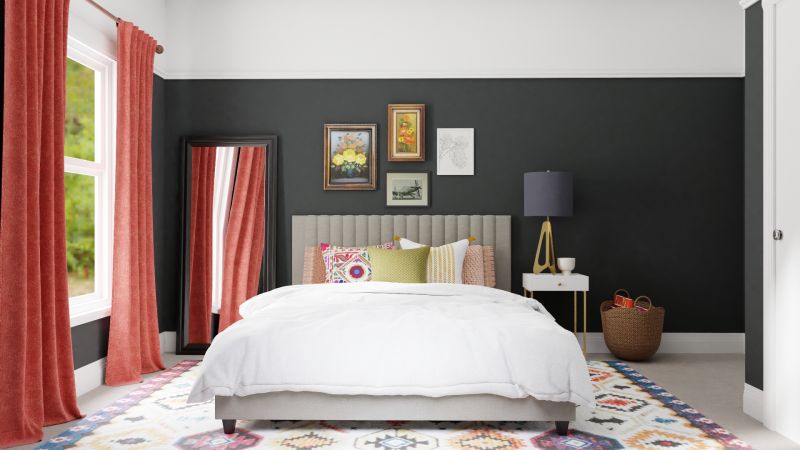 Just because you're going for black and white bedroom decor doesn't mean you aren't allowed to use color at all! In fact, we strongly recommend bringing in color to offset the neutrals in your space. A bright, springtime green in the form of a plant can completely transform your space, making it seem more colorful and alive. Picking out a statement accent chair in a striking hue is another great black and white bedroom decor idea. While your dominant color palette is neutral, it's essential to balance out the colors. You don't have to go overboard, simply choose an eye-catching piece and place it in your black and white room as a contrasting element. 
Industrial Theme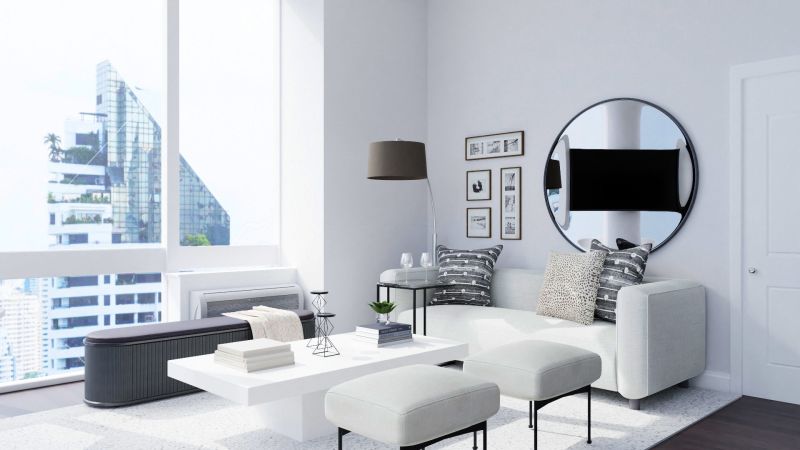 The industrial decor theme works exceptionally well with the black and white bedroom decor. The raw materials used in industrial-themed decor fall into place quite seamlessly as they are naturally black or white. The unfinished elements, like wrought iron, whitewashed walls, etc., are characteristic of industrial-themed decor. Another signature of the industrial vibe is high ceilings and a lot of natural light, which complement the black and white decor really well as it instantly opens up the place. Other industrial elements like wood grain and exposed brick can give your contemporary bedroom an urban edge.  
If these great tips and tricks on black and white bedroom decor have given you the confidence to experiment with modern bedroom ideas in your home, or design your own perfect living space, start a project on Spacejoy today! You will receive unlimited access to an expert online interior design team who can translate your vision and guide you to your perfect room design. Our unique technology allows you to view your room in 3D and interact with your design. Move and swap the products with a touch of a finger to see the unlimited possibilities. Our team will also curate a shopping list for you with handpicked products to suit your budget and your style that you can shop right away on our platform. Your dream bedroom is now one click away. Click here for pricing plans.