Living Room Design Ideas
6 Game-Changing All White Living Room Ideas
All white living rooms are probably taking over your Instagram feed, and for a good reason too! The all-white interior design has been trending for a while now, and clearly, it's here to stay! Whether your tastes lean more towards mid-century modern decor or that simplistic Scandinavian minimal decor, we've got some game-changing white living room ideas for you. Whatever your aesthetic is, a neutral monochromatic color palette can be seamlessly incorporated into your home, and we're going to show you just how it's done! There's no better room to try out this trend than in your living room. Living rooms are where you relax with a good book or your favorite TV show. It's also where you entertain your guests, so this is their very first impression of your home. We believe that this space should feel serene while looking modern and sophisticated, don't you? We're here to tell you that can be achieved with a few tips and tricks our expert designers at Spacejoy have picked up along the way! Here are some super cool ideas that will help you make all of your white interior design aspirations come true.
Pick Your Paint Carefully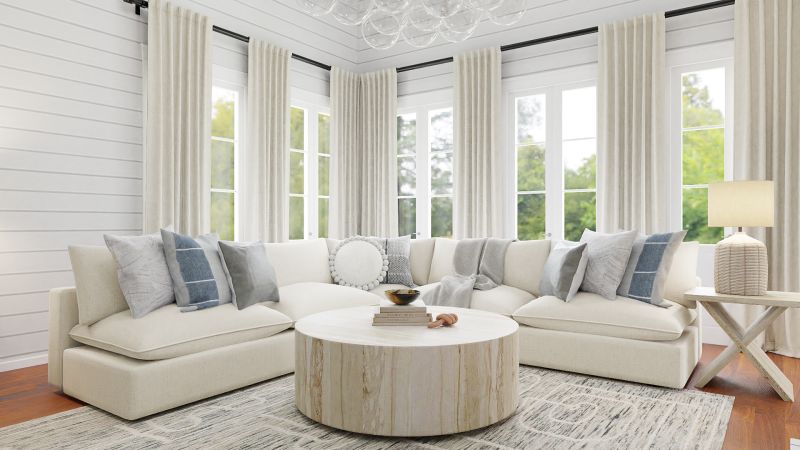 One of the first things you need to be sure of when you're looking for all white living room ideas is the paint color you're going with. And no, it's not as simple as it sounds! Choosing the perfect white for your living room isn't all that easy, but we've got a couple of tips and tricks to help you make that process a little easier. The white you choose depends on a couple of key aspects. One is the lighting in your living room. The lighting in a room can make a big difference to your decor. A room that faces the South will introduce warm light into your space, while a North-facing room will have a more cool-toned light coming in. The paint on your walls must accentuate and balance the natural light coming into your living room, so it's essential to first assess your geographical direction. The second is to take note of how much natural light your living room is exposed to. A pure white can really enhance the natural light in your space, while cool-toned white works better if you've area is artificially lit. The third is the accent tones you already have or are planning to put into your living room. If your color palette is cool-toned, you will have to get a white with blue or gray undertones to complement it. The same goes with a warm-toned color palette. The fourth is the decor you're going with. If you like that stark Scandinavian minimalistic decor, use a cool-toned white to bring out that icy look and feel, while if you like a more traditional look, a warm white can introduce that antique charm into your space.
Mix Up Textures
Shown in image: Reversible Lightweight Blanket, Scott Living Chenille Decorative Throw, London Optical Sofa, Lena Handwoven Rug, Off White Braided Area Rug, Crate and Barrel Memphis White Area Rug
The easiest way to style monochromatic colors without it all blending together is to play with textures and patterns. An all-white room does have a tendency to become one-dimensional or boring. It will start becoming harder to tell where your walls stop and your sofar begins. Everything will begin to mesh together if you do not introduce a few different textures and patterns into your living room. For example, a fuzzy blanket like this on top of a sleek sofa or a clean glass coffee table over a shag rug can make an all-white living room more visually appealing. Layering different textures not only adds variance to your white living room but can also make identical shades of white look completely different. Don't be afraid to play with patterns on your furniture or even your walls. You could try introducing a 3D texture to your walls while maintaining the same paint color throughout your white living room.  
Introduce Other Neutral Colors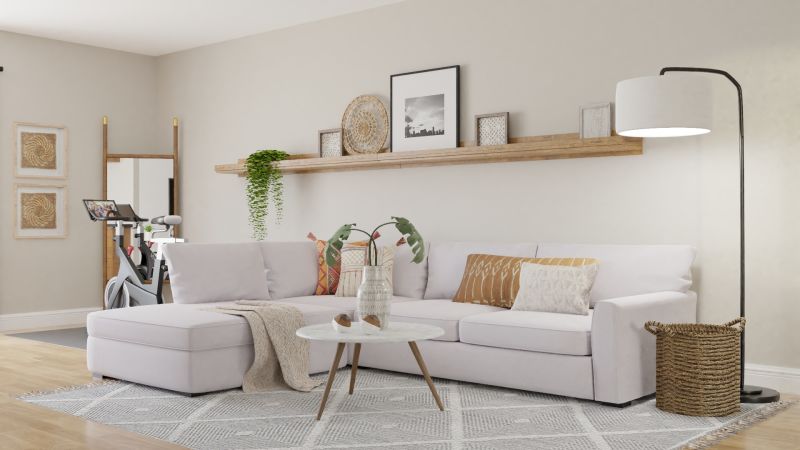 If you're looking for other white living room decor ideas that will help break up this monochromatic color scheme, add in different neutral colors into your palette. Shades like ivory, beige, tan, and light gray will help you maintain the white living room you want while adding depth and variety to the overall look. These shades do a great job of enhancing the all-white look and feel by offering a contrast whenever needed. Even colors like pale pink, patterns like marble, or textures like Venetian plaster all make a tiny difference in how cohesive a monochromatic white room looks. Pro tip: decide whether you want the color palette to read warmer or cooler in tone. That will help determine which additional shades you can factor into your color scheme. For example, tan and beige will translate into a warm-toned living room, while gray will read cooler.
Be Consistent With Accent Colors
In the same vein, the hardware you pick for your living room will add variance to the monochromatic scheme, too. Gold, copper, and bronze will read warmer, while silver and chrome will appear more cool-toned. If you're feeling brave, you could use black as an accent color. It pairs beautifully with either. Whatever color scheme you decide to go with for your accessories and your accents, your choice of hardware will depend on that to completely define the color palette for your living room. Curtain rods like this Marble Curtain Rod from CB2 are a great white living room decor idea. It helps in pulling together marble and metal details. Just make sure you keep all of the hardware consistent throughout the room to ensure you have a seamless, cohesive design running throughout your living space.
Commit To The Color Scheme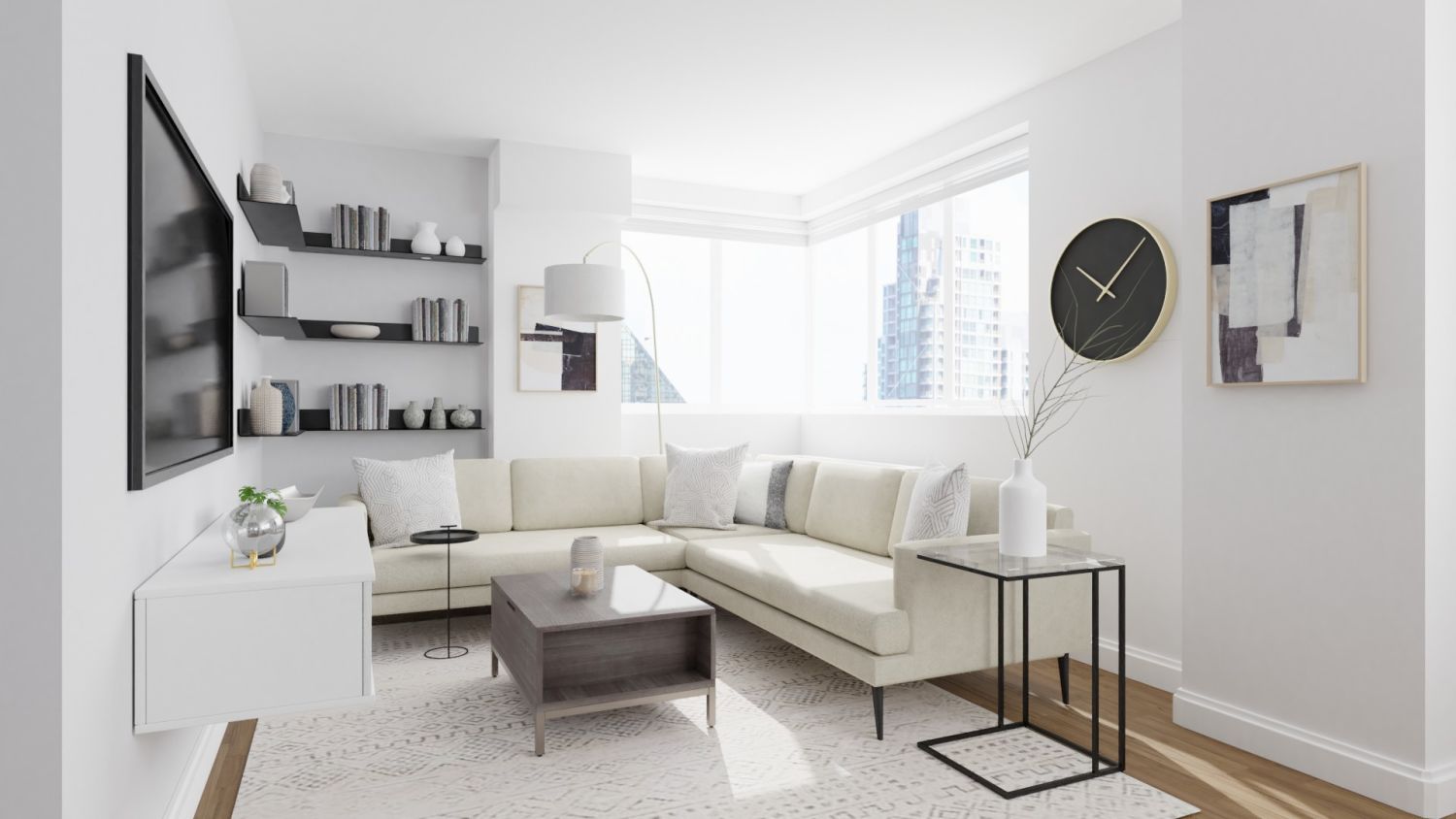 This may sound pretty obvious. But, if you're taking the leap and looking for all-white living room ideas to incorporate into your living space, try and really commit to the color scheme. You don't want to have a few all-white elements and let some of your existing decors remain as is. For an all-white living room to truly stand out, it should have a consistent theme throughout. Now, we don't mean you can't add any colors or accents to your decor. But, for those accents to truly stand out, you must have a strong, undeniable white base to offset it. We're talking walls, furnishings, fittings, the works. If you go all out and commit to transforming one section but lose steam and leave some of the other areas in your living room as is, you'll end up with decor that's neither here nor there, and we definitely don't want that, do we?
Bring In A Splash Of Color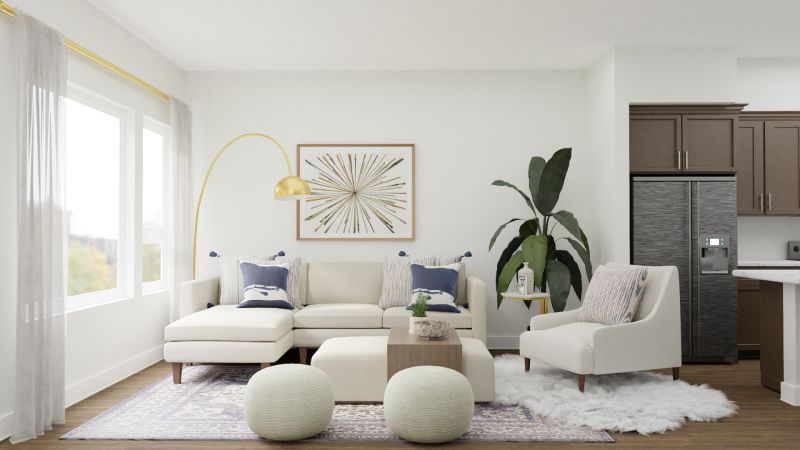 Like we mentioned earlier, don't be afraid to introduce some color back into your white living room decor in the form of natural elements like greenery or wooden finishes. It is a living room at the end of the day, and a living room needs to be welcoming. Just because you are going with an all-white decor doesn't mean you can't create a warm, homely space. A few plants here and there can bring in a vibrance to your room while making your whites stand out even more. Plants can breathe some life back into your space, and they make a great addition no matter what decor you're going with. Wooden elements are another option, especially if you don't want to disturb your all-white space with something too bright. Wood has a naturally neutral finish, which works great as an accent to your decor. If and only if you're up to taking a bold step, we recommend going with black accents. You will have an ultra-modern, super-chic living room that you can proudly show off on Instagram!
If you're on the hunt for living room ideas that will fulfill all of your monochromatic white decor dreams, follow these tips as you put together your picks. Happy designing!  
If you like these white living room ideas and want to bring them to life in your home, or design your own perfect living space, start a project on Spacejoy. You will receive unlimited access to an expert online interior design team who can translate your vision and guide you to your perfect room design. Our unique technology allows you to view your room in 3D and interact with your design. Move and swap the products with a touch of a finger to see the unlimited possibilities. Our team will also curate a shopping list for you with handpicked products to suit your budget and your style that you can shop right away on our platform. Your dream office is now one click away. Click here for pricing plans.