Bedroom Design Ideas
DIY-ing a Headboard is Easy With These 15 Ideas
Traditional headboards don't always work for your space, especially if you're in a smaller apartment, so quick, easy headboard ideas are still good to keep in mind. DIY headboard ideas have been trending recently, like ones painted on the wall to alternative headboards like gallery walls or giant pieces of art, so here are just a few of our favorites.
1. Paint Your Headboard
Photo Credit: 

Dazeywood Penthouse
If you want the illusion of a headboard without any additional furniture taking up space in your room, try painting a headboard onto your wall instead. You can pick a shade that plays off of your bedding or other furniture, and you can even play around with the shape to make your room feel more playful rather than traditional. Painted headboards are incredible for smaller bedrooms or for those who love a more minimal look.
2. Try a Bookshelf Headboard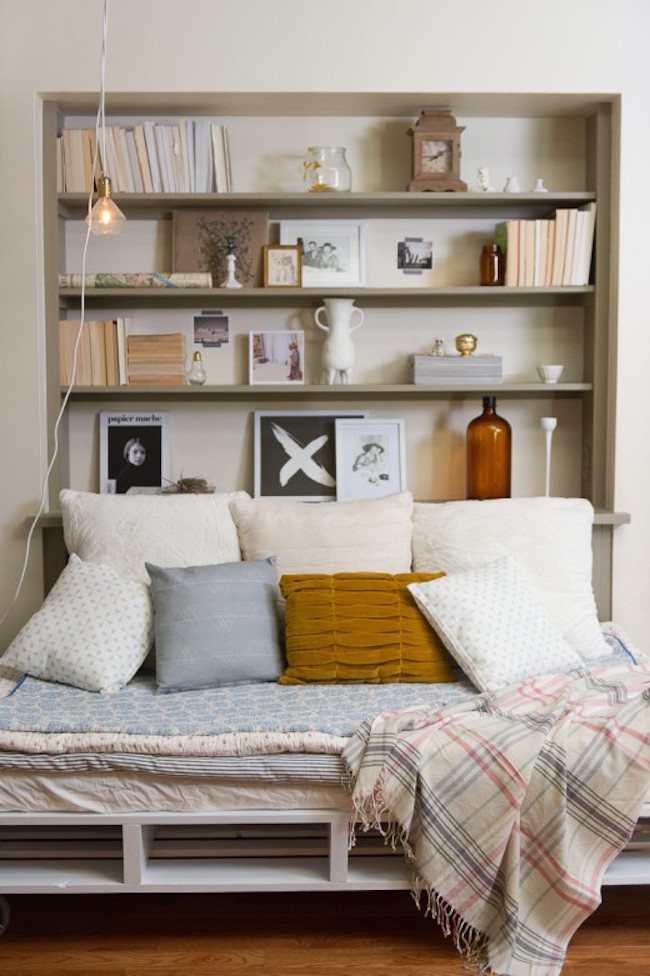 Photo credit: decoist.com
If space is limited, a bookshelf headboard can help you create the illusion of space. Not to mention, it gives you extra storage space that you can use to add greenery, decorative items, or keep essentials like small lamps or books. 
You'll Need:
How to Do It:
Start by securing the bookshelf to the wall using glue and wood screws

Place the bed against the bookshelf
3. Use a Giant Piece of Art of Oversized Mirror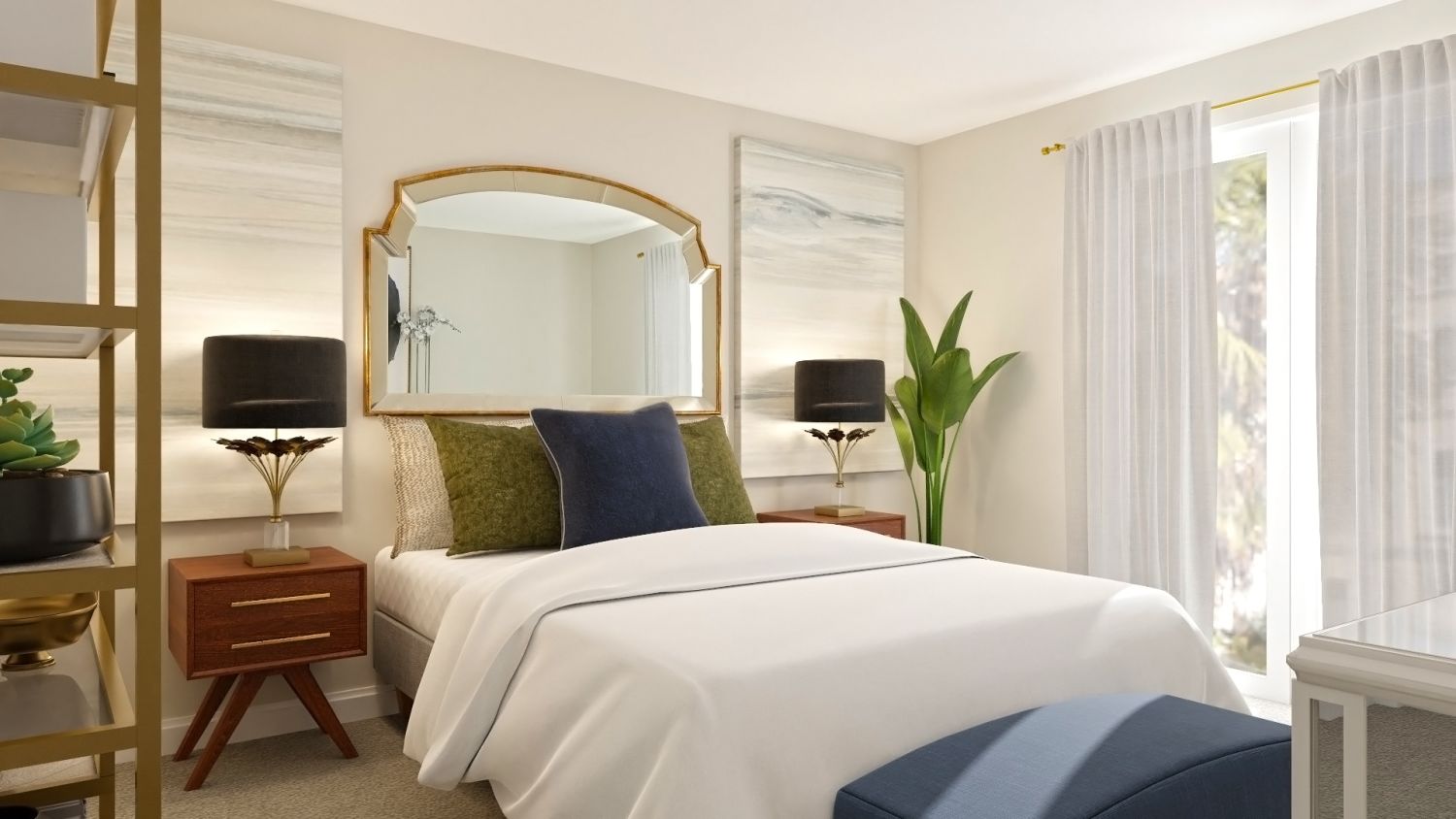 Instead of a traditional rectangular headboard, try out a giant piece of art, like Urban Outfitters' Palmera Fan Headboard or a rectangular mirror. It will give you the effect of a headboard but won't take up any floor space in your room. The best part? The only skill you need to make this DIY headboard idea a reality is to hang something up with a nail or two.
4. Try a DIY Cushion Headboard
Photo credit: diycraftsy.com
For a comfy headboard that's easy to use and takes up barely any space, this DIY project is a win-win. The best part is this headboard serves as the perfect spot to rest your head while sitting on the bed too. 
 You'll Need:
2 floor cushions (or more for larger beds)

Copper pipe

Faux leather

Needle and thread

Knife

Nails

Tape measure
How to Do It:
Cut 4 strips of leather and fold them in halves; hand stitch to sew the strap onto the edge of the cushion.

Repeat the same step for the other cushion

Loop the copper pole to the leather straps

Secure the leather straps to the wall using small finish nails

Done! 
5. Use a Tapestry or Hang a Blanket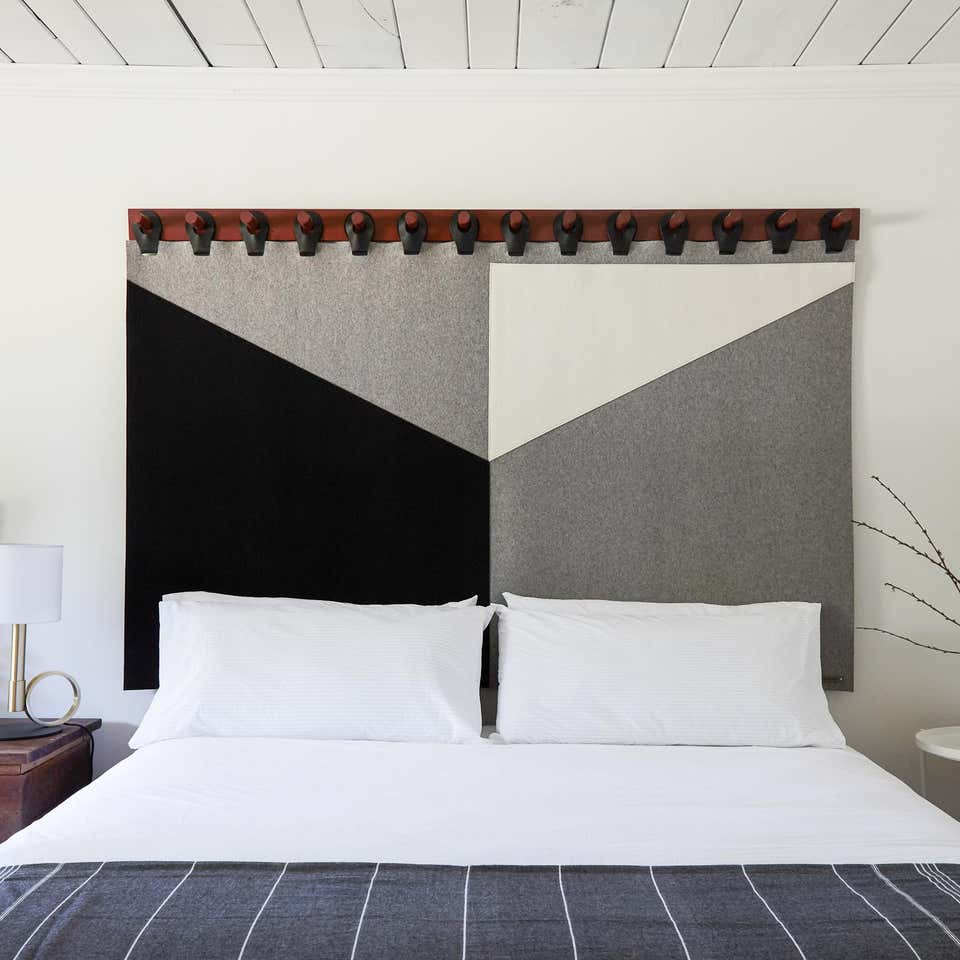 Like a piece of art, a tapestry can have a headboard effect and simultaneously act as art on the walls. Depending on what type of tapestry you choose, you can add texture or a pattern to your wall to lead the eye up. This purchasable King Range Wall Tapestry is an excellent addition to a modern bedroom.  Browse around at your favorite market or online sources like Amazon to find a tapestry that suits your style. We particularly love this idea for larger king-sized beds to add the perfect amount of drama to the room.
6. Make a Plywood Headboard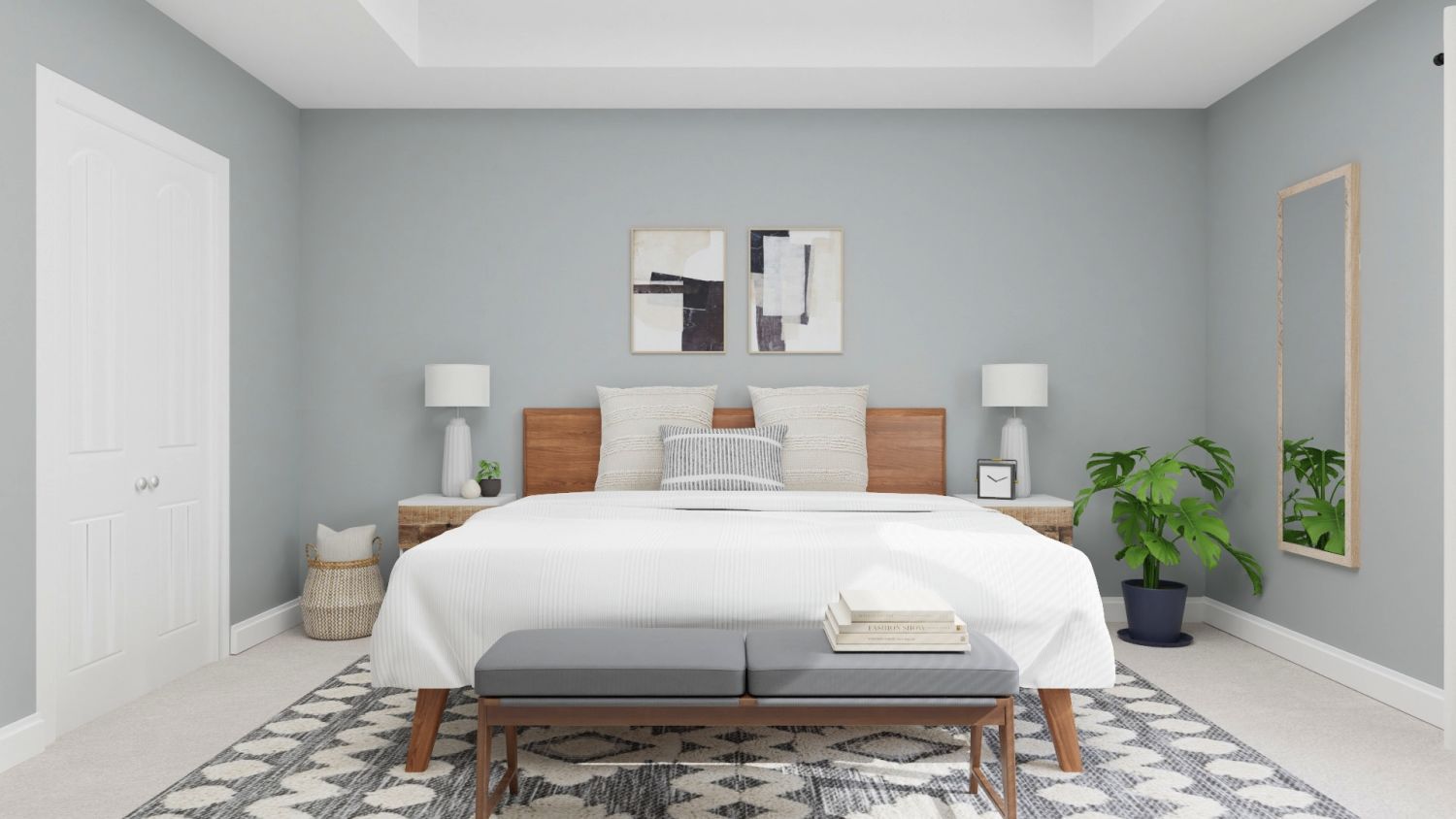 If you're a frequent Home Depot customer, chances are you've taken a peek at the plywood section. You can get a massive piece of plywood for not too much money, and you can leave it raw and unfinished for a more rustic vibe. If you want to make it feel more personalized, sand it down and paint it a color of your choosing. And if you're in the mood for a giant project, you can DIY your own tufted headboard without having to sew. Check out this video for a tutorial.
7. DIY Wood Headboard
Just 2 hours can give you this trendy Live Edge Headboard from Classy Clutter, perfect for your rustic modern bedroom. It's great for rooms that may not have a lot of space and where an asymmetrical design may be needed. You can find this easy DIY headboard here.  
8. DIY Mirrored Headboard
Photo credit: diycraftsy.com
For a glam bedroom look, this mirrored headboard will hit all the marks. It looks fantastic in feminine, glamorous, eclectic rooms that want to add a special touch.
You'll Need:
A mirror

A wooden board

Velvet fabric

Primer

Jigsaw

Mirror glue

Nails

Screws

Clips

scissors
How to Do It:
Put primer on the wooden board and follow the instructions for drying

Draw the shape of the mirror on the board and cut it using the jigsaw

Coat the board with mirror glue and put some clips to hold the mirror and the board in place. Let it dry overnight

Nail the wooden planks beneath and at either side of the mirror for support

Use the velvet fabric to border the mirror and protect the edges

Finally, screw the headboard onto the wall 
9. Paint a Chalk Headboard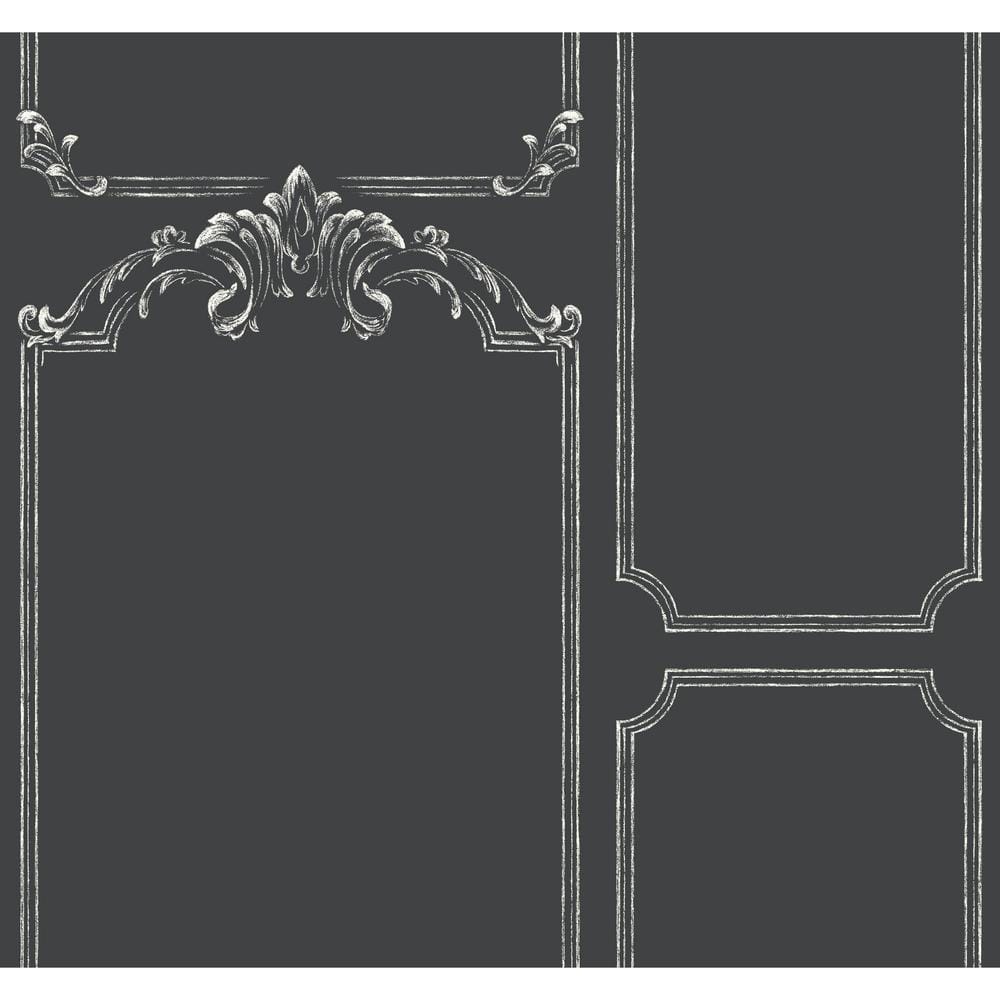 All you'll need for this headboard is a bit of wood, leftover chalkboard paint, and your creativity. You can choose whatever shape you want for your headboard, or if you want a more permanent solution, you can paint straight into your wall. What matters here is your creative self. Chalk headboards allow your creativity to flow, providing the freedom to change your bedroom every weekend. If paint or a wood headboard seems too much for you, consider using removable wallpaper. We love this one from the Home Depot to give you some sort of design even when your creative muse isn't showing off. 
10. Use a Rug as a Headboard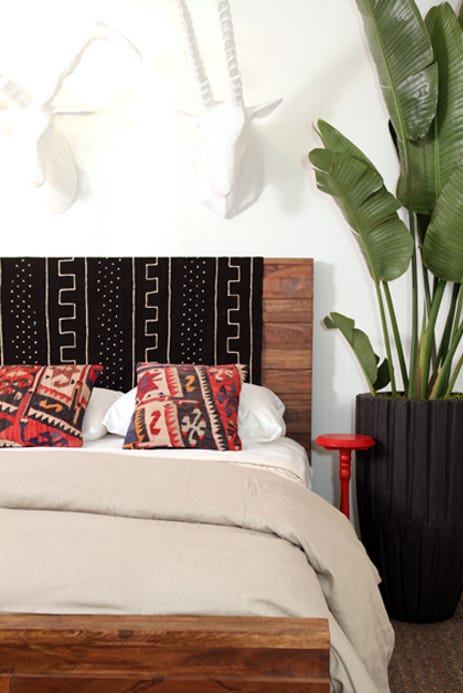 Source: Kishani Perera
If you already have a wood or metal headboard, but you feel it lacks personality, why not throw a rug over it? Your rugs don't have to be resigned to the floor. Simply draping one over a wooden headboard can create an incredible design detail that you can even change with the seasons. We love this design idea for mid-century modern bedrooms or for those who like a more minimal design style.
Make sure to pick one that's lightweight so it will actually drape over your headboard. We love the Ikat Mix Belgian Flax rug from West Elm for this job. The striking pattern and the playful colors will bring the most out of the space and work as an accent element in your bedroom decor without feeling too overpowering. Even if you don't have an inch of DIY inspiration in your body, this easy-to-do headboard is impossible to resist. 
11. Metal Headboard DIY
Photo credit: diycraftsy.com
If you love the industrial and thrift look of metal headboards, this project is for you. With a few materials, you can turn old metal pipes into a beautiful headboard. 
You'll Need:
Old metal headboard

Metallic paint

PVC pipe

Black zip ties 
How to Do It:
Place the iron bed frame on a cloth

Use the metallic paint to refinish the old headboard

Use a PVC pi[e and zip ties to fit the headboard on the top of the bed, you can hide the pipes behind the bed
12. Try Panels as a Headboard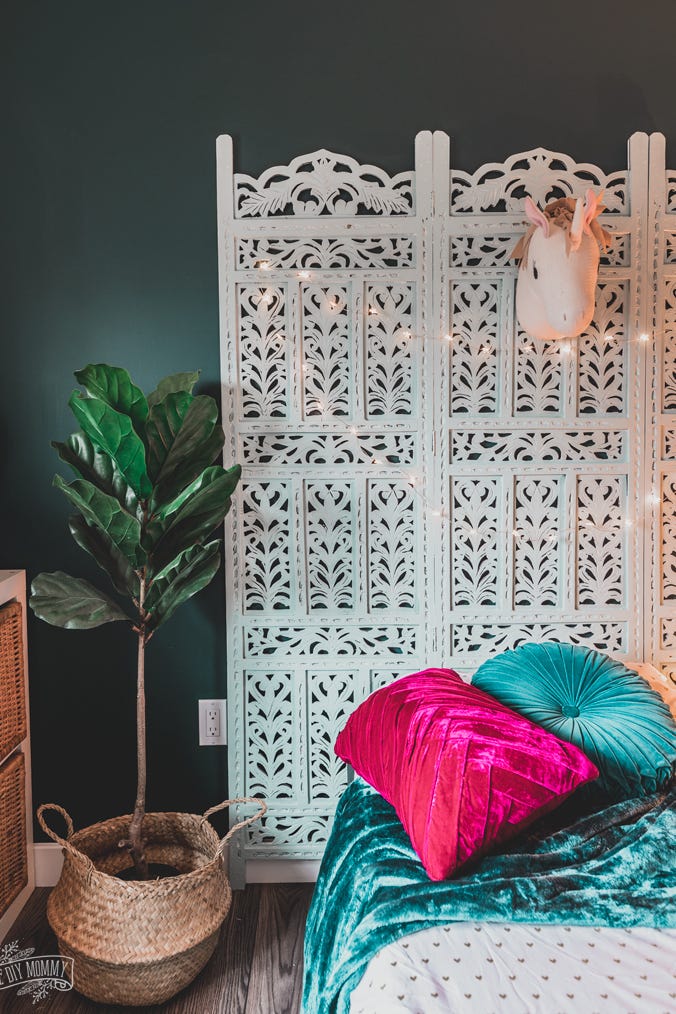 Source: The DIY Mommy
We're so used to the idea of what a headboard looks like that we often limit ourselves. It's time to think outside of the box with different solutions. A whimsical vintage screen can create a headboard with plenty of character. This idea can be perfect for adding some magic to a kid's room or incorporating fairy lights. They can also be a cute addition to a guest room to add texture and an intriguing element to the space. Old vintage doors, window panes, and other vintage items add the same amount of character and charm to your bed. 
Wherever you place this headboard will make a long-lasting effect in your home decor. Plus, you don't need to be an expert in arts and crafts to do this easy DIY project. Get the full tutorial here. 
13. Trick Everyone Using a Wall Decal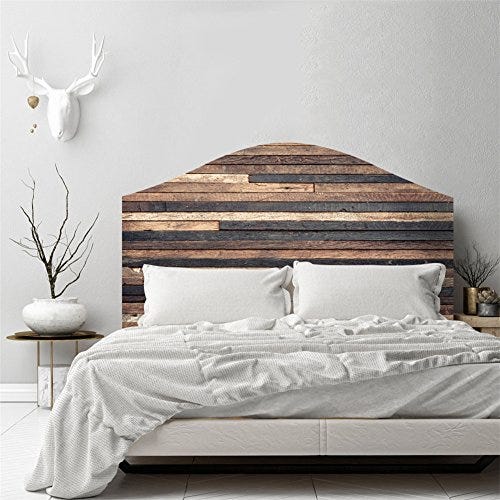 Alright, this might be cheating a little bit, but it's worth the mention. Although this isn't a DIY project per se, from afar, it certainly looks like one. Forget about staining wood or sanding your new headboard. With this wall decal from Amazon, all you need is to peel and stick your modern headboard. 
A wall decal is an excellent option for those living in rental apartments that don't have the luxury of more permanent solutions. These are also great for small children's bedrooms as they change their minds about their style and bedroom themes so often. Instead of going to great lengths to change your headboard game, you can peel these off and change them for new ones. How easy is that?
14. Make a Macrame Wall-hanging Headboard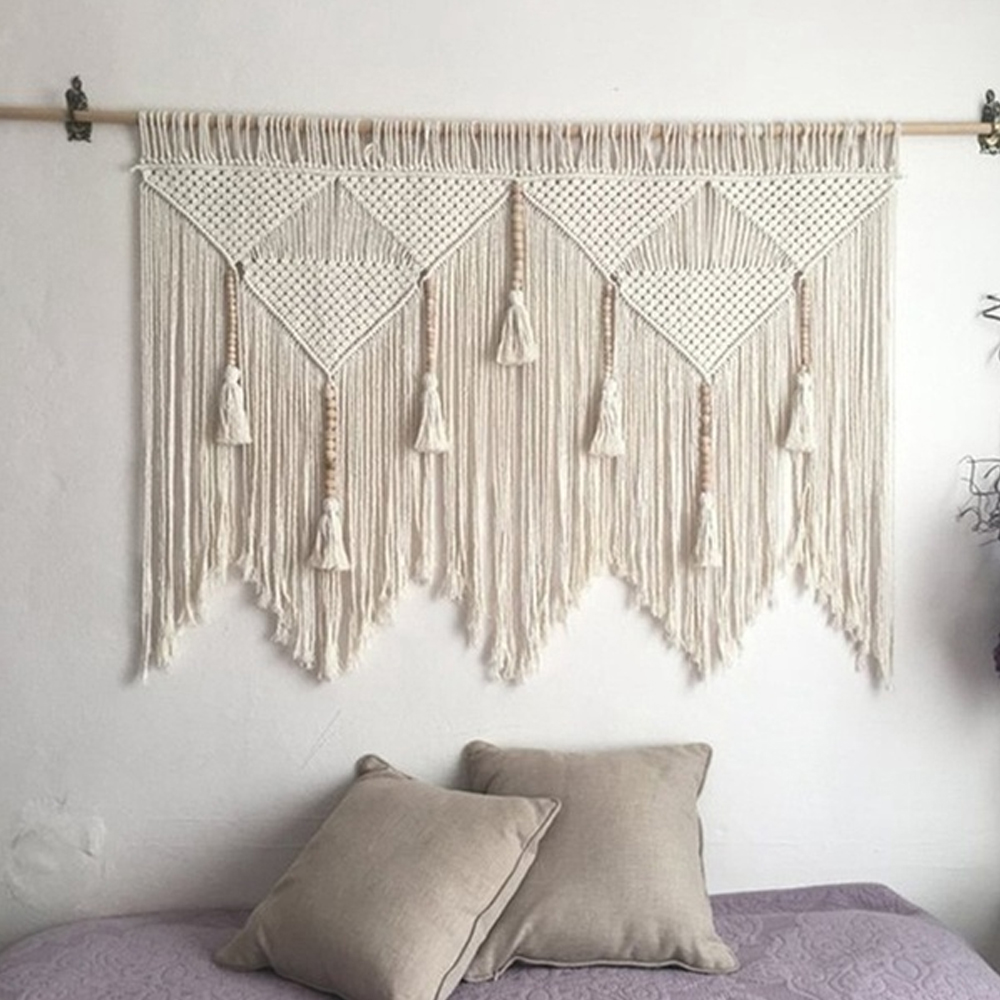 Maybe you know how to do macrame, and you're willing to go all-in in creating the perfect macrame hanging piece for your bedroom. But, for the rest of us with not so gracious hands, the Macrame Wall Hanging Tapestry is ideal for this DIY project. All you need to find is a simple curtain rod to hand your new boho tapestry behind your bed. Make sure to position it in a way that will showcase the whole tapestry but that it's low enough that it doubles as your headboard. It's an easy one-day DIY project that will instantly transform your bedroom. Plus, whenever it's time to move, you can bring your new headboard with you anywhere you go.
15. Use a Photo Print to Bring Some Art
Photo credit: themerrythought.com
Are you a photographer? Is there an image that you absolutely love? Why not make it your headboard? This is an easy DIY project that you can finish within an afternoon. 
You'll Need:
Plywood

Your printed photo

Hot glue gun

ModPodge
How to Do It:
Get your picture sitting more printed at the preferred size

Have the plywood cut at a similar size to the photo or a bit larger if you want the plywood to show through

Center your print on the plywood

Use the hot glue gun to trace a thin line under each edge of the print

Use the ModPodge and a paintbrush along the edges to seal the print in place

Let it dry and screw the plywood into the wall
Frequently Asked Questions
When you attempt a DIY project, you're bound to have many questions on whether this is the best way to dress up your bedroom. Here are some frequently asked questions about making your headboard. 
How do you make a homemade headboard?
Making a headboard is very easy to do, as most projects involve easy steps requiring much technical knowledge. It just takes a little labor. Check out the many ways to make a homemade headboard above. 
How do you make a cheap headboard?
Most DIY headboard projects are cheap to make and fall under the $50 threshold. You can hang a textile, draw on the wall, paint half the wall, drape a throw, or secure a pillow to the wall to make a homemade headboard.
What is the best wood to make a headboard?
To make a headboard, the best wood you can choose is plywood. First of all, plywood is a very lightweight material that's easy to use and cut without needing hefty tools. It's also less expensive than hardwood. 
How can I attach a DIY headboard to my bed frame?
Ideally, you want to create a free-standing headboard that does not require attachment to the bed or wall. If you're going to attach a DIY headboard to the bed frame, odds are you'll need to screw the wood or headboard directly into the bed frame using screws and nails. 
Let's Create Together
Start your Design Journey with Spacejoy Home Interior Design App
If you like these DIY headboard ideas and want to bring them to life in your home, or design your own perfect living space, start a project on Spacejoy. You will receive unlimited access to an expert online interior design team who can translate your vision and guide you to your perfect room design. Our unique technology allows you to view your room in 3D and interact with your design. Move and swap the products with a touch of a finger to see the unlimited possibilities. Our team will also curate a shopping list for you with handpicked products to suit your budget and your style that you can shop right away on our platform. Your dream bedroom is now one click away. Click here for pricing plans.