Home Office Design Ideas
Home Office Organization Ideas That Puts The Fun In Functional!
Let's get real. Home offices can look pretty dull. You've got a desk, a chair, your computer, and probably not much else. But, there's no rule that says your home office needs to remind you of the greys and taupes in those mundane corporate offices you've grown accustomed to seeing. In fact, your whole home office setup can be a sanctuary of productivity and efficiency. It can be just as cute as it is practical — an escape within the confines of your home. Whether your home office is just a tiny corner in your living room or an entirely separate room, here are some of the best home office setup ideas to help you get situated.
Find The Perfect Spot!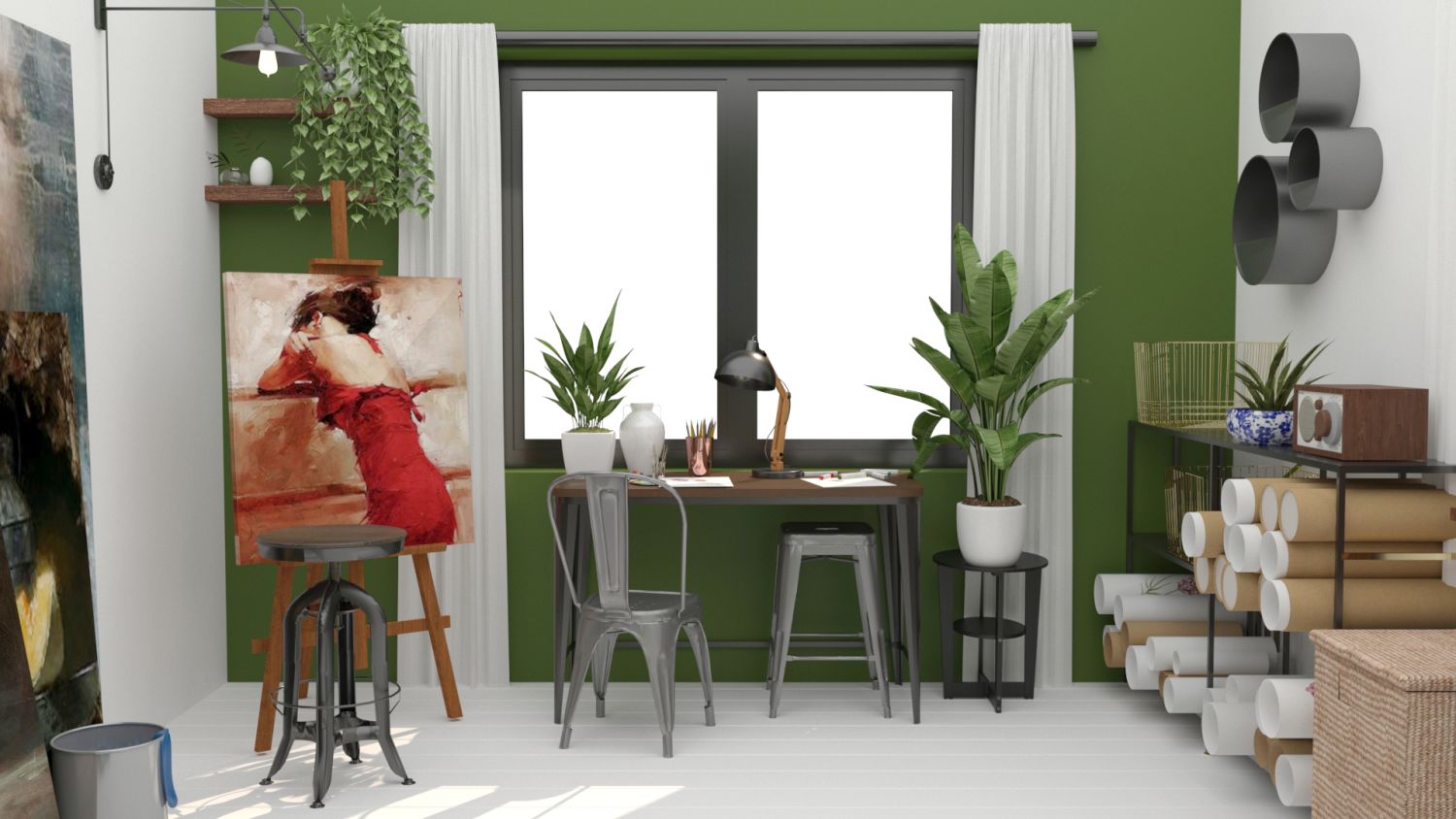 Like real estate, the only thing that matters while setting up a home office is location, location, and location! You probably already have a spot in mind as you're reading this. Only you know the best place in your home, all you have to do now it set it up! Moving your desk in front of a window with a pleasant view is one of the best things you can do. You can get out of a midday slump by taking a break and enjoying the view. Natural sunlight is also known to brighten up your space and your mood instantly! But, if that's not an option, you can always decorate the wall in front of you with your favorite pictures and paintings, so you have something to look at when your mind wanders! That's how we set up the home office in our Eclectic Design Art Studio.
Customize Your Walls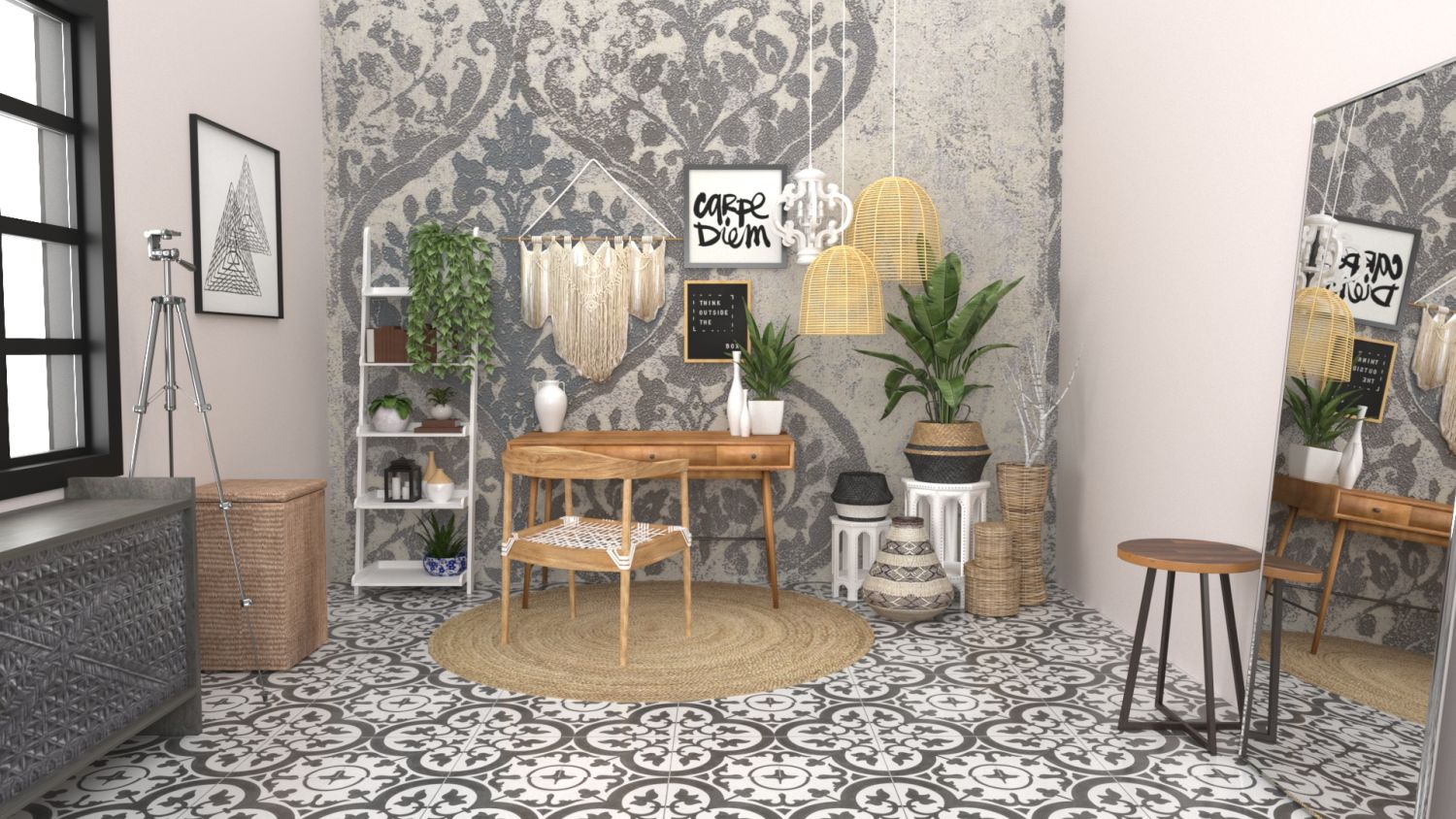 You'd be surprised to see how wall decor can completely transform the vibe of your room. Walls can make or break the decor of a room. So, make sure you're ready to put plenty of time and effort into this project before you take it on. If you prefer vintage pieces, you can pick some unique pieces up at a local flea market to build a contemporary gallery wall. You could also order custom prints on Etsy, put up your own paintings, or DIY some wall hangings. There is no shortage of home office ideas when it comes to wall decor! Another excellent home office organization idea is to give your space an accent wall. Beige is out, bold is in. A brightly colored accent wall could come in especially handy if you're in a windowless room. When you inadvertently need a pick-me-up while working, your favorite color will be right in front of you! 
Get Organized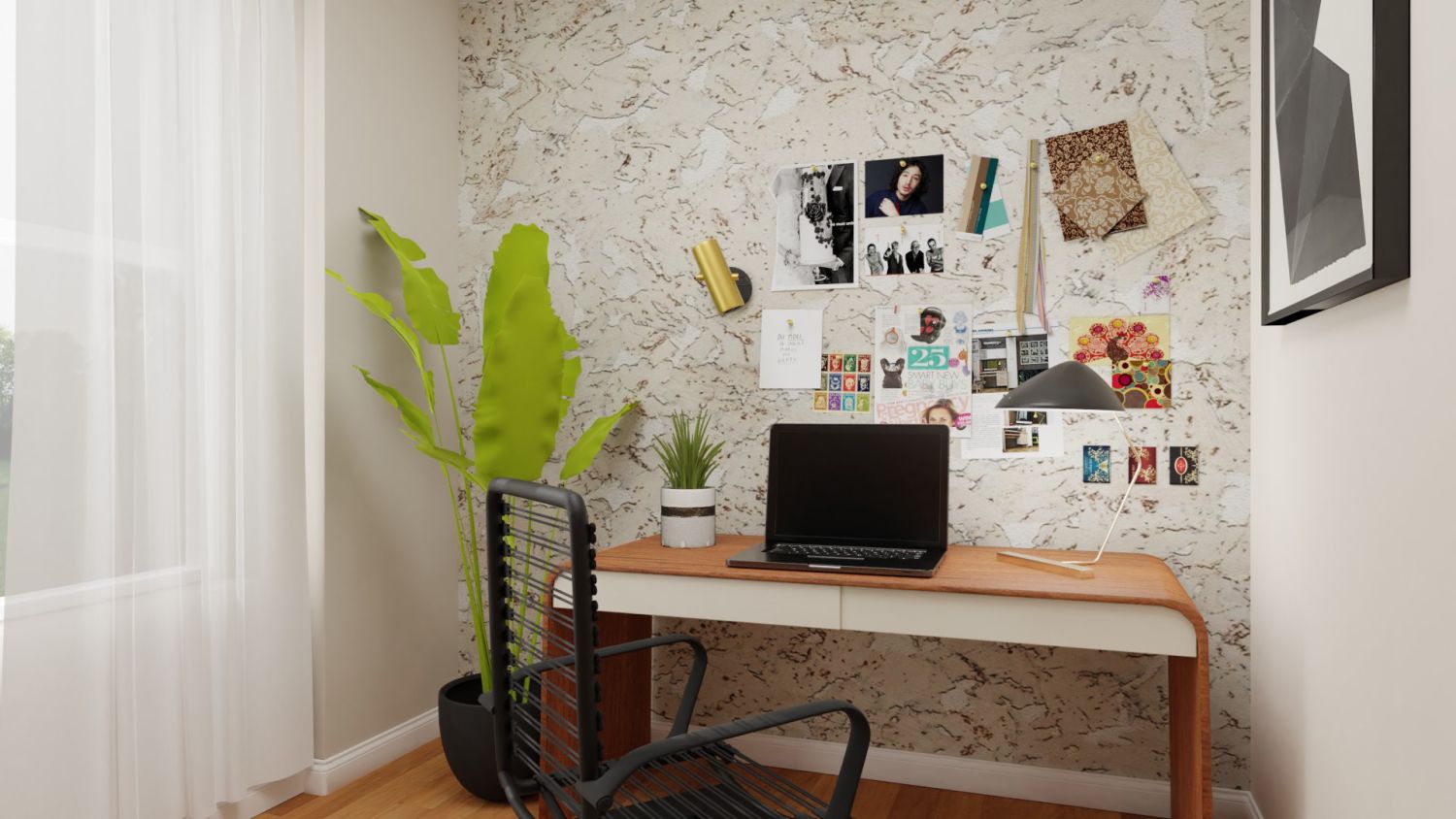 Want to know how to organize your home office? Easy. Organize it. We know, we know — keeping your desk organized is way easier said than done. But, did you know your productivity can be significantly improved by something as simple as filing away your papers in a more orderly fashion? Invest in those cute matching office supply sets and tabletop organizers for your desk. We also recommend getting yourself a chord organizer so you don't have to spend the extra five minutes untangling this from that. Making sure there is a place for everything is paramount. A clutter-free desk equals a more organized mind! 
Rules Of Ergonomics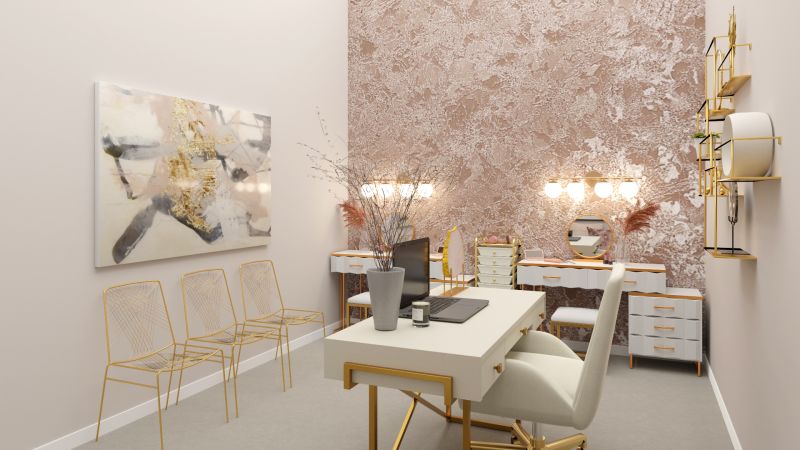 The best home office setup is an ergonomically sound one. Here are a couple of tips to get you started! Experts recommend that the top of your laptop/computer screen be at eye level or slightly lower. As your eyes travel down from the top of the screen to the bottom, it will naturally close a little bit and moisten your eye, which will eventually reduce eye fatigue. Another great tip is to position your keyboard in such a way that your forearms are parallel to the ground. Pick an ergonomic chair and set it up at least a foot away from the screen. An essential factor to consider while buying your office chair is to ensure that you can adjust its height. You should have your feet flat on the floor, or a footstool (if that's more comfortable for your height). Splurge on a good chair that you love. It may be pricey, but in the long run, it's worth the investment. 
Make It A Multifunctional Space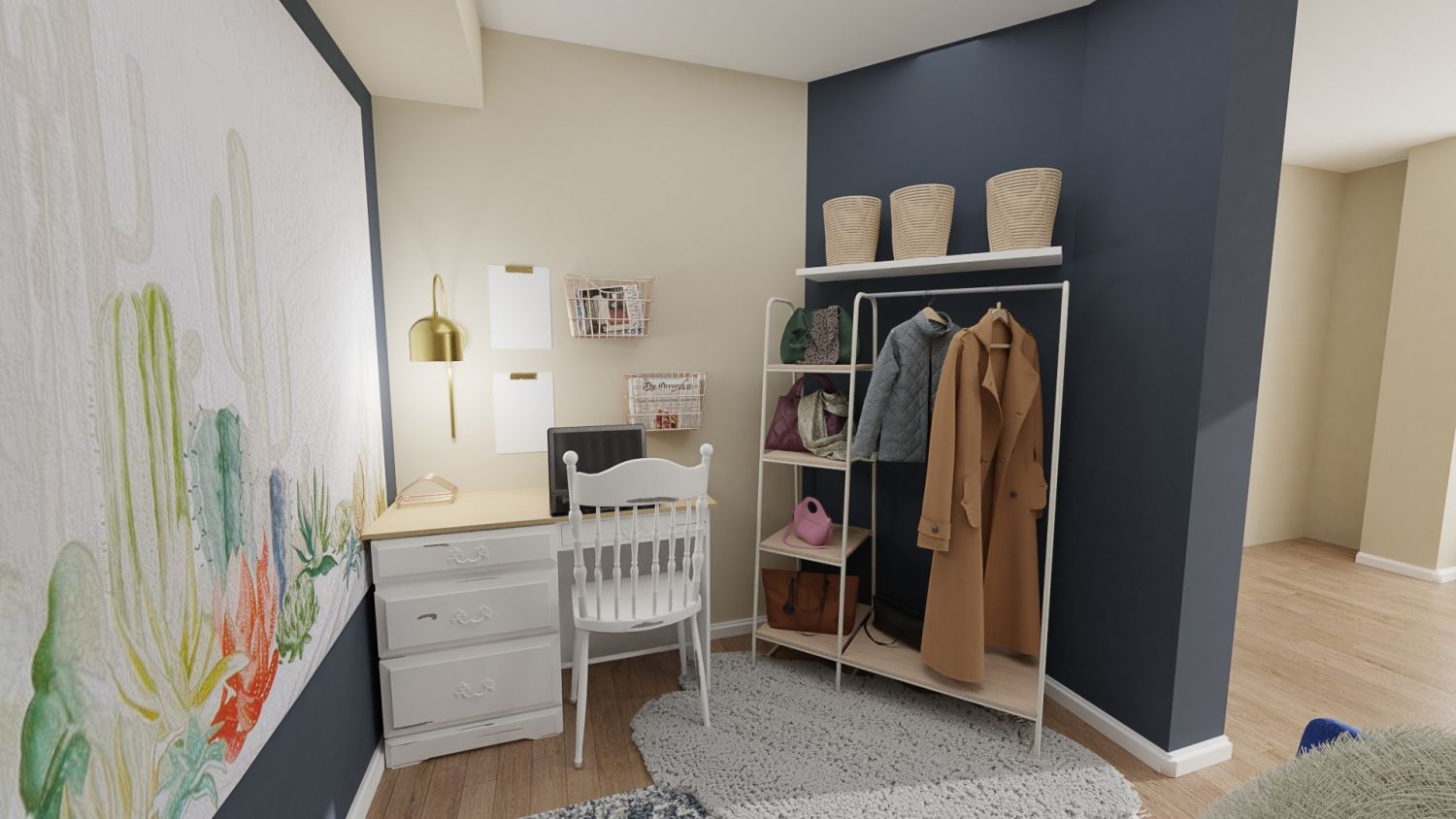 You don't have to make your home office setup an exclusive work-only space. You'll be more inclined to spend time there if it serves multiple purposes. You can add a separate table to be a vanity area, store your clothes in the closet to make your whole office an extended wardrobe, add a lounge chair to turn a corner into a reading nook, store your crafting supplies in a decorative basket, and so much more. There are so many ways to turn your home office into a multifunctional space that adds personality to your work area. 
Use Vertical Space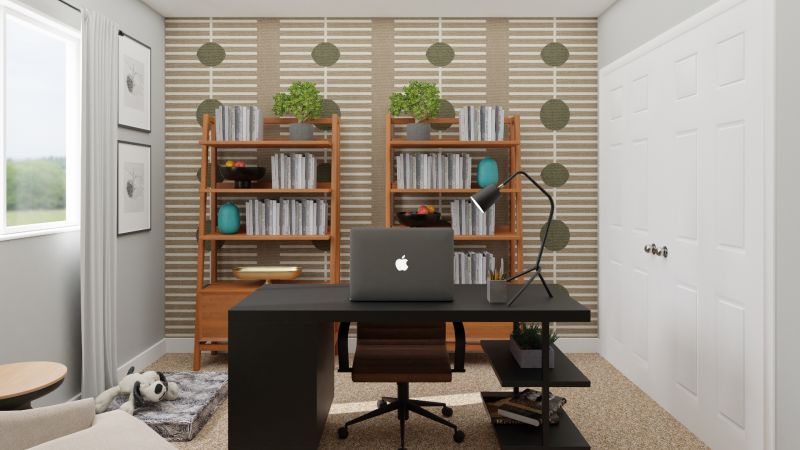 The biggest problem we've come across with home offices is that there's always so much paper everywhere! It's hard to get organized or even work in peace amidst all that chaos. So, our next really cool idea is home office wall organization! It's time to get creative with your shelves and storage. You can't have a home office without getting yourself some file cabinets, folders, and trays, depending on whether you're a filer or a stacker. Pick up some cute storage boxes and organize them in a manner that makes sense to you. Keep one or two paper trays on your desk for the paperwork you are most likely to reach for right now. You could even organize your things in magazine holders or library-style display shelves. If you really put your mind to it, an artful filing system can serve as an aesthetically pleasing backdrop on your virtual morning meetings! 
Personalize Away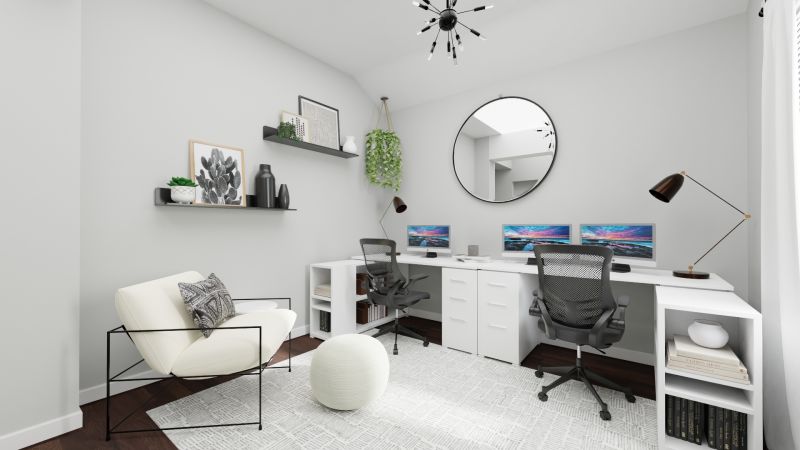 While everyone loves to personalize their office space at work, you can do so much more for your home office! We'll start with the easy ones. Putting up photos of some of your favorite memories with your favorite people is always a great idea, but if you don't change it now and then, it becomes like wallpaper. Be sure to switch up the photos once in a while so when you suddenly catch a glimpse of that picture, it still brings makes you smile! You can even place your favorite plants on your desk to breathe some life into your home office decor. The advantage of a home office is that you can even put up your vision board to motivate yourself. You could put up pictures of the things you want to buy, the places you want to see etc. There will be days when you need a little reminder of what you're doing all this work for! 
Whether working from home is something new for you or it's your regular full-time gig, try incorporating some of these home office ideas into your workspace. Not only will it look so much chicer, but just think of all the work you'll actually be able to finish. It's a win-win all around. 
If you like these office ideas and want to bring them to life in your home, or design your own perfect living space, start a project on Spacejoy to experience our online interior design service. You will receive unlimited access to an expert design team who can translate your vision and guide you to your perfect room design. Our unique technology allows you to view your room in 3D and interact with your design. Move and swap the products with a touch of a finger to see the unlimited possibilities. Our team will also curate a shopping list for you with handpicked products to suit your budget and your style that you can shop right away on our platform. Your dream office is now one click away. Click here for pricing plans.