Bedroom Design Ideas
Decor Ideas To Make Your Guest Bedroom Multi-Purpose
Guest bedrooms are quite the luxury, especially in today's day and age where maximizing on whatever space you have is the norm. However, if you're one of the lucky few with a guest bedroom to spare, it only makes sense to create a functional space for personal use as it will only be occupied a small percentage of the time. While guest bedrooms are generally smaller in size, we've got some great ideas on how to make the most of that extra space and maximize the layout for everyday use! We've listed down five alternative uses for a guest bedroom that work no matter the size. And we're sure you're going to love 'em!
Avail the Best Online Home Design Services on Spacejoy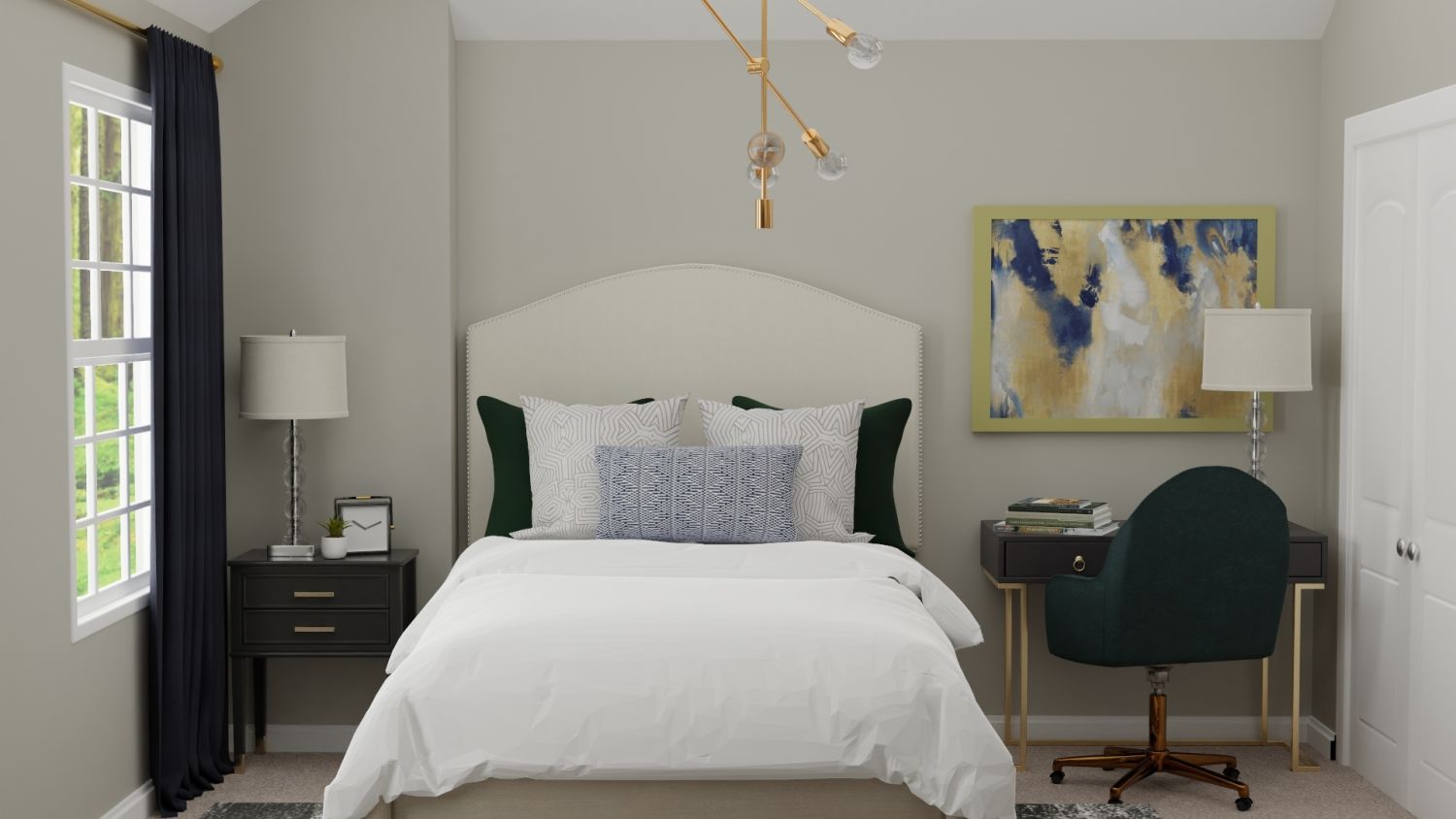 Spare Guest Bedroom Home Office
| | |
| --- | --- |
| | |
With 2020 being the year it has been, we've all been spending a lot more time at home. Everything from socializing with friends and family to getting your work done has moved online. And here's where your guest room can be a real lifesaver! All that extra space makes for an excellent home office. With distractions lurking around every corner in the rest of your home, it's difficult to get work done in other areas of your home that are considered more common, like the kitchen, the living room, or the family room. Additionally, there are countless trendy office furniture designs online to ensure that your workspace can seamlessly blend in with the existing guest room decor. A beautiful and highly-functional desk with lots of drawer space, like Living Space's Owen Desk in grey, boasts two storage drawers and one filing drawer to keep important paperwork and odds and ends out of sight. With a statement desk, comes the responsibility of getting yourself a kickass chair that knocks those stuffy and boring leather office chairs outta the park! The Pennell Task Chair from Wayfair does just that with absolute ease.  
Time to get to work!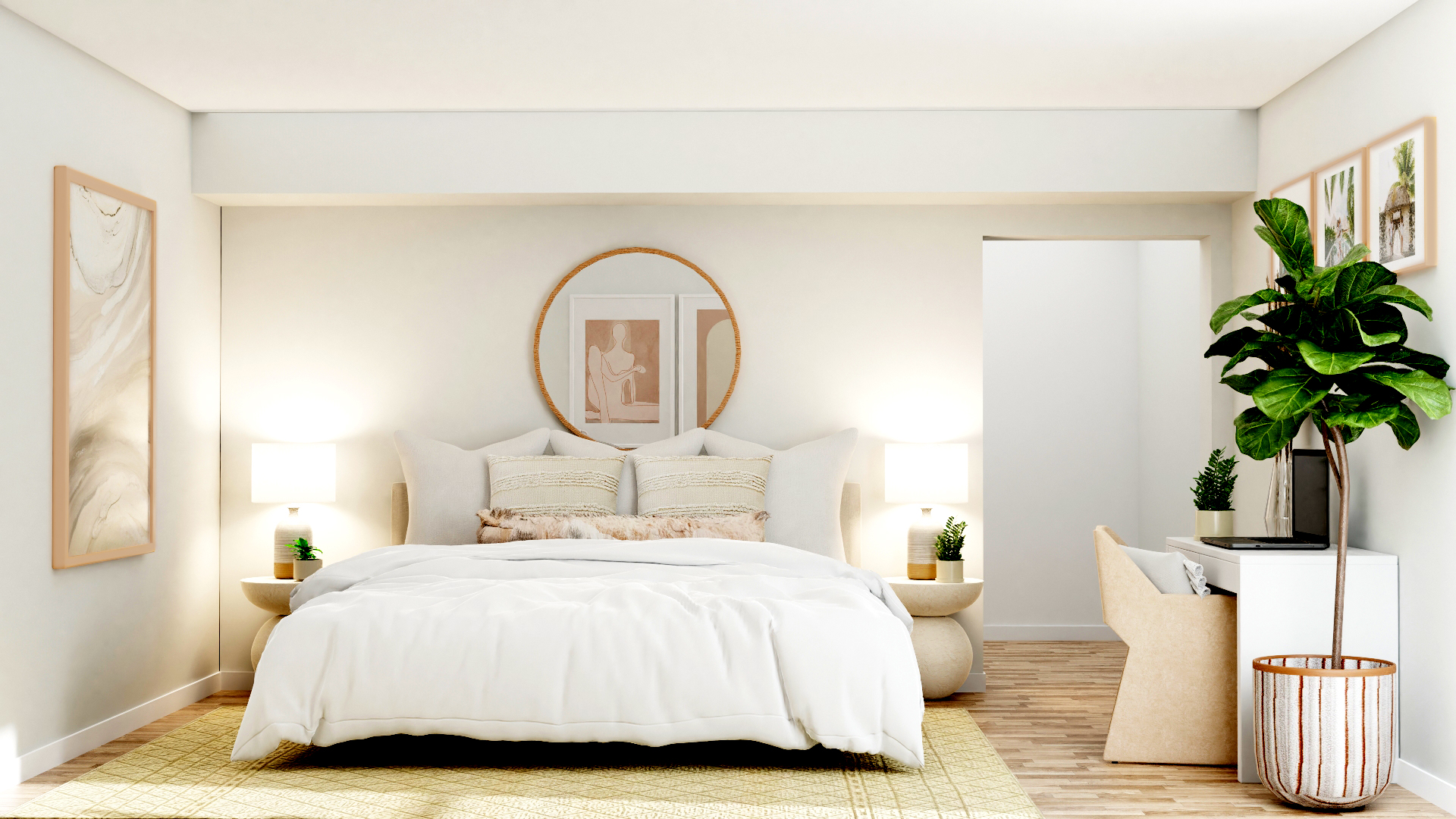 Show Off Your Book Collection With An At Home Library
IIf you're a book lover, a guest bedroom is an ideal place to showcase your collection of bound buddies. Not only does it add a stunning aesthetic to the room, but you may also inspire one of your guests to read one (or more) of your favorites. We think that'll make for great dinner-time conversation, wouldn't you agree? Coming to choosing a bookcase, this is a decision you shouldn't take lightly. You want it to be able to house all your books while elevating the style of the room. We are loving West Elm's Mid-Century Media Tower that does just that. This isn't your average shelving unit. You can display your books on top while storing extra linens or anything else you don't have the space for in the bottom cabinet and drawers. Multi-functional storage pieces are a great investment as they offer a unique benefit in small bedroom and guest room layouts. Not only is it narrow enough to fit in just about anywhere, but it also offers ample storage in the most space-efficient way.  Now that's what we call a double win!
Maximize Storage Space With Innovative Furniture
| | |
| --- | --- |
| | |
If you're pressed for extra storage space (let's face it, we all are, like 90% of the time), a guest bedroom is a great space to stow away all those extra somethings. This doesn't mean you need to compromise on the decor of your space, you just gotta get smart with the furniture you buy! With so many fantastic under-the-bed storage options, you no longer have to rely on flimsy plastic tubs that don't last very long or look aesthetically pleasing. We are totally in love with Wayfair's Neve Upholstered Storage Bed! This piece is a great example of how you don't have to sacrifice style for extra storage. The under bed drawers are a cool bonus feature in addition to the beautifully upholstered headboard with nailhead accents. Another great small guest bedroom idea is a free-standing wardrobe that can be easily added on to any existing closet space and maximizes all that extra vertical space in the room. This is an inexpensive storage fix for small spaces. There are tons of affordable options under $100 for wardrobes like these. We recommend the Kleppstad from Ikea, it is a great choice!
A Play Area For Your Furry Friends
Benefits to extra guest room space are not limited to just the hoomans — it can be a great place for your four-legged friends to spend some time alone! We don't like being around the same faces too much, we imagine our furry friends need their own space once in a while! Since it's usually the quiet area of your home, away from the hustle and bustle of the living room where everyone usually is or the kitchen where mom's busy as a bee, the guest room is a great alternative for a cute cat playground or a fluffy dog bed for your doggos and kitties to nap in. We love these Kitty City Stackable Pet Cubes that are aesthetically pleasing, stackable, and machine washable as an added bonus. What's more, when your guests arrive, these pieces are easily movable and stow-away-able too! They deserve a little special treatment every now and then, and we guarantee this will get you extra kisses and cuddles!  
With An At-Home Workout Space, You Won't Have Any More Excuses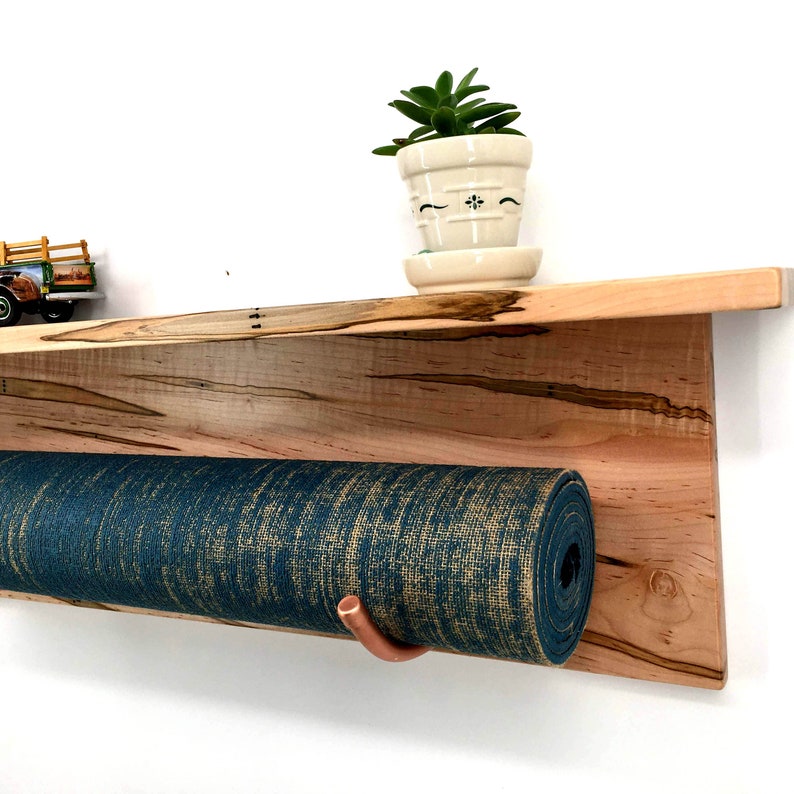 A standard yoga mat measures two feet wide and just over five feet long — which is all the space you need if you want to get a good stretch in. Once you're done with your workout, yoga mats are quick and easy to stow away. Just roll 'em up and put it away in the closet and you're good to go! Pro tip: they can even be used as part of your decor! Prop it up on a dual-purpose shelf and yoga mat holder like this one from FineWineCaddy on Etsy and it'll never look out of place! Another great workout add-on that doesn't take up too much space are small dumbbells. You could easily fit them into a desk drawer or store them away in your under-the-bed storage. All you'll need now is your workout clothes and some peppy music to get your heart rate up!
A Zen-scape From Reality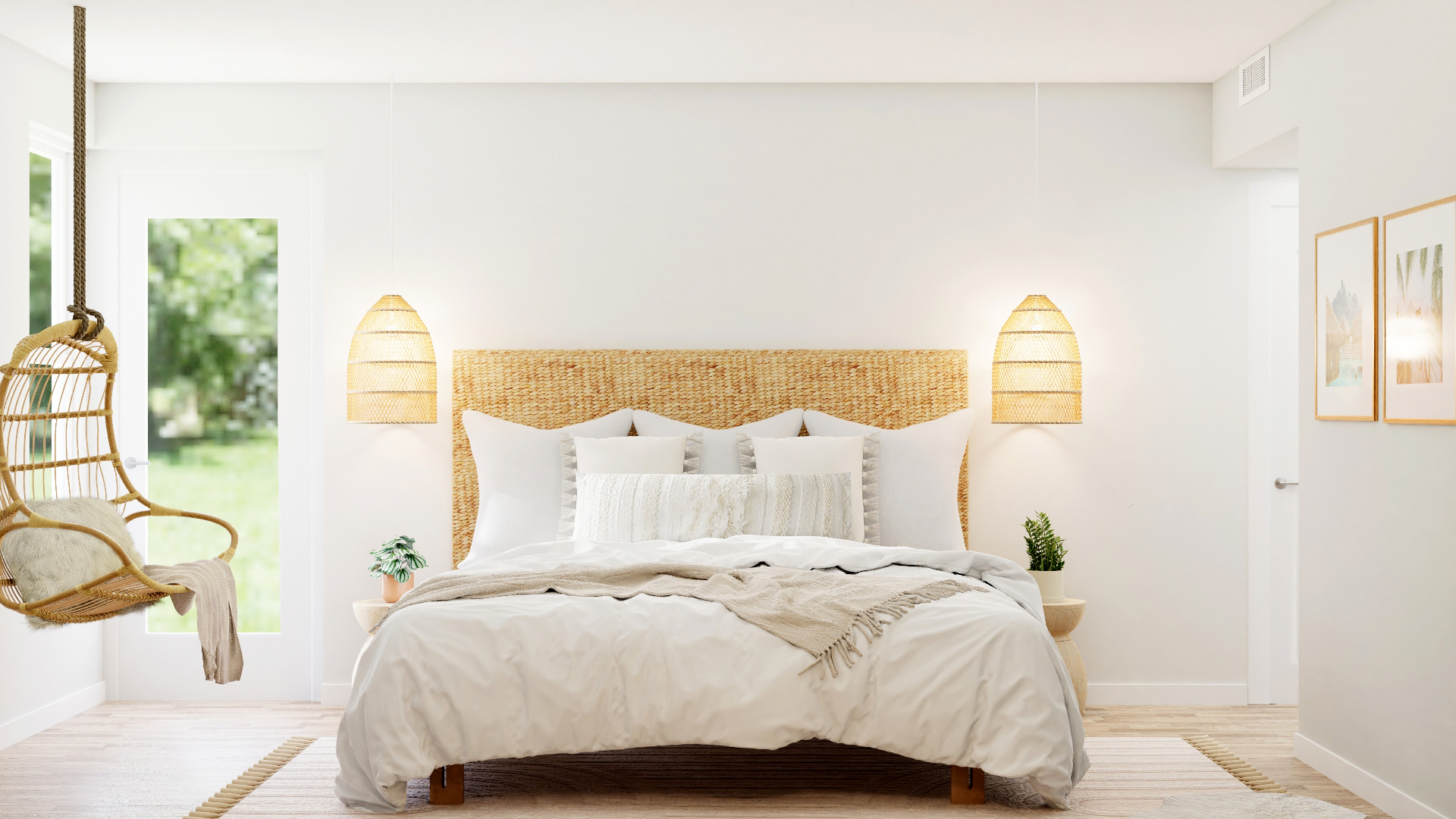 Considering all the time you've been spending at home, sometimes a pleasant change of environment is all you need to refresh your mind. Your guest room can serve as your little getaway space when not in use. Use your decor to create a calming environment. You can add in some soothing elements like houseplants, minimal decor, scented candles, and a music station. You can also ensure that the color palette you choose predominantly has whites and pastels to create a truly zen atmosphere. Retire here in the evenings after work with a cup of chamomile tea, light a few aromatherapy candles, and maybe even play a few of your favorite songs. Create a space where you can truly let your mind and body unwind after a long week. An added bonus is that you don't have to change much when your guests arrive. We're certain they'll benefit from this space just as much as you have!
Check Online Interior Design & Decoration Services Now. Visit SpaceJoy.com
 We'd love to help you maximize your guest room space! Connect with a Spacejoy designer to start your project today. You'll receive unlimited access to one-on-one design advice and see your room in 3D. Our team of expert designers will help you make the most out of your guest bedroom- whether it is a small bedroom design or large. 
Similar Picks
Related designs for you
Categories
Explore other categories