Style and Design
How To Decorate Your Mantel For Spring

Whether it is for the holidays, spring, or fall, the urge to redecorate your mantle becomes quite irresistible. It's an easy-to-do project that offers a place to showcase eye-catching pieces and decorative statement items that you have collected. Adding a seasonal twist to your room is a great way to keep your space fresh for yourself, family, and friends. Since Spring has arrived and re-decorating is on our minds, we're here to provide mantel decor ideas for you.
Decorate your Room Online on Spacejoy
Here is How You Can Style Your Mantel with a Television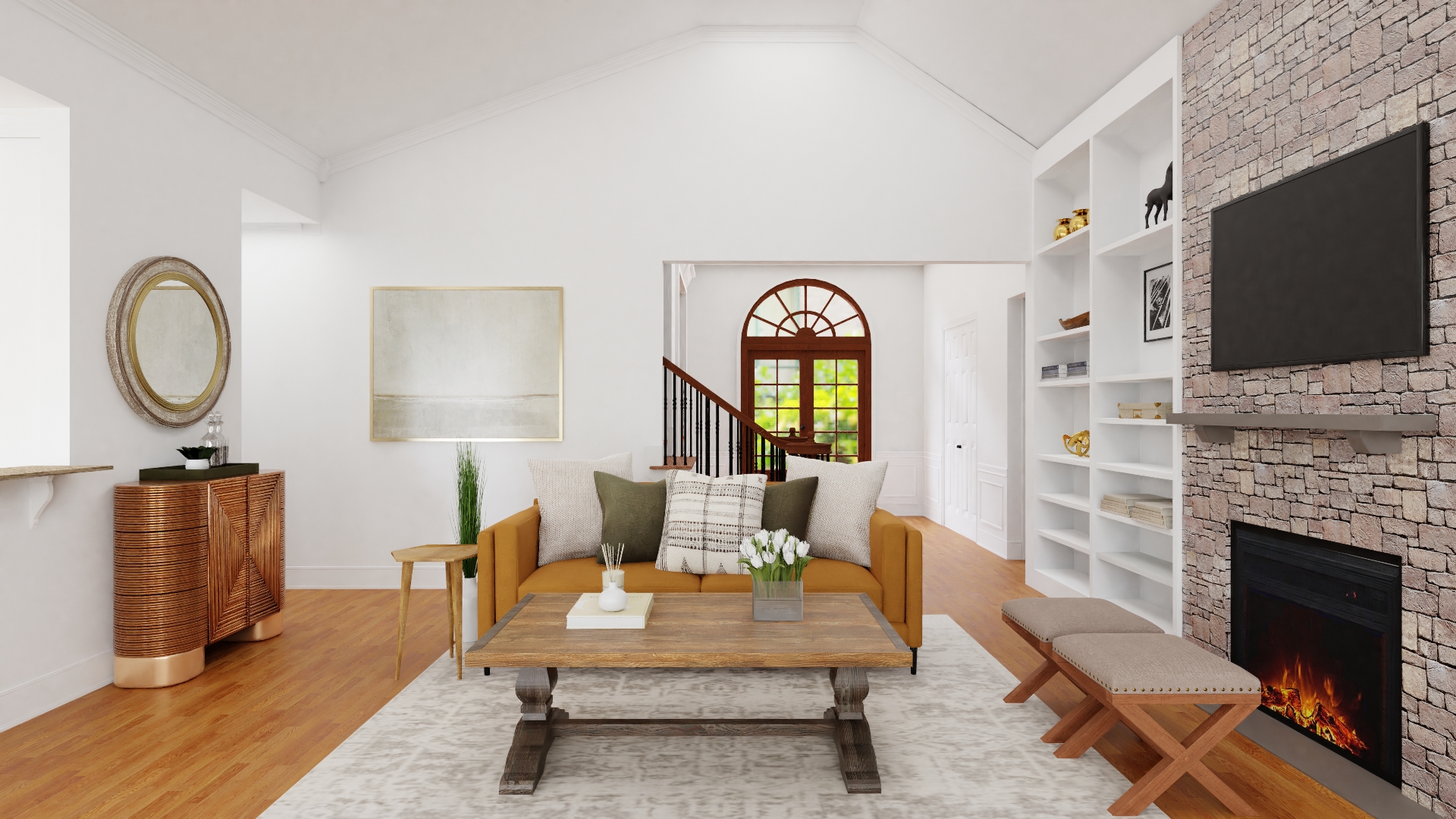 Don't be surprised that our first suggestion is a bit different from what you may have expected. We love a practical design solution and in many homes, mounting a TV over the fireplace is just that. A fireplace creates a natural focal point in the room, and mounting the TV over a fireplace not only frees up floor space for other items but helps keep the focus on a beautiful accent in the room. Jazz up this option with decorative trees to balance height, baskets with throw blankets, or candle holders next to the fireplace's bottom. If you are concerned about how high a mantle may be for mounting your television comfortably, consider measuring it. A comfortable viewing angle for a TV above the fireplace is about 60-70" from the ground. If you have to tilt your neck up too high, the TV is too high and you may want to consider an alternative placement.
Your Personal Art Gallery
You know all of that art you've been diligently collecting for years? This is a great solution to display that art and add a great decorative touch to the room. A simple wooden shelf fixed over the wall can add a significant impact to the design. Either display just a few statement art pieces there or layer it with frames of different sizes. Want to enhance the design further? Dress up the rest of the room by adding in a cozy nook for reading, intimate conversations, or for when you crave some alone time to gather your thoughts.
Take a Minimalist Approach when Styling Your Stone Fireplace
Round up your favorite vases of different sizes and stack them on one of your fireplace mantels. Add fresh flowers to one of the vases and voila! If fresh flowers aren't your style, easier to maintain options like succulents or air plants are a great choice as well. An even easier care option is to add faux plant cuttings like a Fiddle Fig leaf stem or a giant monstera leaf. But don't worry. Your minimalistic approach can still make a lasting impact. If you have the room, choose a large statement mirror that creates a focal point and also makes your space seem more spacious by capturing more light. 
Set Up a Faux Mantel
You don't need to have a fireplace to have a mantel; solid shelves are a great substitute. Find a spot in your home that needs a bit of sprucing up and build your set up with a simple floating wall shelf for a high table. Vases with or without flowers, planters, art, candles, figurines, and mirrors are all useful accessories to add here. When in doubt, always start by adding a large statement piece like art or mirror and work your way around it. Usually, bases and planters can complement the statement piece on the sides, while smaller pieces like candles or decorative elements can go by the middle. 
Styling a Rustic Style Mantel 
Break out all things glass - funnel mouthed storage bottles, coir edged glass holders, terrarium bowls, and a whole lot of fresh florals and colorful wreaths to amp up the farmhouse vibe. This style makes a bold statement, so channel the same feeling throughout the room. This seasonal style adds a statement touch to the space. Use fresh flowers to add a spring scent throughout the room or faux blooms for less maintenance. To really bring this style to life, make sure to add in rustic wood accents and contrasting bronze or black metal pieces. This will add the Joanna Gaines touch, that so many people desire. 
If Boho is Your Style, Here is How To Style Your MantelCreate a timeless Boho Display
While unconventional, wall baskets can be a more permanent backdrop for your fireplace wall. These handcrafted Wall Baskets from West Elm can instantly glam up your mantel without having to worry about mix and matching different decor accessories. You can always add a vase with or without florals and family photos to the mantel to complete the look. Boho fireplaces really come together by focusing on adding natural textures (like the jute baskets above) and pops of natural greenery.
All It Takes is a Garland
Sometimes you don't have the time or the budget to create this elaborate mantel design. To transform your fireplace in seconds and without much effort, we suggest using a floral garland. While it might feel like cheating a little bit, throwing a flower garland over your mantel will magically transform your room. It adds an organic feeling in and it's been proven that greenery (whether faux or real) helps improve your mood (double win!). You can always add other decorative accessories like a tabletop letter block or a set of flameless candles to complete the look.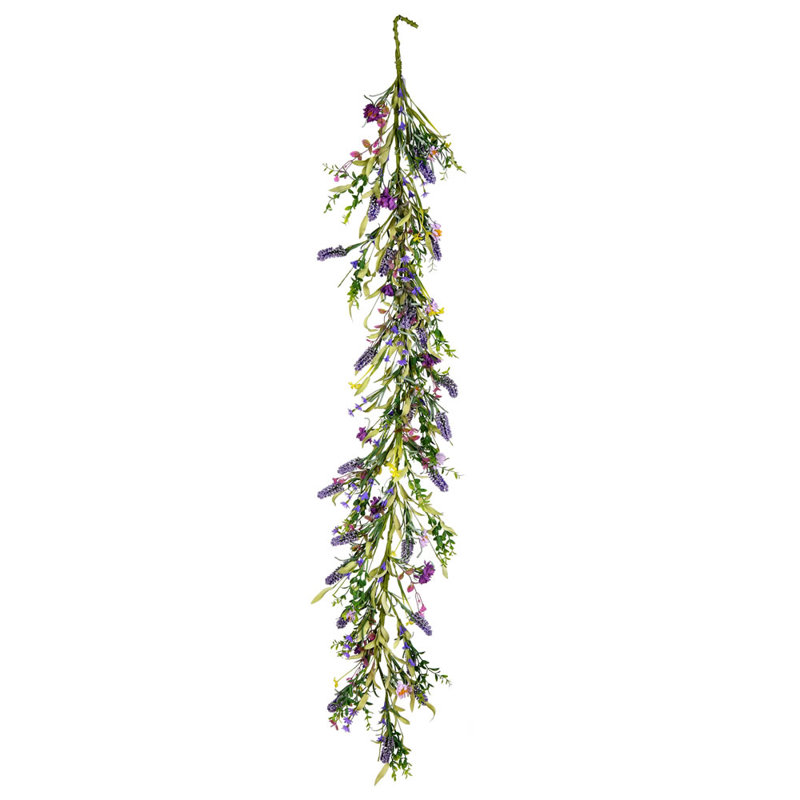 A Blossoming Mantel
Source: This Mamas Dance
If you're lucky enough to live in a city where flowers bloom everywhere in Spring (or in a city with an amazing florist), then take this opportunity to bring the outside indoors. Choose your favorite blossoming flowers and incorporate them into your fireplace by creating a miny mantel garden. We love tulips for this, since they are easy to find in varying heights and colors. You can ground this design idea with a  wooden mantle decor tray that serves to fit your flowers and also doubles as a decorative element. Don't be afraid to mix and match different styles, repurpose old Mason jar glasses you have in the kitchen, or even use your favorite vases or drinkware pitchers to double as vases. Combining different elements will add more depth to the space and create an intriguing collection over your mantel. 
Create a Modern Mantel with Few Pieces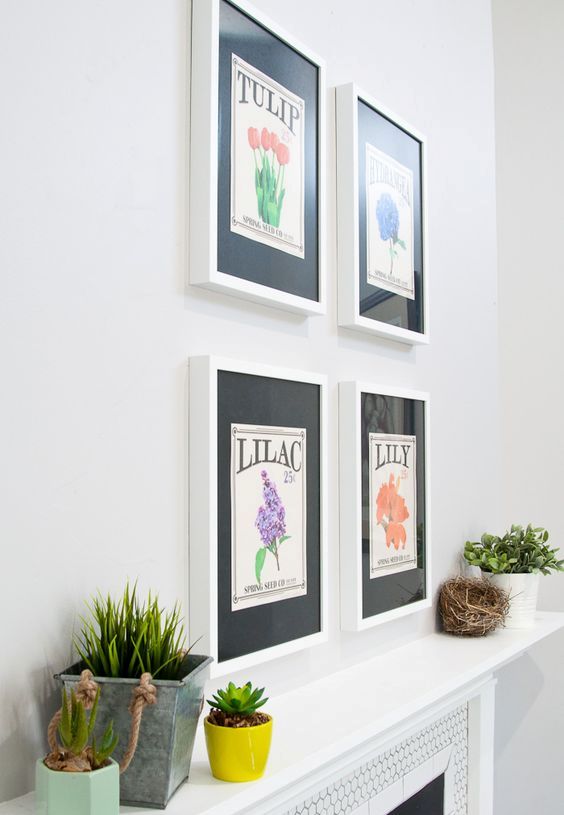 Instead of over-filling the area over your fireplace, consider this simple modern spring styling idea. The retro botanical posters will work as the center of attention as you build around this statement art set. You can add potted greenery and succulents to the sides to add more color and make the area look more warm and welcoming. You can always substitute the botanical theme for family photos, bright flowers, or plants if that suits your home decor better. The idea is to keep it simple and straightforward and to create a focal point with enough wow-factor.
A Mantel Ready for Entertaining & Showcasing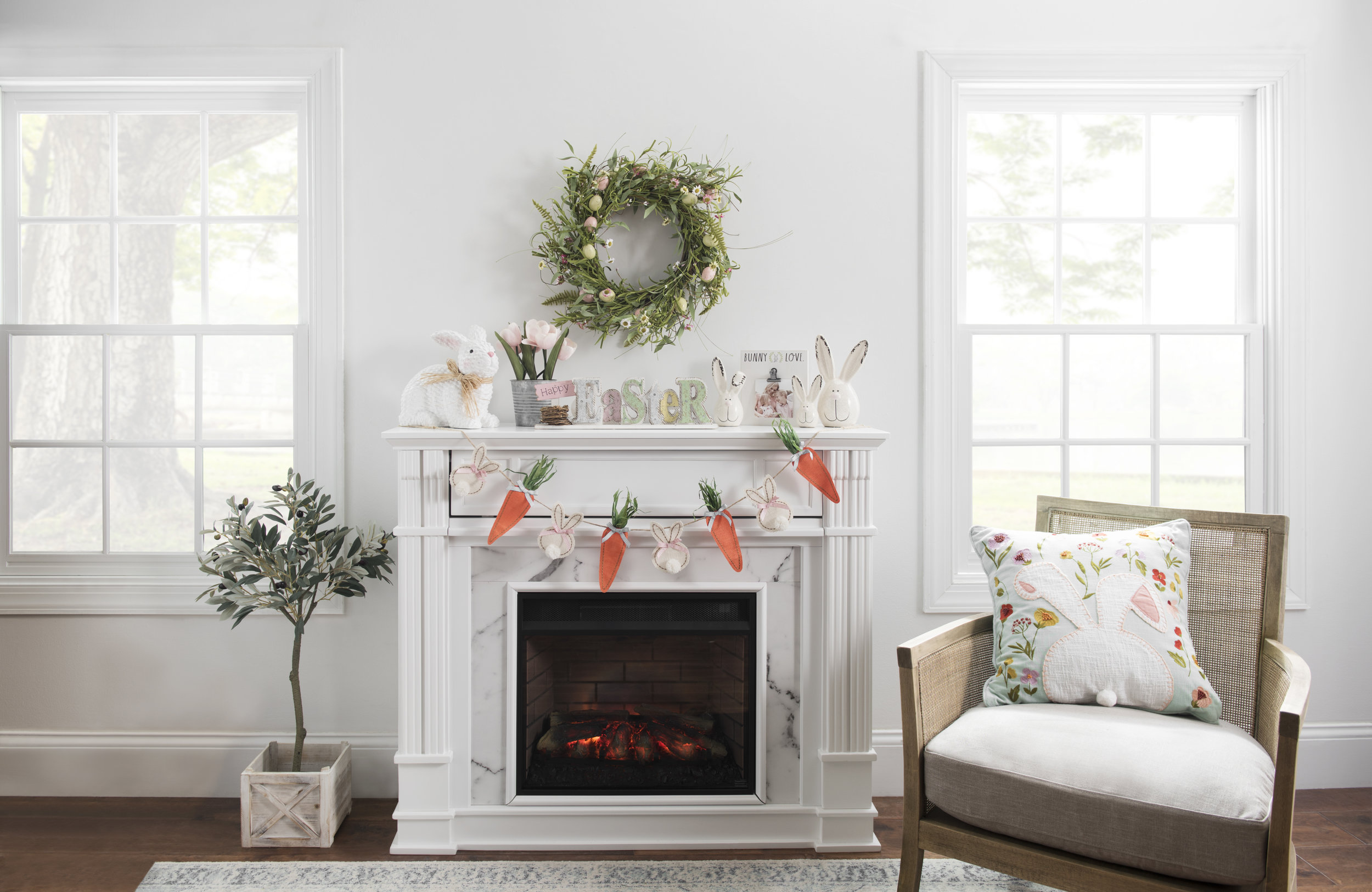 Not everyone decorates their mantle for each season or whim they have. If that's your case, you can still think of fun solutions to decor your fireplace- like for special events or when you have guests coming over. A colorful spring display using moss eggs, bright vases, and blossoming branches can create an adorable focal point that can be quite useful during your party. You can even use this space to add drinks, snacks, or other useful items like additional cups and plates. When the party's over, you can still leave some of the vases and branches as a decorative element. 
Let's Come Up with More Ideas
Decorating the mantle is such an easy way to shake things up! Go right ahead, use these tips, and make them your own. If you liked these decor ideas and want to bring them to life in your home, or design your own perfect living space, start a project with Spacejoy. You will receive unlimited access to an expert design team who can translate your vision and guide you to your perfect room design. 
Our unique 3D technology allows you to view your room design in 3D, interact with your design - Move and Swap the products with a touch of a finger to see the unlimited possibilities. Our team will also curate a shopping list for you with products handpicked to suit your budget and your style that you can shop right away on our platform. Your dream living room design is now one click away. See pricing plans here.
Start your Design Journey with Spacejoy Home Interior Design App