Style & Design
Fun and Quirky DIY Wall Decor Ideas to Try
Customize any room in your home with these easy DIY wall decor ideas. Spice up your living room, office, or bedroom with wall decor accents you can do at home. Spruce up your house by adding unique pieces to what could be an otherwise dull wall with these fun DIY ideas. Whether you want to find a new way to display your family photos or add a touch of color to your favorite room, these DIY ideas will help you make it happen.
Creative DIY Photo Display

Try this fun and creative way to display your family photos. If you're looking for simple and easy crafts for wall decor, this is your project. This is the perfect DIY project to include in your kid's bedroom. 
You'll Need:
Plastic corner molding

Hacksaw

Spray paint in various colors

Velcro strips
How-to:
Cut the plastic molding to your desired length.

Spray paint each molding with your preferred colors

Wait for them to dry completely

Stick one side of the velcro strip to the ledge and the other side to the wall where you want the shelf to go

Repeat this step with all your ledges

Place your favorite photos on the shelf and admire your creation
Check out the complete tutorial on Aww Sam.
Easy DIY Wall Decor Using Wooden Peg Wall

Are you trying to spruce up a small space? Our designers have shared their tips before on how to make a small room look more spacious. One of their recommendations was to take advantage of vertical space. This DIY wall decor idea is the best way to use all your vertical space. 
You'll Need:
A sheet of plywood per panel

Sheet of pegboard

Pegboard shelves

Wooden dowels

Drill

Nail Gun

Leveler

Screwdriver
Keep in mind for this DIY project you'll need to know how to use various tools. If you need assistance, don't hesitate to enlist the help of your handiwork friends. 
Check out the step-by-step tutorial on Vintage Revivals.
DIY Flower Wall Decor

When it comes to cheap wall decor ideas, paper art can do wonders. This adorable DIY project is perfect for decorating a baby girl nursery or adding a feminine touch to a guest bathroom. 
You'll Need:
White cardstock

Cutting machine

Square display frames

Glue

Metallic foil
How-to:
Start creating your petal shapes

Load your white cardstock and use the cutting machine to get your petals

Cut a small metallic circle for the center of your flower

Use glue to stick the petals on the backing of the frame

Reassemble your frame and appreciate your wall decor

You can also remove the glass frame to add more texture
Check out the complete tutorial on Maritza Lisa.
Easy DIY Wall Decor with Iridescent Pink Mirror

Another way to add flair to a boring wall is by including a statement mirror. Not only will your room look instantly more interesting, but the mirror will also attract light, making the room look bigger. Plus, you don't need much to do this DIY iridescent wall decor project.
You'll Need:
Shiny adhesive paper

Round mirror

Craft knife
How-to:
Choose the area you'll like the color paper to be

Take the adhesive paper and stick it directly to the mirror

Use a towel or a credit card to get rid of any air bubbles

Display your mirror
Check out the complete tutorial on A Bubbly Life.
Easy DIY Wall Decor with Shadow Boxes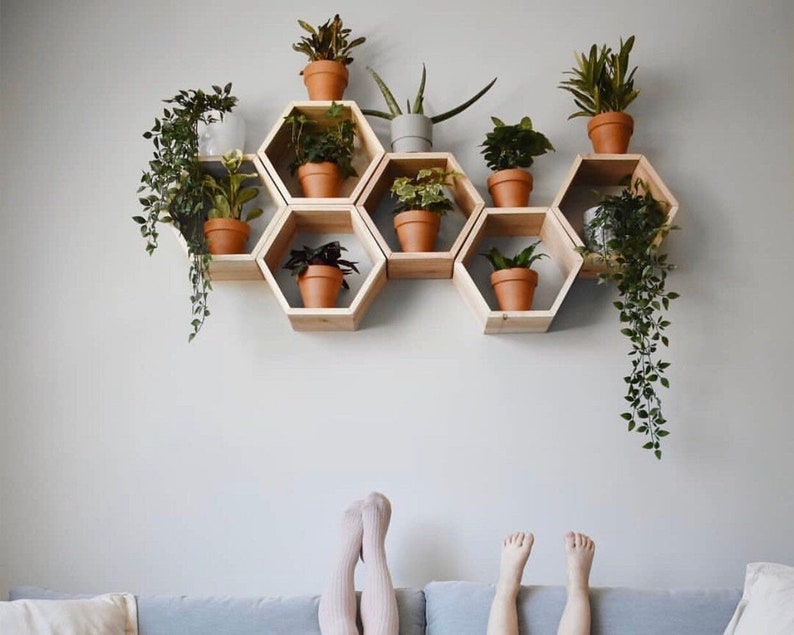 When it comes to DIY projects, you don't necessarily have to start from scratch. You can use some handy items like these honeycomb shelves to create your own gallery wall or create a small vertical garden that will make your walls pop. This is a quick and simple way to add layers, texture, color, and a focal point to a living room, bedroom, and even a patio wall.
Here's what you'll need:
Plants

Decorative objects

Rulers

Nails

Hammer
How-to:
Start by arranging your pieces on the floor until you find your favorite design
Place the center shelf against the wall to work as your focal point and starting point
Use your ruler and measuring tape to draw the same design you have on the floor
Hang your shelves following the instructions
Repeat all the steps until you have all shelves up
Add your plants, decorative objects, and other items
Quick Flower Wall DIY Project
Odds are you've seen those wonderful flower wall decors on Pinterest and Instagram and wanted to try them yourself. It can be daunting, especially because they look so delicate and intricate than you probably think you have no idea how to do them. Well, here's a little secret, they're super easy to do and you don't need many things.
What you'll need:
Around 6 fake flower dozens or more if your wall is bigger

Hot glue gun

Clear fishing line

Small nails or pushpins

Wire cutters
How-to:
Start by separating the flowers off the bouquets to make individual sets. You can keep some of the leaves if you wish.
Using your glue pen, connect the flowers by gluing the stem of one into the center of the petals of the other flower.
Once you've all your flower strands, you can hang them using the fishing line and the nails. 
For the step-by-step tutorial, check the whole DIY project by Sweet Teal.
Not a DIY Person? Work with Our Designers!
When it comes to easy and affordable DIY wall decor ideas, these projects will only take a couple of hours. Enlist your family or your friends and have fun together. If you're still struggling with finding the best ways to include a DIY project with your current decor, start a project today. Chat with one of our designers to help you get an idea of how your project will look, how to add furniture that compliments it, and how to arrange everything in the room to make sure your wall art gets the recognition and attention it deserves. See our pricing plans.