Style & Design
MInimalist Interior Design - Everything You Should Know & Design Ideas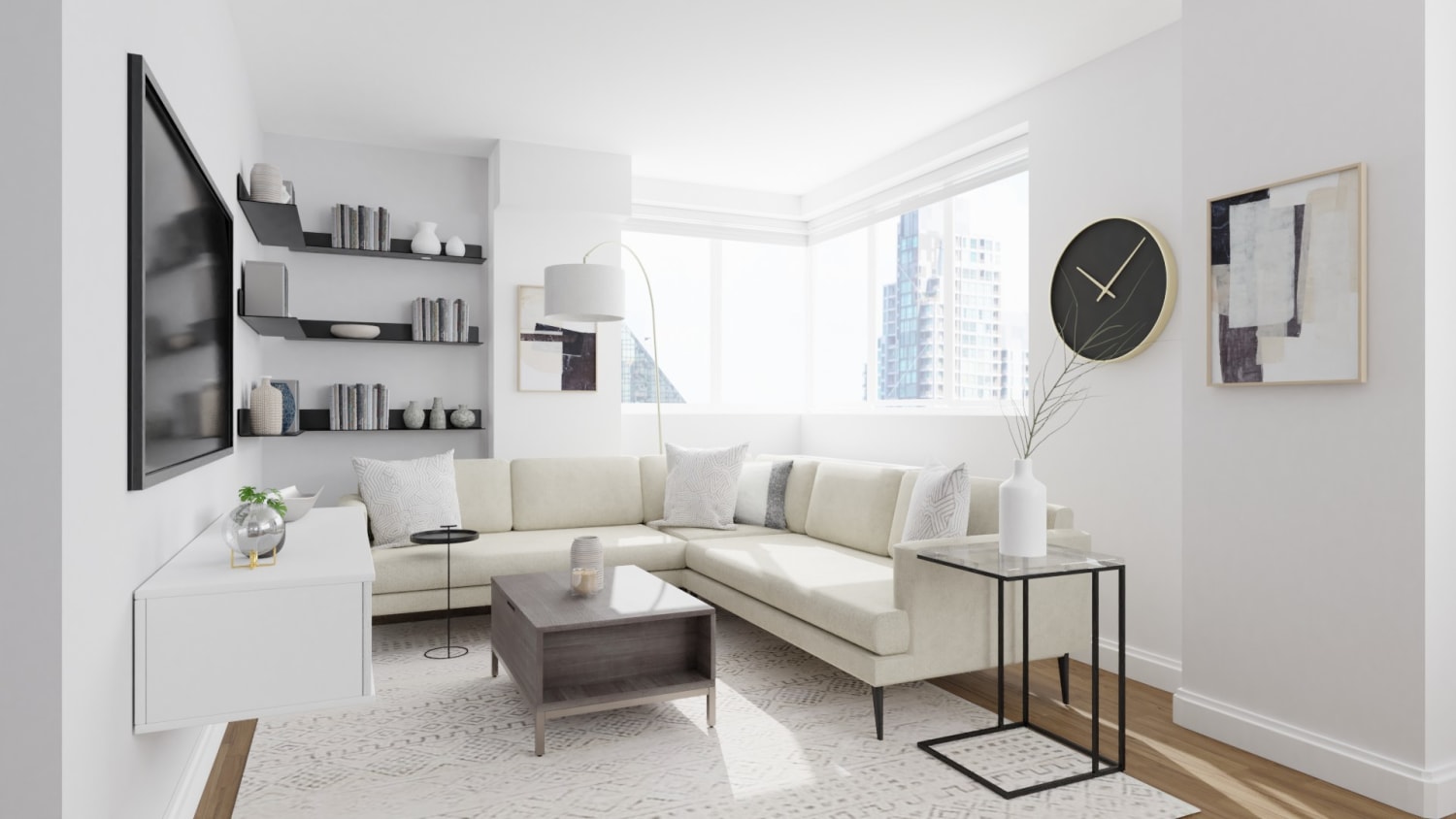 Not sure if Marie Kondo is to blame for the rise in minimalist design. But, there's something about minimalist homes and their soothing color palettes, serene bare walls, and plenty of floor space that's appealing. Celebrities like Kim Kardashian are fans of the minimalist interior design aesthetic. After all, people left, and right are saying goodbye to their clutter and investing in high-quality pieces that exude nothing else but calmness.
Check out the Spacejoy 3d Home Decorator online
However, the biggest struggle with a minimalist home is making sure it transmits that warm and cozy feeling. Here's our exclusive guide on how to design your minimalist home, including a room-by-room breakdown. Shall we?
What is Minimalist Interior Design?
The style of minimalism is characterized by austerity and minimal decoration. Think functional furniture, geometric shapes, and minimal color choices. Minimalist design is the most basic style, looking to be calming and bringing things back to basics. Minimalist interior design is all about omitting the unnecessary, focusing on the details, and embracing white space. 
Elements that Make a Successful Minimalist Design
The steps to master a minimalist house decor starts with your philosophy, not your furniture. However, certain elements will help you set the style according to the rules of minimalist design. The saying "less is more" really takes a whole new meaning when designing a minimalist home. 
Minimalist Design Decor Essentials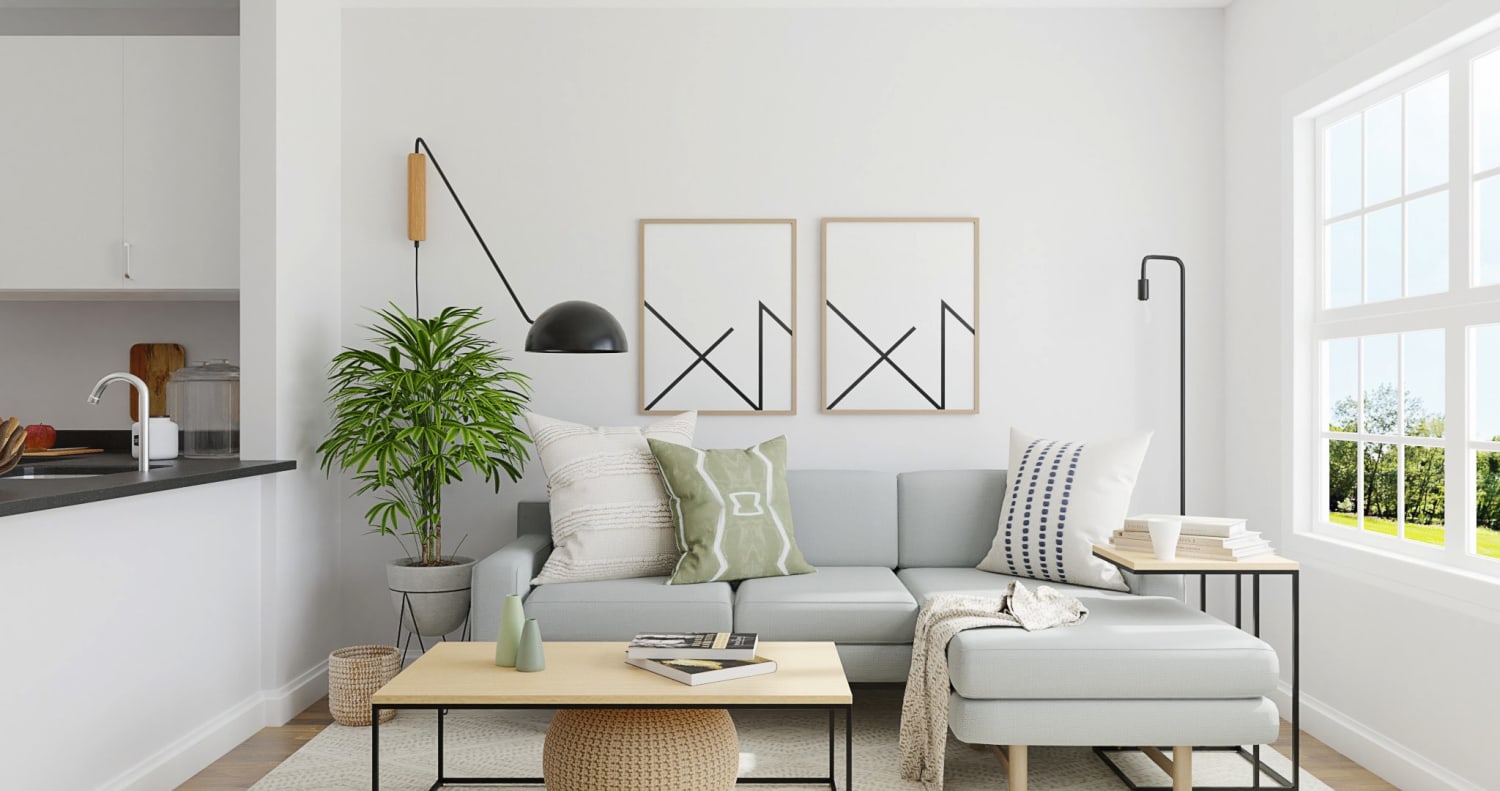 Neutral Colors: An essential feature of a minimalist design. Choose a neutral color palette, including whites, creams, and pastel colors. Most minimalist homes feature white walls all over, which happens to correspond with this years' trends. 
Textures: While you won't be playing with patterns and colors, you can still have fun with textures. Embrace the different textures in your pieces to play with lighting and various surfaces. Pair wood with metals and faux fur with concrete, for example. 
Flat Surfaces: When it comes to minimalist design, forget about overly complex shapes. Instead, think of flat, sharp, and clean surfaces that reflect the light and make the room feel more spacious. 
Open Spaces: A vital element of this interior design style is the open floor plan. Minimalist homes have open spaces that seamlessly blend the rooms and maximize natural light. 
Lighting: On that last note, natural light is critical and predominant for minimalist homes. Use lighting to make the space feel warm and cozy. Because you'll be using mostly neutral colors, lighting can help you play with shades and tones.
Minimalist Living Room Design Ideas
When you're ready to design your minimalist living room, please keep the mantra "less is more" in mind. If a piece of furniture is not functional, it's not needed. It's common for minimalist homes to skip rugs, accent chairs, and even end tables. 
Furniture is kept to the bare minimum, so are decorative pieces and wall art. Having fewer pieces in your living room allows you to invest in key pieces that will make the room pop and still feel warm and comfortable.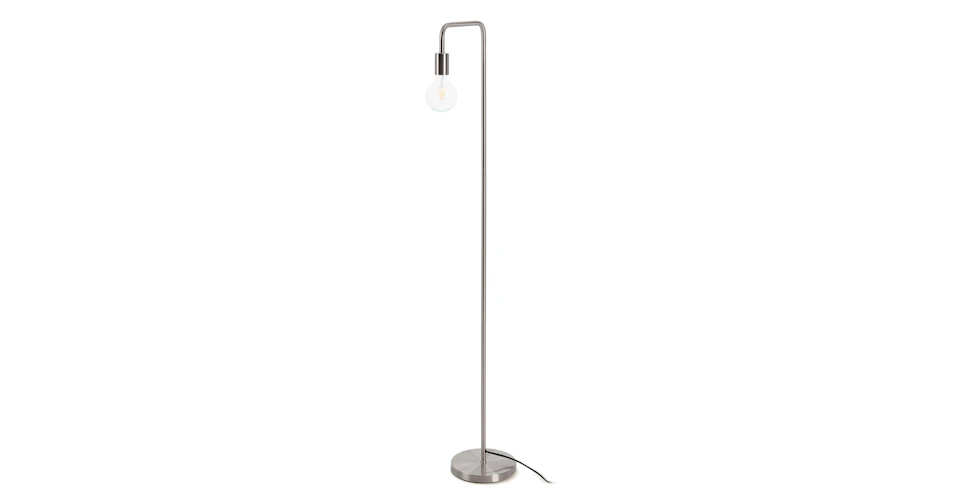 Floor Lamp: Skip the side table and highlight a straight floor lamp that provides accent lighting and warmth. This Article Floor lamp is a minimalist's dream lamp. It's sleek and simple but still provides plenty of light.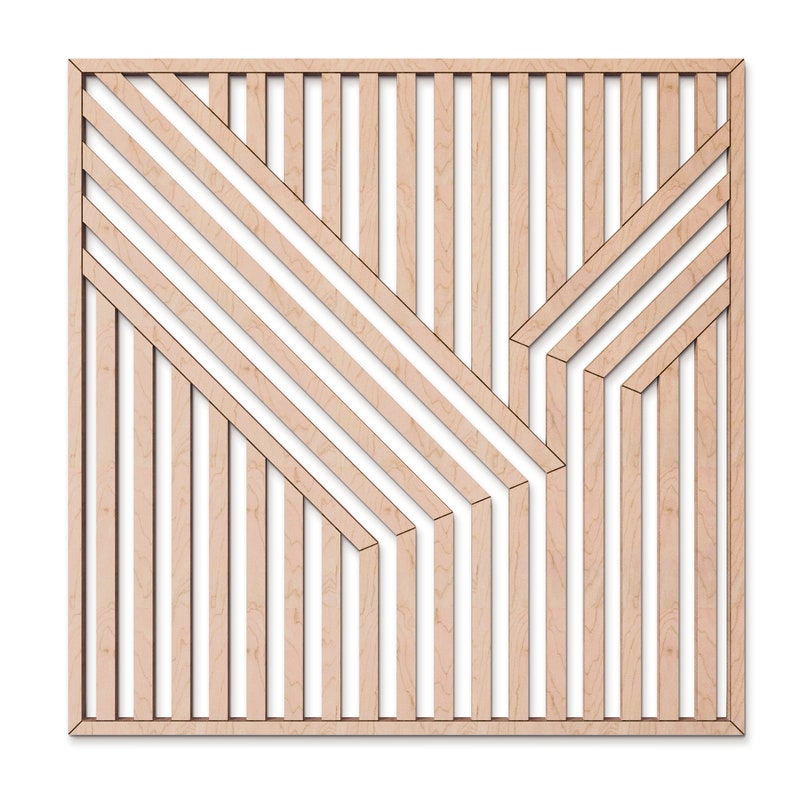 Large Art Pieces: Instead of having a gallery wall or various decorative pieces, choose a large piece that makes a statement. This Etsy Abstract Wood Wall Art also adds a natural element to the room.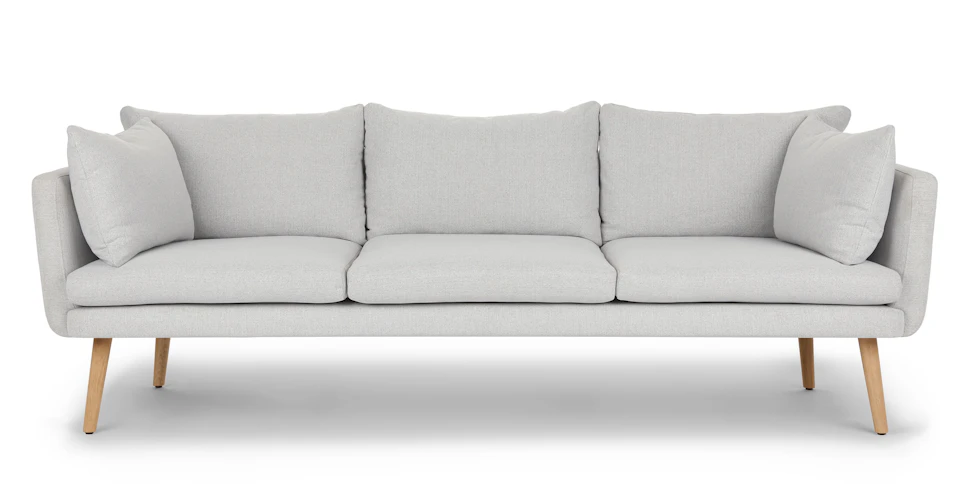 Functional Sofa: Think about the purpose of the space. Larger sofas are great for entertaining, while loveseats are better for small spaces. This Article Drizzle Gray Sofa offers 3 seats and clean and simple design.
Minimalist Dining Room Design Ideas
Ideally, your dining room area and kitchen space should be the most functional space of your house. However, these areas are often cluttered with unnecessary pieces of furniture. To keep a minimalist dining space, you have to focus on functional pieces. 
A dining table, chairs, and maybe a cabinet will help you keep things to the minimum. Most minimalist homes share the dining room space with the kitchen. This means no small appliances cluttering the countertops.
Shelves: Consider ditching the concept of over-the-counter cabinets. Minimalists kitchens often have shelves that serve to showcase valuable and personal pieces. We love the simplicity and versatility these West Elm Floating Lines Shelves adds to a minimalist home.
Simple Dining Table: A statement piece for a minimalist home is simple, sleek, and functional. A dining table set follows simple lines and almost geometrical shapes. The Speno Walnut Collection is great for adding warmth to a space and comes in multiple size options.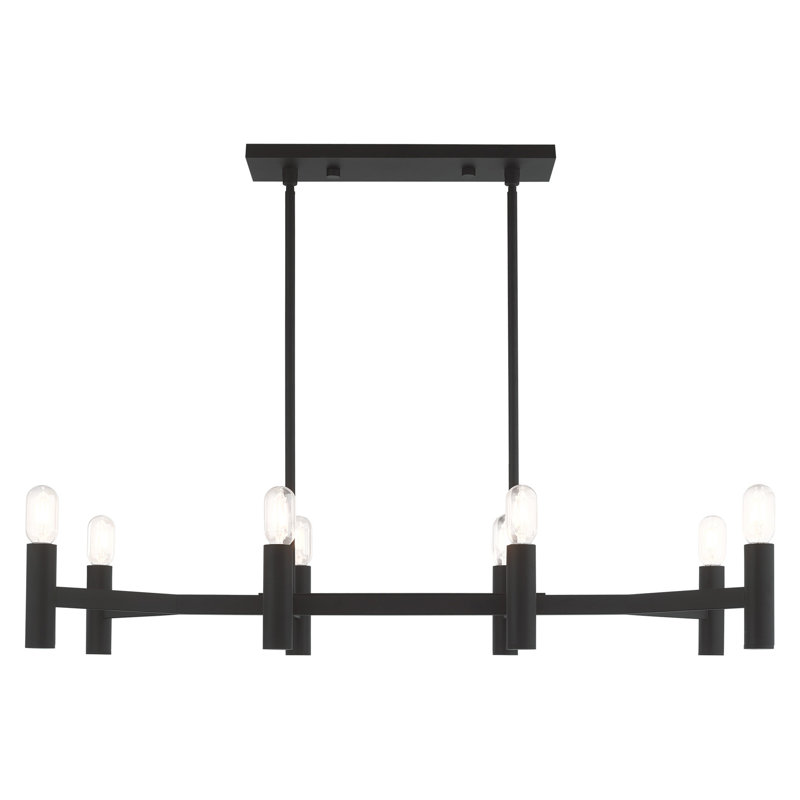 Sleek Lighting: Forget about an elaborate dining room chandelier. Minimalist lighting often follows elegant and simple lines. This amazing Wrought Studio Beldale chandelier is perfect for a subtle yet stunning statement. 
Minimalist Bedroom Design Ideas
Perhaps the space that needs to reflect more serenity and peace of your entire home. A minimalist bedroom is soothing, clutter-free, and a place where you can go to for relaxation. While Marie Kondo isn't the foundation of minimalism, you will need her skills to achieve a minimalist bedroom. 
It's all about having secret storage space, a monochromatic color palette, and the connection of the different elements. Minimalist bedroom ideas often combine elements like wood and concrete with plants and greenery for a warmer look and feel. 
Hidden Storage: Keep your bedroom clutter-free with secret or hidden storage solutions. Turn to nightstands, footrests, and closet space to keep everything stored. This mixed material Envelo Night Stand offers mixed materials, great for adding interest in a design without cluttering a room.
Platform Bed: The most iconic piece of a minimalist bedroom is the bed. Many choose to skip the bed frame together, but having a sleep platform bed can center the room without needing to add rugs or other elements. The simplicity of this Bolig Bed captures exactly what a minimalist design should look like.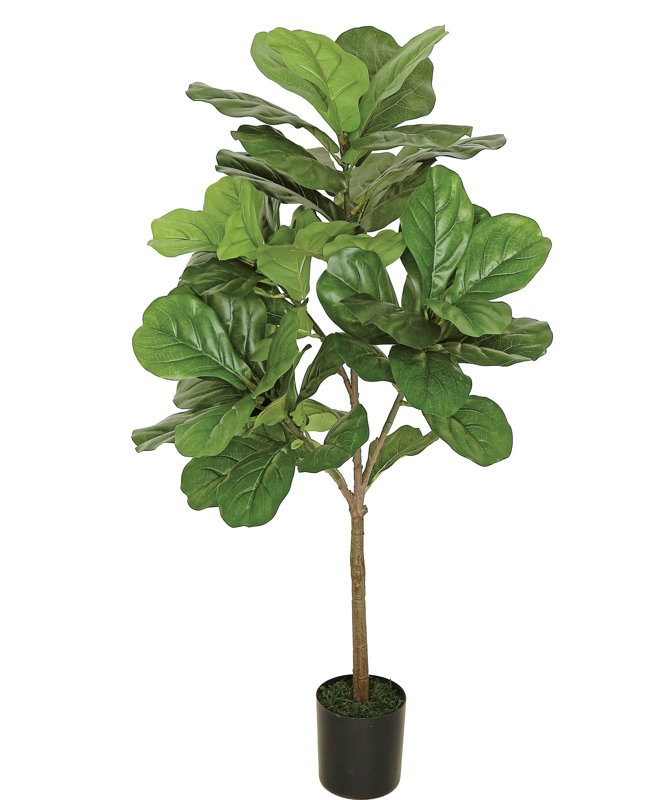 Greenery: Because minimalist bedrooms can often look lifeless, one piece of greenery is necessary to bring it back to life. Add only one large plant by a corner or next to the bed for a touch of color and lightness. This Fiddle Leaf Tree is a great option for bringing the outdoors in. 
Need Help Designing a Minimalist Home?
While the concept of less is more might seem simple, it's quite complex to achieve a minimalist house decor. The core of minimalist decor doesn't lie in having fewer things. It lies in creating the perfect synergy with what you have. If starting this project on your own feels intimidating, don't worry, our designers are here to help. Learn about our different pricing options and start designing your minimalist home with one of our talented online interior designers.
Get Interior Design Help From Spacejoy's Online Interior Designers