Entryway Design Ideas
Chic Modern Entryway Decor That Will Fit Even The Tiniest Apartments
No matter how small your apartment is, modern entryway decor is still an absolute must. You need a spot to throw your keys, leave your purse, and store your shoes when you're quickly running in and out of your home. Your entryway is perfect for leaving all of your daily trinkets, storing loose change, and taking a quick peek in the mirror on your way out the door. As you put together your own take on entryway design, take a look at some of our favorite modern entryway ideas so you can put together the foyer of your dreams — no matter how small your home is. 
Modern Console Tables
Items shown: Peekaboo Acrylic Console, Infinity Round Mirror in Gold, Grid Lamp, Palos Basket on Stand, 5 Piece Bookset and Faux Aloe 
The console table is the centerpiece of your entryway, so it's important to find one that really fits your home's vibe. If your space is small, try out something that takes up very little visual space like this clear table from CB2, or an all-in-one entry console like this mirror, coat hanger, and shoe rack combo from Urban Outfitters. 


Coffee Table Books
While you're accessorizing your console table, consider ornamenting it with some decorative coffee table books. For fashion lovers, these customizable display books from Etsy can display the names of your favorite designers or you can peek at a collection of Vogue magazine covers in this book. Or if music is more your vibe, this visual Beyonce biography is a beautiful item to leave on your console — and maybe it'll even impart some serious #flawless Queen Bey vibes as you leave your home. 
Neutral-Colored Ceramic Pottery & Faux Plants
Items Shown: Female Form Vase, Ceila White Vase, Faux Potted Burros, Potted Faux Aloe
While your small space might not be conducive to growing real plant babies, it doesn't mean your entryway design has to suffer from a lack of greenery. Neutral-colored pottery is guaranteed to match whatever console table you pick for the entryway, and upscale faux plants will elevate your home entrance decor even more. Pro tip: Don't be afraid to drop a little bit of money on the faux plants. The best ones have pretty hefty price tags, but they'll look the most realistic. 
Mid-Sized Table Lamps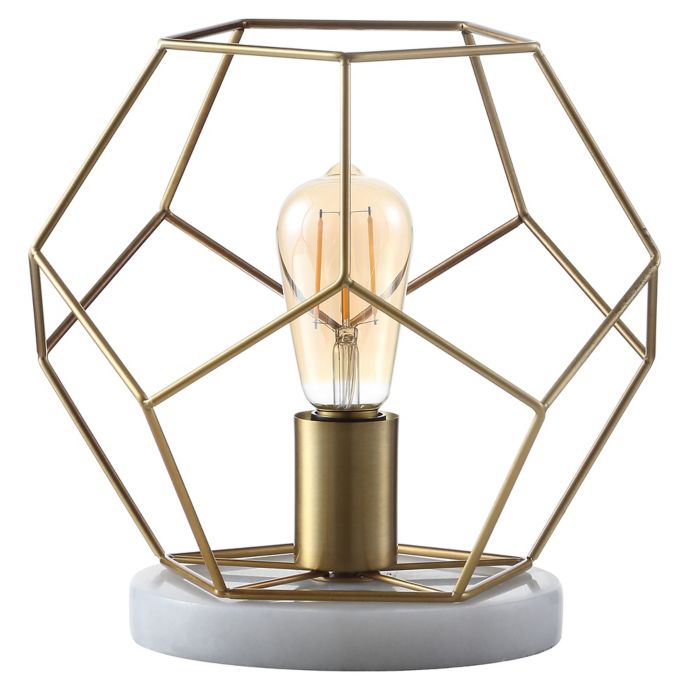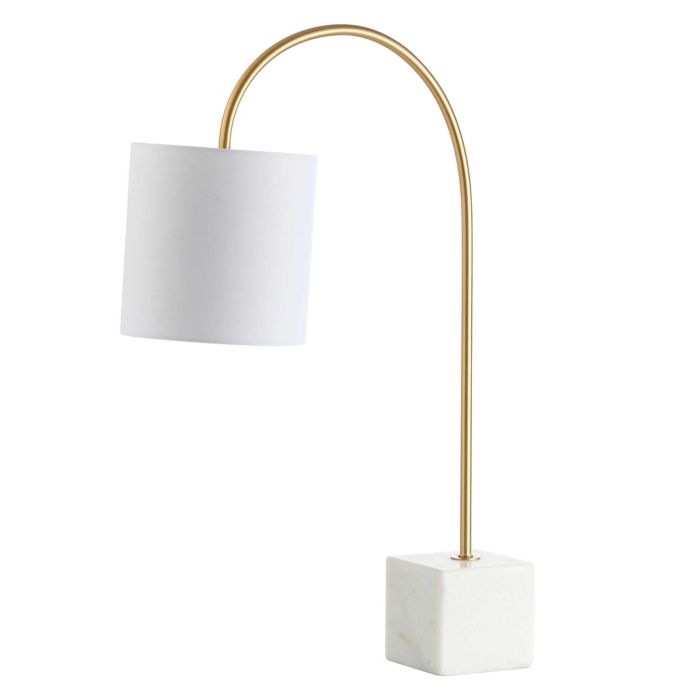 Many entryways lack efficient lighting, so a table lamp is a must. You don't want to be fumbling around for your keys when you're heading out to the gym before the sun is up, or trip over your feet when you're getting home super late. Bed Bath & Beyond has an amazing selection of chic table lamps at a surprisingly affordable price point so that you never have to sacrifice style for the budget. Check out this geometric one that features an Edison bulb or this simple shaded lamp that features a statement marble base. 
Decorative Mirrors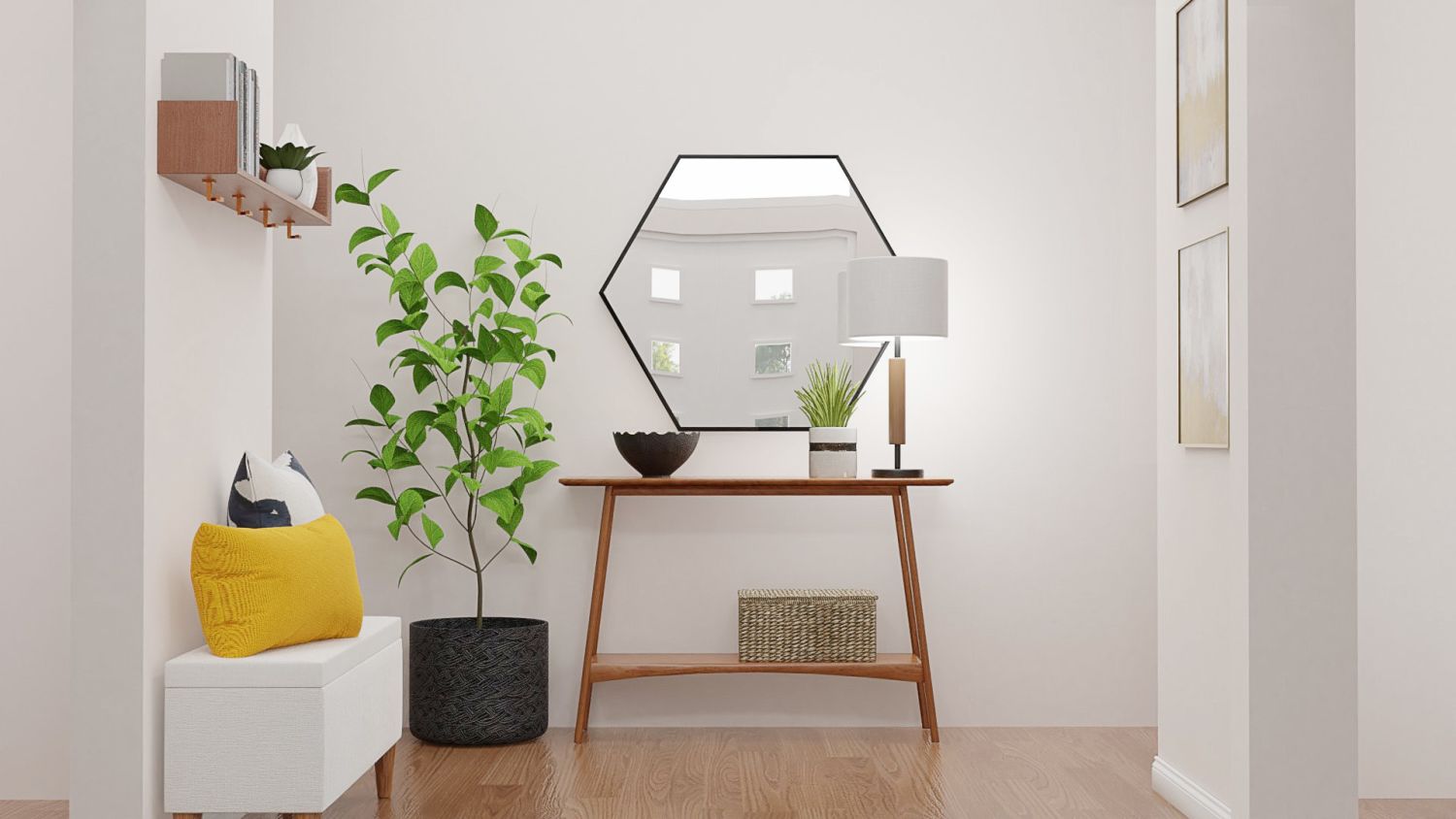 No entryway design is complete without a mirror for all of your last-minute touch-ups before you head out the door. Opt for something that contrasts your console: If the console is simple, go for a mirror that's a little more ornamental, or a simple mirror for a console that's a little busier. This Urban Outfitters Carson Leather Strap Mirror is great for a sleek modern look and this Wayfair Kelly Clarkson Home Accent Mirror will add balance to a simple console table. Check out how we used the mirror in this Classic Farmhouse Entryway.
If you like these modern front entryway ideas and want to bring them to life in your home, or design your own perfect living space, start a project on Spacejoy. You will receive unlimited access to an expert design team who can translate your vision and guide you to your perfect room design. Our unique online interior design technology allows you to view your room in 3D and interact with your design. Move and swap the products with a touch of a finger to see the unlimited possibilities. Our team will also curate a shopping list for you with handpicked products to suit your budget and your style that you can shop right away on our platform. Your dream entryway is now one click away. Click here for pricing plans.