Living Room Design Ideas
Transform Your Modern Living Room into a Fun Home Theater in 5 Easy Steps
Your home should be your sanctuary for relaxing, entertaining, and making memories with your family. An evening of Netflix streams of your favorite films will become instantly more exciting when you turn your modern living room into a home theater. Yes, that's right. You don't need a whole room or dark, old-looking recliners to have an at-home movie theater experience. With the following tips and ideas, you'll be able to transform your modern living room into the perfect home theater -- popcorn not included. 
Start by Setting the Seats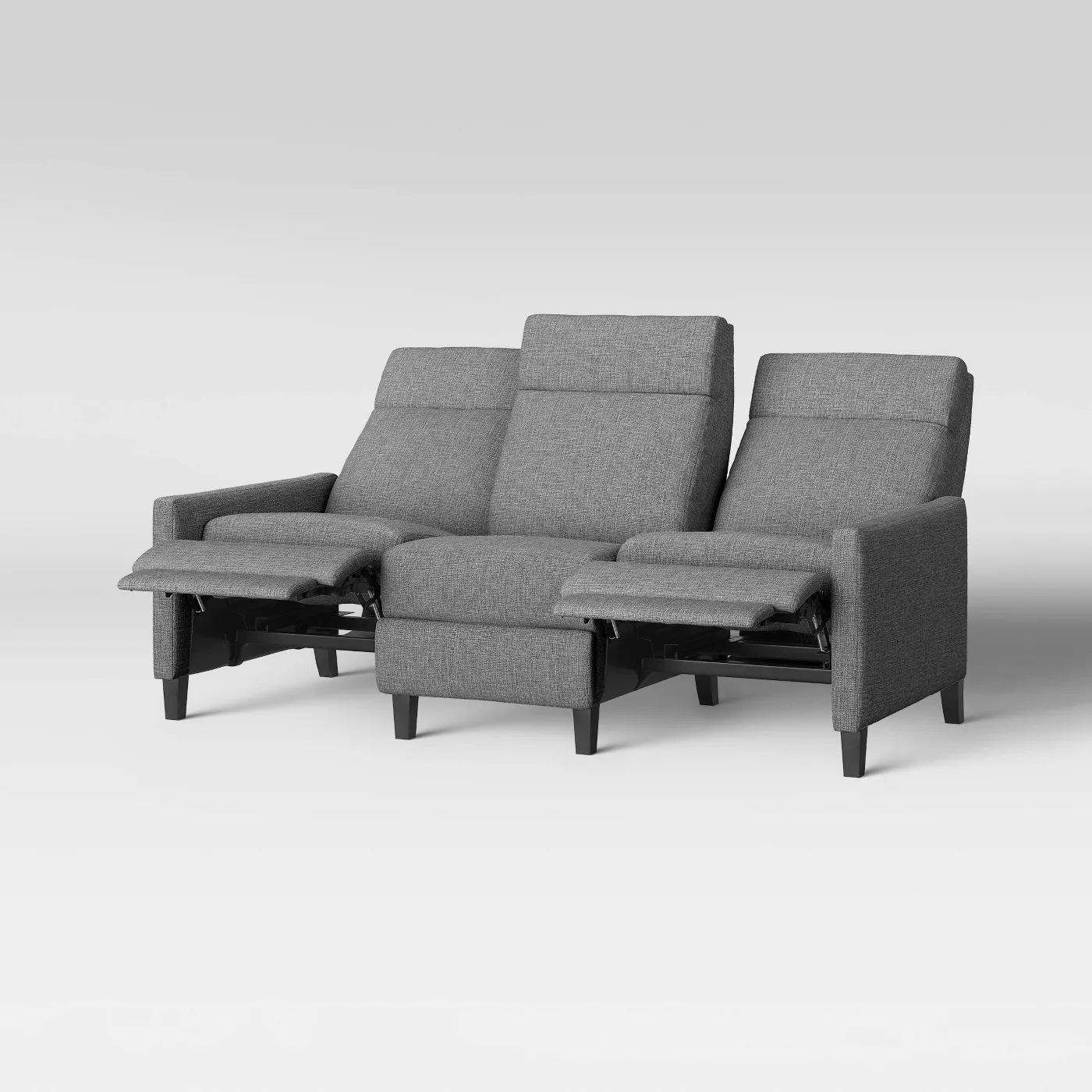 What's the best part of going to the movies? Besides the endless snack options, it has to be comfortable recliners. We love to sit back and relax as we enjoy the thrilling movies. Well, you can achieve that at home without having to have rows of individual recliners. 
Consider this Poulson Reclining Sofa from Target, pictured above. Choose it as your center living room and have space to seat three people. Each person can decide whether they'll like to extend the recliner or sit tight and watch the show. The best part? Its modern lines and simplistic design is the total opposite of the traditional recliner, which means you can fit them even to a small living room.
Invite Friends & Family to Enjoy the Show from Their Seats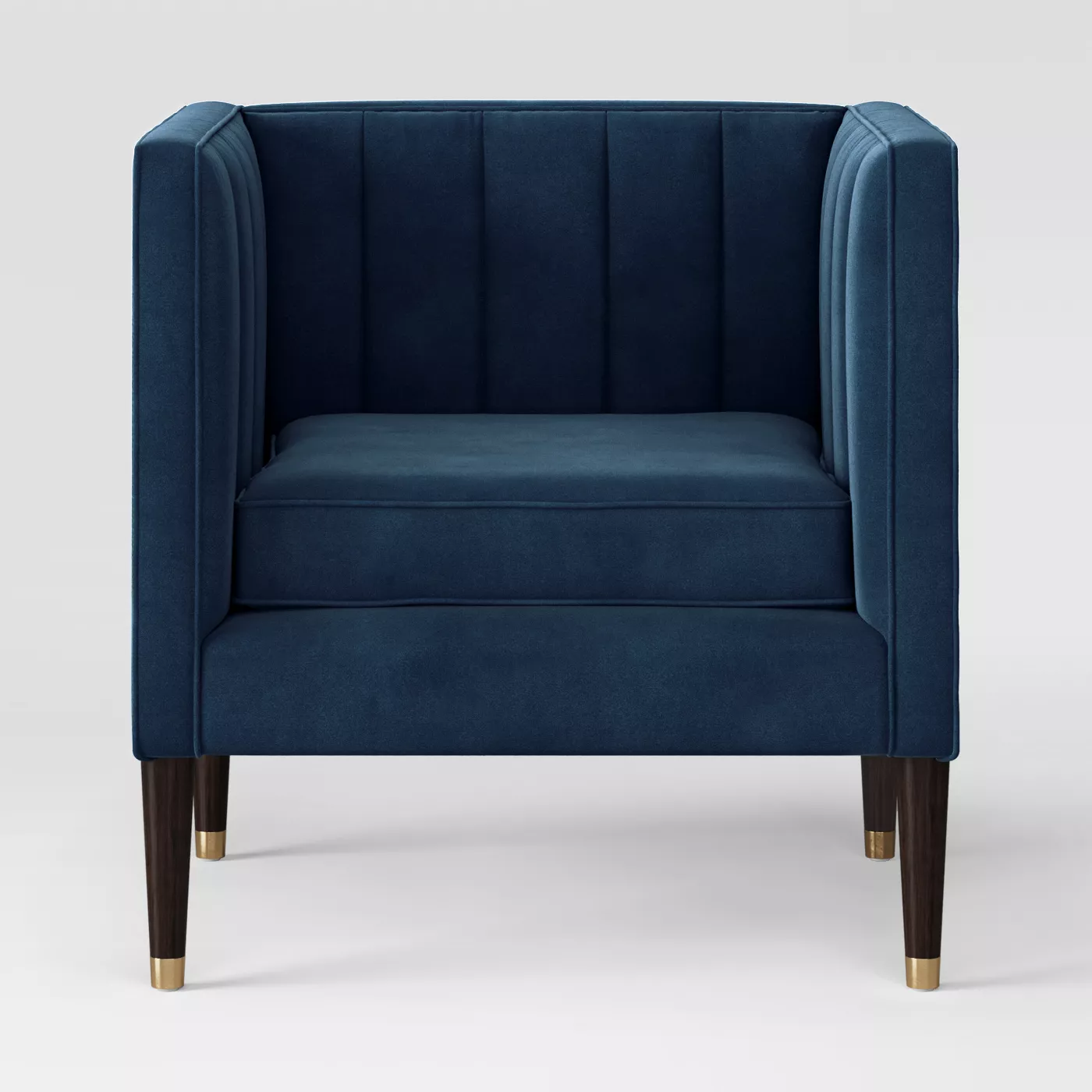 Of course, if your house is the center of entertainment among your friends and family, you want to make sure you have room for them. Invite them over and let them enjoy the movie from comfortable seats that will add a pop of color and personality to your room. 
We love the Soriano Channel Tufted Chair from Target, pictured above. Its modern style and striking bold navy blue upholstery make it stand out. Depending on how much space available you have, you can add one or more of these chairs on the side to frame the home theater area. It all depends on your living room layout and how many people you usually invite over. After all, you still need to make this space function as a living room.
Make Plenty of Room for Movie Snacks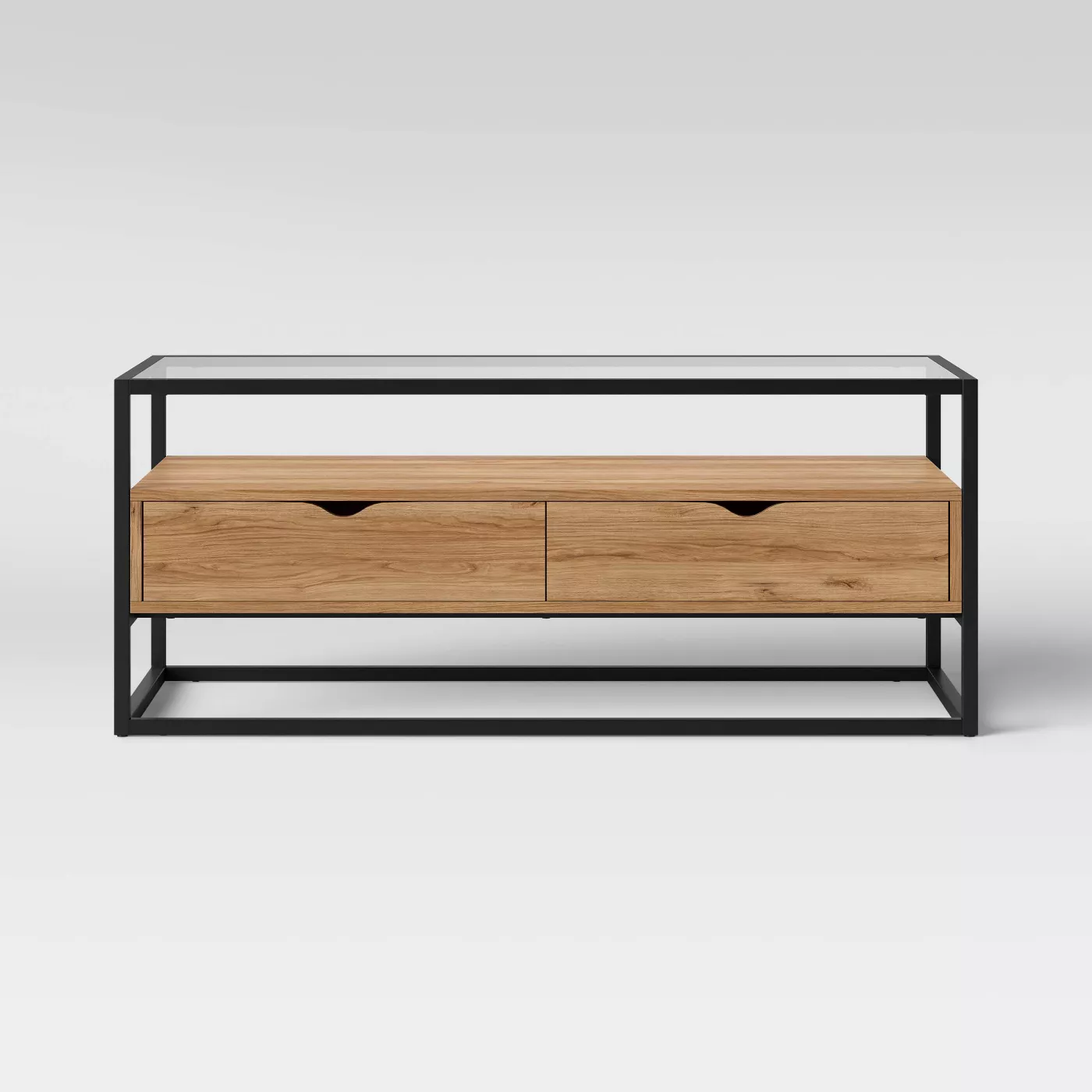 The coffee table is always a synonym of attention and style. However, if you want to use your living room as your home theater area, you need to make sure your coffee table remains functional. Instead of styling the tabletop, leave space for your snacks and drinks and find creative ways to add decorative elements. 
We love this Ada Mixed Material Coffee Table with Glass Top from Target, pictured above. It's the perfect coffee table for this multi-functional room because the top can remain clutter-free and you can use the second layer to display your favorite books and add a touch of color with bowls or decor accents.
Choose Lighting Wisely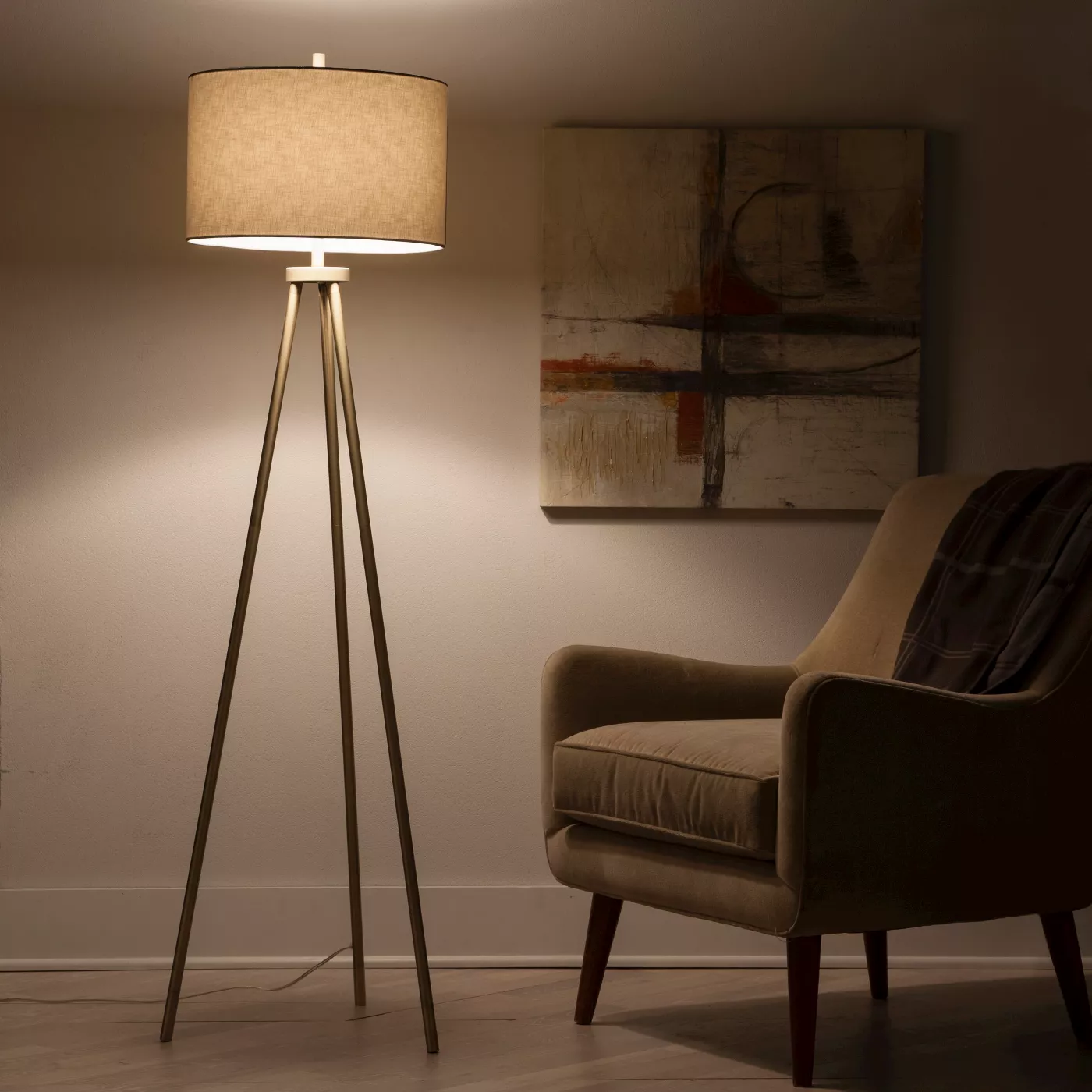 Perhaps the most important purchase for your home theater, even more important than the TV and sound system, is the lighting. If you choose poor lighting styles, your whole at-home movie experience might get ruined. Too bright, and you'll have a reflection on your TV that interferes with the screening. Too low, and you won't be able to grab your snacks without making a mess. 
That's why we love the Ellis Tripod Floor Lamp from Target, pictured above. Featuring a fabric shade that delivers a welcoming glow, this modern free-standing lamp will brighten the room with cozy lighting that makes you feel relaxed.
Frame Your TV and Home Theater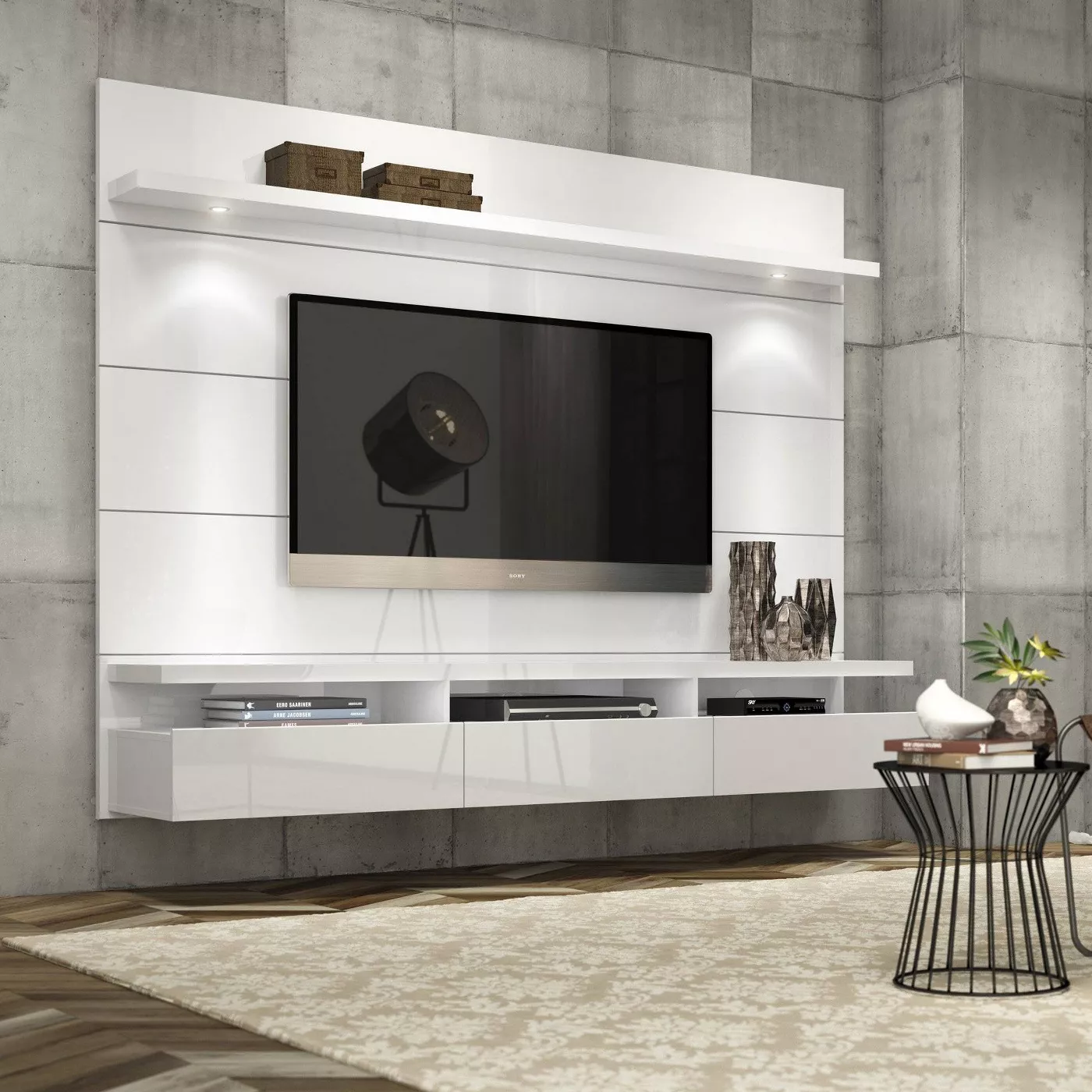 Last but not least, you need to frame your TV and home theater system. Here's where everything comes together, and your living room finally transforms into a personal movie theater. There are many ways to frame your home theater system, and it will all depend on your style. 
As an easy way to achieve this, we love the Cabrini Floating Wall Theater Entertainment Center from Target, pictured above. The set takes the guessing out of the game and lets you easily transform the space into an entertainment room. Complete the look by adding a few bases, books, and even family portraits to frame the TV and make it look as part of your living room. 
Your living room has the potential to transform into any room you want. Start a project today and talk to one of Spacejoy's talented designers to design your dream home theater. We'll share different ideas on how to transform your living room into an at-home movie theater you and your family will adore. See our pricing plans.