Dining Room Design Ideas
5 Modern Dining Room Decor Ideas That You Can Steal
Dining rooms have always been a traditional space with very little design influx. The reason it has seen that kind of attitude is that the room has long been associated with utility over style. With more and more people opening up to the ideas of having instagrammable dining rooms and the social world engaging more profusely in the eating and cooking culture, the dining room has seen a dramatic modern revamp. To understand the pitch of modern dining room decor, we need to first examine what modern is! To be honest, there is no specific template on what modern entails. In the current design scene, modern is any design trend that has caught your attention. It could be anything from floral, to minimal, to boho, to you name your favorite Instagram aesthetic! Read on to find out what gets our modern dining room feels ticking.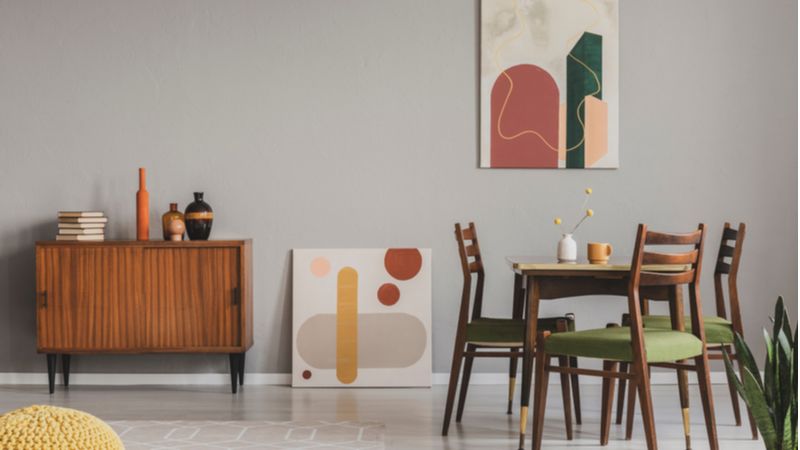 Clean Walls and Beige Spotlights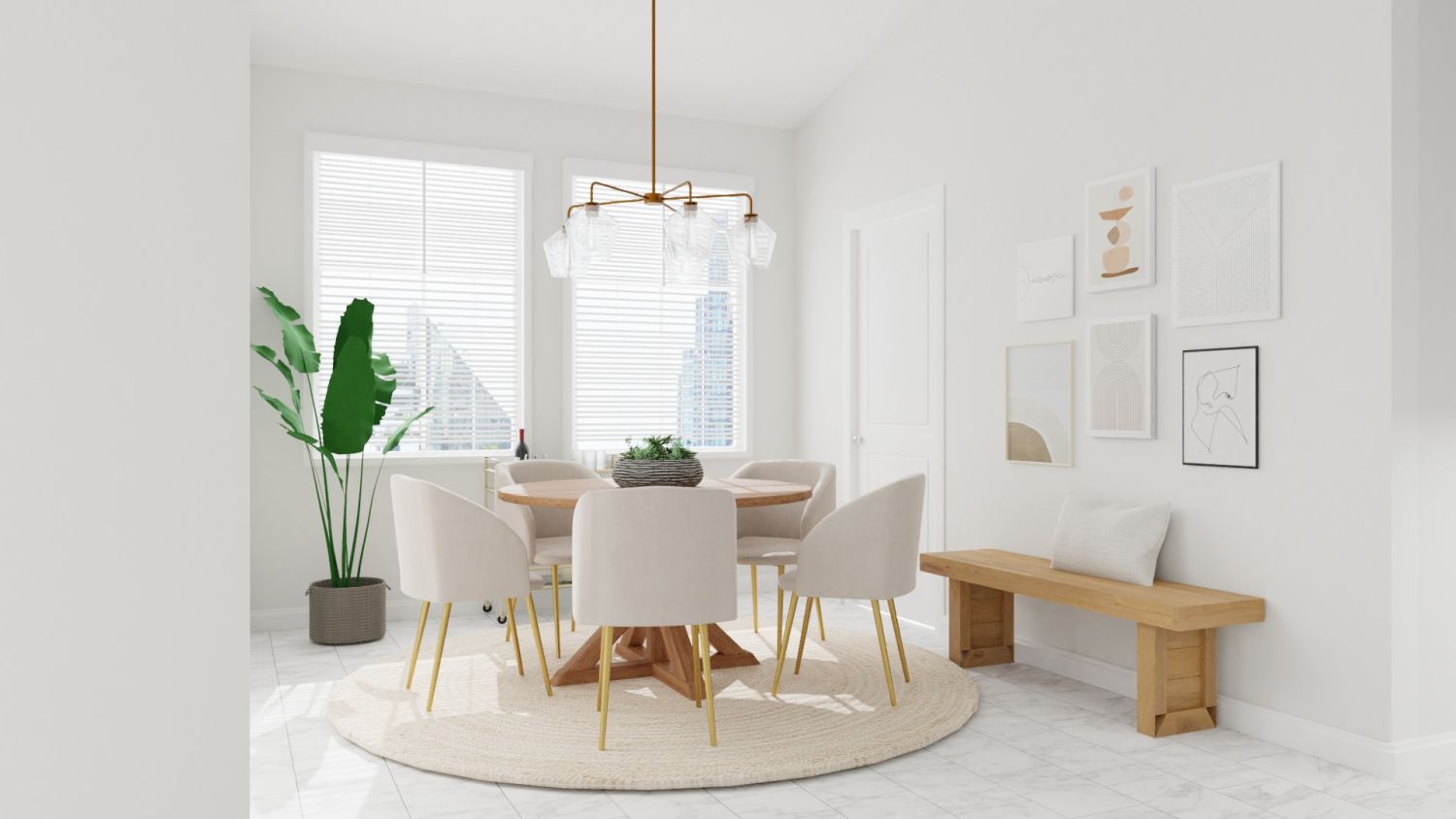 Whites and beiges haven't seen as much appreciation as it does now in the modern home decor era. It has replaced a lot of metallic and ornate over the top dining room designs to suit the modern and classy guild. What we love about this theme is that it allows you to experiment with colors in the form of flowers, wall art, cutlery, and mirrors. So go wild with everything else!
When Barn Meets Beach House 
Courtesy: Architectural Digest 
The nutty and woody textures in the dining table, console, and chairs give it a very barn-y feel. What we love about this dining room is the ash textured flooring usually used in areas that are beachy or coastal (helps in easy cleaning of sand, etc.), but if you don't have floors like this, replace it with a braided rug in the same color. The use of space and the minimal design element makes it a modern dining room. Couple it with the upscale surgical chandelier, and you have the perfect modern dining room.
Shades Of Grey Is As Modern As It Can Get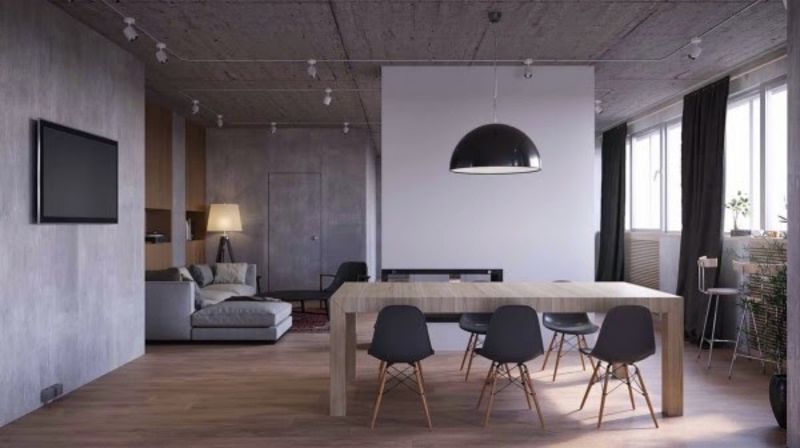 The running grey color scheme leaves very little room for error and the dining room looks crisp and uncluttered. What we love about this dining room is that it is easy to assemble and extremely photographable. The only major investment here (apart from the paint) would be the industrial lighting and the dining unit.
Very Basic and Extremely Chic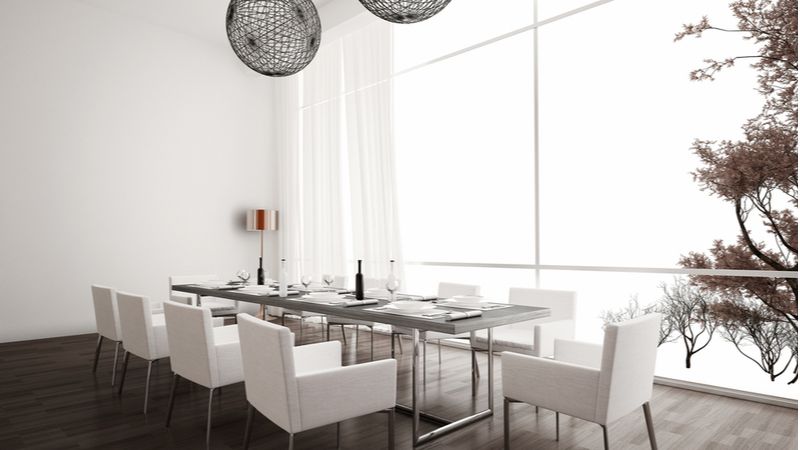 The showstopper in this dining room is the hanging lights. Replace the urge to have a single solid chandelier and give it a more industrial yet chic feel. The other elements of the room like the industrial dining table in steel and the white chairs, give it a very classy look without making it look like a Brooklyn restaurant. Pro tip- keep fresh flowers on the table at all times.
Mismatched chairs have modern dining souls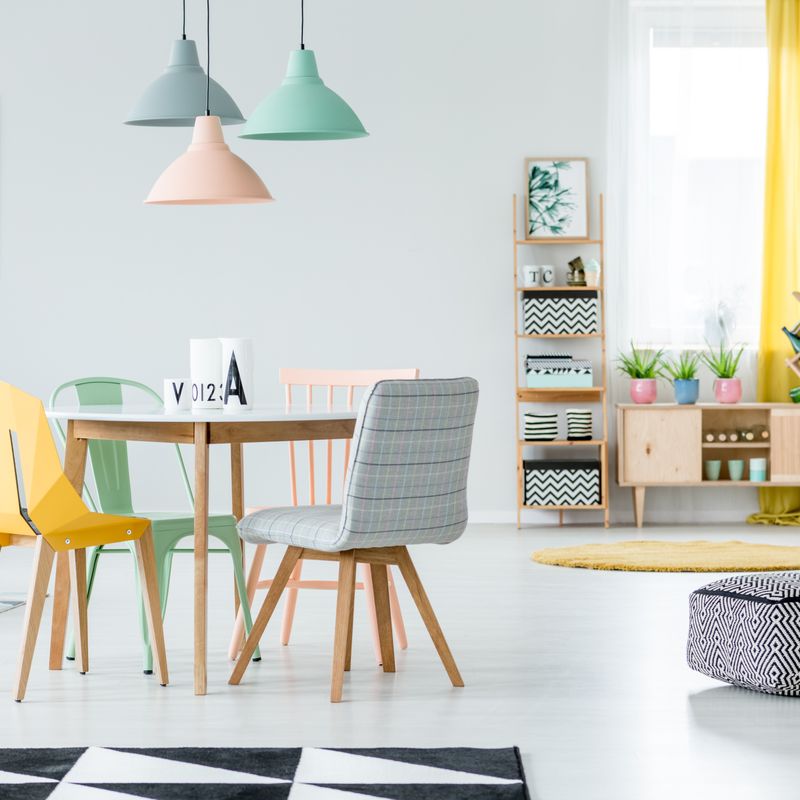 To rewire your idea of symmetry, we have the perfect modern dining room approach. Of course, the key is to not make the dining room look out of place (all pun intended), it is to incorporate quirky elements to your room to give it a new age feel. This again is very easy to assemble room since it is a shared space. You'll need some hand-picked single chairs, some minimal artwork, and a common color scheme to pull this dining room off. Choose a pastel color to take it to a whole new level.
There is no right or wrong to modern decor. It is all about picking a theme and choosing what your eyes are loving.  We've made sure to select the ones that require low financial investment but offer highly satisfactory returns.
 If you liked these dining room ideas and would want to bring them to life in your home, or design your own perfect living space, start a project on Spacejoy. You'll receive unlimited access to an expert design team who can translate your vision and guide you to your perfect room design. Our unique 3D technology allows you to view your room design in 3D, interact with your design - Move and Swap the products with a touch of a finger to see the unlimited possibilities. Our team will also curate a shopping list for you with products handpicked to suit your budget and your style that you can shop right away on our platform. Your dream dining room design is now one click away. See pricing plans.