Outdoor Design Ideas
These 12 Wayfair Dining Tables are Begging To Be In Your Backyard
Outdoor dining tables are a great way to bring the family together to soak up the sun, get a bit of fresh air and enjoy the scenic views. Whether you need a large outdoor dining set for backyard grilling, a small table for your perfect patio or a show-stopper that gets everyone's attention, we have searched high and low to find the best outdoor dining tables for you. All you'll have to do is pick which one is perfect for your outdoor space!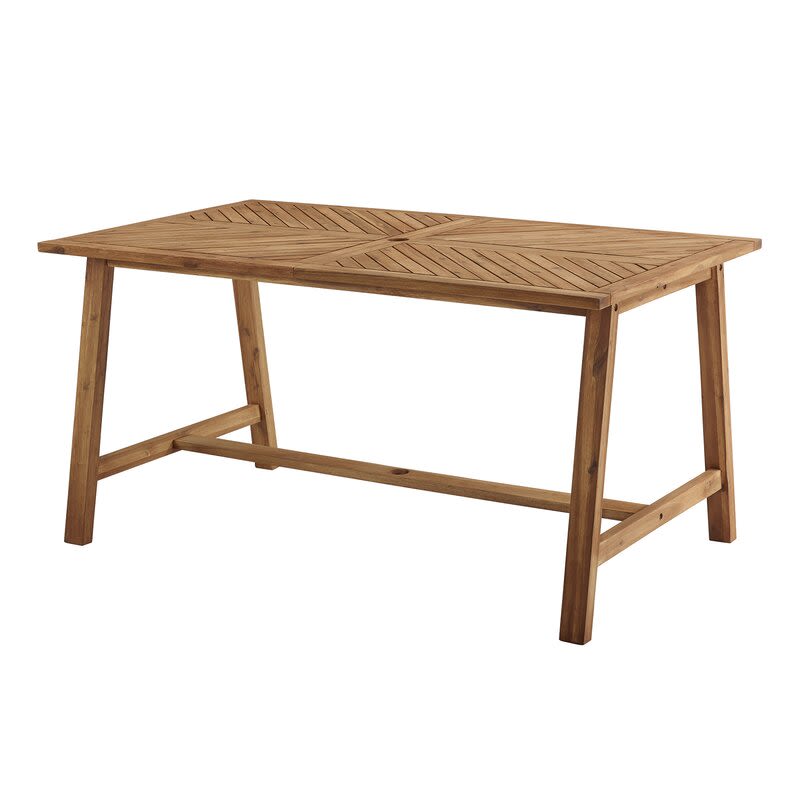 Available in 3 different colors, this picnic table is perfect to add a cottage touch to your outdoor space. The chevron detailing adds a beautiful flair. This table adds in practical features as well, like an umbrella hold and a foot rail so that you can remain comfortable on those hot summer days.
This chic table offers a glam touch to any outdoor space. Available in 5 different colors, there is definitely a shade that will make you smile. A simple glass top sits on top of an hourglass coated metal base. It provides an umbrella hole for optional shade.
Concrete tables have been all of the rage for modern outdoor dining spaces. This dining table is made of high-quality concrete and natural fibers. The polished concrete and simple design will make a solid impression on your patio.
This mid-century modern dining table is a fun multi-material  addition. Constructed with a white powder-coated aluminum frame and synthetic slatted wood top, make it durable for all-weather climates. 
This outdoor dining table is versatile and approachable. This classic dining table is made from weather resistant solid teak wood. 
This small outdoor dining table is perfect for balconies. The square table is crafted from teak wood. The simple lines and versatile design make it ideal for any design style. 
Another small space favorite, this traditional dining table is perfect for four people. Made of acacia wood, it's been finished in water and weather resistant finish. We love this traditional outdoor dining table paired with cafe-style chairs for a casual look.
This mid-century modern dining table is made of acacia wood. The oval slatted surface and strutted legs give this table a feminine touch. It's chic and the perfect table for an outdoor suppertime.
Ready for an eye-catching option? Look no further than this organic, woven textured dining table. It offers a relaxed but refined look to your outdoor dining. The stone top has an umbrella hole and this table sits up to 8 people.
Have a larger budget to play with? This richly grained surface brings an organic warmth to your outdoor dining table. The weathered oak dining table is the perfect contemporary addition.
If you're on the hunt for a full outdoor dining set, this mid-century modern set is the perfect option. This set comes with a large dining table and six armchairs and is made of teak wood. The bright white chairs add a Scandinavian flair.
This dining set offers a funky mid-century design that is comfortable and stylish. A powder-coated steel frame makes it durable. The chairs offer a hammock-like netting that is cozy to sit in.
Ready to Create Your Dream Outdoor Space?
If you are inspired by these Wayfair outdoor dining tables and want to bring them to life in your home, start a project with Spacejoy. Our team of talented designers will work with you to bring your  outdoor living space to life. Our online interior designers will work within your style and budget to bring your space to life. 
Similar Picks
Related designs for you
Categories
Explore other categories