Outdoor Design Ideas
Your Summer Just Got A Whole Lot Cooler Thanks To These Boho Patio Design Ideas
With the weather warming up, it's time for you to start spending more time outside, and there's no better place to do so than your patio. If you're lucky enough to have an outdoor area for you to host guests and entertain, you're definitely going to need some outdoor patio ideas to spice up your space. And while there are many different styles that you can implement outdoors, patio designs that we've particularly fallen in love with are all things boho. From plants galore to mix-and-matched rattan pieces, we've rounded up the best boho patio decor ideas for you to create an airy, cozy space to hang out and host in. 
Mix & Match Your Furniture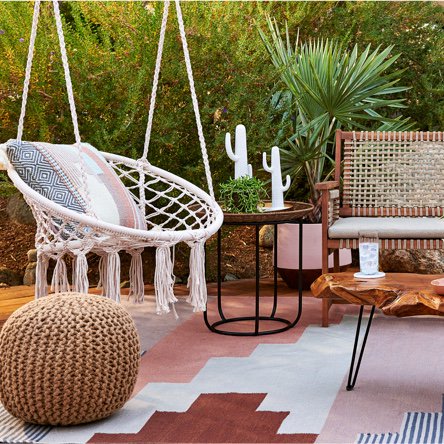 Photo Credit: walmart.com
Instead of getting a complete patio set, go to vintage stores and flea markets or search through Facebook Marketplace for unique pieces that you can throw together. This also goes for types of pieces: For example, you don't want all of your seating to be chairs, so get a loveseat, a daybed, a futon, a couch, a hanging chair, a hammock, or any other seating that feels right for the space. And in true boho fashion, pick out pieces that serve multiple functions. An ottoman can work as a footrest, a side table, or additional seating when you have more guests over. Pieces in brown and neutral tones, and made of materials like rattan, cane, crochet and leather will work best. 
Take Advantage Of Cool Lighting

 
Photo Credit: greenweddingshoes.com
Patios are great for experimenting with lighting. Find cute string lights or moody lamps, depending on what works for the space. Keep in mind that power outlets might be limited, so usually fixtures that have long cables will work best. You can also explore Solar lights which will recharge during the day and provide plenty of light for your evening gatherings. 
Embrace Natural Elements

 
Photo Credit: bohemianlifestyles.com
Plants and dried grass or flowers can really make a space look beautiful and feel more homey, plus those natural elements will really help tie in your patio with the outdoors. Depending on how much light your patio gets, find the right trees and plants to hang, set as centerpieces on your coffee table or side tables, or to litter around the space as natural ornaments. And if you're terrible at keeping up with plants, don't worry — there are tons of faux options you can grab. 
Jute Rugs
Photo Credit: thelearnerobserver.com
Your patio will probably get dusty and dirty pretty easily, so get a rug that can be spot-cleaned or vacuumed to really tie the space together. Jute rugs are easy to maintain — provided you vacuum them regularly — and the light brown color will really enhance the boho patio vibes. 
If you like these patio ideas and want to bring them to life in your home, or design your own perfect living space, start a project on Spacejoy. You will receive unlimited access to an expert design team who can translate your vision and guide you to your perfect room design. Our unique technology allows you to view your room in 3D and interact with your design. Move and swap the products with a touch of a finger to see the unlimited possibilities. Our team will also curate a shopping list for you with handpicked products to suit your budget and your style that you can shop right away on our platform. Your dream patio is now one click away. Click here for pricing plans.