Outdoor Design Ideas
Your Summer Just Got A Whole Lot Cooler Thanks To These Boho Patio Design Ideas
With the changing weather, it's time for you to start spending more time outside before the cold takes away that simple pleasure. There's no better place to do so than your patio! If you're lucky enough to have an outdoor area where you can host guests and entertain, you're definitely going to need some outdoor patio ideas to spice up your space. And while there are many different styles that you can implement outdoors, patio designs that we've particularly fallen in love with are all things boho. From plants galore to mix-and-matched rattan pieces, we've rounded up the best boho patio decor ideas for you to create an airy, cozy space to hang out and host in.
Check out the Spacejoy 3d Home Decorator online
Wicker Wonder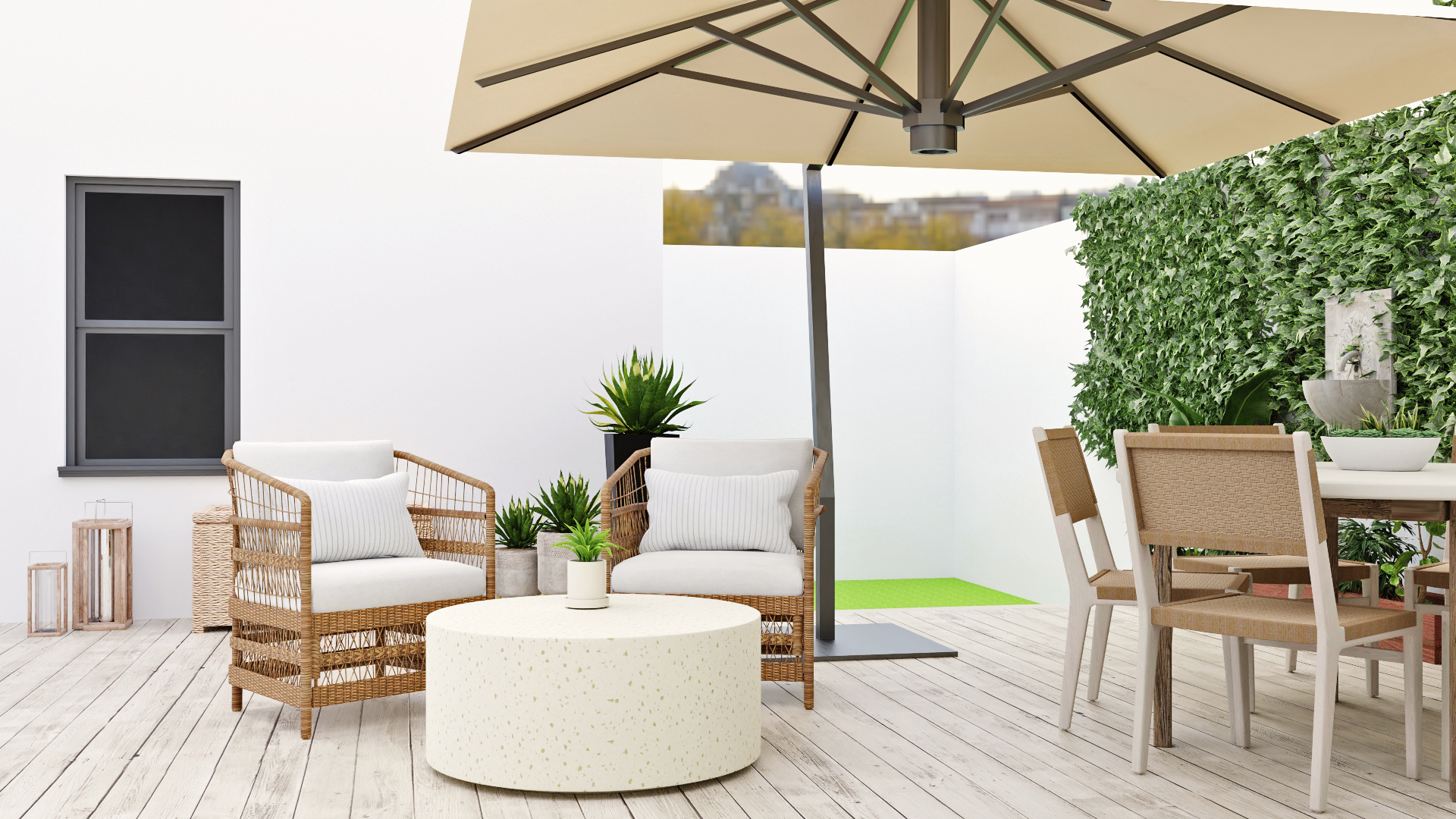 Fall is a great time to entertain. Everyone loves spending time outdoors, nature's color-palette is just perfect, and the photos always turn out great! Get your patio party-ready with stylish furniture and decor. 
One of the first things to consider while designing your patio space is that all your pieces are weather-proof. You can't have your furniture or decor getting spoiled every time there's a little rain, right? Wicker not only gives your outdoor space that modern boho vibe, it is also durable and suitable for all weather. Capture the organic beauty of rattan with Pottery Barn's amazing wicker collection of everything from accent chairs to storage baskets. We especially love it when decor has a running theme and wicker offers a gorgeous vibe for the outdoors. If you, like us, love boho style patio furniture, you've just hit the jackpot! Set up your space and wait for the compliments to come flooding in the next time you entertain! You can thank us later. 
Small-Space Solutions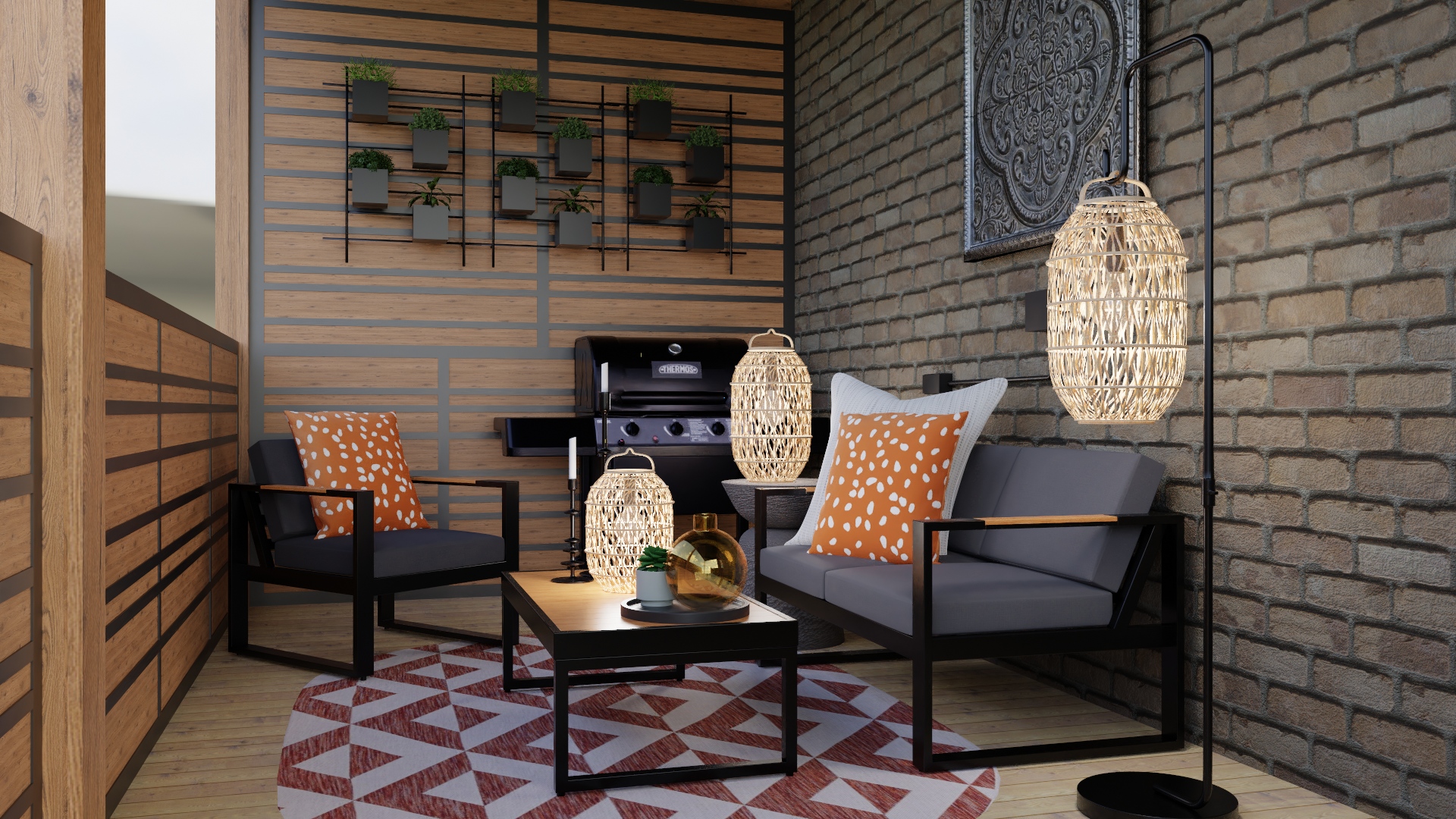 Not everyone's blessed with large open spaces that they can call your own, but hey, even a small patio can be a little slice of heaven if styled just right! Go all out with multi-functional furniture and smart ideas, after all, you just need enough space to kick back with your pals while you talk about everything under the sun. CB2 has a whole collection of small space outdoor styles to give you some boho outdoor decor ideas. 
Another really cool boho outdoor decor idea is make use of your vertical space. You could set up a vertical garden with your favourite plants. It's sure to give your outdoor space some character while also not getting in the way of your other furniture. Bonus: You've got yourself a great spot to take photos that you can frame, because you'll want to remember those moments forever! 
You can also bring in bright pops of color with small area rugs or ottomans while keeping the general color palette of your patio furniture neutrals or white. These colors generally give the illusion of more space!
Up The Cool Quotient With Fire Pit Tables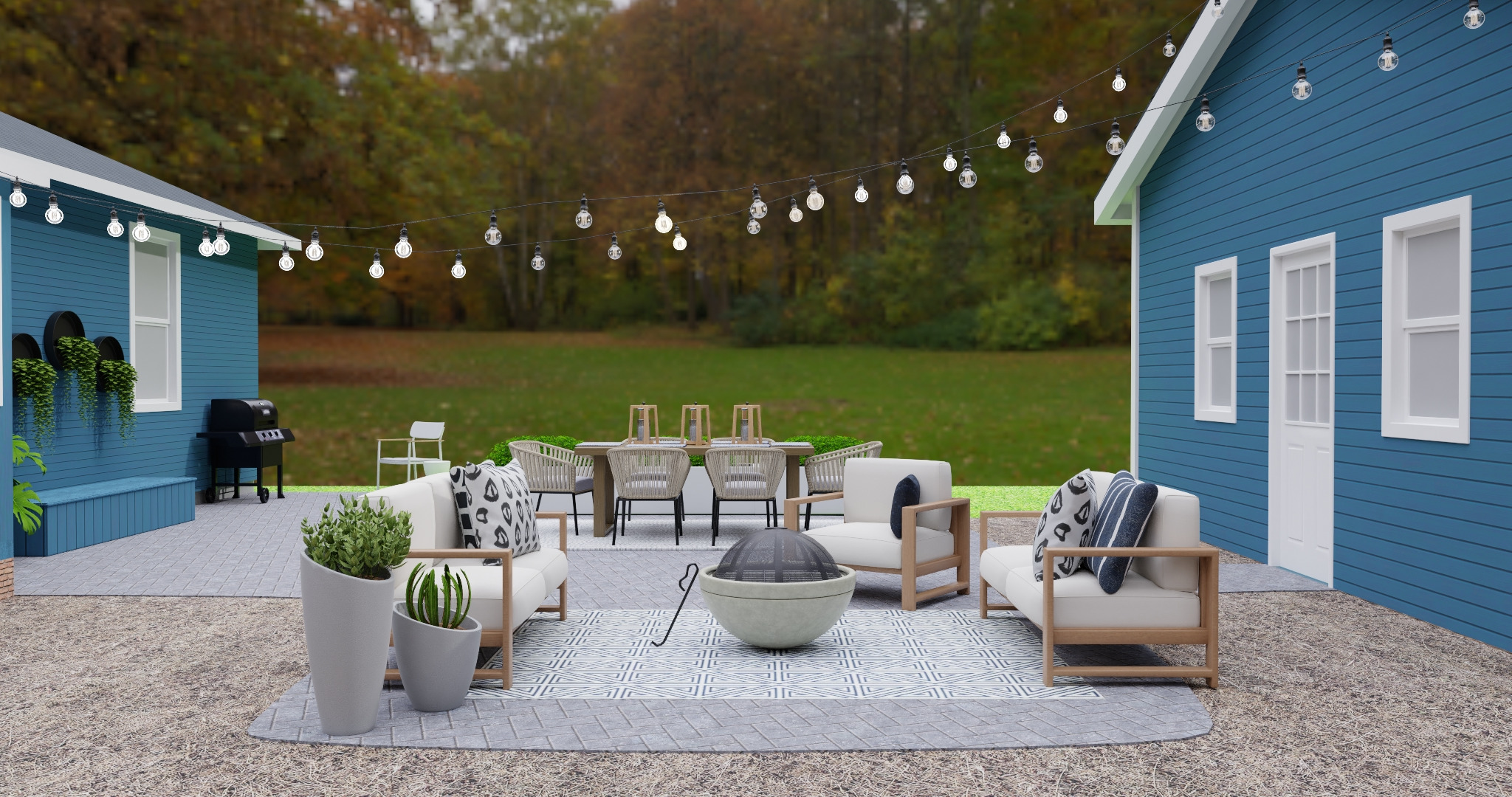 There's no denying the coolness of an outdoor fire pit table. Just look at it! Want to know the secret behind the house in the gang that everyone wants to hang out in? This is it! Whether you're hanging out with your better half or throwing a party, this table really sets the mood while elevating the style of your outdoor space. So, if you've been hunting for the perfect boho patio table, why not get one with fire in it? Not only will it create a lovely relaxing atmosphere, it also offers up the perfect mood lighting to sit around all night while you reminisce about the good ol' days. We're telling you, this is the ultimate boho outdoor patio addition you didn't even know you needed! You can choose a stone fire pit table for that luxuriously minimal vibe or a sleek aluminum one like the Sunbeam Fire Pit Table from Wayfair to set your boho patio apart from everyone else's.
Mix & Match Your Furniture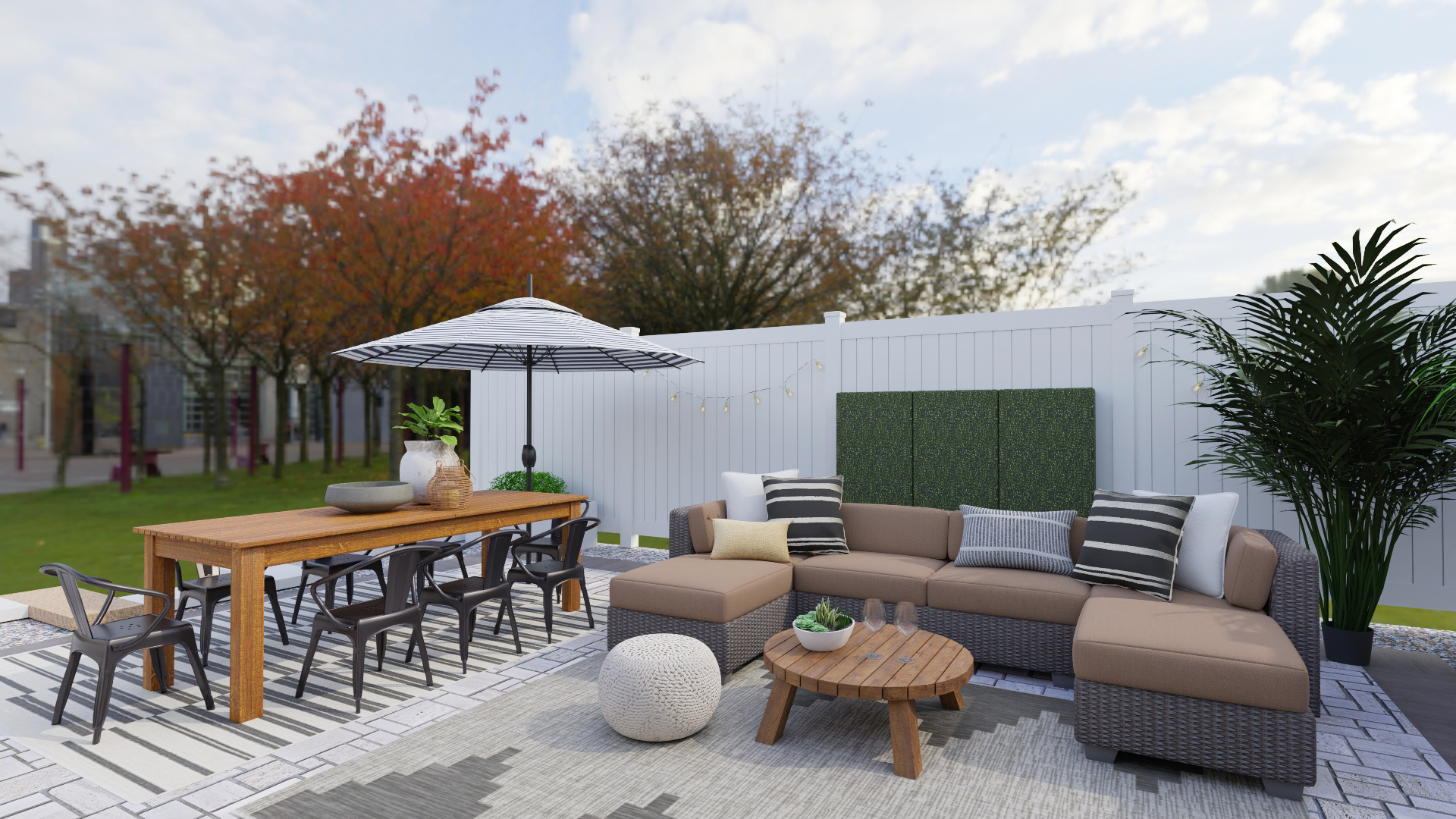 Instead of getting a complete boho patio set, go to vintage stores and flea markets or search through Facebook Marketplace for unique pieces that you can throw together. This also goes for types of pieces: For example, a great boho patio idea is not to have all of your seating be chairs. Get a statement loveseat, a daybed, a futon, a couch, a modern boho hanging chair, a hammock, or any other seating that feels right for the space. And in true boho fashion, pick out pieces that serve multiple functions. An ottoman can work as a footrest, a side table, or additional seating when you have more guests over. Pieces in brown and neutral tones, and made of materials like rattan, cane, crochet and leather will work best.
Take Advantage Of Cool Lighting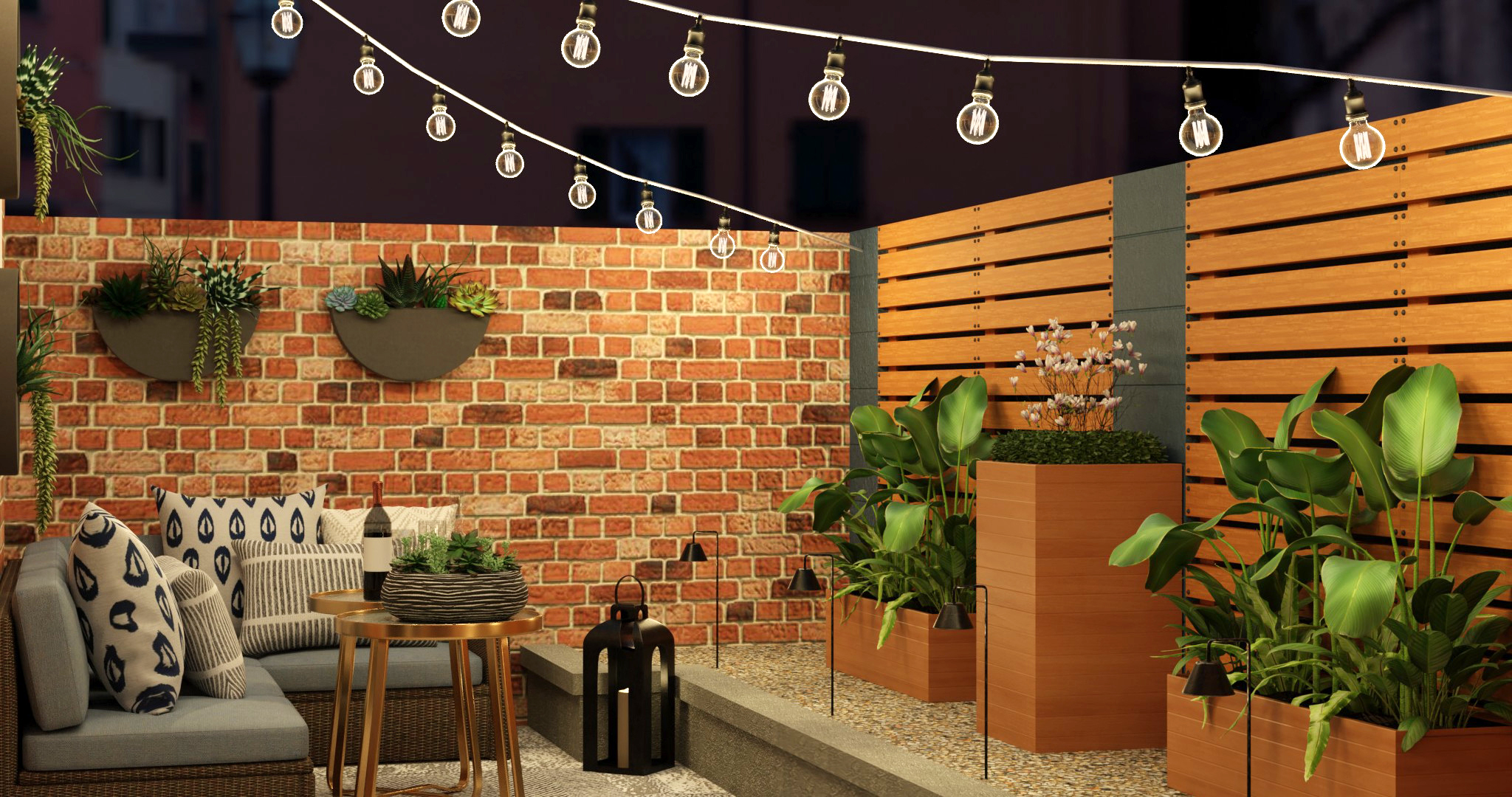 Patios are great for experimenting with lighting. Find cute string lights or moody lamps, depending on what works for the space. Keep in mind that power outlets might be limited, so usually fixtures that have long cables will work best. You can also explore Solar lights which will recharge during the day and provide plenty of light for your evening gatherings. 
Embrace Natural Elements

 
Photo Credit: bohemianlifestyles.com
Plants and dried grass or flowers can really make a space look beautiful and feel more homey, plus those natural elements will really help tie in your patio with the outdoors. Depending on how much light your patio gets, find the right trees and plants to hang, set as centerpieces on your coffee table or side tables, or to litter around the space as natural ornaments. And if you're terrible at keeping up with plants, don't worry — there are tons of faux options you can grab. 
Fun With Fountains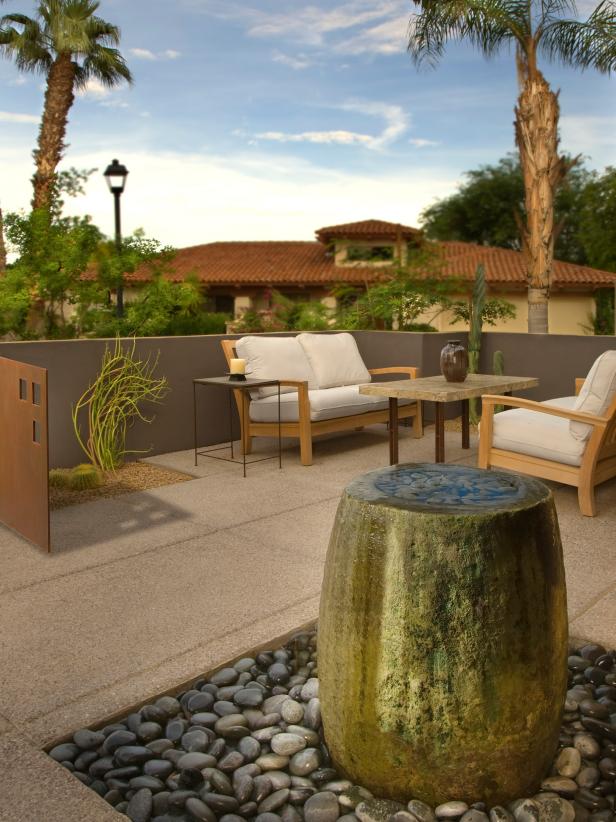 Create a relaxing and homely ambience in your patio with a stunning water fountain. Bring a little bit of nature to your backyard with this lovely addition. There's no better way to give your patio some character and charm than with a gorgeous stone fountain like the Carina Fountain from Pottery Barn. It can be easily assembled and placed in a corner as an accent piece or right in the centre of your space as the focal point. You won't get enough of the amazing compliments that'll come flooding in after you install this little beauty. Not only does it make for a great conversation-started it also sets the mood beautifully and brings you just a little closer to nature with it's calming sounds and soothing presence.
Boho Outdoor Rugs
Photo Credit: thelearnerobserver.com
Since it's outdoors, your patio is probably more prone to getting dusty and dirty easily and quickly. So, while choosing a rug for your outdoor space, it's important that it can be spot-cleaned or vacuumed so that it is fairly easy to maintain. A boho patio rug works great as a decor piece to tie the space together and since we're on the topic of easy maintenance, Jute rugs are the way to go!  You just need to ensure you vacuum them regularly and dust it whenever you can. The organic, natural fabric and color tone of a Jute rug can really enhance the boho patio vibe, while also grounding the place and making you feel closer to mother earth.
Garden Decor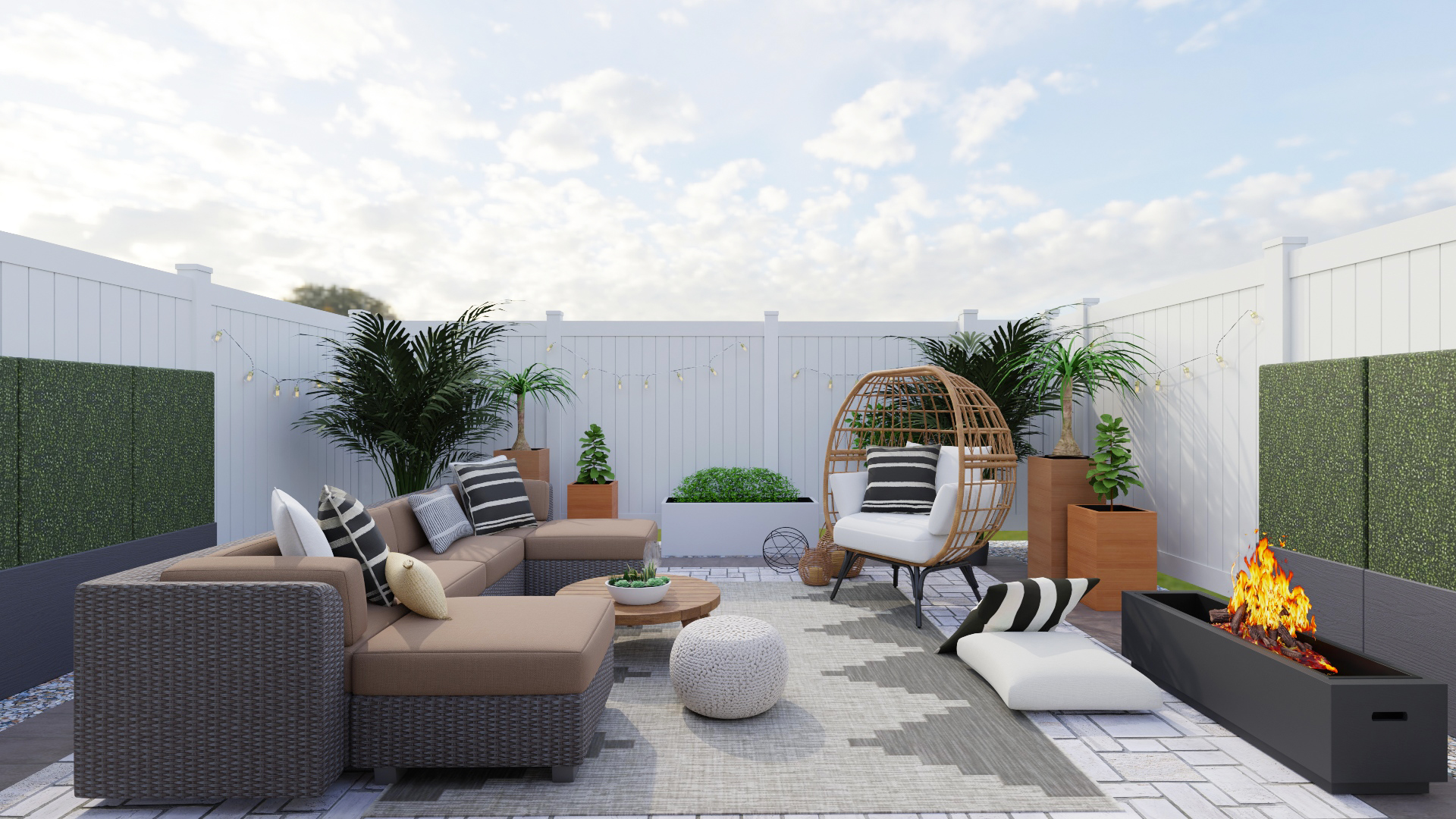 A garden whether big or small is a blessing! If you are a plant-lover or an inherent plant-mom as we like to say, you've already turned your patio into a calming space with lots of greenery all around. Do you know what complements your plants perfectly? Some quirky and interesting garden decor pieces, of course. They do a great job of adding character to your space without taking up a lot of room. You could add a touch of fantasy with a sculpture of a stately gnome or a cute little fairy garden set like the one from Wayfair, you could even put in a cool sundial or a simple wind chime to brighten things up out there. Another great way to make you patio look nice would be to put in a wooden pathway right in the middle to make it seem like a cosy little garden in your backyard! Modern planters for those who have a smaller green patch are also a great addition to your backyard.
If you like these patio ideas and want to bring them to life in your home, or design your own perfect living space, start a project on Spacejoy. You will receive unlimited access to an expert design team who can translate your vision and guide you to your perfect room design. Our unique technology allows you to view your room in 3D and interact with your design. Move and swap the products with a touch of a finger to see the unlimited possibilities. Our team will also curate a shopping list for you with handpicked products to suit your budget and your style that you can shop right away on our platform. Your dream patio is now one click away. Click here for pricing plans.
Check Online Interior Design & Decoration Services Now. Visit SpaceJoy.com