Style & Design
The Chicest Outdoor Tablescapes for Summer (And How to Recreate Them!)
From a sunny Sunday brunch to a starlit dinner, outdoor dining is a must throughout the warm summer months. And as the weather heats up, it's about time you give your outdoor dining area a well-deserved facelift. We're talking about your tablescape: the intricate layers of dinner plates and decadent glassware (or plasticware, we don't judge) that adorn your dining table. If you're ready to dress your table to impress this season, we have all the outdoor inspo you need to create your chicest tablescape yet.
Bright and Breezy Bohemian Oasis Tablescape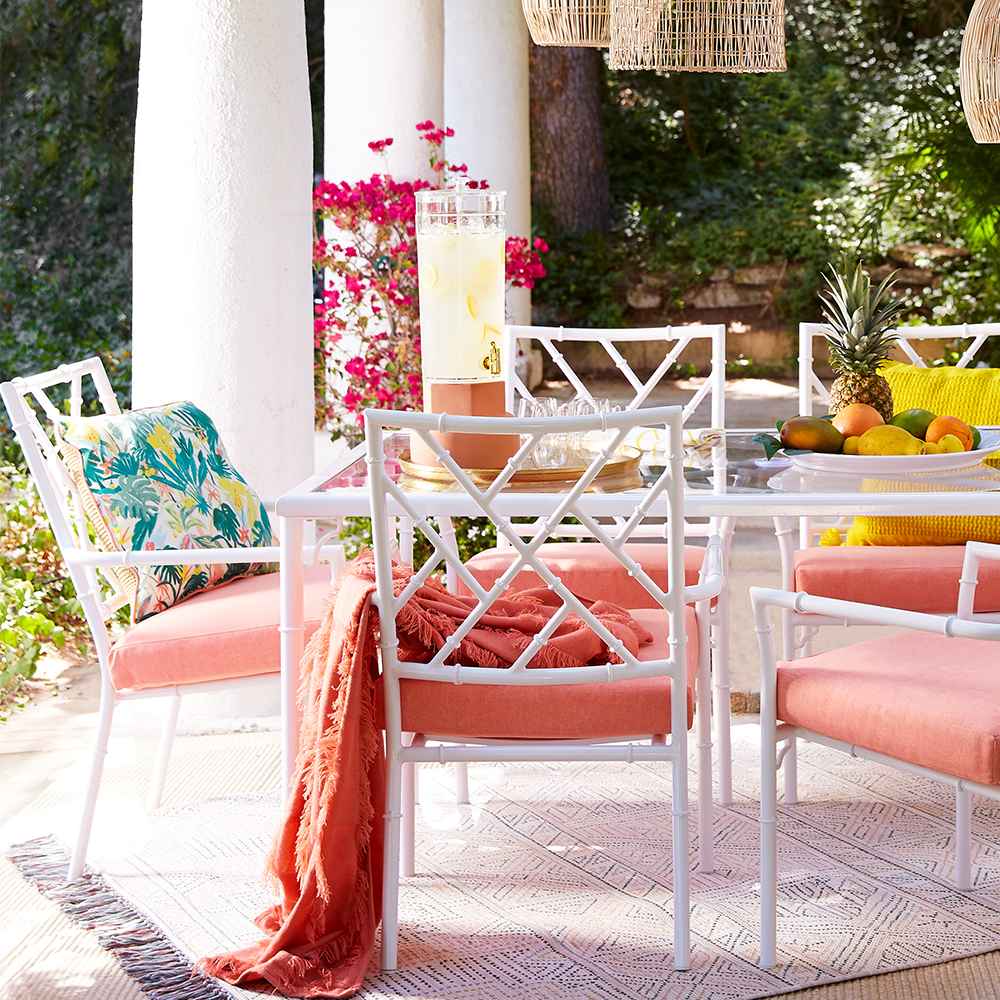 Photo courtesy of Target.
Your outdoor space should always feel like a personal oasis. That's why we love brightening outdoor dining areas with organic textures and whimsical prints. Set the right tone with the Opalhouse Cotton Natural Table Runner for a breezy, bohemian tablescape. As a soft summer breeze tosses the runner's playful tassels, you can layer on more natural texture with the Opalhouse Bamboo Serving Bowl with Rattan Handles. Perfect for large summer salads or snacks, this stunning serving bowl features clean lines complemented by organic rattan. 
Next up, snag dinner plates in playful patterns, like these tropical bird-themed Melamine Salad Plates by Opalhouse. Though slightly smaller than traditional dinner plates, these whimsical dishes add a pop of color to any outdoor tablescape, plus they're incredibly durable. Pair your plates with matching Opalhouse Melamine Bowls to complete your set. 
Lastly, be sure to finish your tablescape with the Opalhouse Plastic Beverage Dispenser with Bamboo Lid. Embossed with a subtle floral pattern, the organic shapes of this dispenser pair perfectly with its natural bamboo lid and faux-metal spout. 
Muted Neutrals with a Terracotta Pop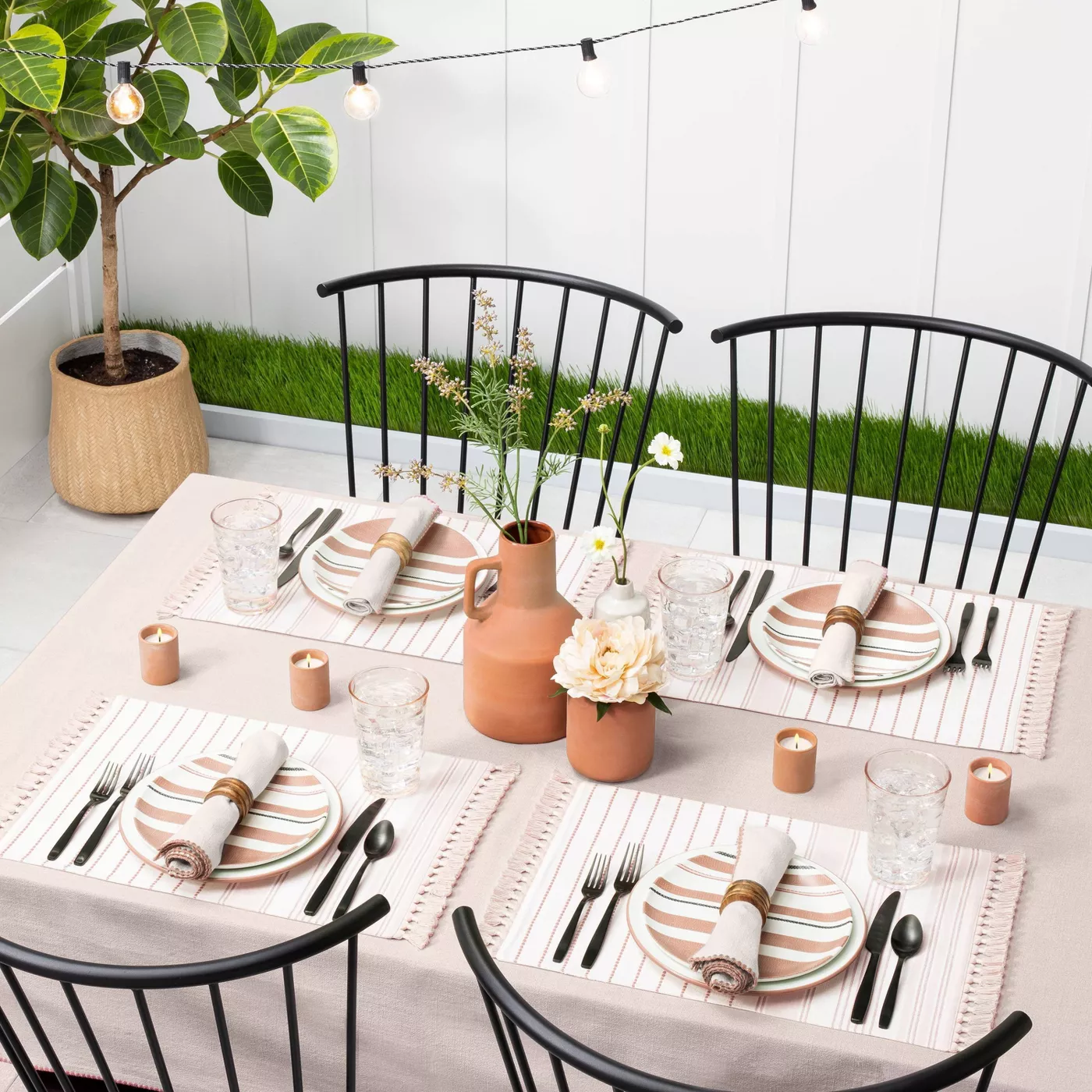 Photo courtesy of Target.
Easily blend your existing outdoor style with chic dusty rose hues with this Hearth & Hand™ with Magnolia Tablecloth. Accentuate the tablecloth's decorative stitching with Hearth & Hand™ Fringed Placemats in a dreamy light pink and ivory stripe. Of course, no tablescape is complete without the plates. So, the Enamel Dusty Rose Rim Dinner Plate by Hearth & Hand™ lends a slight pop of color to your design. Layer with the Melamine Multi-Stripe Salad Plate also by Hearth & Hand™ to accentuate your dusty rose color story. 
Muted neutral Napkins with Decorative Stitching mimic the subtle design of the tablecloth to complete your look. But, you know this tablescape wouldn't be totally complete without a few decorative accents. A four-pack of Small Citronella Terracotta Candles by Hearth & Hand™ bring the earthy feel of terracotta straight to your table, plus they help keep pesky critters away from your summertime feasts. A Medium Terracotta Vase provides the perfect space to stage fresh cut flowers from your garden. Plus, feel free to accent your tabletop with other small terracotta pots and plants you have around the house to warm up the look. 
Clean and Crisp Traditional Chic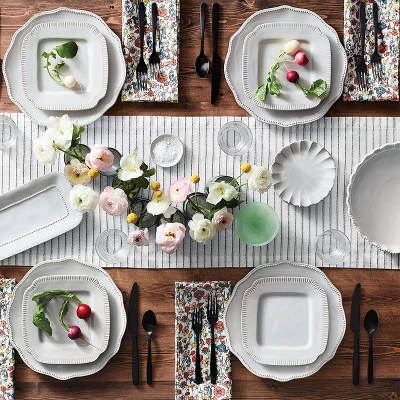 Photo courtesy of Target.
For a classic look to your outdoor dining space, aim for contrast with clean white plates and dark silverware. Begin by layering on a contrasting table runner, like the Sour Cream and Blue Stripe Runner by Hearth & Hand™. Next, layer simple stoneware dinner plates with a scalloped edge, like the Harrison Lines Dinner Plate by Threshold. Top your dinner plates with matching Harrison Salad Plates, also by Threshold. 
Next to your plates, you'll need to highlight this Matte Black Flatware Set by Hearth & Hand™. As far as silverware goes, this flatware set is durable and sure to last for several summers to come. Add an appetizer bowl or plate to your tablescape, like the Reactive Glaze Plate by Hearth & Hand™. Simple and stylish Clear Glass Cups, also by Hearth & Hand™, make a welcome addition to your drinkware collection. Not to mention, their embossed accents make your table sparkle.
Redesign Your Outdoor Oasis Today
With a few key pieces, you can make any tablescape picture-perfect. But don't stop there—give your outdoor space the love it needs to truly shine this summer and start a project with Spacejoy. Not only will you receive complete access to an expert design team, but you can fully interact with your design before committing to a new outdoor oasis. What are you waiting for? Check out our other outdoor patio ideas and get started today.
Similar Picks
Related designs for you
Categories
Explore other categories