Style & Design
Here's How Spacejoy's Online Interior Design Service Works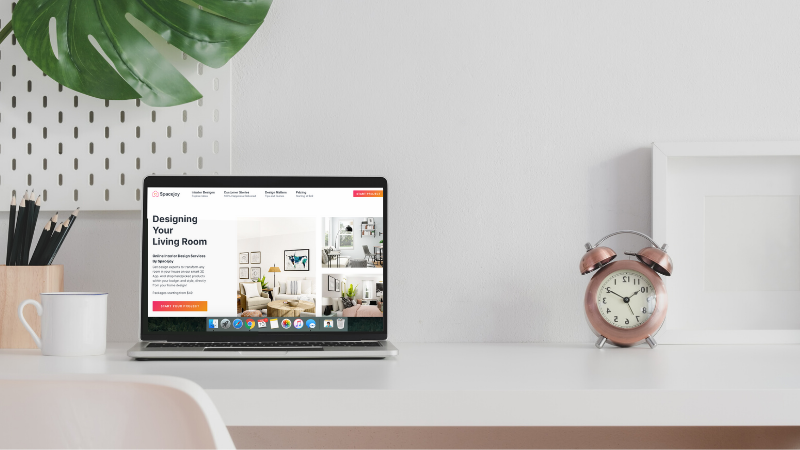 Whether you're moving to a new house, feel your furniture needs an upgrade, or are trying to figure out how to rearrange your furniture to add playing room for your kids, home decor can be challenging and intimidating. Before the rise of online interior design services, anything home decor was left to luck and countless lists of inspiration projects you never did. Today, with a few clicks and after a few pictures, you can work with one of the best online interior design services to finally decorate the home of your dreams. Here's how Spacejoy makes that happen. 
Choose Your Package
The first step to getting started with your project is to choose the right package. Currently, Spacejoy offers three different design packages to help you unlock the room of your dreams. All packages include:
1:1 Design sessions with an interior designer

Custom design concepts and revisions

The chance to see your space in 3D

Ultra-real 3D renders of the space

A customized shopping list to help you get started
Share Your Interior Design Dreams
Not everyone knows what style they want for their rooms. Don't worry, Spacejoy provides you with a quick quiz to help you express your interior design dreams so our online room decorators can do their magic. 
While you go through the quiz, you'll let our team of hand-picked online interior designers know which rooms you're designing, the reasons behind your decoration project, and your budget. 
Unlike other online design platforms, specifying why you're choosing to embark on this project is a key question in Spacejoy's interior design quiz. For example, your design needs are different if you just got married versus looking to adapt the space so your children can have more playroom. Right?
Meet Your Online Interior Decorator
At Spacejoy, we give you style ideas based on current trends and your aspirations, but we also work with your existing furniture. Most likely, you already have amazing pieces in your decor. You might need help maximizing their potential or styling them to look their best.
After your Spacejoy quizzes, your interior designer might request additional images and a few measurements to work within your space. We believe in detailed-oriented design, and that includes making sure the design concepts we provide fit your current area like a glove. 
Unlike with traditional interior design services, you have access to our interior designers at any time -- no need for appointments or in-person meetings. Chat with your designer and exchange ideas as needed. Our interior designers will not stop working until you're entirely in love with our concepts. With the Euphoria Package, you can even do live revisions while talking with your designated designer. 
Wait for Spacejoy's Magic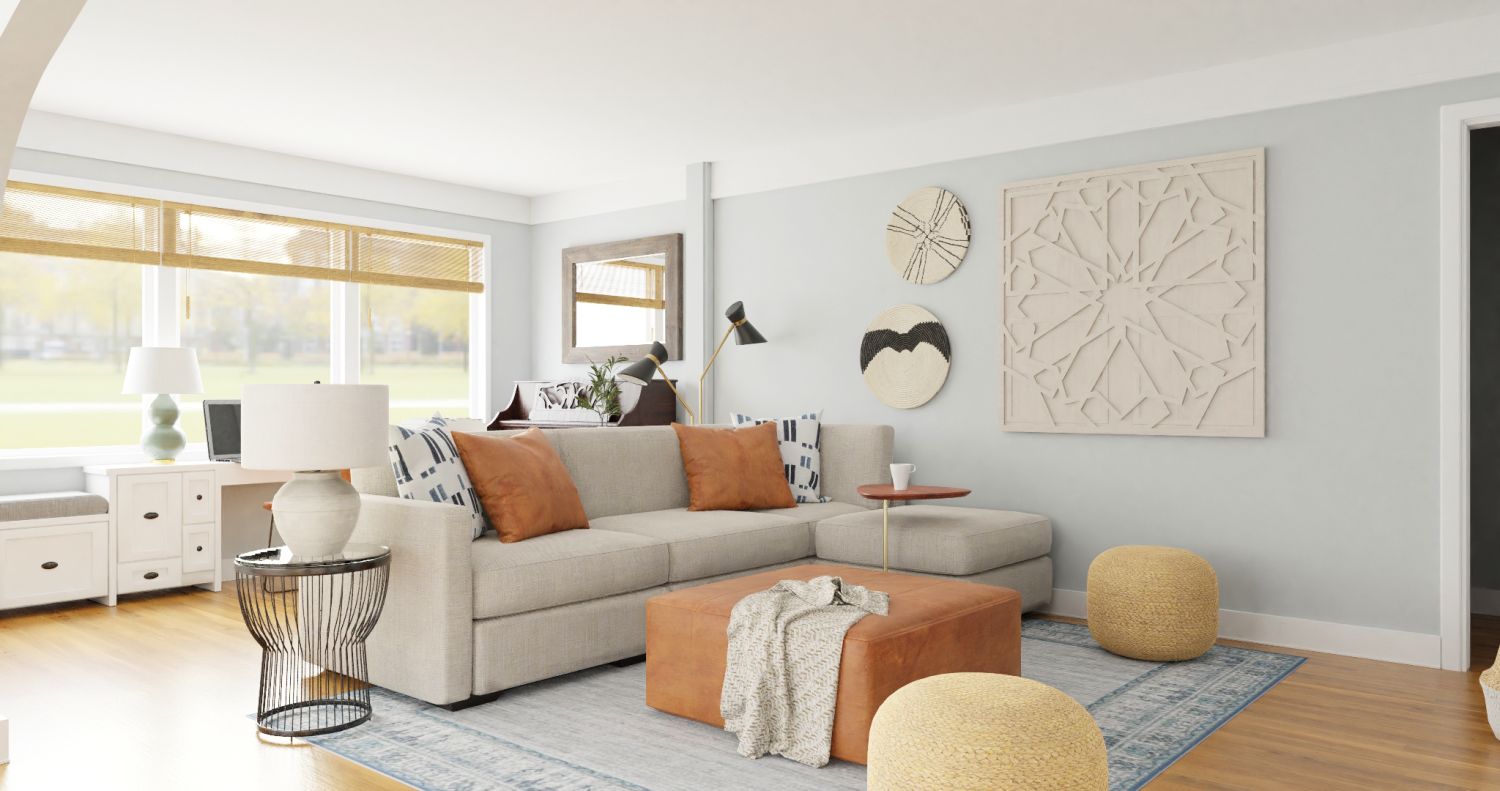 Once you submit all of this information and you agree to the style and theme with your designers, we'll get to work. Please sit back and relax while our online interior designers start creating your concepts. Depending on the package you choose, you'll receive either one to two different concepts. Forget about browsing for hours for the right products and measuring them repeatedly to see if they fit—no more trips to the stores to see how the pieces look. And more importantly, no need to spend thousands of dollars hiring a traditional interior design service that will take weeks if not months to give you something. 
Fall in Love with Your Interior Design Concepts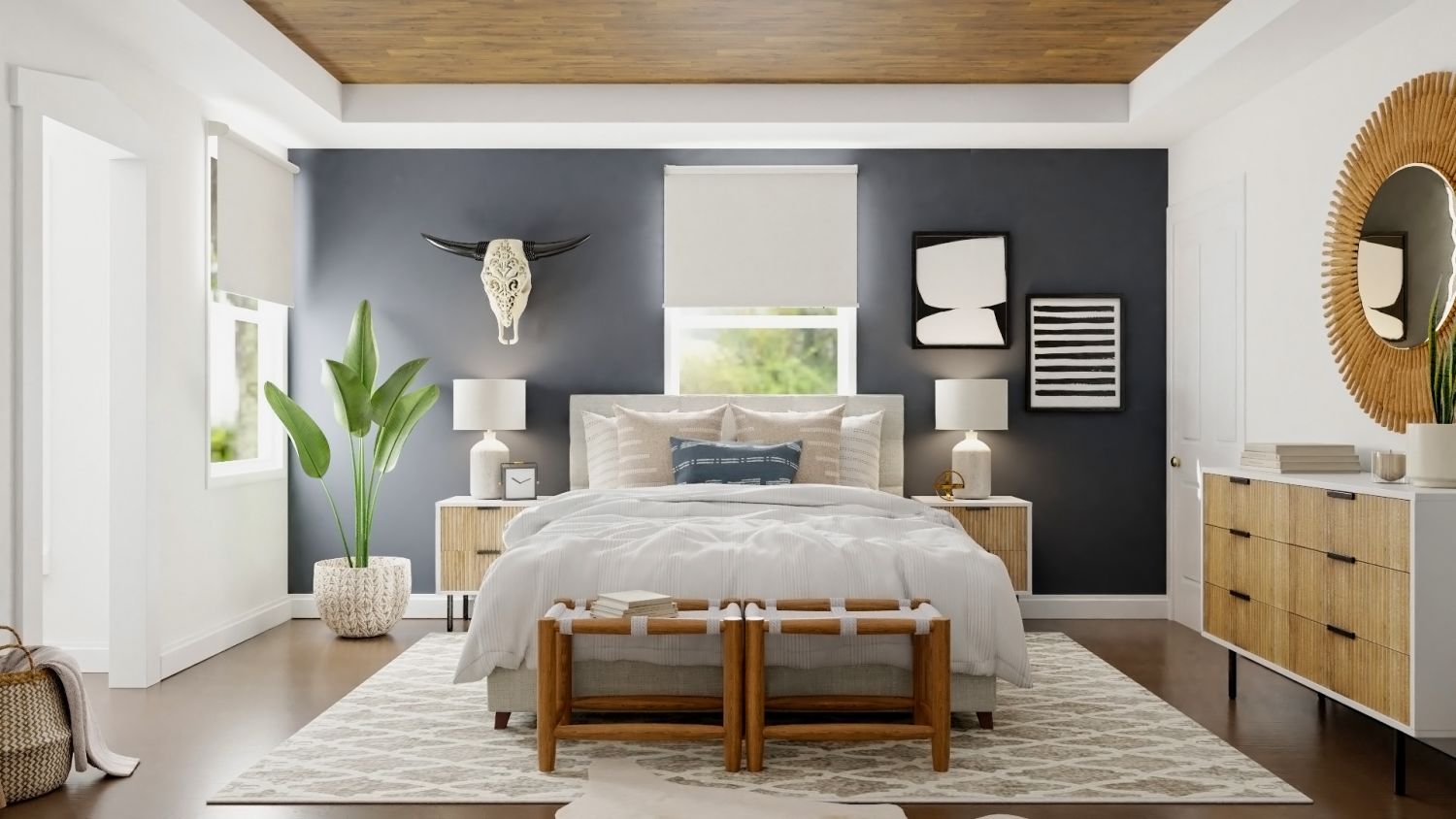 Before you realize, anywhere between seven to twelve days after your design request is submitted, you'll get your first concepts. The initial set of interior design concepts will give you an idea of what your interior designer wants to achieve with your room. These are meant to guide our designers in the right direction. You'll receive the initial concepts in 3D versions of your room, so you can easily see whether you like the concepts. 
At this stage of the process, real collaboration begins. Work 1:1 with your interior designer to figure out your dream plan. Switch furniture pieces, try different paint swatches or rearrange furniture to change the space. All of this happens online, with no need for in-person meetings or tedious visits to a showroom. 
After you agree on a final concept, our team of interior designers will get the ultra-real 3D renderings designed. These are a fabulous way to see precisely how the final design will look. Plus, you get to see a whole 360-video of the room, it almost feels as if you're standing in the middle of the room reviewing everything. 
Go Shopping!
Now, we wouldn't send you your dream home without any recommendations. A picture can be beautiful, but trying to match the renders' style in real life can be a painful experience. With every Spacejoy's package, you receive a customized shopping list that includes everything you need for your design. 
We work with some of the most fantastic interior design retailers out there. However, we don't limit our suggestions to them. If there's an item out of our partner retailers that will meet your design's demand, we'll include it. Our mission is to help you design your dream home, no matter what. 
Most importantly, your personalized shopping list not only targets your style and home's design but also thinks about your budget. Whether you're working with a conservative budget or are splurging on new furniture, our shopping suggestions will always respect those boundaries.
Admire Your New Space
Finally, after you've shopped from your custom list, and received your entire pieces, it's time to create. You have the 3D renderings of your room for guidance and the interior designer's instructions and tips. It's truly amazing to see the before and after of your room. Almost unbelievable. We promise you'll love your new space if you don't let us know. For us, your happiness is the one thing that matters the most, and we'll do anything we can to help you love your new space. 
Start a New Project
Ready to give it a try? Working with Spacejoy online interior design service is easy and affordable. We want to help you build the home of your dreams, no matter where you are. Design Your Room & Visualize The 3D Renderings With Spacejoy Interior Decorator App