Living Room Design Ideas
The Look For Less: McGee+ Co New Arrivals
The brainchild of Shea and Syd McGee, McGee + Co's pieces carry a bright and clean aspirational aesthetic. Their newest collection is a breath of fresh air for homes that love a touch of rustic decor, but the price tags can be steep. Scroll through to take a look at our pics to get the McGee + Co look for less.
Leather Ottoman 
A leather ottoman elevates the level of luxury to any mid century style living room. In addition to its aesthetic benefits, ottomans can act as extra seating for guests, too. Article's Sven Charm Leather Ottoman features a tufted top, mimicking the Morrison Leather Ottoman from McGee + Co with a more affordable price tag.
McGee + Co $1800
Article $549
Floor lamp
A minimalist floor lamp is meant to blend in with its surroundings and add light to a space without detracting from the decor of the rest of the room, so its hard to justify spending tons of money on them. Living Space's Metal Floor Lamp has a sleek design that blends perfectly behind a couch or recliner and beautifully mimics the McGee + Co Bravo Floor Lamp that has a price tag of almost one thousand dollars more.
McGee $1150
Living Spaces $200
Baskets 
When it comes to innovative storage needs, decorative baskets are our best friends. For everything from extra linens to dog toys, and children's toys, the uses of big baskets are endless, and you don't have to sacrifice style to add the additional storage. As a bonus, they don't look out of place in any room, especially when they incorporate a rustic coastal vibe like the rattan Positano Basket from McGee + Co. For the same look at half the price, we recommend Target's Opalhouse Open Weave Basket. 
McGee $98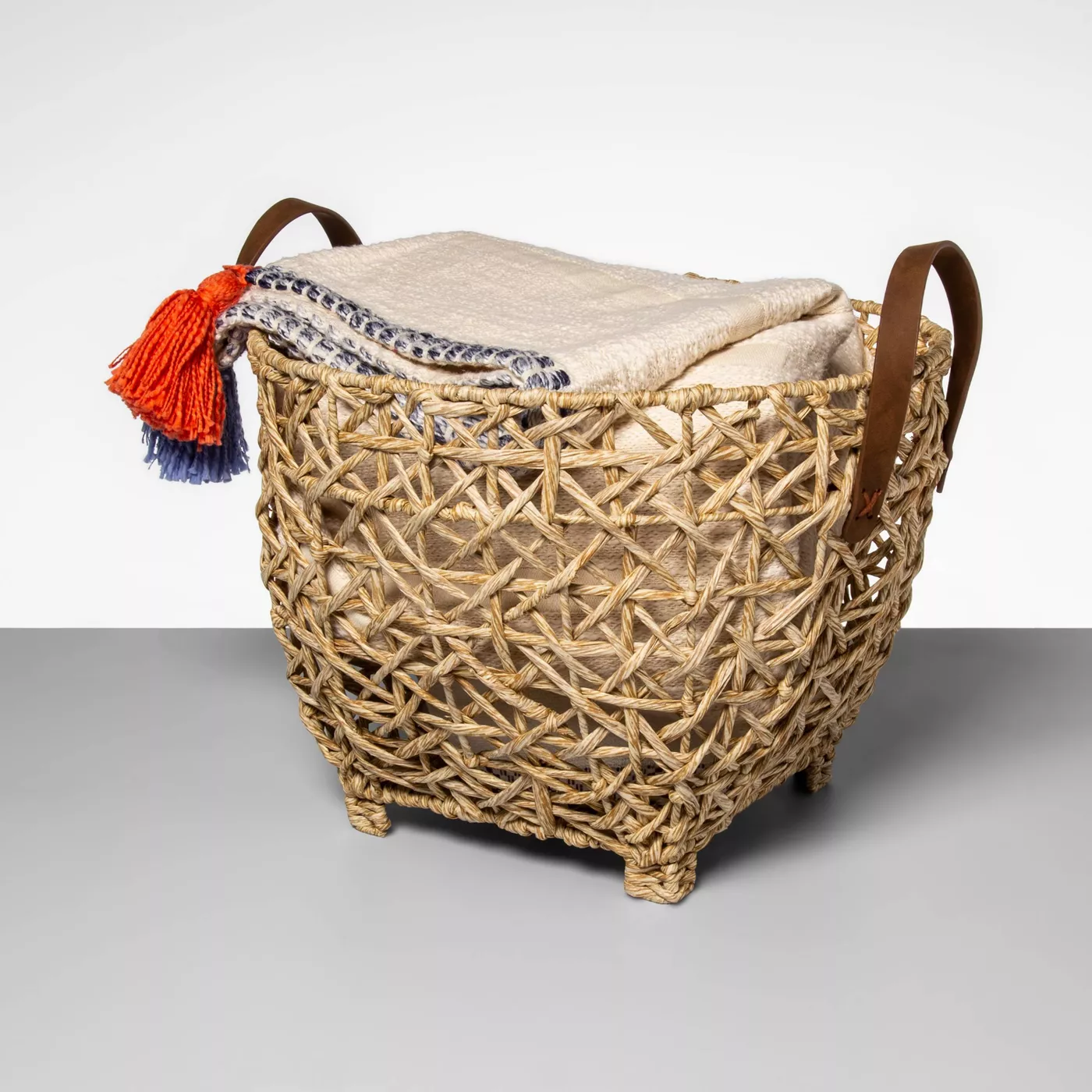 Opalhouse $34
Marble Tray
There's something about a decorative vanity tray that makes a surface feel much more organized and aesthetically pleasing. Dress it up with a floral arrangement, or use it functionally as a place to hold mail or car keys. William Sonoma's Large Marble Tray is a great replica of McGee + Co's White Marble Catch-All Tray. 
McGee + Co $208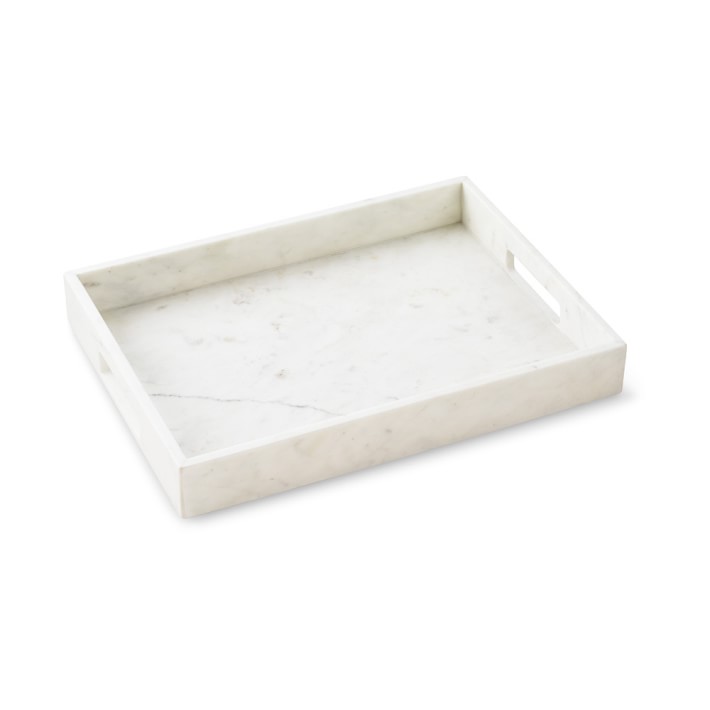 William's Sonoma $79
Pitcher
Whether you use it as a decorative beverage dispenser while entertaining guests or as a unique way to display a bouquet of flowers, a textured stoneware pitcher is very versatile. While we love the faceted design of McGee + Co's Marlow Stoneware Pitcher, Pottery Barn's Mason Stoneware Pitcher has a very similar style with contoured details and is finished off with a glaze.
Pottery Barn $35
McGee + Co $180
Woven Bar Stool
Elevate your kitchen with a woven bar stool that incorporates an intricate woven design. The woven element of the stool adds an unexpected twist to your average barstool. Whether you are scarfing down a quick breakfast or sitting down to enjoy a family meal, a woven barstool will stand the test of time. AllModern's Tivoli Woven Barstool mimics McGee + Co's Greely Counter Stools and won't break the bank.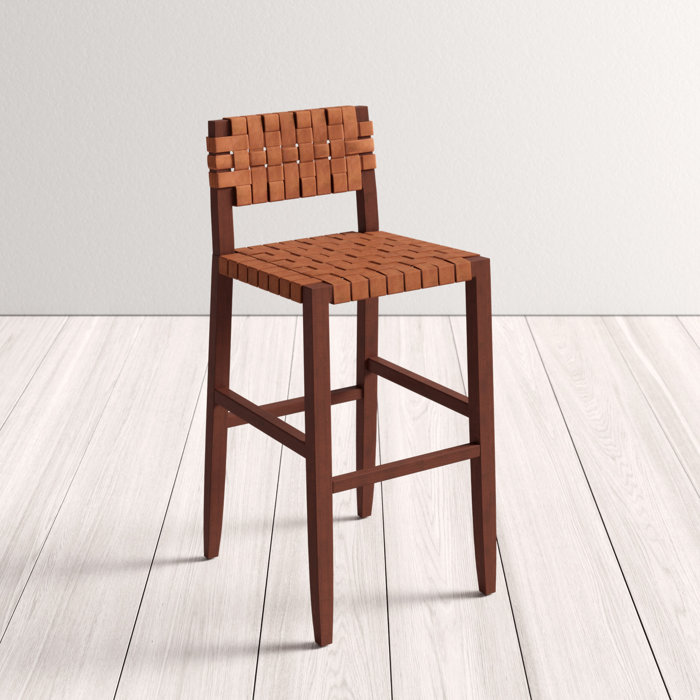 AllModern $288
McGee + Co $650
Coffee Table 
A substantial coffee table is an important element of your living space. A solid wood piece can be accessorized with personal pieces to show your own design style and personality. McGee + Co's Herrin Coffee Table is made of solid oak with a walnut stain that blends beautifully with several different design styles. Wayfair's Cranmore Trestle Coffee Table acheives the same elevated look at more than half the price.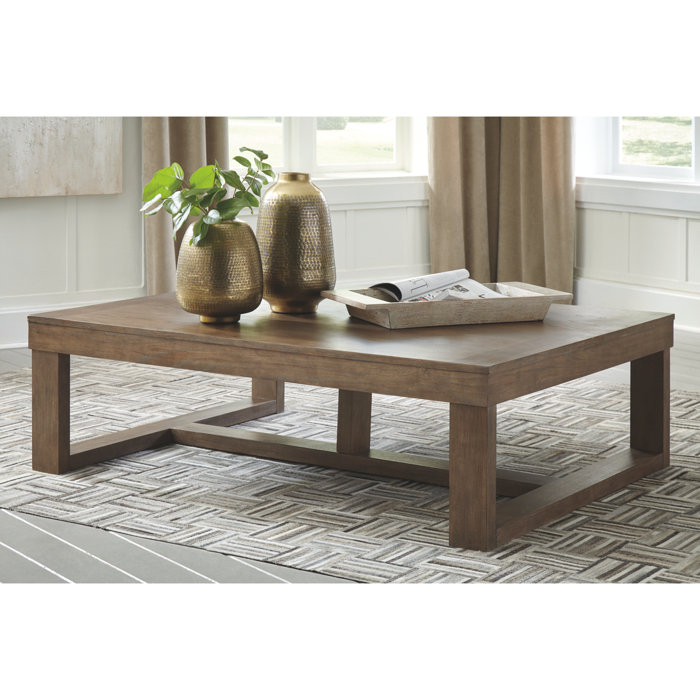 Wayfair $350 
McGee + Co $1980
If you love the idea of luxury finds on a budget, let Spacejoy's designers work with you on designing the perfect space. Start a project today, for unlimited access to our team of designers to help lead you to your perfect space. 
Similar Picks
Related designs for you
Categories
Explore other categories