Dining Room Design Ideas
Upgrade Your Dining Experience With These Simple Dining Room Ideas
Your dining room does more for you than any other room in our house, and it is often the most neglected space in it. Some of the reasons being: a) we have kids, and it's challenging to keep the space nice b) our place is tiny, and it's hard to design it well c) we don't entertain much, so just why?
And in response, we have a) kid-proof dining rooms can be stunning b) Here are some incredibly chic small dining room ideas to prove our point c) eating and enjoying food is a festivity that can be enjoyed sans guests as well; more so in a beautiful space. 
Dual Toned Walls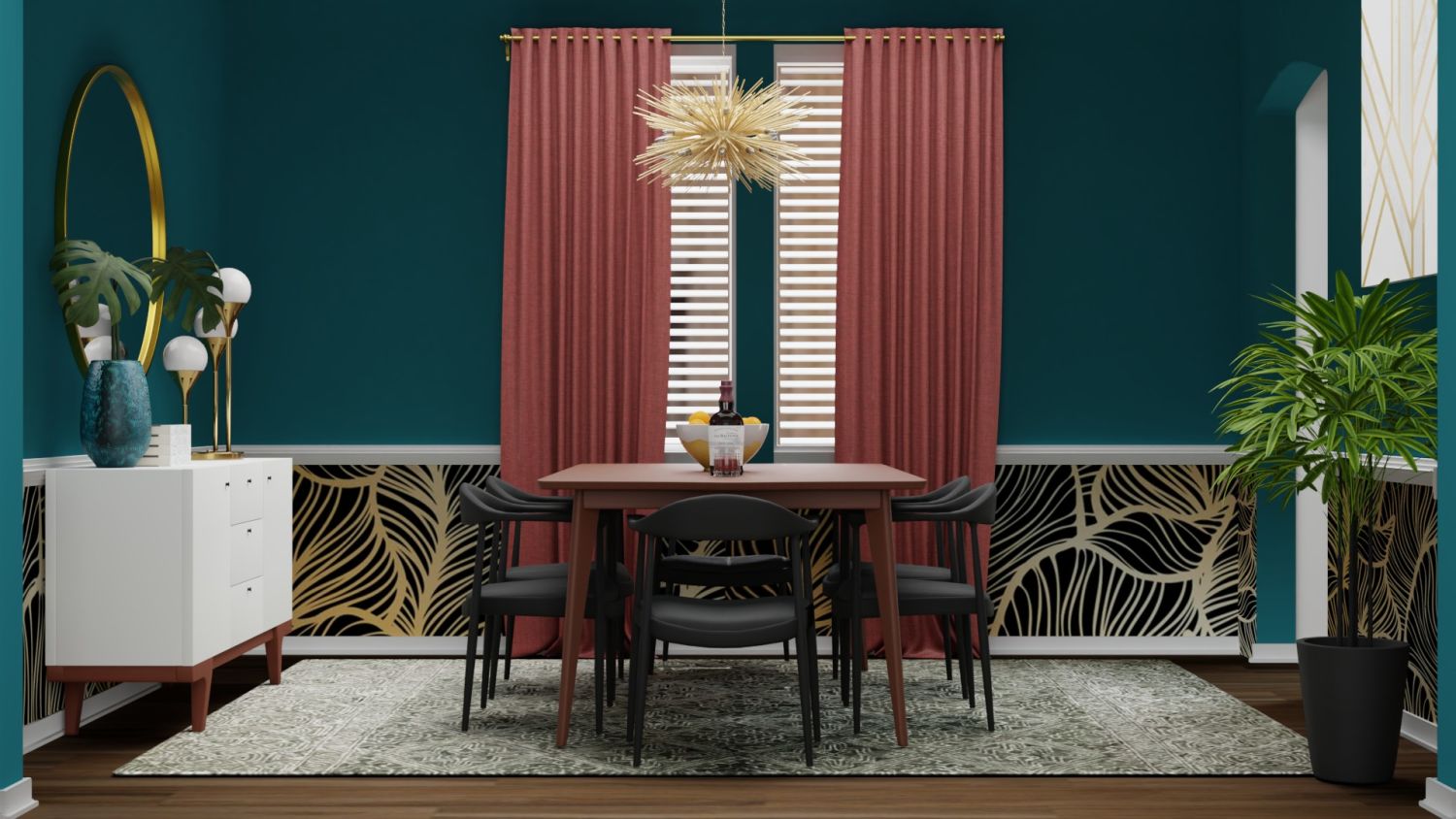 Without spending as much on the woodwork and texturizing, you can achieve the same results through good quality paint. Having two-toned walls gives the space a lift of energy and can make a small room look luxurious. What it also does is that it allows you to keep all the other decor elements fairly simple if you want to cut down on the clutter.
Cover It Up With Upholstery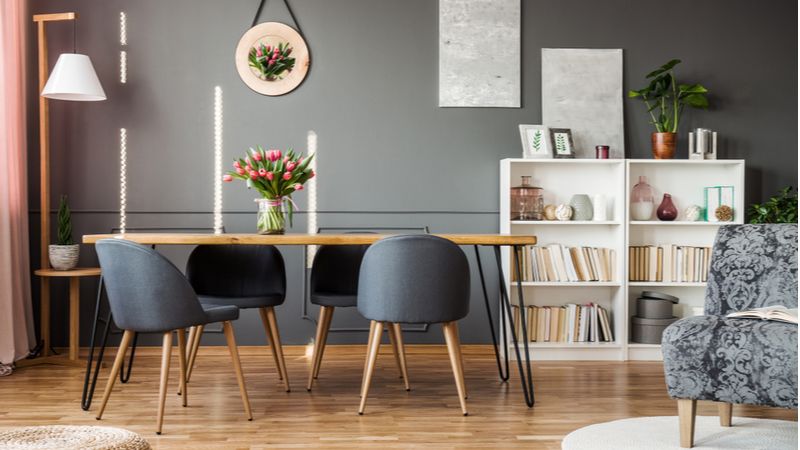 Good upholstery is a classy yet simple way of masking the bareness of any room. If your walls are plain and your room seems dull, get furniture upholstered that will be the show-stopper of your dining room. Do you see how the dual rose gold play draws your primal attention? Layer the room with lights, throw a rug, and you've upgraded your dining room. 
Use Dining Room Lights For Ambiance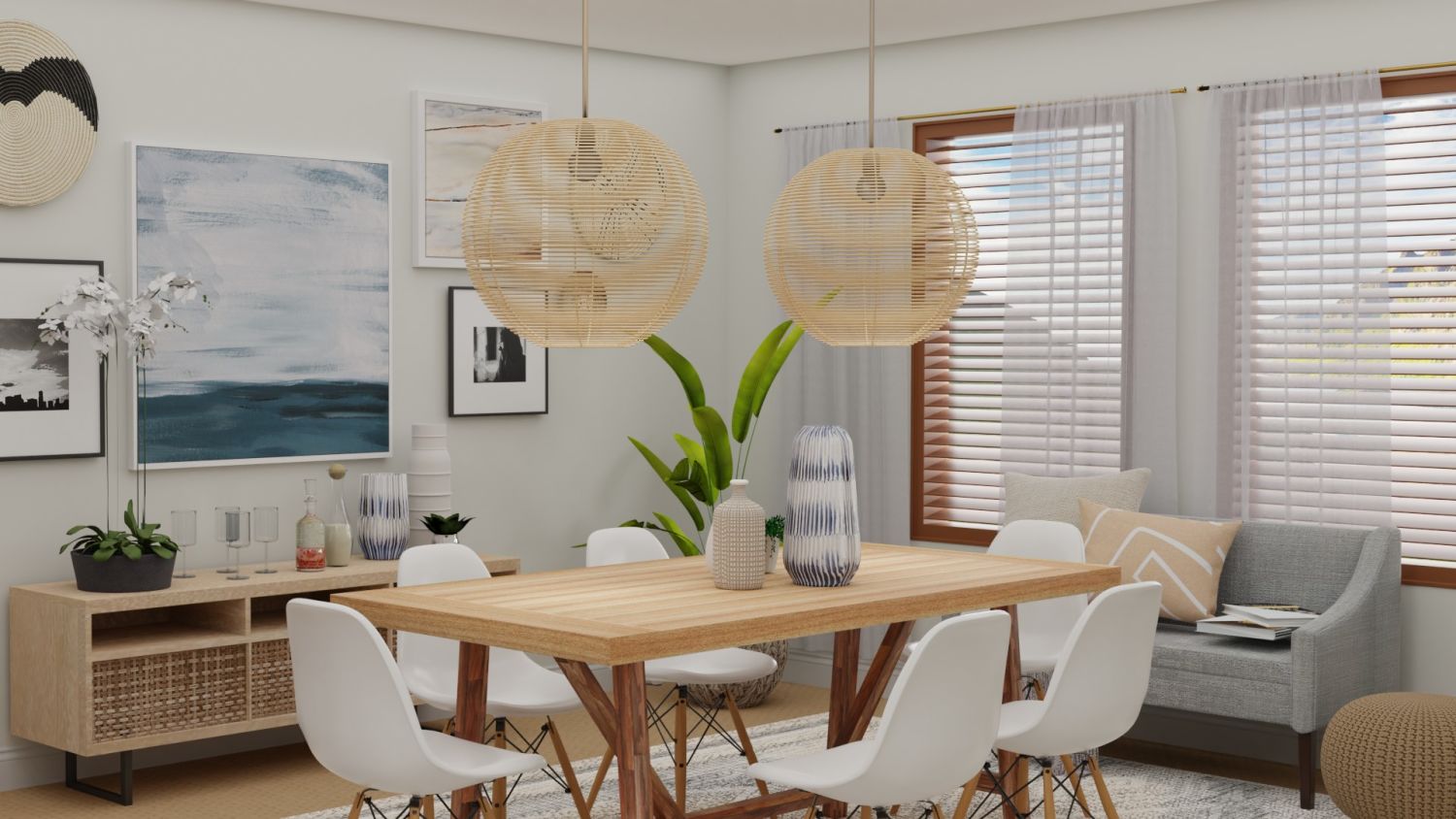 Tweak your dining room lights to create an instant ambiance. Add an elaborate chandelier with a subtle mix of wall mounts, floor, and table lamps and watch it come alive. If you're not constrained by space then add multiple key sources of light for maximum coverage. 
If You Like It Then, You Should Put a Rug On It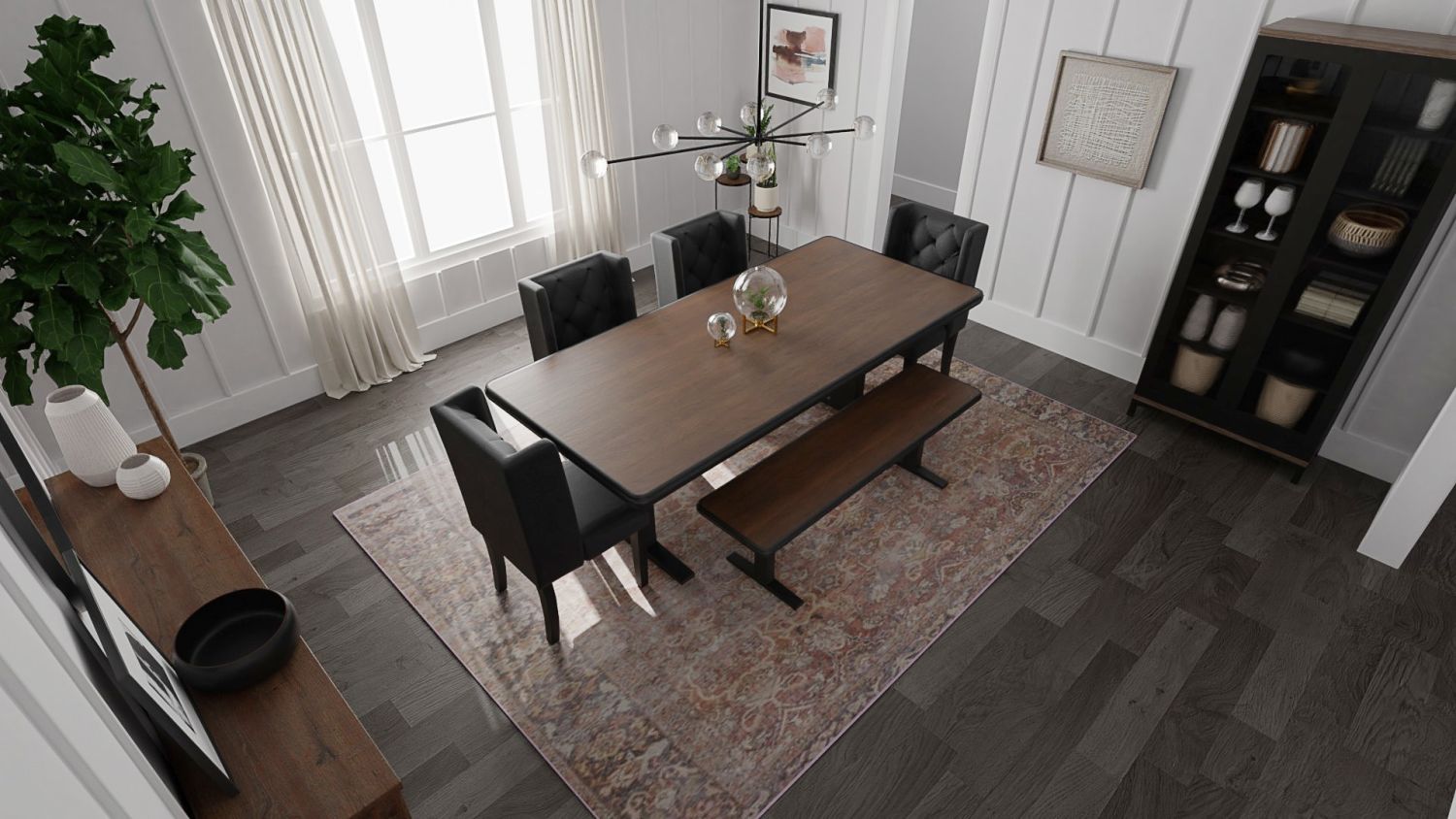 Okay, so rugs can seem like a bold design move, especially if you have kids or pets. Fret not because brands these days are designing fully proofed products. The likes of Overstock, Article, Wayfair, and Target have dedicated sections. Use them freely to add a bit of contrast to your room, and it is a great way to mask a floor that does not fit your design palette. 
Console Your Dining Room With a Console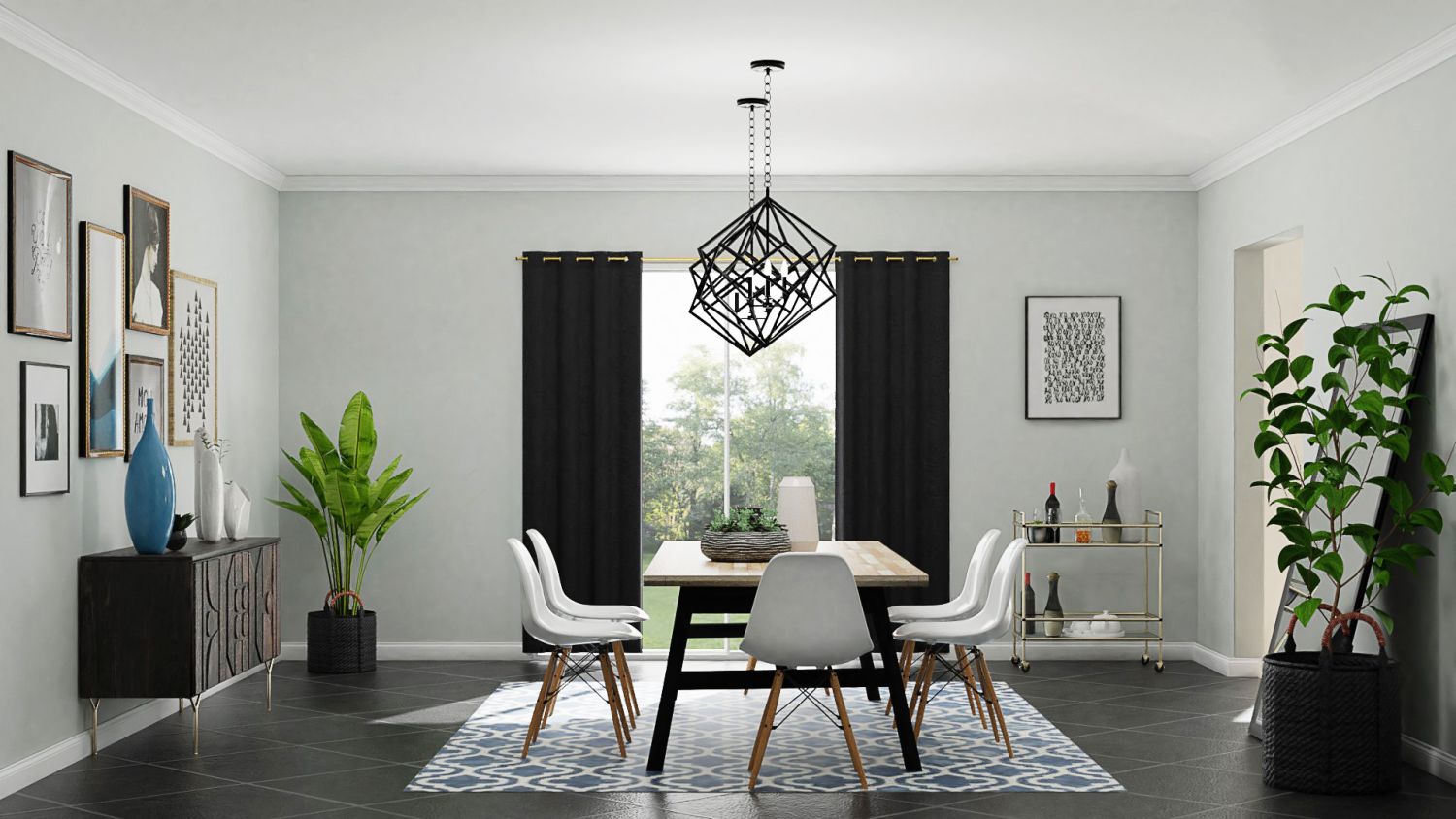 When it comes to dining rooms (or any room for that matter in this space-constrained world), design elements like the handy console are design savers. Consoles used to be towering crockery cabinets and shelves back in the day when space constraint was a distant problem. Now the nifty and uplifting second cousin to the crockery shelf, the console, is what you need in your dining room. It gives you ample freedom to showcase your fancy bottles of wine or a space set of plates. It also doubles as a stylish yet space-efficient storage space, so this investment is hands down a highly endorsed element.
Add Color To Your Dining Room
Image: Overstock
The easiest way to add color to your dining room is by upgrading your dinnerware and table linens. Craft the perfect tablescape with the smaller accouterments that frequently goes overlooked. Don't restrict yourself with a general one time purchase, instead, make use of all the colorful flatware in the market right now. 
Often we see pictures of the rooms we want to replicate. It is difficult as it is to lock in on a design that you love, but finding the smaller elements that lift these rooms can be a real challenge. We hope these suggestions can offer an idea and substitute for the elements you'd like to incorporate into your dining room. This means that you'll get the desired outcome without losing out on adding your personal touches to the room.
 If you like these dining room ideas and would want to bring them to life in your home, or design your own perfect living space, start a project on Spacejoy. You will receive unlimited access to an expert design team who can translate your vision and guide you to your perfect room design. Our unique 3D technology allows you to view your room interior design online in 3D, interact with your design - Move and Swap the products with a touch of a finger to see the unlimited possibilities. Our team will also curate a shopping list for you with products handpicked to suit your budget and your style that you can shop right away on our platform. Your dream dining room design is now one click away. See pricing plans.
Similar Picks
Related designs for you
Categories
Explore other categories