Style and Design
12 Gallery Wall Ideas to Dress Up Your Walls
An instant way to elevate even the most humbly decorated rooms is by designing a well-thought-out gallery wall. Be it in the living room, dining room, entryway, or kids' room, walls that come clad with a curated mix of art and print bring in a major dose of personality and life.
1. Pick a Theme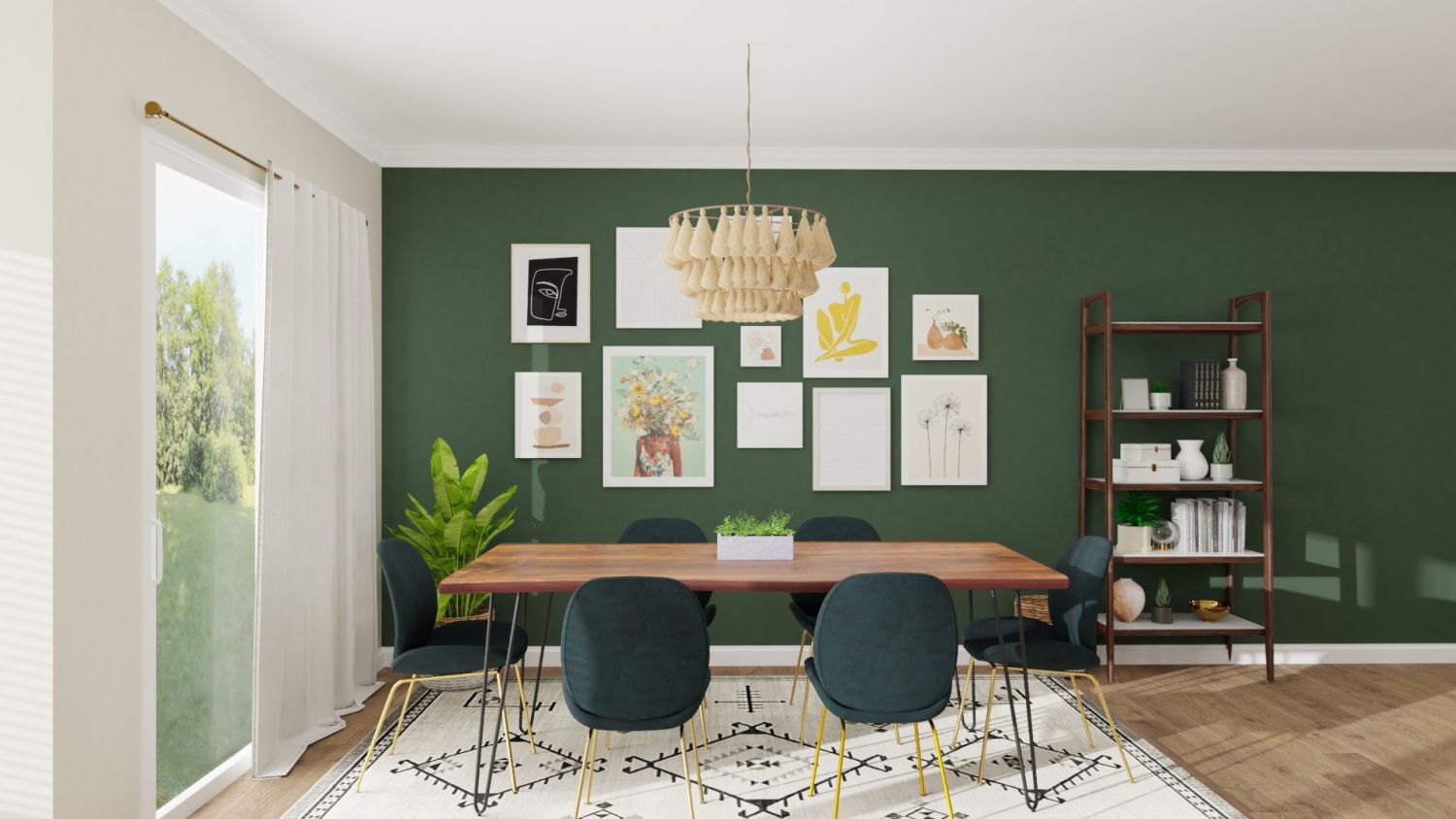 Design your gallery wall by a theme. It is an easy way to ensure the overall cohesiveness of the decorative layout without having to overestimate the placement. In this dining room design, we did just that by opting for an abstract motif, which in turn fit right in with the room's overall eclectic aesthetic. 
Art Featured in This Design
Elements- Society6
A Warm Feeling- Society6

Dandelions- Society6

The line to Universe- Society6

Kate Arends- West Elm

Arch Art- Society6

Living vases- Society6

 

Line Art- Society6
2. Mix Illustrations and Calligraphy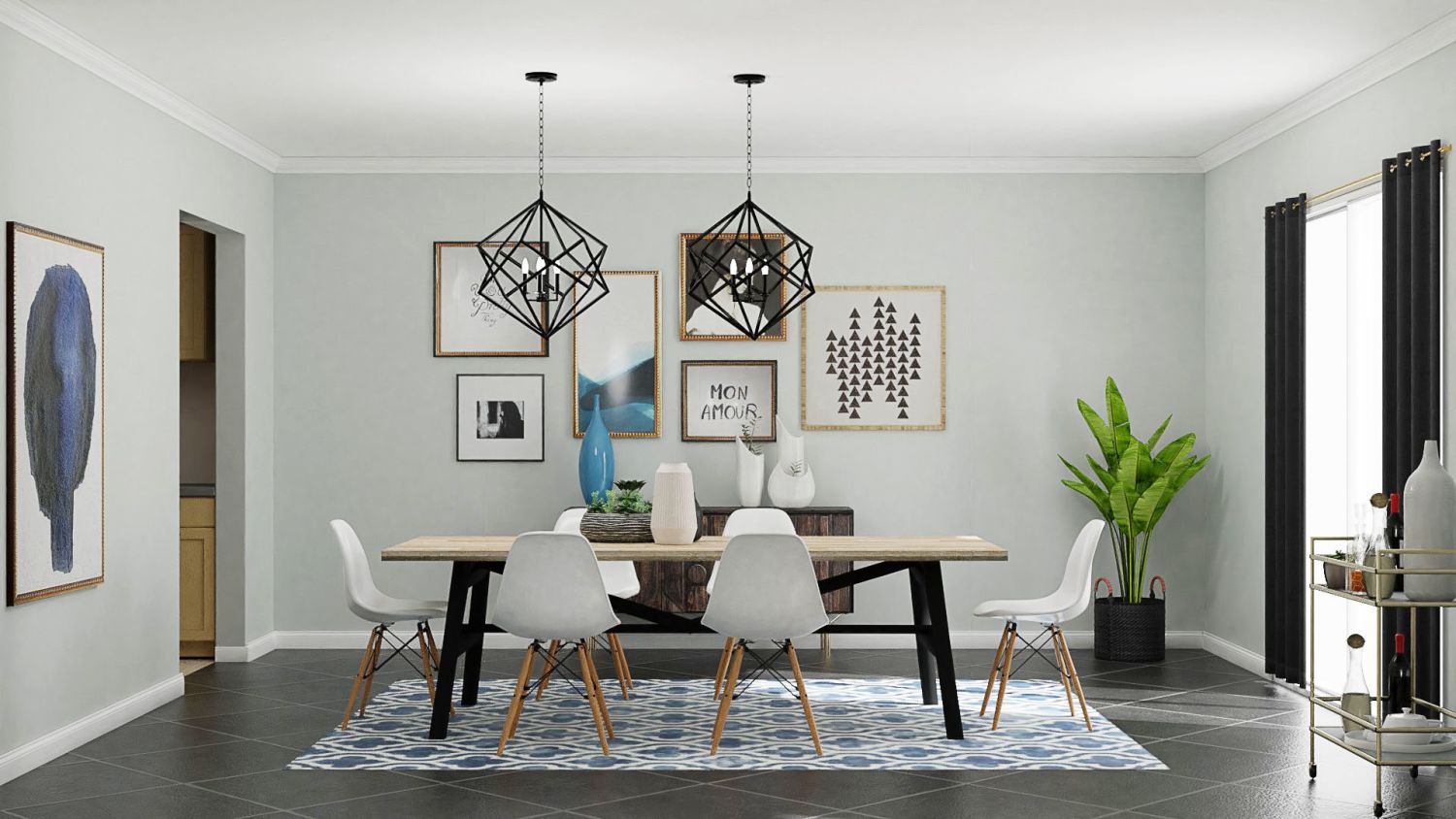 The dining room decor can typically err on the snoozy side if you don't pay attention. The fix? A combination statement piece on one side balanced by a gallery wall on the other complements the room's aesthetic. 
Art Featured in This Design
XOXO- Anthropologie

Gust- Anthropologie

Blue Head- Anthropologie

 

Pretty Thing- Anthropologie
3. Use Oversized Art On The Floor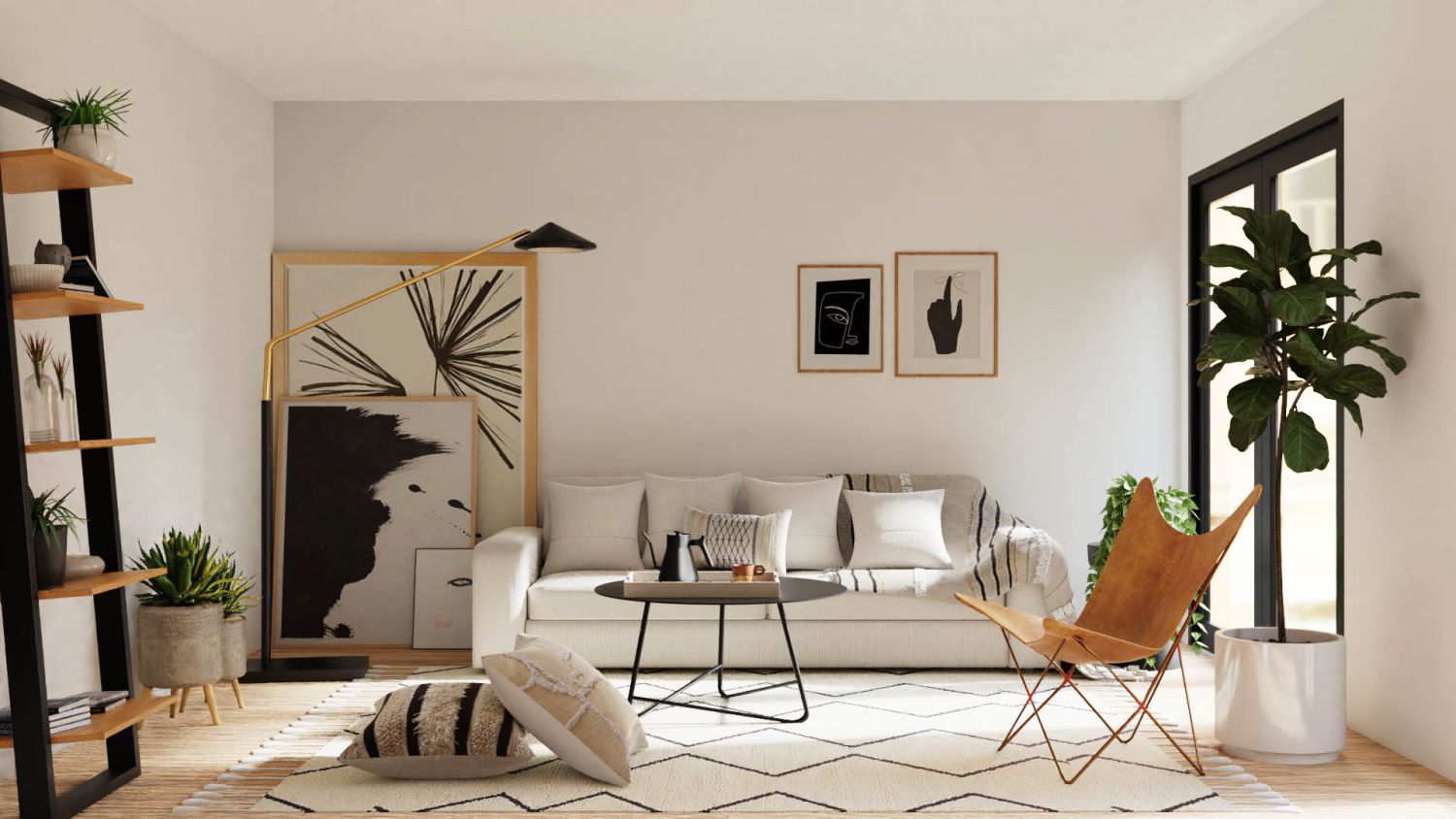 Step up your gallery wall game. Instead of hanging all your frames on the wall, opt for a lower display for some frames. This setup offers a more dramatic finish. Layer the oversized prints on the floor and filter in smaller decorative objects to break up the continuous flow of art.
Art Featured in This Design
| | | | |
| --- | --- | --- | --- |
| Optima- Anthropologie | One Day- Anthropologie | Palm- Anthropologie | Tied Finger- Anthropologie |
4. Channel Museum Vibes With a White Wall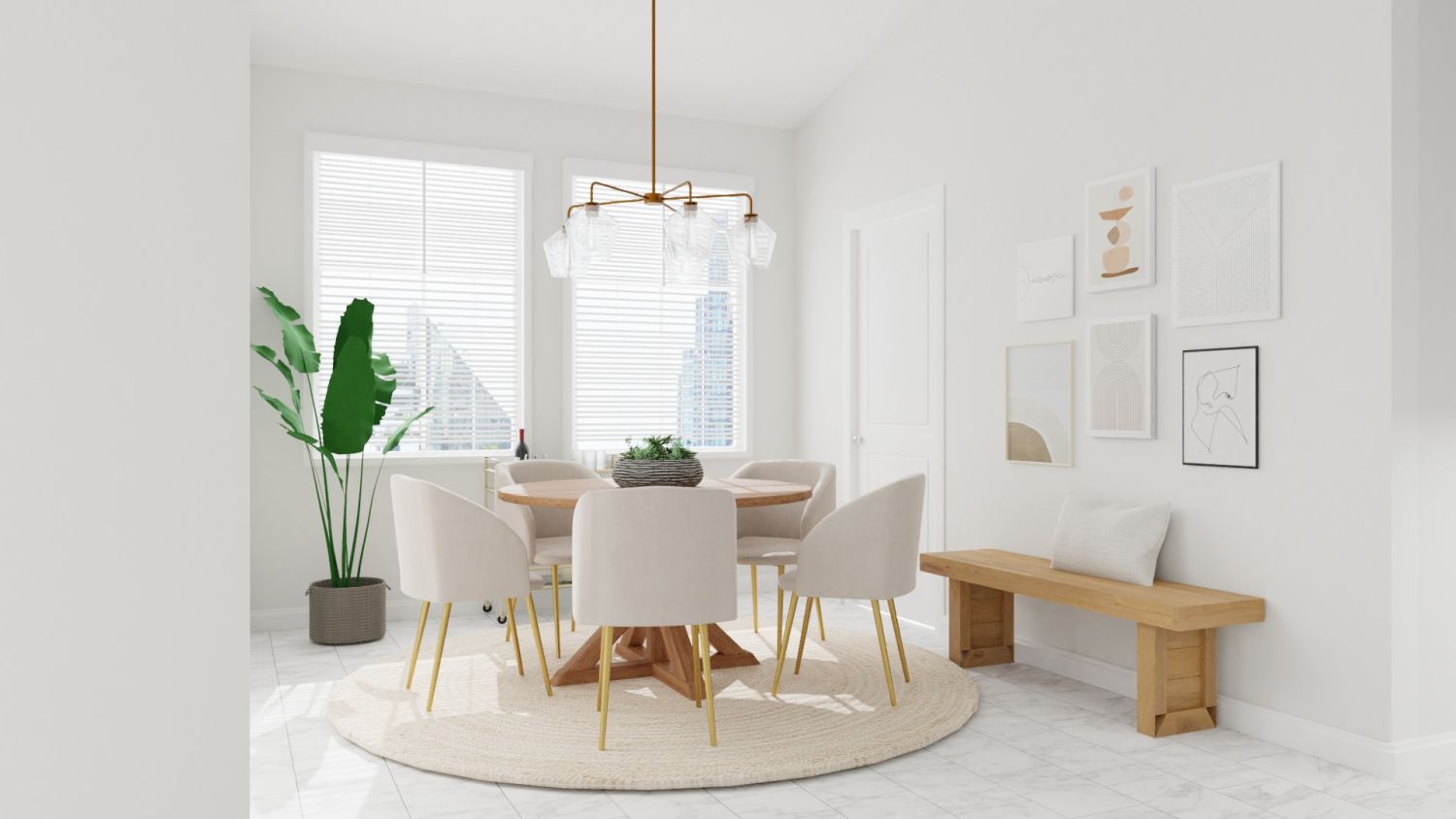 The white walls add to the dining room's fresh and airy vibe, but it runs the risk of looking whitewashed. If you would like to maintain a clean and minimal vibe, build a gallery wall with a hint of color that elevates the entire room's look too lively chic.
Art Featured in This Design
| | | | |
| --- | --- | --- | --- |
| Abstract Art- Target | La Mirada- Anthropologie | Balancing- Society6 | Arch Art- Society6 |
5. Create a Staircase Gallery Wall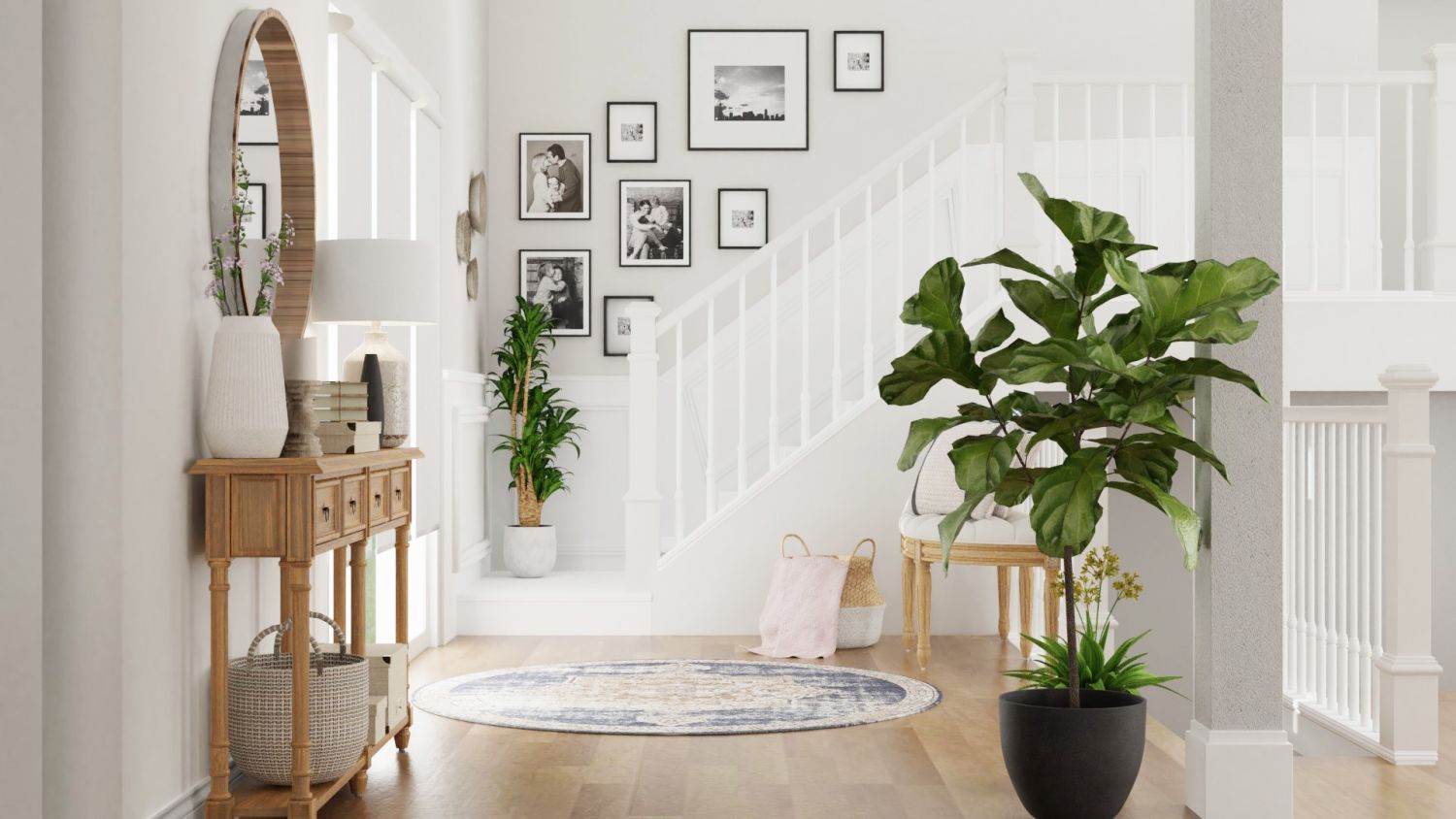 When working with a space that's architecturally limiting -Stairways, build the gallery wall along the path of the eye. In this entryway design, the gallery wall leads you upwards. Space is left with a dynamic element of interest.
Art Featured in This Design
| | | | |
| --- | --- | --- | --- |
| CB2 Gallery Frame | West Elm Gallery Frame | CB2 Gallery Frame | West Elm Gallery Frame |
6. Turn Your Gallery Wall Design Into Your Headboard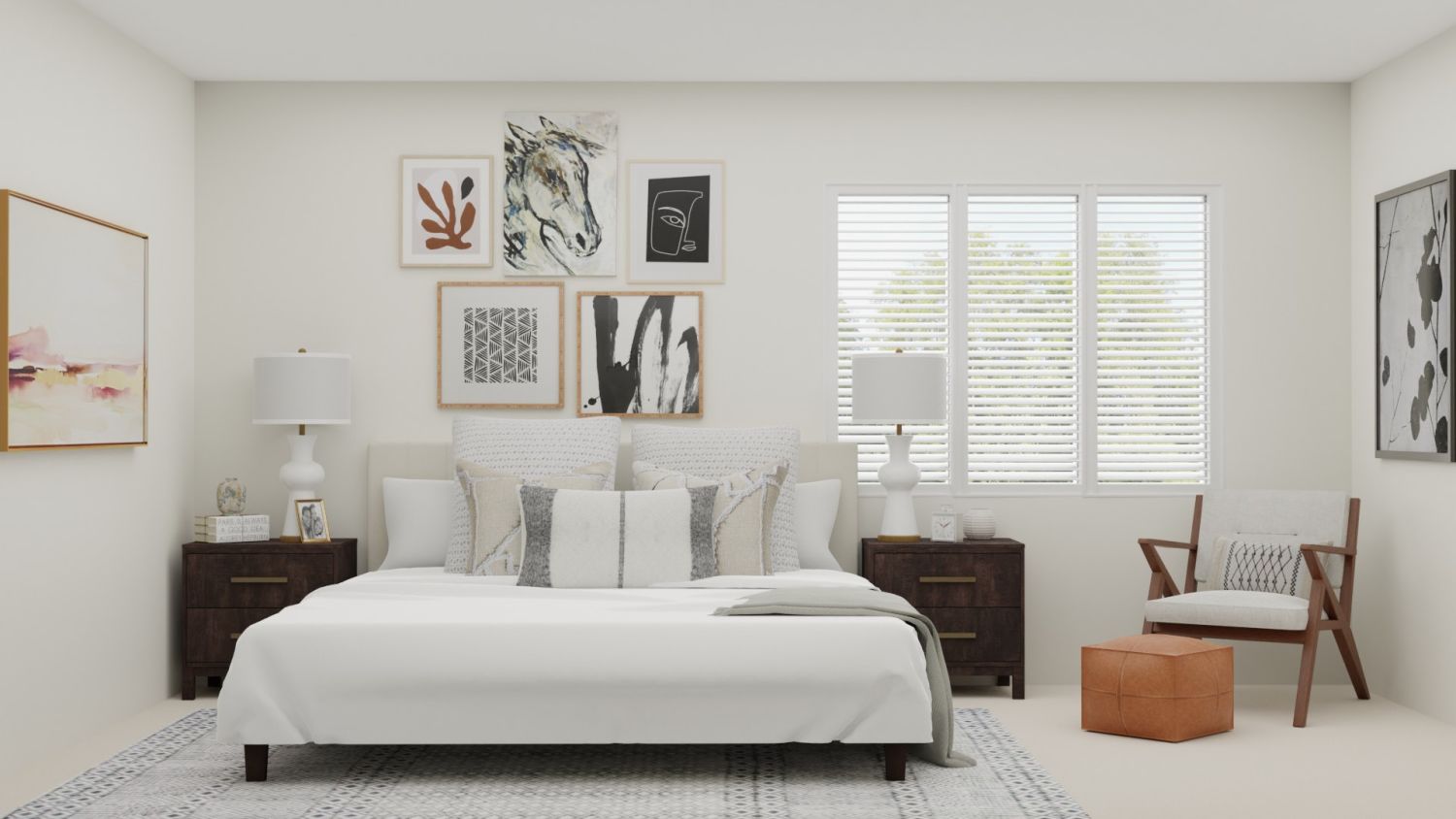 A gallery wall in the bedroom calls for delicate art hung slightly above the head resting area. And if you're pressed for inspiration, turn to abstract art. Also, utilize the wall art to bring in a healthy dose of color to the room. 
Art Featured in This Design
| | | | |
| --- | --- | --- | --- |
| Kate Arends- West Elm | Morning art- Anthropologie | Picasso Art- Wayfair | Joss and Mainframes |
| Abstract Graphic- Joss & Main | Etsy- Modern Art | Black&White- Joss & Main | Kate Arends- West Elm |
7. Follow The Wall's Design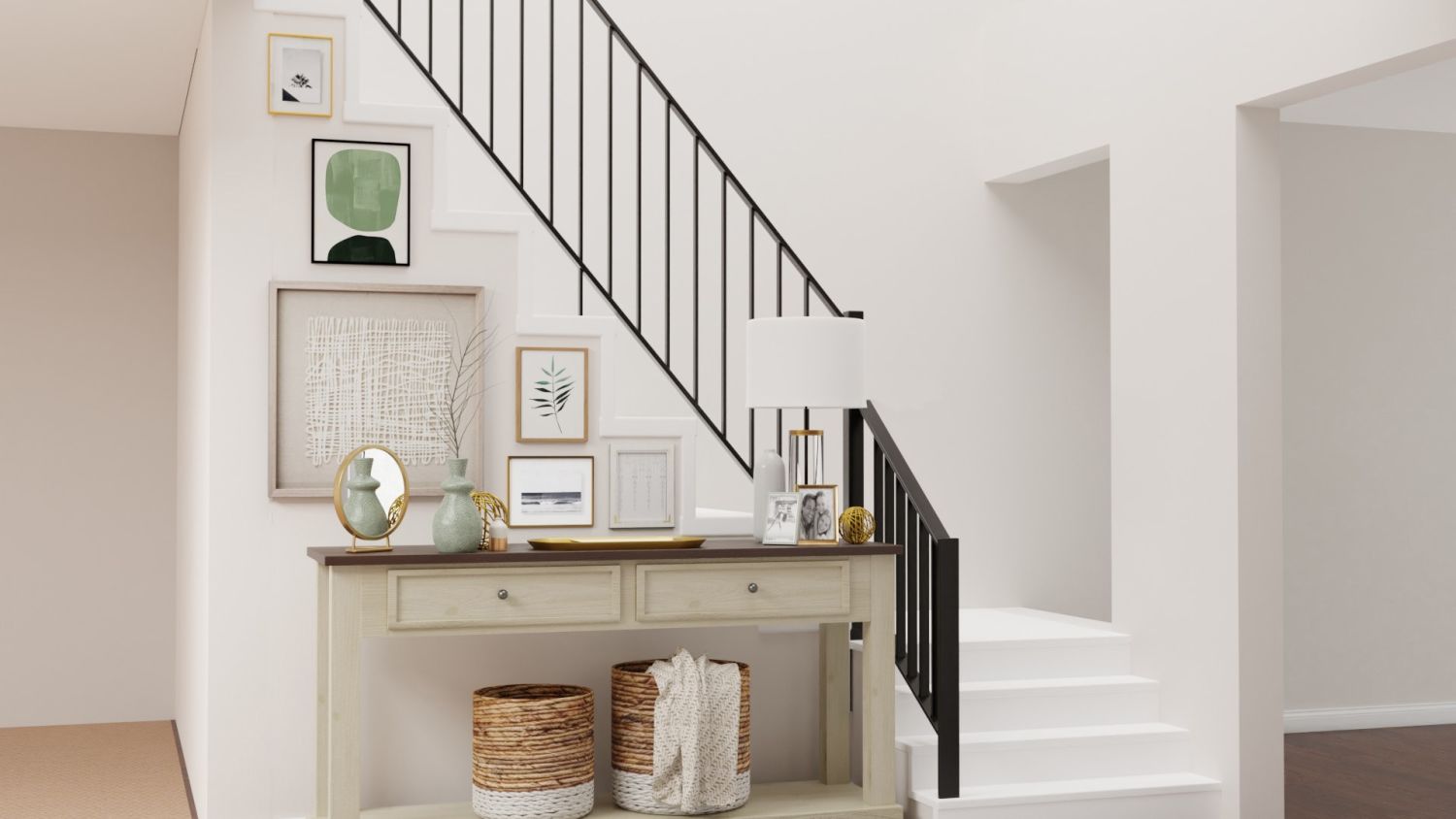 When you have an entryway that doesn't allow for traditional decor elements because of architectural constraints, put up a gallery wall. This entryway gallery wall featured in the design emulates the shape of the staircase by using frames of different sizes. 
Art Featured in This Design
| | | | |
| --- | --- | --- | --- |
| Floating Frames- West Elm | Rice Paper- Houzz | Perigold Frame | Zoe Frame- Anthropologie |
8. Combine Vintage and Modern Art Pieces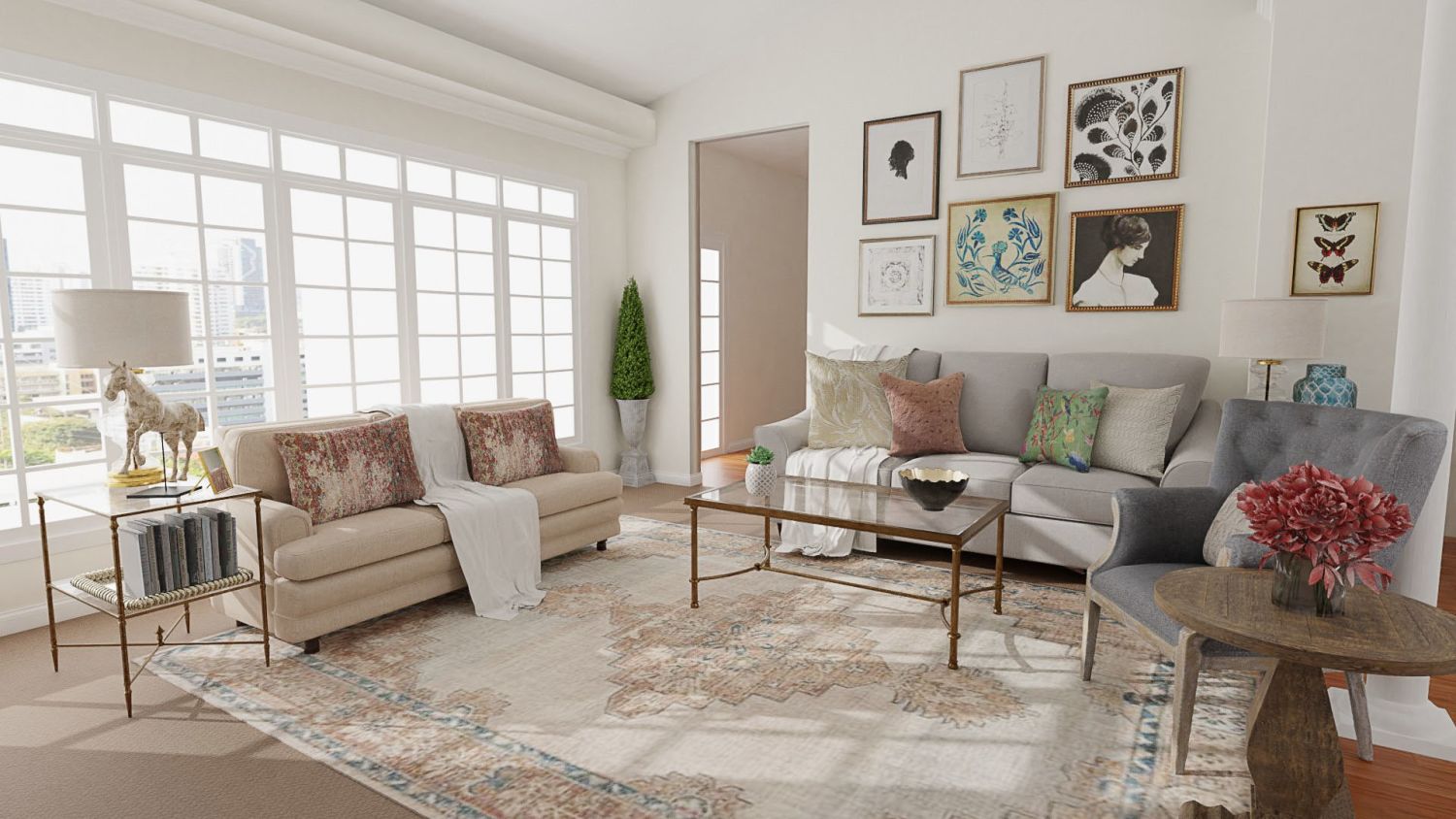 For the gallery wall that comes to add a touch of vintage, French chic is apt. And that's precisely what we did with this room by adding the collage above the sofa. 
Art Featured in This Design
| | | | |
| --- | --- | --- | --- |
| Head - Anthropologie | Etsy Vintage Poster Art | Portrait of a Woman  | African Botanicals  |
| Uzbek art- Anthropologie | Weathered Pattern- Ballard | Apple Tree- Anthropologie | Gilded Heron Anthropologie |
9. Use Frames to Update Your Gallery Wall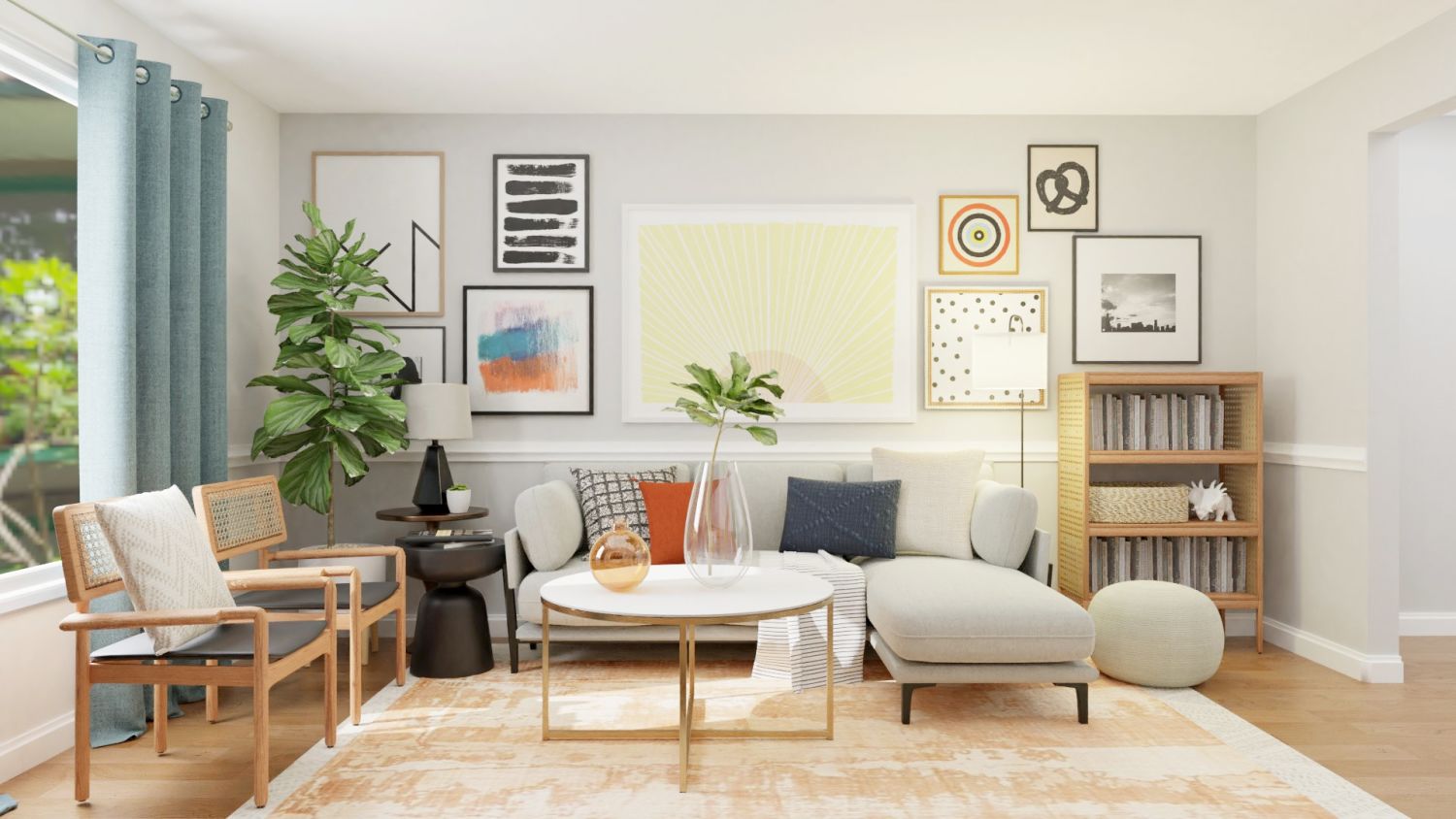 Swap your existing gallery wall or create a brand new one to embrace the seasonal changes. We designed this gallery wall to boast no shortage of color, which we think is vital in achieving the spring look. In this design, furnishing and furniture are earthy. However, the gallery wall saturates the wall and adds vibrant pops of yellows, reds, and green, which complement the living room's overall Spring aesthetic.
Art Featured in This Design
| | | | |
| --- | --- | --- | --- |
| Exotic Wood - Store 1x | Mid Century Art - Etsy | Abstract Art - Wayfair | Take a Ride - Pottery Barn |
| Bullseye - Anthropologie | Vintage Dots - Anthropologie | Pastel Sunrise - Minted | Pretzel - Anthropologie |
10. Take Up All The Wall
Dress up an otherwise empty wall with this gallery wall idea. For this game center and living room space, our designers used a combination of photo frames in blacks and bronze hues to turn this wall into a statement piece in the room. The framed pictures can be updated easily, which means you can have a new gallery wall design every season if you wish. 
Art Featured in This Design
| | | |
| --- | --- | --- |
| Apple Tree 1 Wall Art - Anthropologie | Brushed Antique Bronze Picture Frame - Crate and Barrel | Gallery Black Frame - CB2 |
11. Keep It Symmetrical
If you don' feel comfortable playing with different sizes and alignments, try this gallery wall design idea instead. For this mid-century living room, we choose a set number of posters that would be easy to add to the back of the couch. The symmetrical gallery wall will always look pleasant to the eye, and you can choose any theme, style, and motif to achieve the same effect. 
Art Featured in This Design
| | | |
| --- | --- | --- |
| Voyager Historic Robotic Space Poster - Chop Shop Store | Cassini Historic Robotic Space Poster - Chop Shop Store | Curiosity Historic Robotic Space Poster - Chop Shop Store |
12. Pick a Center Piece
Another gallery wall idea is to start from a central piece of art. Usually, this would be your most prominent piece. Sometimes you can choose a mirror if you want to maximize the use of this wall. In any case, pick a centerpiece and add supplementing artwork around it in smaller sizes. This will give you more flexibility. Take the gallery wall we design for this boho-eclectic dining room. For example, everything is centered around that calming blue artwork. 
Art Featured in This Design
| | | |
| --- | --- | --- |
| Marmont Hill - See Beyond Floater Framed Print - Overstock | You are my bucket list - Black and White Print Framed Art Print - Society6 | Sentiment Painting - CB2 |
Frequently Asked Questions
How can I make my gallery wall look good?
To make your gallery wall look good, start with your favorite images. This could be photos, drawings, or art. Then, add the things you cherish, things like postcards from vacations, family heirlooms, jewelry, and other pieces to the wall. The possibilities are really endless. 
How do you layout a gallery wall?
Before you hang everything, plan the gallery wall on the floor. Spread out pieces of similar sizes, colors, and styles. If you have pieces that are the exact same size, they can look good next to each other. Play with a symmetrical grid or an asymmetrical layout on the floor, and then try to replicate that layout on the wall. 
What do you put on a gallery wall?
There's no limit as to what you can put on a gallery wall. Besides art and photos, you can use typography prints, vintage maps, framed trinkets, preserved butterflies or flowers, children's art, empty frames, dishes, mirrors, and silhouettes, to name a few. 
Need Help With Your Gallery Wall Design?
If you like these ideas and want to bring them to life in your home, or design your own perfect living space, start a project with Spacejoy. You will receive access to an expert online interior design team who can translate your vision and guide you to your perfect room design. Our unique 3D technology allows you to view your room design in 3D, interact with your design - Move and Swap the products with a touch of a finger to see the unlimited possibilities. Our team will also curate a shopping list for you with products handpicked to suit your budget and your style that you can shop right away on our platform. Your dream living room design is now one click away. See pricing plans.