Style & Design
40 Of Black-Owned Home Decor Brands You'll Love
When they say solidarity begins at home, well, that applies to home design too. Considering black-owned businesses for your home design, you're helping lift a community and make a statement about your values. Not to mention, you're adding unique value and beauty to your home style. We created a directory of Black-owned home decor brands -- just a small list that we hope to keep growing. We invite you to share with furniture or decor brands owned by POC to add them to our directory.
Design a Space Online With Spacejoy
Home Decor and Accessories
Let's start with the basics, your home decor, and accessories. The following home decor brands bring the perfect elements to add that level of intricacy to your home's style. From ceramics and vintage items to classic rugs and more, these should have space in your house.
This black-owned brand offers a variety of products, from luxury decorative accessories to unique furniture options. A unique brand that focuses on socially conscious products made by minority artisans. Find them on Instagram as @goodeeworld.
A one-stop shop for luxury home decor accessories with style and sophistication. Find them on Instagram as @karenjaihome.
What started as an interior design blog quickly evolved into a lifestyle brand that's all about patterns and globally inspired style. Find them on Instagram as @thejungalow.
The shop includes beautifully curated vintage items that represent Black history. Selections go from home decor accessories to even magazines. Find them on Instagram as @blkmktvintage.
From Washington D.C., the boutique highlights vintage finds from natural elements. The decor shop offers a unique curated selection of one-of-a-kind pieces. Find them on Instagram as @laurahodgesstudio.
6. Jeanette Gonzales
Known for her vibrant art prints, Jeanette offers various prints to add color to your home. Her goods extend to other items like mugs and throw pillows as well. Order from her website or check out her Instagram @nettdesigns.
7. The Black Home
This decorative home good brand offers up various stylish tableware, candles, textiles, and even e-books. It was founded by celebrity designer Neffi Walker, whose belief that life should be designed beautifully shows in her products. Find The Black Home on Instagram @theblackhomedesign.
8. Mans, Jasmine
Jasmine Mans offers various products, from coffee mugs to reusable bags, that feature her poetry on them. Her work will make you think about current social causes and make a statement at the same time.  You can find more poetic inspiration from her on her Instagram, @poetjasminemans.
9. Don't Sleep Interiors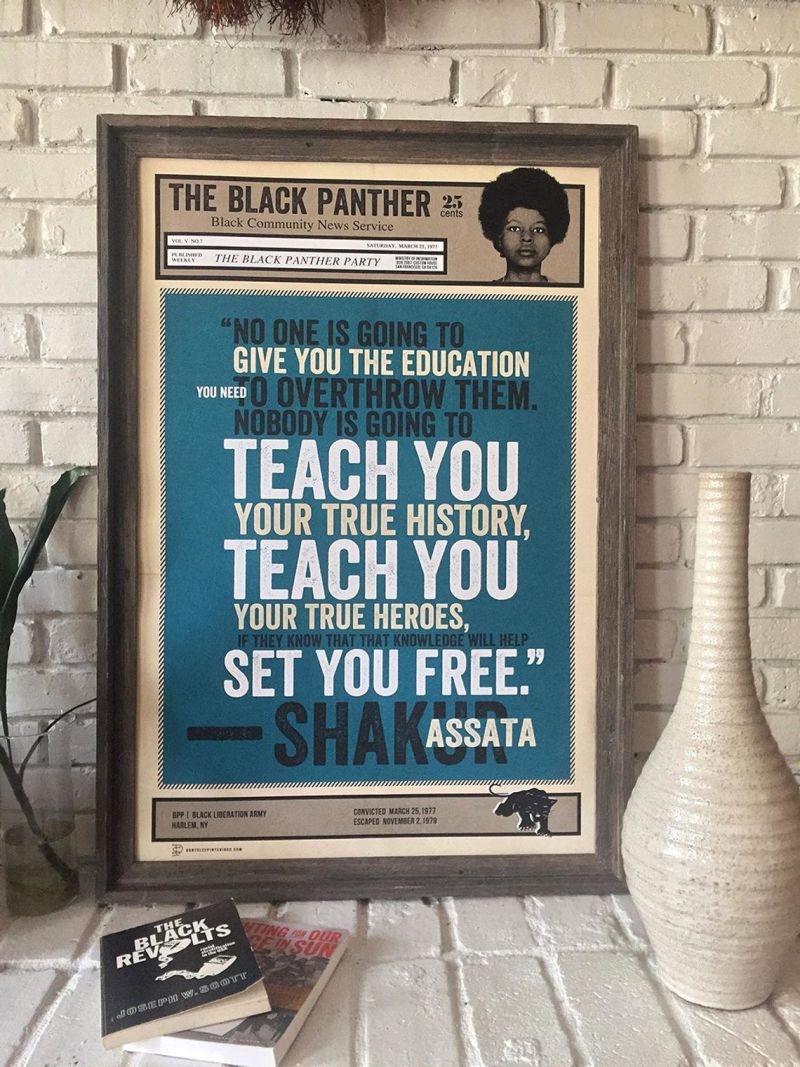 When you want to find a stylish conversation piece to add to your home, you go to Don't Sleep Interiors. They combine African diaspora culture and political consciousness to make visually impactful decor accessories. Find them on Instagram as @dontsleepint. 
10. Expedition Subsahara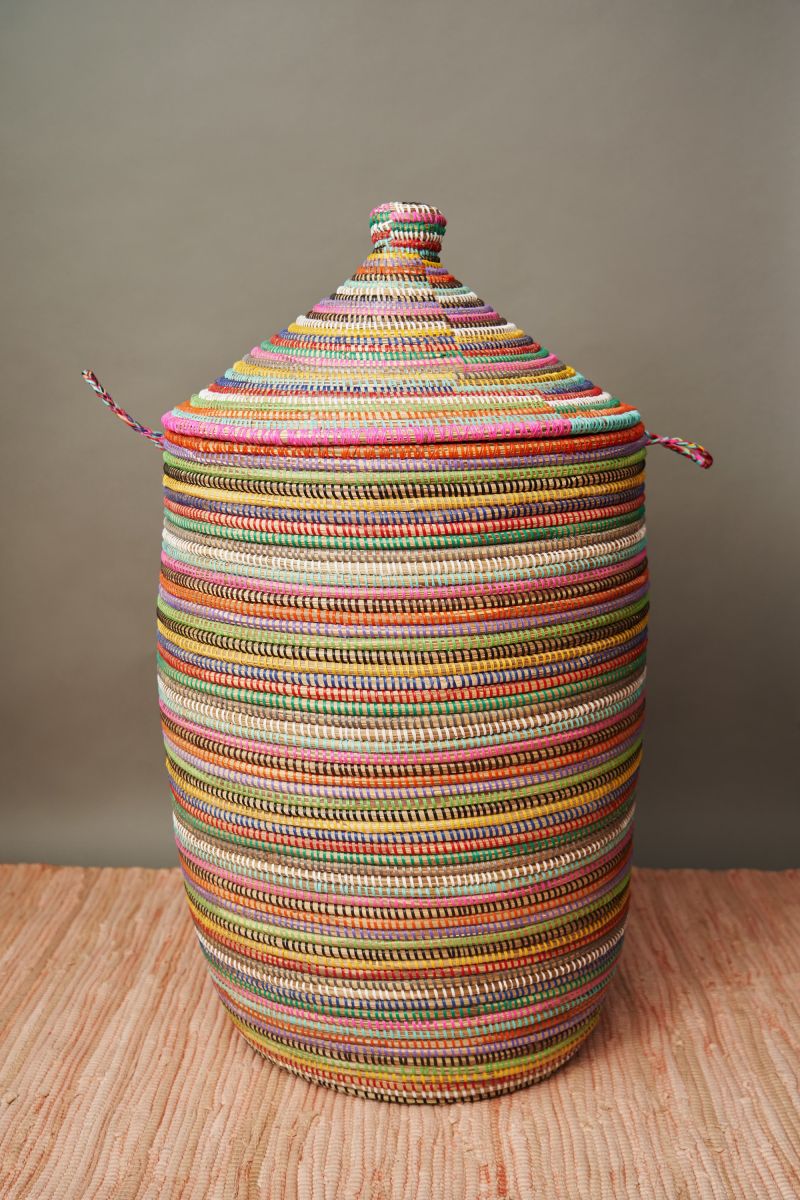 This black-owned decor brand has one mission: respect traditional Africa goods. They create pieces with an eye-catching design that adds an ode to Africa with modern touches. The craftsmanship of each piece makes them even more special. Find them on Instagram as @expeditionsubsahara. 
Black Owned Home Decor Brands For Pillows and Textiles 
A key element to making a statement in your living room and bedroom decor is experimenting with pillows and textiles. The following list will give you plenty of inspiration to start adding texture, patterns, and bold colors to your decor. 
The Atlanta-based artist shares her vibrant textiles influenced by her Caribbean roots and West African weaves. Find them on Instagram as @roporterdesign.
12. Linoto
Linoto is a linen-focused company that brings this soft textile to every room in your home. Whether you are looking to add linen sheets, pillow covers, or even a dining room runner, you can find all of your linen needs here. They also offer linens in various colors, allowing you to find the perfect pieces to compliment your home. Follow them on Instagram at @linoto.
Hana Getachew started this home decor brand as an homage to her love for handwoven Ethiopian fabrics. Find them on Instagram as @boleroadtextiles.
The brand intentionally uses African textiles and makes an effort to use only ethically sourced fabrics worldwide to handmade products in Los Angeles and Atlanta. Find them on Instagram as @reflektiondesign.
15. xN Studio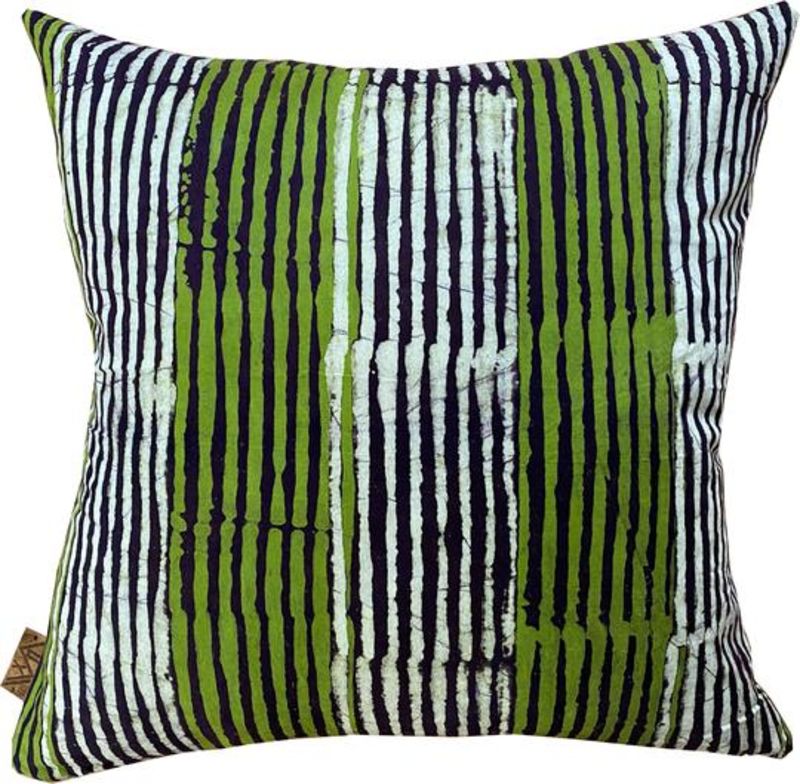 Mixing East and West timeworn textiles, Nasoki Kakembo, hopes to create modern design accessories. Most products are made in Washington D.D. or Brooklyn, but part of its collection features fair-trade items from Uganda designed with local artisans. Find them on Instagram as @xnstudio_.
Your one-stop shop for one-of-a-kind pillows made only from exclusive vintage textiles. Find them on Instagram as @livvyandneva.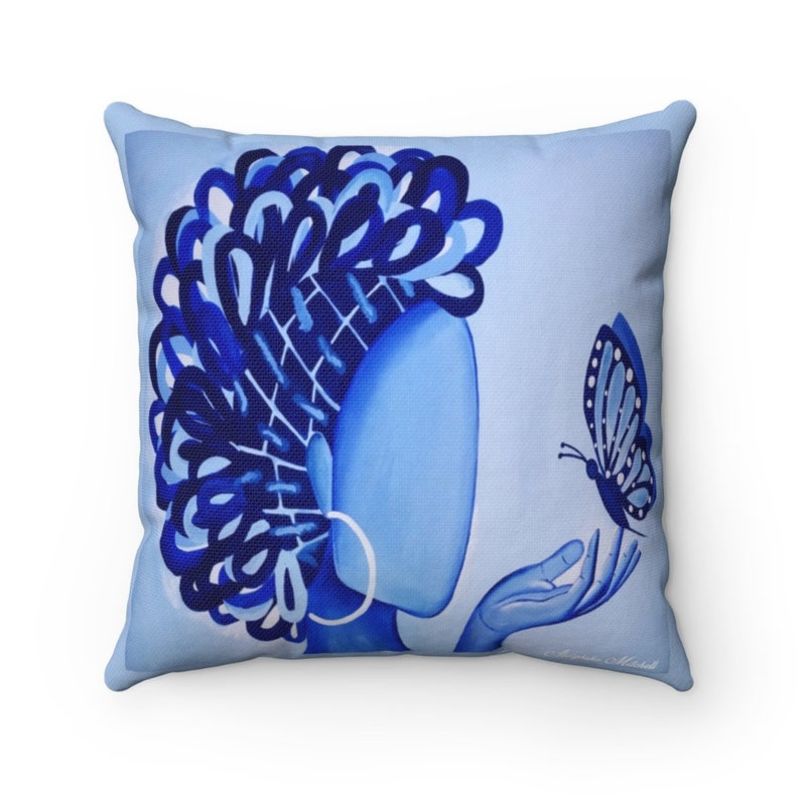 The beautiful designs of these pillows celebrating African prints and heritage are impossible to ignore. All of her pillows are double-sided and made from 100% polyester. They also have a concealed zipper so you can easily take off the cover to clean it. 
18. Lanre Studio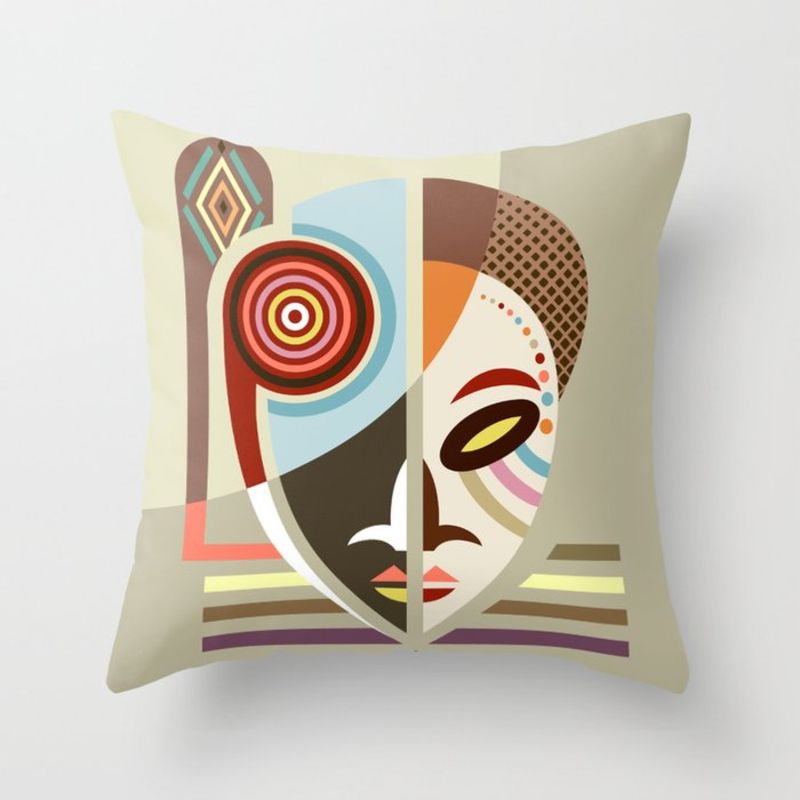 Lanre studio offers beautiful double-sided pillows with striking designs. Lanre is also a painter and sculptor, which you can easily see in everything he creates. He believes that his art represents his past, present, and future merged. Find him on Instagram as @lanrestudio.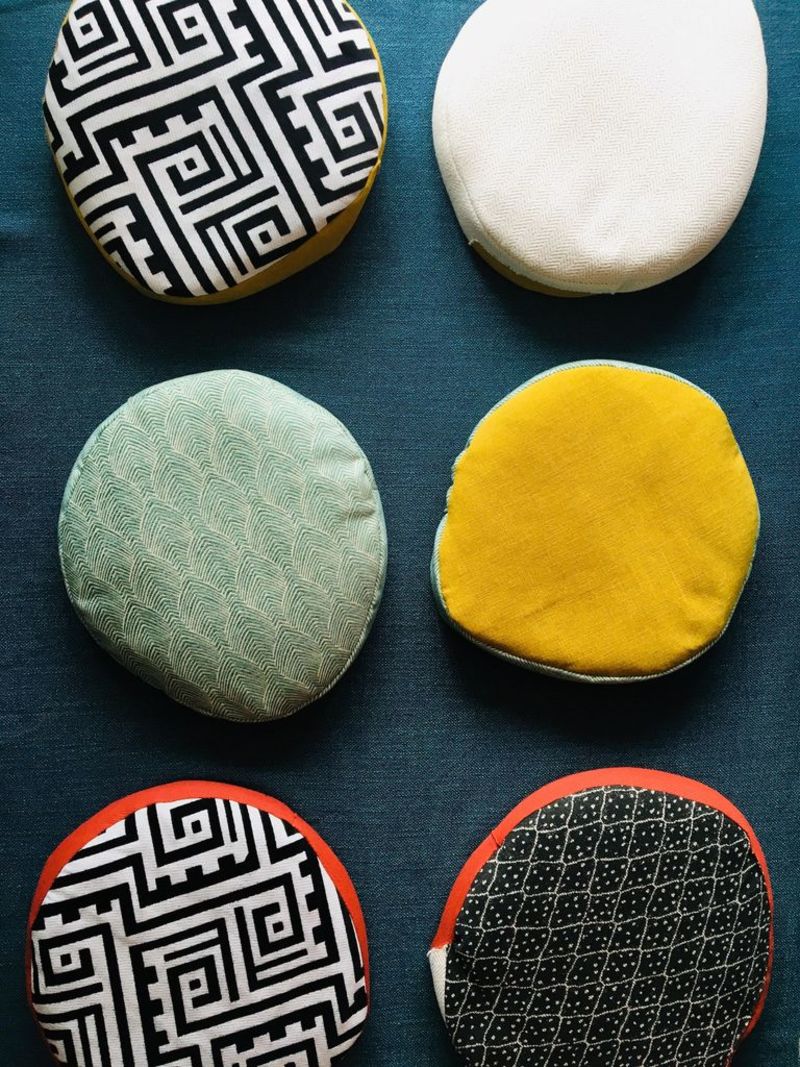 Nicole Crowder Upholstery is a breathtaking design studio in Washington, D.C. They create bespoke furniture pieces for hotels, design firms, and more. They're masters at transforming timeless pieces into works of art using a mix of eclectic fabrics.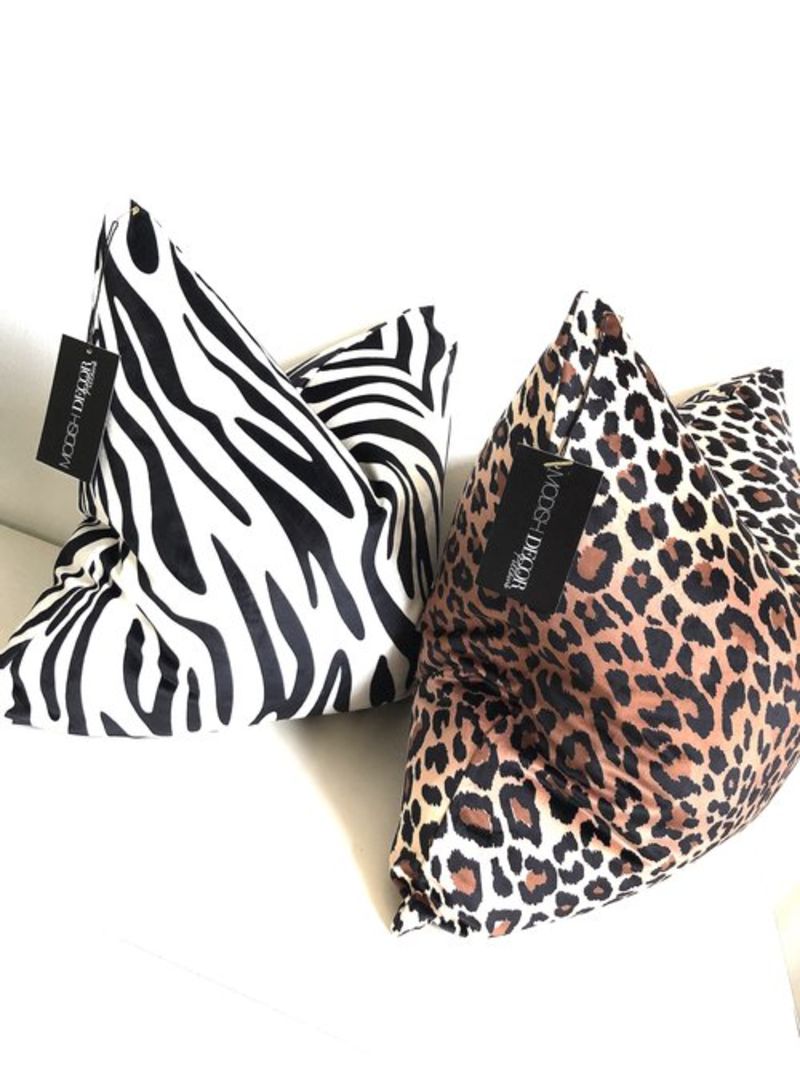 Started in 2015, this black-owned online retailer sells luxe throw pillows you'll want to stack on every piece of furniture you own. They also sell incredible tabletop accessories, candles, and outdoor furniture pieces. 
Black Owned Furniture Brands
The bone and core of your home are always your furniture. These furniture stores bring collections from all over the world with African and Caribbean heritage infusions that translate into their furniture collections' shapes and patterns. 
This husband-and-wife duo brings a collection of goods with African and Caribbean vibes. Beyond furniture, their shop includes art and decor accessories and even unique items for kids. Find them on Instagram as @peaceandriot.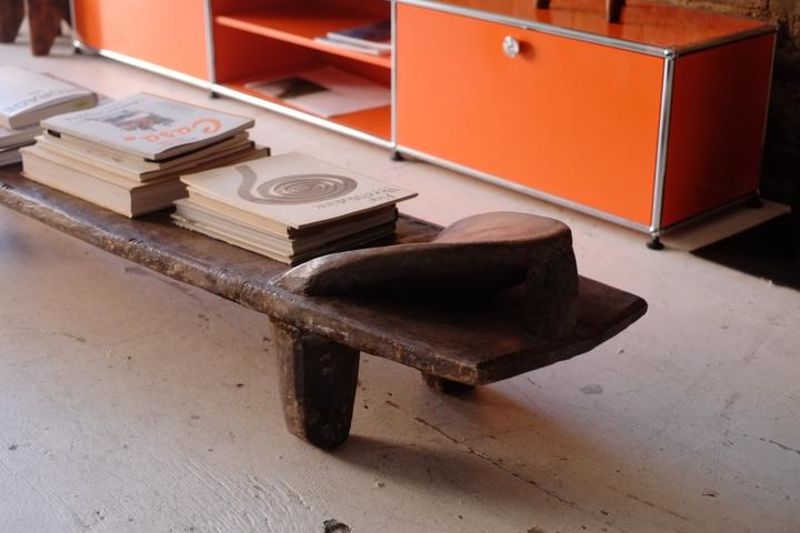 A collaborative and ever-changing home decor shop that features thoughtfully sourced designer furniture. Find them on Instagram as @lichennyc.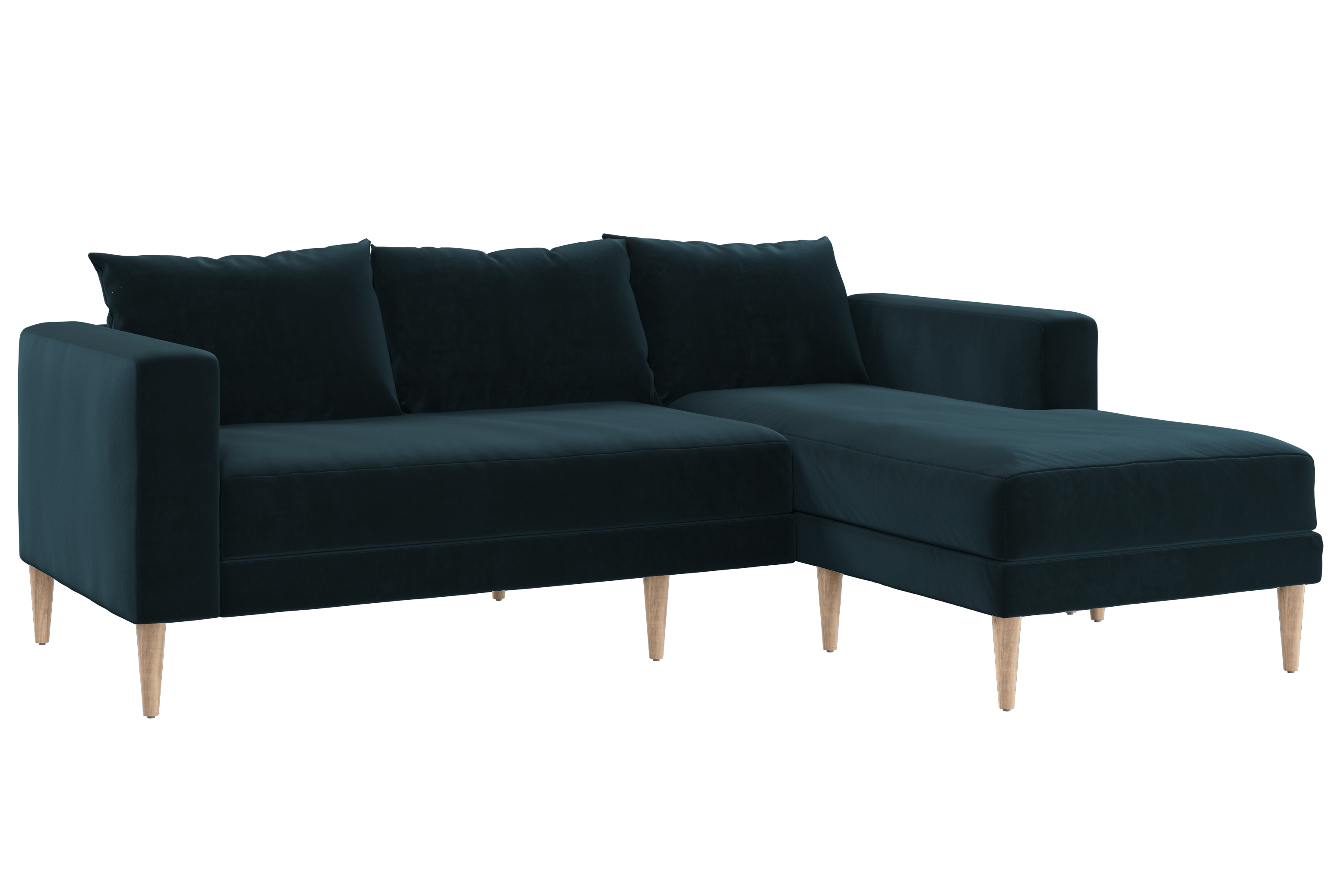 The furniture brand focuses on high-end sofas made of ethically sourced and sustainable fabrics, like 100% recycled velvet fabric made from water bottles. Find them on Instagram as @sabai.design.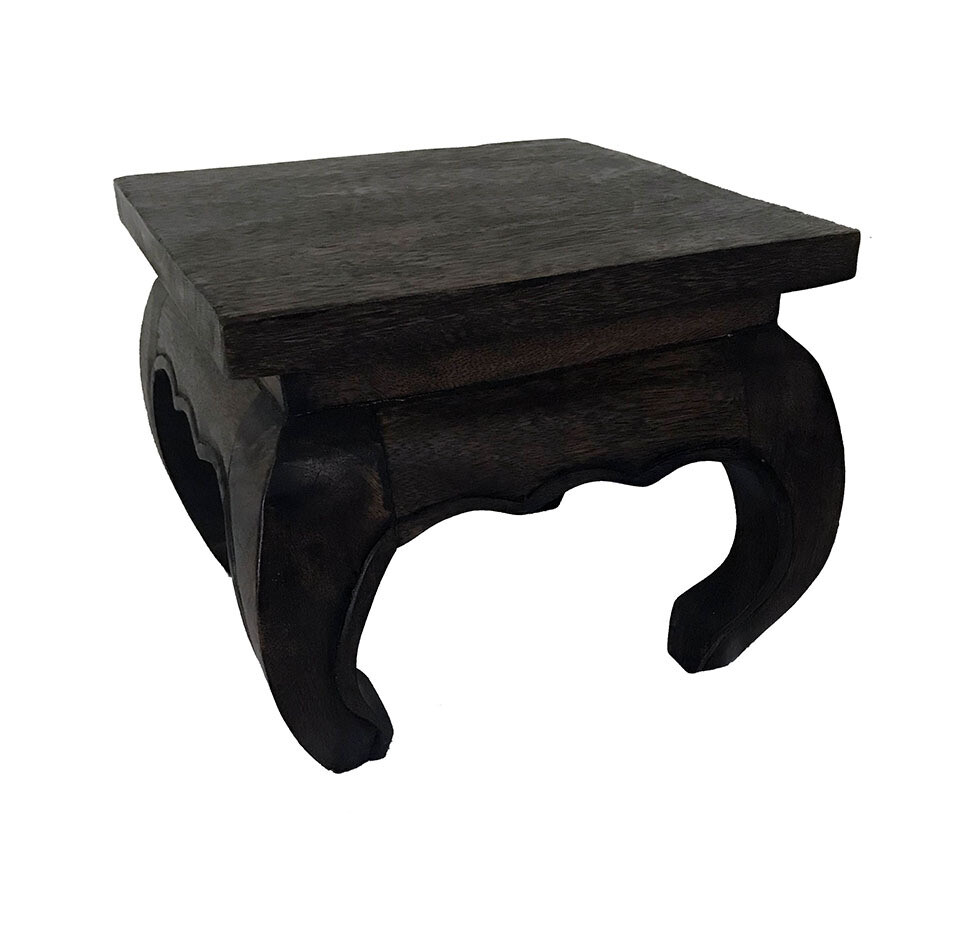 Designer Kabria Cummings wants to help people create a tribal luxe home. Inspired by her travels, the store sells wooden furniture sourced from Africa and Asia. Find them on Instagram as @globalattic.
Ethiopian-American designer, Jomo Tariku, specializes in creating modern African furniture. Top-sellers include minimalist chairs and stools that will become the centerpiece of your decor. Find them on Instagram as @jomofurniture.
26. SustAinable Home Goods
Sustainable Home Goods focuses on providing ethically sourced goods. They've partnered with artisan entrepreneurs to support small business crafts. They offer a variety of products from kitchen goods, home decor accessories, and vintage pieces. You can follow them on Instagram @sustainablehomegoods.
27. The Camp Interiors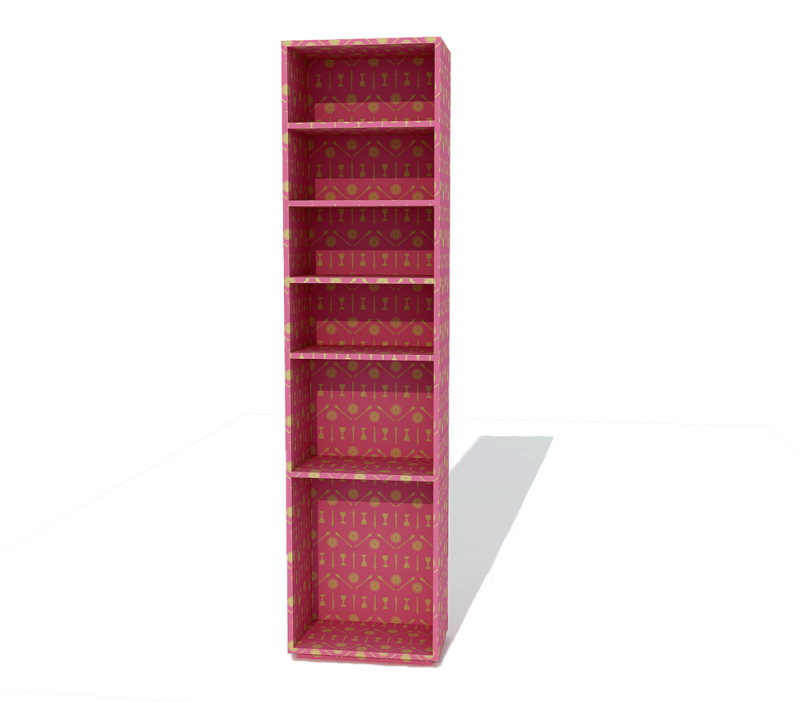 Designer Julia Leigh took her refreshing refined style and ran a successful interior design firm. She also makes custom furniture that will transform any room in seconds. You can find her on Instagram as @thecamp.interiors.
28. Mandala Blvd.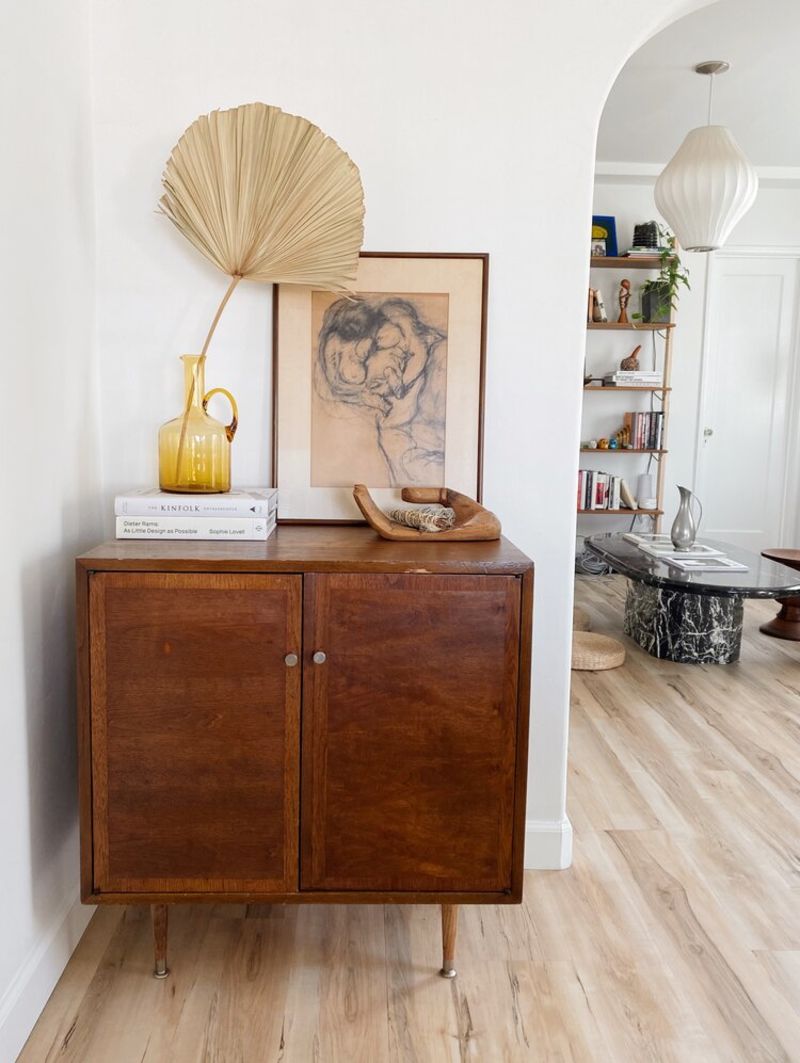 With a delightful collection of new and vintage home goods, this home decor black-owned store is curation at its finest. The store owners, Cristina Ramos and Nu Goteh, dedicate their time to find ceramics and timeless furniture pieces. Find them on Instagram @mandanablvd.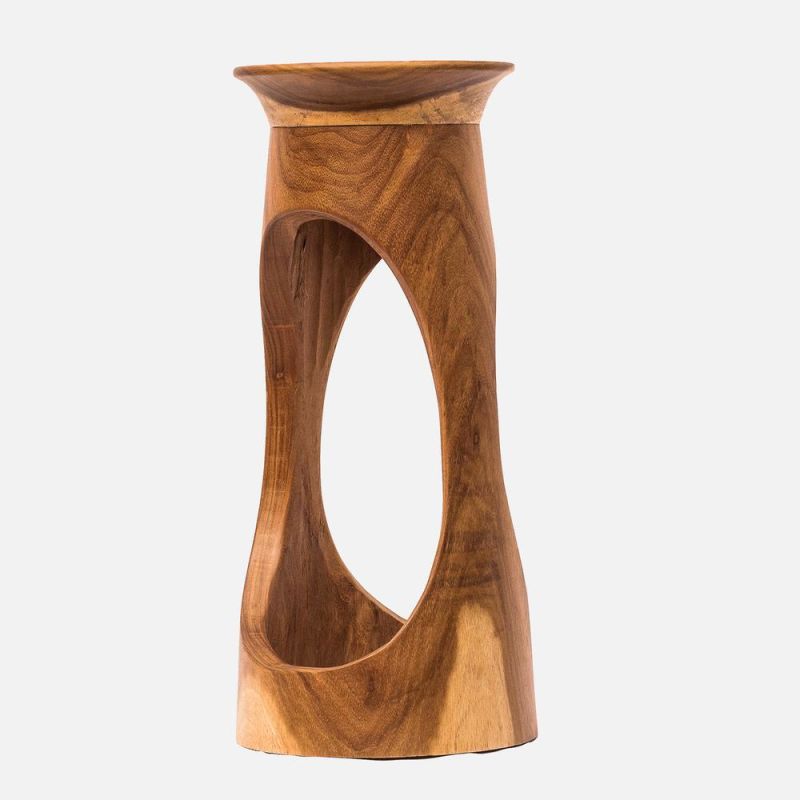 Celebrating the Africa diaspora, Nana Quagraine's has a standout collection of lighting, furniture pieces, and sustainably sourced and handmade accents. The perfect element to complete your home decor using black-owned designs. 
30. Dozie Kanu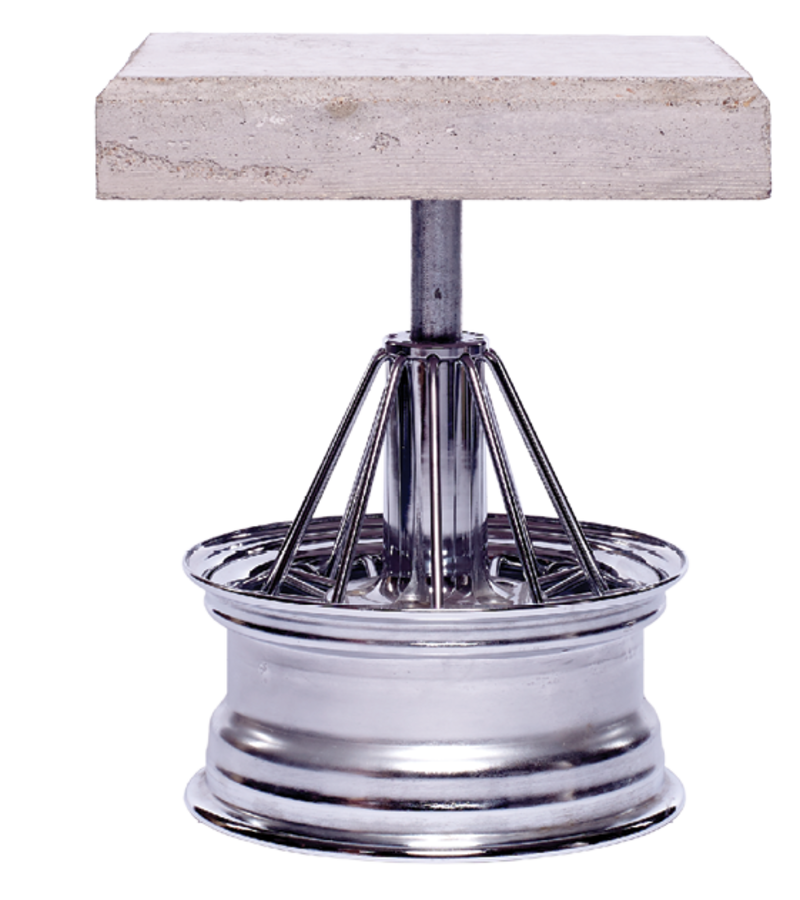 Kanu's work is a modern take on timeless classics. With a focus on turning materials into objects, the Houston-born designed, now based in Portugal and Ne York, creates unique pieces of sculptural furniture but still functional. 
Paint & Wallpaper Brands + Wall Art
Set the tone for each room with the right paint color. Or, dare to be bold and add an accent wall that features breathtaking wallpaper. These brands will be your inspiration and guidance to get started.
Often the last piece to complete your masterful creation, but one of the most important ones to share your personality. Add wall art and prints that tell a significant story and show everyone who walks into your house your personality and values.
We must start this list with Clare, is paint startup that wants to disrupt traditional paint shopping. Rather than paint swatches, Clare users receive adhesive samples to test the color in several spots and see it in real life. Find them on Instagram as @clarepaint.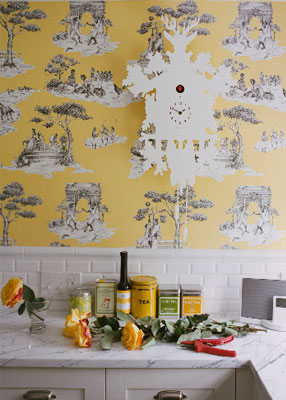 If you prefer wallpaper, Sheila Bridges is your go-to choice. She reimagines the traditional French style and replaces the scene with scenes satirizing the African-American experience. Find them on Instagram as @harlemtoilegirl.
The brand focuses on highlighting design, arts, and culture within the African-American community. What started as a blog quickly became an interior design firm, podcast, decor brand, and even a magazine. Find them on Instagram as @aphrochic.
This Chicago-based interior design brand offers custom wallpapers that are perfect for every room of the house. Find them on Instagram as @mitchell_black.
While not necessarily a service, this book will teach you everything you need to know about how to introduce color to your home with confidence and style. Find them on Instagram as @evasonaike.
This shop features doll illustrations with new ones dedicated to each month. The prints are also featured in shower curtains. Find them on Instagram as @pardonmyfro.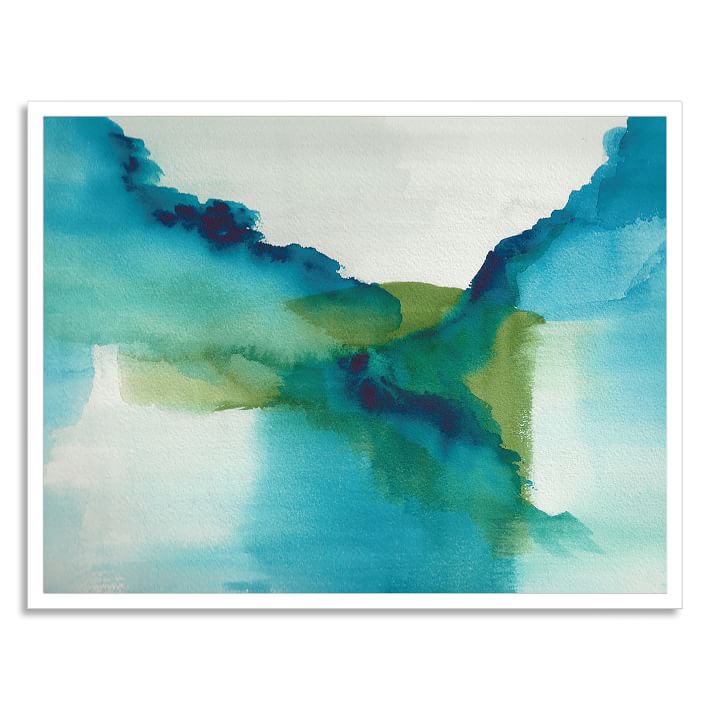 Inspired by her Caribbean heritage and her time living in Africa, growing up in New York, Christine's art is a mix of Scandinavian design with exciting elements. Find them on Instagram as @chrisjoydesign.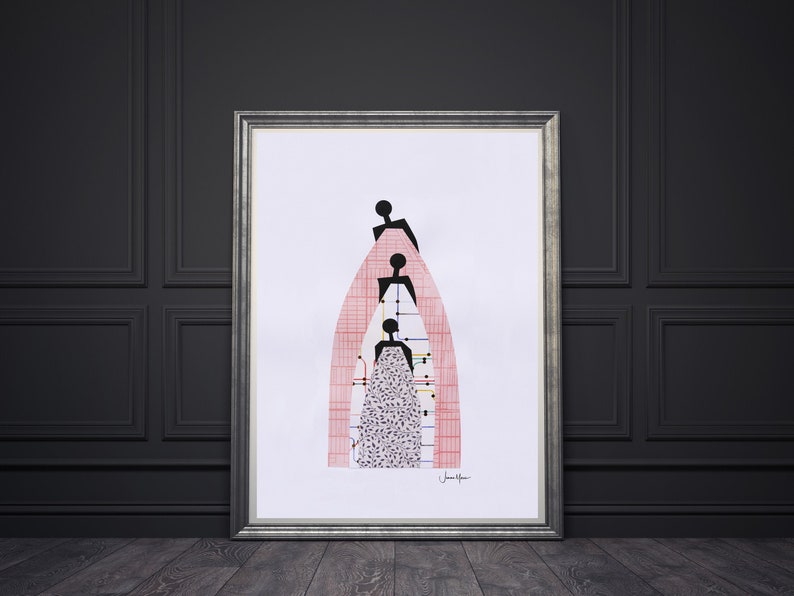 This Etsy shop hopes to make art accessible. You can download or print the designs. Many paints feature minimalistic and straightforward portraits with African influences. Find them on Instagram as @loulouartstudio.
Chicago-based artist, Jade Brown, is all about colors and prints. Her vibrant artwork will add a pop of color to any room. Find them online as @jadepurplebrown.
Illustrator, Kenesha Sneed, is the creator behind this LA-based home line. Her illustrations are all about women of color. Find them online as @tactilematter.
Let's Get Started
If you're feeling inspired and can't wait to incorporate some of these pieces into your current design aesthetic, reach out. Start a project today and work with one of our online interior designers to see how you can incorporate pieces from these Black-owned home decor businesses into your house.