Outdoor Design Ideas
Our 5 Favorite Outdoor Pillows & How To Style Them
When it comes to styling the pillows on your patio, there are a few tricks to remember. First off, keep in mind that you want to invest in pillows that are mostly weatherproof. Wool, cashmere, and other delicate materials that don't react well with water probably aren't the best choice since they're likely to be exposed to the elements. A general rule of thumb is to invest in a few staples that can always serve as the backdrop for more statement pieces that may change throughout the different seasons. Solid-colored or neutral-patterned pillows can stay on your patio year-round and you can change out the accents throughout the year. And finally, pick out pieces that fit the vibe of your decor. If you have a boho patio, look for pillows that are more woven or made with jute; for more modern, sleek patios, pick out neutral colors and geometric patterns. 
Below, take a look at a few of our favorite outdoor pillows that you can mix and match on your dream patio. 
Something to keep in mind when styling your pillows is to mix and match the shapes and styles. Lumbar pillows are easy to layer on top of larger square ones, and this tasseled version from World Market easily blends in with all decor styles. 
What we love about this pillow is that it incorporates a few different trends: speckled terrazzo patterns, abstract shapes, asymmetry, and fun colors. It comes in three colorways so you can find the one that matches your vibe, and it's water-resistant so you don't have to worry about it getting a little wet.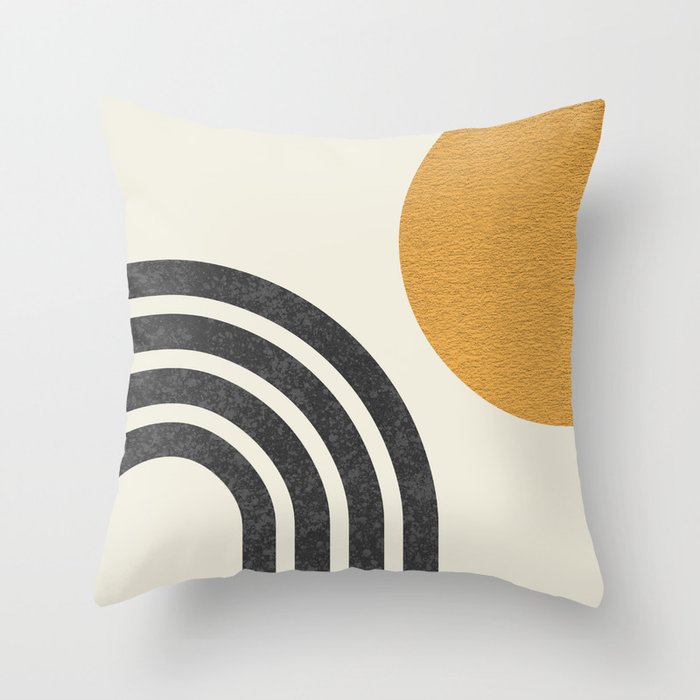 This pillow perfectly toes the line between a staple that you can keep on display year-round and a statement piece that acts as seasonal decor. The circle and arched design is both timeless and trendy, and will look especially beautiful with a more modern style. (Bonus: If you love the style, you can also choose to have it made with a more indoor-friendly fabric as well.)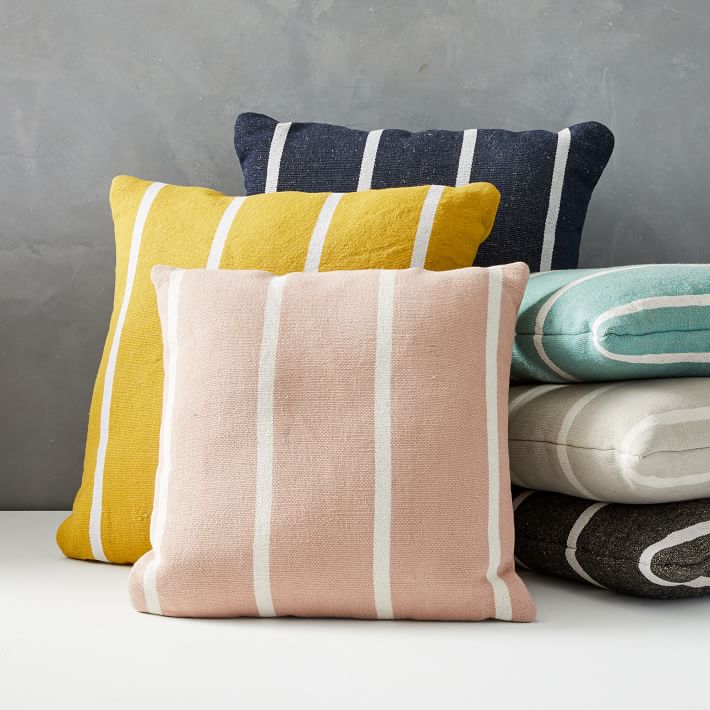 Stripes are such an easy way to incorporate a pattern into your decor style, from farmhouse to eclectic, and we love that this pillow comes in so many colors. West Elm offers these both individually and in sets of two so that you can decorate appropriately for your space. 
We always love incorporating boho elements into patio decor since rattan and wicker furniture are common on patios and those pieces lean to that style. This statement pillow would fit in perfectly on any boho patio, and it's even made with discarded water bottles so it's an eco-friendly option that looks so stylish. 
If you like these patio decor ideas and want to bring them to life in your home, or design your own perfect living space, start a project on Spacejoy. You will receive unlimited access to an expert design team who can translate your vision and guide you to your perfect room design. Our unique technology allows you to view your room in 3D and interact with your design. Move and swap the products with a touch of a finger to see the unlimited possibilities. Our team will also curate a shopping list for you with handpicked products to suit your budget and your style that you can shop right away on our platform. Your dream patio is now one click away. Click here for pricing plans.