Style & Design
Decor Ideas You Need To Know To Style A Glam Bedroom Vanity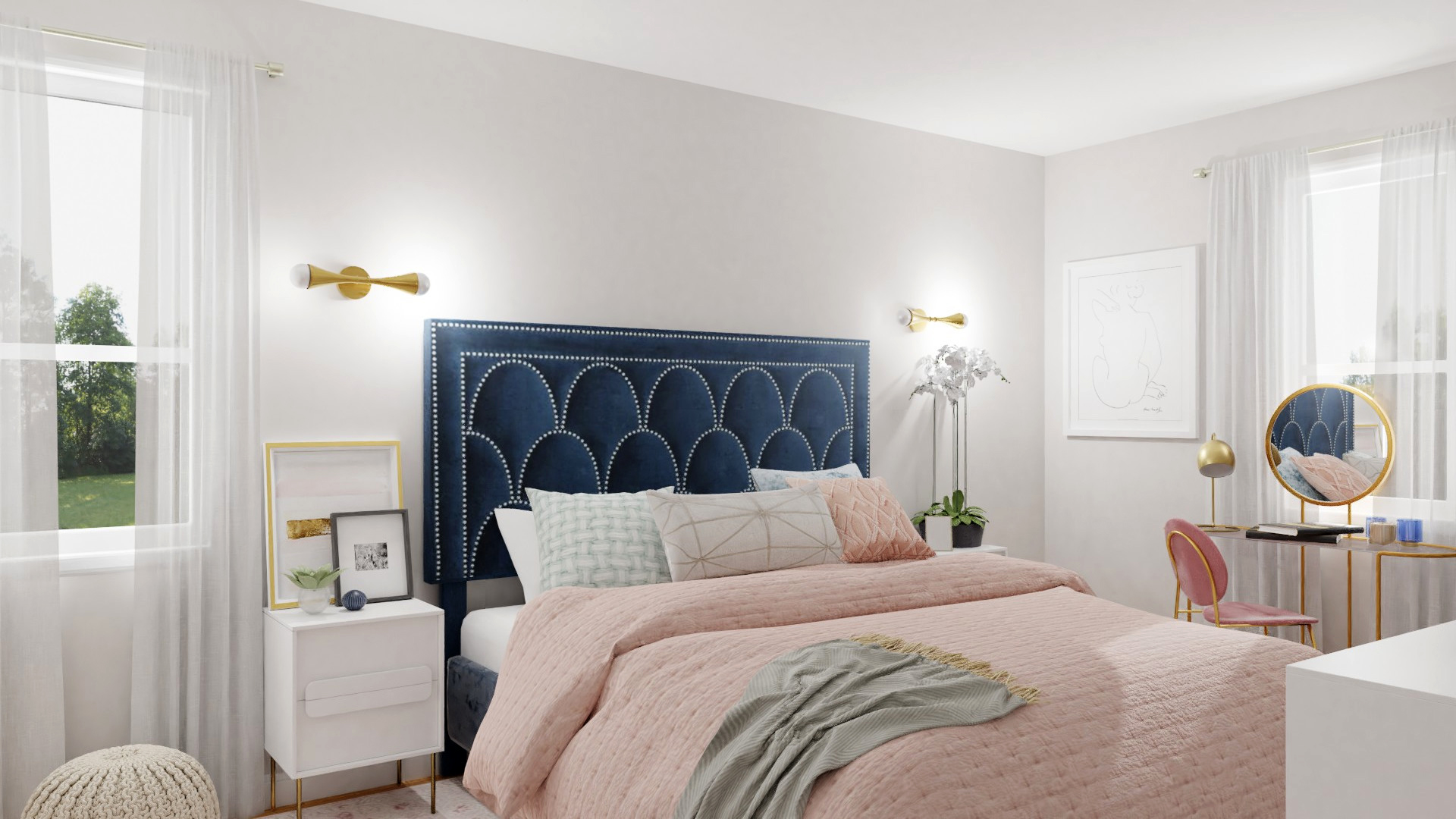 When it comes to setting up your vanity, we wouldn't be surprised if you just throw all of your beauty supplies on whatever desk you can find. But if you're tired of digging your laptop out from under a pile of nail polishes and bottles of serum and don't want to have to move your entire makeup collection to make space to write in your planner, it's probably time for a vanity overhaul. Click through to check out some minimalist bedroom vanity ideas to help you glam up your glam station. 
Step 1: Pick the Bedroom Vanity
First, start with the perfect vanity. For a more decorative (but still minimalist) table, check out the Urban Outfitters Charlotte Vanity, which features gold hardware, a clear glass table, and beautifully clean and curved lines. If your tastes are more rustic, the Dims Home Composed Vanity offers a ton of storage and different colored wood finishes based on your other minimalist bedroom decor. 
Step 2: Find a Stool For Your Vanity
Every vanity needs a matching stool that completes it. Check out West Elm's Pietro Mid-Century Round Ottoman, which offers customizable upholstery options so you can match it to your room. Or the Urban Outfitters Ria Stool offers a boho accent to your bedroom vanity decor. 
Step 3: Bring the Organizers
A vanity isn't a vanity without some pieces to organize all of your products and nicknacks. Target's Threshold line has a few glass and copper options, like this one that's perfect for foundation bottles, makeup brushes, lipsticks, and more, or this one with wider compartments for bigger bottles like hair products. You can put all of your rings on a kitschy stand like Urban Outfitters' Peace Sign Ring Holder or throw them in a sleek catchall dish like CB2's Gleam Brass Footed Bowl. If you anticipate changing up your vanity station again in the near future, invest in clear acrylic organizers like the ones in Boxy Girl's collection so that they'll be sure to match whatever pieces you get later on. 
Step 4: Lighting Ideas For Vanity
Photo Credit: Amazon
And, of course, your vanity needs decent lighting so you can get your glam on no matter what time of day it is. This tabletop tripod ring light has three different light settings (cool, warm, and mixed) that are all dimmable so that you can get ready for any occasion. This tripod also has a built-in phone holder so you can shoot pics and tutorials whenever you want. 
Step 5: Vanity Decor
Finally, you want to add some decorative objects to your vanity to complete the glam look. Depending on how much space you have available, you can add more or less to your vanity space. But, the basics are a cute canvas wall art like this Chanel perfume one. A classic metal mirror vanity tray is a must-have. They're perfect for organizing your go-to items like perfumes, makeup, and brushes. Last but not least, you need to add some flower-power to your vanity to get that ultra-glam look you're trying to get. We love these faux peonies in a decorative vase to add a feminine touch to your vanity. 
Quick Ideas to Incorporate a Vanity Into Your Glam Bedroom
Not everyone has the chance to have a full-blown beauty vanity in their bedrooms, especially those with spouses. But, you can still set up a glam vanity that doubles as a study or work desk, makeup station, or even a reading nook. To make this happen, keep decor to the minimum and focus on the major pieces like the desk and mirror. Bring that glam-style by choosing pieces with metal brass accents and art-deco style lines. 
The same can be said of a small and simple desk. Turn it into your little glam vanity by adding a table mirror, some plants, and wall art. Over time, you can bring more items like trays, your ring light, and other things you need by your vanity table. To seamlessly integrate these into your glam bedroom decor, choose a desk with drawers for easy storage, so you can quickly put everything back in its place after you're done with your glam session. 
Our Favorite All-in-One Vanities for Glam Bedrooms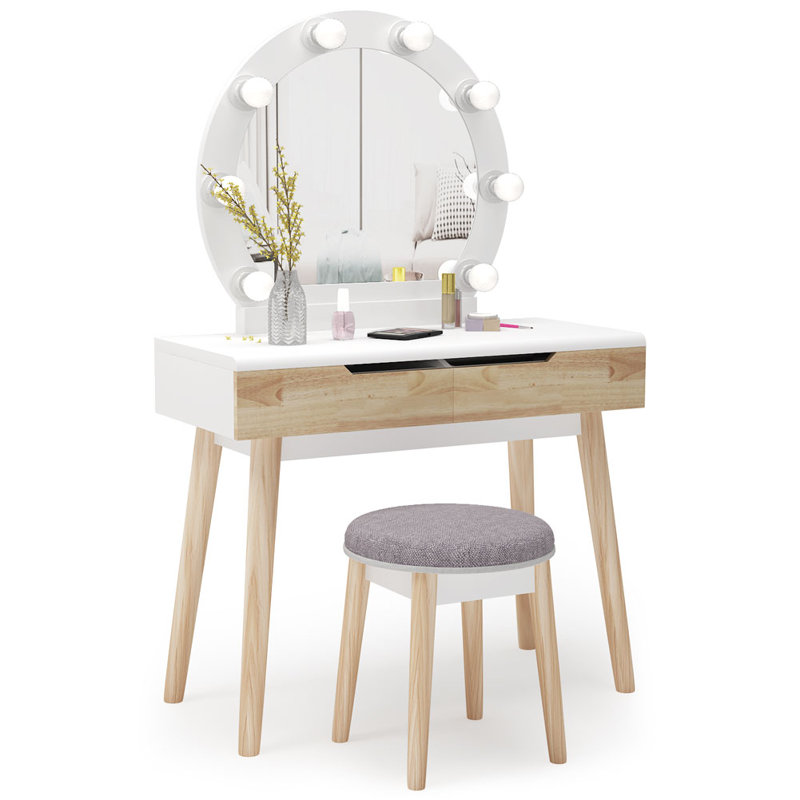 The perfect glam-station for a glamorous bedroom. The classic round mirror with lightbulbs will help you get the most precious makeup. Plus, the hidden drawers have plenty of space to store away makeup and other products. The small stool is versatile enough to hide underneath the table when not used for easy access and free space in the room. 
If you really want to make a statement and transform your glam bedroom into a beauty haven, then this dressing vanity table is a must-have. More than plenty of space to store away beauty products, makeup, hair tools, and so much more. The stool perfectly fits underneath the table to be stored away when not in use. All you need to complete your glam station is a beautiful floor lamp or ring light by the side, and you're done.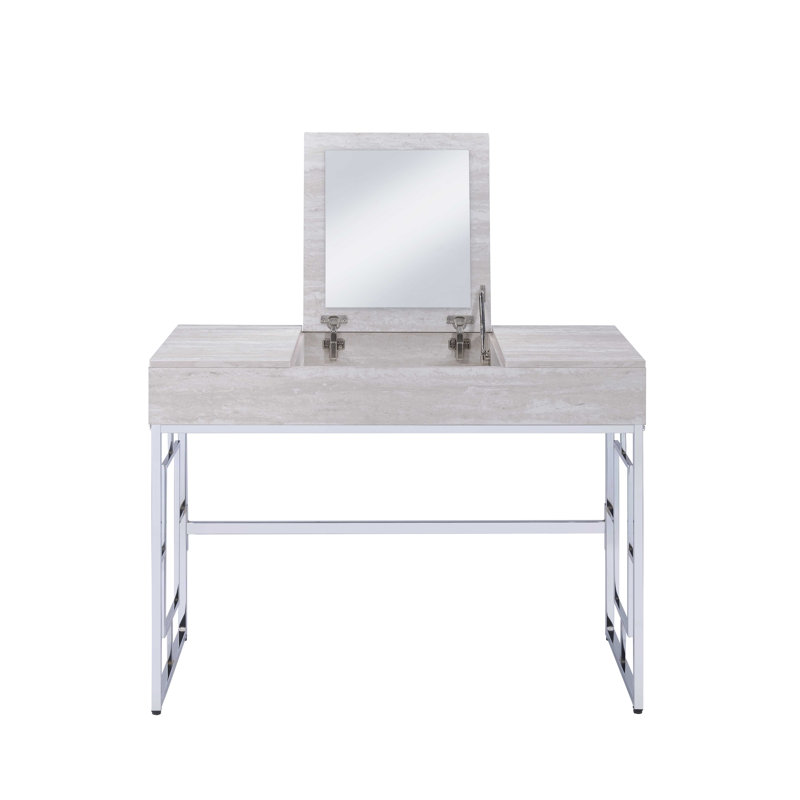 If you're looking for a more versatile vanity table that can adapt to your needs, you need this one from Wayfair. The lift-top storage compartment gives you plenty of space to hold your makeup and beauty products without sacrificing table space when not in use. Perfect for those who love the idea of a vanity table but still need space for a desk.
It doesn't get more glamorous than this vanity desk from Pottery Barn. While this is set up for teens, we know more than one adult out there loves the look of this princess-like vanity setup. There's enough storage to keep clutter away and organize all your items. Plus, the three different mirrors give you a perfect 180 view of your makeup or hairstyle look.
If you have a small bedroom, you don't have to give up on the idea of a makeup vanity. With this corner unit, you'll get plenty of storage space, a built-in mirror, and a cite stool that hides underneath when not in use. It is the perfect vanity table to have if you're a beauty or makeup lover who wants to keep everything in one place without sacrificing your bedroom's glamorous look. 
If you like these vanity ideas and want to bring them to life in your home, or design your own perfect living space, start a project on Spacejoy to experience our online interior design service. You will receive unlimited access to an expert design team who can translate your vision and guide you to your perfect room design. Our unique technology allows you to view your room in 3D and interact with your design. Move and swap the products with a touch of a finger to see the unlimited possibilities. Our team will also curate a shopping list for you with handpicked products to suit your budget and your style that you can shop right away on our platform. Your dream vanity is now one click away. Click here for pricing plans.