Style & Design
16 Easy Fall Decor Ideas For Your Home
The seasons are changing, so should your decor. Welcome the arrival of fall with gorgeous decor ideas for your home that don't require a ton of effort. Here are some easy ways to cozy up your space for the season!
Get Under The Blankets
Nothing says cozy like a warm blanket on a chilly night. Snuggle up under thick blankets and get some textured pillows to match! We recommend the pumpkin-orange palette paired with neutrals for a truly autumn vibe.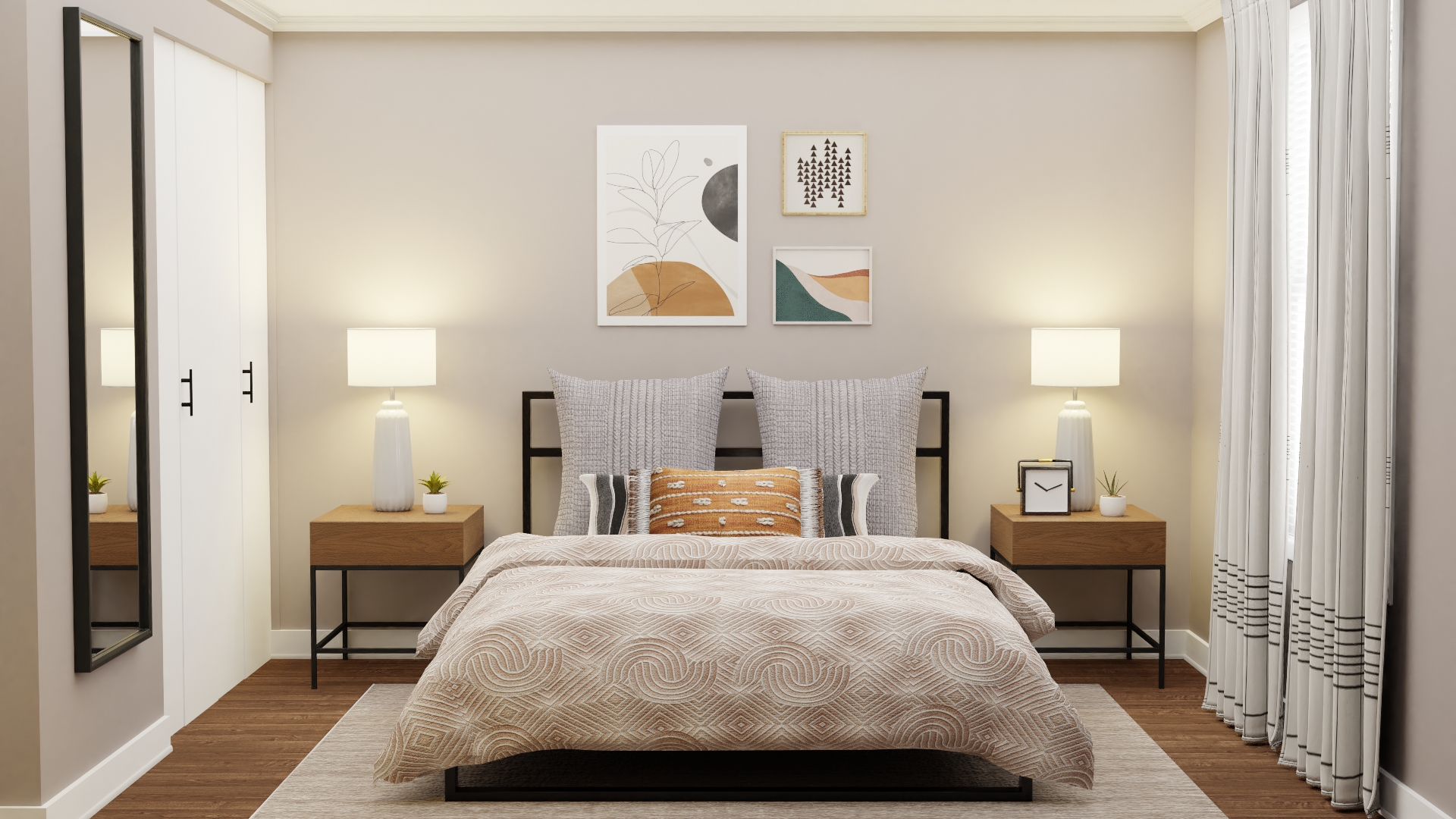 Seen in design: Duvet From CB2
Flowers are So Last Season
Switch out your roses and lilies for pampas grass and twigs. You can pop them in a glass vase for a minimal decor accent, or you can use them to fashion an autumn-themed wreath. Add a few fiery orange dried leaves in to bring in that pop of color!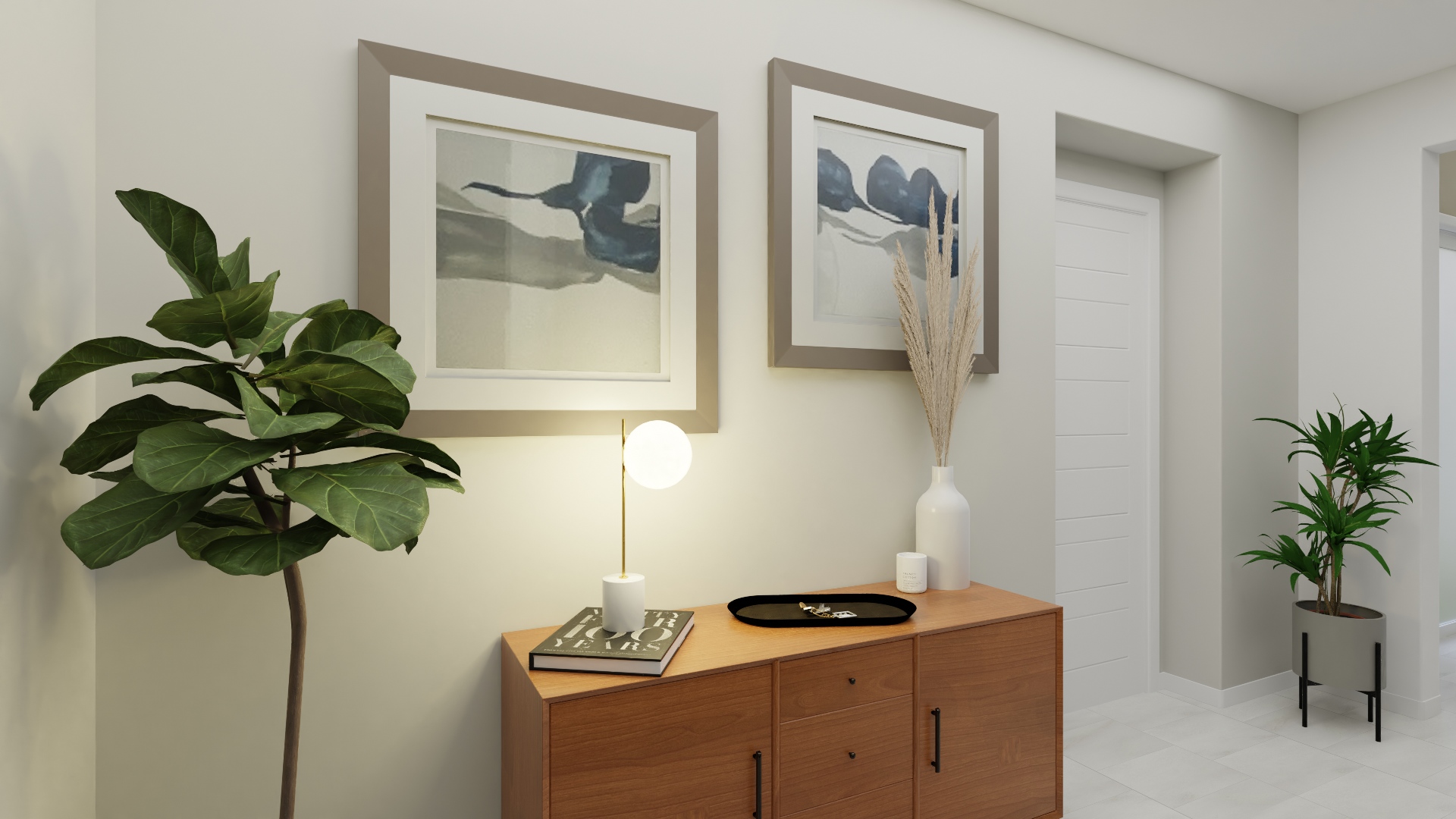 Seen in this design Pampas Grass Set from CB2
Don't Forget The Nooks
Carve out a little corner just for yourself. Fall is all about that cozy weather, perfect for staying in and curling up with a good book...so why not create a space just for that? You could add a hanging chair and fill it with cushy pillows & throws for a truly inviting little nook, or you can place a cozy armchair with a small side table for a spot to relax in the evening before you retire for the night.
Seen in design: Bed From Kathy Kuo, Chair From Lexmod, Ottoman, Side Table, & Nightstand From West Elm, Faux Fur Pillow From Wayfair
Seen in design: Chair from Homethreads , Dresser from West Elm, Pouf from Wayfair

Seen in design: Chair from Wayfair, Pouf from CB2, Crib from Snoo
Set The Mood With Candles 
Is there a better time to light your favorite candles? We think not! Scented or unscented, candles can really set the mood, and they're the next best thing to a fireplace...on a budget! Candles are incomplete without candle holders, and we recommend going with the slim and tall ones for a more elevated addition to your decor.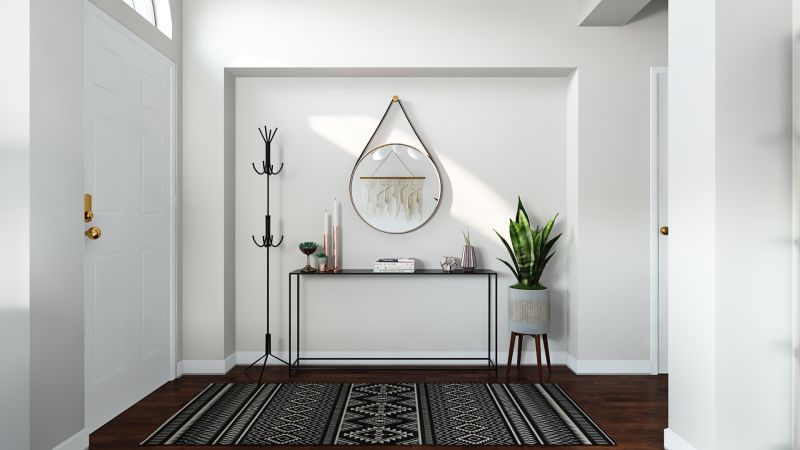 Seen in design: Console from CB2, Mirror from Pottery Barn, Planter from West Elm
The Wonder Wall 
New season, new walls! It's a great time to give your room a makeover by adding a fabulous accent wall. Since the season is fall, we're all about those rich, jewel tones to give your space an elegant, stylish look. You could go with a deep, emerald green and use gold accents in your decor to really bring out the depth of this hue. We guarantee you're going to love this look! 
Seen in design: Sofa From Casterly, Center Table From Lexmod, Matrix Chairs From Article, Shelf From Crate & Barrel
Simple Is Stylish 

Sometimes, the smallest of details can transform your room from boring to beautiful! Adding in gold-toned mirrors, mostly if you predominantly use neutral tones for your bedding, can make a world of difference. Adding a detailed duvet cover can add playful textures and graphic patterns without disturbing your space's color palette! Trend tip: Gold and copper are popular finishes this season, given their warm tones.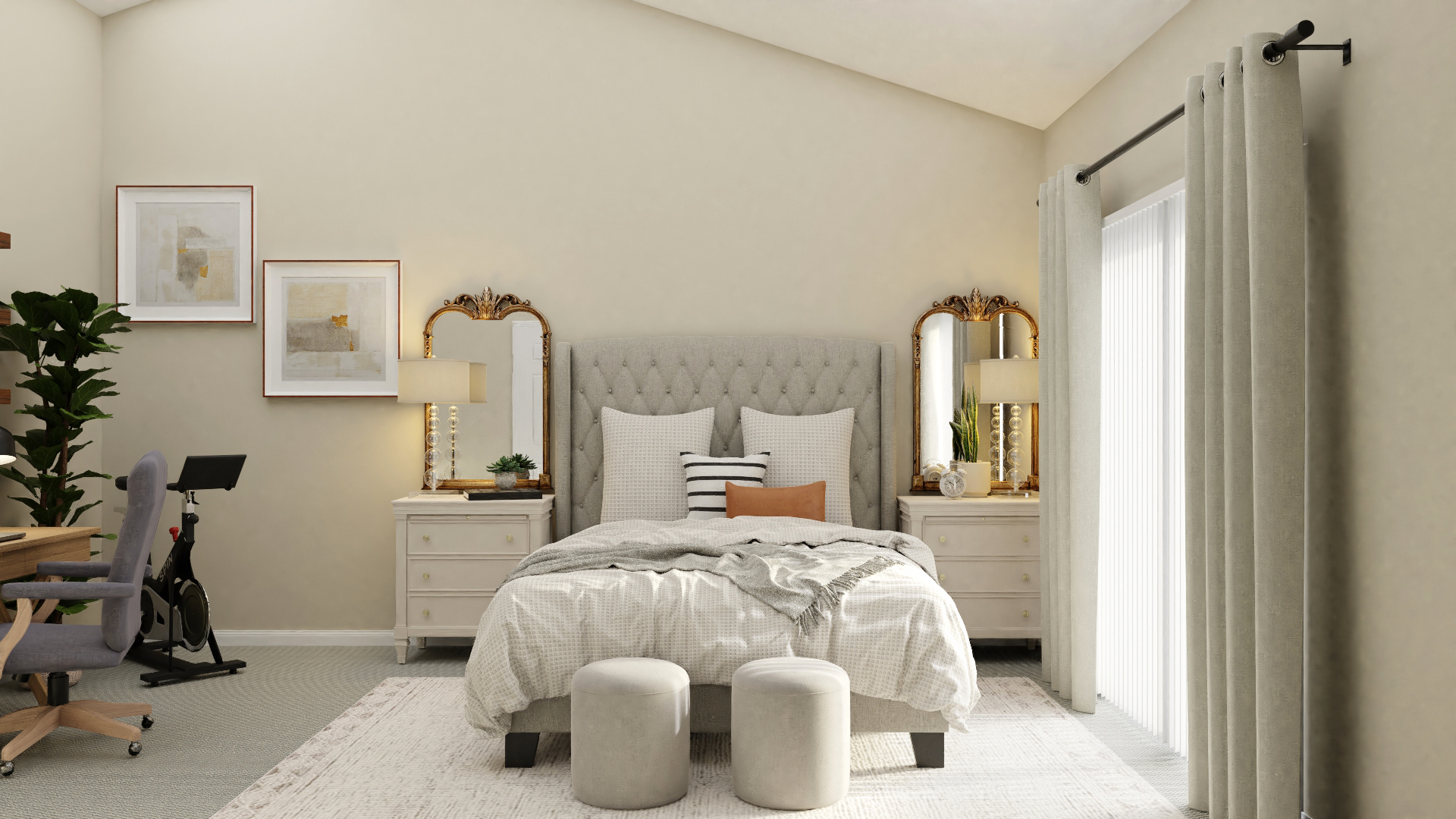 Seen in design: Duvet Covers From CB2, Mirrors From Uttermost
Pumpkin Power
Nothing says fall like pumpkins, so why not add them into your decor? Subtle pieces that you can place on a bookshelf or your side table to really tie the decor together. You can get some beautiful pumpkin-themed dinnerware pieces if you're planning on entertaining this season. You can also find accent pillows with pumpkin motifs and patterns on them that you can place around the house. Another alternative is using rustic orange hues in your decor, like the beautiful accent chairs in the image below!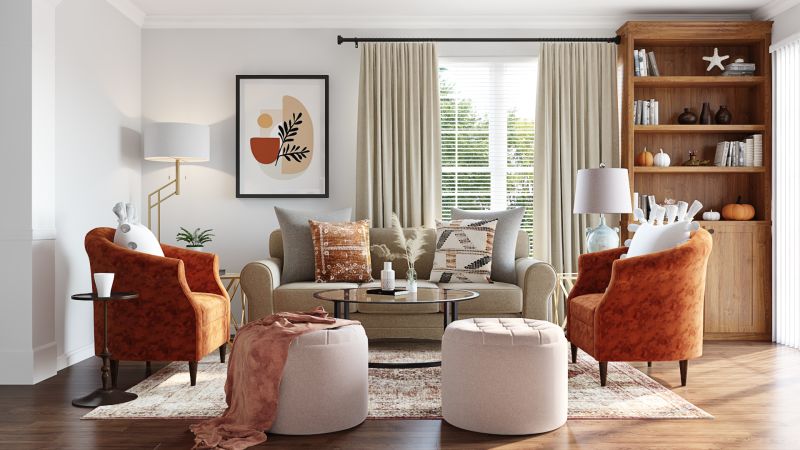 Seen in design: Pumpkin Themed Decor From Pottery Barn

Use Art To Set The Color Tone
It's a good time to switch out the art pieces on your wall and incorporate those beautiful fall colors into your space with new pieces. You can opt for minimal, abstract pieces that bring in that pop of color while keeping the rest of your palette intact, or you can go for multiple pieces to showcase the entire spectrum of hues that you want to incorporate into your decor.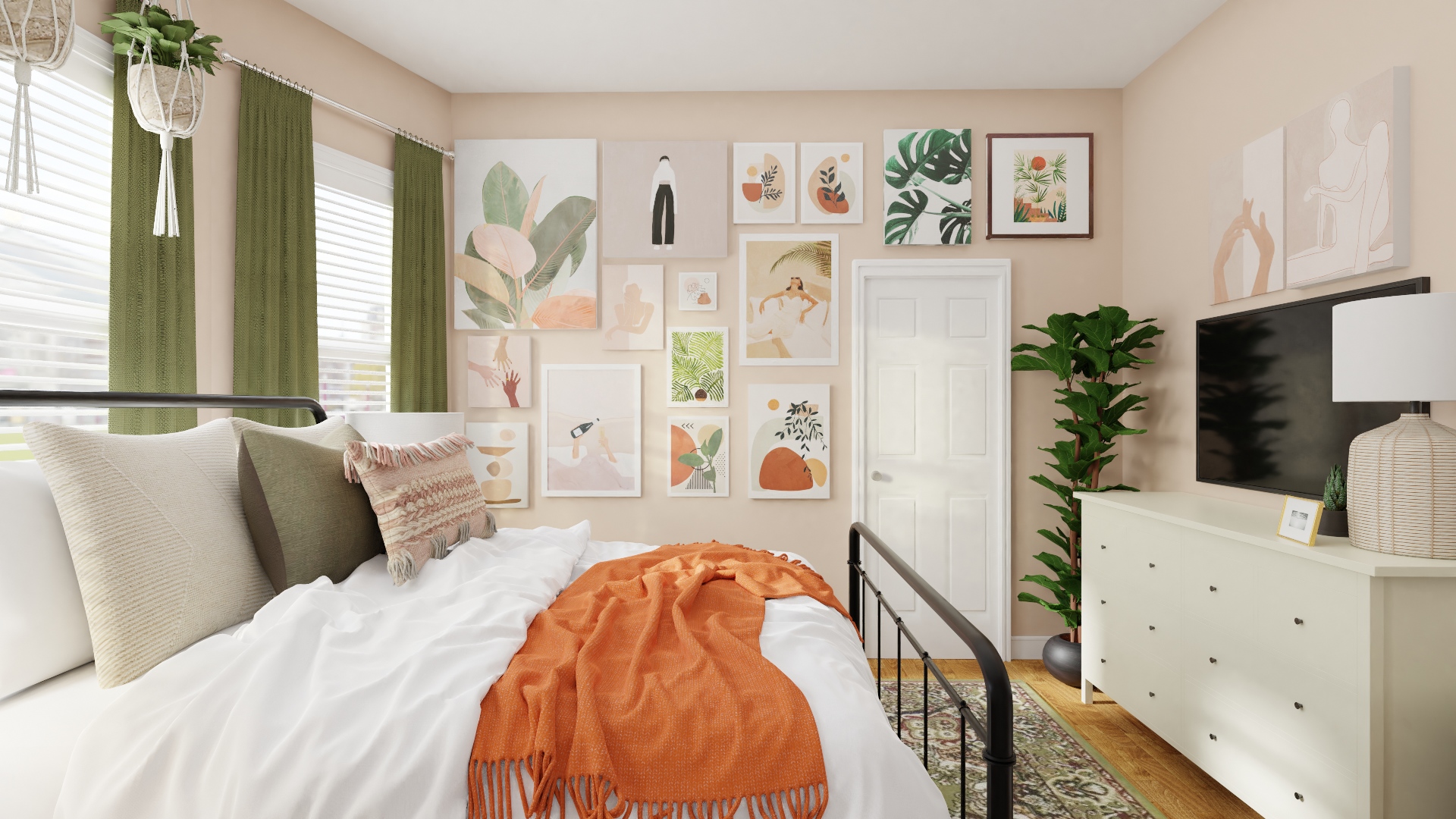 Seen in design: Art From Society 6 & World Market
Warm Vibes 
Bring warmth into your decor like you're bringing warmth into your closet! Rustic hues like brick reds, mellow yellows, and everything in between are all representative of the fall season. These hues are inviting as well as calming. Wooden pieces like this Mid-Century Desk from West Elm fit right into the warm color palette while also elevating the style of the room. Use gold accents like this beautiful Round Decorative Wall Mirror from Target to tie the room together. 
You'll find yourself wanting to spend more time in this space when you incorporate these hues into your decor, we promise!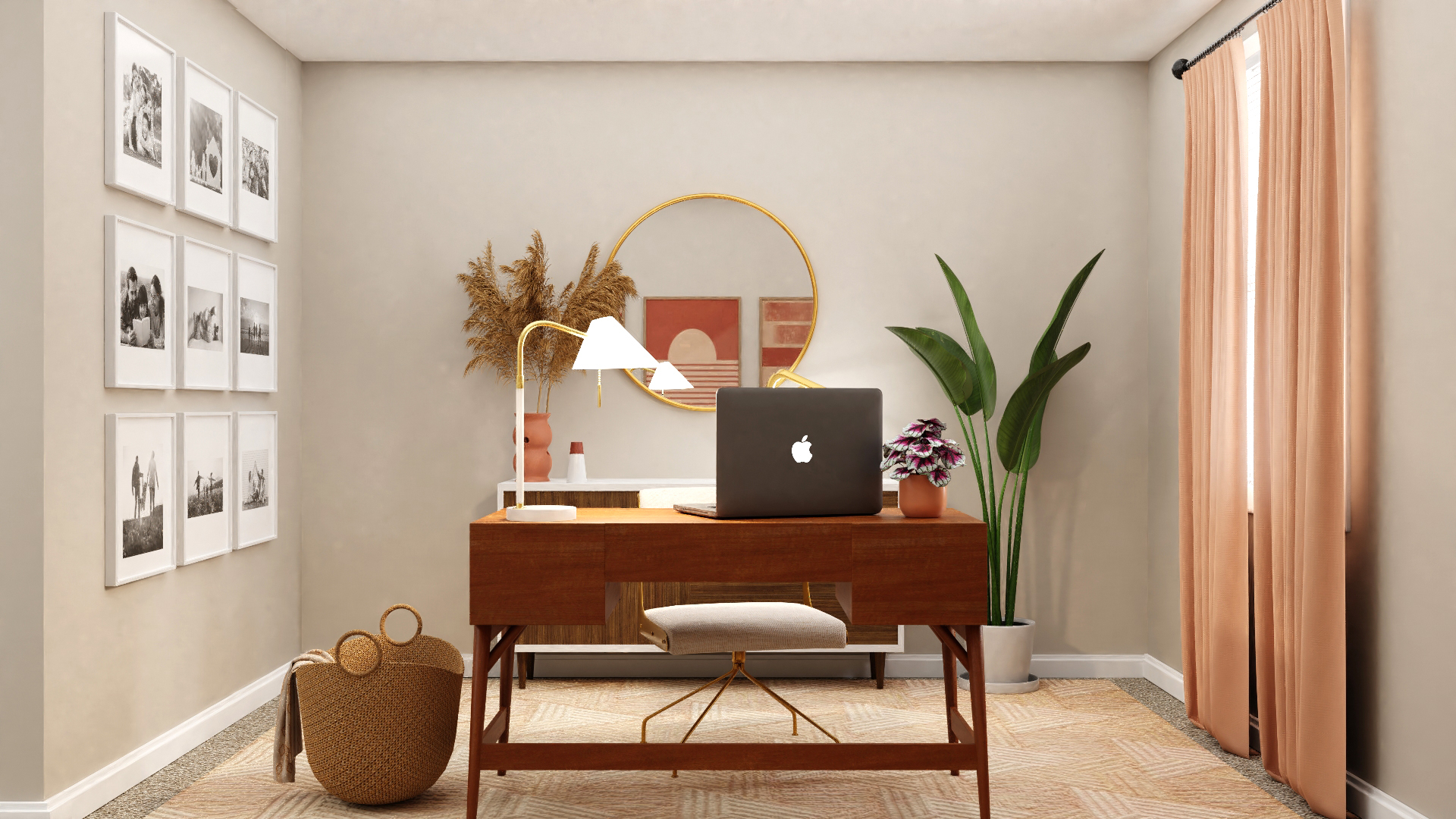 Seen in design: Desk From West Elm, Mirror From Target, Curtains & Vases From Urban Outfitters
The Warmest Bedroom, Everrr! 
Warm tones, warm blankets, and a warm welcoming bed, that's how you get the warmest bedroom ever. Look at this gorgeous bedroom and tell me you don't want to dive right in! 
Bringing in those lovely warm reds and oranges into your bedroom decor can create a wonderfully inviting space for you to come home to after a long day. Bonus: Add a bold touch with a brightly colored rug as a statement piece.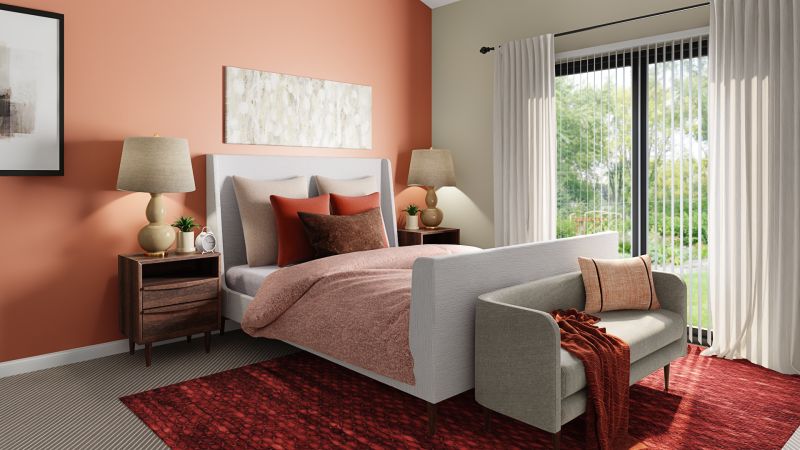 Mix & Match Your Colors
We all love a neutral palette, it's all the rage right now… but mixing in your neutral tones with other dominant colors may not be such a bad idea (proof below). Neutral tones can help make other colors pop and you can use them to add a bit of texture, like these Blush Fractured Pillow Covers from Burrow. We recommend using your neutral palette to elevate the other colors in your room for a richer, more put-together look. Use the colors you love to create a totally unique combination for yourself!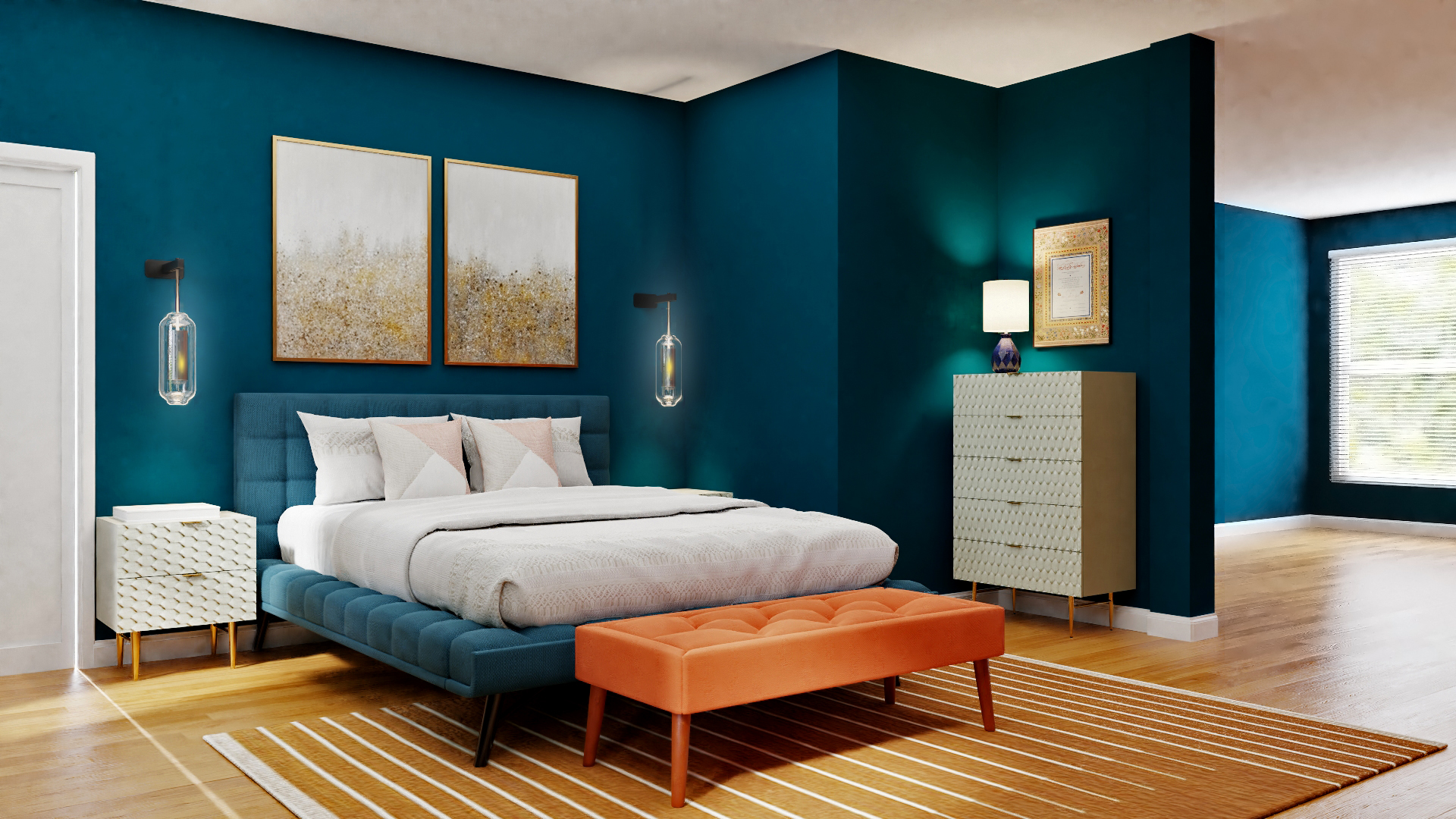 Seen in design: Bed From Lexmod, Ottoman Bench From Overstock, Pillows From Burrow 
Matching Pillows & Rugs 
The easiest to transform a room without blowing all your money or making huge decor decisions is to simply switch out your pillow covers and your rug! Choose jewel tones or warm, rustic tones for your pillows to match that fall vibe and find a rug in the same hue to display a definitive color palette for the season. You can also use these elements to play with woven or braided textures that are characteristic of fall!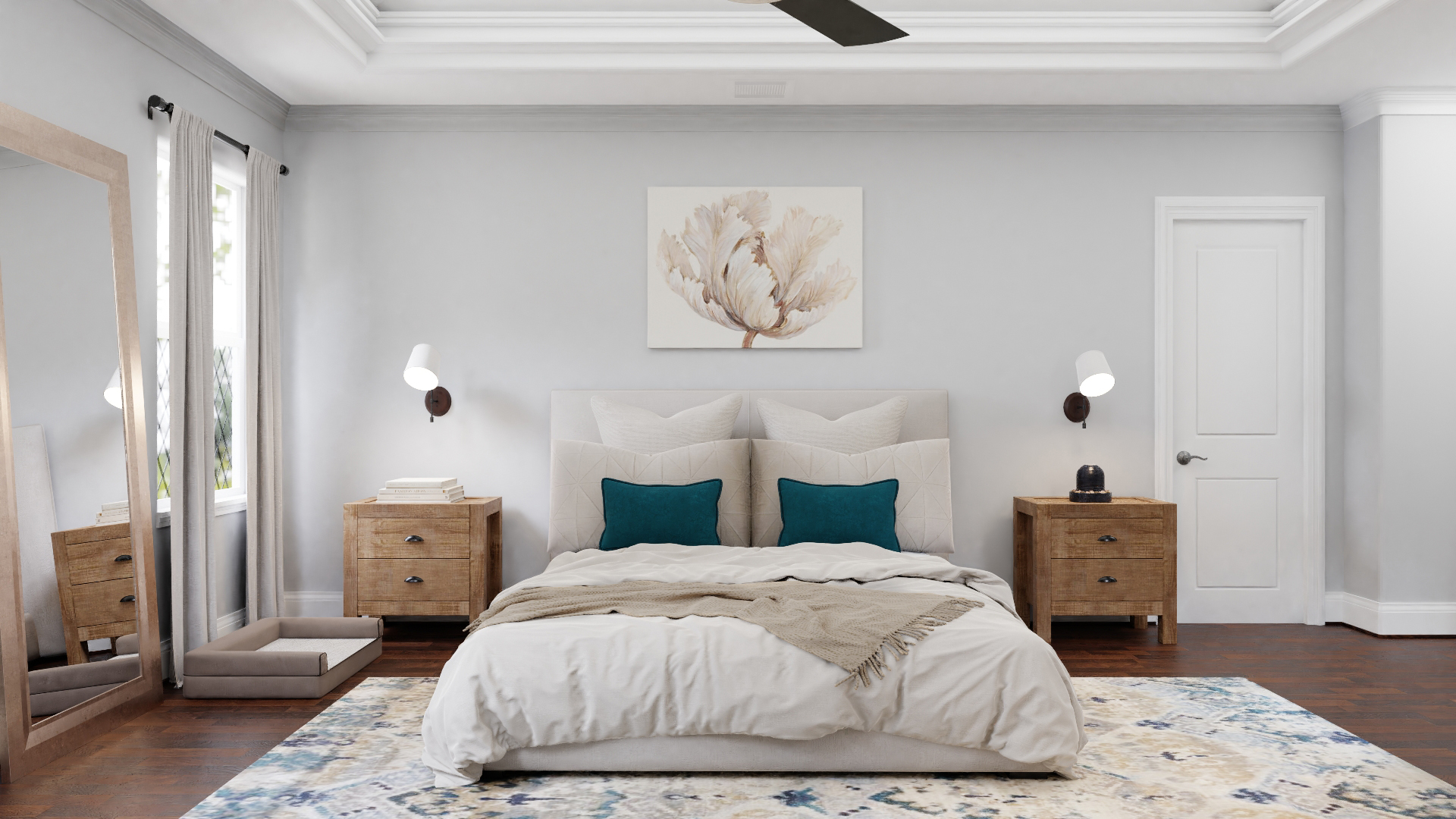 Seen in design: Pillows & Rug From Wayfair
Vintage Wonders 
Here's a well-kept secret hack that you simply can't go wrong with… go vintage! Be it color palettes, decor accents, or a statement vintage piece added to your room, a vintage piece will always add more character and style to your decor. Pastels mixed with a pop of color here and there are very characteristic of a vintage vibe. Throw in some faux fur pieces and you've got yourself a super stylish bedroom! 
Seen in design: Bed from Wayfair, Lamps from Wayfair, Chaise from Home Depot
A Living Room Fit For Fall 
Living rooms are supposed to be warm, inviting, and comfy. It's where you greet your guests and settle in for a chat and it's the first place they see as they walk in. So, if you're giving your home a fall makeover, it seems only fair to give your living room a little extra oomph! Colors are an easy way to bring that fall vibe into your decor. But details like the woven basket on the floor or the wicker tray on the table can take your decor to the next level. Use your pillows and ottomans to bring in that fall-flavor while seamlessly tying your space together!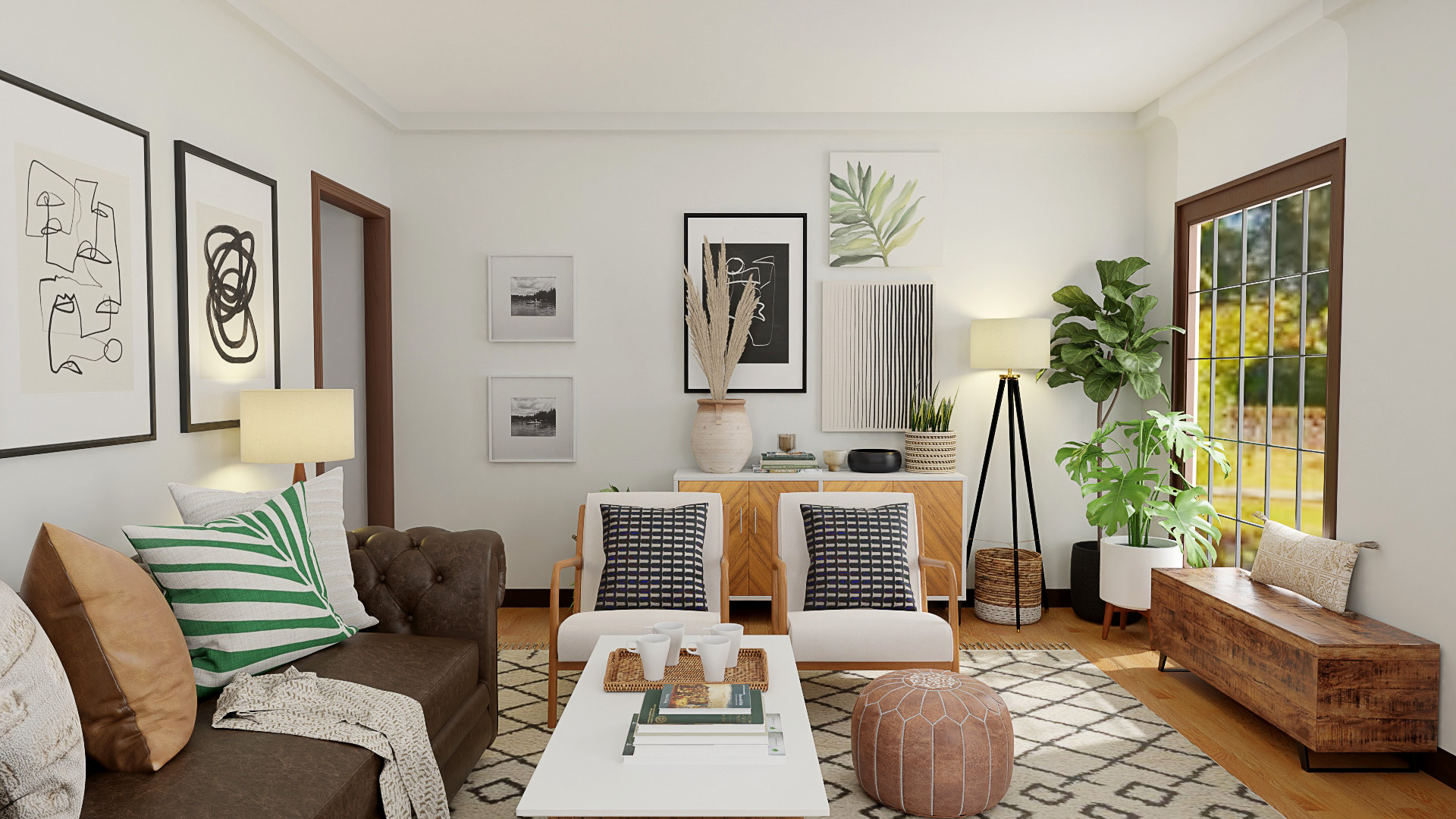 Seen in design: Sofa from Pottery Barn, Chairs from Target, Storage Bench from All Modern
Two Tones Are All You Need 
All this talk of colors and palettes and accents can get a bit overwhelming. What if we told you all you need are two colors to transform your space into a fall wonder? You really don't need too many colors to bring your fall decor to life. Choose two fall colors, like the olive green and rustic orange in the image below, and plan your decor around that. You can have accents of the same tones along with a few neutral tones to make these hues pop!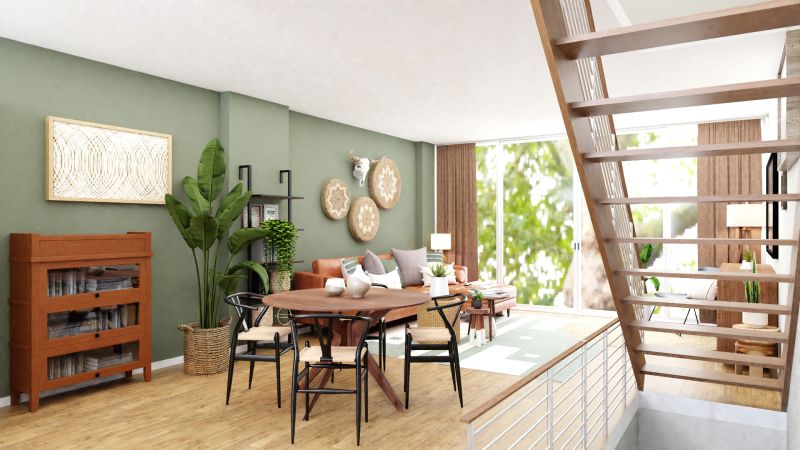 Seen in design: Dining Table from Wayfair, Dining Chairs from Myhaus, Wall Baskets from Lamps Plus
Layer Your Rugs
Sometimes a rug can tie the whole room together. There are times however when your rug can isolate a section or two if it's not big enough or it isn't placed right. Layering your rugs can be a great way to make sure that all the pieces in a room are seen as one look. You can experiment with different shapes, textures, and styles to add some playful elements to the space while ensuring that they still speak the same design language.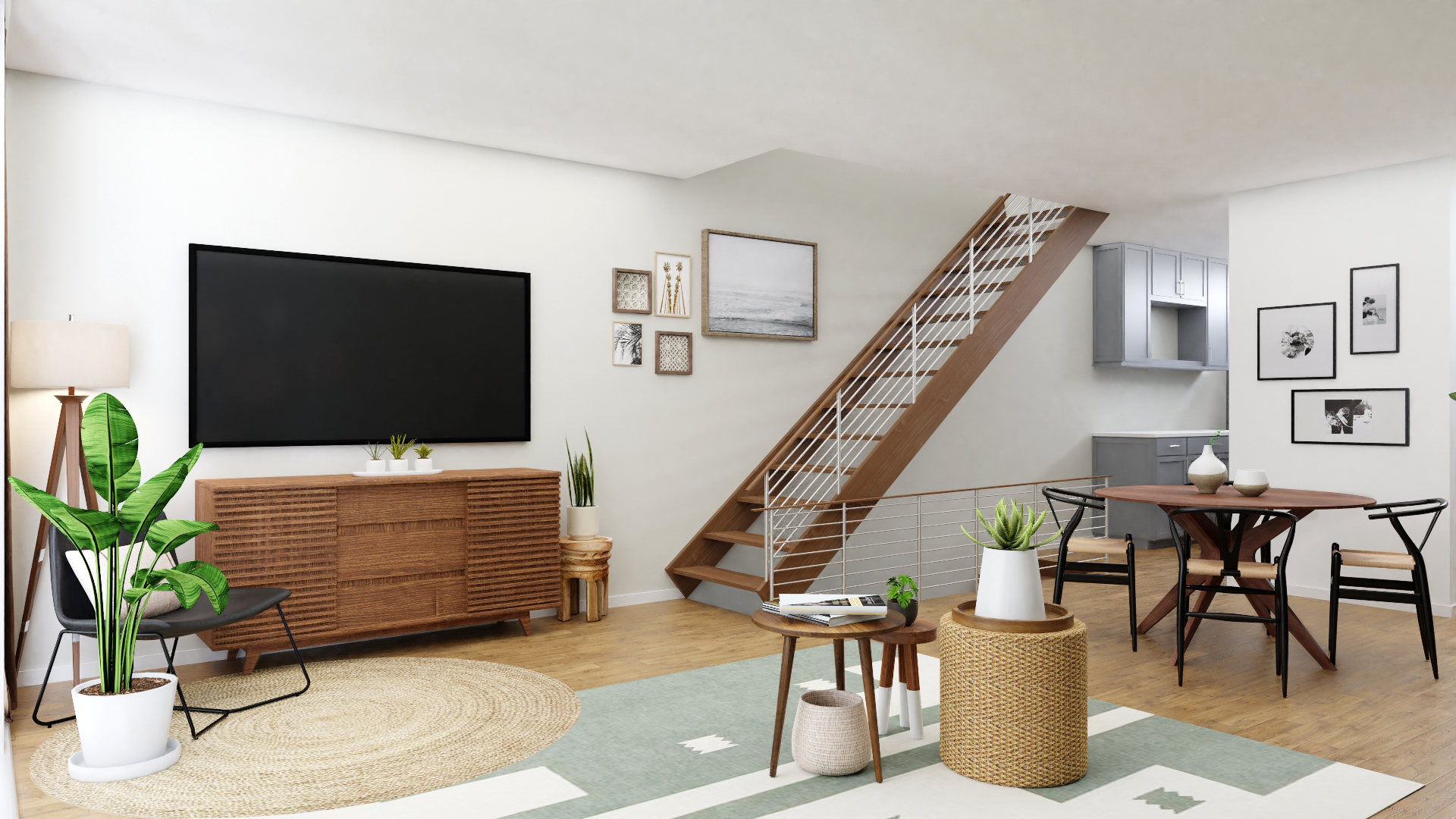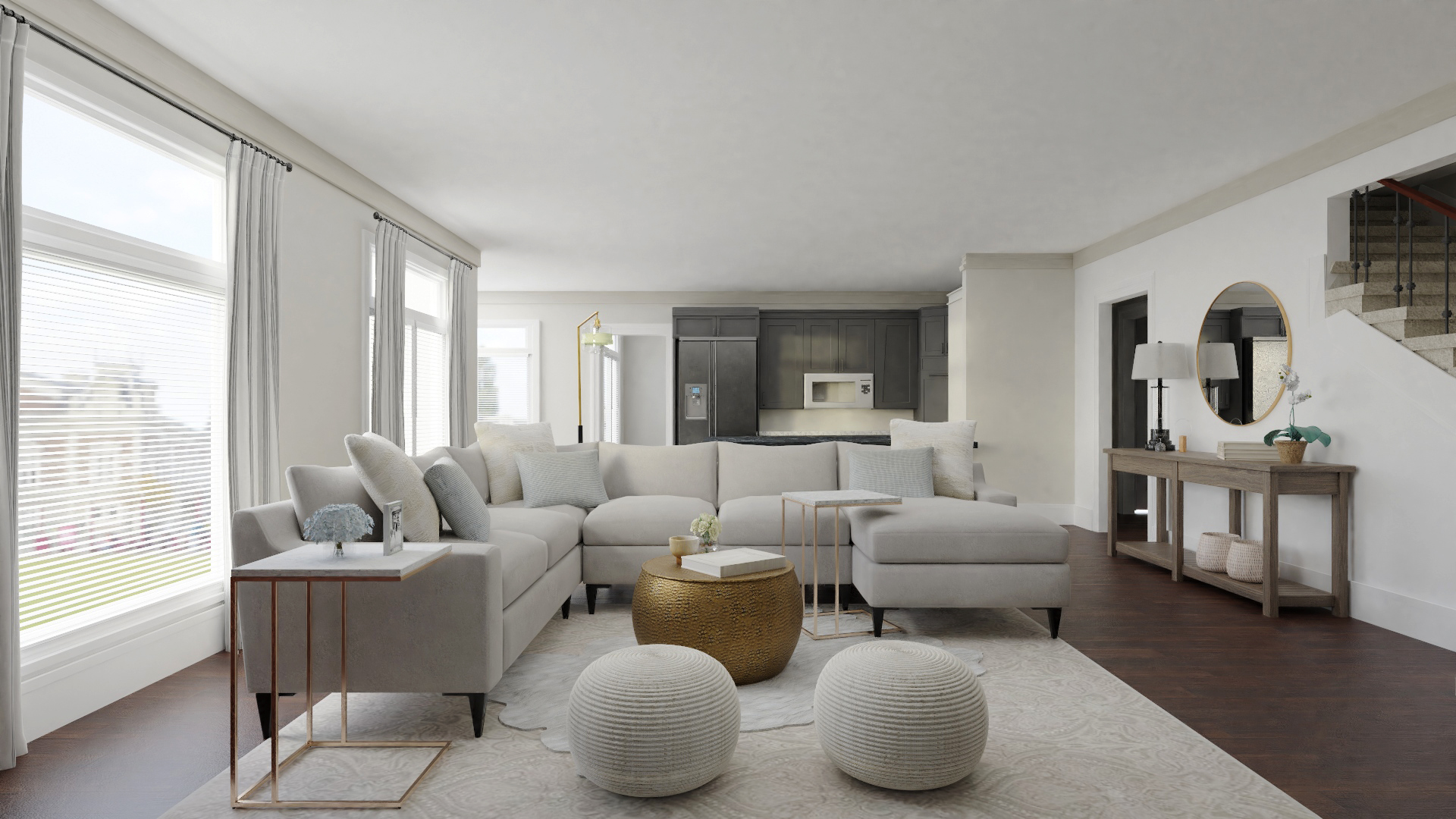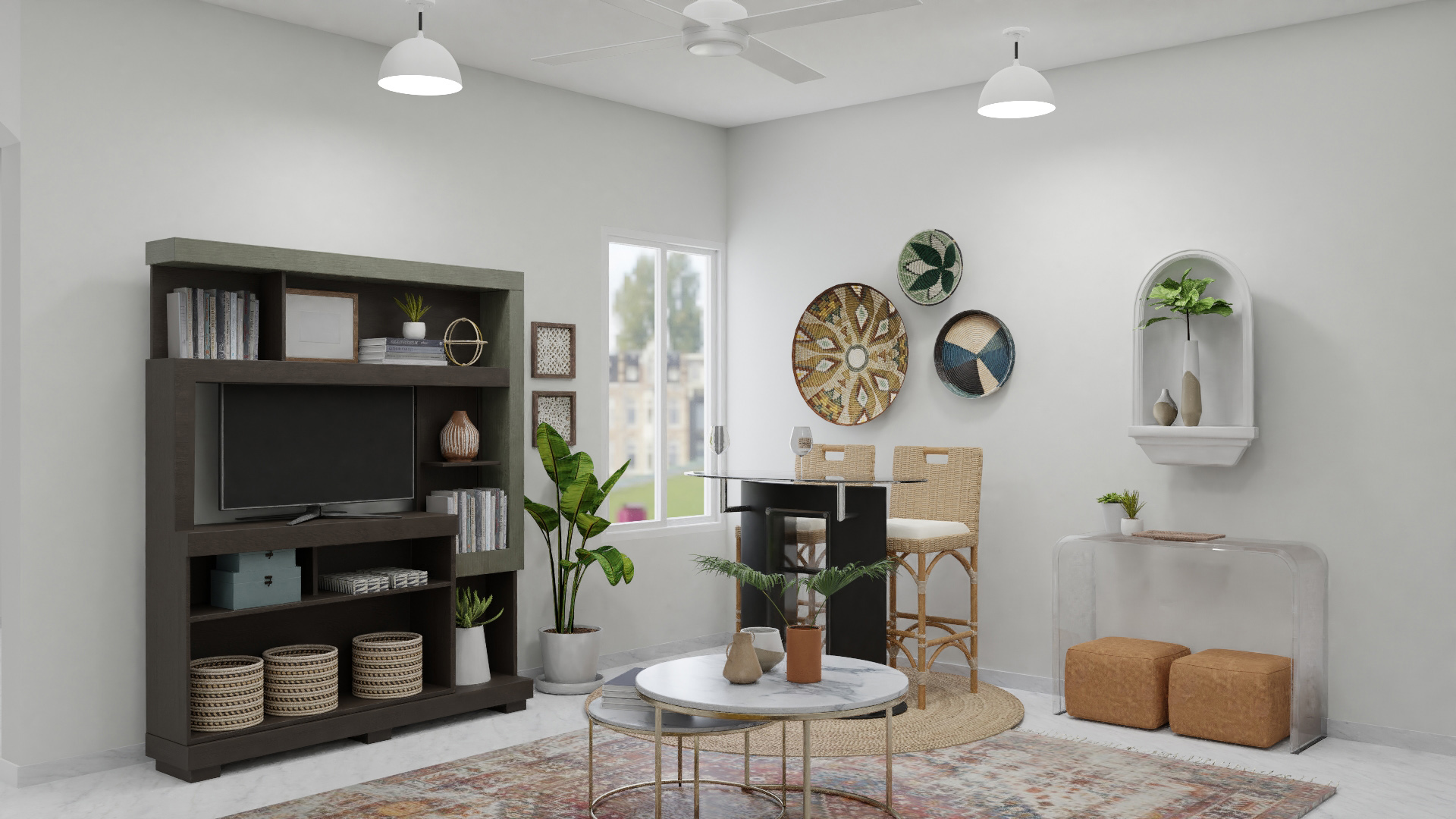 Seen in these designs: Rugs From Wayfair & Ruggable
Have we given you the inspiration you needed to start working on your fall decor? Start a project with Spacejoy and our expert designers can create a design completely customized to your tastes and your budget. Let us help you 'fall' in love with your home all over again! 
Similar Picks
Related designs for you
Categories
Explore other categories